A thunderous fin slap, a visible tail, a whale hurling itself out of the water. Whale watching is a thrilling experience, and the west coast offers numerous places to see the gentle giants.
Whales are prolific along the west coast of North America, and since most species follow a migratory pattern, you can spot them somewhere. While numerous operators provide boat tours, you can view them from land in certain areas.
No two trips will be the same, even if you take multiple tours in different areas. Tour operators work together to locate the giants, but what you witness is all about luck!
So, from the frigid waters of Alaska working down to the warmer waters of Costa Rica, let's explore the best places to go west coast whale watching.
Seward, Alaska
Located on Kenai Peninsula bordering Resurrection Bay; Seward, Alaska, is the perfect place for whale-watching. If you are visiting Alaska, you won't want to miss a stop in the small town of Seward.
Although visitors can spot whales right from town, a boat tour from Seward provides the best way to view the gentle giants. Whale watching tours set off from the harbor in Seward through Resurrection Bay and Kenai Fjords National Park.
Seeing whales with the rugged glacier-carved mountains as a backdrop is an experience you will never forget.
The most common whale species seen from Seward are humpback and orca whales (also known as killer whales). Orcas can be seen year-round from Seward, but the best viewing time is in the summer.
The humpback whales migrate from Hawaii to the waters surrounding Alaska every year. They arrive in Seward in May and stay through August.
There are many different options for whale watching tours out of Seward. The excursions range from four hours to all-day events.
If you have the time, arrange for one of the longer tours. The longer the tour, the better your chance of seeing whales.
You can't go wrong booking a boat tour with Kenai Fjords Tours. The company has been doing whale watching tours out of Seward for over 40 years.
Contributed by Diane from Travels With Eli
Juneau, Alaska
Juneau offers a vast selection of whale watching tours since it sees the greatest number of tourists each summer. The most popular excursions are combined with a visit to Mendenhall Glacier or an Alaskan salmon bake.
If you arrive in Juneau by cruise ship and your vessel docks later in the day, you can opt for an evening tour.
The most popular picks are Allen Marine Tours, Marv & Harv's Juneau whale watching, and Gastineau Guiding Company. If you prefer a small boat experience, book with Jayleen's Alaska. Most tours last 3 to 3-1/2 hours, including transportation to the marina.
Whale watching season in Alaska runs from May to September, when the majestic humpbacks migrate from Hawaii. They come with their young to feed in the rich waters of Alaska before returning to Hawaii in the fall.
While humpback whales are the most commonly sighted species, you can see orcas (killer whales), sea lions, and bald eagles. If you want to see the rarer beluga whales, they swim in the colder waters of the Bering Sea.
Since whales are feeding in Alaska, you'll often spot backs and tails as they hunt for food. Occasionally, you'll witness a breach or a bubble-net feeding unique to humpbacks in southeast Alaska.
Hoonah, Alaska
Located on Chichagof Island, Hoonah offers one of the best whale watching excursions on the west coast. Most tourists arrive by ferry from Juneau or reach the Icy Strait Point (ISP) port by cruise ship.
While Icy Strait Point offers many activities, including the world's largest ZipRider, its whale watching tours are hard to beat. Group sizes vary (up to 42 per vessel), and guests enjoy boats built for comfort and speed.
So, even if it's cold and rainy outside, you can enjoy the 3-hour tour from the heated interior cabin. Tour operators guarantee you'll see whales or give a partial refund.
From late May to September, whales are plentiful in the area and can often be seen from land. Humpbacks in southeast Alaska learn a cooperative feeding technique called "bubble-net feeding."
Like synchronized swimming, a lead whale releases air from its blowhole while swimming in a circle, trapping a herring school in its net of bubbles. Then, the pod, with mouths open, lunges out of the ocean, gulping the corralled fish.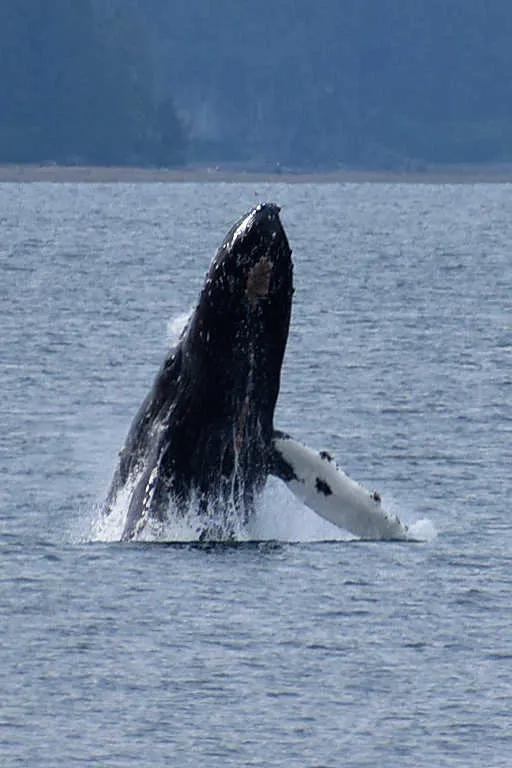 While humpbacks are solitary creatures, they use this collaborative technique to eat. If you've witnessed the phenomena, their speed, and precision are mind-blowing. Add to the excitement, Kittiwakes (gulls) who fly overhead, seeking to benefit from an easy meal.
On a 3-hour tour, you could see a sea otter and a transient orca. With Hoonah being close to Glacier Bay National Park, there's always plenty of whale activity.
Vancouver, Canada
Going whale watching is probably one of the most fun and romantic things to do in Vancouver. Between March and October, Vancouver is a hot spot for whale-watching as thousands of whales migrate through the city's waters.
At that time of the year, you'll see mainly southern resident orcas who come to feed on salmon fish, also migrating through the area. At the end of summer, you will also be able to spot northern resident orcas.
Other species you can see near Vancouver include humpback, gray, and minke whales.
Vancouver whale watching tours mainly focus on orcas, also known as killer whales, as they have the largest population during that time of the year.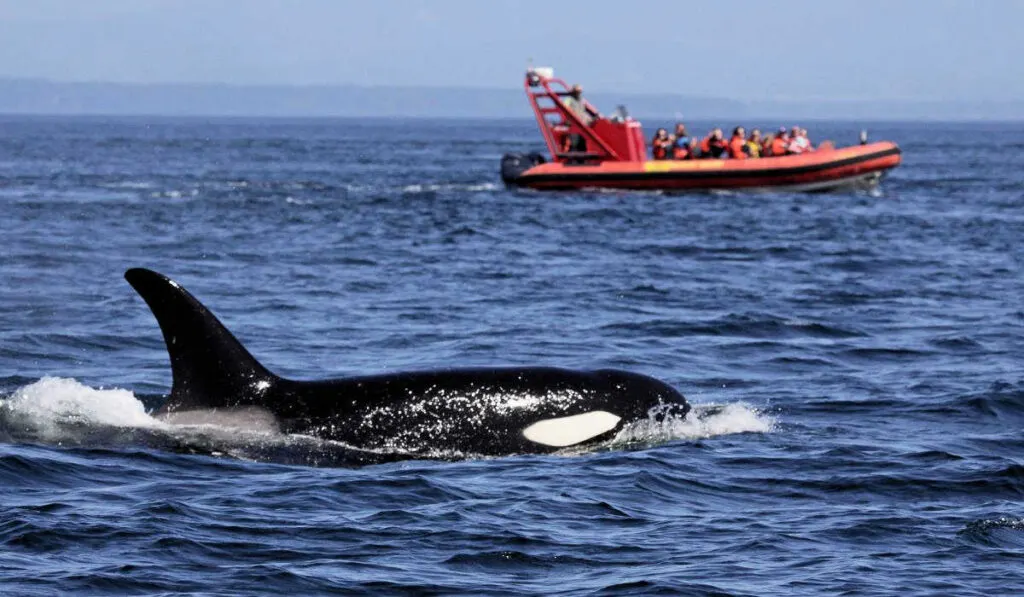 Several tour operators you can book with include Wild Whales Vancouver, which focuses on fostering a healthy ecosystem and are very informative tours.
Another company is Prince of Whales, which takes you aboard a catamaran from Granville Island, a favorite place amongst locals and tourists.
Even though summers are quite lovely in Vancouver, it is recommended to be well-dressed and prepared for your whale watching tour.
So, bring long pants, a sweater, and a windbreaker jacket as it can get cold at sea, especially when staying there for three hours.
If you get seasick easily, take some ginger or seasickness medicine, as the vessels move quite a bit, especially when static!
Contributed by Mary from Be Right Back
Victoria, Canada
If you're spending a weekend in Victoria, you can experience the wonders of whale watching in various local waters! It's possible to spot up to five species of whales, including orcas, humpback, and minkes, from May through October.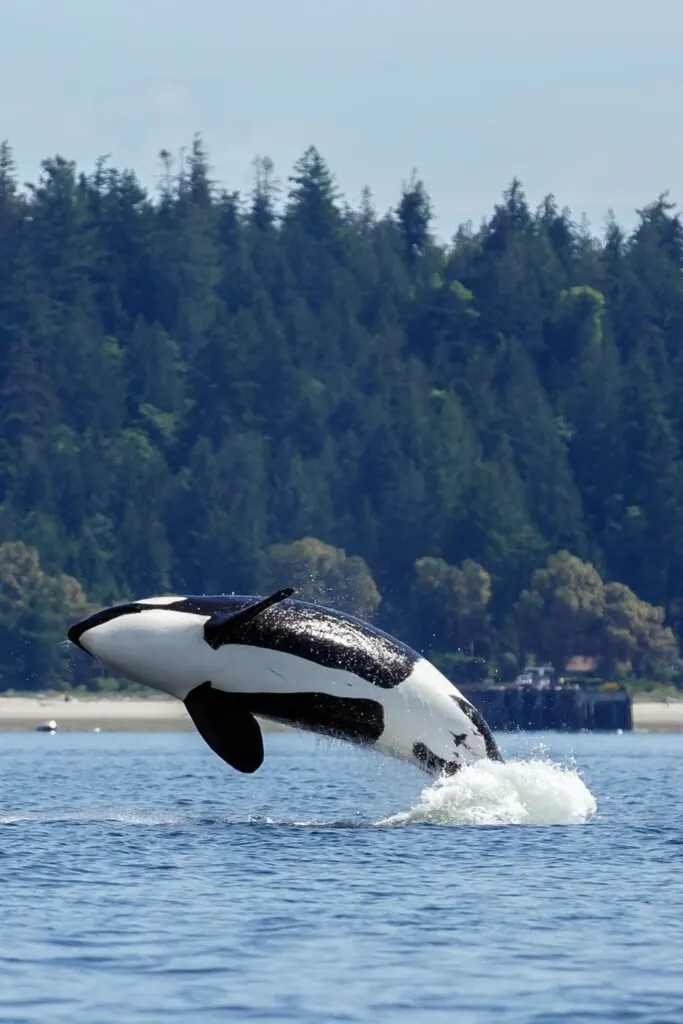 During peak season, visitors have a 95% chance of seeing orcas and humpbacks, while the odds are slightly lower for minkes. While seeking out the whales' location, you'll often spot porpoises, sea birds, sea lions, and harbor seals.
Naturalists and experts lead tours around Race Rocks Ecological Reserve (the southernmost point of Vancouver Island), where you'll learn about the many marine creatures that make this area their home.
Tours typically last three hours, although some operators offer excursions as long as eight. If you're prone to motion sickness, July to September offers the calmest seas.
If you're visiting BC's capital as part of an Alaska cruise, a whale-watching tour is one of the most popular shore excursions from the port of Victoria. While you can take a whale-watching tour in Alaska, humpbacks are the most commonly spotted species further north.
In Victoria, you're more likely to see Orcas and pay almost half the price for the same experience.
Tofino, Canada
Tofino is well-known for its excellent surfing and gorgeous Tofino hiking trails, but if that isn't your thing, there are plenty of alternatives in this breathtaking beach town.
Whale watching is one of Tofino, BC's most popular tourist activities. Every year, thousands of people come to this small town on the west coast of Vancouver Island to see these massive creatures in their natural habitat.
Several tour companies offer boat excursions, and they usually last around 3 hours. During the tour, you will likely see a variety of whales, including orcas, humpbacks, and gray whales.
You may even see dolphins or porpoises. The experience is truly unforgettable, and it's a great way to get up close and personal with these amazing animals.
One of the best whale watching providers is Jamie's Whaling Station. They boast a 95% success rate of seeing whales on your tour.
However, if you do not, they also offer you a "rain check ticket" to take another tour FREE of charge. With wild animals that can sometimes be elusive, it is fantastic to have that security.
Plan your trip according to what whales you would like to see. The most common whales from March to October are gray whales. In the spring, you may see humpback whales, and transient (Bigg's) killer whales can be seen year-round.
Since the Pacific Northwest is a hot spot for whales, you can also take tours from Washington State to the San Juan Islands.
Contributed by Debbie from World Adventurists
Cape Kiwanda, Oregon
If you're looking for a scenic place to do whale watching and have other outdoor adventures, Cape Kiwanda along the Oregon Coast is a fantastic option.
Although you might see a variety of whales here, from orcas to humpbacks, the most common species to spot are gray whales. Two hundred of these curious giants make the Oregon coast their year-round home, but the best time to spot them is during their migrations south.
On an annual basis, the whales swim, from mid-December through mid-January, past Cape Kiwanda on their way south to the warm lagoons of Baja Mexico to mate and raise their calves.
By late March, the whales will cross the Oregon coast again on their way back to the arctic nutrient-dense waters of Alaska.
The best way to spot gray whales in Cape Kiwanda is by hiking up its enormous sand dune, which towers almost 250 feet high, to the north of Pacific City Beach.
From here, you'll have an excellent vantage point offshore, and during peak migration periods, you can see up to 30 whales swimming past per hour!
You'll usually be able to spot them by seeing their spouts or, if you're lucky, catching their tail slap the surface of the water as they dive deeper. Just be sure to bring some binoculars to give you a better look!
Contributed by Jessica from Uprooted Traveler
Mendocino Coast, California
The Mendocino Coast is one of California's best places to go whale watching. Each year from November through February, gray whales migrate south from their feeding grounds in Alaska to their calving lagoons in Baja California, Mexico.
Then they turn around and head back up from February through April. This migration is the longest distance of any known mammal!
During these months, the whales are close enough to the Mendocino Coast that you can whale watch from certain places on the shore.
Mendocino Headlands State Park is one of the best places to spot these remarkable creatures. Adjacent to the charming town of Mendocino, the coastal trails are a great place to look for whales while admiring the spectacular scenery.
Another wonderful whale watching location is the Point Cabrillo Light Station State Historic Park. The lighthouse land jets out into the Pacific, so it affords an unobstructed view of the whales. Get there early with your binoculars, grab a picnic table, and enjoy!
If you prefer a whale watching boat tour, there are many options from Noyo Harbor in Fort Bragg. All Aboard Adventures, Anchor Charter Boats, and Telstar Charters offer frequent tours.
The Mendocino Coast is so popular for whale watching that they have three festivals to celebrate the migration.
Mendocino Whale Festival, Little River Whale Festival, and Fort Bragg Whale Festival celebrate on different weekends so that you can attend all three.
Contributed by Denise from Chef Denise
Channel Islands National Park, California
One of the best places to go whale watching on the west coast is Channel Islands National Park in California. The Channel Islands is a group of five islands that lie off the coast of California near the city of Ventura.
These islands are famous for their aquatic wildlife opportunities. The entirety of the islands and the surrounding ocean are a nature preserve for the animals living there.
The waters around Channel Islands National Park are considered a "transition zone," meaning multiple currents meet in the area. This brings a significant amount of food and wildlife, which attracts whales.
There have been 27 different species of whales found in the area. However, the most common sightings are the humpback, minke, gray, blue, orcas, and sperm whales.
During our boat ride to the islands to go Sea Cave Kayaking, we saw over 100 dolphins, a minke whale, and a humpback whale, and we weren't even on a whale-watching tour!
The best way to see the whales is to book a tour with the Island Packers company. They are one of the only companies that have an agreement with the National Park System to run whale-watching tours in the area.
They also manage the ferry that is required to get to the islands. You can see whales year-round in the Channel Islands, but you are more likely to see blue and humpback whales during the summer.
Alternatively, you can take an excursion from Santa Barbara. Directly north of the Channel Islands, it's a great Santa Barbara activity.
Contributed by Shannon from Adventuring With Shannon
Newport Beach, California
Newport Beach, just south of Long Beach, is an incredible place for whale watching in Southern California. Not only can you see dolphins during every adventure, but you could potentially spot whales all year round. Let's say the chances of seeing majestical wildlife is high!
Blue whales typically come through during the warmer months, from May to November. During the colder months, December to April, you can find gray whales.
Other types of whales can be seen, too, from fin whales to minke whales, humpback whales, and more. The best time to go whale watching in Newport Beach is any time you want!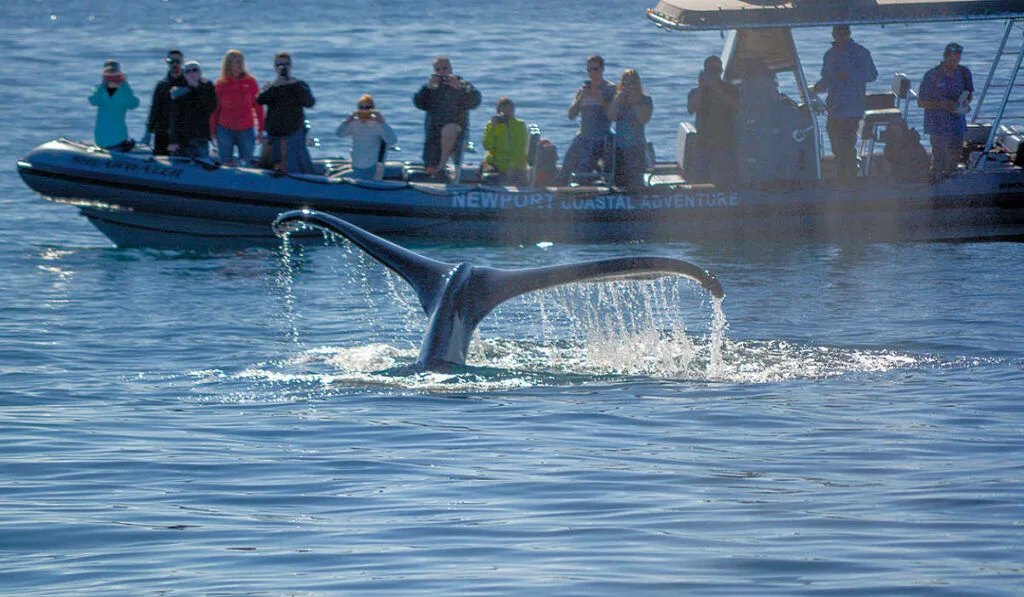 Since travelers can see whales year-round, the time to visit is up to you. Southern California has great weather, so you don't need to plan around the seasons so much. Summer is peak season in Newport Beach, so if budget is important to you, look into visiting during the winter.
There are two main whale watching companies in Newport Beach, Davey's Locker and Newport Landing. Both offer a similar experience with comparable prices.
You can choose from a basic 2-hour cruise onboard their largest boat, a luxury catamaran with a smaller passenger limit, or a smaller boat that gives a more intimate experience. Tours are surprisingly cheap, so there's no excuse not to take one.
Reservations are recommended, but walk-ups are welcome. If you're traveling on a budget, this is a great inexpensive activity in Orange County.
Snacks and drinks are available on the boat, but you are welcome to bring your own, with some restrictions. Don't forget a light hoodie or jacket and your camera!
Contributed by Heather from That OC Girl
San Ignacio Bay, Mexico
Laguna San Ignacio (San Ignacio Lagoon) is one of the top places for whale watching in Baja, Mexico. Every winter, thousands of gray whales travel south from Alaska to lagoons in Mexico's Baja California peninsula to give birth and nurse their calves.
San Ignacio Lagoon's warm, protected waters and abundant food sources make the perfect nursery for baby gray whales.
The gray whales here are famous for being extremely friendly towards humans. The mother gray whales push their calves up to the whale watching tour boats and encourage them to say hello to people.
The mothers and babies enjoy interacting with humans and will even let you pet them. Seeing a newborn gray whale face-to-face is a truly once-in-a-lifetime experience!
Although the official whale-watching season in San Ignacio Lagoon is December to April, the best time to visit for a greater chance of interacting with adult gray whales and their newborn calves is mid-February to mid-March.
The closest town to the San Ignacio Lagoon is about a 1.5-hour drive away and goes by the same name, San Ignacio.
It's a much welcome oasis in the middle of the Baja desert and has plenty of accommodations and restaurants.
Ecoturismo Kuyima and Antonio's offer some of the most popular whale-watching tours departing from the town of San Ignacio, while Pachico's (located on the lagoon) is one of the oldest whale watching tour companies in the area.
Contributed by Kristina from Off Path Travels
Loreto, Mexico
If you're heading to Mexico in the winter to bask in the sunshine, you could have a lot of company. Whales migrate to Mexico to breed and give birth. The optimal time to spot them is December to April.
While humpbacks and gray whales are plentiful, whale seekers travel to Loreta searching for the colossal blue whales. Blue whales are the largest creature on earth and can grow up to 30 meters or 100 feet long. Their young are born 25 feet long and weigh 3 tons.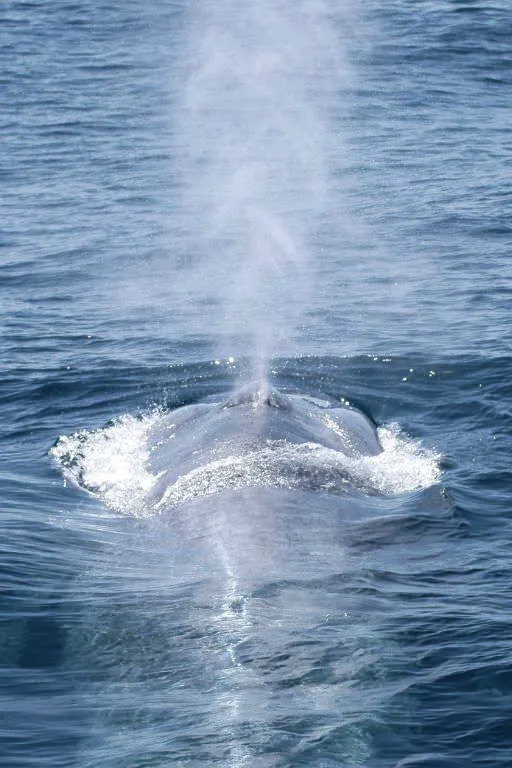 Loreta is one of the few places where you can see the giant blues globally. Operators offer tours in the early morning to mid-afternoon when the waters are calmest, and temperatures are a bit more tolerable.
Loreta National Marine Park provides an abundance of krill, a blue whale's favorite diet. It seems strange that the world's large creature would eat something so small.
As a protected park with hundreds of fish species, it's an ideal place to go diving and snorkeling. On a guided tour, you could see dolphins and fin whales too.
Mexican Riviera cruises include Loreto on the longer itineraries if you're visiting the country by cruise ship. You could stop in La Paz too, with an opportunity to snorkel with whale sharks.
Magdalena Bay, Mexico
From January to April each year, hundreds of gray whales make the journey south from the cold Arctic waters to Magdalena Bay in Mexico.
Located on the west coast of the state of Baja California Sur, gray whales come to Magdalena Bay to mate and breed in the warm, sheltered waters.
Seeing these majestic creatures anywhere along their annual voyage is incredible, but something extra special happens in Magdalena Bay.
For some unknown reason, the gray whales that come to the bay each year seek contact and interaction with humans. Touching wild animals is generally prohibited in any ethical wildlife encounter, but the rules in Magdalena Bay are different.
Forget whale watching, in Magdalena Bay, it's more like whale playing! These huge creatures happily approach boats and have been observed swimming about for hours playing with passengers.
If a whale approaches your boat and "spy hops" (sticks its head out of the water vertically), you should give it a scratch or a kiss, or it will swim away and find someone else who will.
To get up close and personal with the gray whales, you'll need to organize a tour, and local operator Magdalena Bay Whales is an excellent choice.
Having offered whale watching tours in the bay for more than 40 years, they know a thing or two about the bay and its giant visitors.
They can help you arrange packages ranging from one day to multiple days, depending on how long you'd like to spend whale watching.
You will want more than one chance to interact with these incredible creatures, and doing a multi-day tour with glamping at their Island Whale Camp is a once-in-a-lifetime experience!
Contributed by Sally from Sally Sees
Cabo San Lucas, Mexico
Humpback whales migrate from Alaska to the Sea of Cortez to breed and give birth. Gray whales arrive in Mexico from the frigid waters of the Antarctic and Alaska for the same reason. The waters off the west coast of Cabo become a playground for whales and an ideal place to go whale watching.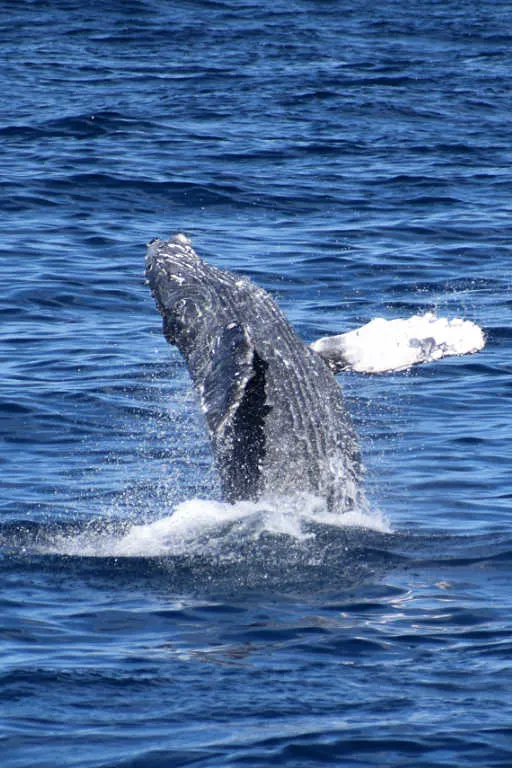 Cabo whale watching season starts in mid-December and continues to mid-April. On whale watching tours, you'll spot humpbacks but occasionally see orca, blue, sperm, gray, and fin whales.
Since humpbacks no longer feed as they do in Alaska, they exhibit playful behavior. Staying close to the surface, they delight onlookers with their jovial fin slaps, tail slaps, and colossal breaches, which create a thunderous splash.
If you suffer from motion sickness, choose a morning cruise when the Pacific Ocean offers calmer waters. Alternatively, use a motion sickness patch to prevent seasickness.
You can select from two types of vessels offered by multiple tour companies. The smaller zodiac boats offer quick maneuvering, getting you to a whale watching area faster. However, these watercraft bob heavily in large swells, making it difficult to take photos.
A larger catamaran offers a more stable ride and the opportunity to walk around the vessel. Your tour often includes drinks, snacks, and chances to mingle with other guests.
On the return to port, the catamaran sails by Pelican Rock, El Arco, and Lovers Beach for additional photo opportunities.
Sayulita, Mexico
While Sayulita's beaches are best known for beach bumming and surfing, you can also enjoy some incredible whale watching during your visit!
Off the coast of the state of Nayarit, you can see incredible humpback whales migrating and breeding here.
In fact, this area is one of three main breeding grounds for humpback whales in Mexico. So, while seeing majestic humpbacks is excellent, you'll also get to see their babies! Your best bet to witness this spectacle is to come from December to April.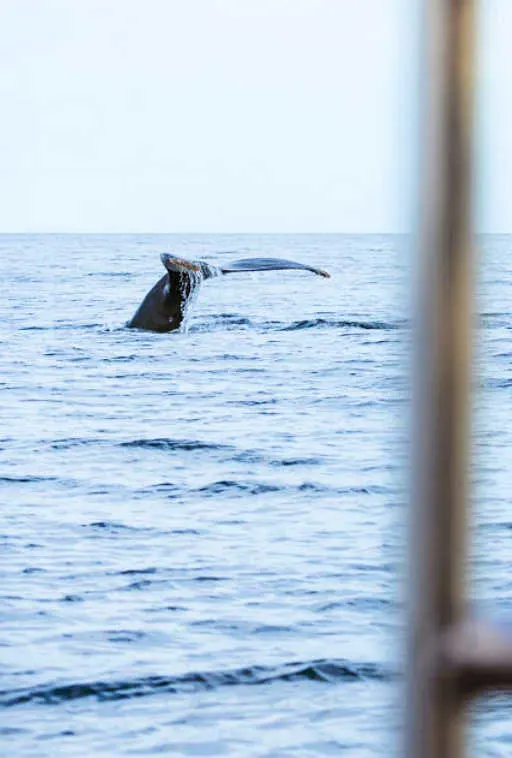 While you might get lucky and see one from shore, you will want to get closer to the action. You can easily do this by booking a tour straight from the beach. There are numerous operators.
For a real treat, you can book a boat tour to the stunning Marieta Islands for the day. These islands are just a bit south of Sayulita, and you'll get to explore Hidden Beach with its cool collapsed stone roof and other gorgeous beaches on this tour.
You're practically guaranteed to see whales breaching and slapping their tail along the way! This way, you can do two awesome things at once.
Contributed by Nina from Where In The World Is Nina
Puerto Vallarta, Mexico
For an unforgettable whale-watching experience, head to Puerto Vallarta, Mexico. The city of Puerto Vallarta provides the perfect destination for that once-in-a-lifetime opportunity to see these majestic creatures up close.
It's also a wonderful place to enjoy the beauty of nature. You can commonly see humpback whales, but on rare occasions, you might spot blue and gray whales.
The best chances to see these majestic giants is from December to March. During this time, humpback whales migrate to Puerto Vallarta to take advantage of warmer water temperatures, where they mate and give birth.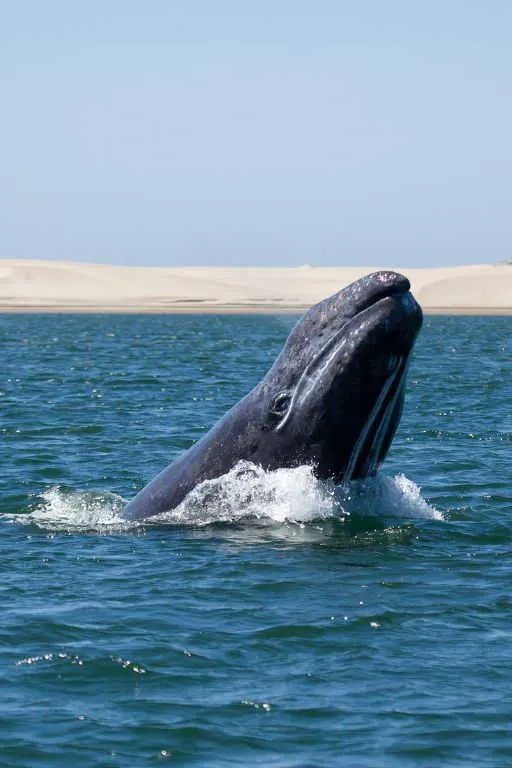 With over 500 humpback whales in Banderas Bay, you'll likely spot one if you take a boat tour in that area. You can go whale watching in Puerto Vallarta in many different places.
The best way to see whales is to take a tour from eco-friendly tour companies such as Ecotours de Mexico. This tour company offers whale and dolphin watching tours led by knowledgeable biologist guides.
Alternatively, you can also see whales during fishing trips around Banderas Bay and beyond.
No matter where you go to see whales in Puerto Vallarta, you will surely have a memorable and breathtaking experience.
Contributed by Astrid from Mexico Family Travel
Oaxaca, Mexico
The coast of Oaxaca is known for rugged mountains that quickly descend into the Pacific Ocean to create picturesque coves of golden sand and turquoise water surrounded by towering palm trees.
But did you know the beaches of Oaxaca are also a great place to spot whales?
From Huatulco to Puerto Escondido and beyond, humpback whales migrate from cooler northern climates to the warm waters of southern Mexico to breed and give birth each winter.
While humpback whales are the most common along the coast of Oaxaca, it's also possible to see blue whales, gray whales, and orcas.
The best time to go whale watching in Oaxaca, Mexico, is during December, January, and February. Although, travelers have spotted them as early as November and as late as March.
Oaxaca coastal towns of Puerto Escondido, Mazunte, and Huatulco provide the bulk of dolphin and whale watching tours.
One important tip is to remember that nothing is guaranteed in nature. While most tour operators will guarantee dolphin and sea turtle sightings, seeing whales requires a touch of luck and a bit of patience.
Regardless, it's worth planning your trip to this region of Mexico around whale watching season.
Contributed by Julien from Oaxaca Travel Tips
Costa Rica
Whale watching is a great activity to do while in Manuel Antonio, on the Pacific coast of Costa Rica. Multiple types can be seen, including humpback, pilot, and sperm whales. Occasionally, you may even see a blue whale!
The best time of year to see whales is from August to March. Yes, the whale watching season on Costa Rica's Pacific Coast is eight months long.
This part of Central America offers some of the best whale watching on the planet. It's also the longest whale-watching season on earth!
The humpback whales of the Southern Hemisphere leave Antarctica in July and arrive in Costa Rica between August and November.
Northern hemisphere whales migrating to Central America from Alaska depart between December and March.
In order to have the best experience, it is recommended to go on a tour with a knowledgeable guide. They will be able to help spot the whales and tell you interesting facts about them. Make sure to bring binoculars to aid with whale spotting and a camera to capture some great photos!
Because the water is so warm in Costa Rica, travelers often combine whale watching with snorkeling excursions. This excursion even offers waterslides and meals for all-day entertainment.
Contributed by Brodi from Our Offbeat Life
Final Thoughts
The Pacific coast of North America ranks as one of the top places to enjoy whale watching. The success rate of seeing one or more whale species is high.
Even if you take a tour in one area, chances are you'll experience something totally different next time. The anticipation, the unknown, and the thrill of the event keep us coming back for more.