Nestled along California's coastline, Santa Barbara offers a refreshing escape from the hustle and bustle of big cities. Whether you're arriving by private vehicle or cruise ship, there are plenty of things to do in Santa Barbara.
From exploring the city's Mediterranean-style architecture and vibrant art scene to relaxing by the Pacific Ocean, Santa Barbara has something for everyone.
With its year-round mild climate, visitors can enjoy a variety of outdoor activities, including water sports and hiking. So why not take a break from the fast-paced city life and discover the enchanting haven of Santa Barbara?
Looking for the perfect shore excursion?
Find your Santa Barbara tour on Viator. Viator is a trusted site that offers lots of tours, starting at under USD 30. Whether you're traveling with children or seeking an adventure, there's one for every budget.
Find your tour here
It's a 90-minute drive from Los Angeles, but it feels like a world away. If visiting Santa Barbara as part of a Pacific Coastal cruise, the city has no cruise port. So, passengers must use tender boats to reach the city.
However you arrive, let's explore 20 activities you can enjoy in Santa Barbara.
1. Go Whale Watching
You should take a whale watching excursion if you visit Santa Barbara from November to April. The California coastal areas offer one of the best places to see whales along the west coast.
Gray whales give birth in the warmer waters of Baja California and migrate to feeding grounds in Alaska during the summer months.
Outside of Gray Whale season, you can see humpback whales, several species of dolphins, and a chance to spot rarer mammals like Fin Whales, Minke Whales, and Blue Whales.
You can select from a more intimate yacht tour or a larger catamaran experience. Catamarans offer a more stable ride if you suffer from motion sickness.
It's important to note the Marine Mammal Protection Act requires boaters to keep a distance of at least 100 yards from whales unless the whale initiates contact.
While whales have been known to approach boats, it's important to respect their space.
2. Rent A Bike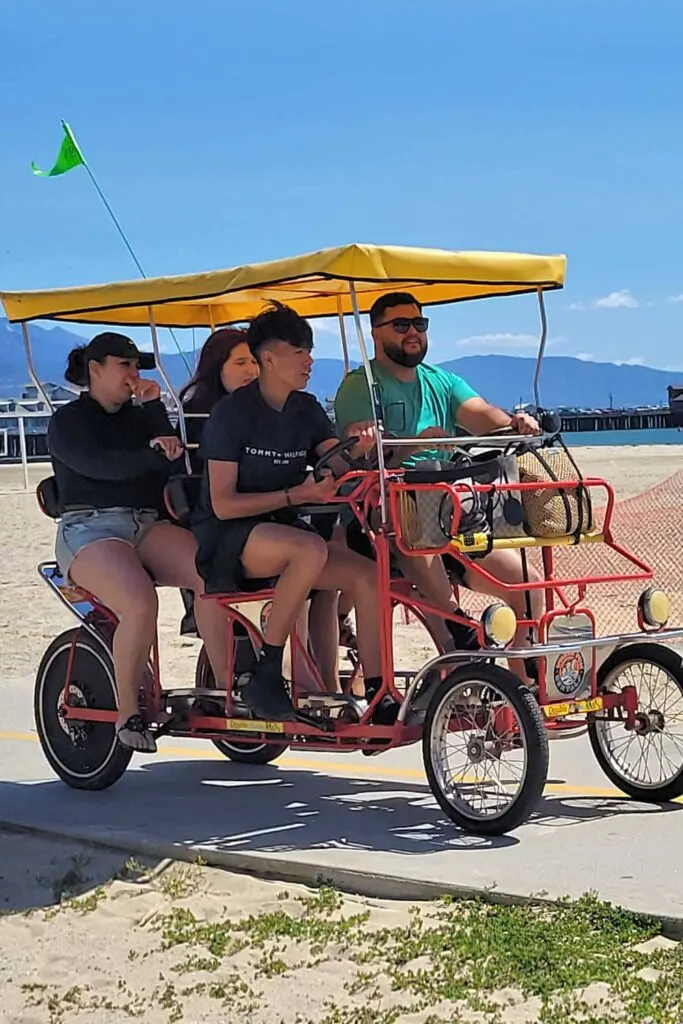 Santa Barbara features a lovely waterfront, and there's no better way to explore it than on two wheels – or four? Bike rentals are plentiful and inexpensive; your only decision is what kind of bike you want.
Rental shops offer the standard two-wheel version, but consider an electric bicycle if you prefer the battery assist. E-bikes are easy to ride and do the hard work on hills and long distances.
If you're visiting as a family or with friends, the four-wheeled Surrey bikes come in two or four adult versions for added fun. Small seats at the front provide room for children.
For a small fee, you can add on a boogie board, or chair and umbrella set, to maximize your time on the beach. What's a port day without a little fun in the sun?
Beyond the waterfront, you can explore the city by bike or travel further to Old Mission Santa Barbara.
3. Tour The County Courthouse
Architecturally beautiful, Santa Barbara County Courthouse showcases the Spanish Colonial Revival style with intricate detailing both inside and out. Located at 735 Anacapa Street, it's free to visit, but visitors must go through a security check first.
Its white stucco exterior, with a classic red tile roof and a clocktower, adds to its charm. But it's inside where the building really shines, and one of the best things to see in Santa Barbara.
Inside the entrance, look up to admire its gold and crimson ceiling, illuminated by an iron lamp. A beautifully tiled staircase leads to the second floor.
For many, the Mural Room provides the highlight of the tour. Here, colorful frescoes depicting scenes from Santa Barbara's past adorn the space, captivating everyone who visits.
Another staircase leads to the top of the clock tower, but not before seeing Bisno Schall Clock Gallery. Once hidden from view, a renovation in 2012 allows visitors to see the fascinating timepiece.
A few steps more, and you'll be rewarded with panoramic views of Santa Barbara and the surrounding mountains. The tower offers a unique vantage point to appreciate the city's beauty and admire the architectural details of the courthouse below.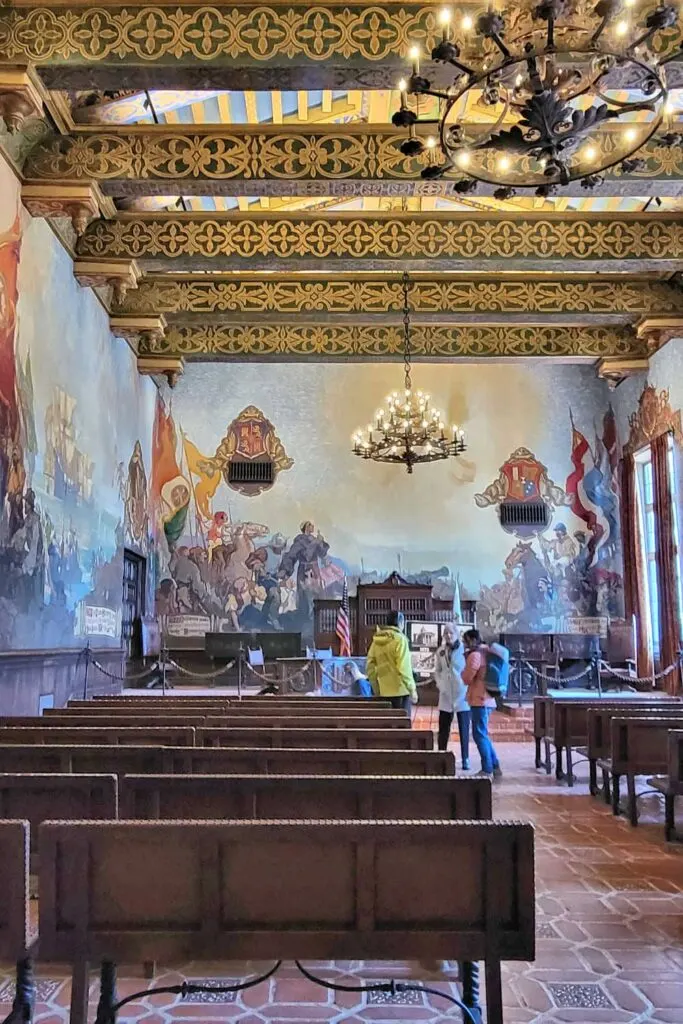 4. Visit The Ronald Reagan Presidential Library
The Ronald Reagan Presidential Library is a popular shore excursion sold by many cruise lines. Located in Simi Valley, between Santa Barbara and Los Angeles, it requires a one-hour bus ride each way.
The library or museum provides a comprehensive and engaging experience for visitors interested in Ronald Reagan's life and presidency.
One of the main attractions is the Air Force One Pavilion, which houses the actual Air Force One aircraft used by President Reagan. You can walk through the plane and get a glimpse into the life of a President during his travels.
Another highlight is the stunning grounds surrounding the library, offering breathtaking views of the mountains and the Pacific Ocean.
Inside the library, you'll find a vast collection of exhibits that highlight Ronald Reagan's journey, from his early years to his time as the 40th President of the United States.
The exhibits include artifacts, photographs, and interactive displays that offer insights into his political career, policies, and personal life.
Additionally, the library features a replica of the Oval Office, where you can step into the shoes of the President and imagine what it was like to make important decisions in the White House.
Finally, don't miss the memorial site where President Reagan and his wife, Nancy, are laid to rest. It is a peaceful and dignified tribute to their enduring legacy.
5. See A Movie At The Arlington Theater
The Arlington Theater in Santa Barbara is a stunning example of Spanish Colonial and Mission Revival architecture. With a seating capacity of just over 2,000 guests, it is the largest theater in the area.
Originally built in 1931, the theater has been beautifully preserved and showcases first-run films and comedies. It is made with good acoustics and provides an ideal venue to enjoy big-name bands.
One unique feature of the Arlington is its covered exterior lobby, which is adorned with large Spanish arches and a tiled fountain. Known as "the Paseo," it features a stunning mural depicting Spanish dancers.
While the lobby may be relatively small, it has a regular popcorn stand and a place to grab a drink. The theater's interior is equally impressive, with buildings on either side of the seats that resemble a charming Spanish village.
The Arlington is not just a place to catch a movie or show; it is also available to rent for events. So, whether you choose to see a film or not, stop by this venue in downtown Santa Barbara to admire its rich history.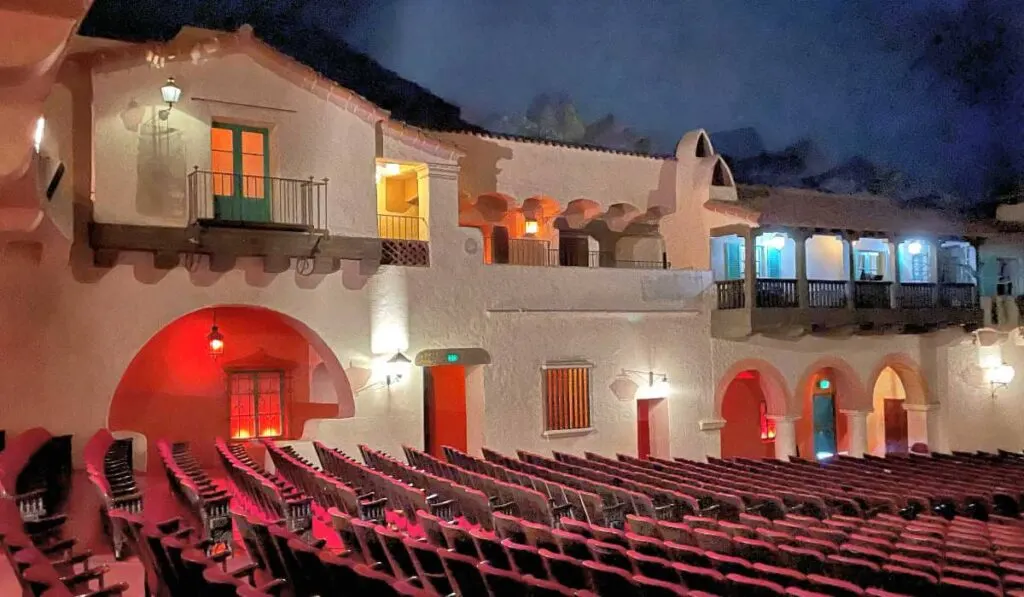 6. Ride The Santa Barbara Trolley
The Santa Barbara Trolley provides a popular way to see and hear about the city's sights from for comfort of a trolley bus. Unlike a hop-on hop-off bus, guests enjoy a 90-minute circuit without the hop-off privileges.
Tours depart from the Visitor Center at 1 Garden Street if purchased directly with the company. Pick up and drop off are at the tender area if you've purchased from your cruise line.
During the tour, expect to see major attractions, including the Santa Barbara Harbor, Stearns Wharf, Santa Barbara Zoo, and the Funk Zone.
Tickets cost just USD 28 on weekdays and two dollars more on weekends. Fifteen trolleys run on a 10 am, 12 noon, and 2 pm schedule and are first-come, first-serve basis.
These passes offer great value and allow you to see the local attractions on a nostalgic trolley ride.
7. Explore State Street
You'll find State Street in downtown Santa Barbara, with a 10-block promenade featuring quaint shops and the best restaurants. While a free shuttle takes you to the top of State Street, it's a great place to explore on foot.
​The open-air shopping experience is reminiscent of towns in Europe. The wide sidewalks in many blocks allow restaurants to have outdoor patios.
Sections of the street are closed to traffic, allowing you to wander on the road when the neighborhood gets busy. Exploring the street, you'll find unusual finds such as Insomnia Cookies, Lokum Turkish Delight & Baklava, and Seaside Makers.
Being Celiac, I was thrilled to stumble upon Lilac Patisserie, a dedicated gluten-free cafe and bakery. Open from 8 am to 3 pm, you can enjoy gluten-free avocado toast, quiche Lorraine, freshly made sandwiches, or cakes!
8. Visit The Funk Zone
Located between Highway 101 and Amtrak railway, the Funk Zone attracts visitors to its vibrant neighborhood known for its artistic and cultural scene.
You'll encounter art galleries, boutique shops, craft breweries, wine-tasting rooms, and trendy restaurants by exploring the Funk Zone.
The area is renowned for its urban and industrial atmosphere, with converted warehouses and buildings now housing a variety of creative businesses.
For wine and beer enthusiasts, the neighborhood offers an array of tasting rooms and craft breweries such as Validation Ale and Test Pilot.
You can indulge in tastings of exquisite local wines, often produced from nearby vineyards, or savor a craft beer brewed locally.
9. Visit Santa Barbara Mission
The Santa Barbara Mission holds great historical significance as one of California's most iconic Spanish colonial missions. Founded in 1786, it played a vital role in the spread of Christianity and European influence along the Pacific Coast.
Located at 2201 Laguna Street between the Santa Ynez Mountains and the Pacific Ocean, it's open year-round. Visiting here offers a glimpse into California's past and a chance to see its two bell towers.
The mission's exquisite architecture showcases a blend of Spanish and Chumash Native American cultures. While it still serves as a place of worship, you can enjoy the church outside of service hours.
Often referred to as the "Queen of the Missions," a visit includes the Mission Rose Garden, the museum, the restored church, and the historic cemetery.
Visitors can explore the mission at their own pace on self-guided tours or join a one-hour guided walk on Fridays to Sundays.
10. Tour Santa Barbara On A Segway
A Segway tour offers a unique way to see the city on two wheels instead of two feet. Segways are remarkably easy to ride and can cover more ground quickly. While the vehicle can't carry large bags and backpacks, you can take a camera and a small shoulder bag.
Riders must be 12 years and above and weigh between 100 and 300 lbs. You can choose from a one-hour "quickie" tour or an extended ride of two hours.
From the Funk Zone location, the shortened tour runs from West Beach along the waterfront to the Andree Clark Bird Refuge. You'll pass East Beach and Santa Barbara Beach, providing photo opportunities.
The Andree Clark Bird Refuge contains a 29-acre lake that attracts hundreds of different bird species.
For an extra USD 20, you can add another hour to your excursion. Since Segways are so much fun, you'll want to do the two hours tour.
The longer trip travels further to Butterfly Beach in Montecito, and you'll enjoy the city's historic landmarks on the way. Since the tour only takes one to two hours, you'll have plenty of time to explore the downtown area afterward.
11. Walk Stearns Wharf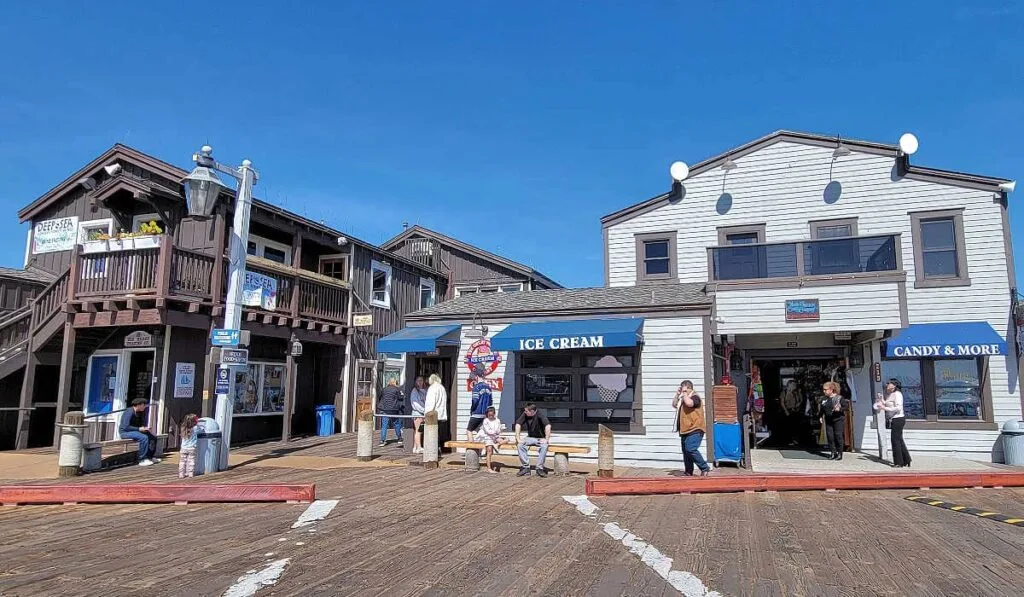 Stearns Wharf is a beloved landmark that offers a delightful experience for visitors of all ages. This historic pier stretches into the Pacific Ocean, with West Beach bordering it on each side.
Reminiscent of seaside piers in England but on a smaller scale, the wharf offers a hub of activity. The pier is home to several restaurants serving fresh seafood and local cuisine.
You can't go wrong with breakfast at Moby Dick, wine tasting at the Deep Sea Tasting Room, or fresh oysters from The Harbor Restaurant.
Additionally, the wharf boasts an assortment of shops, including boutiques, gift stores, and art galleries; you can even purchase a palm reading.
12. Do The Red Tile Walking Tour
If you love Spanish architecture and photography, this walking tour is for you. Starting and ending at the Santa Barbara County Courthouse, this 7-stop tour takes you to see 22 historic buildings in the downtown area.
Along the way, you'll encounter notable landmarks, such as a magnificent Spanish Colonial Revival building with stunning panoramic views from its clock tower.
The tour also includes stops at the Old Mission Santa Barbara, known for its picturesque gardens and exquisite architecture. You'll discover the history of each tiled roof building, some of them dating back to the 1700s.
If you're not a fan of the white stucco abodes with red tile roofs, you will be after this excursion.
13. Explore The Sea Center
The Santa Barbara Sea Center makes a great daytime activity if you're traveling with children. The Sea Center offers visitors an immersive and educational experience on the Stearns Wharf.
Opened in 1986, the center boasts a vibrant touch tank, allowing guests to interact with various marine creatures from the Santa Barbara Channel. The Swell Sharks, sea urchins, anemones, and sea stars are a huge hit with the kids.
The center isn't big, so don't expect a big city production like the San Diego Seaworld. However, the venue has a range of interactive exhibits highlighting the local marine ecosystem, and you'll enjoy your visit with fewer people.
So, expect to be captivated by displays of colorful fish, mesmerizing jellyfish, and intricate coral reefs. Throughout the center, informative displays provide insights into the behaviors of marine life.
14. Visit The Wolf Museum Of Exploration
The Santa Barbara Wolf Museum of Exploration & Innovation offers a multitude of exhibits and interactive experiences for all ages. Known as MOXI, this museum encourages interaction and play.
So, if you're seeking a playful activity, you'll enjoy browsing the exhibits focused on math, engineering, technology, arts, and science.
From hands-on experiments to cutting-edge displays, there is something to engage every curious mind. Kids can learn through play, and adults can unravel the mysteries of outer space.
The museum is tailored toward kids and families. However, adults can have a blast too. You can make your own race car, create music, and enjoy lovely views from the rooftop deck.
A typical visit to the Santa Barbara Wolf Museum of Exploration & Innovation can take anywhere from two to four hours, depending on your pace and level of interest.
15. See The Chumash Painted Caves
Approximately 20-25 minutes from Santa Barbara, you can visit the Chumash Painted Caves State Park. Once you arrive, you'll find yourself surrounded by natural beauty and the remnants of the Chumash civilization.
The Chumash Painted Caves are a collection of rock art sites that showcase the artistic expressions of the Chumash people. These caves feature ancient pictographs, which are paintings made with pigments derived from minerals and plants.
The pictographs depict various symbols, animals, and human figures, providing a fascinating glimpse into the Chumash culture and their way of life.
It's free to visit and allows a unique opportunity to connect with the past and appreciate the region's rich cultural heritage. The Caves are a protected archaeological site, and visitors are advised not to touch or disturb the works of art.
Besides admiring the paintings, you can take a leisurely hike, enjoy a picnic amidst the serene surroundings, or simply soak in the peaceful ambiance of the site.
16. Take A Road Trip To Solvang
To visit Solvang from Santa Barbara, you take a scenic drive or use public transportation. If you're driving, expect the journey to take 45 minutes to an hour, depending on traffic. Alternatively, you can book a tour through your cruise line.
Solvang, a charming Danish village located in the Santa Ynez Valley, is known for its unique architecture, Danish heritage, and rich cultural experiences.
Here, you can admire the Danish-style buildings, complete with windmills, timber-framed structures, and colorful facades.
Solvang is famous for its delectable Danish pastries, including aebleskiver (round pancakes) and buttery pastries like kringle and wienerbrød. A day trip isn't complete without indulging in these Danish treats and sampling Chardonnay and Pinot Noir from Santa Ynez Valley.
Other attractions include the Elverhøj Museum of History and Art, Hans Christian Andersen Park, and a replica of the Little Mermaid statue from Copenhagen.
​17. Visit The Santa Barbara Botanic Garden
Gardeners will be captivated by a visit to Santa Barbara Botanic Garden. Nestled in the foothills of the Santa Ynez Mountains, this 78-acre garden showcases diverse plant species that are native to California.
During a visit, you can explore over five miles of walking trails that wind through a variety of natural landscapes. From towering redwood forests to cactus-lined deserts, the gardens showcase the diverse flora of the California region.
With over 1,000 different plant species to discover, the Santa Barbara Botanic Garden is a must-visit destination for nature lovers.
You'll find the gardens more wild and less controlled than European grounds, but that adds to the appeal of this place.
Be sure to visit the Pritzlaff Conservation Center, where you can enjoy panoramic views of the Channel Islands.
18. See The Old Theaters
The old theaters in Santa Barbara hold a captivating history that has enchanted generations of theatergoers. The Arlington Theater, a majestic Spanish Colonial Revival gem, was built in 1931 and remains an iconic landmark.
Next on the list is the Metro 4, which opened its doors in 1925. Originally known as the Granada Theater, it underwent renovations and was reborn as the Metro 4, providing a modern cinematic experience while preserving its historic charm.
Speaking of the Granada Theater, it was established in 1924 and is a true testament to Santa Barbara's cultural heritage. Over the years, this elegant venue has showcased countless live performances, including opera, ballet, and symphony concerts.
Lastly, the Lobero Theater is a Spanish-style building constructed in 1873. The Lobero holds the distinction of being California's oldest continuously operating theater.
Throughout its long history, it has welcomed renowned artists and performers from various disciplines. All four theaters are within walking distance of each other so that you can visit all within an hour.
19. Browse The Museum Of Art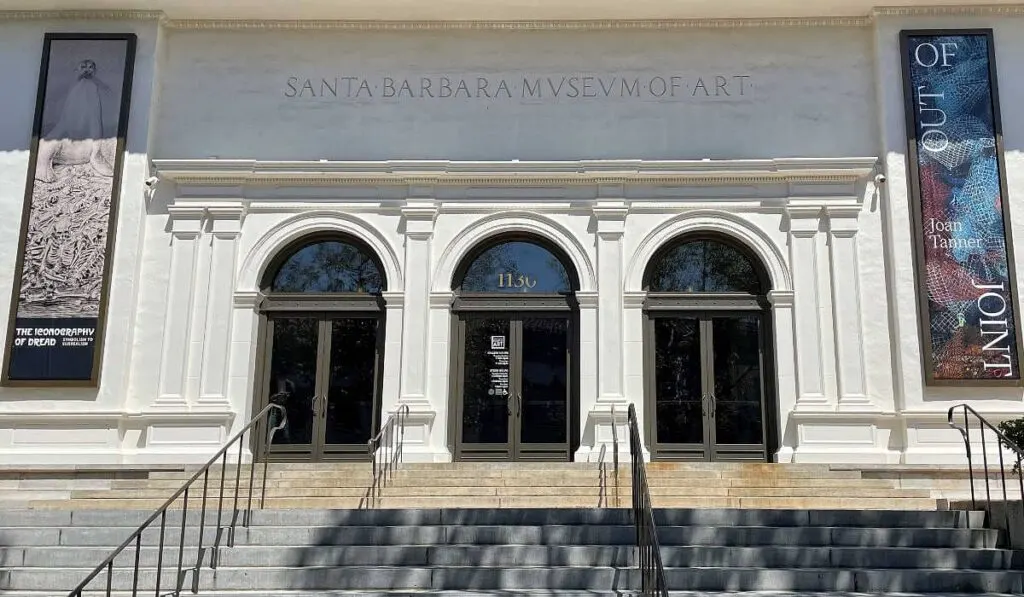 Located at 1130 State Street, the Santa Barbara Museum of Art stands as a beacon of artistic expression. Founded in 1941, it houses a collection of visual masterpieces spanning centuries and cultures.
Open from Tuesdays to Sundays, you can enjoy revolving exhibits from paintings and sculptures to photography and installations. While tickets are reasonably priced, you can enjoy free entry on Thursdays from 5 pm to 9 pm.
The museum isn't large and won't compare to the Louvre. However, its specialty exhibits are wonderful, inspiring and enriching the city's cultural landscape.
Outside the museum, you will find stunning mosaics along the waterfront. The sidewalk art additions add an artsy element to this beachside city.
20. Head To The Beach
If your idea of vacationing means doing nothing, Santa Barbara has you covered. Located near the cruise port, East Beach and West Beach are popular choices for visitors seeking a convenient seaside escape.
These beaches boast stunning views and a vibrant atmosphere. For those in search of the best sand, Leadbetter Beach stands out with its soft, golden shoreline and ample space for sunbathing and beach games. Its calm waters also make it suitable for swimming.
When it comes to family-friendly options, Shoreline Park Beach and Butterfly Beach shine. Shoreline Park Beach features a playground, picnic areas, and calm waters, making it ideal for children.
Although not as sandy, Butterfly Beach offers tide pools and gentle waves, perfect for little explorers.
Wrap It Up
As you can see, you'll have plenty of things to do in Santa Barbara on a port day.
This quaint seaside town offers more than just palm trees, sandy beaches, and sunshine. From historic architecture and intriguing museums to wine tasting, it provides the perfect blend of natural beauty, cultural richness, and rich experiences.
Its vibrant downtown boasts a myriad of boutique shops, art galleries, and delectable dining options, ensuring a delightful experience for all.
Nature enthusiasts can explore the enchanting Santa Ynez Mountains. With its rich history, visitors can explore the iconic Old Mission Santa Barbara and immerse themselves in the city's cultural heritage.
After one visit, it might become your favorite port on your California Coastal cruise.