Experience the adventure of Pacific Northwest cruising as you embark on a repositioning cruise along the west coast. Typical cruises travel between Vancouver, British Columbia and a Californian port, at the start and end of the Alaska cruise season.
Many first-time cruisers consider a shorter cruise (under seven days) as a "trial run" to cruising. Is this a good idea? Yes, but selecting the right cruise from hundreds of options can be pretty mind-boggling.
Coastal cruises can start at a three-day Pacific Northwest cruise and go as long as seven days. This guide examines explicitly the west coastal cruise option, the ports of call, and what to expect of the sea conditions.
What Time of Year?
In April and May, ships are repositioning to Seattle and Vancouver for the start of the Alaska season. In September or October, vessels leave the area and chase the sun and warmer weather.
So, you can get a one-way cruise from Vancouver as the vessels move south again when the Alaska season wraps up for the year.
If you intend to sail the first or last Southeast Alaska sailing, why not do a back-to-back with a Pacific Coastal cruise? Since these sailings leave one port and end in another, cruise prices can sometimes be "rock bottom" and hard to pass up.
For instance, I sailed a 5-day cruise with Norwegian Cruise Line from the Vancouver British Columbia cruise port to Los Angeles for a mere USD 169 in a balcony cabin. With food and entertainment included, I enjoyed five days for less than one night in a hotel.
My cruise stopped in Seattle, Astoria and finished in Los Angeles. I added four days in Las Vegas for a total of 9 days at a minimal cost. These shorter cruises are perfect for those living in Vancouver, Seattle, or California because they allow for an inexpensive, quick getaway.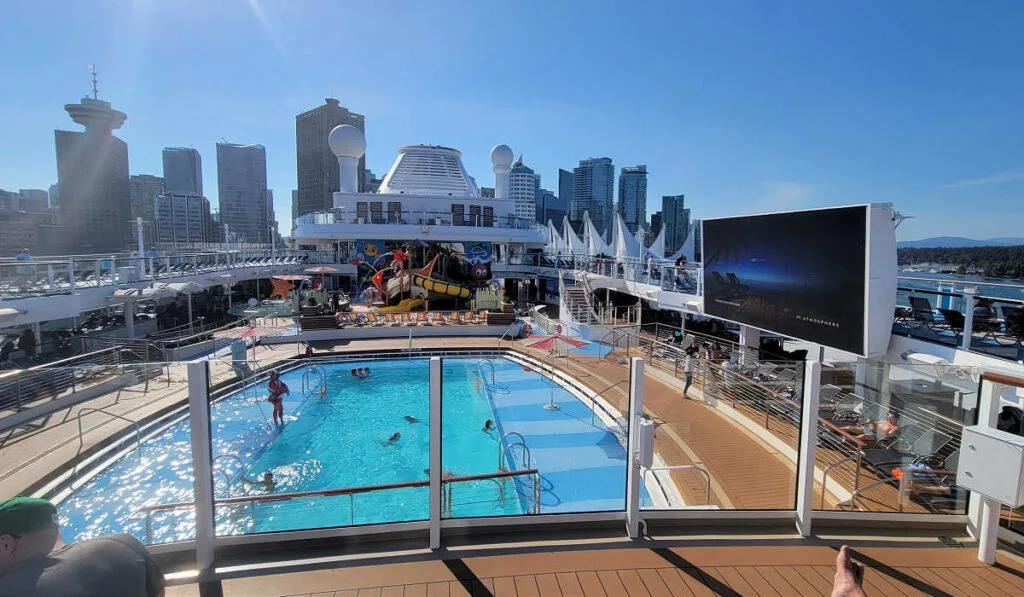 A shorter getaway is the perfect solution if you've ever wanted to experience a suite but couldn't afford to. Are you a seasoned cruiser who always books the same cruise line?
Well, a shorter sailing like a coastal cruise may be an excellent opportunity to try another cruise line. You've only committed to three days or how many days you choose to sail.
Length Of Cruise
When cruising the Pacific Northwest, you can choose from three to seven-day itineraries, with most on the shorter length. However, some cruise lines offer a 7-day sail and land itinerary that combines time at sea with a few days in Las Vegas.
A three-day cruise generally leaves one port and arrives at its destination with no port days. These mini cruises run between Vancouver and Seattle in the Pacific Northwest to either Los Angeles, San Diego, or San Francisco cruise port in California or vice versa.
A Pacific Northwest itinerary longer than three days offers some west coast cruise port days.
These may include stops in Victoria on Vancouver Island, Seattle, Astoria, San Diego, San Francisco, Monterey, or Santa Barbara. A one-way flight home (should you live at one end of the journey) is inexpensive.
Princess Cruises sometimes offers a return journey from Vancouver, British Columbia, if you've cruised along the Pacific Coast before and enjoyed it.
Pacific Northwest Cruise Ports
The cruise ports on the Pacific Ocean are all unique. These ports are not used to having thousands of travelers daily like in the Caribbean. As a result, there are many hidden gems to be discovered in each port.
Some are major cities, while others are quaint towns. Here's a taste of what you can expect at each stop.
Vancouver, British Columbia
If you're starting or ending in Vancouver, add a few more days. With a 3-day itinerary of Vancouver, you can see the Capilano Suspension Bridge, Grouse Mountain, Gastown, Stanley Park, Yaletown, Granville Island, and much more.
Vancouver has a fantastic culinary scene, so you'll enjoy dishes from Japan, India, Lebanon, Italy, and Greece, to name a few.
The downtown area is a hub of activity both day and night. It's a great place to stroll the waterfront and watch seaplanes coming and going in Burrard Inlet.
Victoria, British Columbia
Before stopping in Victoria, you'll pass the Gulf Islands and San Juan Islands. It's a picturesque place and an ideal area to spot whales.
In Victoria, guests can enjoy whale-watching tours, a free tour of the parliament building, or a colorful trip to Butchard Gardens. Victoria has two of Canada's best castles, Hatley and Craigdarroch Castles, if you love castles.
You can't beat the bustling atmosphere and fantastic seafood at Fishermen's Wharf near the cruise port for lunch.
Seattle, Washington State
As you cruise into Seatle, the views of the Space Needle, Olympic National Park, and the Seattle Great Wheel come into view.
There are so many options for your port day, from the Pike Place Market and the first Starbucks store to the Space Needle and Chihuly Garden and Glass.
If it's gloomy, Seattle has many rainy day activities like its numerous museum, aquarium, and underground tour.
Astoria, Oregon
Astoria oozes charm with its historic houses and the stories that go with them. While it may not be a huge city like Seattle or San Francisco, Astoria provides some unique attractions for exploration.
At 125 feet high, the Astoria Column provides spectacular views of the Columbia River.
Once you've climbed its 164 stairs, you can also enjoy Ocean views.
You'll step back in time at the 1925 Liberty Theater, where you can admire its intricate architecture.
San Francisco, California
From cable cars to Fishermen's Wharf, San Francisco offers numerous bucket list experiences. The Golden Gate Bridge, Chinatown, Lombard Street, and Alcatraz Island are just a few that come to mind.
If you take a ferry to Alcatraz Island, you can tour the infamous Alcatraz prison. For the best views of San Francisco, visit the Coit Tower, which sits on Telegraph Hill.
If you start or end your cruise in San Francisco, consider adding a few days in this Californian city to explore downtown and beyond.
Santa Barbara, California
The Santa Barbara County Courthouse is a must-visit. You can enjoy a free tour, see a magnificent mural room, and enjoy the best views of Santa Barbara from the clock tower.
You can't go wrong with a winery or a farm tour in Santa Barbara. Alternatively, try a food-tasting excursion where you'll savor a rich culinary scene from farm-to-table restaurants.
If you prefer to do some retail therapy, its Spanish colonial storefronts invite you to step in and browse along the waterfront. For those who like museums, there are none better than the Museum of Natural History and the Museum of Art.
Catalina Island, California
Hiking, biking, and enjoying the natural scenery are the top things to do on Catalina Island. Glass bottom boats and submarine tours are popular if you want to see the marine life without getting wet.
With nearby wineries on the mainland and access to seafood, it's a great place to delight in a Dungeness crab lunch with a wine selection.
Monterey, California
Monterey is a picture-perfect destination with its rugged coastline and idyllic beaches. The Monterey Bay Aquarium and whale-watching tours are highly recommended for wildlife enthusiasts.
Old Cannery Row and Old Fishermen's Wharf are a hub of activity if you want to browse for gifts and souvenirs. With so many charming eateries and restaurants, it's an excellent stop to grab lunch.
Los Angeles
The Port of Los Angeles has two cruise terminals. The San Pedro World Cruise Center and Long Beach Cruise Terminal serve all the major lines, such as Holland America, Royal Caribbean, and Carnival Cruise Line.
The hop-on hop-off bus lets you see most sites like Hollywood, Rodeo Drive, Sunset Boulevard, and the Santa Monica Pier. Alternatively, you can enjoy one of its many beaches or enjoy the views from the Griffith Observatory.
Consider adding a few extra days in Los Angeles. You can visit Disneyland and Universal Studios for some added fun.
San Diego
If your cruise starts or ends in San Diego, consider extending your stay to enjoy the city. With year-round sunshine, you'll want to walk the Embarcadero and enjoy the ocean views. Here, you have the option to tour the USS Midway Aircraft Carrier.
The Gaslight Quarter offers exciting history and beautiful architecture. The San Diego Zoo is an excellent option if you're traveling with kids.
Open Ocean
Unlike an Alaska itinerary, where the cruise ships sail the inside passage, cruises from Vancouver to California sail the open ocean.
In spring, the weather can be very changeable, which could result in rough seas. The winds and currents generally flow from the northwest downwards to California.
If you sail in the fall, the ship sails with the current making it a slightly smoother journey. However, if you sail in the spring from California northwards, you sail against the current. In general, this is the roughest time of year.
I say in general because one sailing can be as smooth as glass, but another, quite the opposite. If you are prone to seasickness, book mid-ship and choose a cabin on the lower levels.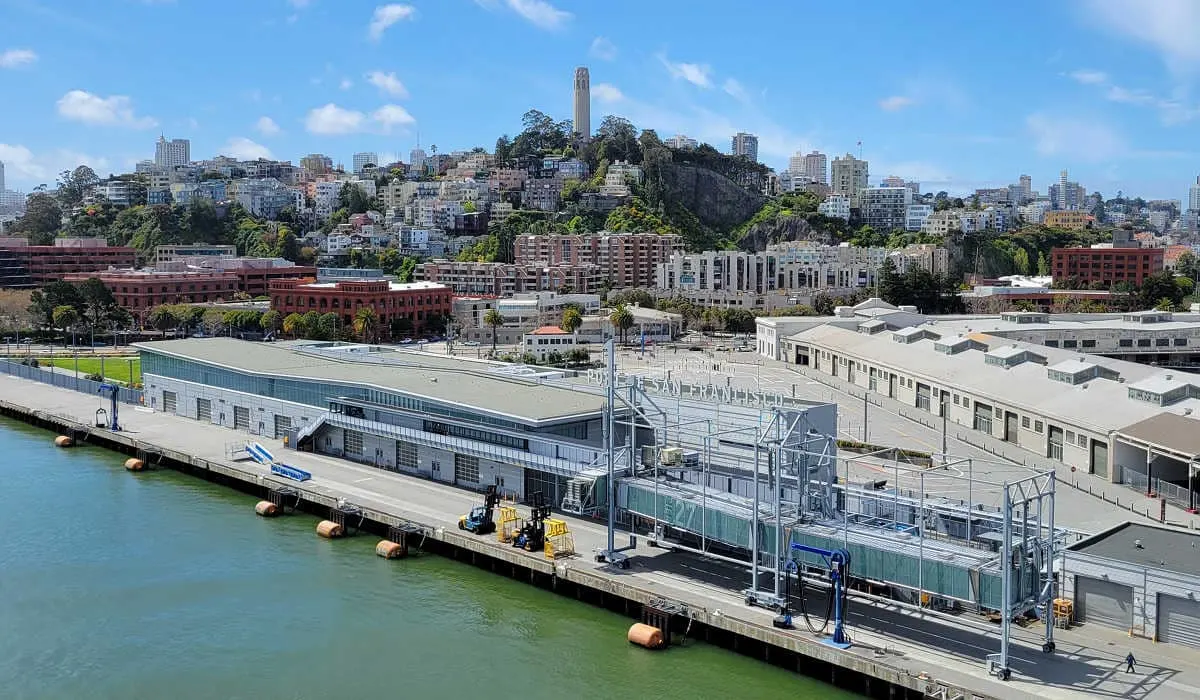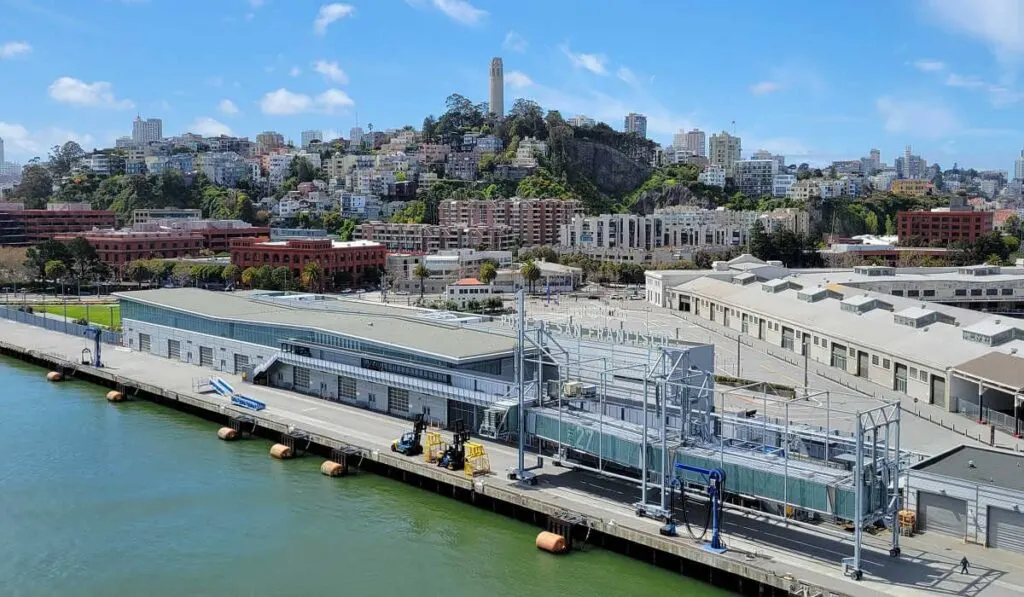 Bring plenty of ginger pills, sea bands, motion sickness patches, or whatever works for you. Hopefully, you won't need them, but you'll have a good supply should the worst happen.
My sister has sailed this itinerary twice and suffered so severely from motion sickness that she spent her entire cruise in bed. While I have only sailed once, in September, I experienced only one day of semi-rough seas, which did not affect me at all.
Knowing that the cruise can be rough, it's not the best option for those sensitive to movement or first-time cruisers. The first-time experience should be magical. Should you sail this cruise and get horribly sick, you'd probably never cruise again.
Unfortunately, this happens to many people who live in the Pacific Northwest. Instead, consider this cruise if you don't suffer from motion sickness or if you're a seasoned cruiser with an iron stomach.
Weather
Obviously, the weather varies a lot by area. The further north you are, the colder and wetter it will be, especially since these cruises run in spring and autumn.
If you have port days, be prepared by having waterproof clothing, waterproof runners, and a compact umbrella, just in case you are blessed with liquid sunshine.
If you are fortunate as I was, my entire five days were blessed with glorious sunshine, although a little cool in Seattle and Astoria. This chart shows the average highs based on location and time of year.
| | | | |
| --- | --- | --- | --- |
| | April F/C | May F/C | Sept F/C |
| Vancouver | 48/9 | 55/13 | 59/15 |
| Seattle | 60/16 | 66/16 | 71/22 |
| Astoria | 56/14 | 60/16 | 68/20 |
| San Francisco | 63/17 | 64/18 | 70/21 |
| Los Angeles | 73/23 | 75/24 | 83/28 |
| San Diego | 68/20 | 69/20 | 76/24 |
What To See
If you are fortunate enough to have a balcony cabin, spend some time on it. While the days were fresh on a Pacific coast cruise, I enjoyed hours sitting on my balcony, wrapped in a blanket, listening to the waves splashing against the hull of the ship. It was complete Zen!
It was a soothing sound and probably would have lulled me to sleep if I had been the type of person to sleep anywhere.
With hours of relaxing in my quiet zone, I was treated to views of humpback whales, seals, porpoises, and the strangest-looking creature. Later, I learned it was a giant sunfish with a baby.
Even though I have cruised to Alaska multiple times, I enjoyed more marine wildlife sightings on my Pacific Northwest cruise.
Pacific Northwest Cruising Conclusion
While you enjoy Pacific northwest cruising either way, the northbound route generally has rougher seas.
Pacific coastal cruises allow for a quick getaway for you can't manage a week or more of travel. Since these itineraries are repositioning cruise, they often come with bargain prices.