Located in the Pacific Northwest, Seattle, like its northern neighbor, Vancouver, receives a lot of rain. While it averages only 37 inches of precipitation, the wet stuff is spread over 150 days of the year.
So, if you plan to vacation in Seattle or arrive early for a cruise vacation to Alaska, take heed, you could experience rain. Be prepared by packing a raincoat, carrying a compact umbrella, and wearing 100% waterproof Vessi runners, the best travel shoes.
Should you experience the sunshine of the liquid variety, don't let it dampen your plans. Instead, plan to enjoy some rainy day activities in Seattle, Washington.
1. Klondike Gold Rush National Historical Park
Contributed by Anwar from Beyond My Door
Split between two sites, the Klondike Gold Rush National Historical Park tells the story of the adventurous gold seekers who risked everything to find fortune in the Canadian wilderness.
The Seattle unit is a museum that traces the history of Seattle as a gateway and supply center for travelers the world over before their journeys north. The other branch of the park is in Skagway, Alaska.
The museum traces the history of gold in the Yukon, Seattle's role in how it became a supply center, and the hardships faced by travelers, many of whom had never been out in such harsh wilderness before.
The most interesting part of the museum is the stories of the travelers who ventured North. In particular, the museum traces the stories of four individuals from a variety of backgrounds and how they ended up traveling north.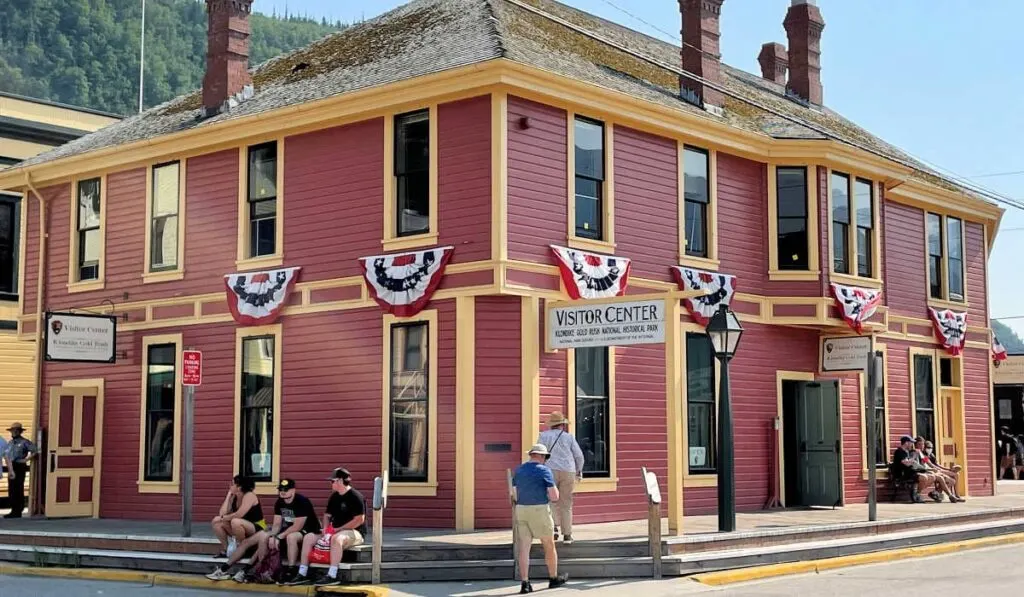 To not ruin the stories, it is exciting that one of the stories traces an individual who later founded a well-known American department store chain.
The Klondike National Historic Site Museum is located in the Pioneer Square neighborhood of Seattle. The museum is free and is open daily, Wednesday to Sunday, from 10 am – 5 pm. It is also closed for most national holidays.
2. Burke Museum
Contributed by Marcie from Marcie In Mommyland
One of the best things to do in Seattle on a rainy day is to visit the Burke Museum at the University of Washington. This museum was completely renovated in 2019, and it's perfect for families interested in natural history or indigenous cultures.
If you're visiting the Burke Museum with kids, make sure to see all the dinosaur skeletons and the T-Rex skull. They even have an I Dig Dinos event where young kids can dig up fake dinosaur bones.
Toddlers and preschoolers will get a kick out of their little indoor play area to get some wiggles out in between exhibits. And there are plenty of hands-on activities like weaving.
One of the most fascinating sections of the Burke Museum in Seattle is an exhibit that shows how much waste we produce. The amount is shocking!
There are also a lot of exhibits highlighting Pacific Northwest Native American culture. It's a great place to see totem poles, a hand-carved canoe, and lots of artifacts.
Make sure to plan some time to stop by their café, run by a Native American business called Off the Rez. Their food is amazing!
Finally, take a peek at their gift shop before you leave. It's very "Seattle" with indie games, locally made items, and stuffed animals. The entire museum is indoors and a great way to wait out the rain.
3. Pike Place Market
Seattle's Pike Place Market isn't just a place to purchase food ingredients. Its eclectic shops, spread out over different levels, go on forever. So, if you're looking for some Seattle indoor activities, you can lose yourself for hours in the Pike Place Market.
Upstairs, the fresh ingredients tantalize the senses. You can peruse the fresh seafood, admire the floral colors, and watch a demonstration of fish throwing at the Pike Place Fish Co.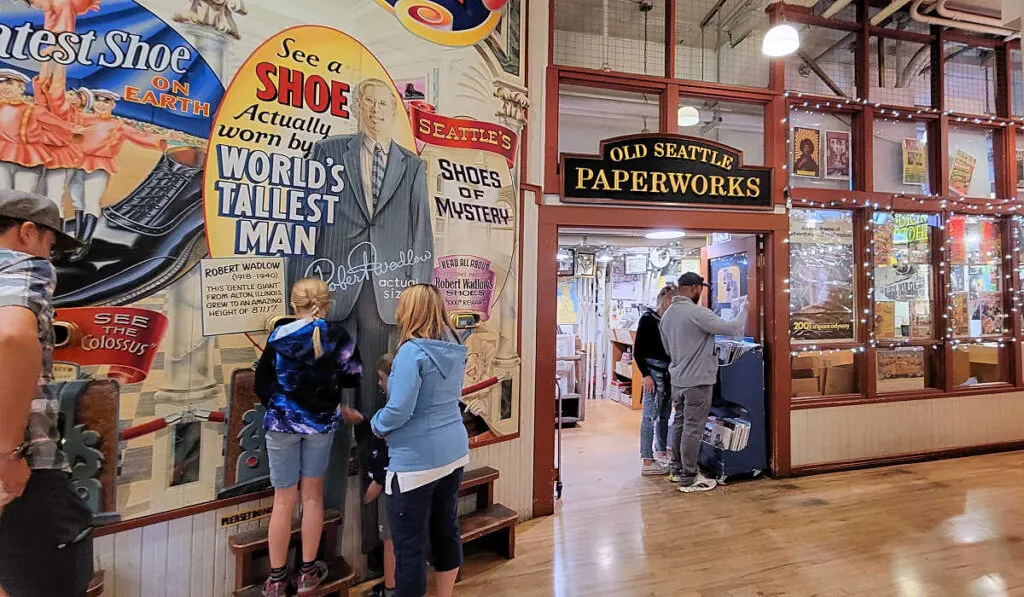 On the lower levels, colliders of boutiques sell everything from vintage salt and pepper shakers to silk screen t-shirts. My favorite, Old Seattle Paperworks, carries vintage posters, old postcards, gift wraps, and anything paper.
There are over 500 vendors, so if you love to peruse nooks and crannies, you may even find a treasure to take home. If you're into food, consider booking a signature food tour. This chef-guided excursion guides you through the market's hidden gems, sampling food as you go.
Outside the market and down the alley, you'll find a germaphobia's nightmare, the GUM wall. The alley (and some of it under cover) features thousands of colorful chewing gum stuck on the brick walls, gas meters, and pipes.
4. Wings Over Washington
The Wings Over Washington is a simulated ride, much like the FlyOver Canada, offered in Vancouver, British Columbia, and Disney's "Soaring over California." You can find the ride next to the Seattle Great Wheel on pier 57 on the Seattle waterfront.
A ticket costs almost USD 20, and you don't usually have to wait for your turn. Inside the building, rider-goers strap into seats, put their bags below in a mesh basket, and wait for the aerial adventure to begin.
During the 5K video shows, the seats move, giving you the feeling of flight. While it's raining outside, inside, you'll enjoy sunny skies as you soar over Mount Rainier and enjoy the most scenic areas of Washington state.
Being a 5K ride, it provides:
Smells of the seaside.
The mist of Snoqualmie Falls.
Splashes from whales in Puget Sound.
The ride is short, but you'll see parts of the area you might not consider visiting. Unlike other 4K and 5K rides, which are filmed by helicopters, this one is done by drones.
At Pier 57, you can also ride a historic carousel at Miner's Landing.
If the raindrops aren't too heavy, consider doubling your fun by getting tickets for the Seattle Great Wheel. Since the venues are in the same place and tickets are purchased at the same counter, it makes sense to enjoy both activities.
5. Mox Boarding House
Contributed by Tabitha from Travel Compositions
If it's a gloomy and rainy day in Seattle, which…it usually is, escape to Mox Boarding House in Ballard. Cozy up with friends to play free board games while eating good food and sipping great drinks.
Mox Boarding House is THE game store in the city. They sell a variety of board games, from easy group games, quick two-player games or complicated strategy games. Most of the games in the store you've never heard of before guaranteed.
What's great about Mox is that they have a free board game library behind the front desk. If you want to test a game before buying or just want to play for fun, you can borrow almost any game you see for sale and play it within the store.
There are a few open tables to play at within the retail store, but ideally, you'll want to bring it into their restaurant. Be seated at a booth table with your game and order from a full food menu, and enjoy handcrafted cocktails or espressos.
They do not take reservations, and tables tend to fill up fast, especially in the evenings, so the earlier you arrive, the better chances you have at snagging a spot.
You can reserve a private room to guarantee a table, charged by the hour.
Mox Boarding House also hosts game events and tournaments like Magic: The Gathering or Warhammer. Check their events calendar for upcoming happenings.
6. Smith Tower
Contributed by Astrid from The Wandering Daughter
Smith Tower is one of the most popular tourist destinations in Seattle, and for a good reason. The tower provides 360-degree views of downtown Seattle, making it the perfect place to enjoy the city's skyline and views of Mount Rainier.
And on rainy days, Smith Tower is the perfect place to enjoy the sights of Seattle without getting wet.
At the time of its completion in 1914, Smith Tower was the tallest building west of the Mississippi. Today, it remains an excellent example of neoclassical architecture.
It's located in the Pioneer Square neighborhood of Seattle, where visitors can take walking tours of Seattle's underground or marvel at the area's historic architecture.
The enclosed observatory on the 35th floor provides panoramic views of Seattle. There is also a bar on the observatory floor, so you can enjoy a drink while taking in the views.
There's also a small exhibit showcasing Smith Tower's history. Visitors can also do the Talking Tower Tour, a guided tour of Smith Tower's exhibits, observatory floor, and main lobby.
Smith Tower is open Wednesdays to Sundays from 11 am to 11 pm. Admission for the observation floor is USD 19 per person and available on a first-come, first-serve basis.
Local residents with a valid Washington state ID can receive a 20% discount. Tickets for the Talking Tower Tours are USD 29 per person.
Smith Tower is the perfect place to escape the wet weather and enjoy some of the city's best views for rainy days in Seattle.
7. Museum Of Flight
For aviation enthusiasts, the Museum of Flight takes a day or half-day of exploration, depending on how many areas you cover. Its location, 15 minutes south of downtown, is easily reached by the #124 Metro bus if you don't have a car.
The museum sits on the site where Boeing was founded. While it focuses on Boeing planes, it features other craft. The museum isn't just about airplanes but also has space artifacts, replica rockets, and documents on space flight.
It's a trip down memory lane as you view the old aircraft from bygone years and read plaques dedicated to World War I and II. The section on women pilots during the war was quite inspiring.
While the collection of old aircraft is vast, you'll be able to see new prototypes too. The highlight of visiting the Museum of Flight is stepping onboard a retired Airforce One plane and an old Concorde.
Most of the aircraft are of the commercial type. However, a section on home builds features planes built from kits and others from scratch.
For Disney enthusiasts, there's a section showing how artists created drawings of airplanes for Disney cartoons. This isn't a museum just for aviation lovers, but it's a venue that everyone should see.
8. Underground Tour
Seattle's Pioneer Square is packed with history, from the stories of the Gold Rush to the Great Fire of 1889. But there's no better way to learn about that fire than on Bill Speidel's Underground Tour.
This 75-minute tour starts at Doc Maynard's Public House and begins with a brief Seattle history lesson before venturing underground.
More than 150 years ago, Seattle was built on soggy lands. The deep mud pools would consume children and small animals when it rained. The saving grace was the Seattle Great Fire, which gave the city a reason to remodel.
After the fire destroyed 25 blocks, the city built stone walls between what was left, creating a new street level above the old. Then the neighborhood constructed new stone and brick buildings on top, creating an underground city.
As you explore the sunken passageways, you'll see vintage sidewalks, old storefronts, and a network of alleys beneath Pioneer Square. It's an interesting time-capsule walk into Seattle's buried history.
The tour guides recite the history with a comedic twist. Since you'll be walking up and down stairs and across uneven surfaces, plan by wearing the appropriate footwear.
Tickets cost USD 22 for adults, USD 20 for seniors and students (13 to 17 years), USD 10 for youths (7 to 12 years), and six and under are free.
9. Chihuly Garden And Glass
Located next to the Seattle Space Needle, the Chihuly Garden and Glass provides a great indoor activity when it rains. Whether you're an art enthusiast or not, Chihuly's blown glass is a must-see.
The Bellagio in Las Vegas, Hilton Hotel in Houston, Children's Museum of Indianapolis, and Renaissance Vinoy Resort in St. Petersburg, Florida, all feature Dale Chihuly's glass art.
Chihuly has gained a reputation for producing astonishing chandeliers made from delicate individual pieces. At the Seattle Museum, most of his work is hung indoors.
However, there is an outdoor garden with glass embellishments, so bring a compact umbrella if you want to admire all his work.
Inside, many galleries feature black backdrops to showcase the vivid color of glass. Some sections have simple vases, while others have enormous chandeliers. Visitors can purchase his art in a gift shop if their pocketbook allows.
A stand out for some visitors is the large glass house which features an aerial display in warm autumn colors of yellow and orange.
However, the pinnacle of the exhibit is Chihuly's float boats. In one gallery, massive ball ornaments fill two wooden boats. These awe-inspiring displays will leave you breathless with their explosion of color.
10. Pinball Museum
If you love pinball and want to relive your youth, the Seattle Pinball Museum features classics from the 60s. This isn't a museum to admire the relics; it's a place to play to your heart's content.
Visitors can find the museum at 508 Maynard Ave S., and it's open from Friday to Monday, noon to 6 pm. The venue was created by a pinball collector who wanted to share his love of his vintage finds with others.
For a USD 20 entrance fee for adults and USD 17 for seniors and kids aged 7 to 12, players can enjoy unlimited games. If you want in and out privileges, it's an additional USD 5.
Inside, there are about 50 machines on two floors. Sometimes, it can get pretty crowded. Some games, like Batman and Revenge from Mars, require an additional fee to play.
The museum sells vintage sodas and beer to quench your thirst while you enjoy games like Godzilla, Captain Fantastic, Twilight Zone, and Metallica.
11. Seattle Aquarium
The Seattle Aquarium is located on Pier 59 and makes a great rainy day activity. Many of its indoor exhibits promote education and conservation of marine habitat wildlife.
Now, don't expect to see tropical fish from the Caribbean. Many of the main tanks reproduce the waters and creatures of Puget Sound.
Visitors can learn about the tidal waves around Washington state at the Crashing Waves tank, which was added in 2007. The colossal 120,000-gallon tank called 'Window on Washington Waters' was also part of the expansion in 2007.
This vast tank greets visitors when they enter the aquarium. The tank replicates the deeper water off the coast. Several times a day, divers go into the tank and interact with guests through special masks. It's fun to see the frenzy of fish during feedings.
The Marine Mammal Exhibit is a favorite amongst visitors for its playful otters and seals. The sea otters are up to three times larger than the river variety but still give you the oohs and aahs.
Other exhibits include the Birds and Shores, the Underwater Dome, Life on the Edge, and the Pacific Coral Reef. The aquarium is open daily from 9:30 am to 6 pm. Pricing varies by how far in advance you book your tickets.
12. Boeing Future Of Flight Tour
The Boeing Future of Flight Tour isn't in Seattle Center but is located north in Mukilteo, Washington. Unlike the Museum of Flight, which features aircraft of fast years, this experience allows you to see the assembly of new planes.
The Future of Flight was part of the factory tour, which has been closed since 2020. There's no word as to when this will reopen. However, on the Boeing Backstage Pass, you'll see behind the scenes by watching a movie in the Boeing Theater.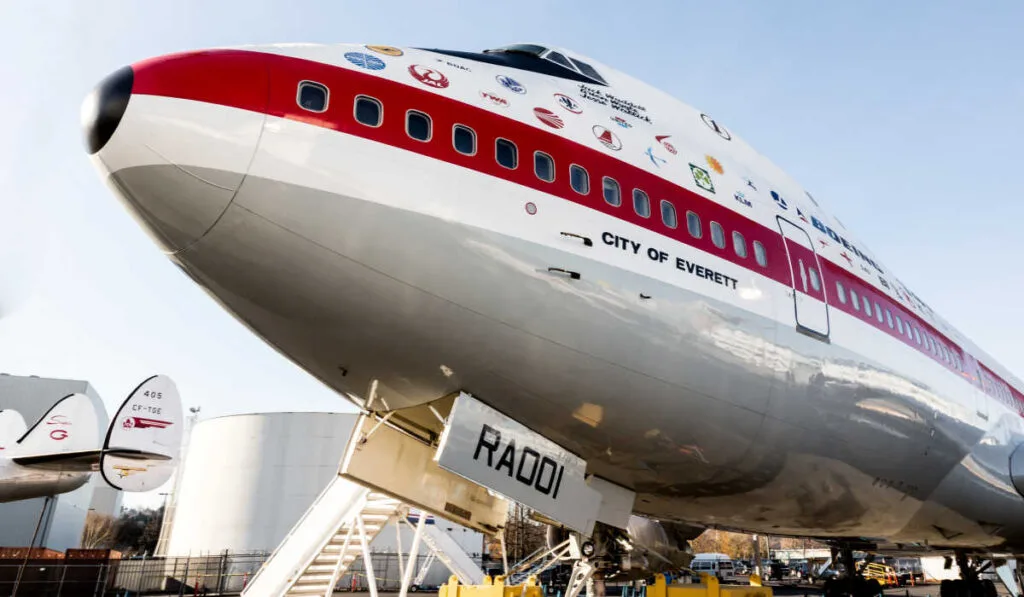 Unfortunately, no photos or videos are allowed. Smartphones must be turned off or put on silent mode. Show times are 10 am, 11:30 am, 1:30 pm, and 3 pm. The facility is open Thursday to Monday from 9:30 am to 5 pm.
Also, the facility has a section on drones and robotics. Here, you will learn how robots aid in the development of aircraft.
Boeing manufactures drones, which have become hugely popular. You can practice your flying skill at the center by flying a miniature quad-copter.
13. Seattle Art Museum
Commonly known as SAM, the Seattle Art Museum is conveniently located near the Pike Place Market. So, you could combine both places in one day for indoor Seattle fun.
The Seattle Art Museum has three distinctive sections. While the outdoor Olympic Sculpture Park won't keep you dry, you can browse the other two indoor museums.
The main gallery on First Avenue currently houses an exhibit on American Art but also hosts traveling exhibits from around the world.
While it has a large section on modern art, it also features impressionist works, ancient Egyptian and Greek art, Islamic art, and collections from Asia, Africa, Australia, and Europe.
The other indoor space, the Seattle Asian Art Museum, is located in Volunteer Park in an art deco building. While the Asian Art Museum is much smaller, it features some beautiful objects from Asian culture.
After a three-year closure, the museum opened with a newly renovated space and a different way of displacing its art.
Instead of arranging artifacts in their countries or periods, visitors view collections grouped by materials used and spirituality. It's not always a hit with those who visit the Asian museum.
14. The Space Needle
With its flyer saucer top, the Seattle Space Needle is an iconic landmark in Seattle. While you won't enjoy the crystal-clear views on a wet day, the experience is still outstanding.
The Space Needle once housed a revolving restaurant, like those found at the Harbor Center in Vancouver and the CN Tower in Toronto.
After renovations, the SkyCity Restaurant was removed, and guests can now enjoy two viewing platforms.
After a 500-foot elevator ride, you can savor views of downtown, across the ocean, and east to the mountains if visibility allows. If you're not afraid of heights, consider walking on the newly added glass revolving floor on the lower level.
While the Space Needle no longer has a full-service restaurant, The Loupe Lounge offers trendy cocktails and canapes with a fantastic view.
15. The Museum Of Pop Culture
Located in an iconic building near the Space Needle, the MoPOP's exterior is almost as interesting as what's housed inside.
Designed by architect Frank O. Gehry, 21 thousand stainless steel pieces that emit shimmering shades of purple, blue, red, and silver cover the undulating curves.
Inside, the 140,000 sq. foot floor space, once known as the Experience Music Project or EMP Museum, features contemporary popular culture exhibits. If you're into music, the museum provides a great rainy day activity in Seattle.
Some standouts are the guitar collection (the largest of its kind) and a magnificent collection of Jimmy Hendrix memorabilia. A guitar tower hangs down from the ceiling in one space and mimics a swirling tornado.
The Jim Hendrix collection includes some of his handwritten sheet music, stage clothing, guitars, and original posters.
While the MoPOP has a large permanent exhibit, the museum introduces new ones regularly. Some of these are so popular that they end up touring the country.
So, if you're looking for what to do in Seattle on a rainy day, the Museum of Pop Culture provides entertainment for everyone.
Should you need a break, check out the Starbucks Roastery at 1124 Pike Street. Here, you can enjoy a fresh brew overlooking the silos and roasting machines. If you're a coffee connoisseur, consider taking a behind-the-scenes roastery tour.