Repositioning cruises differ from regular itineraries because they sail from one port and end in another. Itineraries range from three-day mini cruises to world cruises of more than 150 days. If cruising on a budget, repositioning sailings generally offer the best cruise deals.
These one-way Itineraries come with "Black Friday" pricing, unique itineraries, lazy sea days, and unusual ports of call. They are very different from your traditional cruises, which usually leave and arrive back at the same port.
Learning about repositioning cruising and its advantages and disadvantages will determine if this type of vacation is right for you.
What Is A Repositioning Cruise?
Cruise itineraries typically chase the warm weather. After all, no one leaves their home under a few feet of snow to vacation in a place with just the same cold weather.
If you live in a location with seasons, most people (like myself) want to escape the reality of winter for a warmer climate.
Destinations like the Caribbean and the Mediterranean have great weather year-round. Consequently, most cruise ships have a homeport in Florida or the Caribbean and offer year-round itineraries.
However, some places (like Alaska and the Baltics) have short cruise seasons due to weather changes.
As a result, cruise ships must reposition from one area in the world to another. So simply put, a repositioning cruise has a different debarkation port than its embarkation port.
So, if you're looking for a cheap time to cruise, consider booking a repositioning cruise.
Spring And Summer Repositioning Cruises
While some cruise ships keep the same homeport year after year, others move several times a year. These repositioning cruises typically happen in the spring and fall due to the seasons changing.
During the spring, ships reposition from and to the following areas:
Australia or New Zealand to the Pacific Northwest (for Alaska cruises)
Florida and the Caribbean to the Pacific Northwest (for Alaska cruises)
Asia to the Pacific Northwest (for Alaska cruises)
Florida and the Caribbean to Europe (for England and Europe cruises)
South America to Europe
As summer ends and rolls into fall, ships reposition as follows:
Pacific Northwest to Australia or New Zealand
Pacific Northwest to Florida or the Caribbean
Europe to South America
Pacific Northwest to Asia
Europe to Florida or the Caribbean
Repositioning Cruise Itineraries
Some itineraries reposition in the Middle East and include islands like the Canary Islands. Some repositioning cruises travel great distances to get from one area of the world to another. Usually, the journey is broken up into two or three itineraries.
Consequently, you can book one of the legs if you're limited on time or have a budget. For instance, ships that leave Australia to reposition to the Pacific Northwest usually take 25 to 35 days. However, the first part of the cruise sails from Australia to the Polynesian Islands in the South Pacific.
The second leg consists of the Society Islands to Hawaii and the final leg sails from Hawaii to Vancouver or Seattle. I have taken multiple repositioning cruises leaving the Vancouver cruise port to Hawaii and California.
From the Pacific Northwest, it's a long flight to Florida to take a Panama Canal cruise. However, repositioning cruises sail from Florida to Vancouver via California. Purchasing a one-way flight cuts down on the overall cost of the vacation.
Alternative cruises sail to South America, to Buenos Aires. Then they cruise through Antarctica before ending in Santiago. From Santiago, they continue to reposition north to Los Angeles and beyond.
Remember that no matter how low the fare, always buy travel insurance. Insurance is essential when traveling during hurricane season and now that we're living in a pandemic.
A world cruise is essentially a repositioning cruise. Princess Cruises, Royal Caribbean International, and smaller lines like Crystal offer these itineraries. If you don't have the time or the budget, you're not committed to cruising worldwide. Instead, you can pay for a section of the overall journey.
Reasons To Book Repositioning Cruises
If you're like me and hate to take long flights, taking a repositioning cruise is a great way to travel without the dreaded long-haul flight. Cruising is far more relaxing and takes away the stress of dealing with an airport departure.
I have met many people who visit Vancouver from Australia. By sailing a repositioning cruise, they only need a one-way flight, either from or to Australia, depending on the time of year they cruise.
If you're traveling through many time zones, cruising removes the element of jetlag too. There are no more struggles to become accustomed to night and day when flying long distances. By taking a cruise, time changes happen over a few days. So, you won't notice the one-hour shift each time.
The biggest reason to try a repositioning cruise is the rock-bottom prices. I took a five-day cruise from Vancouver to Los Angeles, with stops in Seattle, Washington, and Astoria, Oregon. My five days in a balcony stateroom cost an astounding USD 169 or under USD 35 a night.
That's far less than a single night in a hotel in Vancouver, and the cruise fare included the food and entertainment. Now how can you resist a deal like that?
I've also taken cruises from Vancouver to Hawaii, with the Celebrity Cruises trip being my favorite. They ranged in length from nine days to twelve days. I took my first cruise to Hawaii on the Carnival Spirit as it was moving to Australia.
The Hawaii repositioning cruises are my favorite and save a pile of money instead of booking Norwegian's Pride of America.
Repositioning Cruise Pricing
Cruise lines are more likely to lower the price of cruises repositioning to another area because these are harder to sell. Bear in mind; that you will need to add the cost of an airline ticket to or from the embarkation or debarkation port.
The one-way airline ticket can cost far more than your cruise if you're taking a Transatlantic cruise. In some cases, the cost of that ticket can turn that cruise line deal into a "not-so-good" bargain.
However, if you dislike long flights, cruising the Atlantic Ocean from North America means you only need to fly one way. For those who love the Transatlantic crossing, you can't go wrong with experiencing it on Cunard's Queen Mary 2, a proper ocean liner.
Pricing on relocation cruises might seem too good to be true. Sometimes, they may include perks like onboard credit. Cruise lines make up the cost of sailing from other fees to offset the cost. These include drink packages, photos, gambling in the casino, excursions, specialty restaurants, and duty-free shopping.
However, if you decide to try your luck on one of these fantastic itineraries, I have seen cruise repositioning deals for under USD 35 a night. Samples of repositioning cruises for the 2022/2023 season include:
10 days from Portugal to New York for USD 279
14 days from Florida to Spain for USD 302
15 days from Florida to Denmark for USD 631
When considering a repositioning cruise, I have found the best time to book is within a few months of the sailing date. Remember to factor in the cost of the flight before booking.
Longer Cruises And More Sea Days
While most passengers book cruises of 7-day lengths, repositioning cruises are typically longer. Also, they tend to have more sea days as many of them are crossing an ocean like the Atlantic or the Pacific. If you prefer more port days, then repositioning cruises might not suit you.
I don't mind some sea days, especially at the end of the cruise, and many have plenty of sea day events. It's a perfect time to relax and unwind before heading back to the realities of work life.
I recently crossed the Pacific Ocean on the Ovation of the Seas. The Quantum-class vessel has lots of unique activities like iFly, FlowRider, North Star, and the Sea Plex, so there's excuse for boredom.
Besides, these cruises offer more classes and enrichment courses to keep you busy. Since these cruises are much longer than your average voyage, they tend to be void of families with small children.
This might be a decisive factor in booking a repositioning cruise for some. I remember my first cruise across an ocean, the Pacific. The water was so calm, it looked like a sheet of glass. To my surprise, in five days, I saw only one ship, a large tanker far off on the horizon.
While I experience calm waters during each of my sailings, this isn't always the case. Be prepared by packing motion sickness patches, a bottle of Dramamine, some sea bands, or whatever works for you.
Repositioning Cruise Ports
Repositioning cruises are suited to those who live close to the port. While you can't take a cruise from every port to another location, some ports are hubs for repositioning itineraries.
New York, Vancouver, Los Angeles, Honolulu, San Diego, Quebec City, Anchorage, and San Juan serve at embarkation and debarkation ports for cruise ships moving from one area to another. Fort Lauderdale, Tampa, and Miami are a couple of the Florida ports offering such cruises.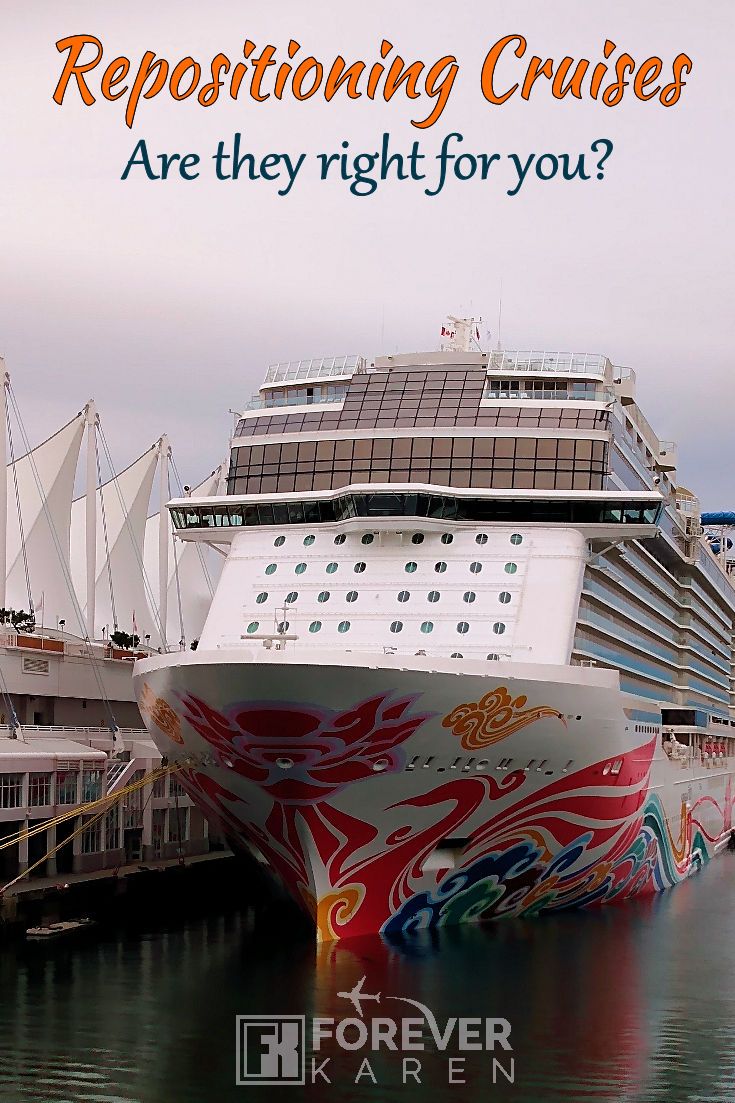 London, Rome, Amsterdam, Genoa, Stockholm, and Copenhagen are hubs for repositioning cruises in Europe. In the far east, choose from Tokyo, Hong Kong, Singapore, Auckland, and Sydney.
Combining A Land Itinerary
It makes sense to add on a few days on land when cruising from one port to another. If you want to spend a few days touring a city, either fly in a few days earlier or stay longer after your cruise ends.
In the United States, add on extra days in Florida to visit the theme parks. Take to trip to Las Vegas from Los Angeles. The possibilities are endless.
Some cruise passengers create their own itinerary by combining one cruise with a drive to another port. From there, they reposition to another area. By combining driving and train tours with repositioning journeys, they create a self-guided world expedition.
Which Lines Offer Repositioning Cruises?
The following cruise lines offer repositioning cruises: Azamara, Carnival, Celebrity, Costa Cruises, Cruise & Maritime Voyages, Cunard, Holland America, MSC Cruises, Norwegian, Oceanic Cruises, P & O Cruises, Ponant, Princess, Pullmantur, Regent, Royal Caribbean, Seabourn, SeaDream Yacht Club, Silversea, Viking Cruises, Windstar.
In conclusion, repositioning cruises are suited to those who have plenty of time, usually the retired. They are also great for those seeking a cruise deal and who like the long days at sea. Before you book one, read some reviews online to ensure it's suited for you.
Happy travels ~ Karen