Vancouver, BC, is an alluring escape for those living on the west coast of North America. With coastal mountains and the Pacific Ocean surrounding the city, it's undoubtedly, a picturesque destination to visit.
For those seeking a long weekend adventure or arriving before a cruise, this 3-day itinerary in Vancouver, BC, is tailored for you.
The west coast climate is ideal, with low-humidity summers and cool winters. While Vancouver attracts more visitors in the summer months, the winters are incredible with world-class skiing.
Vancouverites boast the ability to ski and golf on the same day since the city lies at the foot of a mountain range.
Vancouverites are health nuts who love the outdoors, so activities usually revolve around things that get your heart racing. On a visit, you'll learn so many fun facts about this west coast city.
The coastal city also serves as a departure point for those cruising to Alaska, and with a ferry terminal nearby, travelers can make day trips to Vancouver Island.
I may be biased because I live in Vancouver, but it's hands down one of Canada's top cities to live in and visit. If you're traveling to see the sites, June through September are the ideal months.
Should you plan to visit in the shoulder season, there's still plenty to do in Vancouver should it rain. One thing is for certain; you'll need some comfy shoes because this three-day Vancouver itinerary will keep you moving.
Being a popular coastal destination, visitors should know it's an expensive city. Whether you visit for a few days or a couple of weeks, it's tough to see Vancouver on the cheap.
As with most metropolitan cities, Vancouver's popular attractions are downtown or within a city's short distance. Unless you want to spend countless hours commuting, it's best to stay in the downtown core.
Although expensive, getting around is much easier, and you will spend your valuable time seeing Vancouver's sites.
Where To Stay In Vancouver, BC
Vancouver has a large selection of grand hotels, some with impressive views of the mountains and waterfront. You can't go wrong with any of these choices.
With an Asian influence, the Shangri-La Hotel, Vancouver, oozes exquisite opulence from its décor to its spacious rooms. Located in Vancouver's tallest building, the location is a short distance to shopping, the waterfront, and city attractions.
The Fairmont Pacific Rim offers both mountain and waterfront views from its five-star rooms. The upscale contemporary rooms exude a touch of elegance and glamour while high-tech conveniences. If time allows, check out the heated rooftop pool.
If you prefer a little nostalgia, the Sylvia Hotel fits the bill. Constructed in 1912, today, its neon sign still shines brightly amongst the more modern high rises in the downtown core. Located in English Bay, the hotel offers a quieter stay away from the high-traffic areas.
With its iconic oxidized copper roof, the Fairmont Hotel Vancouver has been a city landmark for decades. Additionally, the hotel treats its guests to luxurious, classic rooms and impeccable service. Canadian residents have the bonus of free parking, a big plus in the downtown core.
With an ideal downtown location and breakfast included, the St. Regis Hotel appeals to the budget-minded traveler. This century-old boutique hotel is within walking distance to Skytrain, Vancouver's rapid transit system.
Close to the harborfront is Coal Harbour's Loden Hotel. The complimentary bikes are a bonus for a scenic tour of the world-famous Stanley Park or peddling in the bike-friendly city.
For those that have allergies, the Loden Hotel has an entire floor that is allergy-friendly. Not only is it free of pets and feathers, but it uses a unique HEPA filtration system.
Getting Around In Vancouver
Without a vehicle, travelers can use Uber, bus, and Skytrain to get around. The Skytrain or rapid transit system has stations at Waterfront, Burrard, Granville, Stadium-Chinatown, Vancouver City Centre, and Yaletown.
If you're flying into Vancouver International Airport (YVR), it's easy to reach downtown by Skytrain on the Canada Line to Waterfront Station. Waterfront Station is less than two blocks from the Vancouver Cruise Port terminal.
At the Waterfront Station, the sea bus transports passengers across the water to Lonsdale Quay in North Vancouver.
Being a bike-friendly city with plenty of bike-only lanes, travelers can easily traverse Vancouver with two wheels instead of four. Bike rentals are available at:
Spokes at Denman and Georgia Streets near Stanley Park.
Yes Cycle Bike at 1351 Burrard St has excellent prices.
Van City Bikes at 601 W Cordova St offers tours and self-guided rentals.
EzeeRiders Bike Rental's electric bikes make seeing the city a breeze. Find them at 1055 Canada Place, at the Vancouver Convention Centre.
Cycle City Tours and Bike Rentals at 648 Hornby Street.
Day One Itinerary In Vancouver
Stanley Park
Location: Downtown Vancouver. Access is via Georgia Street
Step aside Central Park, as Vancouver's Stanley Park was named the best urban park in the world by TripAdvisor. With 400 hectares (1,000 acres) of temperate rainforest, there's no better place to start a tour of Vancouver.
Located in the west end, Stanley Park is free to enjoy; however, should you drive, parking lots all require a fee. Known as the "Jewel of the city," the urban oasis is loved by Vancouverites for its seawall path and sandy beaches.
So, rent a bike and enjoy the waterfront vistas by riding the 9 km pathway. Not only will you enjoy the views of the North Shore mountains, but stop at Prospect Point to admire the Lions Gate Bridge, see the Girl in a Wetsuit Statue, and nine totem poles at Brockton Point.
If you want a romantic way to enjoy Stanley Park, rent a tandem bike. Without a bike, the seawall path offers a serene stroll around the rainforest, and you'll forget you're in a city.
If you're looking for a less strenuous way to enjoy Stanley Park, a narrated horse-drawn carriage ride takes just one hour and tours the eastern side of the city park. Operating from March until the end of October, the carriage tour does not require a reservation.
Inside the park, the Stanley Park Train transports passengers on a 20-gauge track through a hemlock, fir, and cedar forest. Open in spring and summer; the railway also has special Easter, Halloween, and Christmas events.
A stroll around Lost Lagoon might allow glimpses of some local wildlife. Here, swans, bald eagles, blue herons, beavers, and raccoons co-exist in the wetlands. But watch out; while those masked bandit raccoons look cute, they can be ferocious.
Vancouver Aquarium
Location: 845 Avison Way in Stanley Park
In Stanley Park, reserve a couple of hours to take in the Vancouver Aquarium. If you're against the idea of keeping large sea mammals in captivity, don't worry.
The aquarium ended its cetacean program, but this does not prevent the facility from rescuing and rehabilitating injured and stranded dolphins and whales.
Outside the Vancouver Aquarium, a bronze orca statue welcomes visitors. The native Indian artwork is the work of Haida artist Bill Reid.
Inside, the aquarium features 60,000 aquatic creatures in an educational, research, and rescue facility. Unlike other sea life facilities, this one has an Amazon gallery, complete with rainforests, giant snakes, colorful frogs, and camouflaged sloths.
My favorite exhibit is the jellyfish. There's something so beautiful about watching colorful and translucent blobs floating around a circular tank. It's reminiscent of an underwater ballet.
With over thirty varieties of jellies, I was amazed to learn that an edible kind is a delicacy in China and Japan. The aquarium breeds, studies, and learns how water and food affect the jellyfish's life cycles.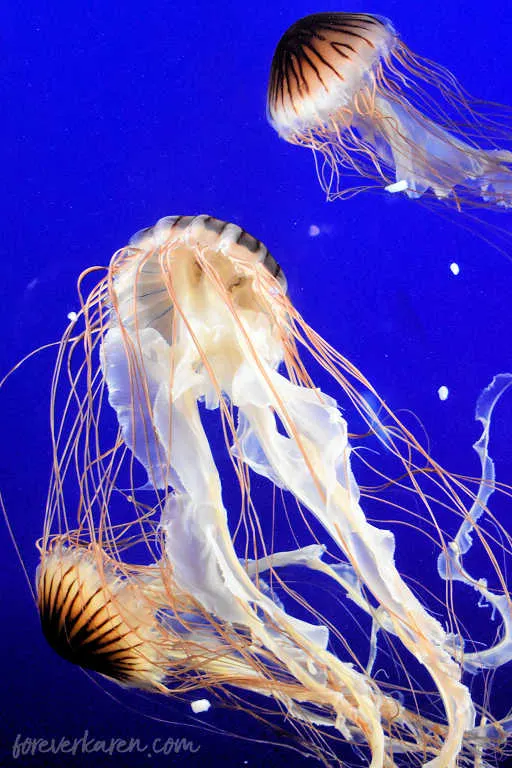 British Columbia boasts a rich marine life of salmon species, giant octopus, and cold-water corals. Learn about Vancouver's marine ecosystem at the Treasures of the BC Coast exhibit.
In 2017, the Vancouver Aquarium launched Ocean Wise, a global ocean conservation operation. The organization implements shoreline cleanup, marine research, and promotes a sustainable seafood program called ocean-wise seafood.
The Teahouse In Stanley Park
Location: Ferguson Point in Stanley Park
During day one of your Vancouver itinerary, I recommend lunch at The Teahouse, near Third Beach. Once a garrison in the Second World War, the building provided sleeping quarters for the crew operating the guns at Ferguson Point.
Now a romantic restaurant with a glass conservatory, diners can enjoy BC Salmon Caesar or BC Haida Gwaii Halibut next to the ocean. Those on restricted diets can choose from a selection of gluten-free, vegan, and ocean-wise seafood, all in an ambient setting.
The service at the restaurant is outstanding, and the food never disappoints. Should you decide to dine here for dinner instead, the restaurant boasts the "best sunset in the city."
Gastown
Location: Starts at W. Cordova Street and Water Street
As one of Vancouver's oldest neighbors, Gastown exudes its old-world charm with cobblestone streets and bricked-faced buildings.
It's an eclectic mix of old and new, with vintage lamp posts, outdoor patios, and modern art galleries. But look beyond the obvious and discover the history of this place.
On the corner of Cambie and Water Streets, a whistling steam clock welcomes visitors. Built over a steam vent that was part of Vancouver's heating system, the clock served two purposes.
It prevented the homeless from sleeping on the grate and became a tourist attraction, bringing people to the revitalized area of Gastown.
Today, the steam-powered clock is one of the only functioning ones globally. Every 15 minutes, the clock lets out steam and announces its time with a Westminster chime.
Further down the street, at the intersection of Carrall, Water, and Powell Streets (Maple Tree Square), stands a statue of Gassy Jack. John Deighton, aka Gassy Jack, owned a saloon here in the 1800s. Later, the city named this city to honor him.
Strolling Gastown, there are plenty of unique galleries and boutiques to buy your Canadian souvenirs. The popular choices are First Nations artwork and carvings, maple syrup, Smoked salmon, and BC jade jewelry.
Nuba In Gastown
Location: 207 W. Hastings Street
My pick for dinner is Lebanese cuisine at Nuba. Not only is the food made from locally sourced ingredients, but they also have a large gluten-free menu (happy dance!). Nuba makes their food using traditional recipes passed down for generations.
I'd recommend their Halloumi Cheese, Najib's Special (crispy cauliflower), and Lamb Kafta. Wow, that cauliflower could make even the meat-eaters love their vegetables.
Everything on the menu is mouthwatering, and after one meal, you may want to return for an encore. I'd return just for the cheese!
If you're not run off your feet, complete day one of your Vancouver itinerary by taking a stroll along Coal Harbour. On the leisurely walk, visitors can savor views of Stanley Park, Burrard Inlet, and the north shore.
Day Two Itinerary In Vancouver
Harbour Centre Lookout
Location: 555 W. Hastings Street
The day two itinerary of Vancouver starts where day one left off, near Gastown. The Harbour Centre Lookout offers aerial views of Vancouver, and the best part, the ticket is good all day.
At 168 m or 553 ft, visitors reach the viewing platform by way of a glass elevator. Similar to Toronto's CN Tower and Seattle's Space Needle, the Vancouver Lookout has a revolving restaurant, this one above its viewing floor.
With 360 degrees vistas of the city, it's easy to see why Vancouverites choose to live there. To the north, the mountains provide a picturesque backdrop to the Burrard Inlet.
If you're cruising to Alaska, Canada Place and the Vancouver cruise terminal are visible with their iconic white sails.
Gastown is to the east, and the southern views include the False Creek area and the white-domed roof of BC Place, Vancouver's multi-use stadium.
Around the viewing floor, plaques show the history of certain buildings. It's interesting to see the contemporary buildings mixed with the historic structures.
Yaletown
Location: The area east of Homer Street and south of Robson Street
From the Harbour Centre, walk southwest on Hamilton Street for about several blocks until you reach Yaletown. Along the way, at Hamilton and Georgia Street, the Vancouver public library is an architectural masterpiece that resembles the Coliseum.
Yaletown is a trendy area near the False Creek waterfront. Its eclectic boutiques, patio cafes, and loft buildings have blossomed this region into one of Vancouver's most desirable neighborhoods.
It's also one of Vancouver's most expensive residential areas. Saying you live in Yaletown can compare to saying your British address is in Kensington, London.
Once a railyard for Canadian Pacific Railway, the old brick platforms are still visible but refashioned into urban sidewalk eateries. At the corner of Davie Street and Pacific Blvd, Engine 374 welcomes visitors to its Pavilion.
Engine 374 pulled the first passenger train to Vancouver in 1887, and inside the free exhibit, you'll discover the history of CPR and the roundtable nearby.
Aquabus Tour
From the CPR roundtable, walk to the waterfront to the Aquabus dock. It's best to purchase an all-day pass that allows you to take a tour of the harbor with on and off privileges.
The colorful little boats offer great city views of BC Place Stadium, Science World (the round golf ball), and the areas that hosted Expo '86.
The Aquabus is a blessing to Vancouverites because it's a way to get around without the hassle of rush hour traffic and road congestion. After a tour of False Creek, disembark at Stamps Lamping for a leisurely lunch with a view.
Wicklow Pub
Location: 610 Stamps Landing
False Creek is a stunningly beautiful area, and there's no better way to savor it than from an outdoor rooftop patio. A favorite with the locals, stop by Wicklow Pub for a cold brew and some food.
The pub has lots of small rooms, reminiscent of an English pub. On a summer day, the outdoors is the place to be, especially with those fantastic views. Even if it's brisk, the pub has cozy blankets and propane heaters.
You can't go wrong with the Sailing Salad with a blend of goat cheese and wild salmon. Yum yum! For celiacs like me, all their burgers and sandwiches have the option of a gluten-free bun.
If you're looking for a taste of BC, choose the wild halibut and chips, grilled salmon burger, or crab sandwich.
After lunch, hop back on the Aquabus to complete your waterfront tour. The next stop is Granville Island, a place that will tickle the senses.
Granville Island
Location: Under the southern section of the Granville Street Bridge
Although Granville Island is a tourist destination, it's valued by locals for its fresh seafood, local produce, and lively vibe.
The Public Market is the jewel of Granville Island, with mouth-watering pastries, colorful fruits, and aromatic teas. It's a foodie's platter and an excellent place to graze and sample.
Once an industrial peninsula, some of the signs of its beginnings remain. Its industrial buildings now house art studios, trendy shops, and superb restaurants, some with dockside patios. The Railspur District and Net Loft showcase various specialty stores.
Its eclectic selection includes unique silver jewelry and handmade paper goods to kiln-fired pottery. A Kids' Only Market caters to the young ones with unique shops, an adventure zone, and an outdoor water park.
A short distance from the market, tourists gather to admire the smiling giants. Six cement silos painted in vibrant hues are the work of the Pandolfo twins.
With brightly colored faces and painted clothing reminiscent of the 60s, the silos add a bit of whimsy to the greyness of the Granville Island structures.
The vibe of Granville Island is contagious, with street entertainers, a lively atmosphere, and jaw-dropping views. After one visit, you won't want to leave.
Dockside Restaurant
Location: 1252 Johnston Street
Granville Island is a foodie mecca with plenty of culinary delights. During the warmer months, the restaurants are buzzing with activity.
I recommend the Dockside Restaurant, further away from the public market. It offers spectacular waterfront views, impeccable service, and fantastic food.
The inner dining room has floor-to-ceiling windows and elegant décor. Consistently winning the award for Vancouver's best patio restaurant, the outdoor area features flickering fireplaces and stunning views.
Every item on the menu is amazing and can be complemented with Dockside's craft brew or British Columbia wine. Some mouth-watering items include braised oxtail ragu, Manila clam linguine, seared Hokkaido scallops, and sablefish.
Dockside has a good selection of gluten-free meals, and there are lots of vegan choices. While the waterfront views are prenominal, the food presentation comes in a close second.
After dinner, take the Aquabus to either Yaletown or Plaza of Nations for a short walk back to Harbour Centre. Remember that all-day ticket you purchased this morning? Ride the glass elevator to the viewing deck again to enjoy the twinkling lights of the city.
While Vancouver is an amazing city by day, it's equally picturesque in the evening.
Day Three Itinerary In Vancouver
Put on your comfy shoes for day 3 in Vancouver, as this itinerary takes you to the treetops and mountaintops. From downtown, catch the complimentary shuttle outside Canada Place, which will take you to Capilano Suspension Bridge in North Vancouver.
Capilano Suspension Bridge
Location: 1252 Johnston Street
Not just a swaying bridge suspended over a canyon, the Capilano Suspension Bridge is a park perfect for the adventurous.
It's rated as one of Vancouver's top attractions, and it's a must-visit. The 450-foot bridge spans the Capilano River and while it sways, attempts to make the bridge bounce is forbidden.
On the other side of the canyon, visitors can get aerial views of the rainforest on the Treetops Adventure. After climbing a staircase to a giant treehouse, the adventure begins.
The journey takes visitors on eight suspended platforms between Douglas-fir trees, high above the canopy.
It's interesting to learn how these structures were made without damaging the trees. As the trees grow, the collars that hold the platforms are moved and expanded. During the summer, birds of prey from Raptor's Ridge are on display.
The newest addition to the park is the Cliffwalk. It features a narrow walkway that hangs from the rock wall over a deep canyon. While I found the walkway exhilarating, I saw many people freak out on seeing it, turn around and walk back out.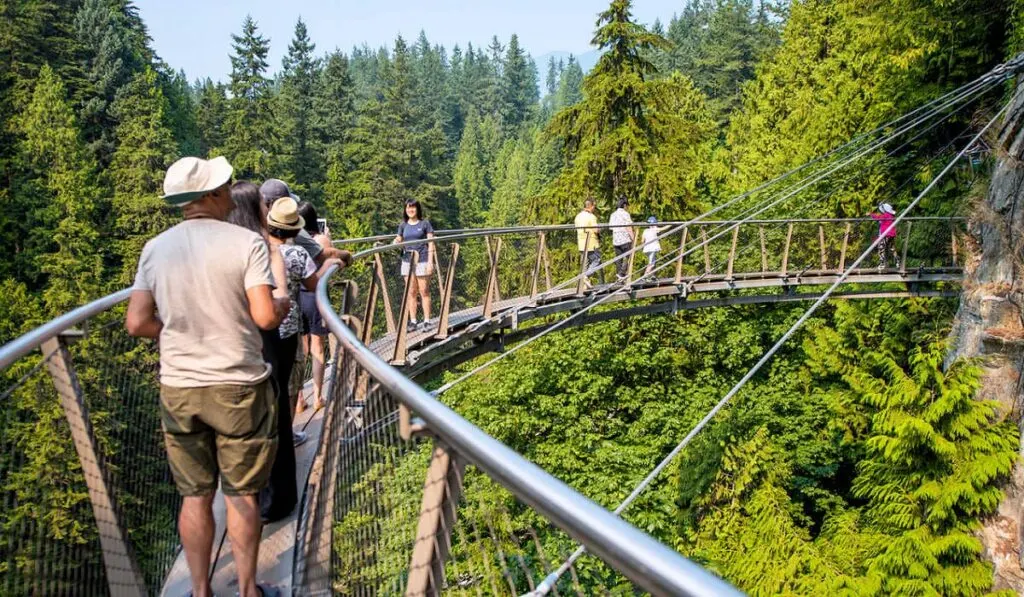 Around the park are numerous totem poles and lots of informational plaques on the bridge construction and water conservation.
If you need a break after the park, head to Edgemont Village. Its quaint neighborhood offers nice coffee shops with some amazing street murals.
Grouse Mountain
Location: 6400 Nancy Greene Way, North Vancouver
From the Capilano Suspension Bridge Park, take the Capilano Road north to the bottom of Grouse Mountain. Should you be driving, there is plenty of paid parking, but spots fill up fast.
A popular destination year-round, the winter offers snowboarding, skiing, and shoe shoeing, while visitors come for the mountaintop views and hiking in the summer months.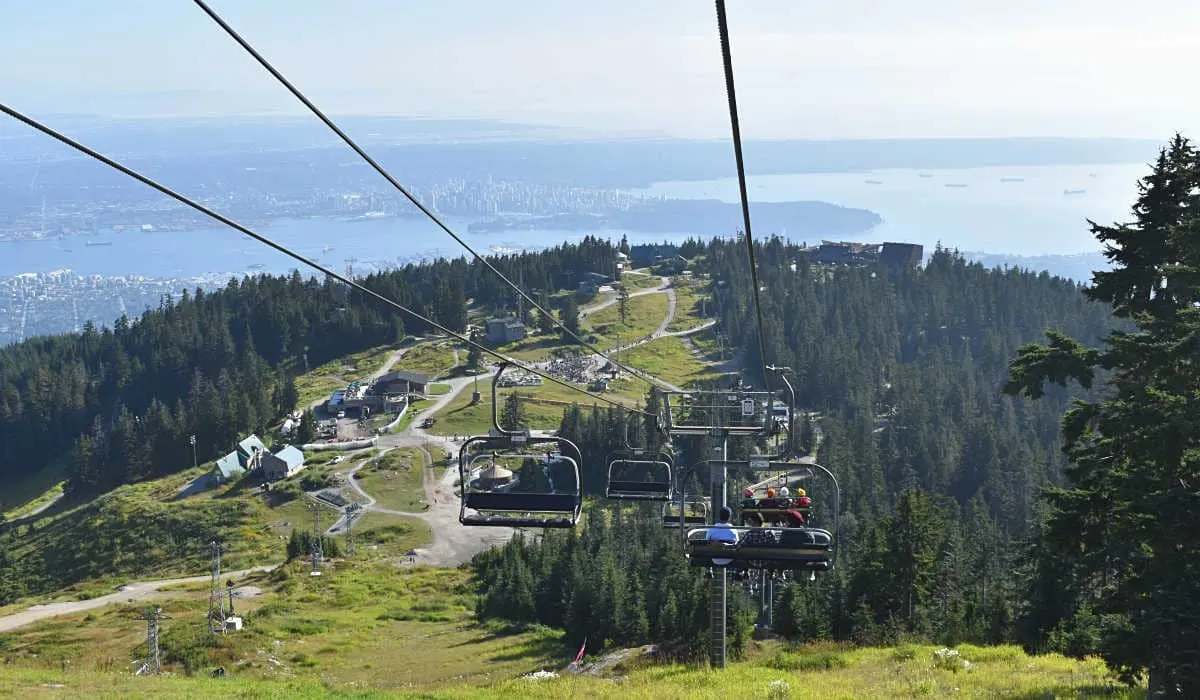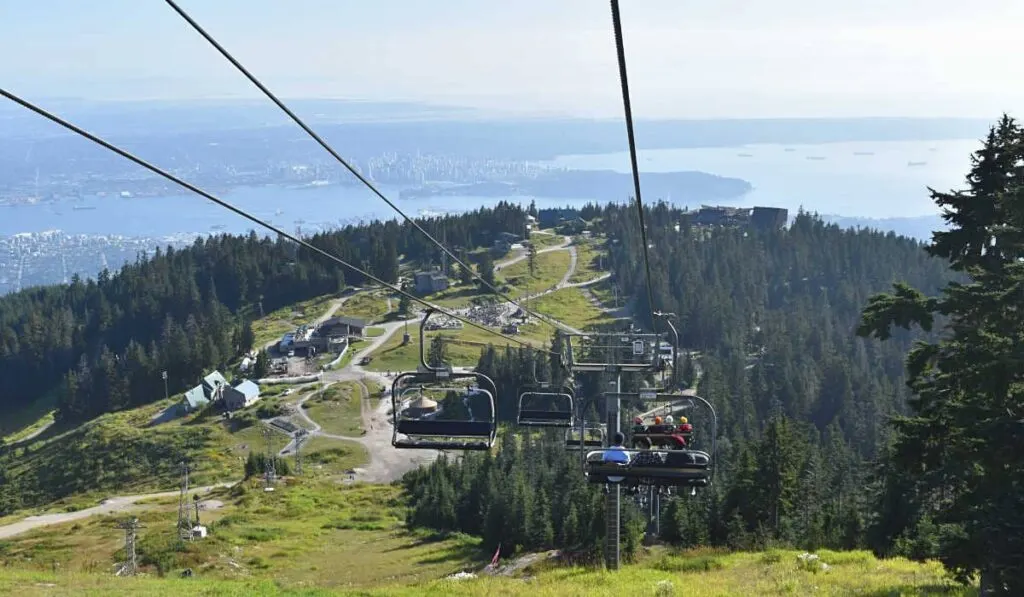 Skyride lift tickets vary in price from the basic ticket to one that includes activities. For the adventurous, mountain ziplining, paragliding, and mountain rope adventure might fit the bill.
The Skyride gondola transports visitors to the top, and the eight-minute ride offers amazing views of Vancouver, the Gulf Islands, and the Capilano watershed. If you're a gym rat, the Grouse Grind hiking trail might be more up your alley.
On a warm, sunny day, expect to spend four to five hours at the mountain peak. Once you've debarked the gondola, walk to Altitudes to have some food with a view.
As an alternative to Grouse Mountain, visitors can enjoy equally spectacular vistas from Cypress Mountain. Further west, the lookout is accessed by car and doesn't cost a cent.
Further up the mountain in Cypress Provincial Park, the Eagle Coaster ride offers a thrilling experience down the mountain with more amazing scenery.
Altitudes Bistro
Location: Top of Grouse Mountain at 6400 Nancy Greene Way, North Vancouver
While the food at Altitudes is simple, there's something to be said for the city views. The burgers have a gluten-free bun option, great for us celiacs, and there are options for those who are vegan.
After lunch, venture out onto the mountain for a fun-filled day. The lumberjack show is fun, the birds of prey entertaining, but for me, the highlight is the grizzly bears.
Coola and Grinder made Grouse Mountain their home in 2001 after becoming orphans. Back then, there were no places to rehabilitate the wild animals, so they have become quite the celebrities on Grouse Mountain.
Like bears in the wild, they hibernate in their manmade shelter in winter. During hibernation, locals can watch them emerge from hibernation through a bear den cam.
Watching the webcam, I was amazed to discover the bears' sleepwalk during hibernation. Imagine that!
Included in a Skyride ticket is the chairlift. At 4,100 feet, the views are spectacular, and on my last visit, I watched some brave individuals launching from the top in paragliders.
A short walk from the chairlift, the Eye of the Wind's unique wind turbine provides the highest elevation for views of the surrounding mountains and Vancouver vistas.
While this isn't the tallest wind turbine in the world, it's the only one that has a visitors' viewing platform.
On my last visit to the Peak, Brian and I took a helicopter site-seeing excursion. Blackcomb Helicopters offers three tours. We took the Lions Peak tour to see the legendary Lions Peak, Horseshoe Bay, and distant views of downtown Vancouver.
Once your adventure on Grouse Mountain is complete, take the free shuttle bus back to downtown Vancouver.
Cactus Club Café Coal Harbour
Location: 1085 Canada Place at Jack Poole Plaza
My pick for dinner is the Cactus Club at Jack Poole Plaza, adjacent to the Olympic Cauldron. Cactus Club is renowned for its delicious food, impeccable service, and vibrant ambiance. The Coal Harbour location is second to none.
The extensive menu has plenty to choose from, even for those who require gluten-free, vegan, or vegetarian. Favorites on the menu include Butternut Squash Ravioli and Prawns, Salmon Fresca, Cajun Chicken Burger, and the Lettuce Wraps Szechuan Chicken appetizer.
Olympic Cauldron
Location: 1055 Canada Place at Jack Poole Plaza
Visiting Vancouver wouldn't be complete without seeing the Olympic Cauldron outside the restaurant. The Unique Cauldron was lit for the 2010 Winter and Paralympic Olympic Games.
While it's no longer lit, the glass structure is still a marvel to enjoy. Initially, the 33 ft (10 m) cauldron was lit by Wayne Gretzky, while 3.5 billion people watched it globally.
I remember visiting the structure during the Olympics. While the flames gave it an element of grandeur, the views were not so picturesque, surrounded by fencing to prevent vandalism.
With the north shore as a backdrop, the Cauldron is much more photogenic today. Should you visit in the winter, Jack Poole Plaza hosts a German-themed Christmas Market, complete with your favorite German foods and drinks.
A short distance away by the waterfront, the Digital Orca delights visitors with its Lego-like construction.
FlyOver Canada
Location: 201 – 999 Canada Place, Vancouver
While a 3-day itinerary in Vancouver showed you the highlights, the FlyOver Canada attraction allows you to enjoy the entire country.
From the wheat fields of Saskatchewan to the gushing waters of Niagara Falls, riders can experience the best of Canada without traveling anywhere.
While the overall experience lasts 25 minutes, the eight-minute featured show is preceded by Uplift, a 360-degrees immersive movie about Canadians.
For the featured ride, you hang suspended from chairs that move up and down and side to side during the movie. The thrilling movie is projected onto a 20-meter-high circular screen that wraps around the seats, giving it that seamless feeling of flight.
Coupled with mist, wind, and smells, you'll really feel like you're in Iceberg Alley, Newfoundland, or soaring the peak of Mount Assiniboine in British Columbia.
Occasionally, the venue offers a different movie. At Christmastime, riders can experience a trip to the North Pole to see Santa's workshop. During my last visit, I flew over the fjords and dramatic waterfalls of Iceland in FlyOver Iceland.
Vancouver's Other Places Of Interest
Depending on your interests, any of these places can be switched out for something that appeals to you. The Vancouver Art Gallery (at 750 Hornby St.) is western Canada's largest art museum which changing exhibits.
Like Rodeo Drive in Los Angeles, Robson Street is Vancouver's esteemed shopping hub. Overflowing with designer brands like Armani Exchange, Bebe, Guess, and the Banana Republic, it's a great place to browse and people-watch.
Science World, on False Creek, is a fantastic stop when traveling with children. The interactive displays cater to both young and adults, and the golf-ball dome makes for hours of fun during rainfall.
But for those wanting a slower pace, the city is equally enjoyed in baby steps. English Bay Beach and Kitsilano Beach provide waterfront views if you want to laze in the sand.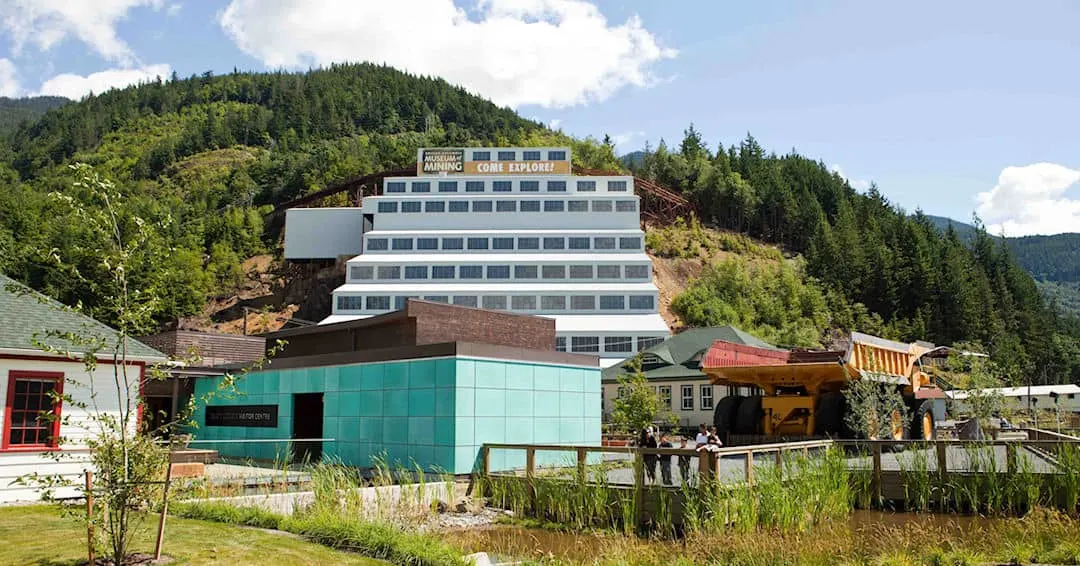 Just outside of Vancouver on the Sea to Sky Highway, the Britannia Mine Museum is a fascinating place allowing visitors to delve deep into a mountain and learn the interesting history of a copper mine.
If you love gardens, Queen Elizabeth Park offers beautifully quarried garden beds. Built on the city's highest point, visitors can enjoy spectacular views of Vancouver.
Neverland afternoon tea makes a nice treat in the afternoon if you love tea and the British tradition. It serves an amazing gluten-free and dairy-free version (as well as a regular one) if you have food allergies.
Lynn Canyon Park offers a free suspension bridge in North Vancouver if you prefer not to pay the entrance fee at the Capilano Suspension Bridge Park.
Should you require a caffeine kick during your few days in Vancouver, Tim Hortons is your must-stop. They have plenty of locations, and their soups and sandwiches are ideal for a quick lunch.
For the foodies, the Richmond Night Market offers food from popular street markets around the world. Open on Friday to Sunday evenings during the summer, you can sample popular choices like takoyaki, BBQ squid, mochi donuts, and rotatoes.
Final Thoughts On This 3-Day Itinerary In Vancouver
With this 3-day itinerary of Vancouver will delight you with its array of activities. For the active, walking tours and bike routes are plentiful. While three days isn't enough to see all of Vancouver, prepare for a busy schedule.
Should you have more than three days, consider spreading your wings outside of Vancouver too. In the summer, spend an hour or two visiting the Sunflower Festival in Chilliwack.
Further east, a two-hour drive to Hope offers the opportunity to tour the amazing Othello Tunnels. Carved through a large rock, the old train tunnels allow for picturesque views of the Coquihalla River below.
Like most metropolitan cities, there is much to discover with each returning visit. Should you have a week or two, consider a romantic getaway to Whistler or uncover new gems in the Okanagan or Vancouver Island.
Happy travels ~ Karen