In just over 20 years, the Richmond Night Market has grown from humble beginnings to North America's largest night market selling food and merchandise. Just south of metro Vancouver in Canada, the outdoor venue attracts over one million visitors each season.
The event opens Friday to Sunday evenings, from late April to mid-October, and offers the trendiest food. While vendors sell merchandise and edibles, most come to sample the international culinary delights.
Most food fall in the Asian food category, but the Richmond Night Market vendors have items from other countries too. The event features live performances, trying to drag visitors away from the tantalizing smells of the food trucks.
Anything goes when it comes to food, and the more creative, the better. So, if you're visiting Vancouver for a few days, or you're a local, reserve an evening to visit the market.
Where Is The Richmond Night Market?
Located at 8351 River Road, the market is easy to find, near the River Rock Casino and Vancouver International Airport. The market has free parking, but the area becomes quite gridlocked during opening hours.
Local police generally direct the traffic, so exercise patience when driving. To avoid vehicle congestion, consider taking transit instead. It's a 5-minute walk from the Skytrain's Bridgeport Station on the Canada Line.
Tips For Visiting The Richmond Night Market
Due to its popularity, the venue attracts vast crowds, reminiscent of an outdoor music concert. So, here are some tips for attending.
Arrive early (before 7 pm) to avoid the entrance lineup. Alternatively, the crowds dissipate at 10 pm, so late is good too.
While admission is CAD 6 for those 7 to 59, buying the Zoom pass allows you to skip the line. The pass costs CAD 35 for six entries. You can buy the express pass at the venue; they only accept cash. The Zoom pass doesn't save much money but gives you quick access instead of standing in a lengthy line.
Carry some cash as some vendors don't take credit, and some charge an extra fee for using credit. There are ATMs on the grounds.
Go with an appetite and a willingness to try something new.
Popular stalls will have long lines. If you're not willing to wait, try something different.
The market has vegan options but cannot guarantee anything is gluten-free.
You can share food and cover more vendors if you go with friends. Who doesn't like more variety?
Wear comfy shoes because you'll walk a lot and stand in lineups.
The food is the star attraction, and vendors offer hundreds of tempting items. It may take you several visits to eat your way through the market. Here are some dishes you need to try.
1. Takoyaki
One bite of Takoyaki balls, and you're transported back to the busy streets of Japan. Dating back to 1935, the Japanese street food starts with octopus balls and combines them with toppings.
The warm dough balls are flavored with pieces of octopus, but the taste is subtle. While octopus is the traditional filling, vendors sell balls with other fillers.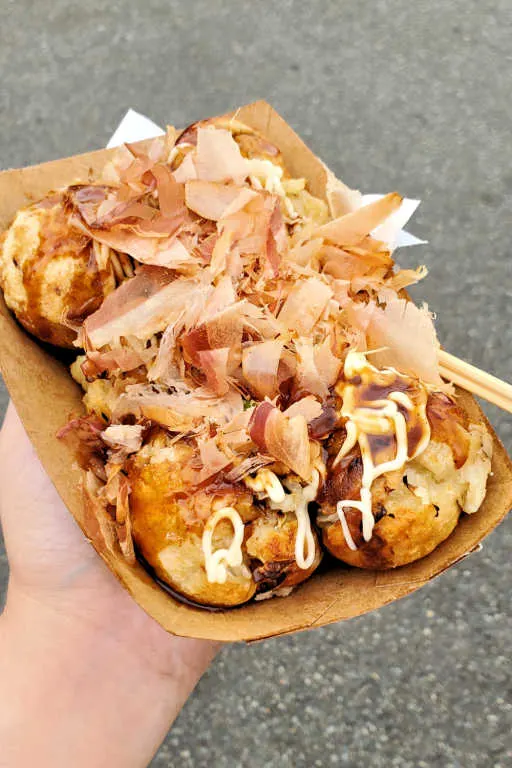 Examples include shrimp, mushrooms, or cheese and scallops. You can purchase three or six of the same kind or six of varying flavors. Alternatively, another booth sells a giant octopus ball with sauces.
Food vendors serve Takoyaki on a paper dish topped with Katsuobushi (Bonita flakes), mayonnaise, and seaweed.
2. Rotatoes
Rotatoes have been around for years and are a favorite food at the Richmond Night Market. Also called the Hurricane Potato, spiral-cut potatoes are deep-fried and resemble French fries, only in a spiral format.
If you love these spiral savory spuds, you can enjoy them at the Vancouver Christmas Market in Jack Poole Plaza in November and December.
They're expensive at CAD 6 for one potato, but nothing at the market is cheap. However, they are easy to eat and far less messy than foods that come with fussy sauces.
To add flavor, you can choose from a variety of weird and wonderful toppings. With choices like cheese, garlic, salt and vinegar, and powdered ketchup, you can change the taste of your rotato, with a simple topping. On the food truck, a comical sign suggests uses for a rotato.
3. Beaver Tails
Classically Canadian, Beaver Tails have been around since 1978. These surgery treats have been a staple at Canadian fairs and venues across the country.
The traditional desserts, which resemble (you guessed it) a beaver's flat tail, were dusted with cinnamon and sugar. Today, the iconic treats are available in endless flavor varieties. So, will you stick to the classic or try something daring?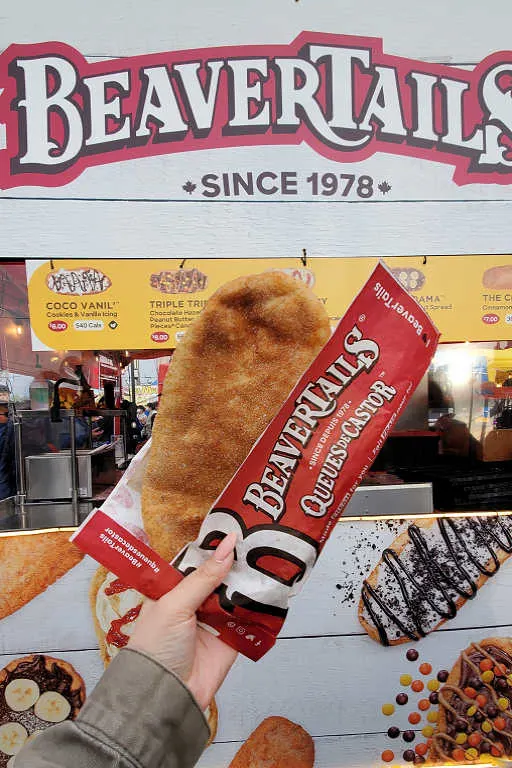 Hazelnut spread has become a big thing on beaver tails. Add some Reeses Pieces candy or banana slices for an unusual twist on an old favorite.
Oreo lovers might prefer the Coco Vanil' with vanilla icing and crushed Oreo cookies. Whatever your choice, most desserts have over 500 calories, but who's counting?
4. BBQ Squid
BBQ squid is an old favorite at the night market. The popular street food comes from Taiwanese night markets and needs to be tried at least once.
The vendor sells squid rings, tentacles, whole squid, or a mix. The squid is barbequed without a batter, retaining its chewy and tasty flavor.
Like other food choices, you can pick a sauce to accompany your meal. Choose from garlic, satay, or gochugaru for the ultimate fiery kick.
If you visit Vancouver in December, you can also purchase deep-fried squid at the Christmas market at Jack Poole Plaza.
5. Shave Ice
Hawaii is home to premium shave ice, which is pillowy soft, and fluffy. We enjoyed shaved ice several times on our Vancouver to Hawaii cruise and couldn't wait to return to eat it again.
However, the Richmond Night Market has some Hawaiian vendors selling island favorites, such as shaved ice and Spam Musubi.
The booths at the market sell a twist on the Hawaiian favorite. So, while you can buy traditional shaved ice with several syrup flavors, consider tasting something new.
The Kyoto Matcha Shaved Ice comes with mini mochi. Alternatively, they serve Brown Sugar Shaved Ice with black pearls and milk tea soft serve ice cream for the ultimate cooling treat.
Some selections include fruit pieces, mini marshmallows, and other strange additions. As I said, anything goes at the night market.
6. Mochi Donuts
Mochido makes premium Mochi Donuts that are super chewy. Mochi Donuts are healthier than regular donuts and contain half the calories. Sometimes their flavors change depending on what's in season.
They are a cross between a chewy mochi and cake donuts. Mochido donuts contain gluten, eggs, and milk products for those with food allergies.
The food vendor always has a long queue, but the food is worth the wait. The Churro and Matcha had a good flavor and weren't too sweet. Also good was the dragon fruit flavor.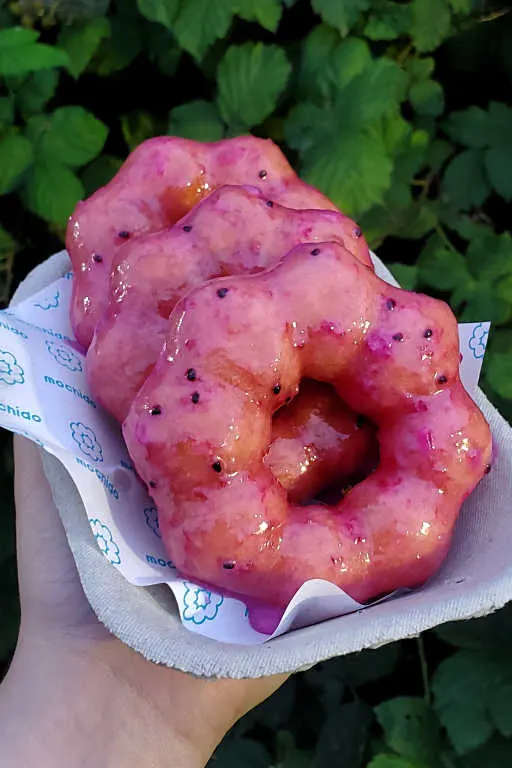 7. Meat Skewers
Another staple for the carnivores is meat skewers. Available in pork, chicken, beef, lamb, and prawns, food trucks sell them in groups of four, six, nine, or ten.
Vendors allow you to mix and match, so you aren't stuck with one protein. There are many Richmond Night Market food vendors selling meat on a stick, and pricing is pretty consistent across sellers. However, Chef James has created a name for himself when it comes to meat skewers.
The Angus beef skewers are lean, juicy, and flavorful. However, the lamb is fantastic with its subtle cumin seasoning.
8. Sushi Tacos
Sushi and tacos might seem like a weird food combination. But this trendy food item has become quite popular. Instead of using wheat or corn tacos, compressed seaweed is deep fried into the shape of a taco shell.
Then the shells are topped with traditional sushi choices, such as tuna, scallop, and spicy salmon. The protein is added to a small rice base and trimmed with sauces and green onions.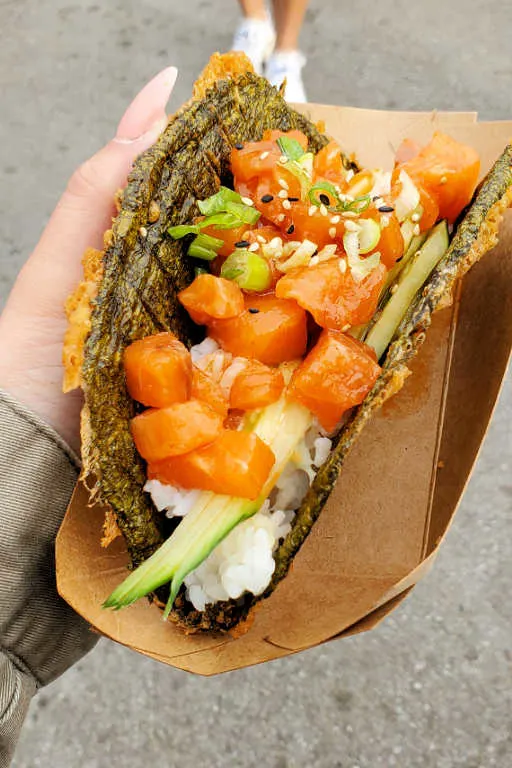 Compared to traditional sushi, the sushi tacos are pretty large, and the seaweed shells didn't crumble like the wheat ones.
9. Spam Fries
The Aloha Boys booth carries some classic Hawaiian food. As mentioned, Spam Musubi is a favorite street food in the Hawaiian Islands. But what about Spam Fries?
Hawaii has a love affair with Spam and is always trying to devise ingenious ways to cook it. It's so popular that they have an annual event focused on Spam!
So, what about those Spam Fries? They are crispy on the outside and moist and salty on the inside. Some deep fry them as they are, while others add a Tempura batter. You'll enjoy a little taste of the Aloha state on their own or with a dipping sauce.
10. Mango Yummy
As the name suggests, Mango Yummy sells as things made with mango. If mangoes are in season, a refreshing treat is a perfect way to end an evening at the Richmond Night Market.
The Mango Sago is made with coconut milk, which is ideal for those who are lactose-intolerant. It's combined with sago pearls and fresh mango chunks, and mine was topped with fresh grapefruit for a tangy kick.
Other mango options include shaved ice with fresh fruit, a mango coconut foam smoothie, and a mango coconut pudding.
11. Coconut Pudding
The night market sells many coconut items, including jelly, coconut rice, pudding pancakes, and coconut pudding. If you're lactose intolerant, coconut pudding provides the perfect treat to satisfy any sweet tooth.
Vendors make the refreshing pudding from coconut milk, so it's naturally lactose-free. Another option for a lactose-free dessert is tofu pudding.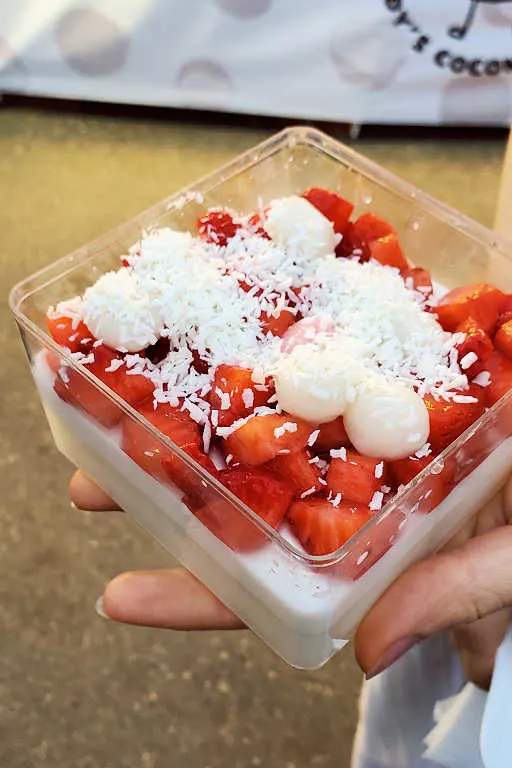 Coconut puddings come with a selection of fruit toppings. We chose strawberries and mochi, which were refreshing on a hot evening.
12. Pork Belly With Kimchi
You can't go wrong by visiting Teppan Bossam's food stall for Korean-style pork belly. They serve Bossam, a Korean-style pork belly that is very fatty but super yummy.
The pork belly is served on a cabbage bed and topped with green onions and sesame seeds. You also receive a side order of kimchi. It's the ideal marriage of sweet and sour.
The pork belly comes in flavors like garlic, barbeque sauce, and spicy. It's a delicious portion that melts in your mouth.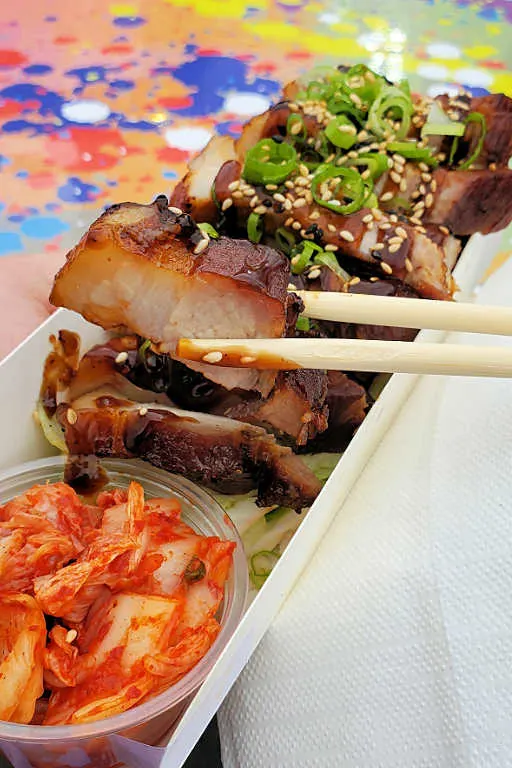 13. Coconut Ball
One Coconut stall focuses on coconut drinks, balls, and coconut pudding. If you've ever been to Hawaii, coconuts are incredibly fresh compared to the old ones offered in the mainland grocery stores.
However, the market has super fresh coconuts, and you can choose various ways to enjoy them. The vendor scoops out the fresh pulp in one piece and sells it as a coconut ball.
While super expensive at CAD 15 compared to the few dollars I paid in Hawaii, it's soft, sweet, and melts in your mouth.
Final Thoughts
Although the market is only open in the evenings, you can literally eat breakfast, lunch, and dinner there. With everything from dim sum and mini waffles to roasted pork hock and stuffed crab claws, there's no shortage of delicious food.
Whatever you're preference, there's something for everyone, even if you're a fussy eater.
It's best to arrive early and eat your way through the crowd, savoring each tasting as you go. Expect to spend around CAD 50 for two with entrance fees and food buys.
While it isn't cheap or close to fine dining, most attend for the overall unique experience and a chance to try something new.