With snow-capped mountains and jaw-dropping vistas, Whistler provides the ideal back-drop for an intimate escape. Throw away the images of the Eiffel Tower and canals of Venice in favor of a snowy getaway where frosted snowbanks integrate with roaring firepits and soothing hot tubs. Even in summer, the glorious landscapes and gushing waterfalls add a touch of lovey-dovey to any relationship. During my recent visit to the world-class ski resort, I didn't have to look far to find an array of romantic things to do in Whistler and a variety to suit every budget.
Living in Vancouver, Whistler makes for a great weekend trip with a drive that under two hours. But being the host of the 2010 Winter Olympic Games, it also attracts global travelers.
Have A Couples Massage At Scandinave Spa
Location: 8010 Mons Road | Open: Daily 10 am to 9 pm
I visited the Finnish-style Scandinave Spa during the last weeks of summer. Built on a mountain in an old-growth forest, the bath area oozes romance with steam rising from its bubbling baths with the sounds of water running from Nordic waterfalls.
Listen to the sounds of singing birds as you connect with your partner on a digital detox. Surrounding by soaring majestic mountains and moss-covered rainforest, could Cézanne have painted a more romantic place?
Scandinave Spa offers the idea intimate package of a couple's massage. This pampered event enhances the senses as the choreographic massages allow partners to experience the powerful touch tandemly. Why not spoil your partner with a surprise massage?
More On Canada:
● A photographer's guide to Toronto, Canada.
● Jaw-dropping lakes in Banff National Park, Alberta.
Elevated by peace and quiet, with just the soundtrack of ocean waves and melodies of the rainforest, a couple's massage offers a chance to strengthen your bond. When seeking the ultimate romantic Whistler getaway, remember to add Scandinave Spa to your list.
Cozy Up In A Yurt
Location: 8018 Mons Road | Phone: (604) 905-5533
Nothing says romance like watching the starry night sky. So, why not take it to the next level by stargazing from a cozy bed inside a yurt? Riverside Resort, located next to Scandinave Spa, has a selection of cheerful yurts. Nestled in the trees north of Whistler Village, the wooden framed yurts have a clear, circular skylight in the center of the structure.
Instead of swatting mosquitoes outside, enjoy seeing the Milky Way inside while snuggling under a comfortable blanket. If you want to add a little more spice to your romantic Whistler getaway, bring some battery-powered tea lights to add a touch of ambiance to glamping.
Enjoy A Romantic Dinner At Caramba
Location: 4314 Main Street # 12 | Open: Daily 3 pm to 10 pm except for Sat and Sun 1 pm to 10 pm
When looking for some romantic things to do in Whistler, a romantic dinner comes to mind. Caramba was a recommendation from someone who worked at the Hilton Resort and Spa, where I stayed. It's perfectly located in Whistler village, walking distance from most hotels. We chose to eat at Caramba on our first night, and it didn't disappoint. It's advisable to make a reservation. Otherwise, your appetite may outweigh the wait time.
The traditional Mediterranean cuisine uses the freshest ingredients, served in an intimate setting. The casual-style restaurant has an energetic vibe with an open kitchen, which adds to the softly lit eatery's ambiance. The staff is attentive, the menu selection excellent, and the cuisine fresh and delicious.
I was surprised at the selection of gluten-free options, but due to my additional milk allergy, my choices were limited. However, on my server's advice, I had the Caramba chopped salad with prawns, which had great flavor with a yummy dressing. Brian opted for the triple-decker Caramba burger, which he said topped most burgers he'd ever eaten.
Take A Tandem Bicycle Ride
Whistler is home to a massive network of trails, perfect for bike riding. Instead of single bicycles, try renting one for two. Tandem bikes are fun, inexpensive, and a great way to do some sightseeing while peddling together in harmony. There are plenty of bike rental companies in Whistler Village, and bikes are available by the hour or day.
Tandem bikes require teamwork and good communication. Working together in sync, riding a tandem is a great romantic activity to enjoy on a sunny day.
Pack A Picnic To Lost Lake
During the warmer months, Lost Lake is not just a hot spot for visitors but also for locals. What better way to have some quality one-on-one time than planning a picnic at Lost Lake? Fresh St. Market in Whistler offers a fabulous selection of ready-to-eat items perfect for a picnic.
Their store is reminiscent of Whole Foods in Vancouver, with fresh ingredients and many gluten-free and vegan offerings. So, load up your picnic backpack, and hike out to this picturesque lagoon. Also, this romantic Whistler activity is free.
A rendezvous to Lost Lake with picnic foods is not only romantic but allows for quiet time. Savor some great eats, enjoy the reflection of the lake's mountainous scenery, and maybe swim in the warm waters of a beautiful Whistler lagoon.
Enjoy A Light Show At Vallea Luminea
Location: Cougar Mountain Road
What could be more enchanting than a walk in the woods after dark, accompanied by thousands of twinkling lights? Vallea Luminea is a magical light show with special effects and is based on two hikers' story. Grab a hot chocolate at the entrance and enjoy the night lights with your loved one. The story is told over a 1.5 km trail that meanders through the forest on Cougar Mountain. Talking trees, illuminated salmon, and ghost-like bears help to narrate the storyline.
Vallea Luminea is a magnificent experience full of fascination and beauty and is accompanied by a great musical score. The hiker's story is heartwarming and makes for the perfect outdoor Whistler date night.
Feel Fearless Ziplining
Location: 211 – 4293 Mountain Square | Open: Times vary on the season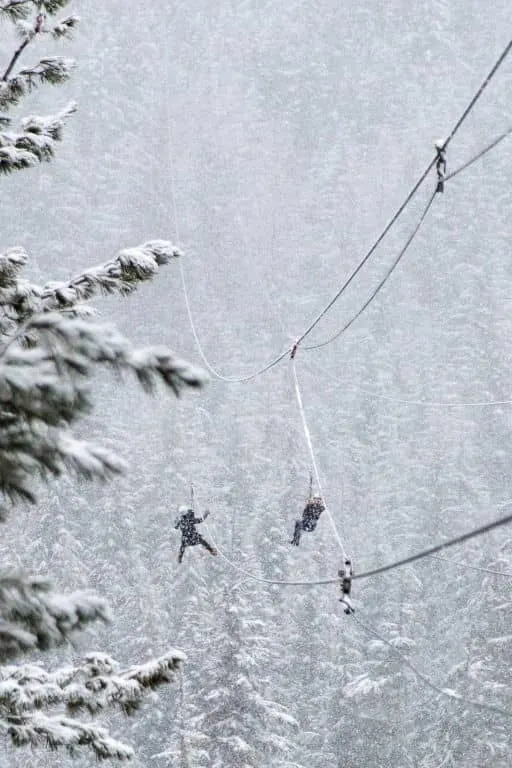 Being a fearless explorer, I sometimes like to skip the traditional dinner and a movie to favor something more adventurous. What better way to do that than ziplining with my husband in Whistler? Fearless activities like this create everlasting memories that we'll reminisce on for years to come.
A Whistler ziplining tour is an excellent opportunity to see your partner in a different light. It could be out of their comfort zone, but together, you can conquer their fears and have a barrel of laughs flying through the trees with the wind in your hair.
Superfly Ziplines have a unique side-by-side system allowing couples to create "poetry in motion" as you glide the cables together.
Take A Whistler Tasting Tour
Tantalize your taste buds as you hit the streets of Whistler Village on a foodie tasting tour. The tour features four fantastic courses at different award-winning downtown Whistler restaurants. Wine pairings are additional and an excellent option. Bring your appetite and sense of adventure.
This popular Whistler tasting tour is a great way to discover some hidden gems in this Ski village. Oh, and did I mention the tour includes tasting some delicious chocolate-covered treats? Who doesn't love chocolate?
While Whistler is an incredibly amorous place in winter, the warmer months offer intimate outdoor opportunities too. From a shared experience to a first-time event, Whistler makes for a perfect intimate getaway.
Happy travels ~ Karen