When you think of Whistler, most think of towering mountains with powder-white snow that beg for winter sports. Whistler is renowned for being a first-class ski resort and host of the 2010 Winter Olympics. However, Whistler in summer provides great outdoor activities that rival the winter months.
Whistler is 80 miles or 125 km north of downtown Vancouver, British Columbia. Its closeness makes it a top weekend getaway for Vancouverites, who can drive in less than two hours, depending on weather conditions.
Skylynx offers year-round bus transportation without a vehicle, as does Epic Rides. A slightly most expensive option is Whistler Connection which shuttles passengers in smaller vans instead.
When you visit in summer, the mountains and green space are popular for hiking, biking, golfing, and outdoor activities. But being a world-class resort, a trip to Whistler often comes with sticker shock.
In summer, activities in Whistler are plentiful. The Cloudraker Skybridge, bike trails, and Superfly ziplines provide thrilling adventures. You can enjoy a relaxing retreat at the Scandinave Spa at the end of your day.
Whistler can be an expensive place to visit. However, hiking is one of the top free Whistler summer activities, and it's an opportunity to savor the spectacular British Columbia scenery. That's if you're not taking a costly gondola to get to the trailhead.
Whistler has oodles of hiking trails, many within a short distance of Whistler Village.
Where To Stay In Whistler In Summer
Whistler and Blackcomb have lots of options for hotels. But here are some great choices within walking distance of shopping and restaurants.
The Westin Resort & Spa – Has a pool, hot tub, and a short walk from the Whistler Blackcomb Gondola.
Pan Pacific Whistler Village – Rooms have kitchenettes and include complimentary continental breakfast.
The Hilton Whistler Resort & Spa – Some rooms have kitchenettes. The hotel has onsite bike rentals.
Sundial Hotel – Excellent location, and some suites have a hot tub on the balcony.
Whistler Yurts – Provides an unconventional stay five minutes outside of Whistler Village.
Vancouverites make regular trips to Whistler. Its winter and summer playground makes an excellent break from city life. Here are some of the best things to do on a summer trip to Whistler, whether a local or a traveler.
1. Visit Brandywine Falls
Location: 11 km (29 miles) south of Whistler off Highway 99 | Length: 1 km round-trip (0.6 miles) | Difficulty: Easy
Without a doubt, Brandywine Falls is a favorite amongst those traveling the Sea to Sky highway. Just seven miles south of the famous ski resort, it's a great place to stop while driving to Whistler to stretch your legs.
Brandywine Falls Provincial Park has plenty of free parking, and the stroll to the jaw-dropping waterfall is on flat terrain. From the parking lot, head across a picturesque covered wooden bridge and turn right to start the trail.
From the bridge, it's 15 minutes to see the thundering falls. It's hard to get a good view of the falls due to overgrown foliage at the first platform, but the water drops an incredible 70 meters into the canyon below.
You'll enjoy Daisy Lake views and the surrounding mountains at the second lookout. Brandywine Falls is a must and a great free Whistler activity.
There is no access to the base of the falls. However, some adventurers go on a relatively obscure trail from the last lookout. A sign warns that taking the path could result in a fine should you attempt it.
2. See A Train Wreck
Location: Whistler Quarry Road, Whistler | Length: 2 km round-trip (1.2 miles) | Difficulty: Easy
The Whistler train wreck trail is one of the most popular hikes in the Whistler area due to its uniqueness and ease of hiking ability.
Where else can you find the remains of a train wreck in the middle of an old-growth forest with no train tracks nearby? For most of its sixty-year history, this train wreck was a mystery until recently.
The hiking trail to the rusty remanence is reasonably straightforward, dog-friendly, and a lovely outdoor adventure for the young and elderly. The trail also crosses one of the coolest suspension bridges that doesn't cost a dime to cross.
When you consider the Sea to Sky suspension bridge costs more than CAD 50, and Whistler Suspension Bridge is upwards of CAD 60, FREE is quite the bargain.
The suspension bridge crosses the Cheakamus River, which is quite picturesque. Its design resembles locomotive wheels and railway ties.
Across the bridge, at the end of the trail, seven boxcars lay amongst the fir and cedar trees. Now adorned with contemporary graffiti that's forever changing, the rusty carriages provide a fantastic venue to capture some Instagram photos.
The Whistler train wreck trail makes the perfect outing for families. Not only will the children love the suspension bridge resembling locomotive wheels, but there's a colorful surprise at the trail's end.
3. Browse The Whistler Farmer's Market
Location: Squamish Lil'wat Cultural Centre in Whistler's Upper Village | Date: Sundays in July to October | Time: 11 am to 4 pm
From July to October, the Sunday Whistler Farmer's Market offers a hearty shopping experience with live entertainment. From its humble roots of one farm vendor and a few artists, the market has grown to 90 merchants.
I don't know about you, but I love the ambiance of a weekend market. Seeing the local produce still fresh from the fields, complete with soil traces, is candy to the eyes.
The uniqueness and variety of merchants are great. Find handmade jewelry pieces, scented soaps, artisan chocolate, and gorgeous textiles.
Go hungry and leave satisfied as you sample through a cornucopia of pop-up tents offering delicious jellies, fresh bread, and homemade candy.
4. Ride The Peak To Peak Gondola
Location: 4545 Blackcomb Way, Whistler
The Whistler gondola, or Peak 2 Peak, links the peaks of the Whistler and Blackcomb mountains. In the summer, you'll enjoy 360-degree views of the mountain peaks and valley floor from the gondola.
The gondola was a feat of engineering. Inspired by Switzerland's ski lifts, the Peak 2 Peak spans a staggering distance of 1.9 miles or 3.02 km between towers.
Since summer isn't peak season, you won't have to wait long to get a Whistler summer lift ticket. At the top, you'll get access to alpine trails and alpine lakes.
Since gondolas run above the ground, they don't interrupt nature and living creatures. So, during the ride, keep your eyes peeled for deer, birds, and bears.
5. Walk The Cloudraker Skybridge
Location: At the top of the Peak Express chairlift, Whistler
If you're riding the Peak 2 Peak Gondola, it makes sense to continue onto the Cloudraker Skybridge. Hop on the open chairlift to access the Whistler suspension bridge.
Spanning 425 feet (130 meters) from Whistler Peak to the West Ridge, it's exciting as you soar high above the Whistler Bowl below.
But remember that you'll need to come prepared with a jacket as even in summer, temperatures can drop significantly. If you plan to bring children along, please note that they must be at least 3.3 feet (1 meter) tall.
6. Take A Walking Tour
Location: Whistler Visitor Centre, 4230 Gateway Dr | Open: Daily at 11 am | Length: 1-hour tour
There's no better way to learn the history of Whistler than from a seasoned local. During this one-hour Valley of Dreams walking tour, learn about the development of Whistler ski hill, the journey to hosting the 2010 Winter Olympic Games, and discover the history of Alta Lake.
Run by the Whistler Museum, this small-group tour requires a donation. While strolling Whistler Village, you're guaranteed to learn something new.
Have you ever wondered how Whistler got its name? Or when Whistler became a ski hill? Get the answers to these and other questions during the Valley of the Dreams Walking Tour.
7. Swim At Lost Lake
Location: Base of Blackcomb Mountain | Length: 5 km (3.1 miles) | Difficulty: Easy
Located near Whistler Village, Lost Lake is an easy 5 km roundtrip hike with a slight elevation gain of 50 meters. It's a desired summer swimming hole amongst locals due to its warm waters.
It's important to note the trail is multi-use and used by hikers and bikers. Should you be walking, it's best to stay alert for bikers sharing the path.
There are two options to reach this gorgeous park; one wider, busy path or a narrower, less-traveled trail. The busier pathway is popular with mountain bikers for its space, while the less-traveled route meanders through the trees offering a more relaxed and secluded hike.
Whatever your chosen route, both offer magnificent vistas of Blackcomb and Whistler Mountains and the Peak 2 Peak Gondola. So, pack a picnic and a bathing suit, and head out for a leisurely afternoon at Whistler's Lost Lake.
While Whistler tends to veer to the expensive side, this picturesque hike is one of the better free things to do in Whistler for both locals and visitors.
Tip: Visit Fresh St. Market at the Marketplace Shopping Centre for picnic pickings. Their full range of fresh and ready-to-eat selections makes packing a picnic a breeze.
8. Feel Like An Olympian At The Whistler Sliding Centre
Location: 4910 Glacier Lane, Whistler | Open: 9 am – 4 pm daily (except stat holidays)
There's no better place to learn about the Olympic legacy than the Whistler Sliding Centre. Located above Whistler village, the center offers a free self-guided tour of its world-class luge, skeleton, and bobsleigh facility.
The facility is a non-profit organization and serves to educate and help develop Western Canada's sliding sports.
For the adrenaline junkies, take to the fastest track in the world in a bobsleigh. In the summer months, experienced guide pilots the passenger wheeled bobsleighs. Participants must be 14 years or older.
While the self-guided tour is free, participating in the sliding program is a paid service. All money raised through its programs goes directly to support luge, bobsleigh, and skeleton athletes.
For adventure seekers, the center also offers a skeleton run! It's the only place in Canada where the public can experience a skeleton run. While it's an exhilarating experience, it's not for the faint of heart.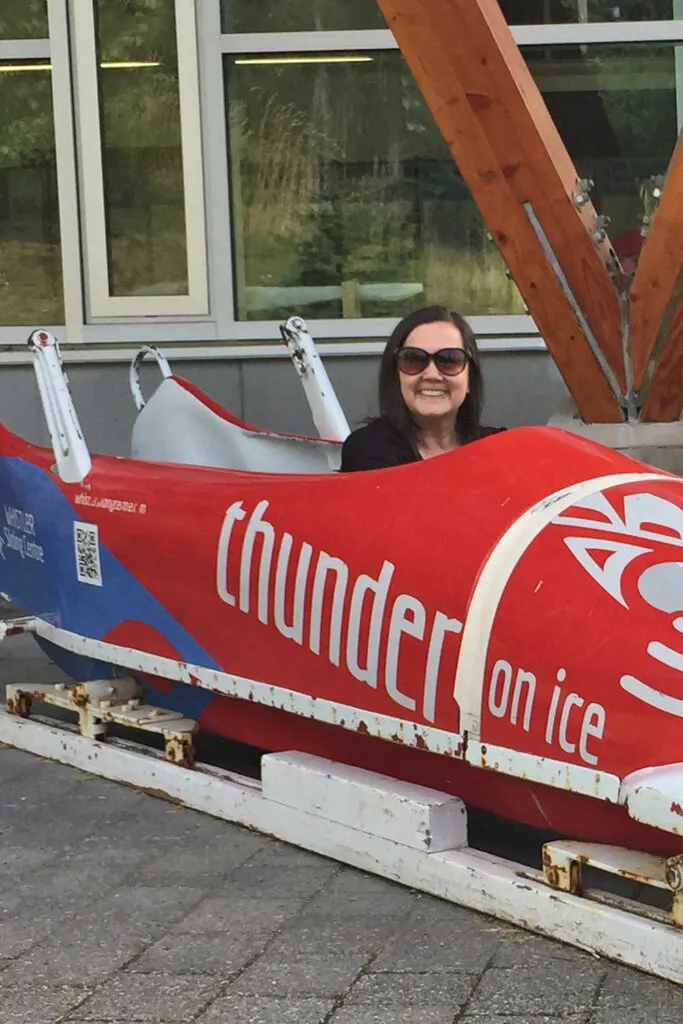 Be sure to visit the visitors center to capture those "I'm an Olympian" selfies sitting in an Olympic bobsleigh.
9. Go Ziplining
With its picturesque mountain scenery and tall old-growth trees, Whistler is an ideal place to experience the thrilling sport of zip-lining. There are two zip-lining adventure companies, Superfly Ziplines, and Ziptrek Ecotours.
Both offer a range of courses that involve traveling high up in treetops on wire cables or zip lines and various treetop viewing platforms.
The original Whistler-based Ziptrek company provides an extensive network of ziplines and bridges, along with some trails and boardwalks.
The course begins in Whistler Village after traveling through the main gondola! Furthermore, they boast their very own Sasquatch line – the longest single line in North America at over 2km!
10. Get A Selfie At The Olympic Rings
Location: 4365 Blackcomb Way, Whistler | Open: Always open
Feel like a champion as you pose for a fun selfie at the Whistler Olympic rings. Located at the Whistler Olympic Plaza, it's a great place to grab a chai latte and enjoy the majestic peaks that are a favorite in winter.
The plaza was once the venue where Olympic athletes received their medals. But this summer destination hosts free concerts and events.
Like many of you, I watched the 2010 Olympic Games, so being at the plaza gave me a sense of being there. Plaques around the grassy area commemorate the athletes who participated in the games.
Also, it lists the winners for both the regular Olympic and paraplegic games.
Nearby the treehouse children's playground is unique and an excellent stop for the little ones and the big kids in all of us. As well as two tree structures, the inclusive playground features a rolling slide, climbing ropes, and ramps for the mobility challenged.
11. Walk A Dog
Location: 8000 Nesters Road, Whistler | Open: 1 pm – 4 pm daily (except stat holidays)
Walking a dog is the coolest activity for all animal lovers. WAG (Whistler Animals Galore) allows volunteers to drop in and walk a dog at the shelter. Volunteers must be at least 19 years of age, have ID, and need to sign a waiver.
WAG is a non-profit organization that helps to rehabilitate dogs and cats. By walking a dog, volunteers help with much-needed exercise and socialization.
So, share the love of Whistler's excellent trails with a furry friend, and maybe your newfound friend will thank you with some doggy kisses. If you prefer cats, volunteer some time to play with a kitty instead.
12. Hike To Nairn Falls
Location: On Highway 99 between Whistler and Pemberton | Length: 3 km round-trip (1.9 miles) | Difficulty: Easy
Twenty minutes north of Whistler Village is Nairn Falls Provincial Park, where you can see another spectacular waterfall. The Provincial Park is a special place and home to the only boa constrictor in Canada, the rubber boa.
It sounds like something you'd buy in a toy store but it is a type of snake. Luckily the snake is nocturnal, so it didn't surprise me on my hike.
The 1.5 km trail (3 km roundtrip) is relatively easy, but I recommend sturdy footwear. The shaded pathway precariously follows a steep embankment with no railings.
It's not for the faint of heart, as the sharp drop-off leads to freezing rapids below. Please keep this in mind if hiking with small children.
At the trail's end, a set of stairs leads over a rocky area to the dramatic falls. To the right, a fenced viewing platform offers magnificent vistas of the gushing Nairn Falls.
Further to the left, another viewing area lets visitors see and feel the cool mist of the raging turquoise waters below. Be careful, as the rocks to the second lookout are slippery.
During the summer season, pick up some snacks and finger food at the grocery store and enjoy a picnic on one of the picnic tables in the park.
13. Enjoy A Multimedia Walk
Location: Sixteen Mile Creek Forest Service Road
Vallea Lumina is an immersive outdoor show that takes place on Cougar Mountain in Whistler. The event showcases the beauty of nature and technology coming together.
It offers a stunning 1.5 km walk through an old-growth forest, which takes approximately an hour to complete. Once the sun sets, the show starts with magically illuminated trees highlighting hidden wonders.
Through the use of magnificent light effects, architectural designs, unique sounds, and special effects, you'll immerse yourself in a story.
As you navigate your way through the trail, you will follow a decades-old mystery of two lost hikers brought to life by interactive activities topped with musical sound effects and incredible lighting techniques, making the experience unforgettable!
While this event takes place in winter and summer, the opening times vary according to sunset.
14. Drive To Alexander Falls
Location: Off Callaghan Road before Whistler Olympic Park
Those looking for free Whistler activities but who don't want to hike, check out Alexander Falls. Alexander Falls became more accessible after the 2010 Olympic Games when a paved road gave easier access.
Drive 10 km south from Whistler on the Sea to Sky Highway to get to the falls and make a right on Callaghan Valley Road. Drive for another 10 km and look for the signage for the falls.
A large gravel parking lot and the viewing platform are nearby. The impressive cascading falls drop 43 m (141 feet) to the valley below.
The optimal time to see Alexander Falls is late spring to early summer, when the melting snow provides a showy cascading waterfall. As a bonus, the area around Alexander Falls is a bear-viewing hot spot.
15. See A Ghost Town
Location: Whistler Quarry Road, Whistler | Length: 6 km loop (3.7 miles) | Difficulty: Moderate
Once a mill town employing 70 people, Parkhurst was abandoned during the great depression. Located on the northeastern side of Green Lake, the town succumbed to the weather and became known as Parkhurst Ghost Town.
The alluring trail to Whistler's ghost town might rank as unusual, with the train wreck's ranks. But these off-the-beaten-track gems keep life interesting. To get to the start of the trailhead:
Drive north of Whistler on Highway 99. Just past Green Lake, turn right onto Wedge Creek Forest Service Road. Make a right at the fork, continue to the next division, and take another right. Pullover for the start of the trail.
Visiting Parkhurst may feel a little spooky. It's hard to believe people lived in these woods long before developers turned Whistler into a ski resort. Beyond the broken houses and rusted-out vehicles, there is history in these hills.
Engulfed by the old-growth forest, there is something beautiful about the mix of old and new. Visitors may uncover hidden gems in this living outdoor museum with some searching.
16. Browse The Whistler Stroll
Location: Whistler Village, BC
The pedestrian-only cobblestone walkway that meanders through Whistler Village is called the Whistler Stroll. Ingeniously planned, the Stroll connects Village North with Village Centre.
The design seamlessly captures the surrounding mountains' beauty and endless forests. Its design encourages roaming and exploration and is perfect for an hour or two. I strolled through the village several times during my three-day getaway.
While I'm not fond of shopping, I found an exciting mix of restaurants, coffee shops, galleries, and boutiques.
While browsing the shops, I found one-off shops that intrigued me. One of my favorites is "Cows," with unique cow-focused merchandise that gave me a chuckle.
Slogans like "I'll be there for moo," "may the force be with moo," and "Cow Wars with Ham Solo and Moobacca" had me rolling with laughter. Who can resist the "Scooby-Moo" shirt or the social distancing one that states, "keep one cow apart?"
17. Visit Some Art Galleries
Every day, Whistler offers inspiration to artists regardless of their median. So, naturally, the ski town oozes with creativity and browsing the village, the selection of art galleries varies greatly.
Whistler is a treasure trove for art lovers, from the contemporary large canvas pieces in brightly colored media to the intricately carved soapstone sculptures.
Whistler Contemporary Gallery drew to its store for its unique collection of works. Jane Waterous' work, in particular, is eye candy with its three-dimensional figures in brightly colored tones.
While the Whistler Contemporary Gallery has two locations in the village, there are many other galleries to appease your art passion.
Here are some galleries worth visiting in Whistler:
Whistler Contemporary Gallery – 4293 Mountain Square. Ph: (604)938-3001
Mountain Galleries at the Fairmont – 4599 Chateau Blvd. Ph: (604) 935-1862
Fathom Stone Gallery at the Westin – 4090 Whistler Way. Ph: (604) 962-7722
Plaza Galleries – 4314 Main St. Ph: (604) 938-6233
18. Spend The Day At The Scandinave Spa
Location: 8010 Mons Road | Open: 10 am to 9 pm (although massage appointments start at 9 am)
Whistler has several spas, but there's none finer than the Scandinave Spa Whistler. Located on three acres of picturesque cedar and spruce trees, Whistler's Scandinave Spa offers a unique hydrotherapy experience.
Inspired by an age-old Finnish tradition, hydrotherapy is designed to provide deep relaxation of the body and mind through alternating hot and cold treatments.
The spa encourages guests to enjoy 10-15 minutes in a hot station before being cooled down for 10-20 seconds in a cold one. After completing this cycle, visitors can sit back, relax and take in the peaceful surroundings for 10-15 minutes.
If you've booked a massage, the outdoor baths, saunas, and steam room are included with admission. The spa concept allows you to disconnect literally, as cell phones are not allowed, and enjoy nature.
19. Ride At Whistler Mountain Bike Park
Location: 4282 Mountain Square | Open: 10:15 am to 7 pm
Whistler mountain has some of the best downhill mountain biking trails in Canada. Some argue that Whistler Mountain Bike Park is the best in the world. But I'll let you be the judge.
The Whistler bike park has 70 bike trails that cover 80 kilometers and 4,900 vertical feet. Let that sink in for a moment.
Whistler Mountain Bike Park is grouped into four zones. The Fitzsimmons Zone (the original bike park zone) provides routes for beginners to learn with the greenest trails. A step up, the Garbanzo Zone has more challenging and more technical features).
Very experienced trail riders can head to the Peak Zone, which has a long and challenging trail. The newest zone is Creek Zone.
You will need a proper downhill mountain bike to ride in the Whistler Mountain Bike Park, which you can rent from several rental shops in Whistler Village.
20. Visit Rainbow Park
Location: Valley Trail, Whistler, BC, V0N 0A0
Rainbow Park is a short distance from Whistler Village and the perfect place for a morning jog to watch a sunrise. Rainbow Park is accessed via Lorimer Rd and valley Trail if on foot. Alternatively, the lakeside park has a parking lot off Alta Lake Road.
The park is bustling with people playing volleyball, having a picnic, or boating on the water on weekends. The weekdays are preferable as the grassy areas are less crowded and more serene.
Take a book and enjoy the sounds of nature while having some literacy time. Grab a camera, too, because the panoramic views from the small pier are breathtaking.
When looking for free things to do in Whistler, Rainbow Park comes to mind, and its super close location makes it ideal.
21. Go Bear Viewing
There's something so majestic about seeing bears in their natural habitat. Is it because they're wild or the fact that they are harder to view because the human's concrete jungle keeps growing, swallowing their green space?
Despite the growing presence of Whistler and Blackcomb Mountains, the area is home to about 60 black bears. It's important to remember these cute, cuddly characters are ferocious and unpredictable, especially with young. Be bear aware and never approach or feed a wild animal.
Since bears hibernate in winter, the optimal viewing time is April/May to Sept/Oct. So, leave the crowded village with a fully charged camera and binoculars, and head out into the lofty woodland.
While bears are prevalent in the wilderness, there's no guarantee of seeing them. In fact, I've cruised to Alaska six times but seen more bears in my Vancouver backyard than in the wilds of the last frontier.
While the golf courses and Soo Valley are bear-viewing hot spots, a leisurely drive to Callaghan Road might hit the jackpot. Callaghan Road is a less traveled thoroughfare, but black bear sightings are frequent on the drive to Whistler Olympic Park.
22. Enjoy A Treetop Obstacle Course
If you're traveling with children, a treetop adventure makes an ideal day outing. While Superfly and Ziptrek have zip line courses, they offer obstacle courses too.
Ziptrek sells their tours for ages 6 and up but allows younger children to go free with a paying adult. Expect to spend 1-1/2 to 2 hours traversing boardwalks, swaying bridges, and suspended staircases.
Between suspension bridges, you can admire the old-growth canopy from one of the observation decks.
Alternatively, Superfly offers three treetop adventure courses for varying age groups. The kids' obstacle course suits those 7 to 13. A step up, the beginner's course has some challenging elements.
For extremists, the full tour has the most challenging components, such as swinging logs, cargo nets, and high monkey bars.
23. Hike To Joffre Lakes
Location: Joffre Lakes Provincial Park, Duffey Lake Rd, Mount Currie
Located in Pemberton, one hour north of Whistler, the Joffres Lake Trail is a popular one. There are three contrasting lakes in Joffre Lakes Provincial Park, with the first near the parking area.
You can choose to hike to see all three, which will take approximately two hours, or see the first two. The lakes get more vibrant in color as you go due to the glacial silt from Matier Glacier.
July and August provide the ideal months to hike, as the snow has gone, and the trail won't be muddy. However, remember to pack mosquito repellent to keep the flies at bay.
24. Try Stand-Up Paddleboarding
Location: Alta Lake, Duffey Lake Rd, Mount Currie
Alta Lake is Whistler's largest lake, ideal for kayaking and stand-up paddleboarding (SUP). The 2 km body of water features three beaches, Wayside Park, Rainbow Park, and Lakeside Park.
Lakeside Park has washrooms, picnic tables, and a place to rent paddleboards or kayaks. With calm waters and warm weather, it's a great place to learn the sport. You can rent a board by the hour or by the day.
While SUP takes a lot of upper body strength, the sport is relaxing and provides a unique perspective of Whistler's stunning landscape.
25. Hike To Garibaldi Lake
Location: Garibaldi Provincial Park
If you're seeking a scenic hike in British Columbia, look no further than Garibaldi Provincial Park! The trek to Garibaldi Lake is both challenging and rewarding.
Starting from the Rubble Creek parking lot, hikers will climb steadily uphill for 6.5 kilometers (4 miles), gaining over 800 meters in elevation along the way.
The trail is well-marked and leads all the way to the breathtaking lake. Since the round-trip hiking distance of 18 kilometers (11 miles) takes up to 7 hours to complete, you'll want to plan an early start.
While it takes some stamina to complete this longer trek, the stunning views of mountains, glaciers, and pristine lakes make it all worth it.
Final Thoughts On Whistler Activities
As you can see, there are plenty of things to do in Whistler, British Columbia, whether you spend a weekend or a week.
Whistler's spectacular mountain resort offers an unbeatable vacation experience. But don't take my word for it; drive to Whistler and experience its magic first-hand.