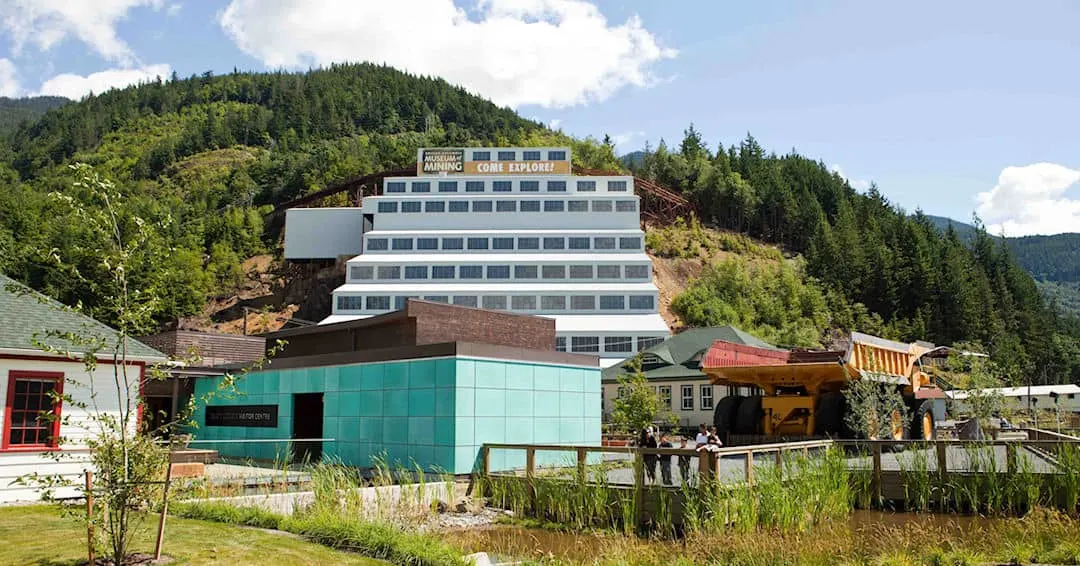 I've lived in British Columbia for over 20 years, but without a doubt, one of the best-kept secrets just north of Vancouver is the Britannia Mine Museum. It is the perfect blend of family fun, a look back in history, and a demonstration of how we impact our planet, even decades after it ceased operations.
The Britannia Mine began operating as a copper mine back in 1904. It remained in full operation until 1974 when it shut down due to increased operating costs.
Each year, over 70,000 visitors check out the BC mining museum, get to pan for gold, ride on a genuine mining train, and discover what life was like in an isolated mining town over a half-century ago.
Also, the new multimedia "BOOM!" exhibit gives visitors an inside look at what it was like for miners who worked there every day!
If you are local to Vancouver, British Columbia, there is a good chance that you have never visited Britannia Mine. In fact, most Vancouverites don't know this Vancouver mine exists.
If you're like me and have driven by it many times on the way to Squamish or Whistler, you've seen it but not discovered what a fantastic excursion it is.
Compared to the more popular Vancouver attractions like Capilano Suspension Bridge which get 1.2 million visitors annually, the Squamish mine museum receives a fraction of the visitors.
For visitors to Vancouver looking for a budget-friendly excursion, be sure to add this to your Vancouver itinerary. After a 45-minute drive north of Vancouver, you'll get both an eye-opening education and a great experience in history.
You may be carrying around a penny (if you still have pennies) where the original copper came from this very mine in BC.
Where Is The Britannia Mine Museum?
Location: 1 Forbes Way, Britannia Beach | Cost: CAD 36.95 for adults
Located at 1 Forbes Way, Britannia Beach, British Columbia, the Britannia mining museum is just off the Sea-To-Sky Highway (#99). It is just a short forty-five minutes from downtown Vancouver or ten minutes south of Squamish.
There's good signage, but it's best to use Google or a GPS to ensure you don't miss the exit.
Karen and I had spotted the mine on our romantic getaway to Whistler. We didn't have time to stop but vowed to come back another day when we could appreciate the tour. Fast forward six months later, and we finally made the journey to explore this Vancouver gem.
Britannia mine museum hours are 9 am to 5 pm daily, but during COVID-19, capacity is limited for safety reasons. Also, the hours are subject to change during summer and winter, so it's best to check their website to confirm.
https://www.britanniaminemuseum.ca/
Toll-free: 1-800-896-4044
Phone: 1-604-896-2233 – press 0
The Britannia Mine Museum tickets for spring 2022 are as follows:
Adults (18+) CAD 36.95
Seniors 65+ / Students CAD 33.95
Youth (13-17) CAD 28.95
Children (5-12) CAD 19.95
Preschool (under 5) FREE
A Brief History Of Britannia Mine
Copper deposits were first discovered in 1888 by Alexander Forbes, a young doctor initially from Scotland who was prospecting at Britannia Beach.
The Britannia Mining and Smelting Company first opened Britannia Mines in 1904. It continued operations for the next 70 years and stood as one of the largest copper mines in the world.
The mine was capable of producing 2,000 tons of ore per day. Over the life of the mine, 60,000 people called the mine "home." Isolated until 1958, when the original Sea-To-Sky highway opened, connecting it to nearby Vancouver, the mining town included many recreations.
These included libraries, schools, tennis courts, a bowling alley, and a swimming pool.
In 1915, a rock and snow slide destroyed the original 'Jane Camp,' killing 56 men, women, and children. The mine relocated the homes to a safer location 2,000 feet below the original town.
In 1921, a fire destroyed the mill. In October of the same year, a vast flood destroyed the small community on the banks of Britannia Creek, killing 37 people. The mill was rebuilt as Mill no. 3 and still stands today, open for visitors to enjoy the history.
Touring Britannia Mine Museum
We visited the Squamish mining museum during a rain and hail storm. Since most of the exhibits are covered, it made for a great rainy day outing from Vancouver, although a bit cold in early March.
After checking in upon our arrival, our next stop was to explore the mining museum inside. Having not much knowledge of mining, this was a fascinating area to discover and gain new insight.
There are many real mining tools, equipment, and various artifacts used at the mine during its operation years. While copper was the primary metal, the mine also extracted silver, gold, molybdenum, and titanium.
We watched a short video that describes the history of the mine and its environmental impact on the surrounding area. During the Squamish mine's operation until 1974, the mine continuously operated within the day's environmental guidelines and regulations.
However, that didn't stop the harm done to Howe Sound, the large inlet at the foot of the mine that was home to countless sea life. By today's environmental standards, previous regulations were grossly inadequate because we know a lot more now.
After the mine closed forever, rainfall caused a naturally-occurring acidic reaction and created runoff that drained into the Sound, virtually killing all fish, etc.
Fortunately, in the mid-1990s, the Britannia Mine built a water treatment plant to neutralize the acidic water runoff from the dormant mine before draining back into the ocean.
Recent testing has confirmed that sea life is returning with plankton, various fish, and other sea inhabitants showing up. It's excellent news for the environment and a lesson to us all on the impact of mining.
Touring The Outside Grounds
There's much more to discover outside on the 10-acre site in addition to the mining tools and equipment. Showing the ravages of time, some of the rusty equipment that hasn't been used for over half a century shows what it was like for miners working underground.
I couldn't help but think this mining car would be a pretty scary ride as you rode it deep beneath the surface. If there was a cave-in, it would become your coffin. Okay, enough of the scary stuff!
The huge truck parked outside the museum shows the massive size of equipment used in modern mining. These types of trucks are typically used on surface mining and were likely not used in Britannia mining, but I couldn't help feeling dwarfed beneath it.
I've always had a fascination with engineering and technology, and a visit to the BC Museum of mining was an excellent way for me to combine science with a history lesson.
Panning For Gold
The Britannia Mine Museum makes for a great family outing, and children will enjoy the activity of panning for gold.
Water runoff from the nearby mountain feeds into a covered area where you can grab a plate and look for precious nuggets. Apparently, you get to keep whatever you pan!
I didn't have any luck at the time, but it was a rainy, cold day and all I could do was pose for the photo before we tried to get warm again inside.
In case you're not aware, it rains a lot around Vancouver. Hopefully, it will be a warmer day when you visit the Museum, and you'll enjoy this family-friendly mine activity.
Copper Quest Underground Tour
After we toured the museum, one of the highlights was riding on the mining train inside the mountain. We were assigned a sticker when we arrived at the museum with our scheduled time for the train.
We walked up the ramps and stairs to get to where the train arrived. Before you board the train, the friendly conductor makes sure everyone has their hard hat on, regardless of their age. I hadn't worn a hard hat for decades, so even this was a bit of fun!
Next, we were quizzed about our mining knowledge and reminded of the safety rules while riding the train. With Covid-19, trains run with less capacity, and plexiglass divides seating areas.
The authentic mining train makes the short run up a fairly steep grade from the opening near the museum entrance, for a few hundred feet inside the mountain.
The train is slow, but you get a sense of adventure as the train pulls away from the daylight at the end of the tunnel and takes you into a world of claustrophobic darkness. Occasional lights hang along the tunnel, but you're in a world of total blackness if the lights go out.
At the end of the train ride, we walked down into one of the tunnels and got to test our mineral knowledge. It's all a lot of fun, but the environment can be pretty strange for young children.
While children under five are admitted free, one of the young kids accompanying our tour became upset, and the parents had to leave with their child to go out into a more open area.
Life In The Dark
Next, our guide escorted us into another tunnel, where we learned about the mining equipment and how lighting had changed over the years.
Initially, miners had nothing but wax candles for lighting in the tunnels. Remember that much of the work in a mine a hundred years ago was long before LEDs, flashlights, batteries, and all the other technology we take for granted.
During the demonstration, the guide turns the lights out to simulate life in the mine years ago. As we stood there in complete darkness, I realized it wasn't the place for claustrophobic individuals. It showed us the work conditions when the candles went out, and they often did.
One of the compelling demonstrations showed the various types of drills used to bore into the rock in search of copper ore. Covering our ears, the sound from the drill was like a jet engine taking off just over our heads.
The echoing sound reverberating inside the rock tunnel was deafening, even with our ears covered. A hundred years ago, there were no earmuffs to muffle the sound, and I couldn't imagine working in a noisy environment for long working days.
During its early years of drilling, dust particles created lung disease and ultimately death for the miners. It took twenty years for the formation of a union and for safety measures to be implemented.
I appreciated how hard the miners worked, and under what conditions, to extract the ore so that we can enjoy our modern lifestyle.
BOOM!
Boom is a multimedia experience that takes place in the cavernous building, mill no. 3. Walking into mill no. 3 also known as the concentrator, my jaw dropped at the sight of this multistory building.
Constructed in 1923, I was amazed the building has stood the test of time. Its 2007 facelift has restored some of the space to its former glory.
Looking up at the different gravity-fed mill platforms, I was humbled, imagining a typical workday extracting copper, zinc, silver, and other ores from the rock.
Boom is the mine's newly added attraction and a must-experience. It's a combination of videos using multiple screens, visual effects, loud sounds, 30 speakers, and 20 stories of action. The show runs every half-hour, and while the show provides a sensory overload, spectators remain seated.
If you don't know a lot about what it's like to work in an active ore processing mine, check out BOOM! to experience the continuous action and deafening sounds that existed, 24 hours a day, seven days a week for 70 years.
Although the Boom 4D experience was terrific, the building it's housed in is incredible. The mine's restoration showcases the impressive, almost century-old building, and I couldn't help but stand in awe of its complexity.
Final Thoughts
In the end, I found the Britannia Mine Museum to be a fascinating treasure of the history of British Columbia and something that would be fun for all ages. The staff that works there were friendly, helpful, and all experts on the mine's impact and history.
I wish I would have discovered it sooner, but like so many "BC Locals," sometimes we miss the most extraordinary adventures that are literally in our backyard.
Since the tour of Britannia Mine took only a few hours, I suggest combining it with another nearby attraction. The Sky Pilot and Capilano Suspensions are some of BC's best suspension bridges that are guaranteed to please.
If you're driving back from Whistler, instead of driving by, stop to enjoy this inexpensive Whistler add-on. You'll be amazed and take away an appreciation of the hard work that miners do every day so that we can enjoy those little luxuries that make our lives better.
Happy travels ~ Brian