Canada may not have as old a history as Europe, but it still has its share of imposing castles. Unlike the overseas fortresses that were built for defense, Canadians made their chateaus to impress.
Some of these structures were owned by the elite, while others provided shelter for railroad workers. Today, some of the finest have transformed into luxury hotels but still retain their striking characteristics.
While they don't feature a fairy-tale moat or a protective drawbridge, we still stand in awe of their Canadian history. So, here are ten castles to visit in Canada, some of which you can enjoy a stay.
1. Hatley Castle
Located in Colwood, British Columbia, Hatley Castle is one of three castles in Victoria, on Vancouver Island. The National Historic site of Hatley Park features 565 acres of gardens and trails and an Edwardian Castle.
James and Laura Dunsmuir built the fairy tale castle in 1908 as a retirement home. Laura wanted a lavish home to entertain, and James, an avid outdoorsman, focused on the rounds.
With more than 20 bedrooms, there was plenty of room to entertain overnight guests. After the passing of the Dunsmuir family, the Government of Canada purchased Hatley Park in 1940.
Afterward, the estate became home to the Royal Canadian Naval College. A short while later, the Naval College merged with the Airforce and Army to create the Royal Roads University, which occupies much of the castle today.
While visitors can't tour the college, they can enjoy a guided museum tour in the basement. One room contains some memorabilia belonging to the Dunsmuir family.
Outside, the picturesque grounds are the star of the estate. James Dunsmuir spared no expense to create a horticultural vision in the Hartley Gardens.
The gardens have a formal Italian layout with boxwood, urns, and Italianate statues. It contrasts significantly with the calming persona of the stunning Japanese garden surrounding a lake.
For a fragrant walk, don't miss the rose garden with its vast collection of blossoming blooms. Its lavish gardens and backdrop of a fairy tale castle make the estate a favorite for weddings.
Hartley Park has also been featured in films such as Deadpool, Poltergeist, and X-Men.
2. Casa Loma
Like Hatley Castle, Casa Loma was the brainchild of another wealthy businessman, Sir Henry Pellatt. Born to British parents, he dreamed of building a stately castle to attract royalty and noble families from Europe.
His dream took three years (between 1911 and 1914) and cost CAD 3.5 M. Casa Loma (meaning hill house in Spanish) sits on a hill in downtown Toronto.
Pellatt chose a Gothic Revival style, and the colossal residence features 98 rooms, 30 bathrooms, and 20 fireplaces. Each room was lavishly detailed, with molded ceilings and inlaid wood floors.
Outside, Pellatt continued the luxury in the stables as he added his horses' names in 18K gold. Henry and his wife, Mary, enjoyed the home for ten years.
After the war, the Pellatts fell into financial troubles. So, they had to sell their home and much of its contents to pay mounting debts.
Eventually, the city of Toronto acquired the estate for back taxes and later opened it as a tourist attraction. While much of the original artwork and furnishings are gone, the stately castle hasn't lost its appeal.
With sparse furnishings, the molding detail, brass doors, and beautiful skylights are more prominent. From the Norman Tower, visitors can enjoy one of the better photography spots in Toronto.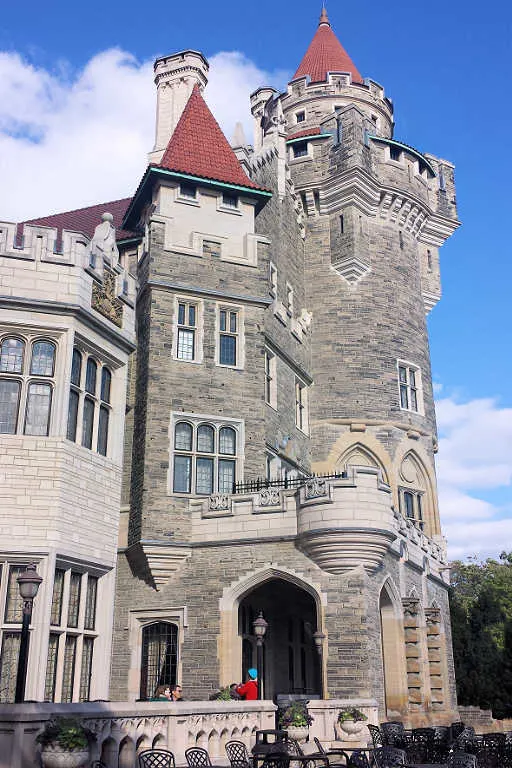 Expect to spend half a day touring the castle and its beautiful grounds. From the basement, a 200-meter tunnel gives underground access to the horse stables, potting shed, and garage.
Today, the garage features a 1900s vintage car collection.
Like Hatley Castle, Casa Loma is a popular wedding venue, and its estate has been featured in multiple movies. As one of the best castles in Ontario and all of Canada, it's a must-see when visiting Toronto.
3. Fairmont Banff Springs Hotel
The Banff Springs Hotel was initially built to serve those who traveled on the railroad. It opened in 1886, and the hotel's popularity snowballed.
Its distinguished guest list included King George VI, Queen Elizabeth, Marilyn Monroe, and Margaret Thatcher.
The imposing structure resembles a Scottish castle and dominates the skyline in Bow Valley, in Banff National Park. If you're seeking a hotel stay in Banff, the "castle in the Rockies" comes at a premium price.
It has undergone numerous refurbishments throughout the years, making it more castle-like. The building has tripled in size, going from 250 rooms to over 750.
One thing that has changed is its guest room sizes. Unlike new modern hotels, the Fairmont rooms are small and have tiny closets.
While rooms aren't large, you'll enjoy a heavenly stay on amazingly comfortable beds. All guests receive complimentary lush bathrooms and slippers to use during their stay.
However, the public spaces are grand, especially its entrance. The mahogany staircase and chandelier dominate the lobby, welcoming guests at check-in.
If you stay at the Fairmont Banff Springs, you'll enjoy premium Egyptian cotton bedding, luxury toiletries, first-class amenities, and of course, bragging rights.
Staying at the hotels gives easy access to the Banff Springs Golf Course, and golfers may opt for the golf and stay package. Guests can also use complimentary bikes and receive free Roam bus passes.
Initially opened for the summer months, a renovation winterized the structure so it could open year-round. Who can resist a cozy stay in one of Canada's best castles in the winter months with a heated outdoor pool with picturesque views of fresh snow?
4. Chateau Lake Louise
Both offer luxury resort stays in Banff National Park when comparing Chateau Lake Louise to Banff Springs. Like Banff Springs, the Fairmont brand owns Chateau Lake Louise.
However, it's located next to Lake Louise, and many of its guest rooms offer lake views. Opened in 1882, the Chateau looks very different from its initial structure.
It was also opened by the Canadian Pacific Railway. With the growing popularity of mountaineering, the Lake Louise area attracted climbers from Europe to scale its rugged peaks.
Throughout the years, the "Hollywood North" Chateau welcomed celebrities such as Marilyn Monroe, Alfred Hitchcock, King Hussein of Jordan, and Queen Elizabeth II.
So, when staying at one of its 552 Chateau Lake Louise rooms, know you've walked in the same footsteps as a King and Queen.
Although the hotel had humble beginnings, today, it books up quickly as guests opt for its premium location.
With steps to the lake and easy access to some of the best hikes in Banff, you don't need to worry about parking at this sought-after location.
By staying at the Chateau, you can enjoy one of Banff's best activities, sunrise on Lake Louise. Should you choose a room with lake views, you can savor this spectacular event from the comfort of your room.
In the winter, Chateau guests can enjoy ice skating on the lake, intimate sleigh rides, show shoeing, and a winter wonderland beyond imagination.
Guests can rent ice skates, skis, snowboard equipment, and snow shoes from a shop in the basement.
5. Place Viger
Built in the late 1800s, Place Viger initially served as a railway station and hotel in Old Montreal, Quebec. Its grand façade was named after the first Mayor of the city, Jacques Viger.
In Canada, combining a railroad station (on the ground level) with a hotel on the upper floors was unusual.
Like previously constructed railway stations, Place Viger or Chateau Viger was fashioned in the French Chateau style. On the outside, it resembles the imposing Fairmont Banff Springs in Banff National Park.
Not surprisingly, Bruce Price created its grand design and was the architect for the Banff Springs Hotel and Chateau Frontenac.
Thirty-five years after the hotel opened, it closed because Montreal's commercial area moved further away. Another twenty years passed, and the railway station closed too.
The property seemed doomed and changed hands a few times. In 2006, the neglected property sold for just CAD 9 M but remained unused for many years.
After another sale, the new owners have proposed a CAD 250 M renovation and development of the adjoining land.
By mixing the old with the new, the development will have a mix of office space, retail, boutique hotel, and trendy apartments. While the original Chateau Viger is home to Lightspeed, a large tech company, visitors can soon stay in a smaller, adjoining hotel with 177 rooms.
6. Dundurn Castle
Completed in 1835, Dundurn Castle resembles a palatial Georgian home more than a castle. It took three years to complete the colossal 1,700 square meters (or 18,000 sq. ft) structure.
This-40 room mansion belonged to Sir Allan Napier MacNab, a wealthy politician, and savvy businessman.
The principal residence has a mix of Italianate and Classical architectural styles, and MacNab added the portico twenty years after the castle was constructed. Outside, you can't beat the sweeping gardens and panoramic views of Burlington Bay.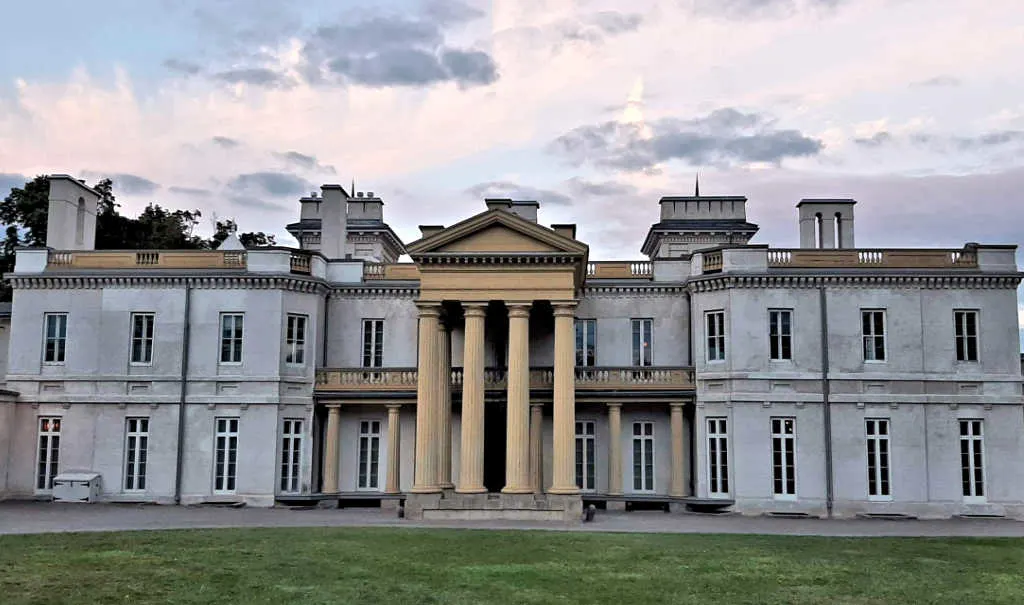 A school for the deaf used the residence after MacNab's death. Eventually, the City of Hamilton purchased Dundurn Castle in 1899.
The castle housed the Hamilton Aviary, including the Hamilton Military Museum, almost thirty years later. Today, visitors can see the castle's interior with a costumed guide.
You'll learn about the former occupants, the MacNabs, and the staff who worked there. Outside, you can explore the kitchen gardens and see the 19th-century farm tools used to grow over 200 different fruits and vegetables.
Dundurn Castle is open 12 noon to 4 pm, Tuesdays to Sunday, from mid-May to mid-October. Admission is under CAD 15. Guests can enjoy the garden tour without an entrance fee.
7. Craigdarroch Castle
Located in downtown Victoria on Vancouver Island, another wealthy entrepreneur, Robert Dunsmuir, built Craigdarroch Castle. This castle is a must-visit if you're visiting Victoria on a long weekend.
Robert, an immigrant from Scotland, and his wife, Joan, had ten children and needed a resident to house them and their growing families.
At the time, Robert was known to be the wealthiest man in British Columbia. He wanted to show his wealth by constructing a magnificent Canadian castle on the highest summit in Victoria.
Unfortunately, Robert died before construction was complete, but in 1890, his sons finished the project, where Joan lived until she died in 1908.
Craigdarroch Castle can be reached by taxi if you're arriving at the Victoria cruise terminal on a cruise. The Scottish Baronial style evokes a romantic feeling with its soothing arches, cylindrical turrets, and steep-pitched roofline.
It's the quintessential Scottish castle outside of Scotland. Inside, the citadel has the most fantastic collection of stained-glass windows.
After Mrs. Dunsmuir's demise, the family sold the home and auctioned off its belongings. Then it served many purposes as a college, military hospital, and music conservatory.
During this time, some of the beautiful stained-glass windows were removed. At one point, the castle was slated to be demolished.
Thankfully, a group was formed to save this beautiful castle in Victoria, Canada. Today, the Craigdarroch Castle Historical Society has restored much of Craigdarroch to its former glory.
During a tour of the four floors, you'll admire Victorian furnishings, see intricately carved woodwork, and browse numerous photos and artifacts.
While the castle doesn't appear large from the exterior, touring the rooms seems endless. Admission to take a self-guided tour takes approximately 60 minutes, and money raised goes to continual restoration.
In the future, the Historical Society plans to replace missing stained-glass windows with replicas.
8. Empress Hotel
Opened in 1908, the Fairmont Empress, previously known as the Empress Hotel, dominates the inner harbor in Victoria, British Columbia. Like its sister hotels of the same period, it started out as a luxury railway hotel.
Located on Government Street, it took four years to complete its construction. Designed by Francis Rattenbury, it has similar features to other railroad hotels.
The outer walls have heavy stone cladding, the roofs are topped with copper, and the structure has dormers and gables with polyangular towers.
In 1981, the building became a Canadian National Historic Site. So, it's hard to believe that it was designated for demolishment during its life to make way for a modernized hotel.
After Fairmont rebranded the Empress Hotel, the residents of Victoria were up in arms. So, the hotel never changed its signage.
While Fairmont later sold the hotel, the Fairmont name remains, and so does the "Empress Hotel" signage. Today, guests can choose from 464 rooms and suites, some overlooking the inner harbor.
The iconic Victoria hotel may be best known for its high tea. An afternoon tradition in the United Kingdom, the elegant event features finger sandwiches, delicate pastries, and an extensive tea menu.
Like regal British high tea, expect this afternoon ritual to set you back almost CAD 100 per person. For an elevated experience, add champagne to your afternoon tea by choosing from a glass of Veuve Clicquot or Laurent Perrier.
9. Le Chateau Frontenac
Designed by Bruce Price, Le Chateau Frontenac is another shining example of an impressive railway hotel. Constructed next to the breathtaking St. Lawrence River, the location provides walking access to Old Quebec.
Fashioned to resemble similar Chateaus in France, Le Chateau Frontenac is one of Canada's most acclaimed historical landmarks. The Quebec castle was built from quarried stone from the nearby Saint-Marc-des-Carrieres facility.
Initially, the hotel had 177 rooms. However, after four renovations, the room count has expanded to 611. The last renovations were in 1993 and 2011. They included adding a fitness center, an indoor heated pool, and replacing the iconic copper roofs.
Being such a prestigious hotel, it has a distinguished past guest list. Notable guests include Queen Elizabeth II, Winston Churchill, Franklin Roosevelt, Princess Grace Kelly of Monaco, and Charles Lindbergh.
Today, guests can choose from one of 611 unique rooms, all offering the finest bedding with elegant touches. While the owners have updated the rooms to include contemporary features, they still exude their Victorian charm.
Should you prefer not to stay there, you can learn about its history by taking a tour.
Guest rooms range in size from 175 sq. ft to the Van Horne Suite at 1464 sq. ft. The 1356 sq. ft Trudeau & Trudeau suite is the only suite that can accommodate four people. All suite guests enjoy the pampered service of a butler.
Quebec City became a world UNESCO heritage site in 1985 due to historical buildings such as Le Chateau Frontenac.
10. Chateau Laurier
Chateau Laurier is yet another magnificent railway hotel, this one in Ottawa. The General Manager of Grand Trunk Railway, Charles Melville Hays, commissioned its creation.
Construction started on the Gothic Revival Chateau in 1909 and took three years to complete. However, Mr. Hays perished in the sinking of the Titanic before he could attend the grand opening.
After opening, the hotel was highly prized for its location, next to the Rideau Canal. Initially, Chateau Laurier had 426 guest rooms and charged CAD 2 a night.
The beautiful structure became a Canadian National Historic Site in 1981. Later, in 1999, it was rebranded and changed its name to Fairmont Chateau Laurier.
Today, it welcomes guests to enjoy one of 426 rooms, which start at 275 sq. feet. The grandest, the one-bedroom Presidential Suite, measures a colossal 2,000 sq. feet.
Located in downtown Ottawa, guests can easily access The Parliament Buildings, National Gallery of Canada, Rideau Canal, and ByWard Market.
Throughout the years, notable guests include the Beatles, Shirley Temple, Nelson Mandela, as well as royalty.
Bonus Castle: Boldt Castle
While Boldt Castle isn't in Canada, visitors can access it via the St Lawrence River. Located on Heart Island in Alexandria Bay, George Boldt commissioned the oceanside castle as a gift to his wife, Louise.
Unfortunately, Louise died before Boldt Castle was complete, so George halted construction. Devasted by his loss, he never returned to Heart Island. For 73 years, winds, storms, and snow battered the unfinished castle.
Eventually, the Thousand Islands Bridge Authority acquired the property, which opened it as a tourist attraction. Boldt Castle is open to the public seasonally, between May and October, and the fees raised go to restoring the property.
To see Boldt, you must take a boat tour from Canada or the United States. Be aware that you need your passport to see the castle.
Final Thoughts
While we think castles hold fairy stories, their histories are often more intriguing and sometimes tragic. The connection between the Canadian Railroad and the railway hotels is interesting and offers excellent insight into Canadian history.
As you can see, Canada may be a younger country, but it has some impressive castles which rival those in Europe. Since most of them aren't ancestorial homes or owned by royalty, you can be a king or queen for a day by staying in one of their luxury guest rooms.
Happy travels ~ Karen