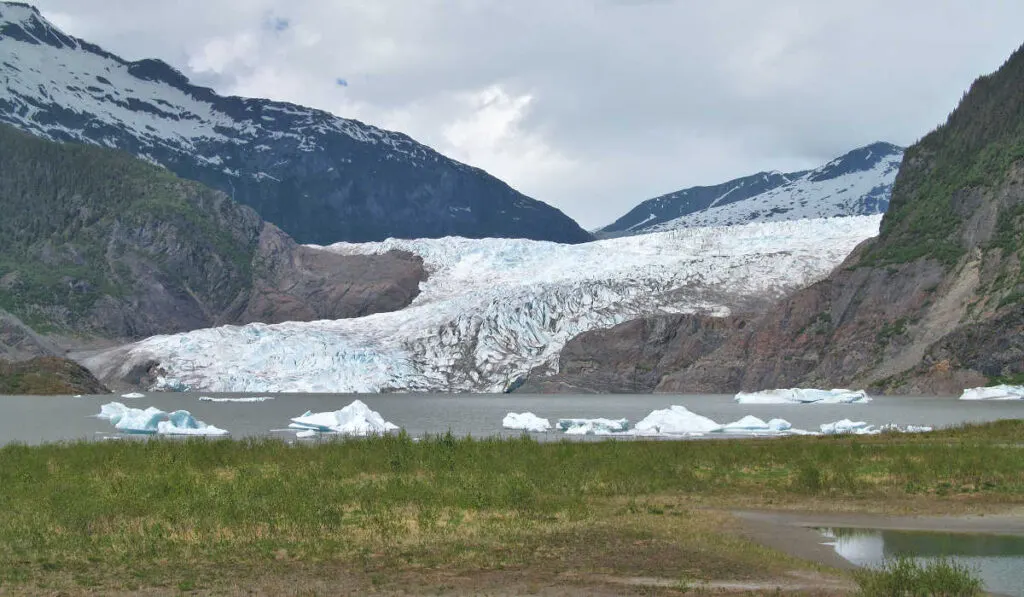 Located in the Mendenhall Valley, approximately 12 miles from downtown Juneau, Mendenhall Glacier is a popular tourist destination for Alaska cruise ship passengers. The spectacular Mendenhall Glacier offers visitors a close-up view of a glacier.
In this article, you'll discover options of getting to Mendenhall Glacier from the cruise port and what you'll see there. Regardless of your favorite cruise line, there are many Juneau cruising options available.
In addition, once you arrive in Juneau, there are many excursions available. However, pick the right excursion according to how much time you have in port.
The picturesque Juneau glacier cascades into Mendenhall Lake, and it's not unusual to see enormous icebergs floating in the waters below. Like many other Alaska glaciers, Mendenhall is retreating due to warmer temperatures and climate change.
If you're traveling to Alaska and want to see Alaska's most accessible glacier, come and explore the fantastic Mendenhall.
Take The Mendenhall Glacier Shuttle
Since one million cruise ship passengers visit Alaska and Juneau each year, there are daily shuttles to the visitors center during the summer months. Passengers can pick up shuttle buses outside the Roberts Tramway Ticket Office close to the cruise terminal.
For under USD 50, the bus will provide you with a 30-minute ride to and from the visitor's center and includes your park fee of USD 5.
Once your shuttle has dropped you off, make sure you know where to wait for the ride back and what your bus looks like. The Mendenhall Glacier blue bus is the most popular choice.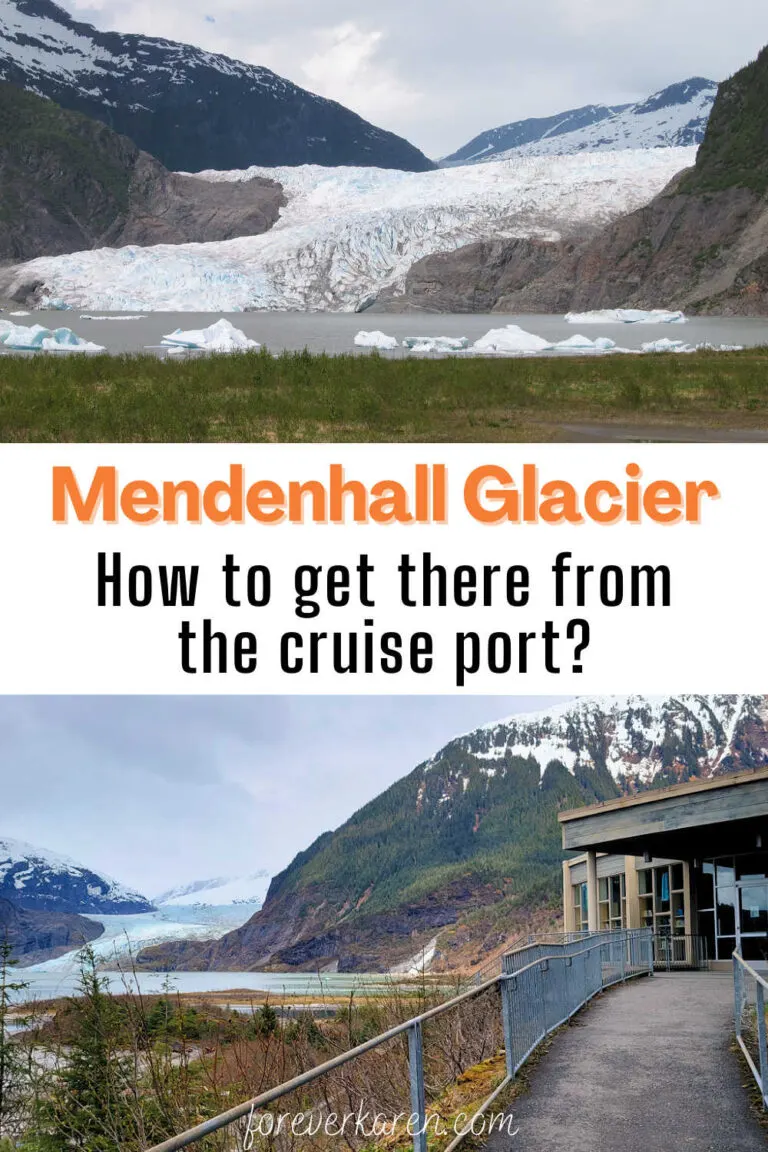 Many companies run services to the glacier, so make sure you know when the last bus leaves for Juneau. It's important not to wait for the final bus because the line-up can get very long.
[Update for 2023] The visitor center has limited the number of visitors by commercial vehicle. Since most of the allotments were used in May and June, some tours to Mendenhall Glacier are getting cancelled, have a backup plan.
During my visits to Mendenhall Glacier Visitor Center, I generally planned for the second to last bus back. That way, I had some leeway should a crowd of people queuing.
Grab A Taxi To Mendenhall Glacier
If you're traveling with more than two, it's cheaper and quicker to grab a taxi. We cruised with four in 2022, and the taxi cost us USD 33 each way, plus a fee of USD 12 per person to access the park.
I questioned the price of USD 12 because the park charges USD 5. However, the taxi driver said the park charges the taxi company an access fee. I later learned from the park employees that this was not true.
We got a business card for the taxi and texted for a ride back about 20 minutes before we needed it. When we arrived back at the taxi area, multiple taxis were waiting, so we may not have needed to make that call.
Use Ride Share
While Uber doesn't operate in Juneau, Lyft does. You can use your Lyft app from other areas to request a ride. Lyft charges USD 27+ for a one-way journey to Mendenhall Glacier.
However, unlike Juneau taxi companies, it does not impose an additional fee to access the park. The fare rate does not include your park pass of USD 5. But, visitors can get one at the self-dispenser in the visitors center parking lot.
There are limited Lyft cars available, so if there are multiple ships in port, getting a Lyft might prove problematic, so you'll need a plan B. Lyft cannot drop off at the visitor center (although some break the rules) so you'll need to walk a distance from your drop off point.
Take The City Bus
If you're traveling inexpensively, it costs USD 2 to take the city bus from the downtown transit center. This option provides the cheapest way to get to Mendenhall Glacier. Be sure to have the correct change.
The bus drops passengers at the corner of Mendenhall Glacier Loop Road and Glacier Spur Road. Expect the ride to take up to an hour, depending on the number of stops.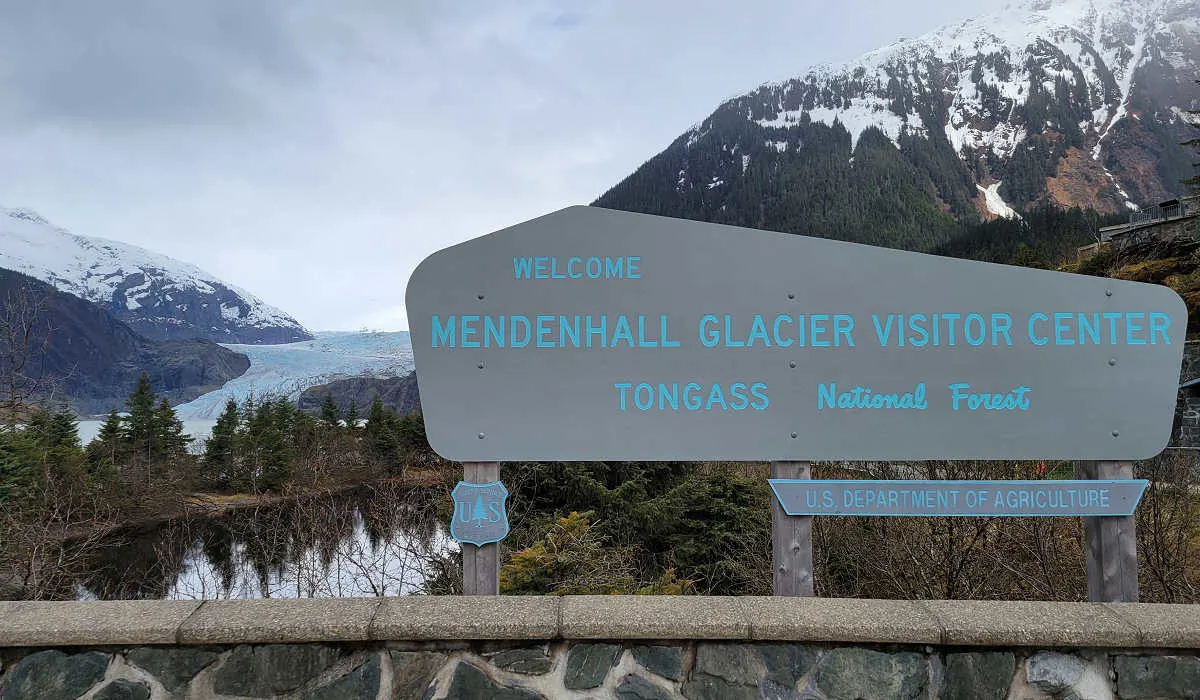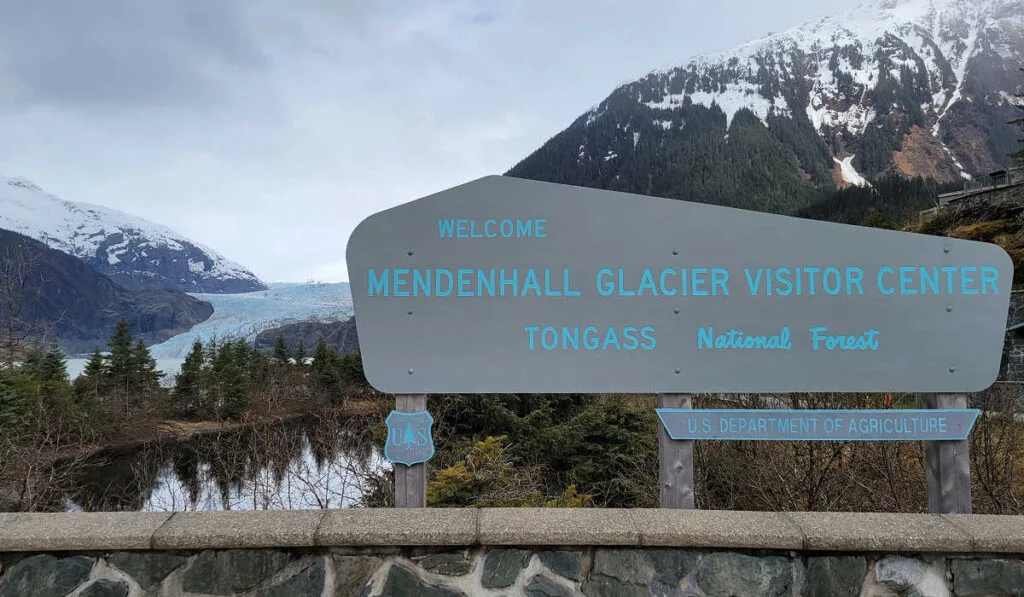 From there, it's a little over a mile to walk to the visitors' center. Park-goers can purchase a USD 5 pass from a ticket machine in the parking lot at the visitors' center.
Take A Cruise Line Tour
If you're worried about time and trying to do multiple things in the capital, sometimes it pays to take a tour. While whale watching and Mendenhall Glacier is the most popular combo, there are other options too.
Having done that combination on two of my trips, I tried the Mendenhall Glacier and Salmon Bake last trip. The outdoor barbeque was well organised and the grilled salmon delicious.
The Mendenhall Glacier Visitor Center
The United States Forest Service operates the Mendenhall Glacier Visitor Center. The center is open year-round but requires a pass to view the exhibits and access the Pavilion and the restrooms from May 1 until September 30.
Ironically, this happens to be cruise ship season. However, the fee is just USD 5 per person and helps to maintain the center, trails, and areas frequented by visitors.
This Juneau hot spot receives almost half a million visitors a year, and I've been one of them several times. Mendenhall is one of 38 glaciers flowing from the Juneau Icefield. It's also the most accessible glacier.
Inside the center, visitors learn about the area's flora and see how fast Mendenhall is retreating. It's astonishing to learn that ice has melted back 1/3 mile in the last 15 years.
Bull's Eye Lichen, one of the first plants to colonize after the glacier, grows on the rocky terrain outside and around the building.
From the visitors' center, you'll enjoy the best views of the glacier and Nugget Falls. At 1.5 miles wide, it pales in comparison to Hubbard Glacier, but its aquamarine hues are sure to delight.
The Mendenhall Glacier Park has an abundance of popular hiking trails. Whatever your hiking ability, there's something for everyone to enjoy. Near the parking lot, you'll find a Mendenhall Glacier trail map to show you the different options.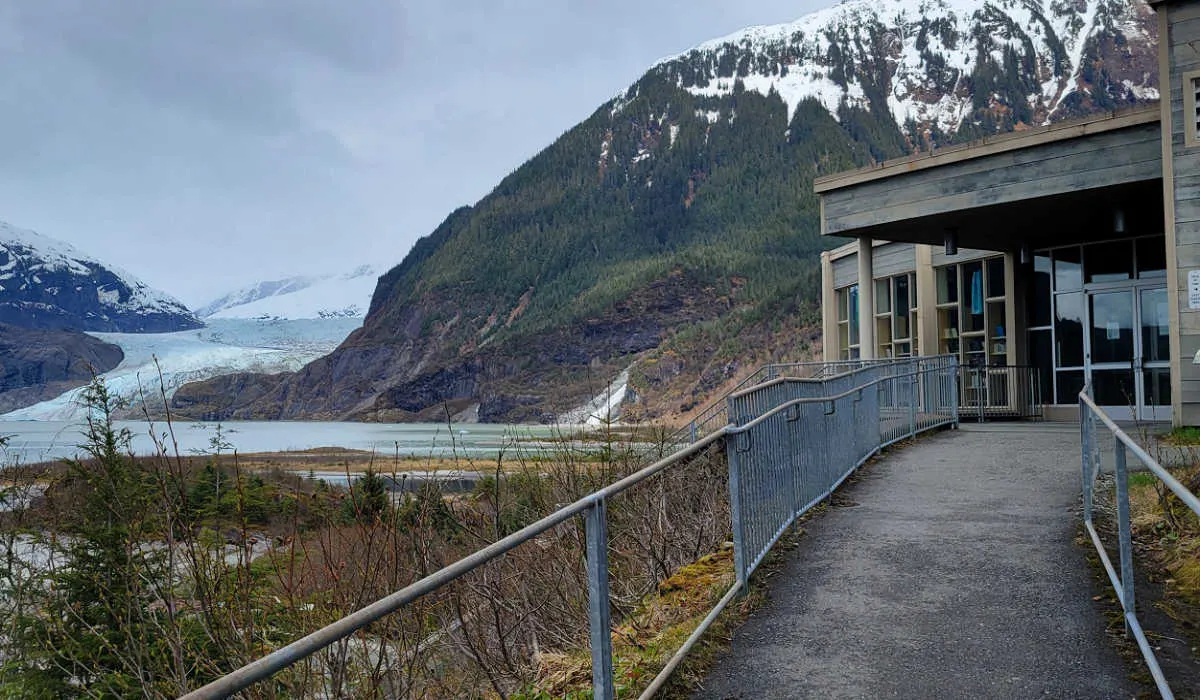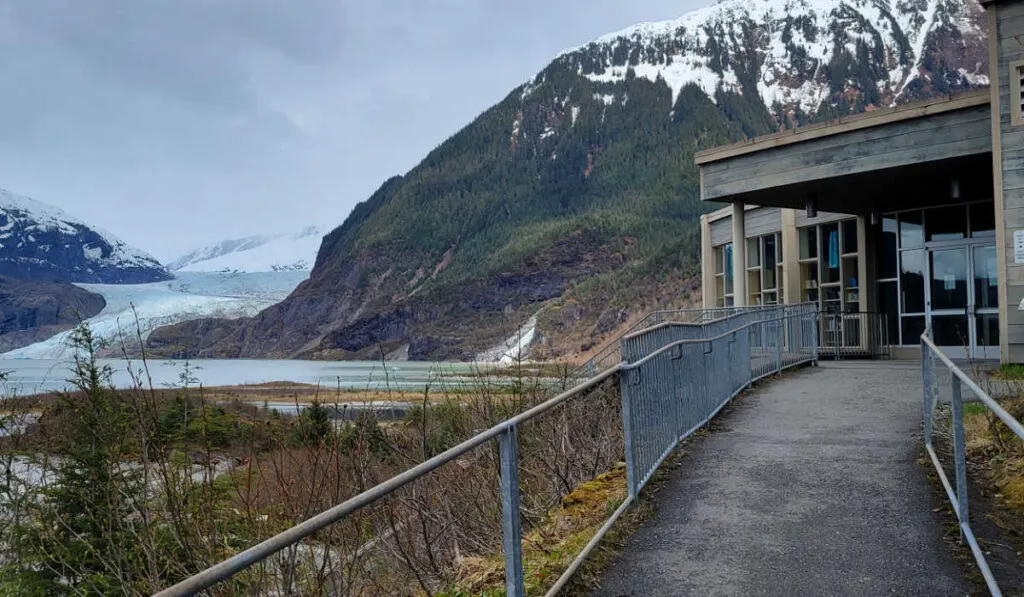 Enjoy The Steep Creek Trail
After reading the area's history and learning about Alaskan wildlife, take a short walk on the nearby Steep Creek trail. This elevated boardwalk offers views of salmon spawning, and if you're lucky or unlucky (however you like to look at it), you may encounter a black bear.
Bears are common in Juneau, especially around Steep Creek. Park rangers are on hand to answer all of your questions and keep visitors at a safe distance from the bears.
You are advised not to bring food or flavored drinks into the area due to the frequency of black bears. It was too early to see bears in May, but we did see a porcupine in a tree.
If you walk a bit further to the river's edge, huge icebergs are often spotted floating in the water. I was quite surprised at how warm the air temperature was, considering how close I was to a glacier.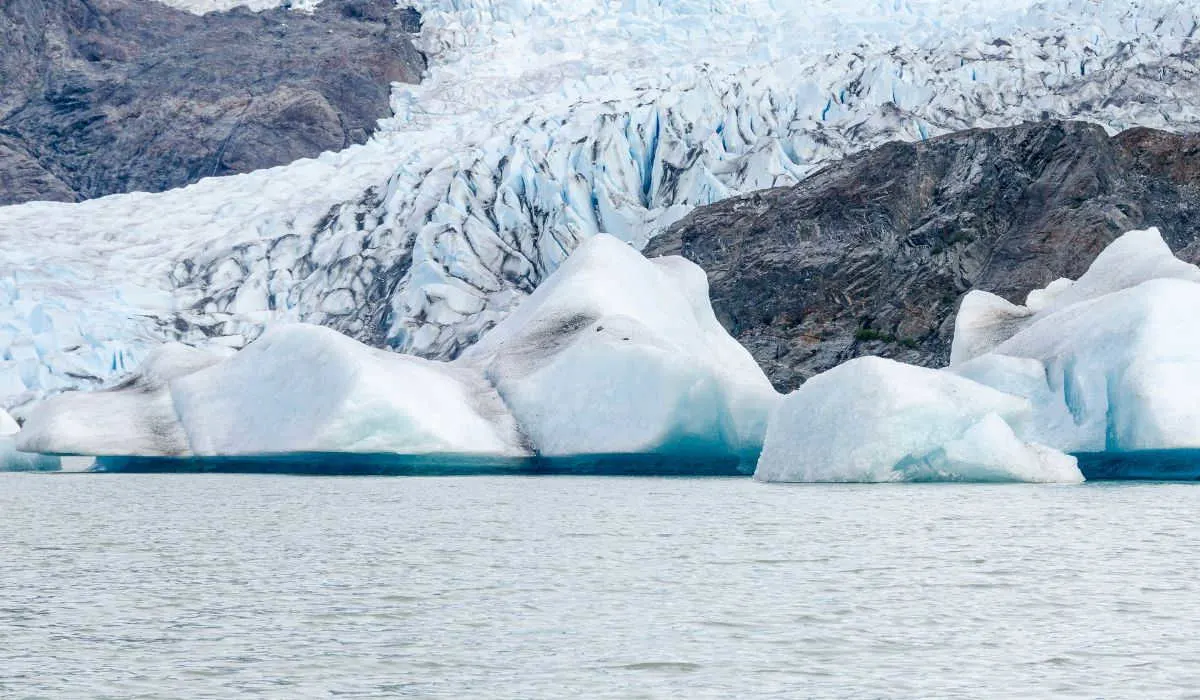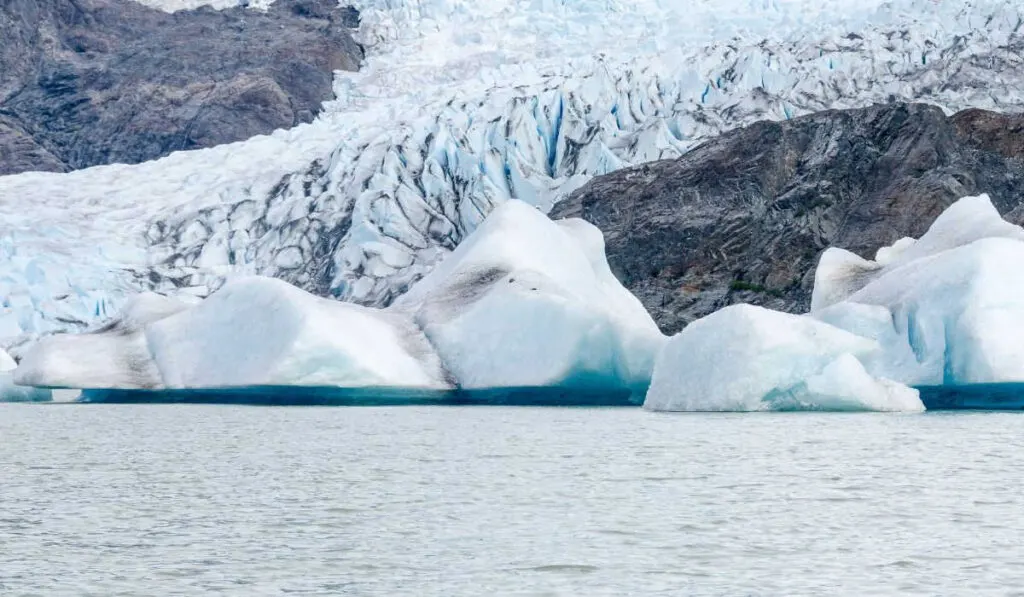 This is not the case when you're viewing the glaciers in Glacier Bay National Park. If you want to know what to wear to Mendenhall Glacier, I suggest good walking shoes, some layers, and a lightweight waterproof jacket.
Walk The Trail To Nugget Falls
To get a closer look at Mendenhall Glacier, I suggest taking the Nugget Falls trail. It's a leisurely stroll at 0.8 miles, and not only will you get a closer look at the glacier's ice, but you'll be treated to views of a thundering waterfall too. Plan to spend some time here so you can witness the glacier calving.
From the visitors' center, walk towards the glacier and take the right-hand route at the fork. The path is flat and offers various flora of fireweed, lichens, alder, and spruce seedlings.
At the base of Nugget Falls, we could fly a drone for aerial shots of the falls and Mendenhall Glacier. While you can't fly a drone in a National Park, Mendenhall is a US Park, and we asked two park employees for permission to fly.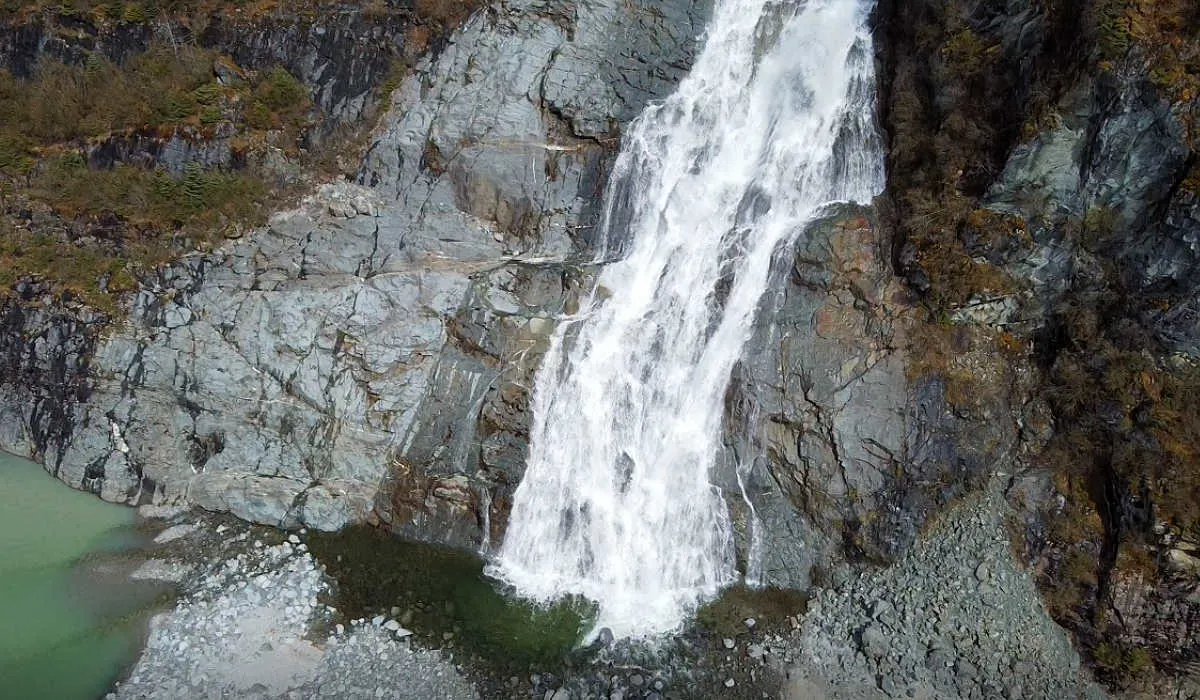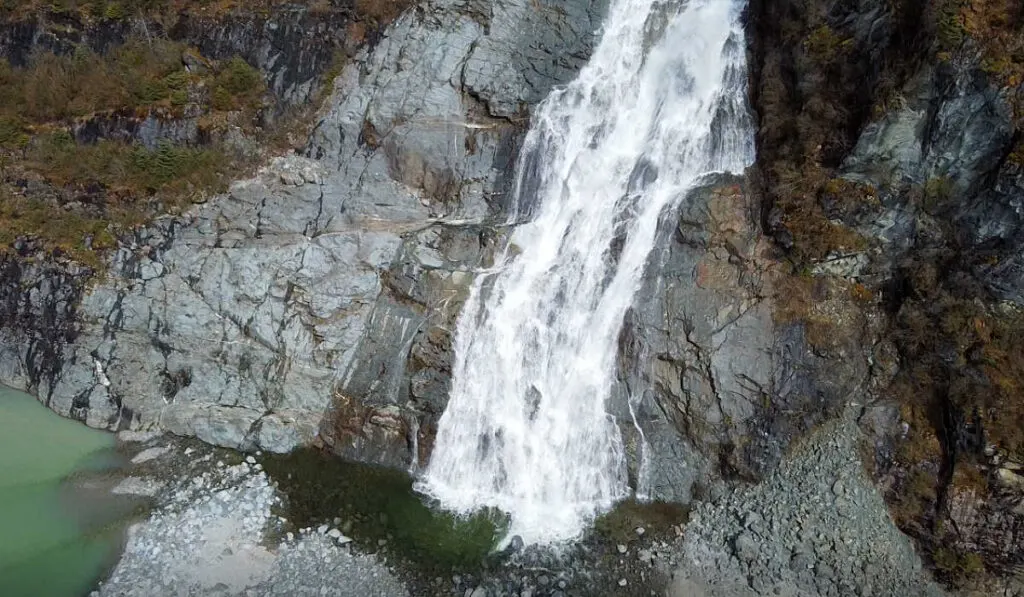 At the sand flats in front of the waterfall, I could get better views of Mendenhall ice. However, the land obstructs the toe's views. But for better vistas of the terminus, stop at the Photo Point Trail on the walk back.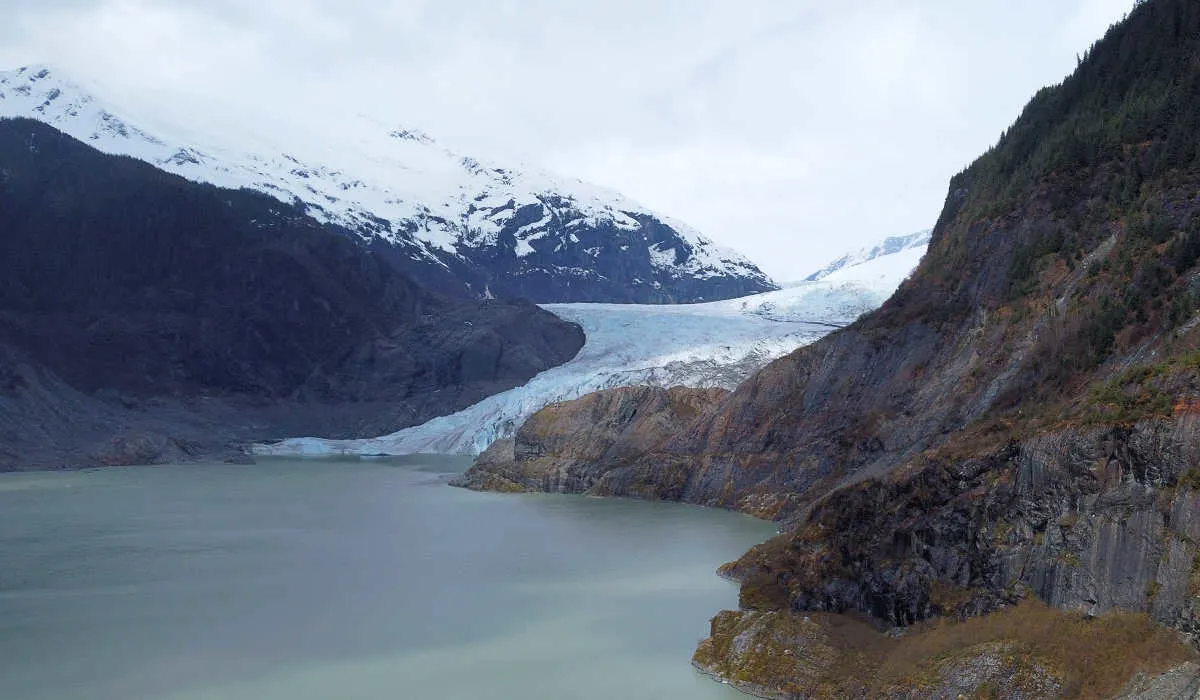 The Photo Point Trail
If you're limited in time and want some great glacier shots, head to the Photo Point Trail instead. It's a mere 1/3 mile round-trip and takes only 15 minutes. This short walk will take you to the edge of Mendenhall Lake. Here, you'll have clear views across the water of the icebergs and the glacier's terminus.
Other Mendenhall Glacier Park Trails
On a warm summer's day when several cruise ships are in port, the Mendenhall area can become quite congested. Try the East Glacier Loop instead if you want to escape the crowds and avoid the easy trails.
You'll need a good pair of hiking shoes and a lightweight jacket because the climate can change quite a bit. The 3.5-mile looping trail is a moderate hike with stairs and switchbacks through a beautiful rainforest.
You'll be treated to several waterfalls and streams as you traverse the boulders and tree roots on the trail. If you choose to hike the entire loop, expect it to take approximately two hours.
Alternatively, the 1-mile Trail of Time offers a gravel trail just south of the East Glacier Loop route. It's a pleasant walk to view birds in a beautiful rainforest. On the walk, you'll learn about the retreat of Mendenhall and see where the glacier used to be in 1916.
Mendenhall Glacier Ice Caves
On the other side of the lake is the West Glacier Trail. It offers access to the glacier itself and a chance to see the Mendenhall Glacier caves, should there be any. If you want to experience the glacier up close and personal, this is the trail for you.
It's advisable to book one of the Mendenhall Glacier tours with trained guides who know the area. They will keep you safe, and if they discover a cave, will access its stability before allowing you to enter. These Juneau tours are quite popular but also fairly strenuous.
Mendenhall Glacier ice caves form as the water melts and create an underwater channel for the water to run. These caves may be small or quite extensive. When ice cave forms, they may last days, weeks, or even months.
Since Mendenhall is receding and melting at an alarming rate, ice caves can collapse at any moment. What may be there today, next week, or next month, may not be around next year. The scenery is always changing in Alaska's land of ice.
Book a Mendenhall canoe paddle and trek if a strenuous hike isn't up your alley. Instead of the leg power for hiking, you'll need the arm power for canoeing up the river to the tip of the glacier. The canoe ride combined with a Mendenhall Glacier hike offers one of the best Alaska tours.
Mendenhall Glacier Helicopter Tours
There is nothing more magical than viewing the magnificent blue hues of the Juneau icefields by air. Taking a helicopter ride out of Juneau is an exhilarating experience that I'd highly recommend.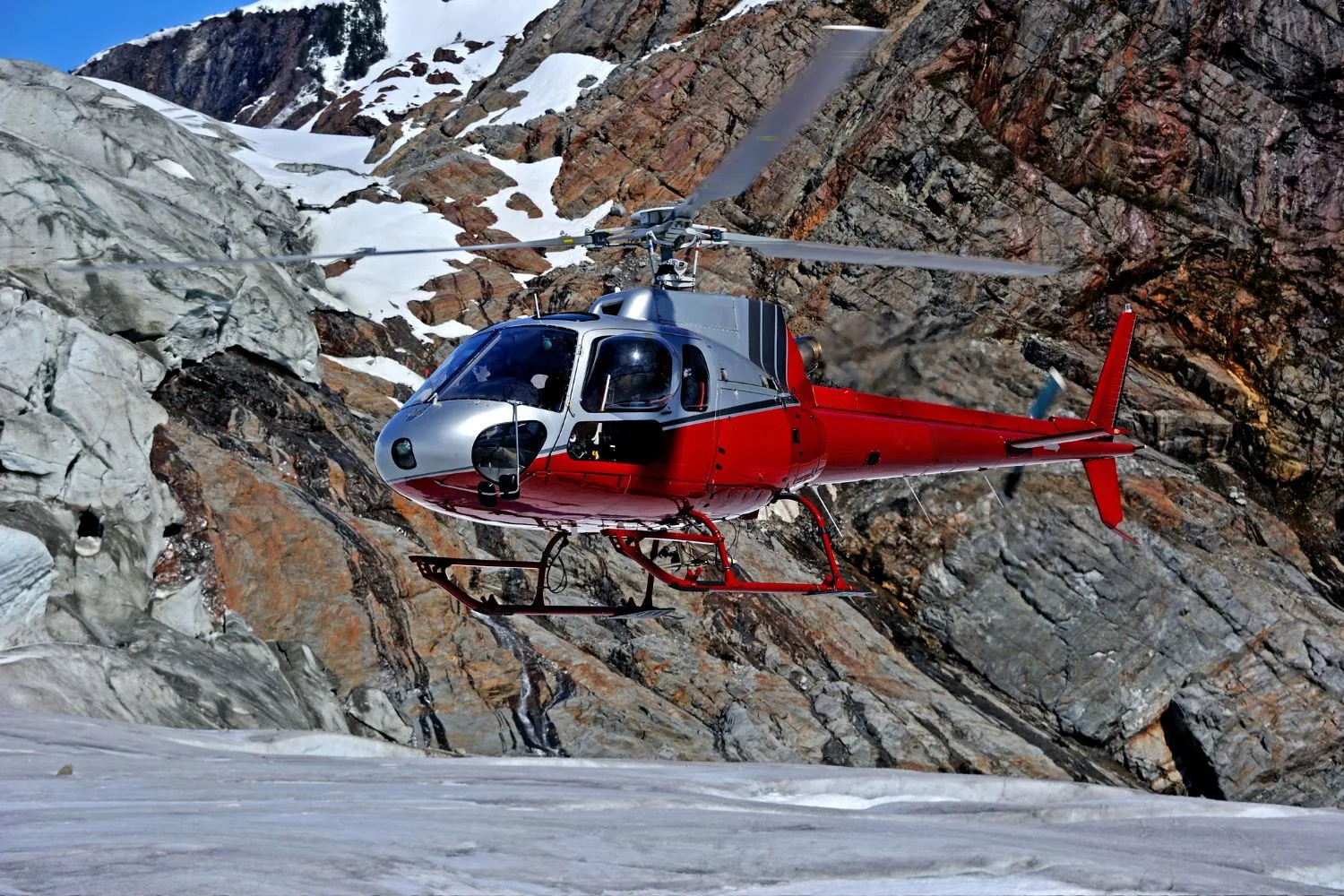 Juneau helicopter tours and the guided hike is not inexpensive but worth every dollar you spend. Having experienced a helicopter tour myself, it's one of the best things to do in Juneau, Alaska.
While I haven't flown over Mendenhall Glacier, I did view it from my helicopter ride to Herbert Glacier. I remember my first experience of walking on a glacier all too well. The deep crevices and icy rivers of water running on top of the glacier amazed me.
Trekkers are warned to stay together and step carefully. Fresh snow sometimes covers large holes in the icy surface. My guide said if I fell into a crevice, I'd be discovered 2,000 years later when the ice melted. That was enough to keep me grounded in a safe spot, lol.
If you're looking for a unique way to see and enjoy Mendenhall Glacier, consider a dog sledding adventure to the top of the glacier. You can read about my dog sledding experience to Herbert Glacier.
An unforgettable vacation to Alaska offers an array of Alaska glacier tours. Consider combining your trip to Mendenhall Glacier with a Juneau whale-watching tour.
A have done the Mendenhall Glacier and whale-watching excursion several times, and it's a doable tour on an Alaska cruise port day.
Other Tours To Mendenhall
While taking the bus to the Juneau glacier is the most popular route chosen by visitors, there are other unique tours that offer a different perspective.
How about a kayak Mendenhall Glacier tour, a Mendenhall Glacier float trip that offers a river rafting experience, or a Juneau glacier tour with an Alaskan salmon bake?
Regardless of your age or level of activity, there is a Mendenhall Glacier tour for everyone.
Happy travels ~ Karen