Planning ahead is critical if you want to experience an Alaska cruise on a budget. Shopping for packages can be done up to a year in advance, allowing you to compare prices, itineraries, and cruise lines.
While Alaska cruises rarely come with bargain prices, keep an eye out for unexpected deals that come up here and there. Although sailing an Alaskan cruise might not be the cheapest way to get to Alaska, it certainly wins in the itinerary department.
This article gives some valuable tips to help you score a fantastic cruise deal and prevent you from making some common mistakes on your Alaska cruise.
Once you've booked a cruise, get ready for some breathtaking views of tidewater glaciers, rugged mountains, and Alaskan wildlife.
With these tips in mind, you can embark on a beautiful journey through Alaska without breaking the bank!
Alaska On A Budget: Planning
Alaska conjures dreams of bucket list adventures, seeing the northern lights, and savoring views of tidewater glaciers. But it's a destination that usually comes with a high price tag.
When comparing Alaska cruises from Vancouver to Seattle, you're more likely to find cheap cruises from Vancouver, Canada. While round-trip and one-way cruises are offered from Vancouver, the one-way itineraries are far the better deal.
Also, they usually have a more desirable route since they travel further north. Cruises from Vancouver, British Columbia, also sail the inside passage, offering a smoother journey.
The average price of an Alaskan cruise varies greatly. To save money, you can consider sailing a "drop and go," as the savings can be as much as 70% off the recommended price. I often shop online at Vacationstogo.com.
Their website has a 90-day ticker, which I watch on a regular basis for last-minute Alaska cruises. Let's face it; every cruise line wants to sail with ships at capacity, so the empty staterooms are often hugely discounted.
If you want to sail in the summer months when the weather is warmest, a "drop and go" might be the only way to get a reasonable price.
Also, booking more than a year in advance can sometimes save a significant amount of money. Living in Vancouver, I always search for inexpensive Alaska vacations since it's so close to home.
If you want a cruise and land tour, you can book the cruise and do the land portion on your own. Cruise lines charge a high price for their lodges, so arranging your trip to Denali National Park can be cheaper.
If you plan to visit Denali at the end of the season, you can see the aurora borealis.
Some people insist on visiting Glacier Bay National Park, but that itinerary may come with a higher price. Since Hubbard Glacier is just as spectacular, look at other options too.
Rental Cars: Yay Or Nay?
Alaska port towns are small, and virtually everything is within walking distance. Forget the car rental and save money by walking everywhere. Download your maps online before your vacation and plan your port days before embarkation.
Skagway is the only port where you might want to rent a vehicle. Instead of taking an expensive excursion on the Alaska railroad, you can drive to the Yukon instead.
The drive to Emerald Lake in Canada is picturesque and offers many viewpoints and exciting stops. If you're traveling with a family, renting a car and making a road trip is a great way to enjoy the Last Frontier.
But bear in mind gas prices are high in Alaska, and you'll have to refill that gas tank unless you rent an electric vehicle.
The Cheapest Time To Cruise Alaska On A Budget
July to August is peak season. The best way to cruise on a budget is to sail in the off-season. May and September are considered the shoulder season because the Alaska cruise weather can be much cooler. You may also score a good deal in early June.
While most cruisers prefer to cruise in the middle of summer, May Alaska itineraries are my favorite because it's the driest month. So, when shopping for inexpensive Alaska cruises, look for an itinerary in the first two weeks of May.
Of my nine cruises to Alaska, three were in early May, because it saved me hundreds of dollars more than going two months later.
One of the most significant benefits is that only some ships have arrived in the Pacific Northwest for the Alaska season. As a result, the Alaska cruise ports have fewer tourists, which is a huge benefit considering the size of the tiny Alaska towns.
Fewer tourists also mean tour operators are hungry for business, and prices could be lower for port excursions. I often book my Alaska cruises within a few weeks of sailing. These last-minute Alaska cruise deals from Vancouver are always too tempting to pass up.
Saving Money On Your Stateroom
If you're cruising on a strict budget, sacrifice that balcony stateroom for an inside stateroom instead. When shopping for a Caribbean cruise, the price difference between inside, outside, and balcony cabins tends to be minimal.
However, Alaska cruises have huge price jumps from inside cabins to balcony staterooms. Sometimes the price difference is a whole other cruise. Selecting the right stateroom for Alaska is easy, especially since you'll spend most of your time in ports.
I've sailed a back-to-back Alaska cruise in an inside cabin for USD 349 per week. I only spent a little time in my stateroom and was thrilled to take a 14-day vacation for under USD 700.
Cruisers who book a guaranteed stateroom save the most money by allowing your cruise line to pick your cabin. You have to be prepared to take whatever your cruise line gives you.
So, if you're a light sleeper or suffer from motion sickness, choosing a guaranteed cabin might not be wise.
Pack What You Need
Unlike cruising the Caribbean or the Mediterranean, the Alaska cruise towns are tiny. The port towns lack the big chain stores and "convenient" stores most people are accustomed to in their home cities.
So, research what to pack for an Alaska cruise, and try to remember everything.
I remember my first Alaska cruise all too well. I assumed the Alaska cruise weather was very similar to Vancouver, Canada. Unfortunately, I did not pack enough warm clothes.
While the days were chilly, the nights were frigid. There were some Alaska logo sweats and fleece items for sale on my Celebrity ship, but I opted to save money and layer what I had packed.
While some forgotten items may be purchasable onboard or in port, they may come with a hefty price tag. Sometimes, those left-at-home items may not be available in Alaska at a store close to the port. I remember on one of my sailings, I forgot my camera battery charger.
Unfortunately, I could not buy one onboard or find a store that sold one in any cruise port. However, my camera used AA batteries, so I purchased disposable batteries onboard my cruise ship. I would have been out of luck if I had a camera with lithium batteries.
One essential item is a pair of binoculars. During your cruise, passengers can see bald eagles, bears, and whales from the cruise ship. So, bring some compact binoculars and save money by bypassing the expensive whale-watching and land-based guided tour.
Sail An Older Ship
While the new large cruise ships offer state-of-the-art features like race car tracks, zip lines, ice skating rinks, and more, those ships come at a premium price. Often forgotten are the older vessels, which are generally smaller with fewer amenities.
I sailed on HAL's Volendam to Alaska, and by choosing a May itinerary, I scored a great deal on an older ship. However, these ships still sail to the same glaciers and stop at the same Alaska cruise ports.
Picking an older vessel is the most affordable way to cruise to Alaska. I like smaller ships because they have a more intimate atmosphere, and I'm not fighting crowds of people in port. The Norwegian Jewel and Grand Princess also offer affordable itenaries to Alaska.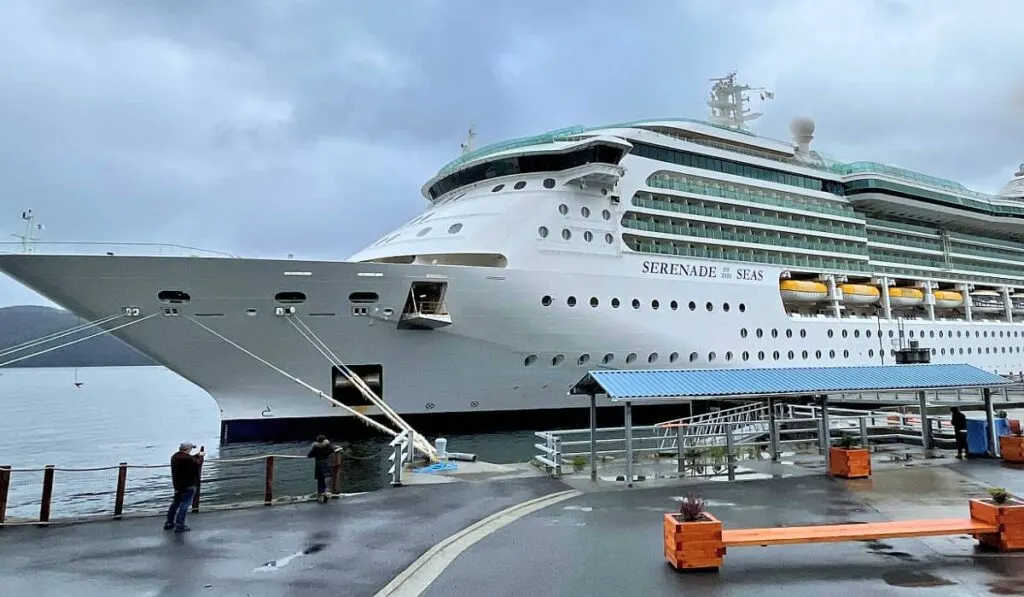 Port Excursions On A Budget
If you're looking for affordable day tours, skip the cruise line excursions. Instead, find Alaska budget tours or local activities. Many of the same trips are purchasable from the port vendors for a savings of 10 to 30%.
Remember, visitors can save on tours by negotiating with the vendors in port. There are a few exceptions to the rule, like dog sledding or a Tracy Arm excursion, but these tours are not for the budget-conscious cruiser.
If you're looking for some free or cheap things to do, every port has various options.
Juneau
Juneau is the capital city and the best place to score cheap Alaska tours. Juneau's excursions are plentiful, but deciding what to do during your one day in port is the hardest decision.
plentiful, but deciding what to do during your one day in port is the hardest decision.
Red Dog Saloon. Here, you can admire the interior decor and enjoy a beer at the famous downtown saloon. A visit to the Red Dog Saloon is free, but a duck fart drink costs USD 7.00.
Mendenhall Glacier is a short distance from town. Exploring the Mendenhall Glacier is my top pick for Juneau if you're thinking of doing an Alaska shore excursion on your own.
Mendenhall offers excellent hiking, a great place to see black bears and salmon, a magnificent cascading waterfall, and another fantastic glacier.
While the park is free, the visitor center costs USD 5.00. Public transit to Mendenhall Glacier costs USD 2.00, and a shuttle bus costs USD 45.00 for a return trip.
Alaska State Museum. Tour the museum and learn about the Gold Rush, Russia's influence, and the Alaskan people. The entrance fee is USD 5.00.
Juneau-Douglas Museum. Another museum to learn the history of the area and its people. Cost USD 6.00.
Mount Roberts offers incredible views of Juneau and the Gastineau Channel. Save money and hike to the top. This hike is rewarding and one of the best things to do in Juneau for free.
Alternatively, the Mount Roberts Tramways charges USD 45.00. The best time to visit is July to early September, as snow often covers the trails in the earlier months.
Ketchikan
Ketchikan is the ideal port to explore on your own. While Ketchikan excursions aren't as plentiful as Juneau, the town oozes with so much charm and character.
Cruise ships dock right downtown, across from the visitor center. Check out the famous Liquid Sunshine Gauge, which tracks the yearly rainfall Ketchikan receives.
If you're looking for some free things to do in Alaska, try watching the salmon run in Ketchikan Creek and see the salmon ladder. Walking the elevated boardwalk along Creekside Street is a must.
Once a red-light district, it's now an arts and crafts shopping area. Other cost-effective things to do in Ketchikan are as follows:
Saxman Native Village. See 25 unique totem poles, watch a carving demonstration, and learn about the Tlingit people. This Alaska budget-friendly activity costs only USD 5.00.
Dolly's Museum, located on Creek Street. Once a brothel from the Gold Rush era, visitors can tour the tiny house and view its artifacts. Cost USD 10.00.
Great Alaskan Lumberjack Show. Watch some ax-throwing, tree-climbing lumberjacks in a fast-paced show perfect for families. The show features a fun competition of strength and skill, filled with audience participation. USD 37.00
The Totem Heritage Center houses 33 endangered totem poles, incredible native artwork, and historical images. The totem poles are no longer painted but viewed in their raw wood state. Admission costs USD 6.00.
Totem Bight State Historical Park. See the acres of totem poles in a lush rainforest, and visit the clan house. Access is free, but they welcome donations.
Skagway
Born out of the Gold Rush period, Skagway is the northernmost town of all the Alaska cruise ports. Skagway is one of the best places to explore on foot.
It's just south of the Canadian border, so some excursions cross into the Canadian Yukon, an area with so much natural beauty. Be sure to carry your passport if you intend to visit Canada.
Klondike Electric Bikes are newcomers to Skagway. Cruise passengers can rent an e-bike starting at USD 25. You can choose to rent by the hour or take a tour. With an e-bike, you can explore further with little effort.
Gold Rush Cemetery and Lower Reid Falls. A significant walk from town, visitors can relive the history of famous Gold Rush characters, including Jefferson "Soapy" Smith and Frank Reid.
At the back of the cemetery is the beautiful cascading Reid Falls. Along the way, stop in at Jewell Gardens to admire the hand-blown glass.
Corrington's Alaskan Ivory & Museum. A gift shop hides this small museum with a beautiful collection of ivory and other artifacts. Admission is free, but they welcome donations.
Red Onion Saloon. While the Red Onion operates as a bar, visitors can do an informal 20-minute tour of the old brothel. USD 10.00.
Days of '98 Show. The longest-running show in Alaska, the Days of '98, entertain the crowd with laughter and audience participation. The one-hour show features singing and dancing, documenting the Gold Rush days. The cost is USD 20.00.
Yakutania Point. A short, easy hike to Yakutania Point offers a chance to see whales and harbor seals.
The Klondike Gold Rush National Park Service offers complimentary talks and self-guided walks of historical sites around town. Here are other things to do that won't break the bank.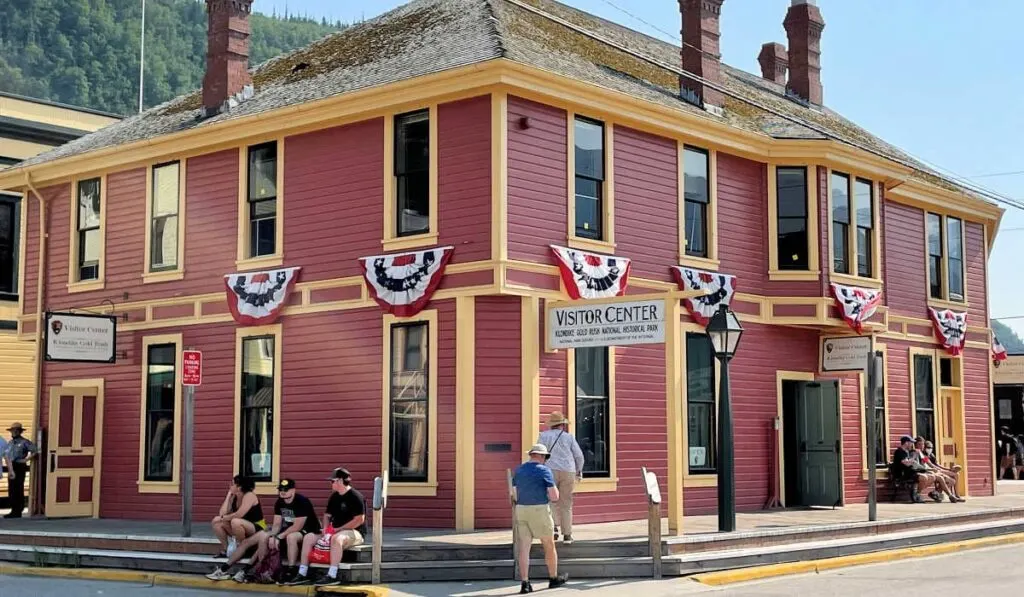 Gold Panning Tour. Pan for gold like they did during the Gold Rush era. Afterward, the gold is weighed and placed into a keepsake for the perfect souvenir of Alaska. The cost is USD 30.00.
Sitka
Steeped in history, Sitka is Alaska's oldest city. While the port is 6 miles from town, you can benefit from a free shuttle, which runs every 10 to 15 minutes.
Beautiful temperate rainforests surround the town, and if the Alaska weather is on your side, enjoy a stroll through town and along the waterfront.
One of my favorite places to see is the rescue, Fortress of the Bear. The wildlife sanctuary rescues and cares for orphaned bears. The USD 15.00 admission fee is perfect for families on a budget.
Sitka National Historical Park is a great stop to explore the impressive totem poles. You can learn the history of the area and the meaning of the intricately carved symbols on each totem pole. Admission is free.
St. Michael's Cathedral. Sitka contains North America's oldest orthodox cathedral. St. Michael's Cathedral is a National Historic Landmark and a short walk from the cruise dock. Admission is free, but they welcome donations.
Alaska Raptor Center is another excellent wildlife rescue that helps to rehabilitate injured raptors. USD 15.00
Russian Bishop's House. The Russian Bishop's House features beautiful colonial architecture and a historical museum. Once a place of worship, school, and residence, it now offers free Ranger-led tours of its restored museum.
Castle Hill or Baranof Castle State Historical Site. When Russia sold Alaska to the United States, the signing agreement occurred at Castle Hill. After the signing, the American flag was raised for the first time.
Icy Strait Point
While Icy Strait Point is known for its expensive zip line and whale-watching tours, cruisers can save money by enjoying its pristine wilderness. Instead, cruise passengers can take part in one of these Alaska vacation budget-friendly activities:
Tribal Dance Show. Immerse yourself in the native culture at the Tribal Dance Show. At the Heritage Center Native Theater, performers wear colorful costumes and tell the history of their area through song and dance. Cost USD 25.00.
Duck Point Smokehouse. Enjoy some Alaskan food. As a fishing town, Icy Strait Point or Hookah has an endless supply of fresh seafood. So, stop at Duck Point Smokehouse for some Alaskan Reindeer Chili, Crab Bisque, or Grilled Alaska Salmon. USD 10.00+.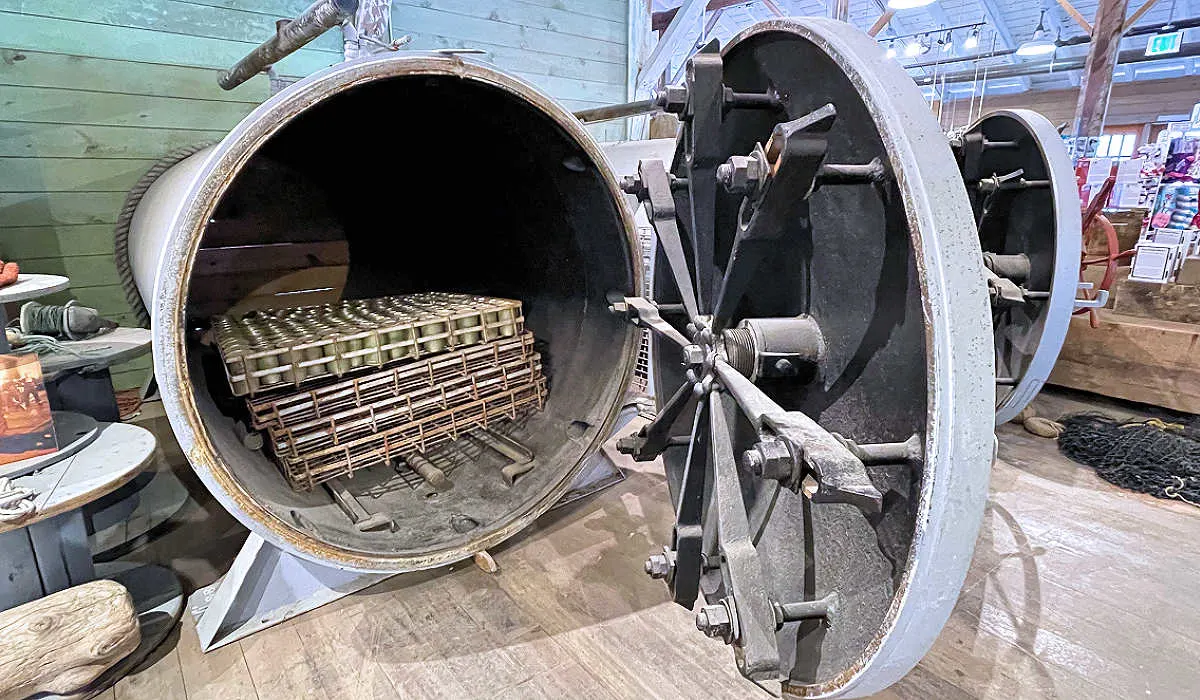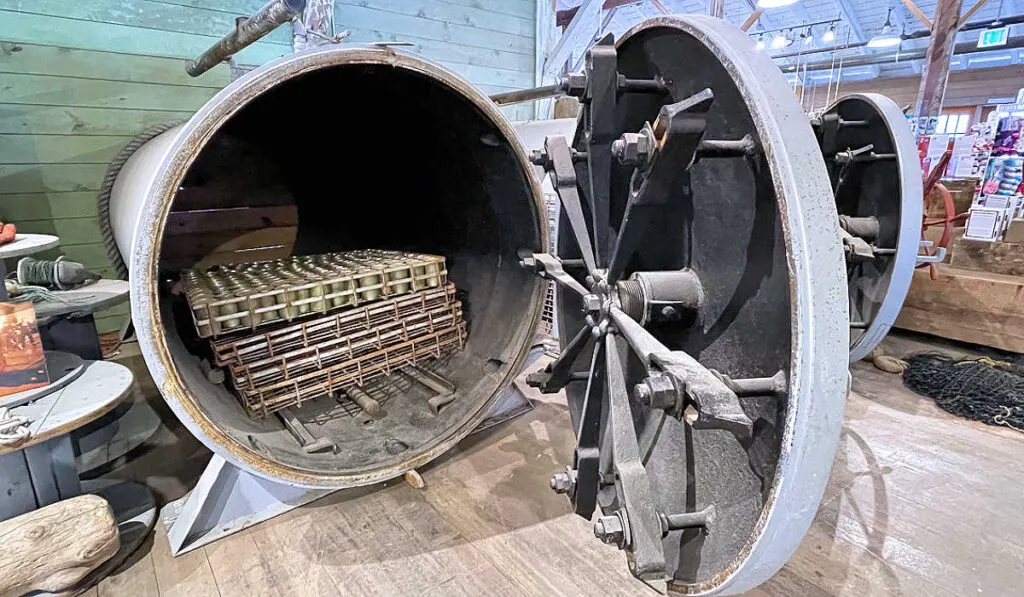 Cannery Museum. Visitors can tour the Icy Strait Cannery Museum to see how locals clean and can salmon. The tour is free, and nearby, the warehouse shops offer a selection of Alaskan merchandise.
Wildlife watching. A stroll along the oceanfront offers visitors picturesque views and a chance to see bald eagles and whales. Whales often feed close to the shoreline, so bring some compact binoculars, and you could spot some humpbacks without paying for a whale-watching tour.
Hoonah shuttle. In Hoonah, you can watch locals demonstrating totem pole carving. Shuttle cost USD 5 for a return trip.
Conclusion
As you can see, planning an Alaska cruise vacation may take some work, but it's possible to visit the 49th state on a budget. While most consider a trip to Alaska a bucket list destination, you'll want to return after one visit.
There's one thing for sure; whether you save money and go on the cheap or splurge on excursions, the Alaska cruise scenery will leave you breathless.
Happy travels ~ Karen