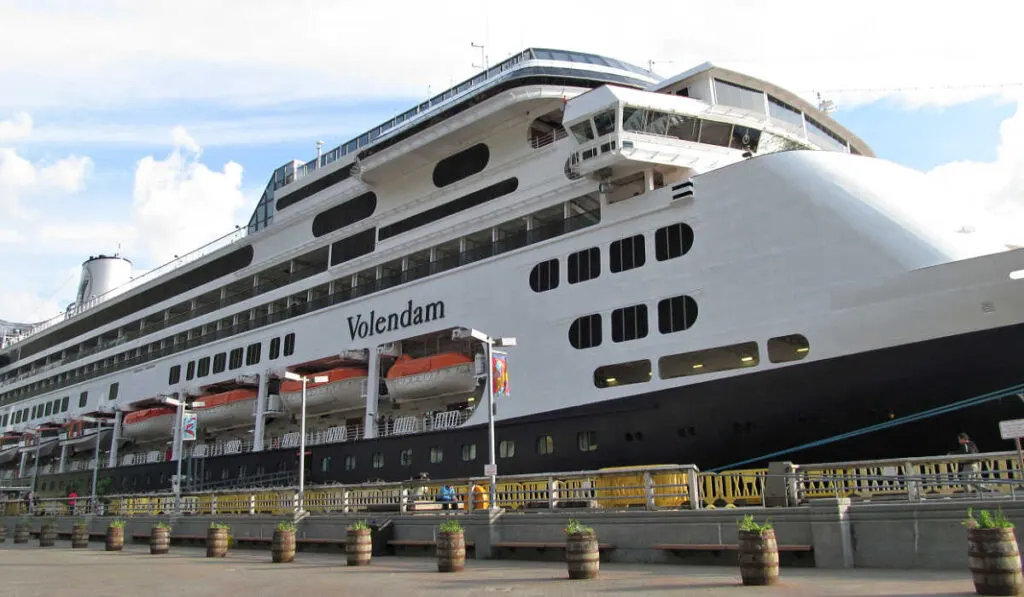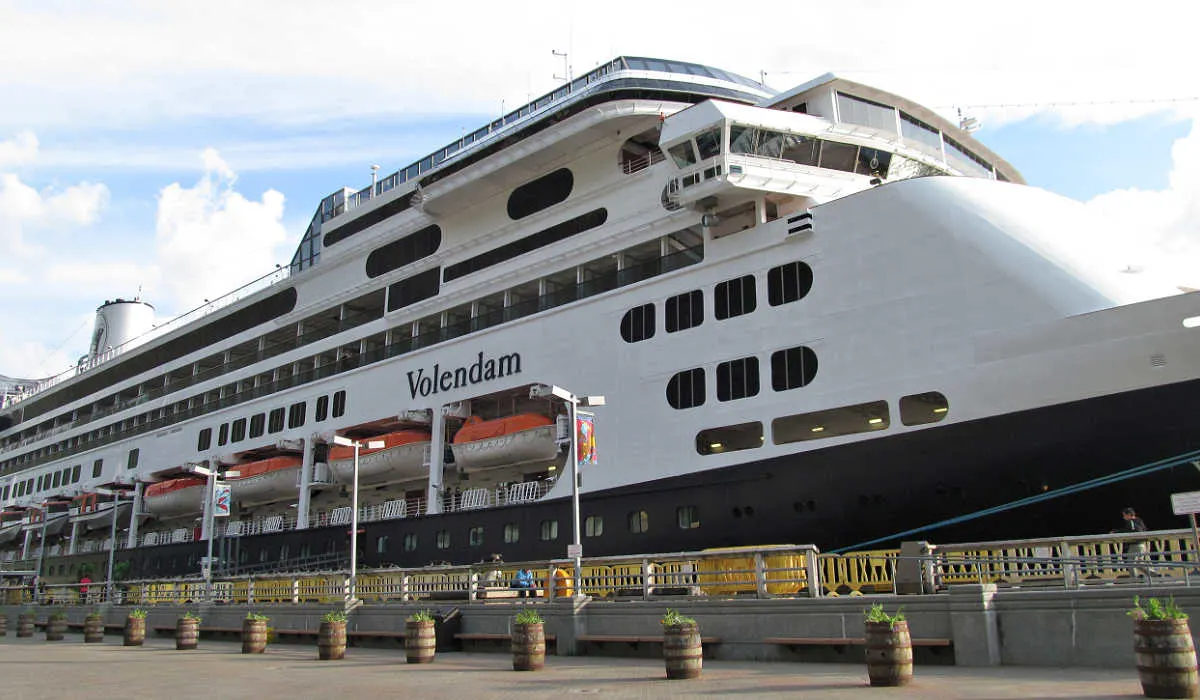 When selecting an Alaska cruise, travelers have many choices, from cruise lines, embarkation ports, and itineraries. Holland America (HAL) and Princess Cruises have long relationships with Alaska.
In fact, HAL's first cruise to Alaska dates back to 1947…… LONG before I was born! This Alaska cruise review is of my experience sailing on Holland America's Volendam.
Currently, Holland America has six ships scheduled for Alaska, with four vessels cruising from Vancouver, British Columbia, and two from Seattle. When comparing an Alaska cruise from Seattle to a Vancouver departure, Seattle's 7-day itineraries on the Eurodam and Westerdam are roundtrip.
However, if choosing to sail from Vancouver, you can cruise a one-way itinerary on the Noordam or Nieuw Amsterdam vessels. One-way cruises allow guests to add a land tour to Denali National Park.
The Volendam and Koningsdam offer 7-day return itineraries from Vancouver, British Columbia.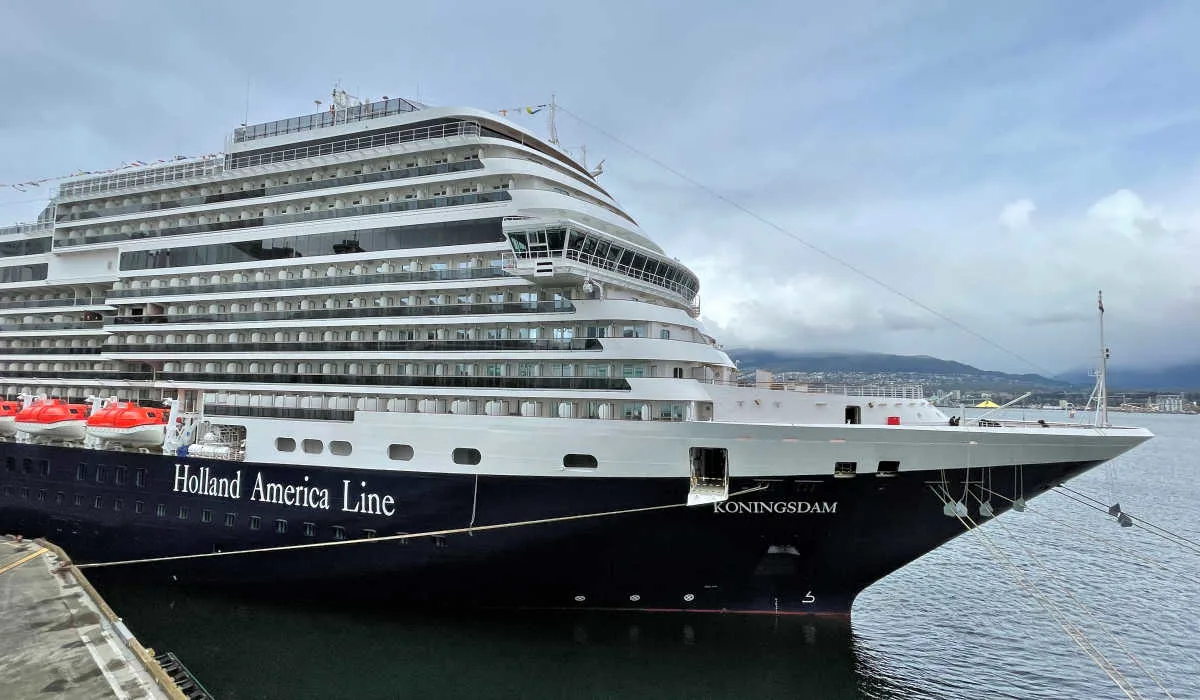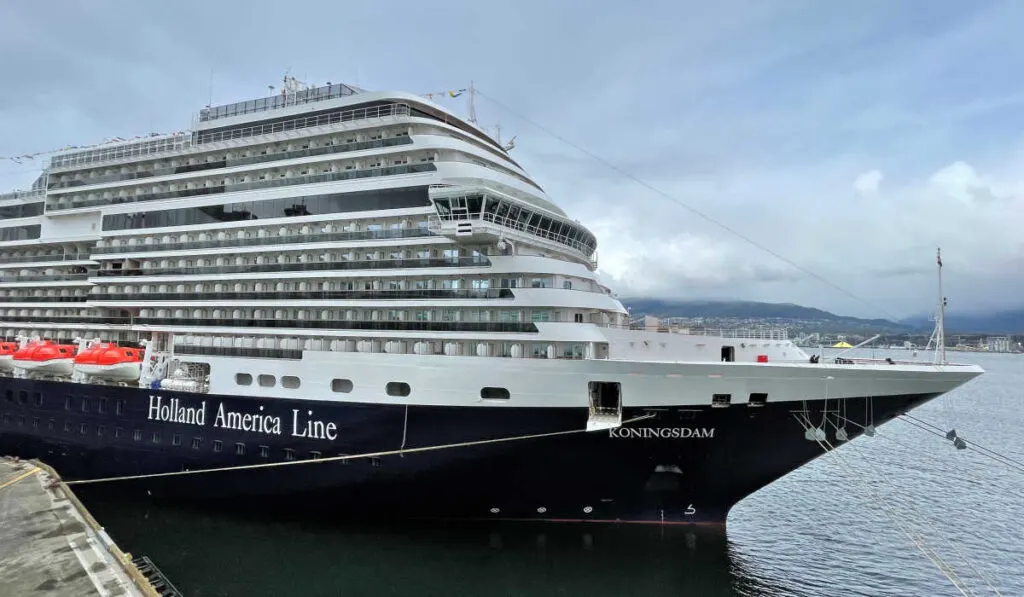 Why A Holland America Alaska Cruise?
Having cruised to Alaska multiple times, I wanted to try another cruise line. While itineraries are similar, I wanted to try the cruise line with the longest relationship with Alaska, so a Holland America Alaska cruise made sense.
Also, I chose this cruise for additional reasons; a May departure, a different fjord, a small vessel, and I took advantage of one of the special offers. May is considered one of the driest and best months to take an Alaska cruise.
My Volendam cruise included three ports; Juneau, Ketchikan, and Skagway. However, it also cruised to the Twin Sawyer Glaciers in Tracy Arm and Glacier Bay.
Since my previous cruises were to Glacier Bay National Park and Hubbard Glacier, I was eager to experience Tracy Arm, a different part of Alaska.
Having cruised on mostly mid-sized ships, the Volendam's capacity of just over 1400 was also a test of whether I'd like the more intimate feel. To date, it's the smallest cruise ship I've sailed, with just ten decks.
If you prefer something larger, the other vessels have a capacity of 1964 (Westerdam) to 2106 (Nieuw Amsterdam).
Holland America, First Impressions
Built in 1999 and last refurbished in 2014, I found the Volendam's décor quite elegant. Holland America cruise ships are pretty traditional in style, even though the Carnival Corporation owns them.
Most ships have a theme, and with its abundance of floral arrangements and posy artworks, its garden theme adds color to the interior spaces.
Although conservative compared to newer mega-ships, the large tapestries and traditional paintings gave the vessel timeless appeal.
While small in size, the Volendam's public areas seem grand and not claustrophobic at all. With light-colored wood, accented with rich red tones and shades of blue, the classic décor reminded me of an ocean liner.
Unlike most cruise ships with imposing atriums, the Volendam's central cavity seems less inspiring with its kaleidoscopic glass sculpture. Overall, I found the decks easy to navigate, maybe partly due to the vessel's size.
Having cruised to Alaska on other lines, I found the Holland America line attracted an older crowd. Maybe it had something to do with the destination too.
The average age was over sixty, and this was evident each night when the decks emptied between 9:30 to 10 pm.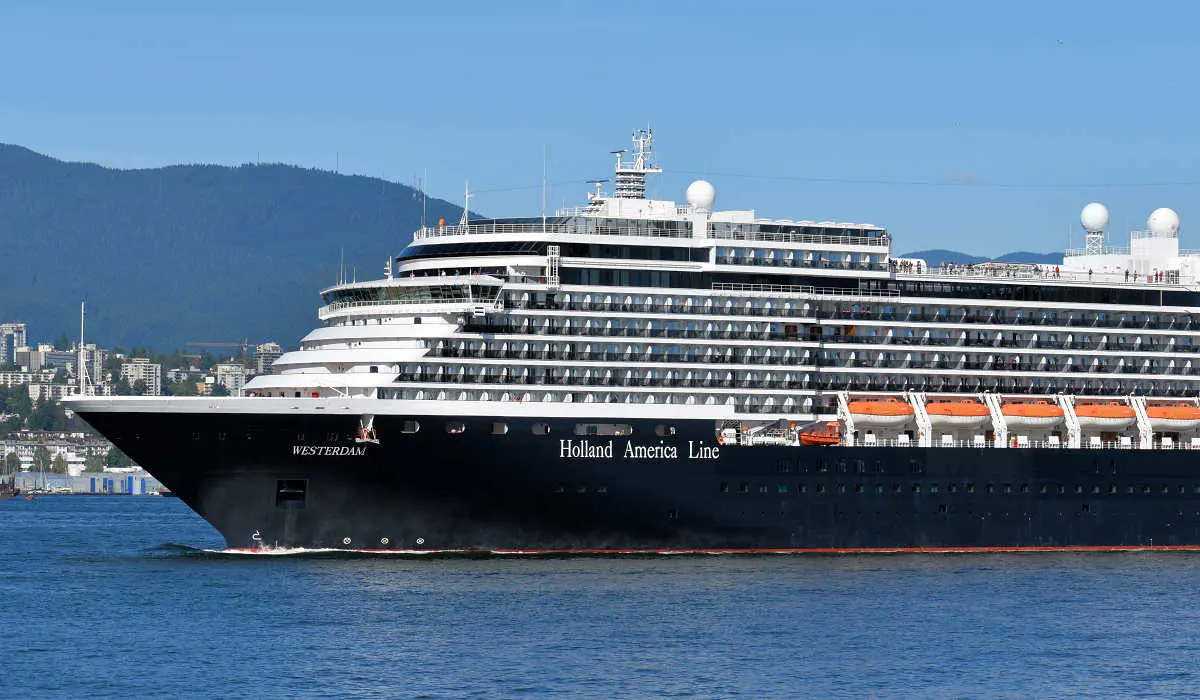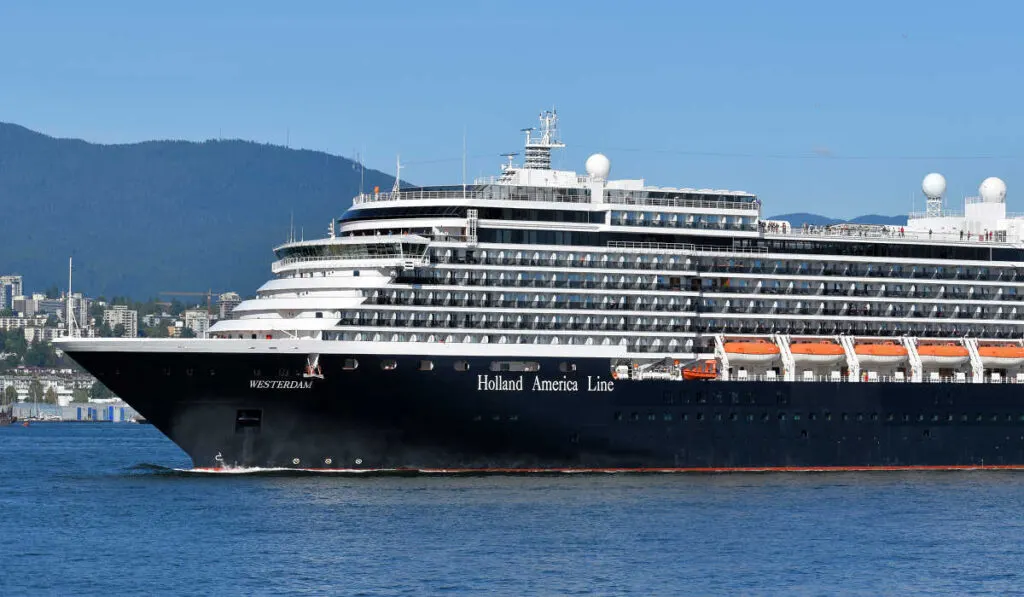 Holland America Cruise Cabin Review
For my cruise to Alaska, I booked an oceanview cabin. The cabin was small compared to other cruise lines, but it had ample storage.
Although with its recent renovation, the cabin looked fresh and revitalized with new carpets and a neutral color palette. The bed was incredibly comfortable, and my steward was fantastic at taking care of everything during the cruise.
The Volendam's cabin bathrooms were updated and included a roomy shower with a glass door. The non-slip floor and adjustable height shower heads are great additions.
Alternatively, other options for cabins include the budget-friendly inside cabins starting at 140 sq. feet, up to the spacious Pinnacle Suite of over 1,000 sq. feet.
On the Promenade deck, guests can enjoy a Lanai cabin, which gives access to the outside public deck. The 21 staterooms added during the refresh turned some oceanview cabins into accessible outside cabins, allowing for fresh air.
Dining On Holland America
I'm Celiac, lactose-intolerant, and allergic to nuts. Yes, it's a long list! Cruising on a vessel with food allergies can be challenging, so my review focuses on the cruise line's ability to handle my allergies and keep the meals tasty.
I ate most of my meals in the Rotterdam Restaurant because having a consistent waiter works best for me. The choices for me were phenomenal, and my meals were always fantastic.
Top marks to the chefs who made sure my meals were free of my allergens, but never sacrificed flavor or presentation.
I enjoyed breakfast from the Lido each morning because it was fast and easy. Gluten-free bread, waffles, pasta, and sweet treats were readily available onboard.
Alternatively, cruisers can get hamburgers, hotdogs from the Dive-In, and specialty coffees and teas from the Explorations Café. The Canaletto Restaurant (Italian) and Pinnacle Grill have a surcharge of USD 20 and USD 39 for dinner.
Volendam's Amenities
With a capacity of 1400, don't expect the racing car tracks, sky pods, and roller coasters featured on other lines. The Volendam is an intimate ship with fewer venues.
On the plus side, the fewer venues meant I kept my onboard spending to a minimum. For those who want a quieter voyage, Holland America delivers.
My favorite place was the Crow's Nest at the vessel's bow. Here, I could enjoy the unobstructed views of Alaska and watch arrivals in ports.
When HAL had no activity in the Crow's Nest, I enjoyed reading a book and soaking in the surrounding views.
The ship has two swimming pools; the aft Sea View Pool, and Lido Pool with a retractable roof. Since the Alaska weather was much cooler in May, I didn't use the aft pool.
Although, it does have two tiled abstract armchairs next to the water, which I enjoyed on sea days.
The Mainstage Theater on the Upper Promenade Deck and Promenade Deck holds over 550 guests, and I enjoyed many shows there. After the performances, the decks emptied as most guests retired for the night.
Being a night owl, I found it disheartening not to have a late-night venue or activities to enjoy in the later hours.
Since the Volendam is smaller, I didn't have to walk long distances to get to the dining room or other venues. What I enjoyed about its size was connecting with the same passengers repeatedly during the cruise.
Club Hal – Kid's Programs
On the aft of the sports deck, Club Hal provides activities for kids and teens. The supervised activities are divided into kids (3 to 6 years), tweens )7 to 12 years), and teens (13 to 17 years).
Additionally, one deck above, an outdoor oasis, and a pool provide some much-needed fun in the sun.
There were very few children on my cruise, so I don't know how well these areas were utilized. Even though the Holland America line attracted an older crowd, it's nice to know they're doing their part to entice families to sail.
My Holland America Volendam Itinerary
My Volendam cruise was my 4th time to Alaska, but my first experience with Holland America. The 7-day roundtrip itinerary sailed out of Vancouver, Canada, where I live, so I had no airfare.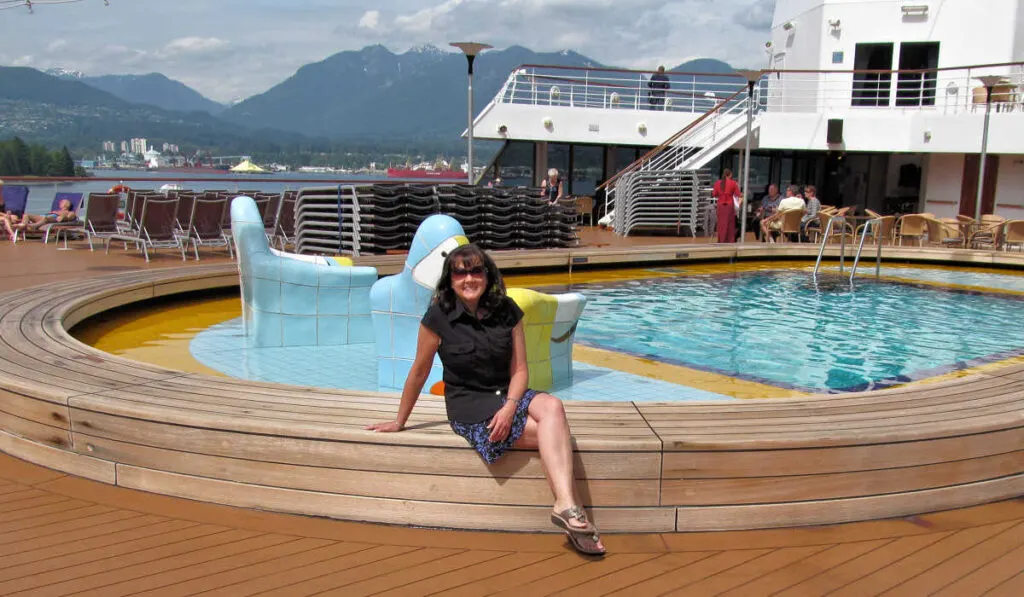 My Alaska itinerary was listed as follows:
Embarkation, Vancouver
Inside Passage (cruising)
Tracy Arm (cruising), Juneau
Skagway
Glacier Bay National Park (cruising)
Ketchikan
Inside Passage (cruising)
Debarkation, Vancouver
Embarkation was effortless at the port of Vancouver, and soon, I was sailing under the Lionsgate Bridge heading for Alaska.
The ship experienced a few choppy seas the following day, so bring some motion sickness patches if you suffer from seasickness.
During my May Alaska cruise, I was surprised to see an abundance of porpoises and humpback whales on the route. While whales migrate from Hawaii and Baja, Mexico, in April, I didn't expect to observe so many early in the season.
So, the most anticipated day of this cruise turned out to be the biggest disappointment for me. When the itinerary said "cruising Tracy Arm," I assumed the vessel was cruising in the fjord.
Little did I know that the Volendam didn't enter the fjord. Instead, if passengers wanted to see Tracy Arm, they had to prepurchase a shore excursion for USD 200+ on a smaller vessel.
Too late to take the Tracy Arm Glacier and Fjord Explorer, I could only watch the vessel sail away. From there, the rest of us on board sailed on to Juneau.
Lessoned learned: double-check the itinerary and don't assume the ship is cruising Tracy Arm if it's on the schedule. A few years later, I booked a Royal Caribbean cruise on the Serenade of the Seas that sailed inside the fjord.
Juneau
Arriving at 1 pm, I was rushed to enjoy a port day in Juneau. Being the capital city, Juneau offers the greatest selection of shore excursions. I chose to go whale-watching in Juneau and combined it with a visit to Mendenhall Glacier.
The weather was warm enough to wear cropped pants and a lightweight jacket. As always, the whale watching excursion didn't disappoint, and I saw plenty of humpback whales.
After the first excursion, I quickly made my way to Mendenhall Glacier on the shuttle bus. The last bus back to Juneau was 5:30 pm, which didn't give me much time to explore.
During my May visit, huge icebergs had calved from the glacier's terminus and floated down the river. It was a fantastic sight to see.
I walked along the boardwalk over Steep Creek near the visitors' center. Later in the season, visitors can see salmon spawning in the river. Also, bears commonly walk this creek, especially when the salmon are running.
Since I didn't have much time, I took a fast stroll toward the glacier to see Nugget Falls. Unfortunately, I had to return before reaching the falls because I didn't want to miss the returning shuttle bus.
After leaving Mendenhall Glacier on one of the shuttle buses, I had time to do some shopping therapy in Juneau. A must-visit, I stopped for a drink at the famous Red Dog Saloon to enjoy its cheerful atmosphere.
Skagway
As per usual, I did not prepurchase a tour in Skagway. Being my 4th visit, I wanted to find something different to do on my port day. Wandering through Skagway, I found a tour operator selling excursions, so I selected a Chilkoot Trail and Float.
The price was right, and the outing combined an uphill hike on a portion of the Chilkoot Trail, followed by a leisurely sail down the Taiya River.
While I enjoyed the tour, a good pair of hiking boots would have served me better due to the rocks and roots on the trail. Also, the mosquitoes were rampant, so I'd recommend some mosquito repellent.
Back at Skagway, I had time to hike to Gold Rush Cemetery and Reid Falls before returning to my ship. Once onboard the Holland America Volendam, I walked around the Promenade deck to enjoy the nice weather.
To my surprise, a few humpback whales surfaced next to the ship and continued to tease us with their presence until we sailed away.
Glacier Bay National Park
For most, the nine hours spent cruising through the waters of Glacier Bay National Park is the pinnacle of their Alaskan cruise. My Holland America cruise was my third time to Glacier Bay, and I experienced blue skies each time.
Only two cruise ships can enter the National Park a day, so you'll experience solitude like nowhere else. During your time in Glacier Bay, a park ranger will board your vessel and give commentary on the area, glaciers, and wildlife.
While the National Park has seven tidewater glaciers (glaciers that reach the ocean), Lamplugh Glacier and Margerie are the most impressive.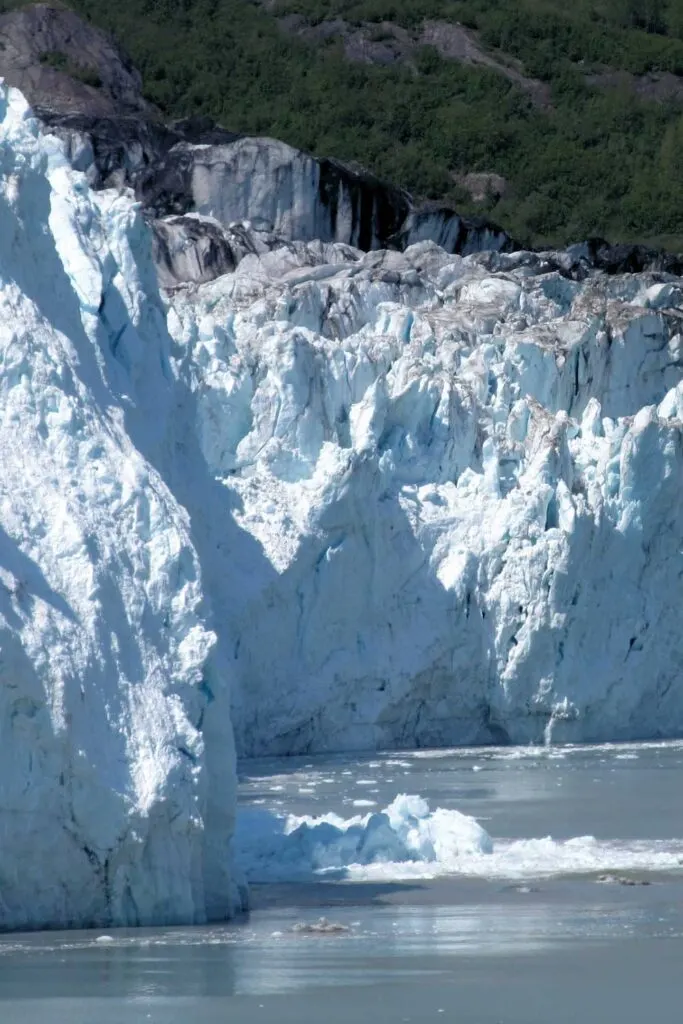 As I watched on deck, the warmer saltwater erodes the colder ice, causing it to break or 'calve' into the ocean.
The calving action creates a booming sound that's music to the ears. Sometimes the remnants were small and other times, it resulted in a small tidal wave.
The 'bergy bits' or pieces that fall off provide an oasis for seagulls and other birds. I found the icebergs just as enjoyable with their silty stripes in blue, brown, and turquoise shades.
Should the Alaska weather not cooperate on your day in Glacier Bay, the Crow's Nest makes for an ideal viewing spot to keep you warm and dry.
If you have a balcony stateroom, the captain will rotate the ship, allowing passengers to enjoy viewing from their cabins.
Ketchikan
Ketchikan, the last port and my favorite Alaska town provided another sunny day. I enjoyed browsing the boutiques on Creek Street, touring Dolly's House Museum, and walking up to Cape Fox Lodge.
At the entrance to the lodge, a circle of brightly colored totem poles welcomes visitors. Then I walked down the Married Man's Trail and saw the salmon ladder in the creek.
Although slightly overcast on the last sea day, I experienced no rain in Alaska. In fact, if you're looking to cruise Alaska during the driest month, May is it! Oddly enough, though, it rained as I returned to my home port of Vancouver, lol.
Overall Review Of My Volendam Alaska Cruise
When reviewing my Holland America Volendam cruise to Alaska, here are the highlights and areas that needed improvement. Bear in mind that these are my opinion, and everyone's preferences are different.
Pros
As an older ship, it's more affordable.
Its smaller size means there's less walking.
With 1400 passengers, it's more intimate.
Passengers enjoy more personalized service.
The food is fantastic.
It has a great culinary arts program where passengers can learn to cook like a top chef.
Passengers can enjoy hot Dutch Pea Soup in Glacier Bay National Park.
The retractable roof pool allows for swimming, even on cold days.
Cons
Lack of late-night entertainment.
The ship is dated.
Lack of overall activities.
Holland America has implemented a three-tier booking system. To get the lowest fare, passengers have to pay the full fare at the time of booking, and the fare is non-refundable.
While I found the cruise restful, the food exceptional, and my stateroom adequate, the Volendam lacked the upbeat and late-night activities I prefer.
Overall, my cruise to Alaska was good value for money, and I liked the May departure so much that I took another Alaska cruise in May.