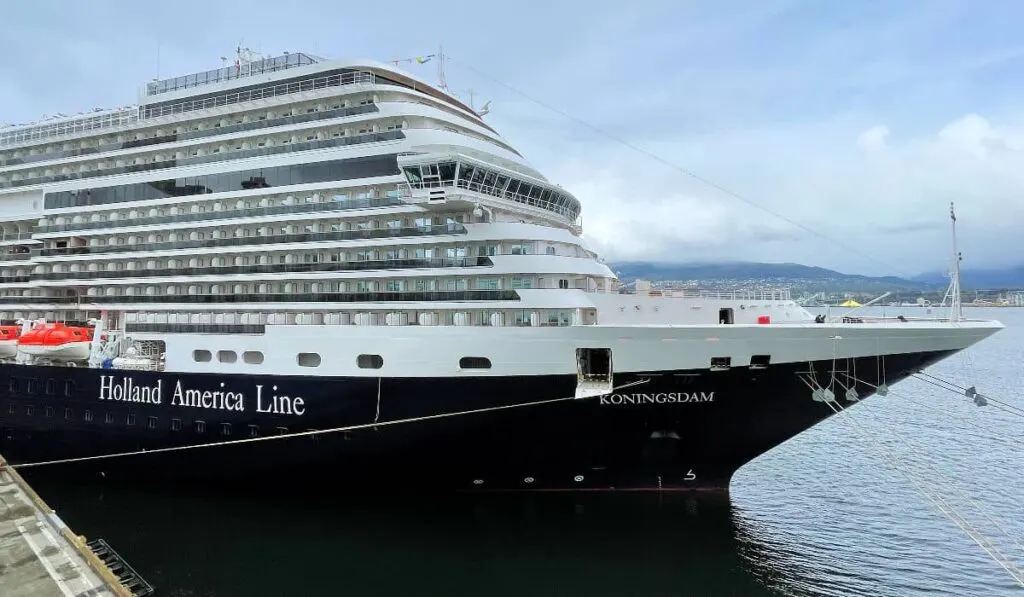 Built in 2016, the Koningsdam is the first Pinnacle-class ship built by Holland America Line. With a guest capacity of around 2,650 passengers, it's the largest ship in the Holland America fleet, along with the Nieuw Statendam and newest ship, the Rotterdam.
You can choose an Alaskan cruise in the summer months or a Hawaii, Mexico, or South Pacific from San Diego.
In this Holland America Koningsdam review, I share my experience of taking a repositioning cruise along the Pacific Coast after the Alaska cruise season.
On the exterior, the vessel resembles a traditional ocean liner with its sleek black and white signature colors.
My First Impressions
Inside, the interior design is traditional, which didn't surprise me as I had previously cruised on HAL's Volendam to Alaska. You'll find an abundance of rich wood tones and timeless décor.
I was amazed at the artwork, some of the best I've seen. Some portraits were ingeniously created from old floppy disks. Others included keyboard keys, scrabble tiles, and other odds and ends. The sculptures are just as intriguing, too.
The Atrium spans three decks from deck one to three. Surrounding it, you'll find guest services, Grand Dutch Café, Ocean Bar, Pinnacle Grill, and Rudi's Sel De Mer.
I liked that this smaller vessel had fewer decks, 12 in all. I could use the stairs instead of the elevators without feeling like I was on a Stairmaster machine.
Fresh flowers filled the public spaces, from the massive arrangements to single table displays in specialty restaurants.
The elevators featured floor mats stating the day of the week. When you're on vacation, isn't every day a Sunday?
🛳️ Haven't booked your Koningsdam cruise yet?
Find your perfect cruise with Cruise Critic. It features more than 650,000 cruise reviews, advice and information from the team of cruise experts, pricing information, and money-saving tips.
Find your cruise here
My Veranda Stateroom
I cruised solo on Holland America's Koningsdam, and although this ship had studio ocean view cabins, I chose a veranda instead. The 12 studio cabins are on deck 1 at the bow, under the theater.
Due to their location, the single ocean-view staterooms varied in size from 127 to 172 sq. feet. Booking one of these studios allows you to forego a single supplement. I viewed one of these and other cabins during my cruise.
Not wanting to be under the theater, I priced out a balcony cabin, costing me USD 10 more after paying for two people. It was an obvious choice to have the 186 sq. foot larger room with a balcony instead of a window.
I booked a guarantee and was assigned a VH category stateroom on Beethoven deck, 4141. Considered a partially obstructed cabin because I could see the top of the lifeboat; I liked the location mid-ship.
Complimentary Dining Options
Unlike larger vessels, which have multiple main dining rooms, the Koningsdam has one. The 'Dining Room' on deck 2 (Plaza) and deck 3 (Promenade) serve breakfast, lunch, and dinner. However, suite guests dine at Club Orange.
Alternatively, the Lido Market Buffet on deck 9 serves breakfast, lunch, and dinner for those who prefer a casual meal to the main dining room. When dinner concludes, I could get a late-night snack from 9 pm to midnight.
The buffet was huge and had a lot of selection. I liked their make-your-own salad, fresh sushi, and gluten-free, dairy-free, and vegan desserts.
The Grand Dutch Café isn't your ordinary coffee shop with coffee, tea, and pastries. Inspired by Dutch heritage, it has draft and bottled beer (for a fee) and some Dutch favorites. Dutch Pea Soup, Proffertjes, and Apple and Bacon Pannenkoek are a few of the offerings.
I tried the hot pea soup and pickled herring, which were both tasty. While the beers cost extra, the food is complimentary. This Dutch Cafe proved to be a busy place on embarkation day.
The Dive-In offers hamburgers, hotdogs, and salads. Open between 11:30 am and 6 pm, you can get 1/3-pound beef patties, vegetarian burgers, and grilled chicken selections.
New York Deli & Pizza offers salads, pizza, sandwiches, desserts, fresh fruit, and late-night snacks. Room service is also complimentary and provides a full breakfast.
Specialty Dining
Holland America Koningsdam offers specialty dining in several venues, including the Pinnacle Grill, Tamarind, Canaletto, and Rudi's Sel de Mer.
Pinnacle Grill, a popular choice for meat lovers, serves up juicy steaks and seafood, with its signature dish being the perfectly cooked filet mignon.
This steakhouse offers dinner from 5 pm to 9:30 pm and lunch on sea days. During my voyage, it was the only specialty restaurant open at lunchtime. Expect to pay USD 19 for lunch and USD 46 for dinner.
Tamarind offers delectable Southeast Asian cuisine, featuring dishes like miso soup and sushi rolls. Try their satay sampler and Penang red Curry coconut chicken. At USD 35, it's quite a bargain compared to a similar experience on land.
If you prefer Italian, Canaletto provides classics like pasta and pizza. Its lobster and shrimp ravioli tastes heavenly. Complete your meal with classic Tiramisu or a selection of Italian cheeses.
Rudi's Sel de Mer offers delectable cuisine created by chef extraordinaire Rudi Sodamin. The intimate space provides a seafood brasserie experience with dishes loaded with lobster, prawns, crab, and fish.
Due to its popularity, its sister line, Princess Cruises, has introduced a similar restaurant, 'The Catch by Rudi' on some of their ships.
For a capacity of 2650, there are many choices for specialty dining or eating outside the dining room. Their specialty restaurants are priced much lower than other lines, yet the cuisines exceeded my expectations.
Koningsdam Bars
You'll find no shortage of places to get a drink. The ship offers many bars, from the Lido and Sea View Bars to the venues of the music walk.
Here are some of the offerings.
Ocean Bar: A traditional nautical-themed bar serving cocktails, wines, and live music. Try the Rotterdam Martinez, a classic cocktail from the 1880s.
Grand Dutch Café: Offers European beers, along with complimentary Dutch treats.
Panorama Bar: Choose from beer, cider, cocktails, wine, and mocktails. You have an option to add on a souvenir glass.
B.B. King's Blues Club has cocktails with punchy names. Select from Good Times Roll, Top of the Charts, and Boom Boom Punch.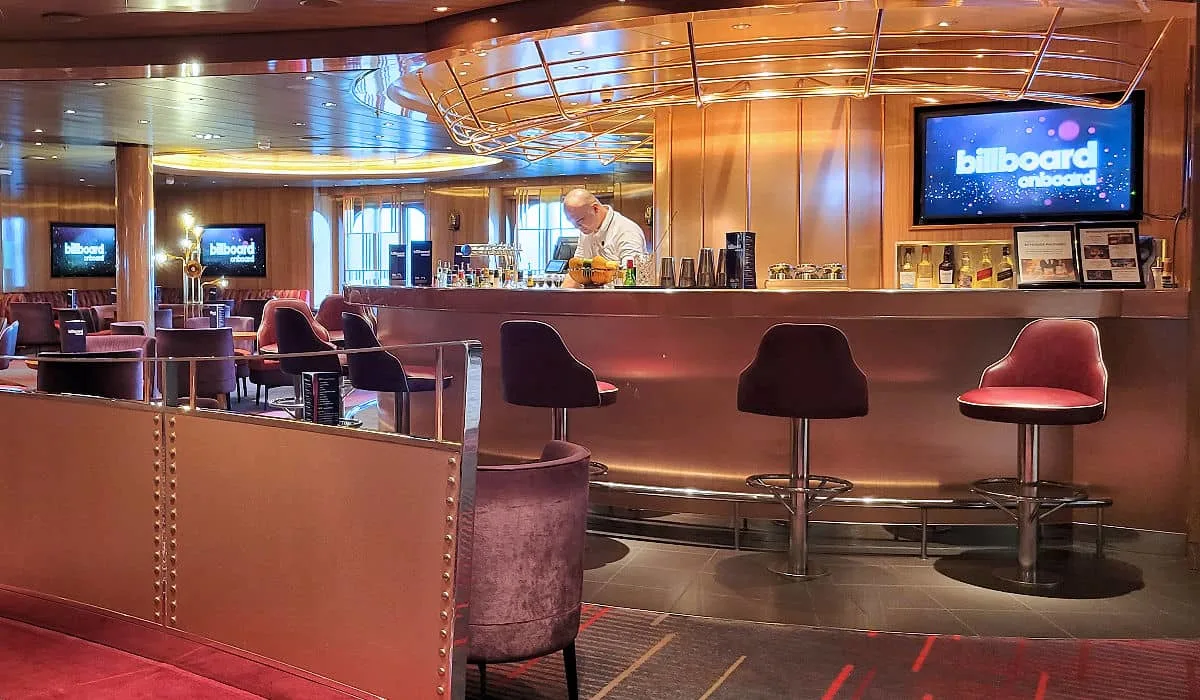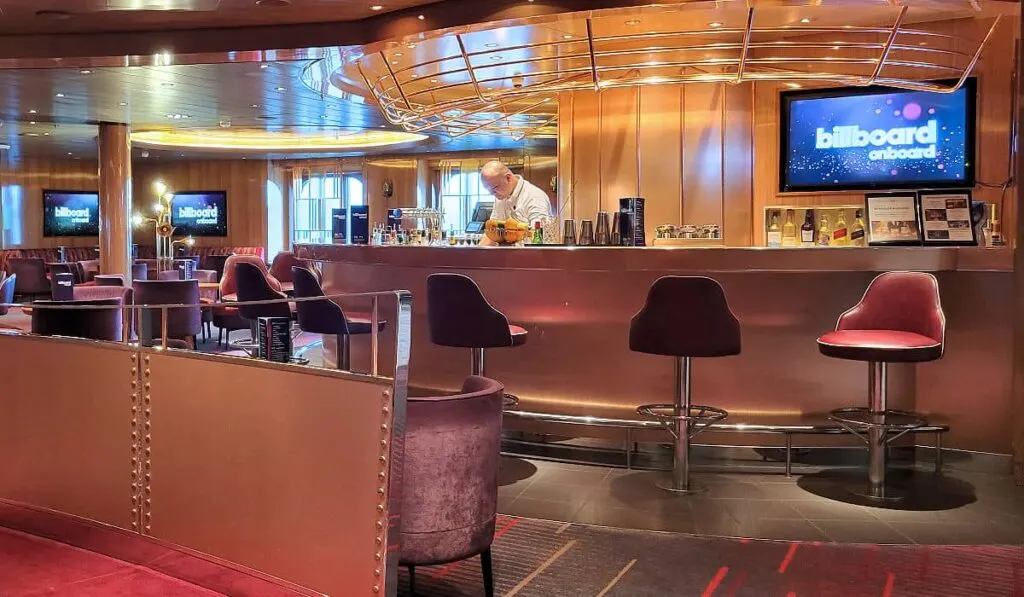 During my cruise, they hosted beverage events for a chance to try something new. HAL offered a beer tasting on a sea day for USD 15, a wine tasting for USD 25 to USD 39, and a mixology class for USD 15.
Alternatively, you could try wine flights (5 wines) for just USD 9.
Swimming Pools And Retreat
Deck 9 (Lido) features all the ship's pools. At the aft, the Sea View Pool next to the Sea View Bar offers a peaceful setting with wake views. This outdoor pool is ideal for warm weather destinations.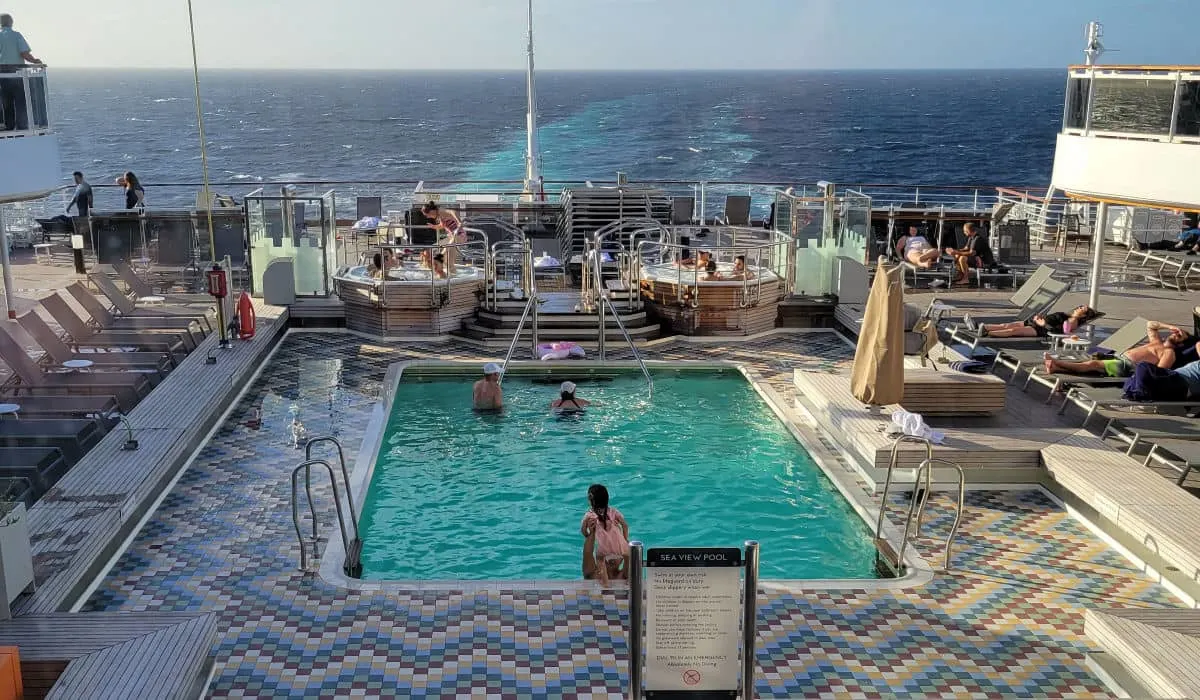 The Greenhouse Spa has a circular thalassotherapy pool. Guests purchasing a thermal suite pass have exclusive access to this pool.
Mid-ship, the Lido Pool provides plenty of space for bathers, diners, and those wanting to chill on a sea day. Its retractable roof shelters guests on wet days or those sailing in the off-season.
At one end of the pool area, you'll find three hot tubs, while the opposite end features a giant TV screen to feature movies, concerts, and sports.
The area around the Lido Pool spans two decks, with loungers and curved seating on decks 9 and 10.
The Retreat is on the top deck, adjacent to the Crow's Nest. It has numerous private cabanas, which guests can rent for a fee.
Cabanas cost USD 85 per day or USD 399 for an entire 7-day cruise.
Greenhouse Spa And Fitness Center
The Koningsdam features an extensive spa that offers acupuncture, hair services, massages, manicures, facials, and other beauty treatments.
The star of the spa is its thermal suite, one of the best I've seen across different cruise lines. Enjoy heated loungers while you take in the sea view through floor-to-ceiling windows, relax in a sauna, or enjoy a therapeutic steam room.
A large thalassotherapy pool has powerful jets to ease tense muscles and relieve stress. On my sailing, the spa was open from 8 am to 10 pm.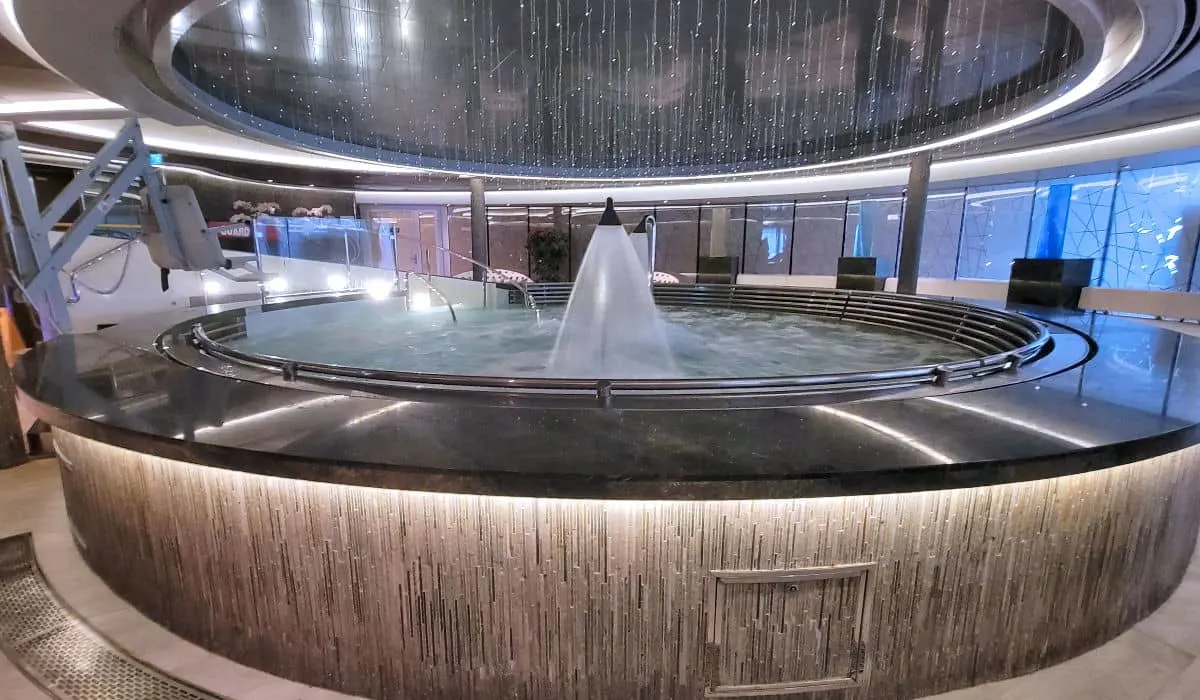 The thermal suite pass cost USD 49 for one day and USD 139 for my 4-day cruise. For a 7-day cruise, expect to pay USD 179.
Unlike competitor lines, which sell limited passes, this vessel sold as many as guests wanted to purchase. It meant, at times, the thermal suite was busy, and guests couldn't get a heated lounger. I bought a pass and found going early in the morning or later in the day avoided the congestion.
The jets in the thalassotherapy pool weren't as powerful as others I've tried. However, they provide relaxation, and the overhead water jets felt like a deep tissue massage on my shoulders and back.
Adjacent to the spa, the fitness center offers great views at the ship's bow. The treadmills were busy early in the morning during my cruise. The gym has a spinning class, yoga, and footprint analysis.
You'll find the jogging track next to the sports court on deck 11. Alternatively, you can walk on the Promenade deck (deck 3), which circumnavigates the vessel.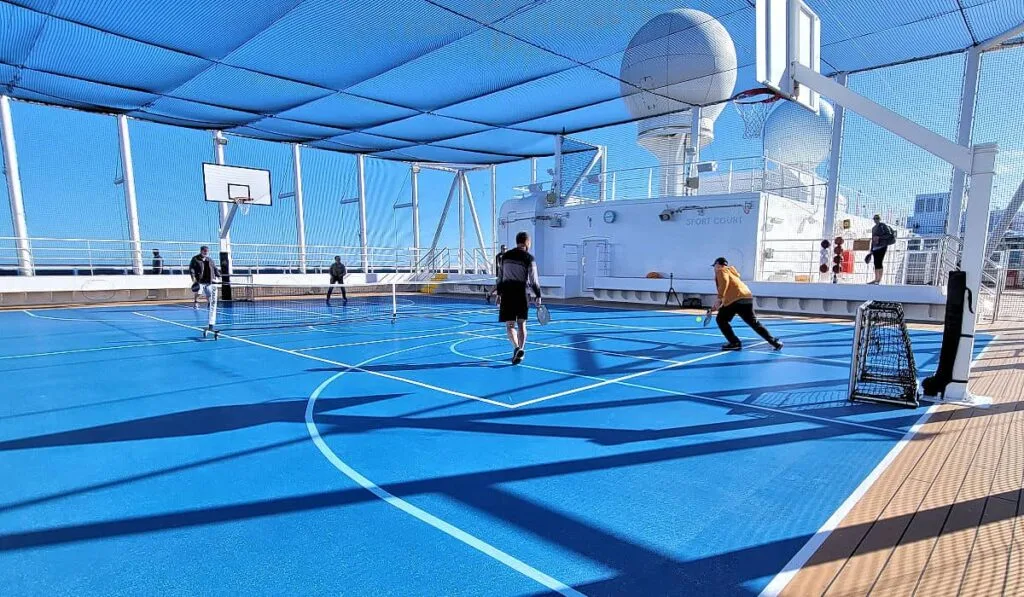 On one sea day, the 'On Deck for a Cause' featured a 5K walk on the Promenade deck. I took part to raise money for the Ukrainian refugees and completed nine laps of the ship.
Casino
Located on deck 3, the casino is quite large and is an area that allows smoking along with the starboard side of the sea view bar on deck 9 (Lido).
Along with slot machines, roulette, and poker, the casino hosted a slot tournament, Paradise Lotto Jackpot Drawing, and barrel lottery.
For those who like bingo, games were held in the Billboard Onboard.
Music Walk
The Koningsdam has a music theme with some fantastic entertainment venues. So, whether you like blues, rock 'n' roll, or classical music, you'll find something to meet your mood. Along the Music Walk, you'll find three music venues, each offering different vibes.
Music flows everywhere, especially in the B.B. Kings Blues Club, which was rocking every night. You can dance the night away, enjoy a drink at a nearby bar, or watch the action from the deck above. Seating is limited, so you may need to stand during busy hours.
The Music Walk became the vessel's hub after dinner, where Holland America guests listened and danced to the blues.
If you prefer rock 'n' roll, head to The Rolling Stone Rock Room to listen to live music. Across the hallway, the Billboard Onboard serves up 60s, 70s, and 80 favorites.
Crow's Nest
As the name suggests, the Crow's Nest is on deck 12, at the top of the vessel. With lots of windows, it's a great place to enjoy the views of Glacier Bay National Park, if cruising to Alaska.
It held many events, including adult coloring, doodling designs, painting on canvas, and a young adult meet-up. The venue was filled with games, puzzles, and large books and was always busy with gamers.
Entertainment
On World Stage is an impressive venue with circular panels to project images. During the first evening, the show 'Musicology' combined animated images with a dance show. With an absence of singing, the production was visually striking and captivating.
The Step One Dance Company featured another show called 'Humanity' later on, which was just as magical. You can also catch a comedy act, magician, and solo singers on the World Stage.
Overall, 'The Daily,' Holland America's daily programming, didn't feature as many events as competitor cruise lines. There was a noticeable lack of game shows and family entertainment, but that could be because Holland America generally attracts an older crowd.
Wi-Fi
If you need to stay connected, you can purchase Wi-Fi for your needs. The Social plan allows you to use Messenger, Facebook, and video calls through Messenger. For my 4-day cruise, it was USD 49.
I initially purchased this plan but upgraded to the Surf plan for USD 20 more. This allowed me to email and surf the net, which I couldn't do on the Social plan.
For an additional USD 20, you can buy the Premium plan, which allows you to watch Netflix, play video games, and stream. There are packages for one or multiple devices if you're traveling with family.
I did a speed test on the Surf plan and got an impressive 19.53 Mbps.
Interestingly, this vessel had no internet center, so if you experienced any problems with your Wi-Fi, you'd have to visit guest services.
Kids' Clubs
Club Hal is Holland America's program for children. Located on deck 10, Club Hal created activities for groups aged 3 to 6, 7 to 12, and 13 and above. Children must be toilet trained to sign up.
Giant Connect 4, video games, movies, foosball, air hockey, and arts and crafts are a few of the activity's children can enjoy.
Holland America recommends kids wear face masks while participating in HAL Club events.
Holland America Koningsdam Final Thoughts
My 4-day cruise on the Koningsdam exceeded my expectations, and I wished I had a 7-day voyage instead. There's a lot packed into this mid-sized vessel.
In reviewing the Holland America Koningsdam, I found the food was well-presented, and there was plenty of selection in the buffet and dining room.
While the ship only had two complimentary pools, the Lido deck pool with a retractable roof provides a lovely sanctuary during lousy weather. With lots of loungers and seating, I always found a place to sit.
I loved my balcony room. It was quiet and didn't creak like older vessels, haha.
The service was outstanding onboard, from my room steward, who greeted me on embarkation day and always remembered my name to the restaurant waiters and staff at guest services.