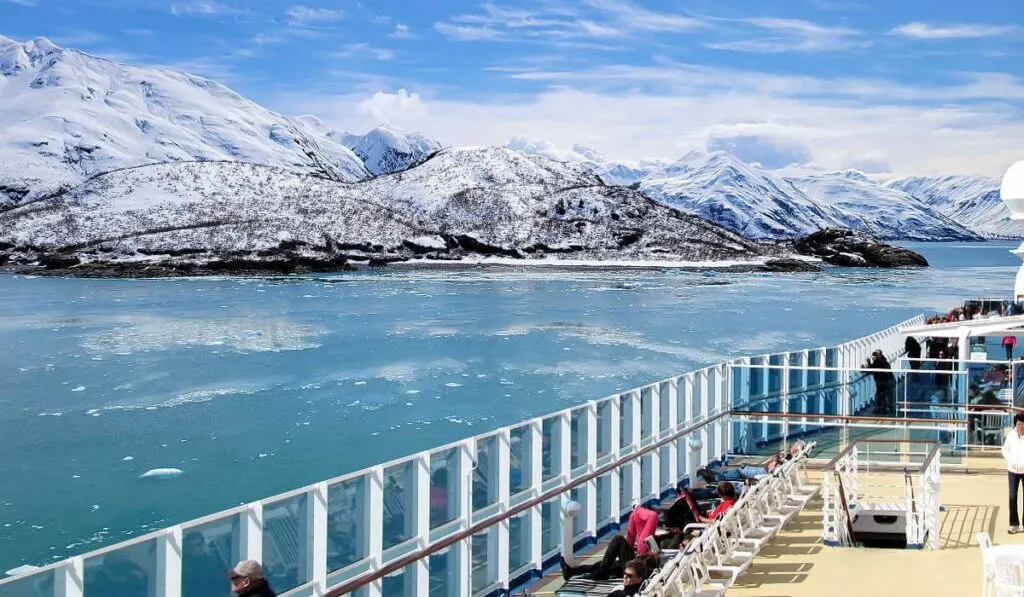 When deciding to cruise Alaska, travelers have many decisions to make. These include what Alaskan ports to visit, what glaciers to see, and the embarkation port. So, when choosing from an Alaska cruise from Seattle Vs. Vancouver, there are things you should consider.
The majority of Alaska itineraries sail out of Seattle and Vancouver, which offer closed-loop cruises. While they are both offer fantastic cruises to Alaska, there are some differences.
American passport holders would naturally choose Seattle, Washington, as an embarkation port because it requires a domestic flight. Since I live in Vancouver, it makes sense for me to cruise from my home port.
Planning your trip from Seattle or Vancouver?
While domestic flights bypass the need for immigration, passengers will need to get screened at the cruise port since Alaska cruises from Seattle stop in Victoria cruise port in British Columbia, to comply with the Jones Act.
Seattle Vs. Vancouver: Distance From The Airport
Seattle
When flying into Seattle, travelers land at Seattle-Tacoma International Airport. Located 18.4 miles (29.6 km) from the Seattle cruise terminal, cruise passengers can access the port by Uber or Lyft for USD 40.00. Taxis charge more, and the price will vary depending on traffic.
Alternatively, a cruise line transfer or independent shuttle costs between USD 27.00 – 30.00 per person, one way.
Should you be flying domestically and not have a long flight, it's possible to book an early departure and arrive on the morning of your cruise.
Seattle has two cruise terminals that service Alaska. Oceania Cruises and Norwegian Cruise Line own Bell Street Cruise Terminal at Pier 66 (2225 Alaskan Way). This port is closest to Seattle Center.
Alternatively, Princess, Carnival, Royal Caribbean, Celebrity Cruises, and Holland America Line use the Smith Cove Cruise Terminal at Pier 91. Located ten minutes north of downtown Seattle, the terminal offers long-term parking for USD 27.00 a day.
Vancouver
Passengers flying into Canada land at Vancouver International Airport, south of the downtown core. Passengers can reach Canada Place or the Vancouver cruise terminal by taxi, Uber, or Vancouver's rapid transit system, Skytrain. The nine-mile journey (15 km) costs CAD 36 taxi and CAD 30.00 with Uber.
Skytrain costs CAD 8.00 to 9.25 per person, takes approximately 25 minutes, and avoids road congestion. It's easy to access, simple to use, and trains depart every six minutes.
Access to the cruise terminal is less than two blocks from Skytrain. I always use Skytrain to reach the port from the airport.
Vancouver has one cruise terminal that can accommodate up to four ships. It has underground parking for those driving to the terminal and costs CAD 32.00 a day.
Seattle Vs. Vancouver: Size Of Ships
An Alaska cruise from Vancouver sails under the Lionsgate Bridge, which has a clearance of 61 meters or 200 feet.
Since Vancouver cannot accommodate a mega-ship, these vessels embark from Seattle, Washington. So, Alaska cruises from Vancouver are on either mid-sized or smaller ships.
I still remember leaving Canada Place on the Celebrity Eclipse, a 2850-passenger ship. It had to lower its mast to clear the Lionsgate Bridge.
So, if you prefer a bigger ship with endless options for family entertainment, your best to pick an Alaska cruise from Seattle.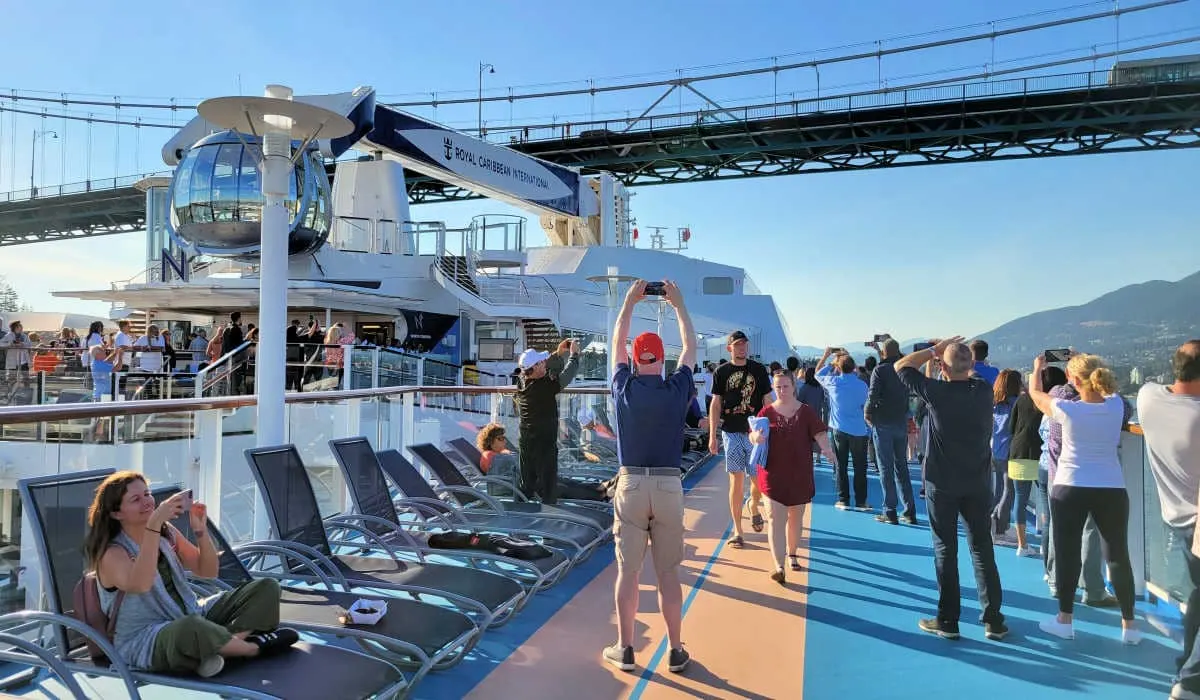 At the start and end of Alaska season, some of the larger ships like the Norwegian Bliss and Royal Caribbean's Ovation of the Seas arrive in Vancouver to comply with the Jones Act. They typically have to enter and leave Burrard Inlet at low tide.
I've cruised on both the Quantum and Ovation of the Seas from Vancouver. Sailaway was between midnight and 2 am to cruise under the Lionsgate Bridge at low tide.
Seattle Vs. Vancouver: For Visitation
Most travelers going to a new city spend some time exploring the destination either pre or post-cruise. Both Seattle and Vancouver sit on the Pacific coast with almost identical weather.
Seattle activities are plentiful, from the Pike Street Market and Museum of Pop Culture to amazing views from the Space Needle. US passport holders may prefer Seattle because there's no need to exchange currency.
But Vancouver, rated as one of the top cities in the world, offers so much more. TripAdvisor rated Vancouver's Stanley Park as the best city park globally, beating New York's Central Park.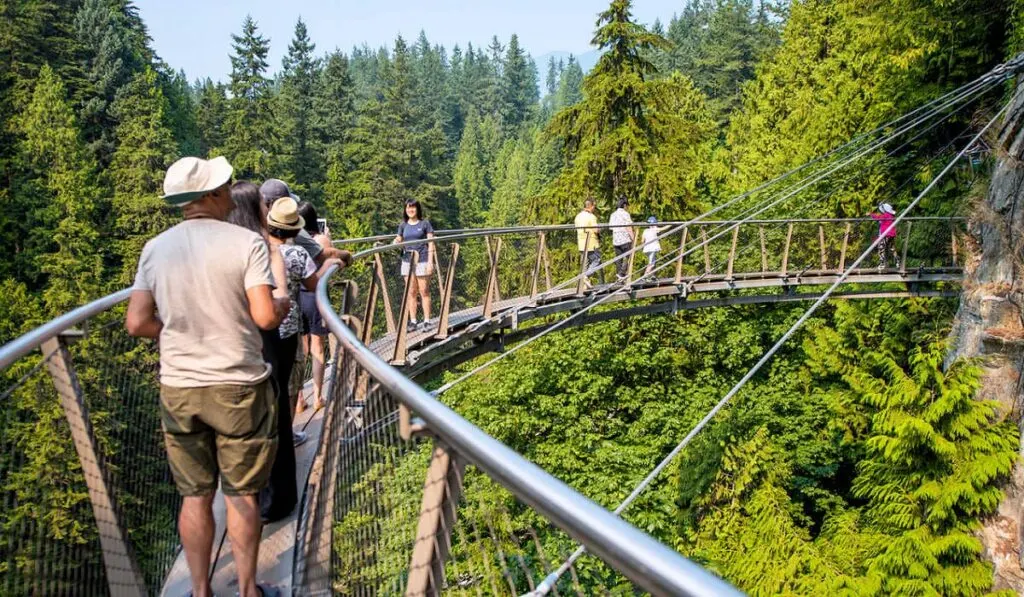 Located close to the cruise terminal, it's easily accessible to anyone staying downtown. Other Vancouver must-visit attractions include the Capilano Suspension Bridge, Gastown, Grouse Mountain, and Granville Island.
While both cities offer excellent restaurants, Vancouver has more international choices, primarily due to the Asian population. So, if you love raw sushi, Thai curry, or dim sum, Vancouver wins hands down.
Although travelers find Vancouver, Canada, an expensive city, non-Canadians may benefit from the dollar exchange. Many people visit Vancouver from Australia to take an Alaska cruise and enjoy the city.
For a hotel stay, cruisers favor the Edgewater Hotel on the waterfront in Seattle. The Pan Pacific in Vancouver provides a direct elevator down to the cruise terminal, which is in the same building.
Alaska Cruise Itinerary From Seattle
All seven-day Alaska cruises out of Seattle sail round-trip. They can cruise as far as Hubbard Glacier, although most cruise lines sail to Tracy Arm Fjord, Dawes Glacier in Endicott Arm, and a select few to Glacier Bay National Park.
Cruises departing from Seattle have no option to add a land-based itinerary. Traditionally, all sailings from Seattle were seven days, but Norwegian and Oceania have recently added nine to eleven days options, although still round-trip.
Since Seattle is further south than Vancouver, it takes a half-day longer to get to its first stop in Alaska. If your first scheduled stop is Juneau, the capital, it will take 1-1/2 days to reach the Alaskan city.
So, instead of arriving at 9 am, vessels dock at noon or 1 pm instead. While this may not seem like a big deal, Juneau offers the most shore excursions. So, you'll want maximum hours to take advantage of them.
Must-visit Mendenhall Glacier requires a shuttle to access it, and the last return bus leaves at 5:30 pm.
Other attractions like Roberts Tramway also close early. So, when arriving in Juneau later in the day, options for Alaska cruise excursions may be limited.
The first day and a half are sea days out of Seattle, and the last day generally ports in Victoria on Vancouver Island. Cruises leaving Seattle usually include one fjord or group of glaciers.
However, sometimes mega-ships may not include any glacier sightings since their size limits their itinerary options.
Alaska Cruise Itinerary From Vancouver
Alaska cruises from Vancouver have many options. The seven-day itineraries sail either round-trip or one-way. One-way cruises to and from Whittier and Seward have the option to add a land-based itinerary to Denali National Park.
Staying in a lodge at Denali increases the chance of seeing the "big five." The big five include moose, grizzly bears, grey wolves, caribou, and Dall sheep.
These cruise and land itineraries end or start in either Anchorage or Fairbanks for easy access to an airport. While not the capital, the large city of Anchorage offers plenty to do.
The one-way itineraries, either northbound or southbound, include cruising through College Fjord.
Located in Prince William Sound, the fjord contains multiple tidewater and valley glaciers named for famous colleges. Booking a back-to-back (northbound and southbound) gives the cruiser multiple glacier viewings.
🛳️ Haven't booked your cruise yet?
Find your perfect Alaska cruise with here. Choose from mini cruises to extended itineraries, and cruise tours.
Find your cruise here
Back-to-back Itineraries
A typical 14-day itinerary generally includes Hubbard Glacier, College Fjord, and two visits to Glacier Bay. I've done the 14-day Alaska cruise with Princess, and it was so amazing that I plan to do it again.
Here is a sample itinerary of a back-to-back. Note that the cruise ship stops at the same Alaska towns each way. While this might deter some cruisers, the ports offer many excursions, so I took different tours on the return cruise.
| | |
| --- | --- |
| Saturday – Embarkation day | Vancouver, BC, Canada |
| Sunday | At sea |
| Monday | Ketchikan, AK |
| Tuesday | Juneau, AK |
| Wednesday | Skagway, AK |
| Thursday | Glacier Bay National Park, AK (cruising) |
| Friday | College Fjord, AK (cruising) |
| Saturday | Anchorage (Whittier), AK |
| Sunday | Hubbard Glacier, AK (cruising) |
| Monday | Glacier Bay National Park, AK (cruising) |
| Tuesday | Skagway, AK |
| Wednesday | Juneau, AK |
| Thursday | Ketchikan, AK |
| Friday | At sea |
| Saturday – Disembarkation day | Vancouver, BC, Canada |
If cruising for more than seven days sounds appealing, Alaska cruises from Vancouver sail up to 17 days round-trip. Here's an example 17-day itinerary on Hurtigruten's MS Roald Amundsen.
| | |
| --- | --- |
| Thursday – Embarkation day | Vancouver, BC, Canada |
| Friday | At sea |
| Saturday | Misty Fjords National Monument, AK |
| Sunday | Wrangell, AK |
| Monday | Sitka, AK |
| Tuesday | Prince William Sound, AK |
| Wednesday | At sea |
| Thursday | Kodiak, AK |
| Friday | Geographic Harbor, AK |
| Friday | Kukak Bay, AK |
| Saturday | Chignik, AK |
| Sunday | Ungar Village, AK |
| Monday | Dutch Harbor, AK |
| Tuesday | At sea |
| Wednesday | St. Paul, AK |
| Thursday | St. Matthew Island, AK |
| Friday | At Sea |
| Saturday – Disembarkation day | Nome, AK – flight to Vancouver |
While Hurtigruten ports at some tiny Alaskan towns, bigger ships stop at larger known towns. The most common towns are Juneau, Skagway, and Ketchikan. Less frequented options are Haines, Icy Strait Point, Sitka, Homer, and Kodiak Island.
Cunard, a British cruise line offers roundtrip itineraries of up to 11 days of the Queen Elizabeth cruise ship. Her sailing often include both Hubbard Glacier and Glacier Bay National Park.
Round-Trip Vs. One-Way To Alaska?
Living in Vancouver and having taken seven Alaska cruises, I prefer a round-trip or back-to-back. These itineraries avoid the expensive one-way flight from Anchorage.
When I priced the flight one year, it was cheaper to sail back from Anchorage than fly. Add to the cost of the flight is the cruise transfer from Whittier or Seward to Anchorage, which can cost up to USD 70 per person.
Cruises going one-way sail further north and see areas not included on a return cruise. Additionally, northbound and southbound itineraries cruise through College Fjord, which is unlike other fjords and bays.
Its multiple glaciers lay close together, so photos capture a group of glaciers lined up like toy soldiers.
Sailing further north also offers the possibility of more Alaskan wildlife viewing. In comparison, humpback whales and orca frequent the southern region; the northern area can include sightings of gray whales and the rarer fin and minke whales.
Alaska Cruise Sailing Route
If you cruise from Seattle, ships sail on the west side of Vancouver Island. With no land to protect the ship from rough seas, this cruise portion can cause seasickness.
Vancouver-originating cruises sail on the east side, so the protected waters are calmer. If you're prone to motion sickness, you may prefer to embark at Vancouver.
Also, Alaska cruises from Vancouver offer more scenic views, seeing as they cruise the inside water, closer to land. If you've chosen a one-way itinerary, try to select a cabin on the coastal side, depending on which direction you're sailing.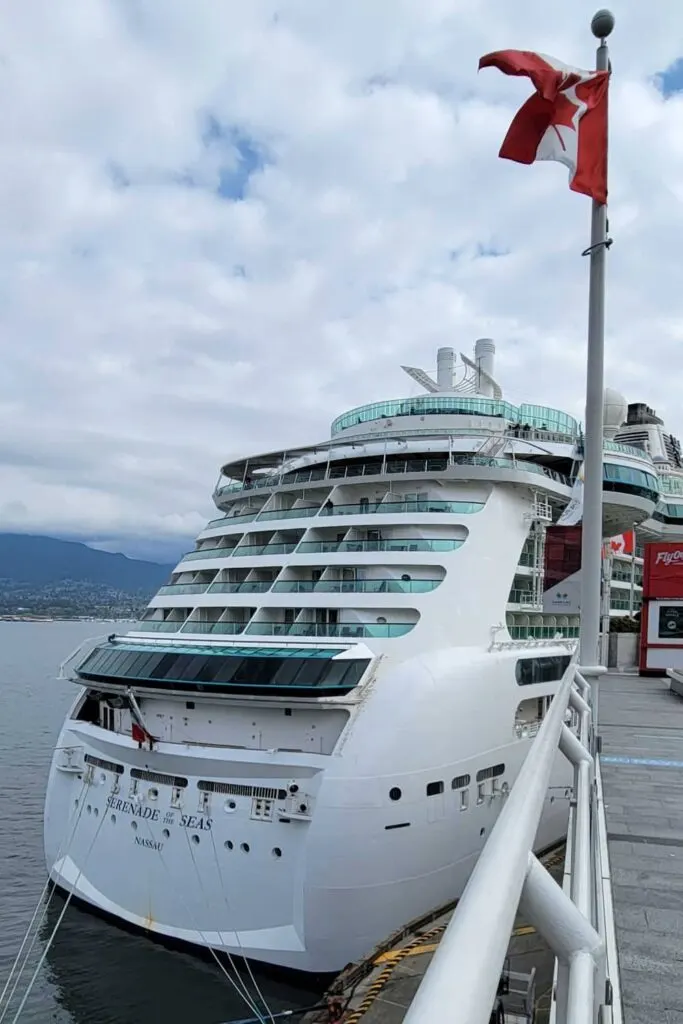 On the first day out of Vancouver, your cruise ship sails close enough to land to receive Wi-Fi coverage. You'll also have the same benefit on the last day if doing a return itinerary.
While Caribbean cruises are focused on sun, beaches, and fun, Alaska itineraries are scenery-focused.
Alaska cruise tip: if you suffer from seasickness, pick an inside passage cruise.
Final Thoughts
Whether you plan an Alaska cruise once or return multiple times, it's a place like no other. While it might cost a little more to fly to Vancouver than Seattle, most past passengers will argue that it's worth the added expense.
Living in Vancouver, both embarkation ports are just a short drive from home. However, many of you don't have that luxury.
So, whether you're Alaska cruise comes down to being on a mega-ship, a return trip without a flight, or the need to see Denali, it will be a magical journey you'll savor forever.
Happy travels ~ Karen