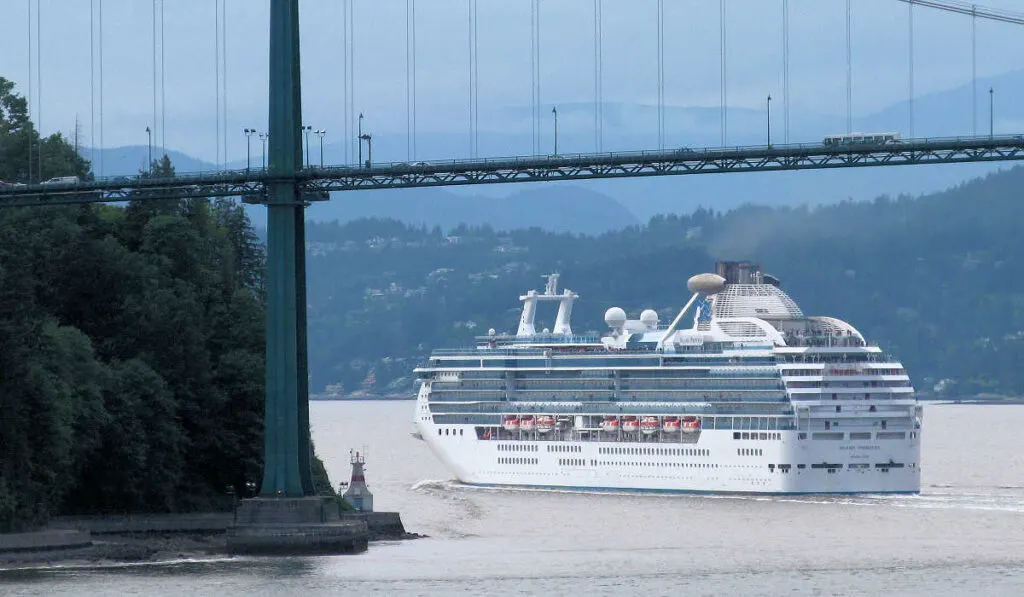 An Alaska cruise from Vancouver offers a chance to see a world-class Canadian city. Alaska cruises run from late April to early October, with May being the driest month and July and August offering the warmest temperatures.
While cruise passengers can book a cruise from Vancouver, Seattle, and California, you may choose one port over another for personal reasons.
Vancouver, British Columbia, offers one of the most picturesque sail-aways. With its downtown cruise port and the Lionsgate Bridge, the departure and arrival are pretty memorable.
To enjoy the city, fly in early and plan to spend two days or a weekend in the coastal city of Vancouver. So, here are the reasons to choose Vancouver as your embarkation port.
🛳️ Ready to book a cruise from Vancouver?
Find it on Cruise Critic. It features more than 650,000 cruise reviews, advice and Alaska information. The site also offers itinerary and pricing information, deals and money-saving tips.
1. You Can Do A Cruise And Land Tour
While California and Seattle in the United States offer round-trip itineraries, Vancouver provides an option to add on land tours. One-way cruises sail to Seward or Whittier, then transition to Anchorage. After your Denali land tour, you'll fly home from either Anchorage or Fairbanks.
If staying an extra day, Fairbanks and Anchorage offer lots of activities and tours to enjoy the outdoors, wildlife, and cities.
Most cruises from Seattle and Vancouver are seven days, but cruise tours start at nine days. Each land tour differs, depending on who you book with and the vacation length.
Holland America, which has sailed to Alaska longer than any other cruise line, offers an 18-day round-trip adventure. The Alaskan cruise itinerary combines a 7-day cruise with an 11-day land tour.
So, guests can choose to sail on the Nieuw Amsterdam or the Noordam. It's an exciting itinerary that includes three days in Denali National Park. Also, guests visit Fairbanks, Dawson City, and Whitehorse before flying back to Vancouver.
Alternatively, the 9- to 17-day cruise and land tour itineraries are one-way, sailing through the Gulf of Alaska and ending in Fairbanks or Anchorage. Also, cruise passengers can do the opposite itinerary, where the cruise starts in Alaska and ends in Vancouver.
Other itineraries take guests into the Canadian Rockies with a chance to see Lake Louise and all the top tourist spots along the Icefields Parkway.
2. Vancouver Is A World-Class City
Vancouver showcased its world-class city in 1986 when it hosted Expo. Later, it hosted the 2010 Winter Olympic Games.
Vancouver consistently ranks as one of the most livable cities globally and number one in North America. It's also a vibrant city for visitation.
With an incredible city park (Stanley Park) and picturesque downtown surrounded by water and mountains, it's hard not to fall in love with Vancouver. If you fly in early and spend a few days in the city, you can enjoy its fantastic attractions.
Must-see places include the Olympic Cauldron, Gastown steam clock, Capilano Suspension Bridge, Queen Elizabeth Park, and Granville Island.
Grouse Mountain provides the backdrop to downtown. Here, you can enjoy fantastic views of Vancouver, and visitors can see two famous locals, two grizzly bears named Grinder and Coola.
Visitors can savor the foodie city with an eclectic flavor of culinary delights. From Japanese and Thai to Italian and Mediterranean, there's a palette to suit every visitor.
With a stay in one of Vancouver's downtown hotels, visitors can walk to most attractions or reach them by Skytrain or shuttle. Stanley Park's seawall provides an outdoor escape to enjoy the incredible ocean and city views.
On embarkation day, cruise passengers enjoy a spectacular sail away underneath the Lionsgate Bridge.
3. Calmer Seas
When cruising on a ship that departs from Seattle or California, they sail on the west side (outside) of Vancouver Island. Vancouver Island provides protection from the rougher water, which causes seasickness.
Since Vancouver departures sail between Vancouver Island and the mainland, they are protected from the open ocean. So, Vancouver departures cruise Alaska's inside passage which helps to prevent seasickness.
If you're prone to motion sickness, the Pacific Ocean tends to create choppy seas all along the coast. While mini cruises are popular along this route, it's best avoided if you can't handle the motion.
So, if you book an Alaska cruise from California or Seattle, be prepared by packing some motion sickness remedies.
4. You Spend Less Time At Sea
Since Vancouver, Canada, is closer to Alaska, you'll spend less time at sea. It takes three days to reach Alaska from California and only a day and a half from Vancouver.
Even though Seattle is 110 nautical miles south of Vancouver, it can take slightly longer to reach Alaska. Many of the Seattle departures arrive in Juneau in the afternoon.
With Juneau being the capital, cruise passengers need a full day to enjoy the many attractions. So, choose an itinerary that arrives in the morning and spends a good twelve hours in Juneau.
Many cruise passengers visit Mendenhall Glacier by shuttle on a Juneau port day. Since the last shuttle leaves the Mendenhall Visitors Center at 5:30 pm, you wouldn't have much time to explore if your cruise ship arrived at 1:30 pm.
With less time at sea, you'll enjoy more hours in your ports of call. Sometimes, you can manage two shore excursions in one town.
5. Easy Access To The Cruise Terminal
Vancouver's cruise terminal is centrally located at Canada Place, 15 km or 9 miles from the airport. Cruise passengers flying into Vancouver International Airport (YVR) have many options to reach the cruise port.
They can easily reach the port by taxi, Uber, or rapid transit. I prefer Skytrain, Vancouver's rapid transit system, because it's inexpensive and quick, and I don't need to worry about traffic congestion.
After arrival, exit the building, cross the road and take the elevator or escalator to the third level. A two-zone ticket on the Canada Line from YVR to Waterfront Station costs under CAD 10 and takes 25 minutes.
It's a direct route that requires no changing of trains. The trains run from 5 am to 1 am, and trains run every six to seven minutes. The train stops twelve times, with Waterfront Station being the last stop.
On arrival, exit the building, turn right, walk 1-1/2 blocks, and turn right onto Howe Street. Walk one block, and you've arrived at Canada Place, otherwise known as Vancouver's Cruise Port.
Canada Place has over 750 secure, underground parking spots if you drive to the cruise terminal.
6. An Alaska Cruise From Vancouver Offers More Ships
California residents have two vessels to choose from: the Ruby Princess and the Carnival Miracle. Seattle departures offer ten choices. However, should you cruise from Vancouver, you can choose from 24 ships.
Holland America and Princess Cruise lines have been sailing to Alaska longer than all the other lines. Holland America line offers five vessels to Alaska.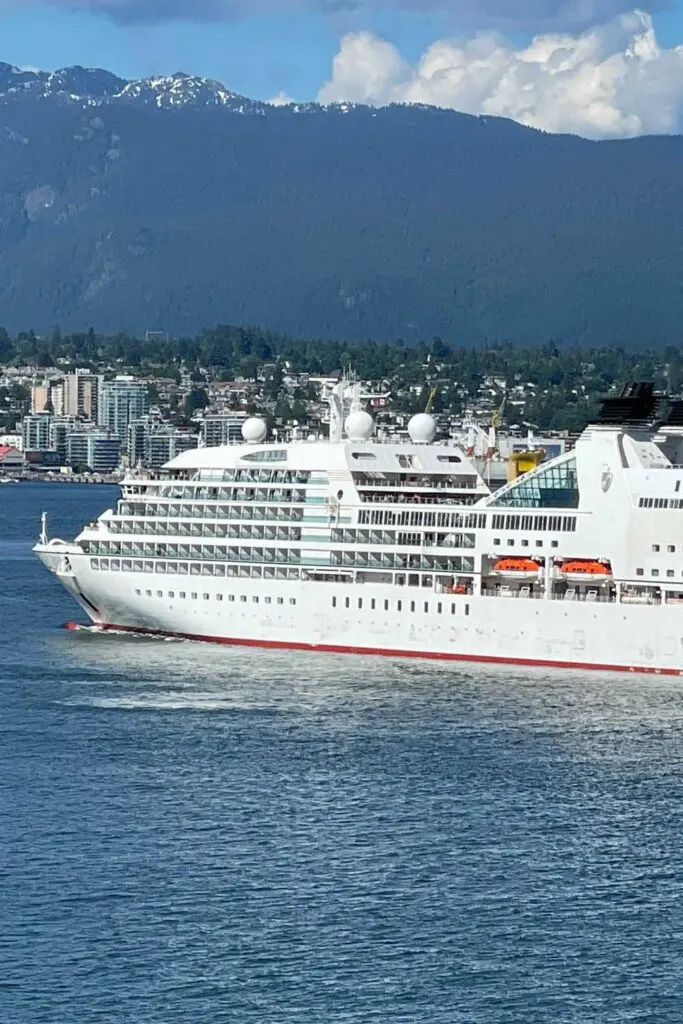 These are the Zuiderdam, Nieuw Amsterdam, Koningsdam, Volendam, and Noordam. Alternatively, Princess offers four ships; the Majestic Princess, Grand Princess, Sapphire Princess, and Discovery Princess.
The older Grand Princess cruise ship is a great option for those traveling on a budget.
Longer cruises are available on Cunard's Queen Elizabeth. However, if you're looking for an expedition-type cruise, there are offerings too.
Choose from the Windstar Breeze, Seabourn Odyssey, Hurtigruten MS Roald Amundsen, Silversea Muse, and the Silversea Silver Shadow.
Alaska cruises from Vancouver start at five days, but Windstar offers an itinerary of 21 days. Alternatively, short four-day cruises begin in Vancouver but end in Seattle, Washington. With 24 vessels, you can choose from a small expedition ship or a larger family-friendly cruise ship.
In 2024, Celebrity will add an Edge class vessel to Alaska. Also that year, the Millennium will be replaced with its sister ship, the Celebrity Summit.
7. You Can See College Fjord
When cruising to Alaska, most cruise passengers choose between Glacier Bay National Park versus Hubbard Glacier for visitation. However, some one-way itineraries include both Glacier Bay National Park and College Fjord.
As the name suggests, the tidewater glaciers in this Alaska fjord are named for famous colleges. On one side, the glaciers are named for the women's colleges, while the opposite side contains the men's colleges.
Should the Alaska weather cooperate, cruisers will see five valley glaciers and five tidewater glaciers. The tidewater glaciers, or glaciers that touch the ocean, are the most impressive.
Unlike Glacier Bay, where the glaciers are spread apart, cruise passengers can see College Fjord's glaciers side-by-side.
Harvard is Alaska's second-largest tidewater glacier and the largest in College Fjord. Like Hubbard Glacier in Yakutat Bay, it sometimes treats cruise ship passengers to spectacular calving.
If you're seeking the ultimate Alaska cruising itinerary, I suggest a back-to-back cruise. With fourteen days instead of seven, you'll enjoy glacier-viewing overload.
Your one-way cruise will see Glacier Bay and Hubbard Glacier. In comparison, the other route repeats Glacier Bay with College Fjord.
8. You Can Cruise To Seward And Whittier
A one-way Alaska cruise from Vancouver sails through Prince William Sound and disembarks at Seward or Whittier. Both small coastal towns serve as a gateway to Anchorage.
At both ports, passengers have the option to explore other fjords and ice fields on catamaran tours.
Princess Cruises and Holland America dock in Whittier, 60 miles from Anchorage. From Whittier, a 26 Glacier Cruise explores Blackstone Bay and cruises through Esther Passage on the way to Harrison Fjord.
You'll get closer to glaciers, see some fantastic waterfalls, and have a chance to see some of Alaska's wildlife. Keep your eyes peeled on water and land for lazy harbor seals and playful otters to foraging bears and feeding whales.
Seward is 127 miles south of Anchorage on the Kenai Peninsula. Norwegian Cruise Line, Royal Caribbean, Celebrity Cruises, Regent, and Silversea dock here.
Known as the "Gateway to Kenai Fjords National Park," you can take optional tours to savor the pristine scenery.
On a Kenai Fjord boat tour, you'll see Aialik Glacier and enjoy some wildlife watching. Guest often see orca, otters, harbor seals, humpback whales, and puffins!
Final Thoughts
Cruising to Alaska from Vancouver, Canada, offers many choices. From 7-day return itineraries to one-way routes and an option to add on a land tour, you can vacation for all long as you want.
From luxury lines to family-friendly cruises with plenty of entertainment, you'll enjoy a vacation like none other.
If you're traveling from the United States, you'll benefit from the stronger US dollar when booking a hotel room and taking a tour of Vancouver.
Happy travels ~ Karen