Some people have one day in Vancouver on their way to another destination. If you arrive the day before your Alaskan cruise from Vancouver, British Columbia, or heading north to Whistler, you'll have a tough choice of things to do.
Vancouver is the largest city on the west coast and a popular destination for travel. However, it's also a very expensive city. With a extended itinerary, you'll enjoy the sights and best attractions. However, one day will leave you stretched.
While you may be limited on time, you'll have endless choices of what to do, based on your interests. Being a local, I know all the best places to go and what visitors want to see.
So, plan to rise early to pack more into your day. Kickstart your day with a breakfast wrap and coffee from Tim Hortons. With multiple locations around downtown, you'll enjoy Canada's best tasting coffee.
Planning your trip?
🏠 Find your perfect accommodation on Booking.com
🎡 Make your trip more excited with Viator
Vancouver Weather
Vancouver is known for its mild and often rainy weather. This vibrant city is situated on Canada's west coast and experiences a temperate oceanic climate.
The winters are mild, with temperatures rarely dropping below freezing, while the summers are pleasantly warm.
However, rain is a frequent companion throughout the year, with drizzles and showers being a common occurrence. Vancouverites are accustomed to wet environments.
If you're visiting outside of the summer months, pack a compact umbrella and raincoat, and wear waterproof shoes.
Getting Around Vancouver
Vancouver has a decent public transportation system, with Skytrain, a sea bus, and a TransLink bus service. If you stay downtown, you can use the Skytrain, Vancouver's rapid transit system from the Vancouver International Airport (YVR).
Hop on the "Canada Line" and ride the train to the last stop called Waterfront Station. The journey takes 25 minutes and costs under CAD 10.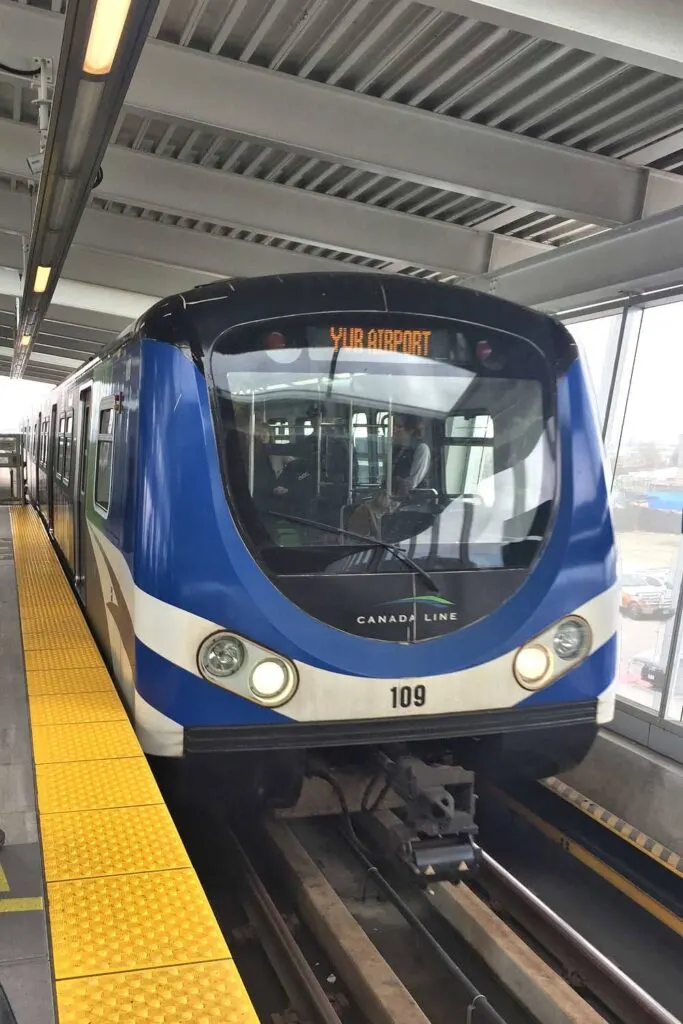 The city center provides a good option to access most attractions, especially without a car. Around False Creek, you can use little ferries to cross the water.
Here are some options to enjoy Vancouver in one day. While you can reach most of these options via public transit, you will need a rental vehicle to access Whistler and Squamish (options 3 and 8).
Option 1: Grouse Mountain And Capilano Suspension Bridge
This option combines two popular attractions on the north shore. You can catch a complimentary shuttle from Canada Place or various downtown hotels to North Vancouver.
The shuttle stops at both attractions, so you can decide which one to visit first. During the summer, the Capilano Suspension Bridge opens at 8:30 am and Grouse Mountain 30 minutes later.
The Capilano Suspension Bridge Park is a must-visit destination for nature lovers and thrill-seekers alike. The park's main attraction is the breathtaking suspension bridge spanning the Capilano River, but there's much more to explore.
Take a walk through the treetops on the Treetop Adventure, or test your bravery on the Cliffwalk, a narrow walkway suspended from a granite cliff.
The park also offers complimentary rainforest ecotours, a variety of forest trails, and an impressive collection of First Nations totem poles.
During the summer months, you'll have the chance to see a collection of birds of prey up close with experienced handlers. Expect to spend up to three hours exploring and spend the balance of your day at Grouse Mountain.
You'll reach the gondola ride to Grouse Mountain, a little north on Capilano Road. Grouse Mountain, on the north shore mountains, is a breathtaking destination that offers an array of exciting activities during the summer months.
If you're a fitness fanatic, hike the challenging Grouse Grind, a grueling Stairmaster trail to the top, instead of the gondola.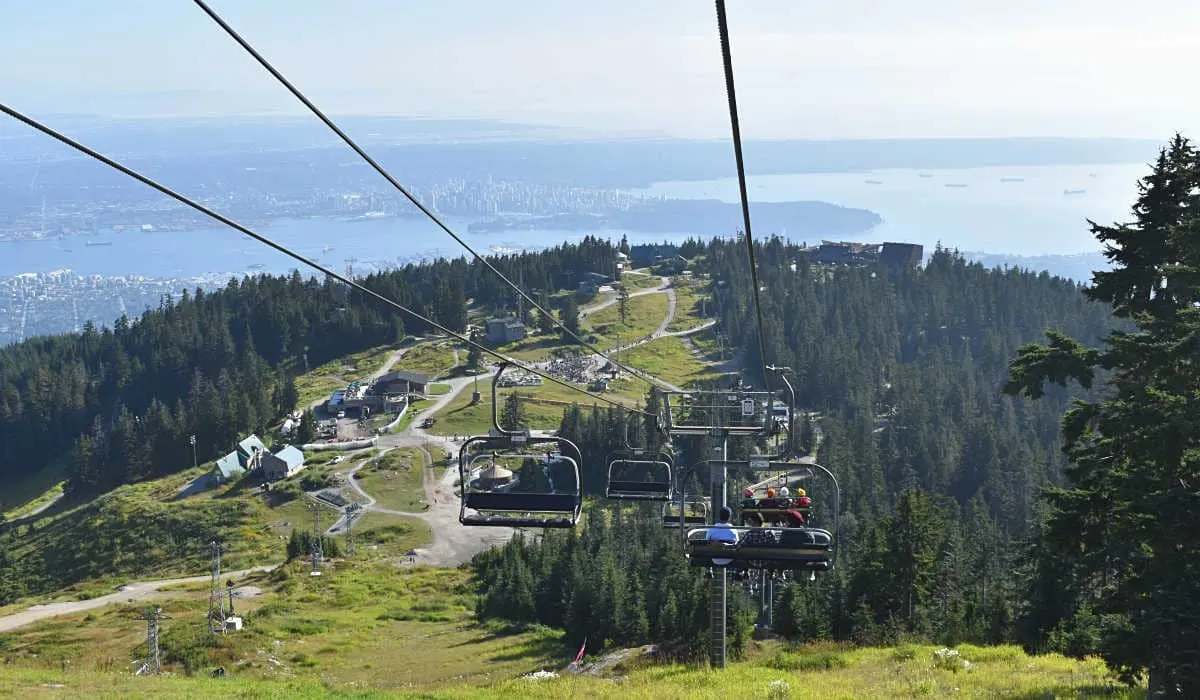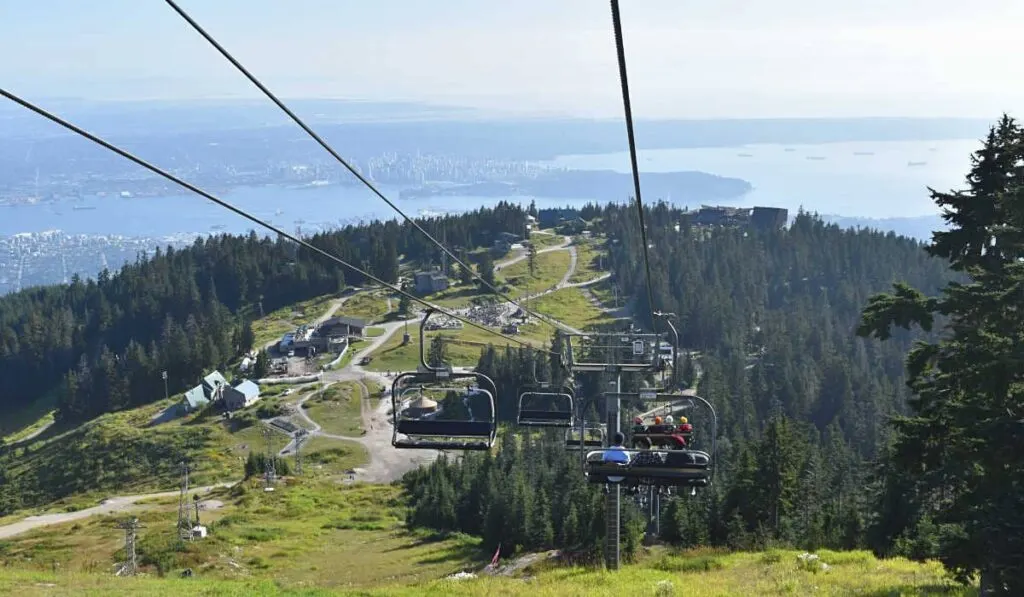 While you can't beat the panoramic views of Vancouver, this mountain invites visitors to embark on thrilling adventures. Nature enthusiasts can explore numerous hiking trails, with a chance to see deer and black bears along the way.
The mountain also boasts thrilling outdoor activities such as zip-lining, paragliding, and a gravity-defying aerial ropes course. For families, the bird of prey show wows the audience with its fast-moving birds.
Nearby, a bear enclosure contains two grizzly bears (Grinder and Coola), raised on Grouse Mountain since they were orphaned.
For a thrilling adventure, purchase a helicopter ride. You can choose three routes, offering stunning views of the landscape and downtown Vancouver.
Option 2: Stanley Park, Train And Aquarium
A one-day itinerary to Stanley Park makes the perfect itinerary for those visiting Vancouver with children. Located downtown, you won't need to travel far to get there.
Stanley Park spans over 1,000 acres, and this urban oasis offers a plethora of highlights. The park's seawall, a scenic 5.5-mile path, allows you to walk or ride, and numerous nearby shops offer inexpensive bike rentals.
If you prefer a more leisurely visit, a horse carriage offers a tour around the park. Popular stopping points include Prospect Point, Siwash Rock, Lost Lagoon, Prospect Point, and the First Nations totem poles.
The Totem Poles, intricately carved by indigenous artists, tell the stories of the First Nations people. Other highlights include the beautiful Rose Garden, Second Beach, and the serene Beaver Lake.
Located near the Aquarium, the Stanley Park train offers a 15-minute ride on a 20-gauge track through the forest. Sometimes, the park embellishes the train route, depending on the holiday.
On a warm day, spend some time at Second Beach, or let the children play at the water park. The Tea House Restaurant offers a beautiful setting for lunch or dinner and has a great west coast menu with many seafood options.
One of the biggest attractions of Stanley Park is the Vancouver Aquarium, nestled amongst the tall trees. As Canada's largest Aquarium, it offers more than just fish tanks.
Its world-class marine science center features a west coast exhibit, an Amazon gallery, and a wet lab. The wet lab encourages visitors to hold and touch sea stars, sea urchins, crabs, and anemones.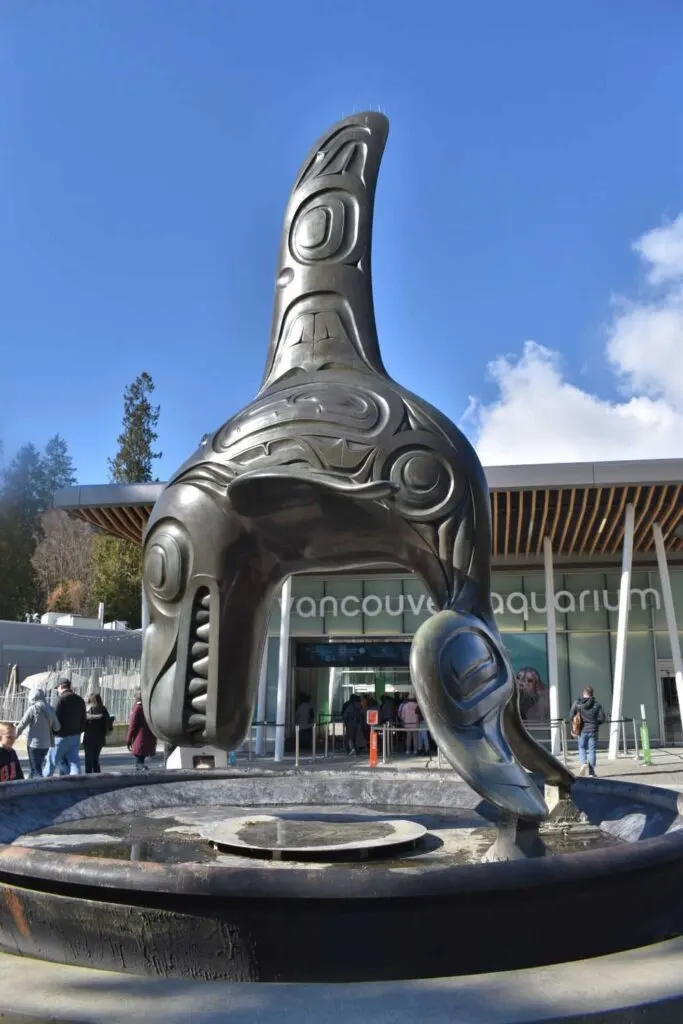 Inside a humid exhibit, you'll see tropical birds and the popular sloth that hangs lazily in trees. The colorful tree frogs are also a big hit amongst children.
The highlight for many visitors is the vast jellyfish exhibit. There's something very calming in watching these mesmerizing jellies float around a tank.
Option 3: Day Trip To Whistler
Whistler might best be known for hosting many of the events for the 2010 Winter Olympic Games. However, Whistler and Blackcomb make great summer destinations for nature enthusiasts.
In summer, visitors to Whistler can enjoy a plethora of outdoor activities. Hiking and mountain biking are incredibly popular, and it's also an excellent destination for golfing.
To reach Whistler, the Sea to Sky Highway provides a picturesque route winding along the coastline. You'll need a rental car, and the journey takes approximately two hours one way.
During the drive, you can stop at various viewpoints to see waterfalls, enjoy the views, or take an impromptu hike.
Notable attractions include Shannon Falls, the third-highest waterfall in British Columbia, Brandywine Falls, the Britannia Mine Museum, and the Whistler train wreck.
In Whistler, the Peak to Peak Gondola is considered a must-visit experience for anyone exploring during the summer months. The gondola, considered an engineering marvel, connects the summits of Whistler Mountain and Blackcomb Mountain.
Spanning a 4.4 kilometers (2.7 miles) distance, you'll enjoy a unique opportunity to witness the stunning alpine landscapes from a birds-eye perspective.
Additionally, it serves as a gateway to countless hiking trails, allowing adventurers to explore the rugged terrain and ancient forests that blanket the mountains.
The panoramic vistas from the gondola cabins are stunning. You can even opt to ride the gondola with a glass bottom floor.
By riding the Peak to Peak Gondola experience, you'll have access to the Cloudraker Skybridge, a fantastic suspension bridge in BC.
After your outdoor adventures, head to Whistler Village, a community of great shopping and restaurants. For dinner, top marks go to Caramba, which offers traditional Mediterranean cuisine in an intimate setting.
Option 4: Granville Island And Science World
Granville Island and Science World provide excellent venues for families. To reach Granville Island from downtown Vancouver, use the False Creek ferries, Aquabus, or hop on a TransLink bus.
Once you arrive at Granville Island, you can enjoy several family-friendly activities.
By wandering through the Granville Island Public Market, you'll find fresh produce, gourmet foods, baked goods, and artisan products. It's a great place to grab a quick bite and enjoy the ambiance of the busy marketplace.
Don't miss Lee's Donuts, a favorite amongst locals. Being a popular venue, expect to wait in a long line to purchase your treats.
Beyond the Granville Island Market, the Kids Market provides a venue made for children. Its multi-level building features toy stores, clothing shops, and a giant indoor adventure zone.
The water park's water features and sprays provide a welcoming cooling-off area during the summer.
Granville Island is home to art galleries, craft studios, and artisan workshops. You can explore the unique shops or watch artists at work. Don't miss the silk weaving studio or the Granville Island Broom Co.
During the warmer months, grab some food and enjoy the live music and waterfront views. While you're a stone's throw from the downtown area, you'll feel like you're in another world.
Granville Island is a favorite amongst locals and tourists with its bustling market, artisan shops, and studios. The best time to visit is early morning to avoid the crowds.
You can take the Aquabus or Granville Island ferry to Science World from Granville Island. Its giant golf ball is an iconic landmark on Vancouver's False Creek.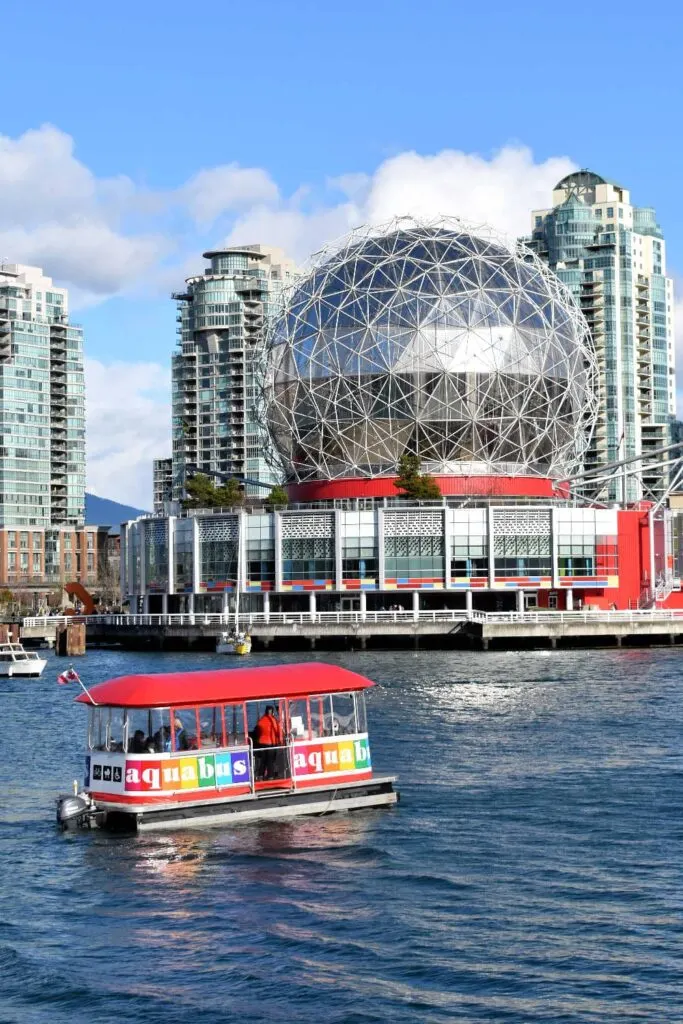 Science World is a must-visit destination for anyone seeking an engaging and educational experience. Its interactive exhibits provide silly fun, no matter what your age.
From the wonders of human anatomy to the mysteries of outer space, the exhibits make learning a fun and immersive adventure.
Science World and Granville Island offer great Vancouver rainy-day activities if the weather forecast isn't favorable.
If you have time at the end of the day, walk around False Creek to Olympic Village. This area housed the athletes during the games. Now a trendy neighborhood, you can see two 5-meter-high sparrows at the main plaza.
Option 5: Lynn Canyon, Shipyards District And Cypress Coaster
This option combines the fun of the outdoors with exploring a waterfront district. This Vancouver one-day itinerary provides a day outing without breaking the bank.
Located in North Vancouver, Lynn Canyon offers a free alternative to the famous Capilano Suspension Bridge. While smaller in size, it's a fun attraction to enjoy amongst the breathtaking waterfalls and a picturesque canyon setting.
The park also boasts numerous hiking trails catering to various skill levels. Swimming in the cool waters of Lynn Canyon's swimming holes is a refreshing option during the summer months.
Further west, a trip up Cypress Mountain provides an exhilarating summer activity, a mountain coaster. Popular in Alpine European countries, the Cypress Eagle Coaster isn't for the faint of heart.
As Canada's longest mountain coaster ride, you can hit speeds of up to 25 mph (40 km/hr) on the 1.1 miles (1.7 km) run.
During the ride, you'll drop 915 feet (279 meters), and openings in the forest allow for beautiful views of the city below. The ride is reasonably priced and suitable for families.
So, choose from a single ride, or do the double run to maximize your fun on the mountain. Riders reach the start of the ride by ski gondolas.
The Shipyards District provides a vibrant destination hopping with people in summer between the two areas. This revitalized waterfront area offers a great place to enjoy the local cuisine.
With its waterfront views and ample outdoor seating, the Shipyards District is the perfect place to soak up the sun. Plus, you can enjoy delicious food, shop for unique treasures, and immerse yourself in the vibrant culture of Vancouver.
Option 6: Vancouver Lookout, FlyOver Canada, Gastown And Seaplane Tour
This Vancouver one-day itinerary is ideal for those who prefer to stay in the downtown core. All these activities are within walking distance of the most popular hotels, and you can do them in any order you choose.
Gastown is a historic district known for its charming cobblestone streets and Victorian architecture. One of its notable attractions is the unique steam clock.
The Gastown steam clock, built in 1977, runs on steam power below the city and chimes every quarter hour. As one of the only functioning steam clocks in the world, it has become an iconic symbol of the Gastown area.
Beyond its clock, the district offers trendy shopping and places to get souvenirs. When you're hungry, you can't beat Pourhouse, a vintage-inspired gastropub serving classic cocktails and flavorful comfort food.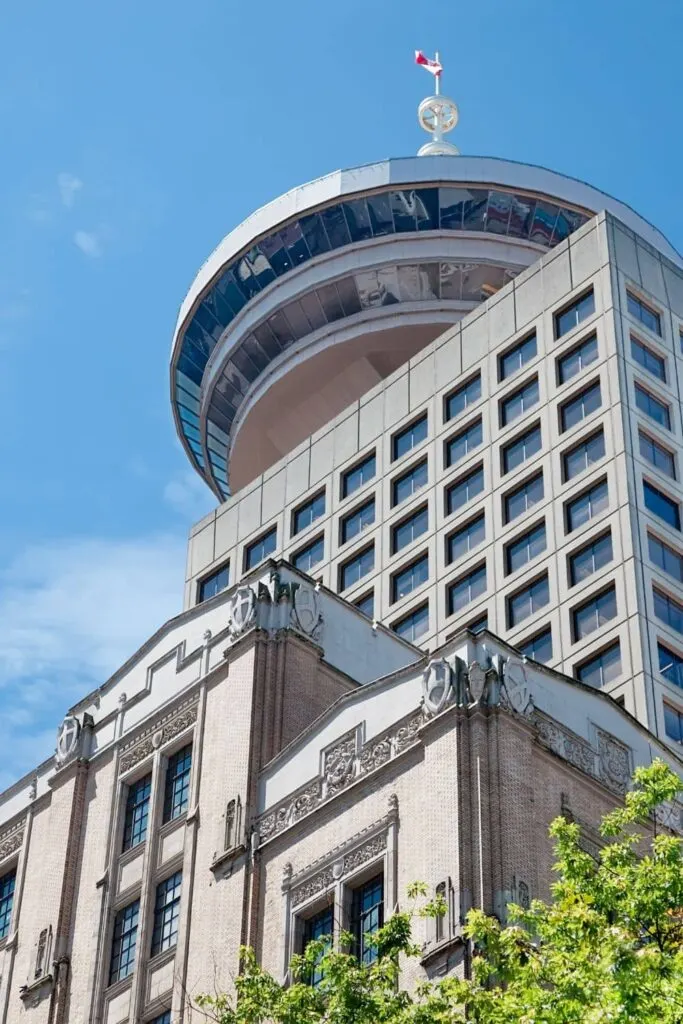 Near Gastown, the Vancouver Lookout is an iconic observation deck offering views of the cruise port. Standing 553 feet (168 meters) above ground, it provides breathtaking 360-degree views of the city's skyline, mountains, and Burrard Inlet.
From this elevated vantage point, you can enjoy a panoramic perspective of Vancouver's beauty and landmarks. The best part; your ticket lasts all day, so you can return at dusk to watch the sunset and twinkling city lights.
A bit further west, you'll find the FlyOver Canada ride at the end of Canada Place. The thrilling ride allows you to see other areas of the country, which are projected onto a giant circular screen.
While the FlyOver Canada film runs year-round, you can sometimes enjoy other showings. FlyOver Hawaii and FlyOver Iceland feature gorgeous sceneries, enticing you to travel.
You'll find the Olympic Cauldron, Pixel Orca, and seaplane docks heading west from Canada Place. Here, you can purchase a seaplane tour, which offers a unique perspective of seeing Vancouver.
Option 7: Hop-On Hop-Off Bus And Whale Watching
If you want to cram in all the main attractions of Vancouver, there's no better way than the Hop-on Hop-off bus.
The Vancouver Hop-on Hop-off bus offers a convenient and flexible way to explore the city's top attractions.
While you may not have enough time at each stop, the guided tour lets you see it all in just 24 hours. The narrated tour comes in seven languages, so remember to bring a smartphone and earbuds.
A loop takes one hour and starts as early as 8:45 am, with the last loop starting at 5:15 pm. Spend as much time as you want before rejoining the bus again.
During the ride, you'll enjoy panoramic views from the open-top double-decker bus and informative commentary on Vancouver's history and landmarks.
Popular in most cities, the hop-on hop-off bus gives you the freedom to get off at any of the 20 designated stops. Must-see sights along the route include Stanley Park, Granville Island, Canada Place, and Gastown.
The ticket is valid for a full day, allowing you to discover Vancouver's diverse neighborhoods, parks, and cultural sites at your own pace. If you're mobility challenged, the bus tour will enable you to see the sights without getting off at stops.
At your stop on Granville Island, be sure to take a whale-watching tour. These three-hour excursions head out to the San Juan and Gulf Islands, with a chance to see Orca whales and other marine wildlife.
You can choose from a small zodiac with fewer people or a larger catamaran vessel. While the smaller boats provide faster speed, you could be in for a bumpy ride. If you're prone to seasickness, book the larger vessel or use a motion sickness patch.
Option 8: Sea To Sky Gondola And Hiking At Lighthouse Park
I created this last option for adventurers and outdoor enthusiasts. Like the Cloudraker Skybridge in Whistler, the Sea to Sky Gondola is a must-visit for nature enthusiasts and adventure seekers.
Located in Squamish, about an hour's drive northwest of downtown Vancouver, this scenic gondola ride offers breathtaking views of Stawamus Chief, Shannon Falls, and the sparkling waters of Howe Sound. Like the Whistler day trip, you'll need a rental car.
Ascending 885 meters (2,900 feet) above sea level, the gondola ride itself is an exhilarating experience. However, it provides access to various outdoor activities and trails at the peak.
Hiking enthusiasts can explore a network from easy walks to more challenging hikes. The Sky Pilot Suspension Bridge, with its breathtaking 360-degree views, adds an extra dose of excitement.
On the way back to Vancouver, stop at Lighthouse Park, a beautiful coastal location near Horseshoe Bay. This beautiful park offers a network of trails that wind through lush forests, leading visitors to stunning ocean viewpoints and an iconic lighthouse.
The trails are well-maintained and suitable for various skill levels, making them accessible for everyone. So, whether you're seeking a leisurely stroll or a challenging hike, Lighthouse Park delivers tranquility minutes away from Vancouver's cityscape.
One Day In Vancouver Itinerary Add-Ons
No itinerary is set in stone. Every trip should be about what you want to do. So, adapt the above and choose things that appeal to you.
If you're not ready to commit to an option or you have time to expand on your day, consider adding one of the following:
Vancouver Art Gallery
Rent a bike and ride on the Stanley Park sea wall – choose from a standard bike or get an electric one.
Aquabus tour of False Creek – see Vancouver from a colorful boat.
Museum of Anthropology – The University of British Columbia (UBC) museum focuses on arts and world cultures.
Shopping on Robson Street – located downtown, this trendy street offers the best shopping.
English Bay Beach – provides the perfect place to watch a sunset.
As you can see, Vancouver offers a lot of exciting attractions for every kind of traveler. While one day isn't enough to see all it has to offer, after one visit, hopefully, it will entice you to return for a longer stay.