The Crown Princess offers an exceptional dining experience for every palate. While Princess Cruises appeals to couples and families, you can enjoy gourmet meals in the main dining room or try specialty venues like Sabatini's.
If you prefer casual fare, head to the buffet or grab a slice at Slice Pizzeria. With 24-hour room service and numerous bars, you'll find something delicious any time.
Cruise dining has evolved since the pandemic, with some lines charging for extra lobsters and things that used to be included. In this review, you'll learn about my experience cruising solo and my options to dine onboard.
Crown Princess Main Dining Rooms
Cruise guests on the Crown Princess can "Dine My Way" or select a set dining time through the Ocean Medallion app. Anytime dining has become more popular with cruise passengers, allowing them to change dining times on busy port days.
The Crown Princess features three main dining rooms, all named for famous painters. You'll find the Michelangelo dining room on deck 5 (Plaza) aft and Botticelli directly above it. Also, Da Vinci sits mid-ship on the same deck as Botticelli.
Botticelli is reserved for set dining times, offering a traditional cruise dining experience. Da Vinci and Michelangelo offer the "Dine My Way" option, giving more flexibility in meal timings.
All have elegant atmospheres; while the décor varies, they serve the same cuisines. Choose the Botticelli dining room for routine, Da Vinci, or Michaelangelo for versatility.
Since I have multiple allergies, I prefer to dine at the same time and table each evening. I wanted to eat alone, although the app would only allow me to choose a shared table. Once I reached the dining room, I could request a solo table.
All restaurants served dinner from 5 pm to 9 pm. However, only Botticelli offered breakfast from 7 am to 9 am and lunch between noon and 1:30 pm. The dining room had fewer options than the buffet, although it allows you to enjoy food at a slower pace.
You can also enjoy complimentary afternoon tea in Da Vinci, including traditional finger sandwiches, scones, and pastries. Being British, I couldn't resist tea and cucumber sandwiches.
Botticelli was a much better option for lunch than the buffet. However, it had limited hours, between noon and 1:30 pm. It was never busy, so I assumed most guests ate at the buffet.
On my only sea day, the dining room featured a British-style pub lunch, which I couldn't resist. Selections included fish and chips, bangers and mash, and a scotch egg. I chose something less British, the chicken curry.
I pre-ordered my lunch the day before. Unfortunately, when I arrived, I was told my lunch could not be made, even though it could be the day before. The diners at my shared table had their lunch and left. It took 90 minutes to finally receive the one item I had requested.
While the food was good, receiving it after everyone else had left was disappointing. I skipped dessert, although I could choose British classics, such as bread and butter pudding, jam roly poly, or sherry triple.
Horizon Court Buffet
For more casual dining, the Horizon Court buffet on deck 15 offers breakfast, lunch, and dinner. You can get food at 5:30 am if you're an early bird.
I tried breakfast in the buffet and the main dining room. You can find a little of everything at the buffet, with breakfast consisting of eggs, hashbrowns, bacon, bagels, cereal, French toast, fruit, yogurt, and pastries.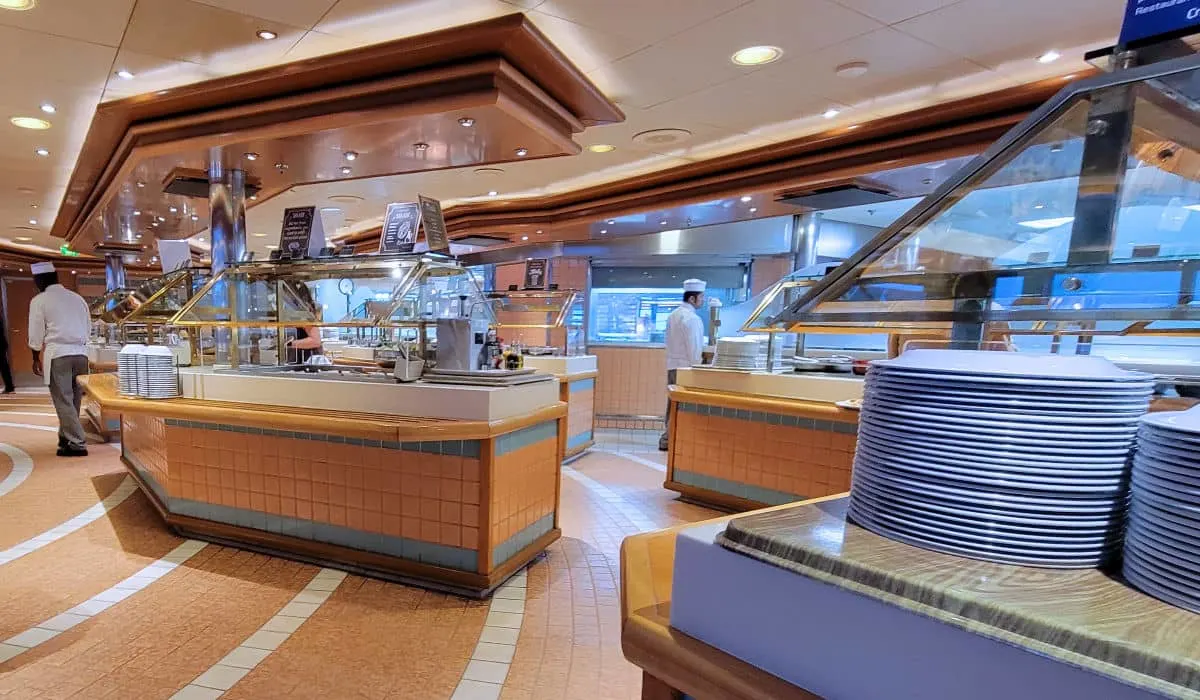 You can also request a made-to-order omelet with ingredients of your choice. The staff offered guests tea, coffee, and juices once they were seated. My only issue was that they ignored me as a solo traveler.
Was it a one-off occurrence? However, when I met other solo guests at the meet and greet, they experienced the same problem. I feared that if I got up to get tea, the staff would remove my plate, which happened to another guest.
I tried the buffet for lunch but was somewhat disappointed with the offerings. Only a tiny section of the buffet opened, possibly due to the ship sailing at a lower capacity. The upside to cruising with an empty ship is fewer people, and the downside, less food choices I guess.
There were more choices for breakfast in the dining room. You can still order cereal, yogurt, French toast, fruit, and pastries. However, they had eggs your way, pancakes, and omelets. I tried the featured item, the Mexican omelet with spicy ground beef and chili peppers.
Other Dining Venues
The International Café is open 24 hours if you need a latte or a quick bite of food. While the specialty coffees and teas come with an additional fee (free with beverage packages), the food is complimentary.
Located in the piazza, you can enjoy a small snack while listening to live music. The coffee menu included interesting choices like Black Forest Freeze, Honey Lavender Latte, and Butter Pecan Latte.
Selections included cakes, pastries, soup of the day, freshly made sandwiches, and fresh fruits. The sandwiches looked terrific, and there was lots of variety. I found it odd, I couldn't get regular tea or coffee there. The only option was the Lido buffet.
Surrounding Neptune's Reef Pool, you'll find ice cream, pizza, and the Salty Dog grill. The grill offers made-to-order burgers, hot dogs, sandwiches, tacos, and loaded fries.
While there are options for vegetarians, you'll only find gluten-free fries, although they don't use a dedicated fryer.
Slice offers Princess Cruises' signature thin-crust pizza. USA Today voted it as the best 'pizza at sea.' You can choose from three daily choices: pepperoni, margherita, or a flavor of the day.
Slice makes a gluten-free made-to-order pizza. However, if you need it dairy-free, you must go without cheese. Gluten-free pizza requests take about 20-30 minutes to make.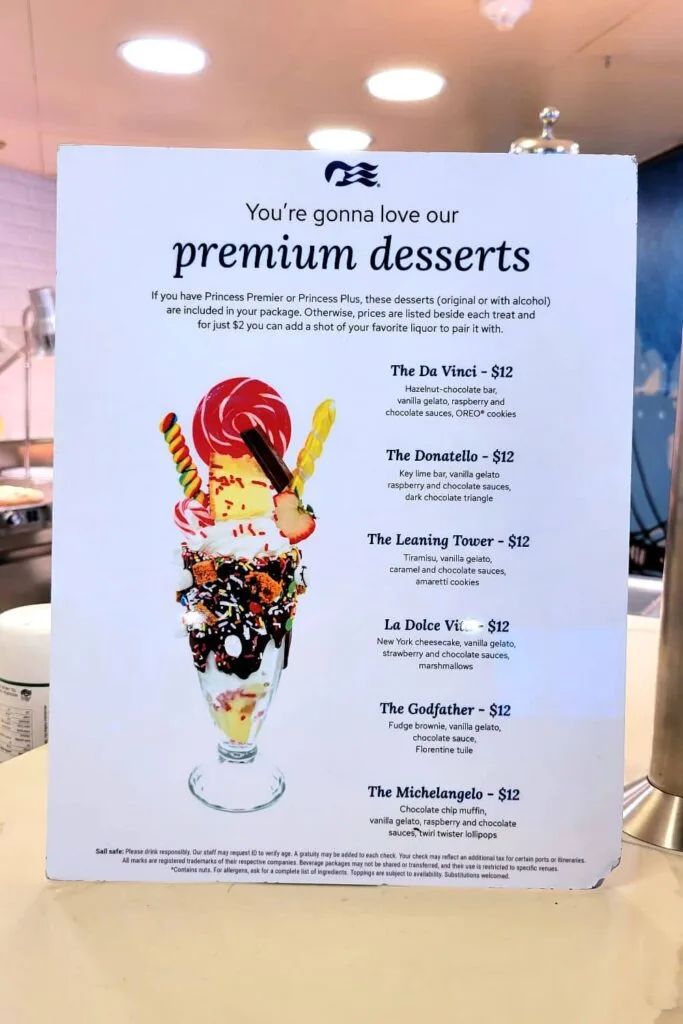 This venue also makes Premium desserts, included in the Princess Premier or Plus package. Alternatively, you can purchase a dessert for USD 12 and an optional USD 2 shot of alcohol. Be warned, the frosty treats look sinfully delicious and contain many calories.
Adjacent to Slice, coffee and cones offer complimentary ice cream cones regardless of the weather. Soft-serve ice cream is always a guest favorite.
Like all vessels, the Crown Princess has some venues which incur an additional charge.
The Salty Gastropub on deck 7 charges USD 14.99 for a meal. From 5:30 pm to 9:30 pm, you can select two small plates and a dessert. Wash it down with a beer or cocktail for a casual affair.
Again, this venue caters to vegetarians but not those needing gluten-free.
Salty Gastropub food menu Salty Gastropub beverages
Vines offers a charcuterie board or a la carte pricing if you want food with Italian wines. Choose from vegetables, dipping sauces, decadent chocolate truffles, or sliced meat, cheese, and breadsticks. Vines offers a casual setting with limited capacity in the piazza.
Crown Princess Specialty Restaurants
Being an older vessel, the Crown has only a few options for specialty dining. The Crown Grill is a traditional steakhouse restaurant, and
Sabatini's, an Italian eatery. The menus are the same if you've eaten on other Princess ships at these venues.
Crown Grill had a cover charge of USD 39. While it was usually only open for dinner, it offered lunch on our one sea day from noon to 1:30 pm. Even though lunch is a smaller meal, the price remained the same.
Interestingly, they didn't show the steakhouse was open for lunch, and I only knew by talking to the staff. When I passed by at lunchtime, it was no surprise that the restaurant was empty.
Crown Grill provides an intimate dining experience with a menu to suit every diner. Choose from fresh seafood items, chops, and premium steaks, from an 11 oz New York Strip to the 14 oz rib-eye steak. Compliment your choice with a salt collection.
Crown Grill Menu 1 Crown Grill Menu 2
Since I was sailing for only three days and had eaten at the Crown Grill and Sabatini's' several times previously, I opted not to eat in a specialty restaurant this time.
However, I befriended a solo cruiser who dined in the Crown Grill on embarkation day. She was lactose-intolerant, which was noted on her booking and cruise card. Sadly, everything they served her in the Crown Grill contained milk, cheese, and butter.
You'll find Sabatini's on deck 16 aft. Overlooking the Terrace Pool, it offers a dreamy setting with those amazing aft views. The rich wood décor, stained glass ceiling, and balloon curtains add to the classically elegant setting.
The specialty restaurant offers a wide range of culinary delights, from classic Italian hors d'oeuvres to mouth-watering Mediterranean dishes. Be sure to try the Porcini Mushroom Risotto, the best I've ever tasted.
Sabatini's starters Sabatini's entrees
To make specialty restaurant food inclusive to guests who prefer to eat in the main dining room, they can choose from some a la carte items.
A 7 oz filet mignon or 6-7 oz lobster tail incurs an upcharge of USD 19. Alternatively, both items marketed at 'The Perfect Match' sell for USD 29 with your choice of sides.
Princess Alaskan cruises feature the 'Crab Shack,' a pop-up area at the Horizon Court buffet. Pay a small fee, wear a bib, and savor king crab, prawns, snow crab, clams, and mussels. If you love seafood, this is a must on your Alaska itinerary. Dining in the Crab Shack costs far less than what you'll pay on land.
Day One
The buffet and Botticelli dining room were open for lunch on embarkation day, which can often be hit or miss. I'm happy to say my experience was terrific when it came to dinner.
Princess Cruises still has classic favorites as part of the menu items and a section that changes daily. Classics included a classic Caesar salad, shrimp cocktail, French onion soup, seared salmon, and roasted chicken breast. I noticed the absence of the steak.
The most significant change was the edition of 'Ramen.' I think of ramen as a lunch item and was surprised to see it on the dinner menu.
I had the shrimp cocktail, which looked rather uninspiring in it's little glass. I completed my meal with the seared Mahi Mahi with pineapple mango salsa, and a fruit plate. The chef removed the quinoa pilaf from my entrée, but I didn't miss it.
The kitchen cooked my Mahi Mahi perfectly, which rivaled dishes I've eaten in Hawaii. I appreciated that the main course was smaller, which creates less waste.
I met with the restaurant manager, who brought me menus for day two. Then, I ordered my lunch and dinner meals a day ahead.
Night one starters Night one entrees
Day Two
The second day was a sea day and the only formal night. Strangely enough, Princess' website said there was no formal night on this 3-day cruise, so many guests arrived with just casual clothes.
While I packed a cocktail dress and heels, I decided to stick with a casual dress code since I saw no one dressed for the occasion. It was a good decision.
I selected the white rum tapioca fruit salad as a starter for dinner. Since I had it on a previous cruise, I knew it was refreshingly good and didn't disappoint this time.
No complimentary lobster was on the menu this evening, although you could order it for a USD 19 fee. Since I prefer lamb, the herb-crusted leg of lamb was a no-brainer for me.
The lamb was nicely cooked, very tender, and I accompanied it with mint sauce – yum yum!
The pastry chef completed my meal with a vanilla sponge cake with a lovely fluffy and not overly sweet icing.
Night two starters Night two entrees
Day Three
For my final evening, I chose the tropical fruit cup with the macadamia nut. My entrée of choice was the grilled seafood bowl with mango lime salsa.
While the seafood was great, the chef removed the lime salsa, making it lack flavor. This entree needed a sauce.
My dessert was a raspberry, cherry cobbler which was loaded with sugar. It was so sweet, that I couldn't eat it.
Overall, I found my Crown Princess dining experience hit or miss. Even though I chose the same time and same dining room each night, I was given different tables.
Each night, the staff would try to get me to share a table, even though I wanted to eat solo. I was often told a table might not be available. However, with the ship half empty, most the dining room was empty too.
Service in the dining room was often slow, causing me to miss the production show one evening. Overall, I found the meals lacked the presentation that I had enjoyed on other Princess ships.
Night three starters Night three entrees
Room Service
I didn't use room service since I was on a 3-day mini-cruise. However, breakfast in your room is convenient when you have an early morning port day or prefer to sleep in.
Continental breakfast is still complimentary in your cabin if you complete the breakfast card and hang it on your door the night before.
The breakfast includes juices, fruit, croissants, yogurt, pastries, pizza muffins, and an egg, bacon, and cheese English muffin.
Delivery time slots are every half an hour, from 6:30 am to 10 am. Should you choose the latest time, it would arrive between 10 and 10:30 am.
Also, guests could enjoy ultimate balcony dining to create a little romance at sea. It's the perfect place to enjoy an intimate experience to celebrate a special occasion.
Complimentary Afternoon Tea
Complimentary afternoon tea was served in the Da Vinci Dining Room on my sea day. It was well attended. They served four kinds of finger sandwiches, scones, and delicious pastries.
Unlike most land-based high teas, which offer a tea selection, Princess served only Lipton's. In fact, you couldn't even get coffee.
Ordering Food With The Medallion
While you can order drinks and food with the Medallion, I didn't use the service on this cruise. If you order on the app, the service charges a one-time fee of USD 4.99.
Final Thoughts
Dining has evolved since the pandemic, with cruise lines offering fewer choices. Some of that may be due to supply issues and to trim costs.
The staff-to-guest ratio was reasonably high, with the ship sailing at 50% capacity. Yet, the service in the dining room could have been faster.
While I sailed solo, I was happy to eat alone. However, I did dine with two other solo guests on my one sea day. I was pleased with the food quality in the main dining room but wished there were gluten-free options elsewhere.