Embarkation day is a day for celebration because it's the first day of your much-anticipated vacation. After months of planning, deciding on an itinerary, and choosing port excursions, your cruise vacation has finally arrived.
While some find the packing, flying into a new city, and the embarkation process a little unsettling, it doesn't have to be. Here are some cruise embarkation tips to help make the process a lot less stressful.
Fly In The Day Before
Unless you live close to a cruise port, chances are, you are flying to another destination to begin your cruise. Flying into the debarkation port on the day of sailing can be extremely risky. If the airline delays the flight or you miss a connection, you could miss your cruise.
It's advisable to fly in, at least a day ahead. If it's a city you haven't been to before and if intrigues you, why not plan to have a few extra days to visit? First-time cruise guests can take the stress out of getting to the cruise port by pre-booking a shuttle to the port through the cruise line.
Arrive Early
Although cruise lines assign passengers an arrival time, Sometimes, I find it best to plan an early arrival. While most cruise lines request you choose an embarkation line, the boarding time are often not enforced.
While most cruise ships leave at 5 pm, I have cruised out of Honolulu at 10 pm, giving me more time to board my cruise ship.
Arriving early also gives extra time just in case problems arise. I remember sailing out of Vancouver shortly after the United States implemented the ESTA (electronic system for travel authorization).
I was unaware of the need for an ESTA form as my travel agent hadn't informed me. There were also many others unaware too.
Officials told us to fill out the lengthy online form on one of the nearby computers. The problem was, only one computer was working. It took 1-1/2 hours to get my form done before I could go through immigration.
With four ships in port, the boarding process was prolonged. Luckily, I arrived quite early that day.
If you're fortunate to board early, you can tour the cruise ship when it's virtually empty. It's the only time you will enjoy the swimming pool void of people, lol.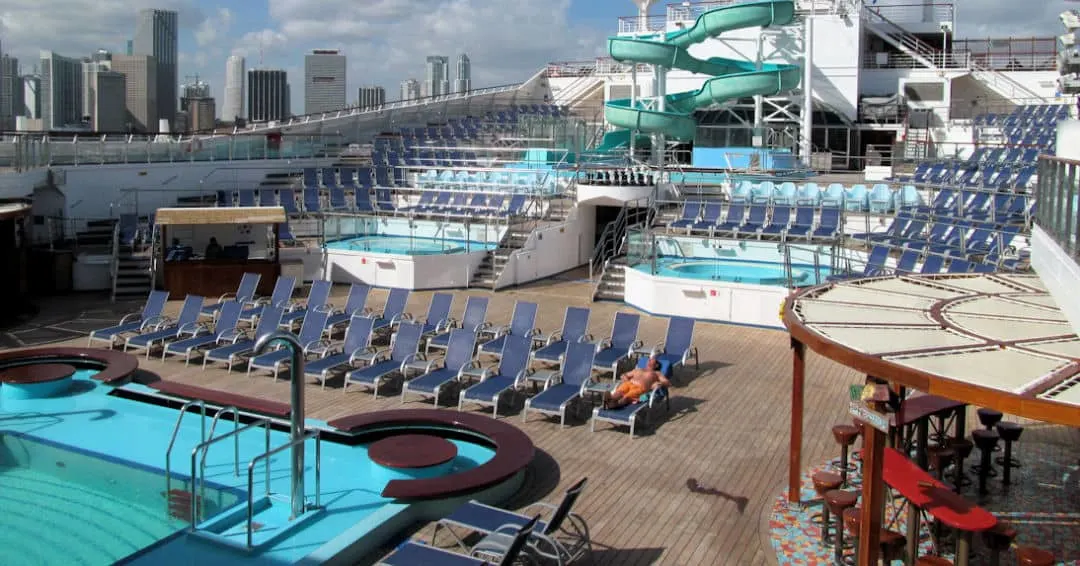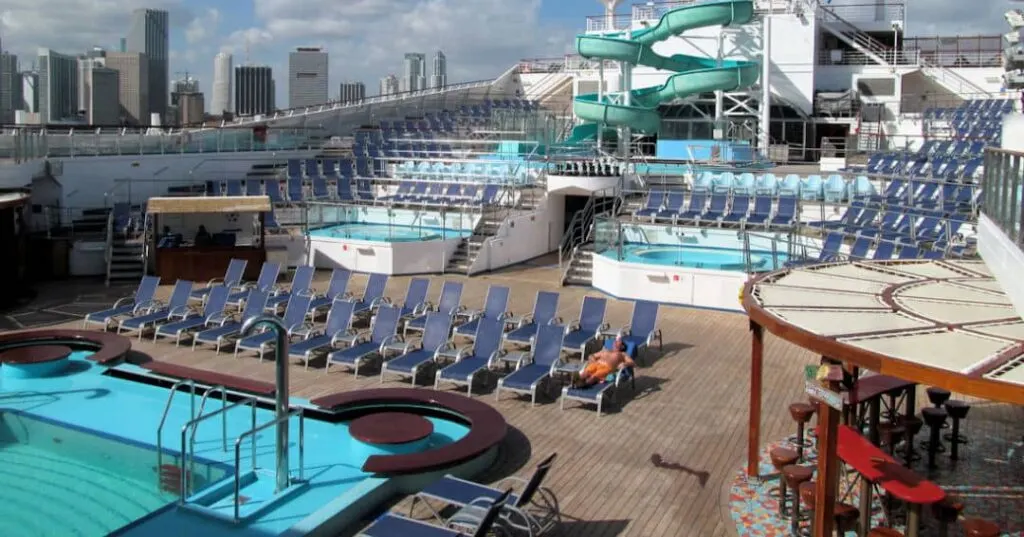 It's essential to make sure all your documents are in order. Every cruise denies a passenger or two from boarding due to expired passports, no consent letter for traveling with a minor, lack of travel visas, or not having a valid passport.
Getting Your Covid Test
Post-pandemic, cruise lines have constantly changed their policies. With regulations often changing, this has left people scrambling to keep up with the rules of what's required.
When Vancouver reopened its port after a 2-1/2 year closure, the embarkation process was slow, due to new staff and those trying to learn new procedures.
How To Check-in
As passengers arrive at the embarkation port, porters are waiting to collect their bags. So, drop your heavy luggage and while bag drop is free, remember to tip the porters.
The porters work for the port authority, not the cruise line. It's suggested a dollar or two per piece is sufficient.
Before arriving at the port, make sure you've printed and attached your luggage tags to your baggage. Placing them in a plastic luggage holder ensures they won't rip off.
The Check-in process is slightly different than registering at a hotel. Online check-in is preferable to speed up the process. Guests are required to bring ID (passport for international travel) and give a credit card number.
All expenses onboard are billed to that card at the end of the cruise. Those that do not have a credit card will need to provide a cash float. With cruise lines returning to cruising after the pandemic, most lines now leave your cruise cards at your stateroom door.
Long-time cruisers in loyalty programs have a priority boarding line. Carnival Cruisers allow passengers to purchase "faster to the fun" or FTTF for quicker boarding too.
At check-in, each member of your party receives a cruise card. Not only do they act as a stateroom key, but they're used to buy drinks and onboard purchases.
Some cruise lines like Princess have gone to Medallion Class or Ocean Medallion, a disk that replaces the plastic credit-like card. With the ongoing pandemic, it's likely more lines will move to medallion-style disks in place of cards.
The cruise lines use the disks to do trace tracking should there be any cases of Covid-19 onboard. The disks are mailed to the passengers before the cruise, making the check-in process a breeze.
Passengers have the option to purchase disk accessories so that the disks can be worn on a watch strap, necklace, belt clip, etc. And the accessories are reusable each time you cruise.
If you've booked a fancy suite, especially those in the ship-within-a-ship cabins, you'll have priority boarding and get access to your suite faster.
Should you be traveling to a country that requires a visa, all passengers need one, even if you don't plan to get off at that port.
Bring A Day Bag
It can take a few hours before your luggage makes it to your stateroom, which is generally off-limits once you board your ship. Bringing a day bag is a smart idea if you need to change clothes into something cooler or take a dip in the outdoor pool.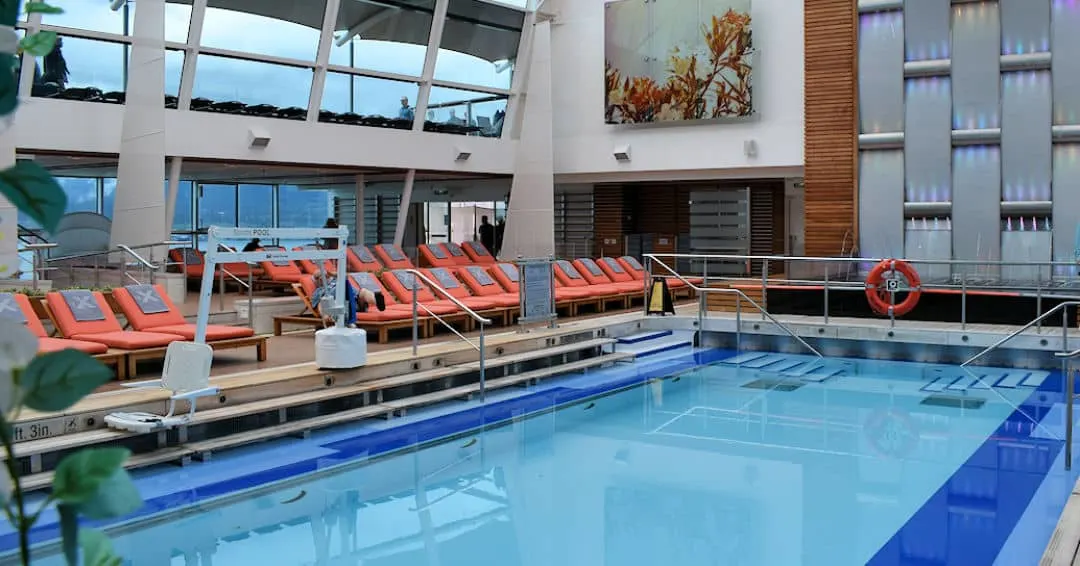 When I fly to California or Florida (from Canada) in winter, my embarkation day bag includes a bathing suit, sunscreen, flip-flops, and summer clothes so I can change on the ship.
Once onboard, I can immediately enjoy the outdoor pool and lounging areas without waiting for my luggage to arrive.
Decorate The Stateroom Door
I know this seems a bit cheesy, but after you have unpacked your cruise essentials and put on your cruise ship lanyard, you should decorate your door. Why do you ask? Because all hallways and doors look the same.
Decorating your cabin door makes it unique, fun, and easy to find. Have you ever arrived at the wrong door and tried to enter that stateroom? It's totally embarrassing!
After you've had a few drinks, who wants to be reading numbers when it's easier to spot your uniquely decorated door. Why not get a personalized magnet? It's an excellent way to celebrate a special occasion too; like a birthday, honeymoon or anniversary.
Download The App
Once on board, put your smartphone on airplane mode and use the ship's free Wi-Fi to download their app. I have used the apps on a few cruise lines and plan to use them a lot more.
The apps keep me up to date on onboard activities and allow me to set favorites, so my phone will let me know when an event is upcoming.
They also allow you to book specialty restaurants, spa treatments and view your onboard account. Some apps have navigation systems and will give you directions to places on your cruise ship.
Others allow you to communicate with fellow passengers or family. Carrying a smartphone and using an app is much better than carrying a daily newsletter.
Avoid The Buffet
Most cruise ships will start boarding at approximately noon and finish three hours later. When the majority of passengers arrive, they are generally hungry and head straight to the buffet.
Avoid the buffet because it's crowded with hungry passengers with carry-on bags. Instead, head to a sit-down restaurant for a leisurely lunch.
On most of my cruises, the restaurant was often open, even when staff said it was closed. Since most are unaware there are other options, there are no line-ups, and it's far more enjoyable to have a relaxing lunch in a slow-paced environment.
If you're gluten-free (like me) or suffer from any significant food allergy, be sure to stop by guest relations on the first day. The staff will add a food allergy alert to your cruise card. That way, wherever you eat onboard, staff will know to notify the kitchen of your allergies.
Tour The Ship
Once you've had your fill of food, take some time to tour your ship and get familiar with its layout. With the vessel being partly empty, it's nice to walk around and view areas that will typically be crowded.
Be sure to check out the ship's gymnasium, restaurants, and spa. Most ships offer a spa tour on embarkation day with a free draw for spa treatments. You must be present when the draw takes place to win.
While most passengers enter to win, they don't come back for the actual drawing, so your chances of winning are quite good. If you're lucky, as I have been on two of my cruises, you'll enjoy a spa treatment for free or receive a spa credit towards a treatment.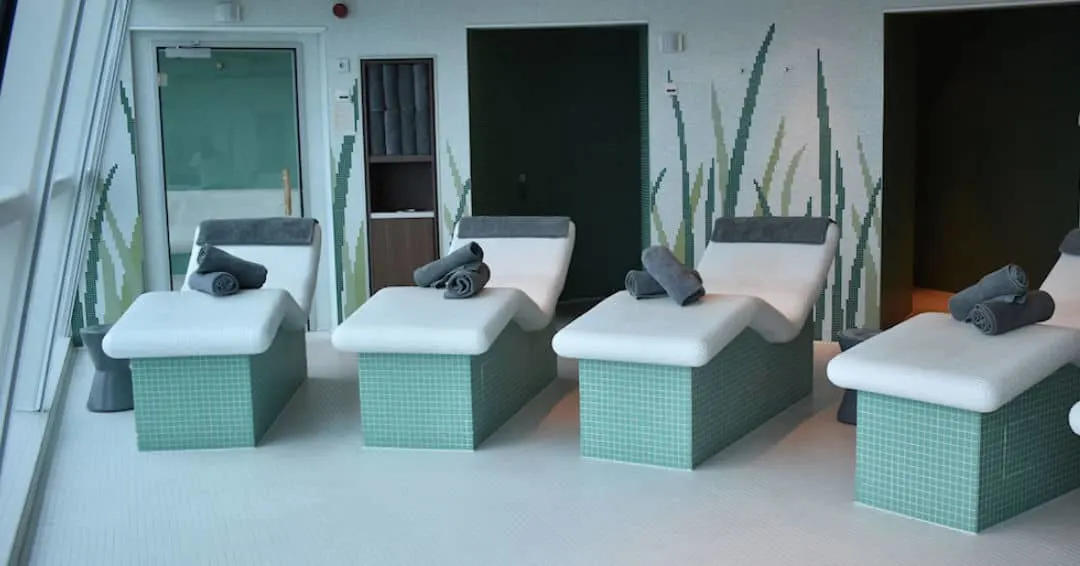 Keep your camera handy because if you prefer to get photographs without crowds of people, this is the time to do it. Touring the ship allowed me to discover hidden areas and secret decks.
On the Carnival Glory, there is an excellent place above the Lido that serves fish and chips and other authentic British food. On debarkation day, I spoke to passengers who had never found its location during the 7-day cruise.
If you have children, be sure to tour the children's play areas and learn about the various kids' clubs and services offered onboard. Embarkation day is the only opportunity to photograph the kids club areas. Due to privacy laws, photography is forbidden once the programs start and children are present.
Take the Stairs
After boarding, the main elevators are closed as porters deliver the luggage to passengers' cabins. So, you'll have to take the stairs instead. If you have mobility issues, walk to one end of the ship until you find a set of elevators that are not in use by the luggage porters.
Watch The Muster Drill
While no one likes muster drills, they are mandatory. For those cruising for the first time, a muster drill is a mandatory safety exercise to familiarize you with the location of your lifeboat and emergency procedures should one arise.
Thankfully, muster drills are available to watch on your smartphone or stateroom TV. Once you've watch the safety drill, you'll need to check into your muster station to complete the drill. It will be interesting to see if this new program continues after social distancing is lifted.
Should you be booked on a back-to-back cruise, some cruise lines allow you to skip the safety exercise on the second leg of your vacation.
Take Advantage Of First Day Deals
On the first day of your cruise, your cruise line will offer a selection of deals. These can include internet packages, discounts on spa treatments on the first day.
Sometimes, you can get discounted prices on specialty restaurants on the first night. If you have never eaten at a specialty restaurant, embarkation day is the perfect time to try one.
The meals are spectacular and come at a fraction of the price of five-star land-based restaurants. Sometimes, drink packages are discounted on day one too. During my Celebrity Eclipse cruise, I took advantage of a deal at the Le Petit Chef specialty restaurant.
Embarkation day is a great time to meet new people and share cruise experiences. If you're interested in viewing other stateroom types, try to join a cruise cabin crawl event.
Meet Your Cabin Steward
Be sure to meet your cabin steward and remember his/her name. He/she will be taking care of your cabin needs for the next week. Ask for extra hangers if you need them (and probably will), bathrobes, and more towels.
If you have any other requests, be sure to convey these to your steward. I sometimes enjoy ice in my drinks, so I request fresh ice each evening. Some cruise lines have gone to optional turn-down at bedtime. If you still want this service, be sure to tell your room steward.
Some lines leave bedtime chocolate on the pillow each night. Since I'm lactose-intolerant, I request dark chocolate, which has no milk.
If you've kept your packing to a minimum, you can quickly unpack and head out to the pool deck to enjoy the sail-away.
Final Thoughts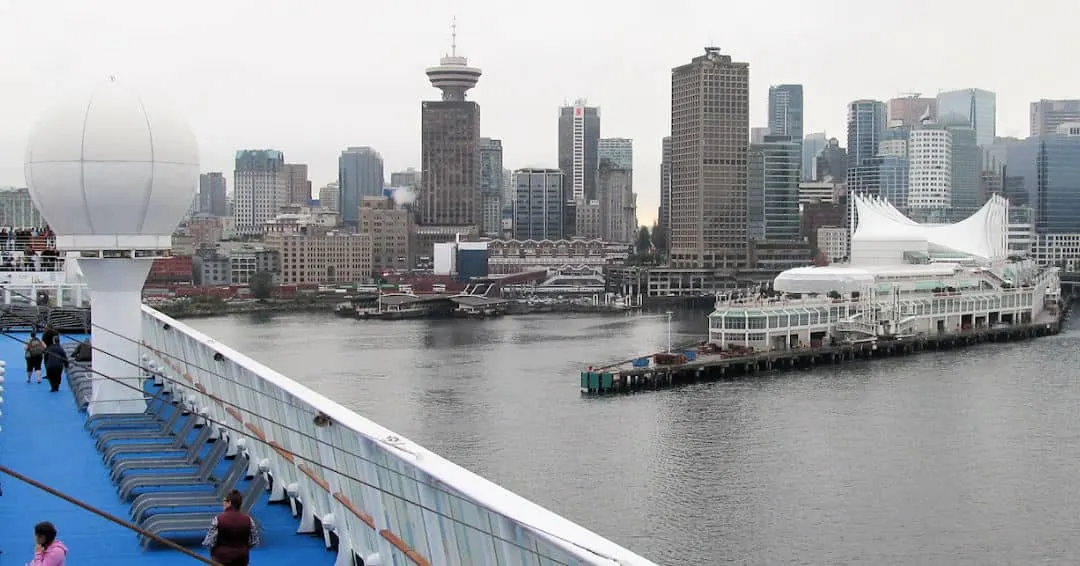 Sail-away is the moment that your long-awaited vacation has begun. As the ship leaves port, it's best to be on deck because some ports like Vancouver, Sydney, and New York offer spectacular views.
It's an excellent time to mingle with others and meet fellow cruisers from all over the world. Most ships also host a sail away party in the evening. If you're not exhausted from flying, be sure to join the fun and leave your troubles behind.
As you can see, embarking on a cruise ship doesn't have to be stressful. In fact, after more than a dozen cruises, it's routine to me. If you have any further tips to make your first day easier, I'd love to hear your thoughts.
Happy travels ~ Karen