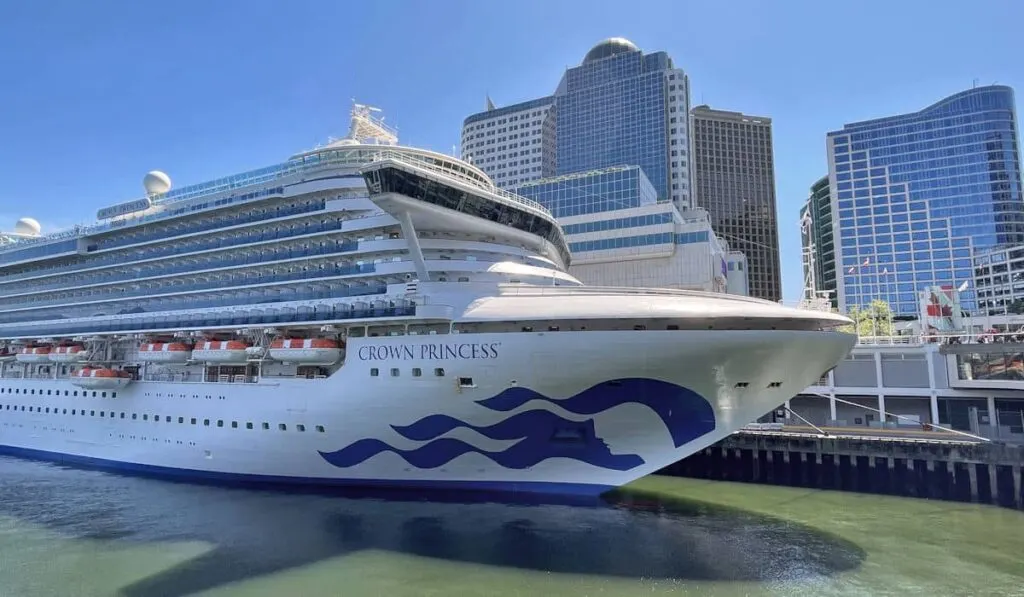 The Crown Princess cruise ship, launched in 2006, offers itineraries to Alaska, Europe, Hawaii, and Australia. While she isn't the oldest ship at 17 years old, she requires a refresh. However, she offers diverse journeys for those on a budget.
In this Crown Princess review, discover the vessel's public spaces, entertainment, overall feel, and what I thought of the service.
The Crown was the fifth vessel launched in the Grand class, owned by the Princess Line. She's a mid-sized ship amongst the Royal, Grand, and Coral-class vessels with a passenger capacity of 3,000+ and a popular choice with those loyal to Princess.
During my cruise, I sailed solo in an aft balcony stateroom, paying a single supplement. It was my first solo cruise, and I was surprised that Princess assigned me an aft stateroom.
Crown Princess First Impressions
The Crown Princess features a traditional décor similar to other vessels in the Princess Cruises fleet. Public spaces have an abundance of wood and muted hues.
Its Piazza or atrium spans several decks, often the center stage for dance parties, live music, and onboard events such as bean bag toss and giant Jenga. It's a great spot to enjoy a latte from the International Cafe.
I was happy they had the champagne waterfall event, which Princess had canceled during the pandemic.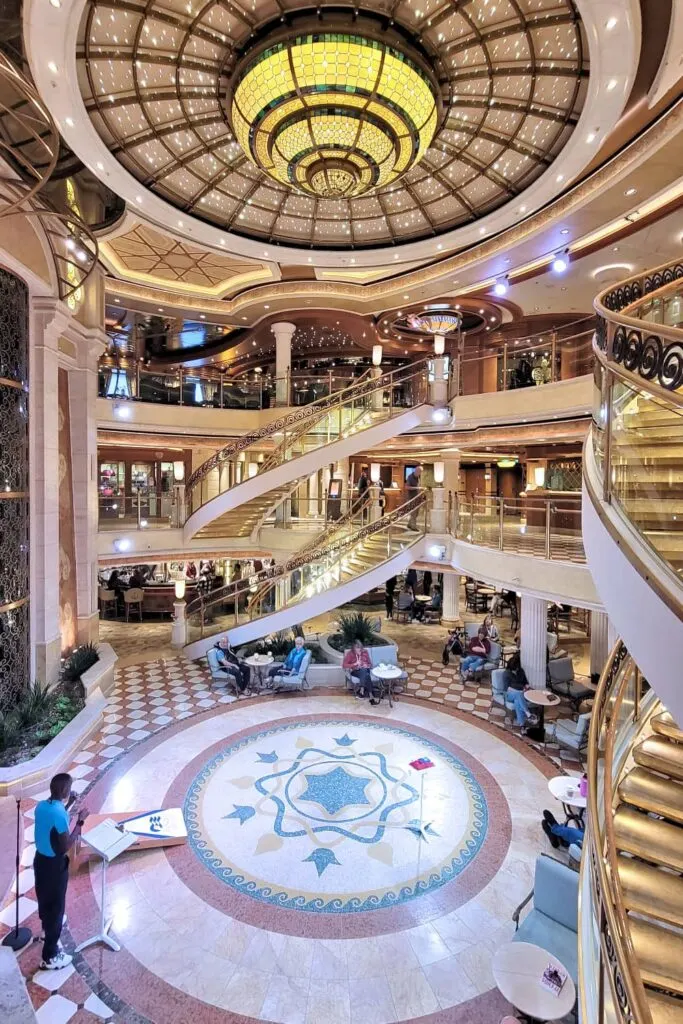 The Promenade deck circumnavigates the ship, a favorite amongst those who like to walk laps and prefer a sheltered alternative to the Lido area.
Although refreshed in 2018, the vessel doesn't have the modern look of the Discovery Princess cruise ship. However, you can still enjoy the classics of 'Movies under the Stars' and gain access to your stateroom using the Ocean Medallion.
During my voyage, there was obvious signs that the vessel needed some TLC. A leaky ceiling in the buffet, peeling paint, and I had two drawers in my staterooms that were stuck closed. Although, none of these things affected my experience.
The Ocean Medallion
If it's your first cruise, the Medallion, a wearable disk device, links to your smartphone and offers features unique to Princess Cruises. The Ocean Medallion replaces the traditional cruise card and has many ways to wear it.
Opening your stateroom door might be the most loved feature, but it does much more. Although I cruised alone this time, the app allows you to track members of your traveling party, even if they're in another stateroom.
You can order drinks and food (although there's now a one-time fee), make dining reservations, and view the daily activities. Also, you can check your cruise account.
You can opt-in to 'Princess Prizes' for a chance to win a free cruise, onboard credit, specialty dining, and more. Guests with the Princess Premier package are already included. Other passengers can sign up on their stateroom panel door.
On my cruise, the fee was USD 10 per day, allowing me to win a prize each time I unlocked my stateroom door on a sea day. My previous two cruises charged USD 20 a day, and the price may vary depending on the number of sea days. For this cruise, I had one sea day.
Complimentary Dining Options
The Crown Princess has three main dining rooms to feed the 3,000 guests, all named after famous painters. You'll find the Michelangelo Restaurant at the aft on deck 5 (Plaza). One deck up, the Da Vinci dining room sits mid-ship, and the Botticelli is at the aft.
Due to the location of Da Vinci, it has fewer windows and can only be accessed from one side, mid-ship.
Since the galley lies between the two restaurants on decks 5 and 6, you can't walk between these dining venues. It's a nuisance to keep walking up and down a deck to access other areas.
You can enjoy complimentary meals in these venues, make reservations using the app, or show up for dinner.
Breakfast was served between 7:30 am and 9:30 am, and lunch from 12 to 1:30 pm at Botticelli. Da Vinci hosted complimentary afternoon tea with finger sandwiches, pastries, and scones.
It was nice to see the Botticelli Dining Room open for lunch on embarkation day, along with the Horizon Court Buffet.
All three main dining rooms served dinner from 5 pm to 9 pm. Although these venues have slightly different decor, they serve the same food. I have a separate article that covers my Crown Princess dining experience.
If you prefer to "dine my way," you'll have a choice of Da Vinci or Michaelangelo. Those with the same dining time eat at Botticelli. However, since my cruise sailed at 50% capacity, guests could show up at any venue without a reservation.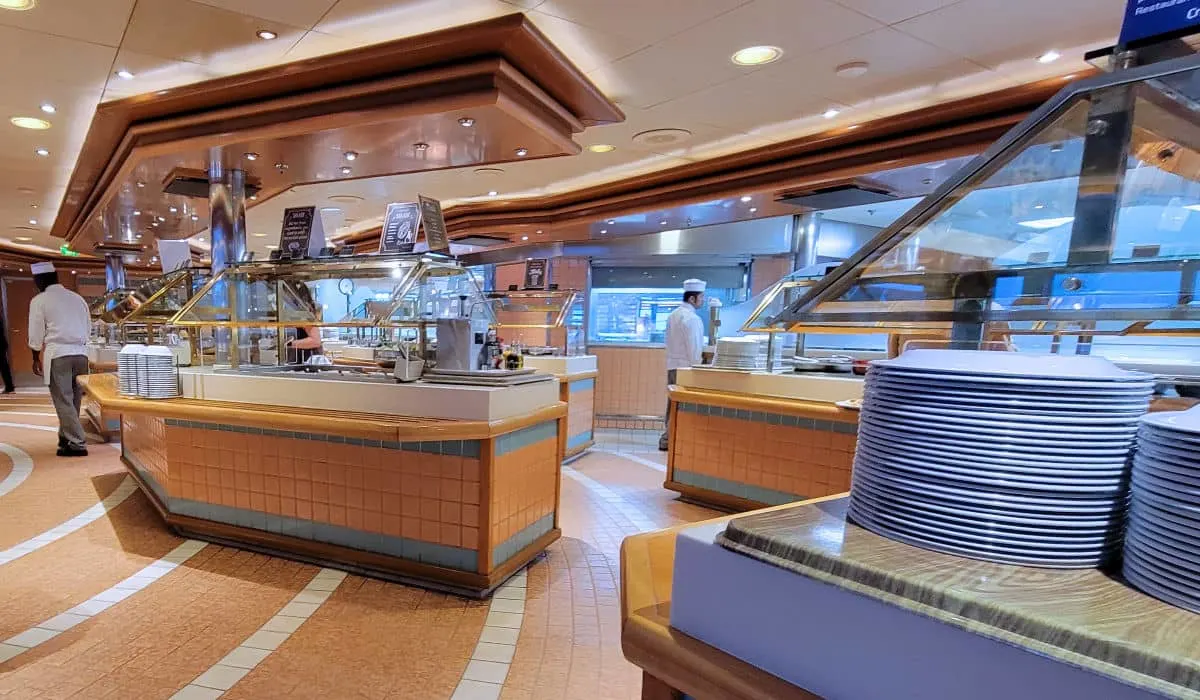 Alternatively, you can choose the Horizon Court buffet restaurant on deck 15 (Lido). For early birds, breakfast begins at 5:30 am and flows into lunch at 11:30 am.
Due to the ship sailing at a low capacity, the picture above shows the size of the buffet that opened on my sailing.
Other complimentary bites include the Slice Pizzeria, Salty Dog Grill, ice cream, and selected items at the International Cafe. USA Today rated Princess Cruises as having the best pizza at sea. After your voyage, you can replicate the recipe at home.
Other Dining Options
If you choose to forego the main dining room, you can pay a cover charge to eat at one of the specialty restaurants. The Crown Grill offers juicy steaks at a reasonable price. It's the perfect place to celebrate a special occasion. Alternatively, you can enjoy Italian food at Sabatini's.
The Salty Dog Gastropub and Vines offers a three-course casual meal for a fixed price of USD 14.99. And, of course, you can also order room service.
On Princess Alaska cruises, the Crown offers a pop-up venue in the buffet called the 'Crab Shack.' For a nominal fee, you can don a plastic bib and enjoy seafood choices such as snow crab, king crab, prawns, clams, and mussels.
Bars And Lounges
The Crown Princess cruise ship offers a variety of bars and lounges to suit different moods. You'll find around ten distinct venues on board. The Wheelhouse Bar is nautical-themed and serves a unique "Spinnaker" cocktail.
It offered an exclusive 'beer tasting' event, which cost USD 40. It included a welcome drink and three Alaskan beers with a variety of snacks.
Crooners Bar and Lounge on the Promenade deck is known for its martinis; try the "Classic Martini" for a timeless choice. Although my voyage sailed half full, this proved to be a popular venue onboard.
Club Fusion combines dancing and drinks; its signature is the "Fusion Fizz," a blend of champagne and fruit juices.
Explorers Lounge offers trivia nights and serves a wide range of international beers. Vines Bar specializes in wine and offers excellent tapas pairings. The signature here is a robust "Cabernet Sauvignon."
Skywalkers Nightclub is your go-to for late-night dancing; their "Cosmic Cosmo" is a must-try.
You'll find the Skywalker's Nightclub on deck 18 aft. It was a great location, four floors above guest staterooms. With late-night music from 11:30 pm onwards, the noise was kept away from sleeping guests. To reach the nightclub, you must take the aft elevator.
The Outrigger Bar offers stunning sea views and specializes in tropical cocktails like the "Mai Tai." The Adagio Bar provides a more subdued atmosphere, hosting singles get-togethers and other casual meet and greet.
Pools And Hot Tubs
You'll find five swimming pools and seven hot tubs on the Crown. The pools are heated and guests used them during a cold sea day in October. Due to the ship's age, no water slides or kids' water parks exist.
Deck 15, or the Lido deck, features the two main pools: Neptune's and Calypso's Reef and Pools.
You can also grab a lounge chair and enjoy Movies under the Stars on sea days. With a pizzeria, bar, Salty Dog Grill, and ice cream nearby, you won't have to give up your lounger when hungry.
The giant outdoor screen showed recent movies and a great selection of concerts. Pity, our weather wasn't good to sit outside to enjoy. I briefly sat outside on a sunny afternoon in Victoria, British Columbia.
Youths and teenagers have their own space off deck 17. Here, you'll find a hot tub and a small circular pool that overlooks the Terrace Pool below.
You'll find the small Terrace Pool one deck down at the aft. Adults can enjoy an exclusive pool and two hot tubs as part of the Lotus Spa. While you access it inside the spa, the pool is actually outdoors.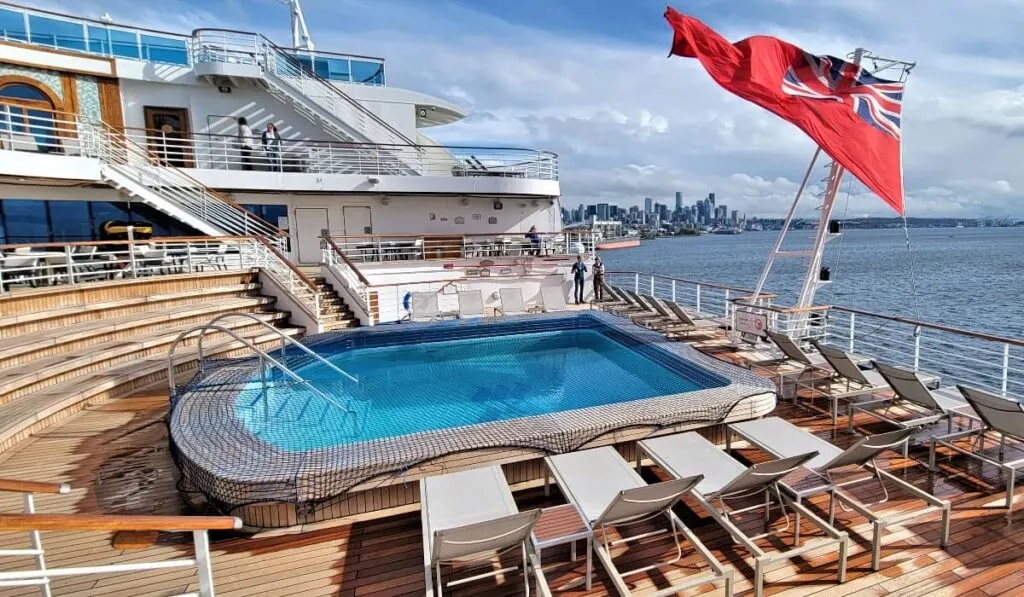 If you prefer a quieter space, you can pay a fee to use the sanctuary at the bow on deck 17. It features the usual padded loungers, fluffy towels, and pampering service. This adult-only area also had two cabanas offering massage treatments.
The sanctuary is a popular space to enjoy scenic itineraries such at Alaska's Glacier Bay.
Crown Princess Staterooms
Cruise guests can select from inside cabins at 162 sq. feet to their largest suite measuring 357 sq. feet. You won't find any colossal suites or those with multiple bedrooms, although you can book a family suite that combines a mini-suite with an interior stateroom.
For my cruise, I chose a balcony guarantee. I was surprised to be assigned an aft balcony on deck 11 (Baja) with a 10 ft. long deck (category B4). While most solo cruisers might opt for a smaller inside, I was thrilled to enjoy the extra space of a larger stateroom to myself.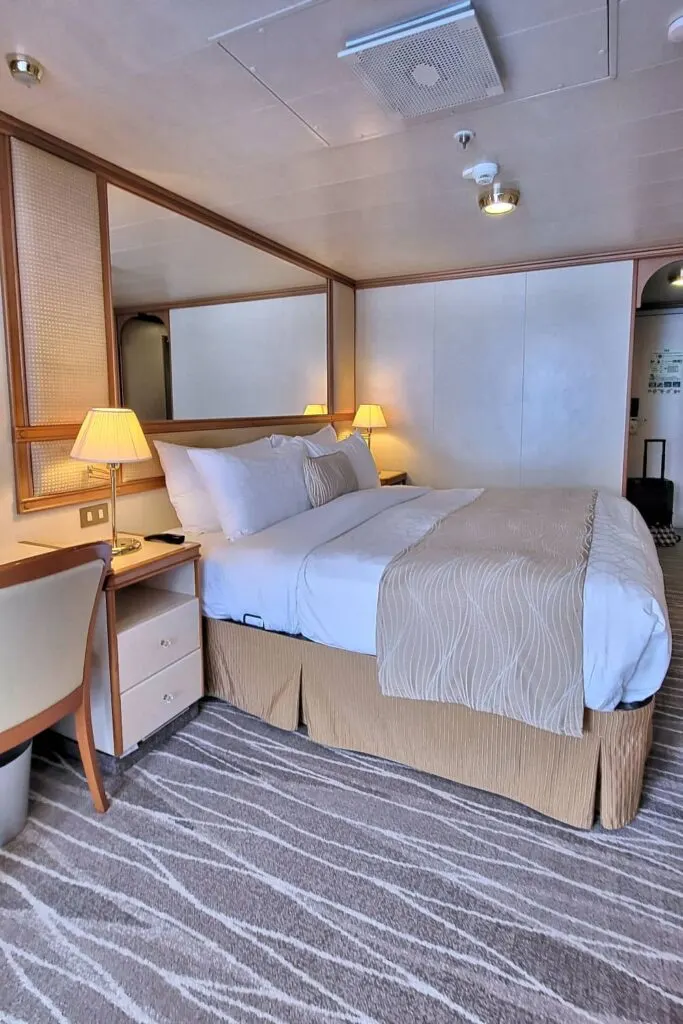 While an aft cabin requires more walking, it ensures a quieter location with less foot traffic in the hallway. I enjoyed the wake views from my huge balcony and found the location peaceful.
Self-Serve Laundry
Apart from deck 15, you can find a self-serve laundry room on each deck with staterooms. On the Crown Princess, you can locate the laundry room near the aft on each deck, except deck 2, where it's near the bow.
The laundry rooms have washers, dryers, an iron and ironing board. You can purchase laundry soap and fabric softeners using your Medallion. The laundry room didn't have any set hours.
🛳️ Haven't booked your Crown Princess cruise yet?
Find your perfect cruise with Cruise Direct. It offers mini-cruises to extended itineraries on the Crown.
Find your cruise here
While I was on a mini-cruise and didn't use the area, it's a great feature on lengthened itineraries. Since Princess Cruise Lines offers world cruises, not having to pay a hefty fee for laundry is a nice bonus.
Alternatively, you can opt for paid laundry, which includes same-day or next-day service. Laundry costs were as follows:
Evening dresses – USD 11.50
2-Piece Suit – USD 10
Pants – USD 5.00
Shorts – USD 4.50
Shirts/blouses – USD 4.50
Underwear or socks – USD 2
Note that same-day laundry incurs an additional 50% express service fee.
Fitness And Spa
The Lotus Spa and Fitness Center is on Deck 16. You can visit the spa from 7:30 am to 9:30 pm. The fitness center opened late at 7 am, but guests could work out until 10 pm.
The spa offers a variety of treatments for every budget. You'll find massages, facials, and acupuncture on the menu. A hair and beauty salon is also available if you want to put your hair up on formal nights.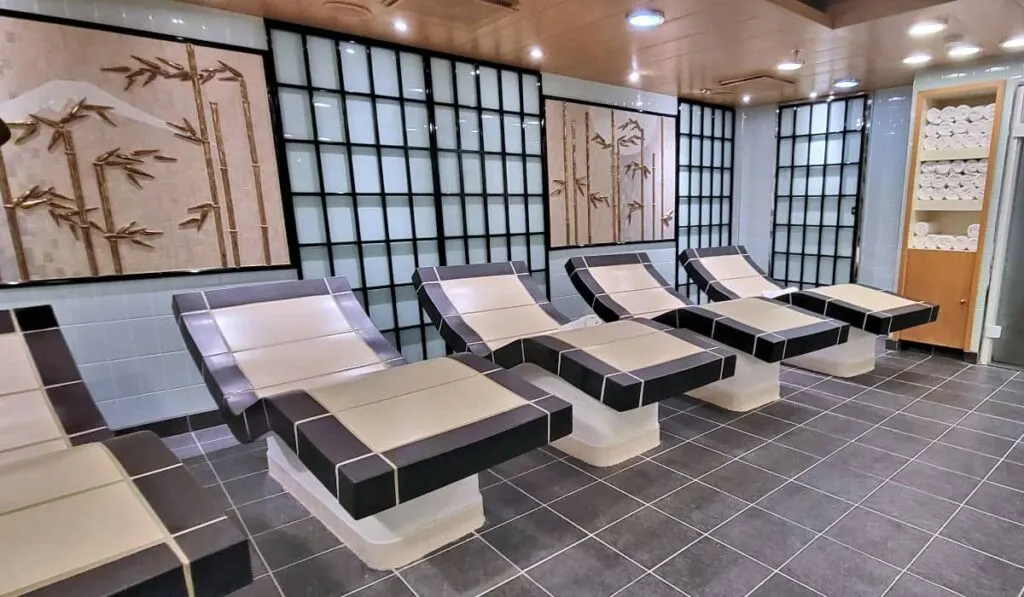 Unique to the spa is the thermal suite, located one deck down. The thermal suite offers a serene atmosphere for relaxation. It features aromatic steam rooms and heated loungers, which I've enjoyed on Alaska itineraries.
Since this area is in an interior location, the thermal suite does not have windows to allow for outside views. For my mini-cruise, guests could purchase a thermal suite pass for USD 79.99 (reg. USD 99.99) or a one-day pass for USD 49.99. The pass sells for USD 149.99 for a 7-day itinerary.
One of the features I enjoy on older vessels is the complimentary saunas and steam rooms. The Crown has these, allowing you to forego the thermal suite pricing.
The Lotus Spa also has a small outdoor pool accessed from the spa area. This adult-only pool makes a quiet alternative to the Neptune Pool when the ship is at capacity.
For those into fitness, there's a gym with modern equipment. Located at the bow, you can enjoy ocean views and forget you're at the gym. You can attend fitness classes like yoga, Pilates, or TRX Suspension training.
You'll find the Center Court for basketball and pickleball outside the fitness area on deck 19 aft. Here, you'll also find the jogging track and Princess Links, a nine-hole mini golf course.
Entertainment
You can enjoy entertainment at several venues, such as the Princess Theater, Explorer's Lounge, and Club Fusion. You'll find all these venues on deck 7.
Club Fusion hosted a shopping show, ballroom dance classes, karaoke, and live music. The other locations offered a mix of game shows, production numbers, and comedians.
I especially enjoyed the 'Sweet Soul Music' featured on my first evening and the 'Disco, Blame it on the Boogie' on the last night.
The singers in the production shows had great voices, and I enjoyed the selection of song choices.
Smoking Areas
You'll find the Speakeasy Cigar Lounge on deck 6 by the Gatsby's Casino for those who smoke. There is a smoking area inside the casino, too. Also:
Outside Club Fusion on the starboard side.
The Tradewinds Bar, port side.
Outside Sabatini's.
Kids Clubs
The kids' clubs are located on deck 17. For my cruise, there were only 1600 guests, of which 88 were children.
The Treehouse catered to ages 3 to 7, with toys, arts and crafts, video games, and a small jungle gym. 8- to 12-year-olds can register at The Lodge. It had foosball, air hockey, skee-ball, ping pong, and a communal space to hang out with kids of a similar age.
The Beach House was reserved for teenagers from 13 to 17 years. The older kids could design graffiti t-shirts, have a dance competition, or play video games.
The kids' club offered port day programming for three hours. Events included arts and crafts, card games, video games, and movies.
Wi-Fi And Internet Café
Located on deck 5, the internet café has computers guests can use 24 hours a day. I purchased Wi-Fi for my entire journey for USD 14.99 per day. You can also buy a one-day pass for USD 19.99.
There were options for four devices should you be traveling with family. I found the Wi-Fi met my needs and only found it lagged when I sometimes used Skype.
I completed a speed test, which showed my download speed at 1.99 Mbps, using SpaceX Starlink satellite.
Crown Princess Review Final Thoughts
The Crown Princess provides an excellent choice for those on a budget and not looking for all the bells and whistles of modern-day mega-vessels. The ability to do self-service laundry makes Princess ships more enticing on longer itineraries.
I found the deck plan odd. Some areas are hard to find, and the galley blocking the ability to walk across decks 5 and 6 was a nuisance.
However, I felt the entertainment onboard was fantastic, and so was the cruise director, Gary Golding.
While I only did a mini-cruise, it was a great choice to upgrade my loyalty status. In fact, I met several guests who booked the short itinerary to reach Platinum or Elite.