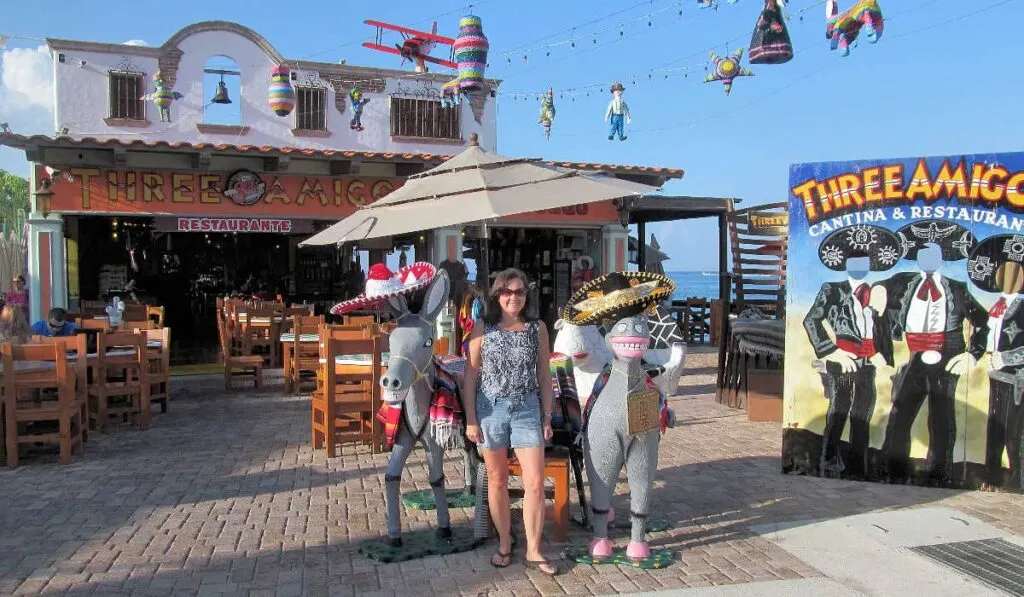 If you're contemplating a cruise to the Caribbean, in this article, you'll discover the top Western Caribbean cruise ports and what they have to offer.
When deciding between an eastern or western Caribbean cruise, vacationers choose the latter for its adrenaline rush excursions near the ports and more rugged island escapes.
While you can't go wrong with an eastern, southern, or western itinerary, the islands in the west generally provide a more authentic cultural experience.
This area comprises approximately 13 islands, including popular destinations such as Costa Maya, the Cayman Islands, Cozumel, and Belize City.
Several islands in the Western Caribbean boast bustling cruise ports, making them a gateway to thrilling adventures. So, in this article, learn about the top cruise ports when selecting a western Caribbean cruise itinerary.
Planning a Western Caribbean cruise?
🛳️ Find it on Cruise Critic. It features more than 650,000 cruise reviews, advice, pricing information, deals and money-saving tips.
Why Take A Western Caribbean Cruise?
Many of the Caribbean islands are accessible by flying. If you want to island hop, you can certainly do so, but it often comes at a high cost. Flying can be expensive, depending upon your departure airport.
By taking a cruise of the western Caribbean, you can enjoy three to four port days on a seven-day itinerary. Flying into Florida, Texas, or New Orleans, Louisiana, your embarkation port, comes at a lower cost.
Cruising isn't for everyone. However, it's ideal for those who like to unpack once, do not want to worry about where to eat, and don't mind one day in a destination.
Cruising provides an easy way to travel for those who like variety and prefer not to stay in one place for a week.
If you have less than a week, you can take a short 4 or 5-day western or eastern Caribbean cruises at a reasonable cost.
Embarkation Ports
Several embarkation ports offer convenient starting points when heading to the western Caribbean. The most popular ones include Miami, Florida; Fort Lauderdale, Florida; and Galveston, Texas.
These ports are significant hubs for cruise lines. Among them, Miami stands out as the primary embarkation port for Western Caribbean cruises, attracting the most significant volume of cruise ships.
However, Galveston offers the quickest access, directly north of the western Caribbean.
Top Western Caribbean Cruise Ports
While some ports of call in the western Caribbean have docks, others require a tender. Tendering uses small lifeboats to ferry cruise passengers ashore.
The process is tedious and can take several hours if you're traveling on a mega-ship. Priority is given to high-status loyalty members and those who have booked a shore excursion through the cruise line.
1. Cozumel, Mexico
The Cozumel cruise port in Quintana Roo state welcomes vessels owned by Royal Caribbean, Norwegian Cruise Line, and Carnival Cruise Line. It's the most popular and busiest port of western Caribbean itineraries.
Cozumel has three cruise ports, the International pier, Punta Langosta, and Puerto Maya. Together, they can accommodate up to eight cruise ships a day and sees, on average, 30 cruise ships a week.
Diving in the crystal-clear waters of the Mesoamerican Barrier Reef attracts many visitors to Cozumel. For beach enthusiasts, there are numerous beautiful beaches close to the cruise port for relaxing, sunbathing, or enjoying water sports.
If you prefer something more exclusive, beaches like Nachi Cocum and Mr. Sanchos require a short taxi ride from the port.
Beyond the water and beach, you can take a jeep tour to Mayan ruins, visit an Eco Park, or explore Cozumel's main town, San Miguel.
Here, you can enjoy authentic Mexican cuisine, shop for local souvenirs, or immerse yourself in Mexico's culture.
2. Ocho Rios, Jamaica
Jamaica has five ports, although its busiest, Ocho Rios, Falmouth, and Montego Bay, are on the north coast. Ocho Rios, visited by Holland, Royal Caribbean, and Princess, attracts the lion's share of cruise guests due to its diverse activities.
Its number one attraction, Dunn's River Falls, allows cruise visitors to ascend cascading waterfalls. While the falls are beautiful, they can often be overshadowed by the sheer number of people who gather there.
Konoko Falls might be a better option if you're not fond of crowds.
Nearby, you can explore the lush Green Grotto Caves, showcasing stunning stalagmites and stalactites. River tubing on the White River provides another fun activity, especially when traveling with kids.
If you're a music fan, visiting the Bob Marley Mausoleum allows you to delve into the legendary musician's life.
Mystic Mountain provides an excellent port day activity for adventure seekers. Here, you can zip line and ride a bobsled as if you are part of the Jamaican Olympic team.
Finally, be sure to hit a patio restaurant to savor some jerk chicken and other local cuisine.
3. Roatan, Honduras
The island of Roatan is a beautiful Caribbean destination and relatively undeveloped compared to the port stops in the eastern Caribbean.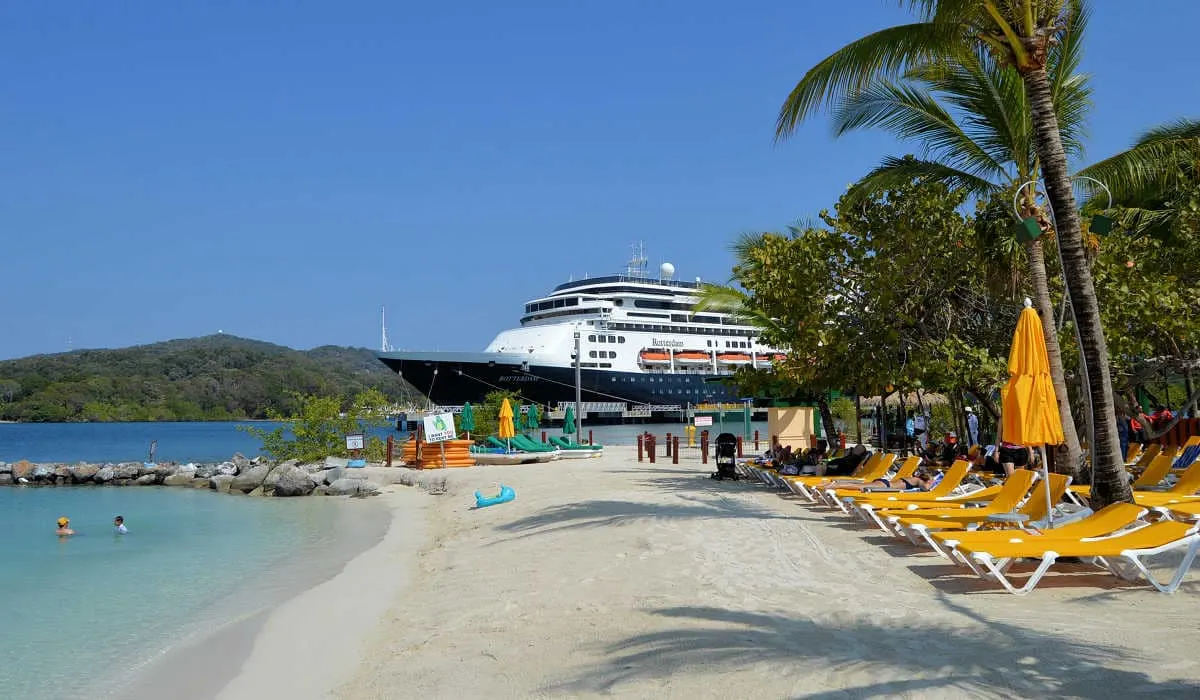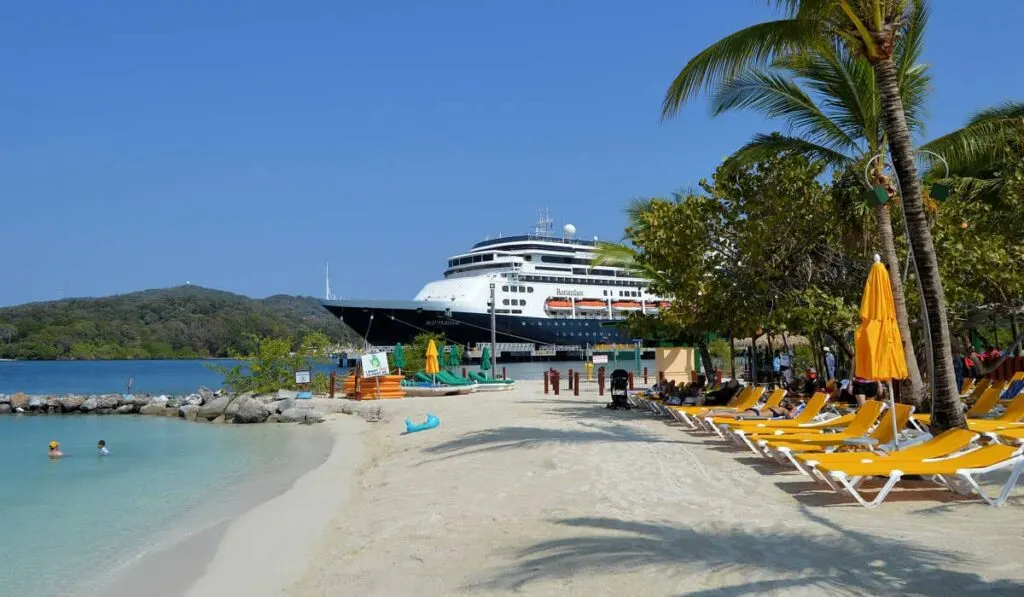 This island off the coast of Honduras is home to beautiful beaches and many exciting adventures, including plenty of excursions aimed at thrill-seekers.
Different cruise lines use two ports on Roatan. NCL, Celebrity, and Royal Caribbean visit Coxen Hole. Alternatively, the Mahogany Bay Cruise Center welcomes Regent, Holland America, Princess, and Carnival Cruises.
Like Cozumel, diving tours are popular, with easy access to the largest barrier reef in the Caribbean Sea.
The island is famous for its pristine beaches, such as West Bay Beach and Tabyana Beach, both known for their crystal-clear waters and soft white sands.
Pirates of the Caribbean and Mayan Eden are two prominent ziplining locations offering breathtaking tropical landscape views.
You can see sloths and monkeys at the latter and enjoy a butterfly sanctuary. The best part; it's much cheaper than Clip' N' Zip zipline next to the Mahogany Bay cruise port.
4. Belize City, Belize
Cruise ships arriving in Belize City must tender, with the tender process taking 15 to 20 minutes. Tender boats take cruise passengers to Belize's Tourism Village, home to gift shops, "husband day-care," patio restaurants, and vendors selling last-minute shore excursions.
RCI, Norwegian, and Carnivals guests can pick up tours to see Mayan ruins, take a jungle tour, go cave tubing, or visit Caye Caulker. Visits to Caye Caulker include swimming with stingrays and nurse sharks on a sand bar.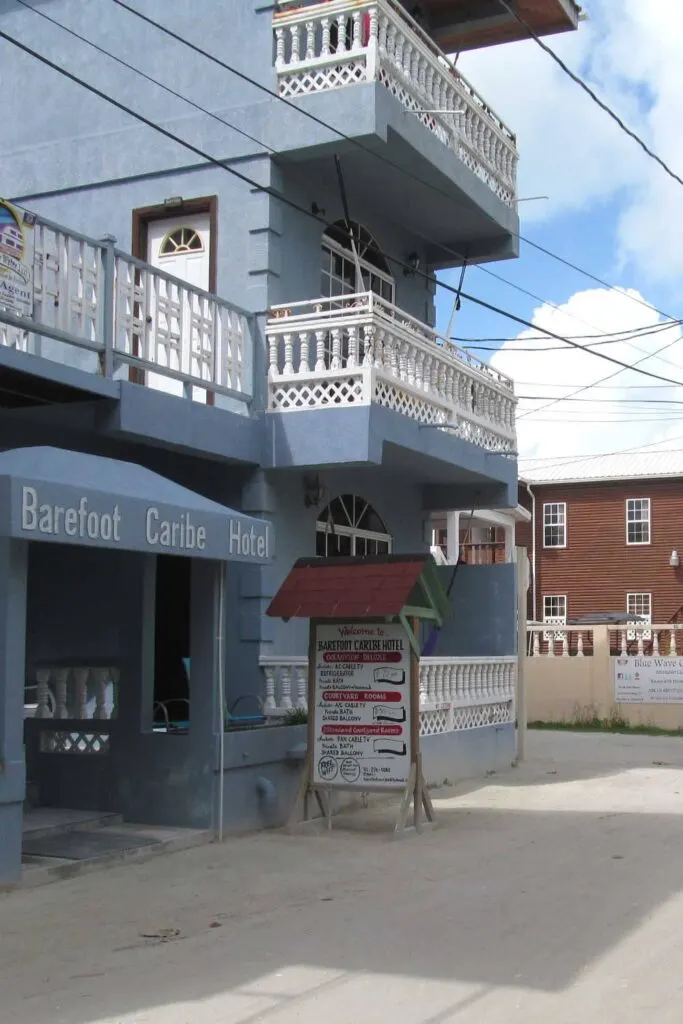 The Great Blue Hole is one of Belize's best attractions. Its mesmerizing sinkhole can be seen from space. However, you can appreciate its natural beauty by taking a flight from Belize City.
If you want to explore beyond the Tourism Village, it's best to do so on a tour. Belize City has high crime, so traveling in large groups is advisable.
5. George Town, Grand Cayman
Like Belize City, expect to tender to shore in Grand Cayman Island. This island differs from others with its rock facade. So, no lush jungles, rainforests, or green landscapes here.
One of the most unique experiences is the Stingray City tour, considered one of the best places to interact with stingrays globally. During this excursion, you'll meet friendly stingrays in their natural habitat.
Since it's Grand Cayman's most popular activity, expect to share the sandbar with hundreds of other adventurers. The trip to the sandbar takes 30 to 45 minutes, depending on your boat's speed.
Stingrays aside, water enthusiasts might prefer snorkeling or diving the vibrant coral reefs. On land, you can explore the Crystal Caves, head to Seven Mile Beach, or enjoy some retail therapy in George Town.
Shoppers find joy in George Town, where they can browse luxury boutiques and local markets for unique souvenirs. Camana Bay is another favorite shopping spot, known for its chic stores and dining options.
Not only will you enjoy duty-free shopping, but there's no sales tax. Top purchased items include luxury watches, jewelry, designer clothing, and Caymanite.
6. Costa Maya, Mexico
Like Cozumel, you'll find Costa Maya in the Quintana Roo state. However, it's closer to Belize City than Cozumel. Its single port can handle three cruise ships daily, generally from Celebrity Cruises, Princess Cruises, and Norwegian Cruise Line.
Visitors to Costa Maya can enjoy watersports, beach time, shopping at local markets, and cultural sites. While you can visit the Kohunlich, Dzibanche, and Chacchoben ruins, you can reach the latter with a one-hour journey from the port.
A visit to Chacchoben Mayan ruins gives insights into an ancient civilization. If your cruise itinerary includes Belize City, you can opt for archaeological sites such as Lamanai, Altun Ha, or Xunantunich ruins instead.
Beyond the tours and great beaches, be sure to savor authentic Mexican cuisine at local eateries, tasting freshly prepared tacos and margaritas.
7. Harvest Caye, Belize
Located on the southern tip of Belize, Harvest Caye is a premier island destination operated by Norwegian Cruise Line. Unlike most cruise lines' private islands, this one doesn't require a tender.
So, as you walk off the ship, expect to encounter a 75-acre oasis filled with opportunities for relaxation and adventure. The pristine seven-acre beach offers comfortable lounge chairs, or you can stay by the pool and enjoy the swim-up bar.
Those seeking thrills can enjoy zip-lining across the island, providing breathtaking landscape views. Kayaking, paddleboarding, and a butterfly garden offer additional activities.
With your cruise ship docked nearby, you can pop back whenever you need a change of clothes or prefer to eat onboard.
8. Falmouth, Jamaica
The Falmouth cruise port lies between two other popular ports; Ocho Rios and Montego Bay. This port welcomes 3 to 5 vessels weekly from major cruise lines such as Royal Caribbean, Celebrity, Princess, and Disney.
The town of Falmouth itself offers visitors a glimpse into Jamaica's rich history, boasting well-preserved Georgian architecture. Travelers can explore the local markets, indulge in authentic Jamaican cuisine, and take guided tours of historical sites.
Greenwood Great House, Falmouth Courthouse, and Good Hope Estate are great examples of historical must-sees. If you prefer a mellow shore excursion, a raft ride down the Martha Brae provides that.
The combination of historical attractions and mellow activities makes Falmouth Cruise Port a versatile destination. With easy access to Ocho Rios, you can also opt for more adventurous excursions nearby.
9. Progreso, Mexico
Situated on Mexico's Yucatan Peninsula, Progreso may attract fewer cruise ships than Cozumel, but it's a favored port for one reason, access to Chichen Itza. Its four-mile pier (the longest in the world) welcomes ships from Royal Caribbean, Disney, and Carnival Cruises.
If Progreso (Merida) is on your bucket list, you can even get there on a four-day itinerary from New Orleans.
It's a diverse port, offering a bit of everything. So, if you want to visit the ancient Mayan ruins of Chichen Itza, having a port day in Progreso provides the closest access, although it will be an all-day affair.
Alternatively, exploring Uxmal, Dzibilchaltun, Xcambo, and Dzemul ruins allows for shorter tours but is less impressive than Chichen Itza itself.
If you prefer to chill on a beach, explore Cenote Ikkil, or shop at a local market, Progreso provides that too.
10. Montego Bay, Jamaica
Montego Bay stands out as a premier destination on the westernmost of Jamaica's coast. MSC, Carnival, Viking, and Princess Cruises anchor their ships there.
While Montego Bay shares similarities with other Jamaican ports, like river rafting, ATV adventures, zip-lining, and city tours, you can find unique excursions.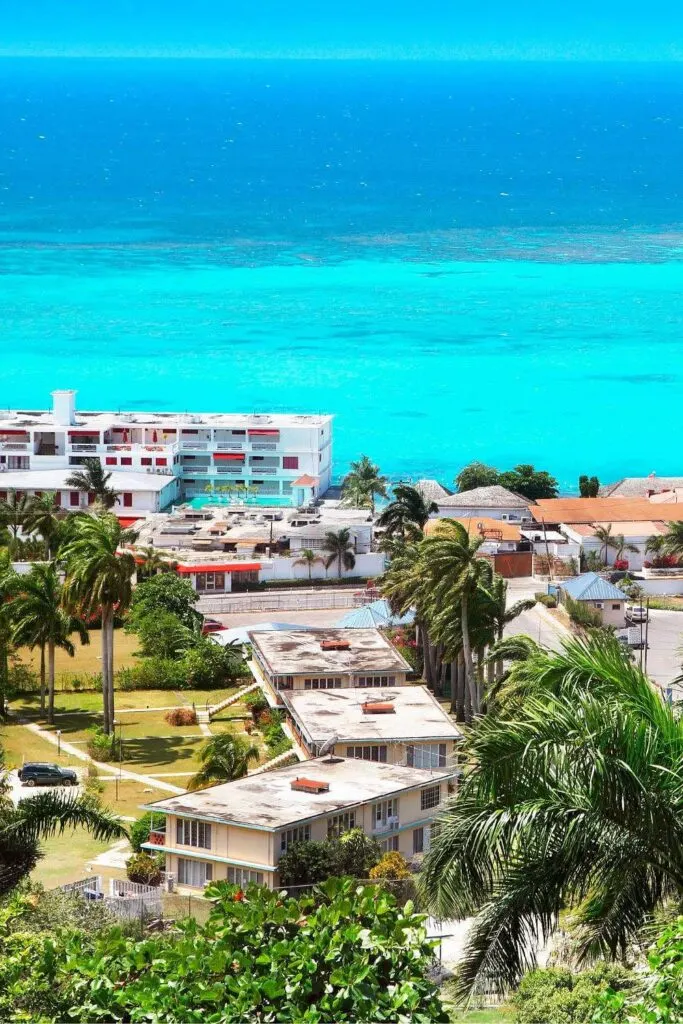 Additional activities can include:
Visits to historic plantations and learning about their beginnings and slavery.
Indulging in local cuisine at lively beachside restaurants.
Snorkeling in the crystal-clear waters.
The vibrant culture and beautiful landscapes set it apart as a remarkable stop on a western Caribbean cruise.
Other Western Caribbean Cruise Ports
Most vessels stop at the above ten cruise ports when sailing a western Caribbean cruise. While Jamaica has five ports, only smaller lines, include its lesser-known stops of Kingston and Port Antonio (both tender ports).
Belize, Honduras, and Mexico have other ports. However, the mainstream cruise lines don't utilize them.
If you're cruising from a Florida cruise terminal, your itinerary could include the Bahamas, Key West, or a day on one of the cruise lines' private islands.
By combining an eastern with a western Caribbean itinerary, you'll enjoy the best of both worlds. Plus, you'll have double the vacation and make twice as many memories, and you can't beat that!