An Alaska cruise with Princess Cruises offers a North America bucket list adventure to see fjords, majestic mountains, and an abundance of wildlife. From the comfort of a luxury vessel, can you see tidewater glaciers that aren't accessible by land.
While the Crown Princess, Ruby Princess, Royal Princess, and newest Discovery Princess offer roundtrip itineraries, consider booking a back-to-back itinerary instead.
You can book an extended 14-day cruise on the Grand, Sapphire, or Asian-inspired Majestic Princess. These 14-day itineraries are offered from Vancouver, Canada.
On the 14-day Voyage of the Glaciers Grand Adventure, you'll travel further north, and see areas of Alaska which aren't reachable on a return itinerary.
With a stop in Whittier and a scheduled sailing into an Alaskan Fjord, you'll also experience more hours of daylight. During the summer solstice, expect the sun to set at 11:30 pm, and sunrise five hours later.
Princess Cruises Relationship With Alaska
One of the reasons I chose Princess Cruises for an Alaska itinerary is their relationship with Alaska. For more than fifty years, Princess Cruises' ships have sailed to Alaska.
Cruisers can choose an Alaska cruise tour that combines a cruise with a land tour. By staying at a Princess Wilderness Lodge, you'll enjoy exploring Denali National Park.
While I didn't book a Princess cruise and land tour, my 14-day back-to-back Alaska itinerary had different glacier viewings each way, which made the vacation doubly magical.
Also, because I live in Vancouver, Canada, sailing back was cheaper than flying. Hard to believe, right?
But, if you snag an Alaskan cruise deal as I did, the 7-day Alaska return cruise was less expensive than the cost of a one-way flight. Additionally, I could extend my vacation by seven days (happy dance!).
When sailing out of Vancouver, Sapphire Princess, Majestic Princess, and Grand Princess offer 14-day or seven-day back-to-back itineraries. When considering a 14-day or back-to-back itinerary, compare the prices of the two options.
Sometimes, it's cheaper to book two one-week cruises than one 14-day vacation. Especially when there are perks such as free onboard credit, you'll double your credit by choosing two cruises instead of one.
It's important to note when booking a back-to-back cruise, you may not get the same cabin on both cruises. I had different staterooms, but moving rooms was effortless.
I packed my bags, and my steward moved everything the following morning. Plus, my new cabin was available to me immediately.
Embarkation In Vancouver
Location: 999 Canada Place in downtown Vancouver
While Princess Cruises offer sailings from Seattle, Los Angeles, and San Francisco, a 14-day B2B embarks in Vancouver, Canada. When choosing to embark in Seattle Vs. Vancouver, only Vancouver offers one-way itineraries.
For those flying into Vancouver, Canada Place (or the Vancouver cruise terminal) is easily accessible by taxi, Uber, or my choice, Vancouver's rapid transit, Skytrain. Canada Place in downtown, can accommodate up to four cruise ships a day, and on my embarkation day, there were three ships in port.
With three or four vessels loading, getting onboard may be painfully slow. This is not unusual at Canada Place.
The difference between Vancouver's cruise port and many others is that each passenger needs to clear immigration since everyone is leaving one country and visiting another.
When arriving in Canada from a country other than the United States, all passengers must have an ESTA (electronic system for travel authorization). While the form is obtainable at the cruise terminal, it's best to have it beforehand.
Alaska Cruise Weather
The Alaska season is short, from May to September. Depending on your sail date, expect temperatures of 35F to 81F, with lots of possibilities for variations. Alaska cruises are far less formal than cruises in other destinations.
On my first cruise to Alaska, the July weather was bitterly cold. So, when packing for the inside passage cruise, pack for warmth over style. Recommendations include a fleece jacket, base layers, wraps, and sweaters in preparation for the cold, wet weather.
Wouldn't you know, on the next trip, Alaska experienced a heatwave so I could lay by the outdoor pool, and I got sunburnt. It just goes to show, that it's essential to have a packing list for the hot and the cold.
Savoring hot weather allowed me to enjoy Princess Cruises' signature "movies under the stars" on multiple occasions. Even when it got a little cool in the evening, I could cuddle up under a cozy blanket and savor some complimentary popcorn.
Out of the 14 days, it drizzled on turnaround day in Whittier and cruising through College Fjord. The other 12 days had glorious sunshine, perfect for glacier viewings and visiting ports.
Packing For A 14-Day Alaskan Cruise
One of the many benefits of cruising with Princess is their self-service laundry facilities. Since Alaska's weather is unpredictable, I tend to take everything but the kitchen sink.
But I also pack Tide pods and a container of quarters so I can wash during my vacation. I've heard the laundry is free on the Discovery Princess. However, we paid USD 3 to was and USD 3 for a dryer on the Majestic.
On an Alaska itinerary, pack for the cold; for times you'll be next to a glacier. This includes a winter jacket, or my choice, a 3-in-1 jacket, so the different layers are useful for port days and around the ship.
Also, pack a hat or toque, gloves, scarves, and layers, which are essential in the shoulder months but not necessarily during the summer's peak.
It's best to have waterproof items for port days. This is where the outer layer of that 3-in-1 coat comes in handy. Waterproof runners or boots, a compact umbrella, wool socks, and fleece are a must.
But, as I learned on three of my cruises, it's also vital to pack for the warmth too. A bathing suit is great for a hot day by the pool. Even if the weather is cool, most ships have indoor pools, hot tubs, saunas, and steam rooms.
The steam room and hot tubs are a blessing after hours next to a glacier. Along with a bathing suit, take sunglasses and sunscreen too.
If you plan to hike, pack bug repellent or use mosquito bracelets. But the essential items are your camera and binoculars. Alaska scenery and wildlife are stunning, so you want to see it and capture it to savor forever.
Ports Of Call With Princess
Cruising a back-to-back Alaska cruise with Princess, the ports are identical. For some, that might seem slightly discouraging.
However, I embraced the idea of docking in the same ports twice because Alaska offers the coolest (no pun intended) excursions, which meant I could do and see more of what Alaska has to offer.
On my Coral Princess 14-day cruise, the ship stopped in Juneau, Ketchikan, and Skagway, twice. Instead of pre-planning all my port days, I chose some Alaska shore excursions on the outgoing cruise only.
During the cruise, I conversed with other passengers, and based on their reviews, I chose a different port activity on my vacation's second leg. A typical 14-day Princess Alaska cruise looks like this:
Day 1: Vancouver, BC, Canada
Day 2: At sea
Day 3: Ketchikan
Day 4: Juneau
Day 5: Skagway
Day 6: Glacier Bay National Park (cruising)
Day 7: College Fjord (cruising)
Day 8: Anchorage (Whittier)
Day 9: Hubbard Glacier (cruising)
Day 10: Glacier Bay National Park (cruising)
Day 11: Skagway
Day 12: Juneau
Day 13: Ketchikan
Day 14: At sea
Day 15: Vancouver, BC, Canada
Juneau
The only port that feels like a city is Juneau, Alaska's capital. While landlocked, the city still has urban living comforts, including the regular fast-food franchises and popular stores.
This bigger city offers a good selection of port excursions, great places to eat Alaska crab, and a large downtown area to explore.
Juneau can accommodate four docked ships and several tenders. Princess vessels dock downtown. Most things are within walking distance, including the Roberts Tramway, which offers impressive Juneau and Gastineau Channel views and some hiking trails near the port.
On my northbound Alaska cruise, I chose a catamaran whale-watching tour with guests at my dinner table. With eight in the group, I was able to negotiate an incredible price in port.
Whale watching is excellent in Juneau, and most operators are so confident you'll see whales that they offer a guarantee.
After the tour, I wandered through downtown Juneau and visited the famous Red Dog Saloon. Located at 278 South Franklin Street, the oldest Juneau attraction has notable items on the menu, including a duck fart (beer).
On my return trip, I took a bus to Mendenhall Glacier and hiked to Nugget Falls. Walking the boardwalk also allowed me to see lots of salmon in the creek. Mendenhall Glacier is a popular locale to spot black bears who fish for food in the nearby stream.
If you don't have a budget, I'd highly recommend a Juneau dog sledding tour on a glacier. This must-do port excursion is exhilarating and a ton of fun and something I did on my first cruise to Alaska.
While dog sledding is an expensive excursion, how often will you have the opportunity to fly to the top of a glacier and mush a dog team around a glacier? It's advisable to book months in advance because these tours always sell out.
Skagway
The tiny town of Skagway grew out of the Klondike gold rush. It's a town frozen in time and still looks as it did all those years ago. With less than 1,000 residents, it survives primarily on cruise tourism.
While small in size, the town offers a variety of excursions. The White Pass and Yukon Route trains attract the most cruises guests.
It generally provides a train for each ship and does two runs a day. The roundtrip journey takes less than three hours and the views across wooden trestles and through the mountains are spectacular.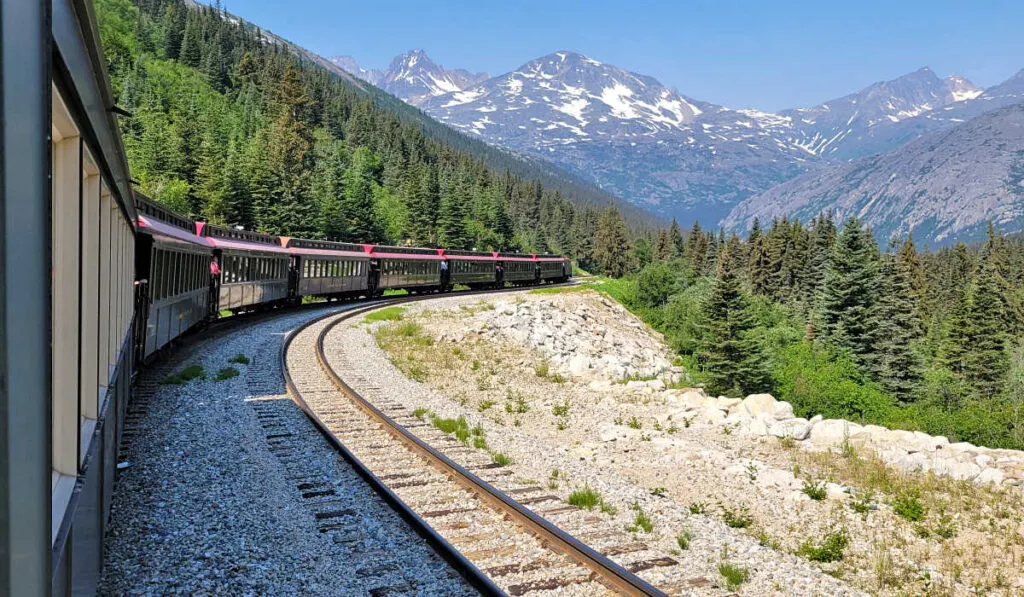 For a budget-friendly similar journey, take a bus tour instead. The bus follows the train for part of the way but being at a lower elevation; guests can see waterfalls not visible on the train.
If you have never experienced the mountains, taking a train or bus excursion offers one of the world's most picturesque views. Sit back, relax, and enjoy the breathtaking panorama of snow-capped rugged mountains, waterfalls, and glaciers.
During my southbound cruise, I took a hiking excursion in Skagway instead. The Chilkoot Trail Hike and Float tour combine the Chilkoot hiking trail with a raft ride down the Taiya River.
On this Skagway excursion, I learned that mosquitoes could be rampant in Alaska at certain times of the year. I made a mental note to bring repellant next time.
Skagway offers many great tours and excursions. Other options of things to do include hiking along the coastline, panning for gold, visiting the Gold Rush Cemetery, ziplining, renting a car and driving to Emerald Lake in the Yukon, and browsing the unique shops in town.
Ketchikan
Ketchikan, Alaska, is the southeasternmost city in Alaska and is located at the inside passage entrance. It's by far my favorite stop on an Alaskan itinerary. The mountainous Tongass National Forest surrounds Ketchikan, famous for having the most extensive collection of standing totem poles in the world.
Princess and Holland America lines have premium docking spots downtown. Being downtown, everything was just a walk away. The colorful welcome arch greeted me, and the liquid sunshine gauge gave me quite a chuckle.
Ketchikan is known as the "Salmon Capital of the World" due to its abundance of salmon, with fishing and canning being some of its primary industries. Here, visitors can often see the salmon swimming upriver to spawn.
If you want to try your luck at catching some salmon, local stores rent gear and sell licenses. Ketchikan's Stedman Bridge is a popular spot for anglers. It also provides an ideal place to view sea otters.
I did not take a port excursion on either of my two stops. Instead, I enjoyed a self-guided walking tour of the quaint boutiques on historic Creek Street. Once a "red-light district," Creek Street's boardwalk meanders on wooden pilings over Ketchikan Creek.
For those with no budget, Misty Fjords Flightseeing offers the ultimate experience. Imagine soaring over the cliffs of Misty Fjords National Monument with endless waterfalls, crystal blue waters, and trees as far as you can see. Ketchikan is a special place that may captivate you as it did for me.
For bald eagle enthusiasts, the Bering Sea Fishermen's Tour puts you face-to-face with a few dozen flying eagles. With several eagles swooping down, vying for the same herring, it was amazing there were no mid-air collisions.
Alaska Scenery
Having sailed to Alaska numerous times, I can tell you that the scenery is indescribable. Sailing a Princess Alaska 14-day cruise gave me a sense of peacefulness and serenity that is disappearing in today's world.
It's magical spending hours on deck enjoying the majestic mountains, serene waters, and lush rainforests that go on forever. I was looking to escape everyday life's demands, and this was a place I could truly disconnect and be one with nature.
Alaska's scenery is forever changing due to climate change. Its massive cluster of glaciers is rapidly receding, affecting the ecosystem of wildlife that reside there. Everywhere I looked, the jaw-dropping landscapes were captivating.
There is nothing more spectacular than seeing a 20-story glacier crack with a rumble of thunder and watching the ice fall into the frigid waters below.
On my 14-day Alaska cruise with Princess, I cruised through Glacier Bay National Park twice. Also, the northbound itinerary included College Fjord while the southbound sailed to Hubbard Glacier.
The Alaska itinerary was more spectacular than I could have imagined, with multiple glacier sightings, all in one cruise. Even on the return cruise, seeing Glacier Bay a second time was just as outstanding as the first instance.
Experience Glacier Bay With Princess
Cruising through Glacier Bay National Park, I was mesmerized by the incredible tidewater glaciers. The phenomenal blue hues of the ice were enchanting, and the immense size of these natural wonders blew me away. It's an unexpected treat to cruise through this UNESCO park as only a selection of cruise ships can do so.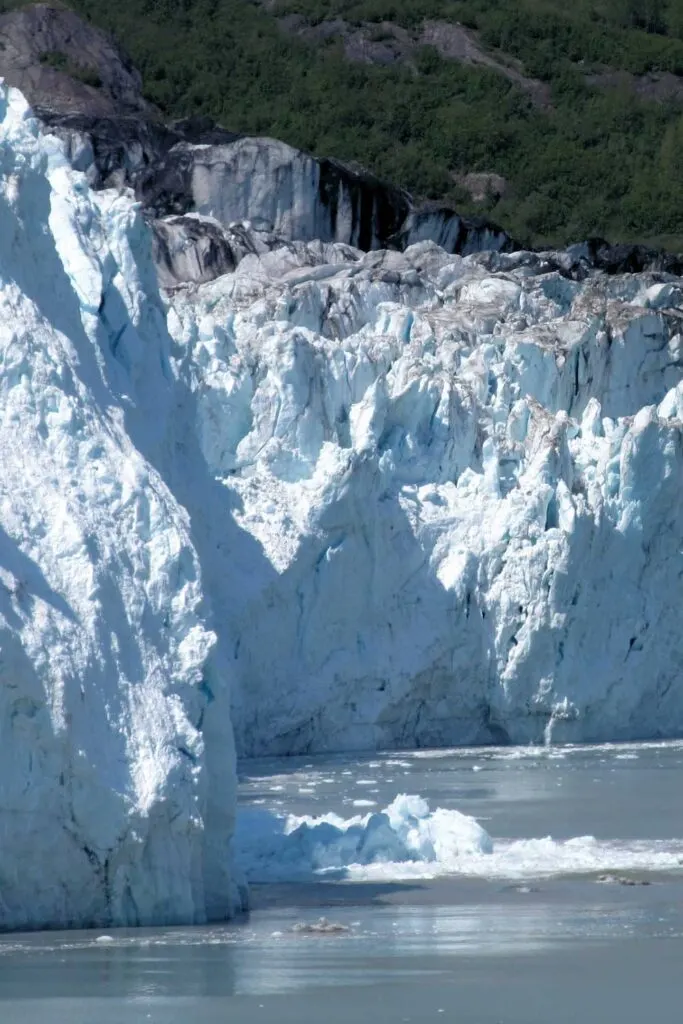 Princess Cruises Voyage of the Glaciers brings a naturalist on board, who gives terrific talks on Alaska's wildlife and nature. He talked about living in Alaska and his experiences, which was very captivating.
Expect to spend a day or eight hours in this beautiful park. You'll see multiple glaciers, such as Margerie, Grand Pacific, and John Hopkins Glaciers, during the cruise. Even with eight hours, I felt it wasn't enough.
I was afraid to leave the deck in case spectacular calving took place, and I'd miss it. It seems silly, but once you see these icefields, you'll understand.
To make the experience of Glacier Bay more majestic, Princess Cruises offers an ultimate balcony breakfast. This paid-for service is the perfect way to add a touch of romance to your Alaska adventure should the weather cooperate.
Sanctuary Glacier Bay Day Pass
Alternatively, guests can purchase a Glacier Bay Day Pass to the Sanctuary, an adult-only area on the ship. Passes include a reserved comfy lounger, pillows, warm blankets, and cozy earmuffs to keep you warm.
There are a limited number of Sanctuary passes, so this is a great area to avoid the crowds on the higher decks. The stewards offer all-day pampering from complimentary breakfast, hot chocolate, lunch, fresh fruit, and pastries to suit every Sanctuary guest.
Having toured the Sanctuary on embarkation day, I chose not to purchase such a pass due to multiple obstructions in this area. Since the adult-only area had numerous canopies, I felt viewing Glacier Bay from this location was not the best place for me. However, viewability may vary from ship to ship.
Food Selection
The food selection on the Coral Princess was good, and they catered to my food allergies seamlessly. In fact, the gluten-free bread was the best I've had across all cruise lines. The 'taste of Alaska night" was the big hit of the cruise, but I was surprised to learn, that none of the seafood came from Alaska.
I guess it made sense that cruise lines have contracts with companies worldwide to supply ships with ingredients. I learned the seafood onboard came from New Zealand, of all places. On turnaround day in Whittier, the port did not deliver more food, and this was evident around day ten when the bananas were all brown.
Since it seems ships cruising one-way itineraries are only supplied in Vancouver for two 7-day cruises, in the future, I would only book the northbound cruise if I was sailing for just seven days.
On my back-to-back Alaska cruise, Princess had me seated at a dining table with others sailing the 14 days too. I really enjoyed having the same dinner guests for both cruises.
Turnaround Day In Whittier
The day I arrived in Whittier, it was drizzling miserably. Since I was cruising back-to-back, Princess required me to visit guest services in the morning to settle up my account and obtain a new sail card for the return trip.
Surprisingly, I did not have to attend a second muster drill, which made me do a happy dance! Nor did I have to leave the ship and go through security again.
Despite the rain, I donned my Gore-Tex rain jacket and took a stroll into Whittier. However, I didn't walk far because Whittier is a blip of a town with approximately 200 residents.
There wasn't much to see or do, so I considered renting a car and driving to Anchorage. However, there is only one rental car company, Avis, and the one-day rental starts at USD 250 plus fees.
To make renting a car less desirable, getting to Anchorage requires a drive through the Anton Anderson Memorial Tunnel, also known as the Whittier Tunnel.
The tunnel shares the space with train traffic and has just one lane. The direction of travel changes every 30 minutes, but trains can delay vehicles by an additional 30 minutes.
Instead, I headed back to my cruise ship and enjoyed the indoor Lotus pool and hot tubs, which were void of people.
Wildlife Seen On My Alaskan Cruise
Due to the vast acreage of uninhabited land, various wildlife thrives in Alaska, including some endangered species. Humpback whales migrate to Alaska in the spring to feast in the rich waters before heading back to their breeding grounds.
During my Princess cruise, I saw numerous bald eagles, countless numbers of humpback whales, some otters, and seals. If you're lucky, you can sometimes spot orca, fin whales, and porpoises.
The mountains surrounding the port towns offer occasional sightings of Dall sheep and mountain goats. Although I did not see any bears, to be honest, I wasn't looking for them. You see, I live in Vancouver, Canada, where black bears are regular visitors to my neighborhood.
When preparing for a Voyage of the Glaciers adventure, bring a pair of binoculars. During the cruise, look for the plume of mist and water along the shorelines. Binoculars also increase your chances of seeing bears along the water's edge, especially in Glacier Bay National Park.
Should you be loyal to another cruise line, Holland America, Norwegian, Celebrity, Regent, Silversea, and Oceania offer 14-day Alaska cruises.
Alaska is a magical place, unlike anywhere else I've cruised. It offered a unique cruising experience that left me breathless. Even after four incredible cruises, I have booked my fifth Alaska adventure and can't wait to experience the pristine wilderness again.
Happy travels ~ Karen