For those taking a Vancouver to Alaska cruise, getting to the cruise port from the airport is relatively easy. Vancouver International Airport (YVR) is located on Sea Island, Richmond, just south of Vancouver.
The Vancouver cruise ship terminal is downtown at Canada Place, on the Burrard Inlet waterfront. With a distance of 8.5 miles or 13.8 km to the cruise port, cruise passengers won't have the stress of travelling too far after their plane has landed.
Since the port of Vancouver only sees cruise ships during spring and summer, the airports lack the shuttles services commonly found in Miami, Los Angeles, and other United States hubs. While airport shuttles exist, cruise passengers need to book one in advance.
In this article, discover the other options for ground transportation from YVR airport. Cost, the amount of luggage you're carrying, time of arrival, or accessibility may factor into your choice.
Grab A Taxi
Anyone arriving in Vancouver, British Columbia, can grab a taxi on level 2 at the airport. A Vancouver taxi to Canada Place or the cruise terminal costs CAD 36. Without traffic congestion, expect the ride to take around 30 minutes.
Authorized taxis leaving the airport have fixed zone fares, and riders should confirm the rate. So, if you arrive in rush hour, you won't be paying more to sit in traffic.
However, taxis charge a metered time and distance rate when returning to the Vancouver International airport from downtown Vancouver. Expect to pay significantly more on the return journey if traffic is slow or there are roadworks.
When traveling to the airport for your return flight, taxis are plentiful downtown. Although, if there are multiple ships in port, you may have to queue for one.
If you have limited time between disembarkation and your flight, a taxi may not be the fastest option.
Use Uber Or Lyft
The city of Vancouver has ride share. Lyft and Uber services are readily available but rates will vary upon availability. Wait until you've collected your luggage before requesting a ride with their smartphone app. Then wait outside on level 2, in the designated rideshare area.
International travelers can use the airport's free Wi-Fi to use the app without roaming charges.
With Uber, you can choose from an UberX or Uber XL. UberX can accommodate up to four people, and the latter can take up to six. Lyft offers a similar choice with a smaller and larger vehicle option (that takes up to five).
However, if you're traveling as a group of four, it's recommended you get a larger vehicle. The smaller one may not accommodate all of your luggage. Bear in mind, that smaller vehicles are more plentiful, so you may wait longer for an UberXL or Lyft XL.
An UberX or Lyft costs CAD 30, and the larger vehicles CAD 48. Both Uber and Lyft will drop off passengers at the same area at the Canada Place cruise terminal. With a difference of CAD 6 between rideshare and taxi services, the savings may not be worth the wait.
Book A Cruise Line Shuttle
Most cruise lines offer a shuttle service from the Vancouver airport to the cruise port. Cruise ship passengers need to pre-arrange their shuttles to the city center, and prices vary by the cruise line.
Alternatively, Ace Charters Vancouver offers a shuttle from the airport to the cruise terminal or vice versa. Their rates for spring 2024 are CAD 18.00 per person.
Shuttle pricing is always quoted as "per person." So, depending on the size of your travel party, it could be cheaper to travel another way.
Take The Skytrain
My preferred means of public transportation is Skytrain. Skytrain, or Vancouver's rapid transit system, is easy to use, inexpensive, and provides the best way to get downtown. Follow the directions at the airport to the trains.
You'll want to purchase a ticket to the "Waterfront Station" at the end of the "Canada Line." The train service starts at 5:07 am, and the last train leaves at 12:56 am.
Tickets cost under CAD 9.35 for adults, CAD 8 for seniors and children 13 yrs. or older, and under 12 are free. Trains leave every 7 minutes and expect the journey to take 25 minutes.
There are twelve stops from the Vancouver Airport to the Waterfront Station, with Waterfront being the last. During rush hour, Skytrain travelers will get to their cruise ship faster than those using a taxi or Uber.
If there are line-ups at the ticket machines, you can use a credit card to tap in when you enter Skytrain and tap-out when you exit. The tap-in and out system makes it super fast. However, you will need a separate credit card per person.
Once you arrive, exit the building, turn right and walk one block to Howe Street. Turn right and it's a short walk to the city's cruise terminal. Canada Place and the Vancouver cruise terminal will be in front of you.
If you walk around from one side to the next, you'll probably see your cruise ship. To access the Canada Place cruise ship terminal, follow the ramp that slopes down into the parkade. Signs clearly mark the directions for cruise passengers.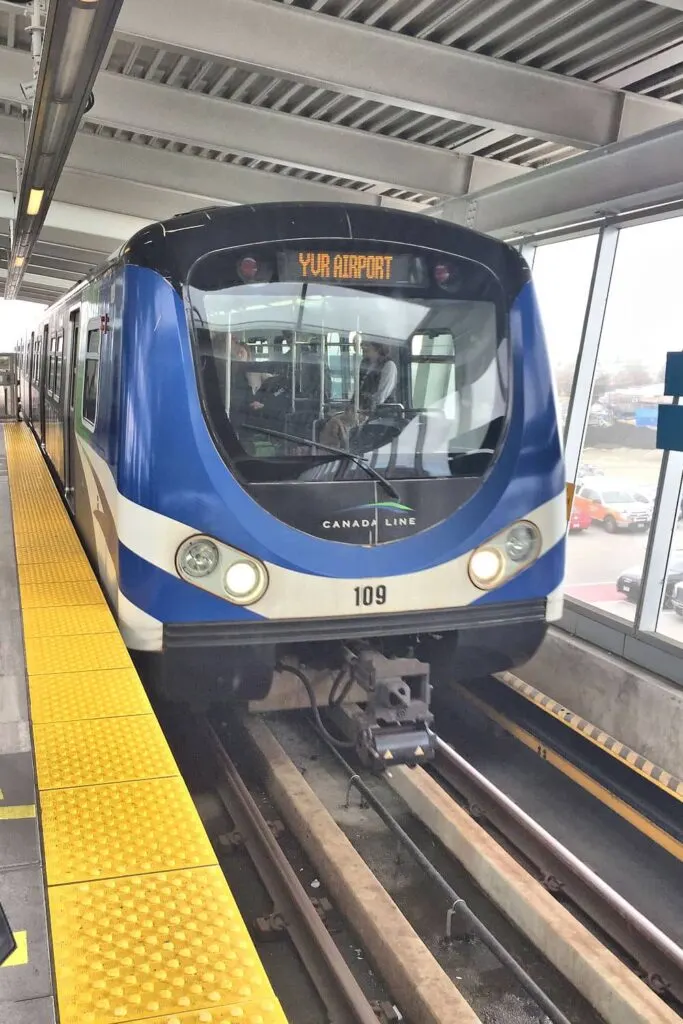 Alternatively, you can enter Canada Place and take an elevator down to the cruise terminal.
The Skytrain's Canada Line provides an inexpensive option and the best choice if you can walk a few blocks and manage your luggage. Obviously, it doesn't work if you're mobility challenged, or your plane arrives outside of operating hours.
Although, if your plane arrives around midnight, I'd suggest staying at one of the Richmond hotels near the airport, and taking the Skytrain to the cruise ship terminal the following morning.
Try A Limousine Service
If you want to arrive in style, Vancouver offers limousine service. Here are a few private transfer options from the airport to the Vancouver cruise port. A limousine service is a great option for a larger travel group. Prices are current for spring 2024.
Time Limousine Service (604)340-9200 charges CAD 117 for a private airport transfer.
Ritz Limousines (604)937-7480 charges CAD 110+.
My Limo Ride (604)597-9040 charges CAD 135.
Long Term Parking Options
For those who live within driving distance of downtown Vancouver, the cruise terminal offers long-term parking. However, cruise passengers need to pay CAD 32.00 a day. That gets expensive when a 7-day cruise costs an additional CAD 232 in parking, 14-days cruises CAD 450+ etc.
Most of the parking is due to fees. The rates include a CAD 7.50 convenience fee, 24% transit levy parking tax, 5% goods, and services tax, and a 7% provisional sales tax on the convenience fee.
Instead, I park at the Value Long Term Lot at the Vancouver International Airport and take the Skytrain downtown. The Value Long Term Parking lot is accessed at 3211 Grant McConachie Way, with a Skytrain station (Templeton Station) in the lot.
The lot is huge and always has plenty of spaces. There are spots near the Skytrain station for electric vehicles too. It's cheaper to pay online rather than at the lot.
A 7-day stay costs approximately CAD 120, and a 14-day stay costs CAD 220. The Skytrain ticket to get downtown is under CAD 10 per person.
Hotels With Free Shuttles To The Cruise Port
Many travelers stay in downtown Vancouver, near Canada Place (cruise terminal), if they're flying into Vancouver a day or two before their cruise. As a first-class destination, Vancouver offers many things to do.
However, Vancouver is an expensive city so expect to pay top dollar at most hotels. There are many hotels within walking distance of Canada Place.
The Pan Pacific, Fairmont Waterfront Hotel, Auberge Hotel, and Fairmont Pacific Rim are examples.
If you're flying in the night before your cruise and arriving late, the Fairmont Vancouver Airport Hotel provides luxury accommodation without leaving the terminal.
With an in-house restaurant, spa, and lovely rooms, you can rest the moment you land and make your way to the cruise port the next morning.
A couple of hotels offer complimentary shuttles to the port. These are:
Hampton Inn & Suites Vancouver at 111 Robson Street. Guests staying at the Hampton Inn enjoy a complimentary hot buffet breakfast.
Atrium Inn Vancouver at 2889 East Hastings Street. This hotel also offers a complimentary hot buffet breakfast, although it's not downtown.
Pinnacle Hotel At The Pier, at 138 Victory Ship Way, North Vancouver. A stay at this North Vancouver hotel includes a sea bus transfer to Canada Place.
The Holiday Inn Express Vancouver in Richmond has a deal for you for those who need a park and stay. Located at 9351 Bridgeport Road, a stay includes seven days of free parking.
If you need more than 7-days parking, additional days cost CAD 15 a day. The Holiday Inn has a complimentary airport shuttle, which is helpful if you wish to use the Skytrain to get downtown.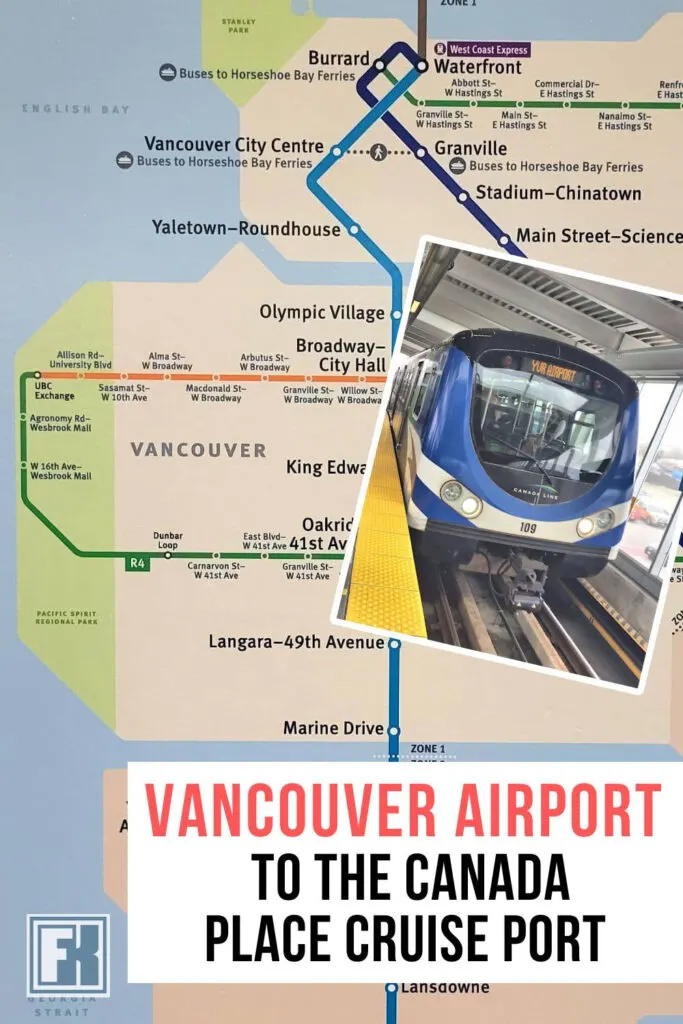 Final Thoughts
As the demand for Alaska cruises from Seattle and Vancouver grows, Vancouver will need to build another cruise port that can accommodate bigger ships like the Norwegian Bliss or the Royal Caribbean Ovation of the Seas.
Cruising to Alaska from Vancouver allows you to visit a world-class city and enjoy the calmer waters of the inside passage.
With its cruise port close to the international airport, guests have easy access without the high cost of a cruise line transfer. You'll also enjoy sailing by Stanley Park, voted as one of the best urban parks globally.
Post-pandemic, it's advisable to fly into Vancouver, Canada at least one day before your cruise. With flight cancellations and delays, it's better to pay for one night in a hotel than to risk missing your vacation.