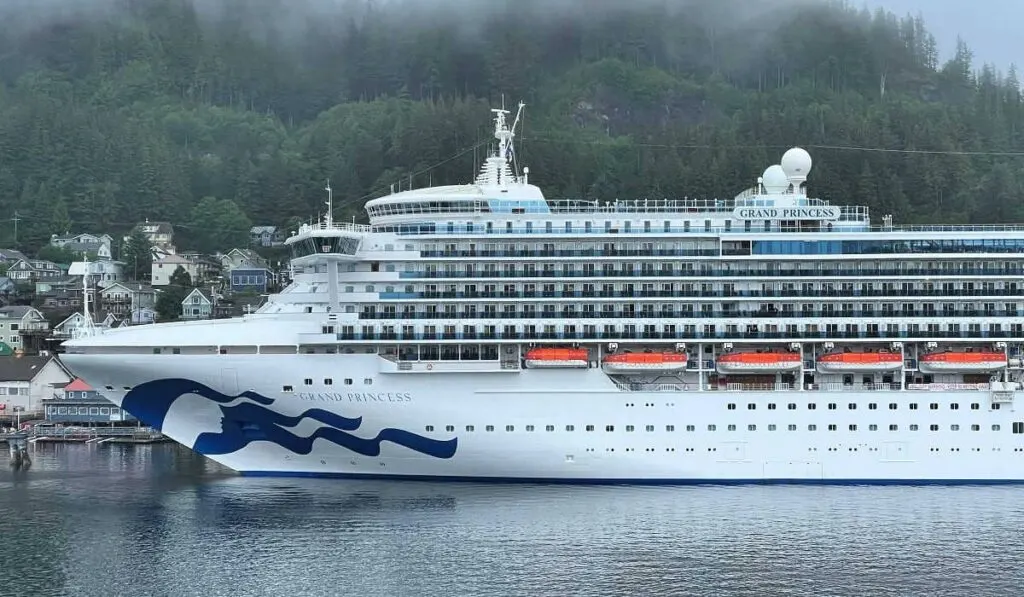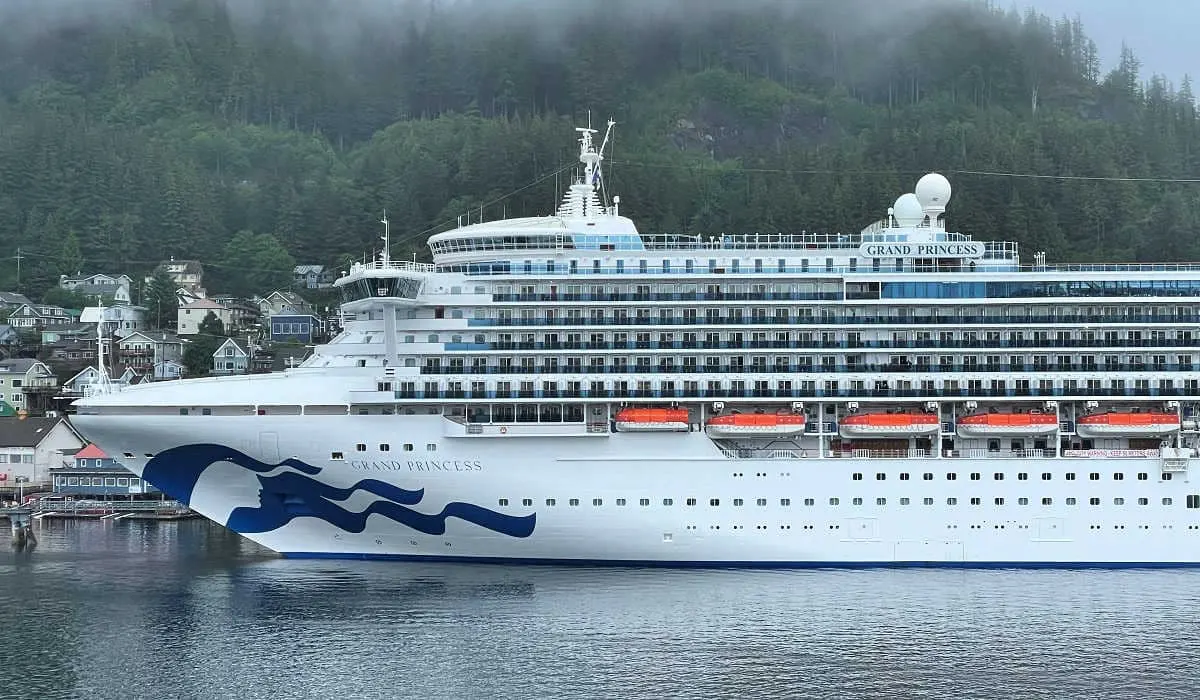 Setting sail on the Grand Princess opens up a world of captivating destinations if it's your first time on a cruise ship. In this Grand Princess review, you'll discover its public areas and why cruising on this Grand-class vessel may be suited to you.
Although launched before 2000, the vessel is one of the cruise line's smaller ships. She is also one of the older vessels in the Princess fleet.
The ship underwent a refurbishment in 2019. The staterooms saw upgrades with larger flat-screen TVs and the addition of Luxury Princess beds.
🛳️ Ready to book your Princess cruise?
Select from itineraries to the Caribbean, Alaska, Mexico, and around the world. There's a cruise to fit every budget.
Find your cruise here
Around the ship, Princess refreshed the pools, added the Ocean Medallion, and new venues such as the Salty Dog Grill and Slice Pizzeria.
As one of the jewels in Princess Cruises fleet, the ship boasts a passenger capacity of approximately 2,600 guests. Grand Princess passengers can opt for cruises and cruise tours to Alaska in the summer.
In the off-season, the ship repositions via Hawaii and Tahiti to Melbourne, Australia. However, you can also find the odd itinerary along the Pacific Coast and to Mexico. So, whether you board in San Francisco, Vancouver, or Sydney, here's what you'll expect onboard.
Grand Princess Review: First Impressions
Although not as large as the Discovery Princess, the line's new ship, the Grand still has the signature amenities – the Sanctuary, Movies under the Stars, and aft pool.
While Princess refurbished the vessel in 2019, the abundance of wood remained, giving it a traditional and, dare I say, outdated décor.
The ship received a new Piazza atrium, which often became a central gathering spot for entertainment, dance classes, and live music. It's an ideal spot to grab a morning latte, enjoy a late-night pizza, or chill to the sound of a piano playing.
Sometimes events are hosted in the Piazza during the day. I enjoyed a fruit and vegetable carving demonstration during my sailing.
The Promenade deck has the classic wraparound circuit, often removed on newer vessels, for those who love to walk laps.
It's refreshing to have the use of the Medallion app onboard this older vessel. Whether you're a fan of using a smartphone for everything or not, you can't help but love the feature that it opens your stateroom door.
Grand Princess Stateroom Review
For our early May Alaska cruise itinerary from Vancouver, we booked an oceanview guaranteed cabin for three. We were assigned a room on deck 5 or the Plaza deck.
At the last minute, the third person opted not to go, so it became a stateroom for two.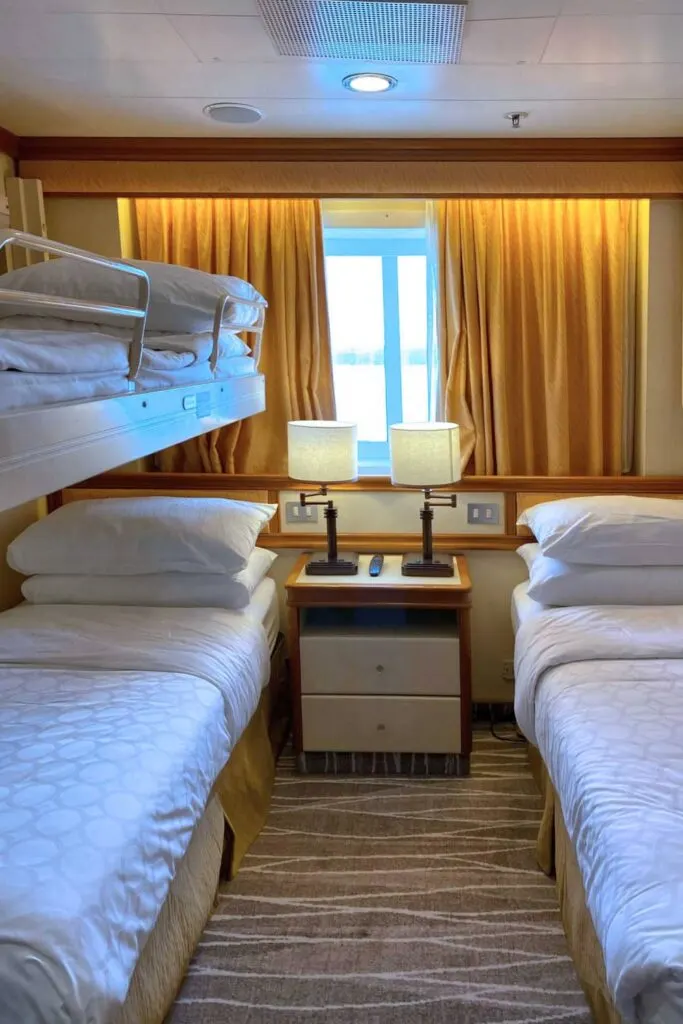 However, when we arrived, our steward had lowered the Pullman bed and set up the cabin for three guests. It was later put away to accommodate two comfortably.
The room was dated but comfortable, and had enough storage for our Alaskan adventure. According to Princess' website, the room measured approximately 165 sq. feet but seemed smaller due to the configuration of the closet.
There was no couch but a small desk instead. Adjacent to that was the usual mini-fridge, ideal for hoarding those late-night snacks.
I appreciated that the bedside lamps had USB plugs to charge our smartphones. Plus, there were other sockets to charge our batteries and use a laptop.
The bathroom was a typical cruise cabin size, small and unfortunately, with a shower curtain instead of the upgrade glass doors.
Our cabin steward kept our stateroom refreshed on a daily basis and provided clean towels when we needed them.
Being an older vessel, the Grand Princess doesn't have lavish multi-bedroom suites. Its smallest cabins, interiors measure 160 sq. feet, and the largest, the Grand Suite has 730 sq. feet of floor space.
Laundry Services
One of the benefits of cruising with Princess is the ability to do laundry. This service is beneficial if you're booked on an extended itinerary or sailing to Alaska, where you need clothing for three seasons.
With the exception of deck 14, you can find a self-serve launderette on every deck with staterooms. Most decks have the laundry room near the aft, except for deck 5, which is positioned near the bow, opposite cabin P208.
Washers and dryers cost USD 3; you can purchase tokens with your Ocean Medallion.
Dining And Food Options
The Grand Princess cruise ship has three main dining rooms; Da Vinci, Michelangelo, and Botticelli. You will be assigned one of these if you request a set dining time. While the decors vary, the menu remains the same.
Alternatively, you can choose anytime dining where you can eat anywhere, at any time.
Da Vinci and Botticelli Restaurants are located on deck 6, with no access between them. I always found this frustrating, as you must go up or down one deck to gain access.
Service and quality of food were good, but Princess tends to stand out above the rest with their presentation of desserts.
Princess Cruises has teamed up with one of the world's top chocolatiers to create a delectable experience for chocolate lovers on board.
Horizon Court Buffet
The Horizon Court buffet on the Lido deck offers plenty of selection if you prefer something more casual. It offers breakfast, lunch, and dinner.
On the last night of the cruise, the buffet included complimentary sushi, something you usually get at a specialty restaurant. While it looked great, it didn't match the fantastic sushi we are accustomed to in Vancouver.
We ate there for breakfast and lunch due to its convenience. There was always lots of selection, including gluten-free, vegan, and vegetation.
Other Dining Options
You can indulge in various chocolate desserts from the main dining room to specialty restaurants and the buffet. And for those who enjoy a good drink, there are chocolate-flavored cocktails and wine pairings to savor.
The Grand has not one but two places to get pizza at sea. Alfredo's Pizzeria offers a sit-down experience, where thin-crust pizzas are made-to-order. Gluten-free crust is available to those who require it. It costs USD 14.99 to eat here, but waived if you have Princess Plus or Premier packages.
On the Lido deck, Prego Pizzeria offers a grab-and-go pizza by the slice. You won't have an option for gluten-free here.
The Salty Dog Grill, added during the 2019 retrofit, offers craft burgers, tacos, fries, sandwiches, and hot dogs. Again, it's a USD 14.99 fee if you don't have an upgraded package.
You have two choices to get your caffeine fix: the International Café or Coffee & Cones. The International Café has tasty treats, pastries, and wraps if you need a quick bite between meals.
Coffee & Cones, as the name suggests, has soft-serve complimentary ice cream. You can also purchase USD 3 ice cream sandwiches, such as the Mint Paddy or Cookie Colada.
Tea drinkers might enjoy the Leaves Tea Lounge, which shares its space with a small library. Located on the Promenade deck, you can enjoy a specialty tea with a book, jigsaw puzzle, or daily puzzle.
Princess ships also offered afternoon tea, which was complimentary. Attend at least one tea ritual if you're a fan of finger sandwiches, scones, and tasty treats.
Guests on a Princess Cruises vessel enjoy complimentary room service for continental breakfast. Outside of breakfast, there's a minimal USD 5 charge (free for Plus and Premier packages).
Crown Grill
If you want an elevated dining experience, consider dining at one of the specialty restaurants. While Princess may not have the best steakhouse across all lines, its Crown Grill steakhouse offers a pleasing menu.
At an affordable price of USD 39, it's USD 25 cheaper than a steakhouse dinner on a Royal Caribbean ship.
The menu included 14oz rib-eye steak, double lamb chops, grilled jumbo shrimp, and lobster tail. I loved that the meal had a salt menu; the Hawaiian Black Salt was my favorite.
Make sure you leave room for dessert. I recommend the Key Lime Pie Bar or the 7-Layer S'Mores Stack, which are as sinfully delicious as it looks.
Sabatini's
Slightly cheaper, the cuisine and atmosphere at Sabatini's will whisk you away to a quaint village in Italy. Here, the handmade pasta and risotto are superb, packed with flavor and the right amount of seasoning.
Since I require gluten-free and lactose-free, I tend to avoid Italian restaurants. However, Sabatini's was able to cater to my needs. The food was beyond amazing and a place I could have enjoyed for more than one night.
Sabatini's has its own bar menu. So, you can enjoy a Prosecco cocktail, a classic Italian drink, or Limoncello with your dessert.
Bars And Lounges
On the Grand Princess, you'll find twelve bars and lounges, each with its own unique ambiance and selection. The Mermaid's Tail Bar, situated by the pool, serves refreshing tropical concoctions and ice-cold beers, perfect if you need respite from the sun-drenched deck.
Located between two casual food venues, you'll also enjoy easy access to comfort food.
The Vista Lounge Bar, with its stunning panoramic views, offers a stylish setting to savor your favorite wine, cocktail, or spirits.
If you prefer a more intimate setting, the Wheelhouse Bar exudes a touch of elegance reminiscent of a classic gentlemen's club. Patrons can enjoy top-shelf spirits like single malt whiskies and aged cognacs.
Since we were cruising to Alaska in early May, guests favored the indoor bars to escape the cold weather outside. Princess provides destination drinks and beers, so in Alaska, why not try an Alaskan beer?
Princess Cruises has elevated its standard drinks packages to Princess Plus and Princess Premier. It's similar to competitors' all-in-one, where Wi-Fi, gratuities, and drinks are included.
At USD 80 per day, the Premier package includes drinks up to USD 20. The Plus package costs USD 60 daily, giving you drinks up to USD 15 each.
Guests are limited to 15 beverages a day, and the cruise line bills any amount exceeding the price limit.
Entertainment
The Grand Princess boasts a variety of evening entertainment options typical to what you find on cruise ships. You can expect Broadway-style shows, live music performances, comedy presentations, and solo artists.
The Princess Theater provides two shows per evening so guests can attend, regardless of their dining schedule. Alternatively, the Vista Lounge on deck 7 aft provided entertainment too.
Live music often echoes through the Piazza and plays on the Lido deck in warmer destinations.
Daytime entertainment includes trivia, cooking demonstrations, game shows, and sports events. The onboard shops and casino also hosted events.
Depending on where you're cruising, you may also enjoy educational lectures about the region's wildlife and culture. In Alaska, for instance, themed activities enhanced the Alaskan experience.
Pools And Hot Tubs
While small, the Grand Princess has four swimming pools and eight hot tubs. As the aft, the Terrace pool provides those calming wake views.
Known for its serene atmosphere, you'll enjoy fewer people than the main pool, and offers a more intimate setting.
One deck up, the Lido is home to two pools and four hot tubs. A giant TV screen next to the outdoor venue offers classic Movies under the stars. Unfortunately, it was a bit too cold to watch an outdoor movie in May.
The other pool is covered, making it an ideal vessel for cold climate destinations like Alaska.
On deck 15, you'll find the last pool inside the spa, with two additional hot tubs. Adjacent to the pools, guests can enjoy complimentary steam rooms and saunas, which are missing from their newer vessels.
An adjoining fitness center offers all the standard gym equipment and aerobic classes.
Kids Clubs
If you're cruising with children, Camp Discovery has a designated area that provides activities for different age groups. Voyagers welcome those from 6 months to two years.
Children 3 to 7 play in the whimsical area called The Treehouse. For ages 8 to 12, the Lodge provides outdoor sports and indoor games such as air hockey and foosball.
Teenagers (13 to 17 years) in The Beach House have a stylish hang-out to enjoy with new friends and listen to music.
Children can enjoy pizza parties, friendly competitions, and dance classes, as well as an arts program, games, and themed events.
Medallion App And Internet
In a world of advancing technology, Princess requires everyone to do everything on an app. Great if you have a smartphone and a working app.
We found the app glitchy at times; sometimes it worked, and other times it didn't. When it worked, we could order food and drinks, and the crew members would find us onboard.
If you haven't purchased the Princess Plus or Premier, there's a one-time Ocean Now activation fee of USD 14.99 t order food and drinks.
The app is one of the easiest to navigate. If you don't have a cellphone, you can access its features on one of the large LCD screens scattered around the ship.
If you require Wi-Fi, the MedallionNet basic service costs USD 15 per day, per device, for the cruise duration.
However, if you purchased the Princess Plus, you'll receive Wi-Fi for one device. The Princess Premier package includes Wi-Fi for four devices.
MedallionNet was a bit slow and, at times, didn't work in some areas of Alaska. While some cruise lines have gone to the faster Starlink, Princess has not.
Princess Patter
The Princess Patter provides you with daily activities, available dining venues, and "what's going on" around the ship. With the introduction of the Medallion app, Princess, like many other lines, encourages guests to go paperless.
Since so many guests experience problems with the app or the app stops working, I still request my cabin steward leave me a paper copy of the Princess Patter each day.
Final Thoughts
The Grand Princess provides an ideal cruising vessel for those wanting to escape the crowds of a larger vessel. Being an older ship, it offers excellent itineraries at good value for money.
The staff is attentive, and the food is better than average. If you're seeking a budget-friendly cruise without too many children, consider the Grand.