Some of you are probably skeptical that Alaska can be a great summer destination. But with long days and mild temperatures, you might be surprised at how much fun it can be. This is especially true of Anchorage, Alaska-the "land of the midnight sun," which offers so many things to do.
While it's not the capital, it's Alaska's largest city. Upon entering Anchorage Airport, you can feel the city's energy: a blend of urban, tribal, and natural aesthetics.
Nowhere else except a museum will you see so many taxidermized animals in plain view. Of all the United States, Alaska is my favorite.
You may visit Anchorage as part of your Alaska itinerary from Vancouver. Alaska cruise season from May to September offers many itineraries, including Whittier or Seward.
But after you've taken that in, you are free to traverse the town; where to begin? If you're looking for things to do in Anchorage, Alaska, you're in the right place. Here are 20 Anchorage activities to make your summer vacation last a lifetime.
1. Go Inside A Glacier
If you're going to Anchorage, Alaska, someone will ask if you saw a glacier when you come back. Several companies offer tours around or on the glaciers. If you go on a cruise, you might go by the fjords and see one up close.
But here's a secret: some tours are better than others. Why answer "yes" when you can tell your friends a story about how you went inside a glacier?
Some excursions make that possible; your cruise might not be among them. The Matanuska Glacier has some of the best glacier views in all of Alaska.
However, if you want to experience the glacier, you should go on a guided tour. Stand on the massive sheet of ice for a great photo op, or bring your water bottle for a refreshing drink from the source.
And, if you're lucky, you will even be allowed to enter the Matanuska Glacier if they find an ice cave. Of course, you should bundle up, as it's chilly there. It's nonetheless one of the most Alaska things to do, so don't miss this chance!
Spencer Glacier is another local glacier just south of Whittier, AK. Similar to Hubbard Glacier in Disenchantment Bay, it is a majestic site of massive ice and snow.
Spencer Glacier is accessible by train at the Spencer Glacier Whistle Stop on the Alaska Railroad.
Exit Glacier near Seward is accessible by road. While you can take a guided hike to the glacier's terminus, you can also do a self-guided trek.
2. Bike The Tony Knowles Trail
The Tony Knowles Coastal Trail is open for non-motorized use only and runs along the coast of Anchorage. So, rent a mountain bike in Anchorage and hit the trail. At 11 miles long, on this coastal trail, you can turn around whenever you want.
The paved path is ideal for bikers and follows a series of marshes. With the wetlands, you could encounter wildlife, namely moose! Other wildlife sightings could include bears, bald eagles, foxes, coyotes, and sea otters.
Take Second Avenue in downtown Anchorage and finish in Kincaid Park if you're up for the challenge.
3. See The Northern Lights
There are plenty of options in Anchorage as soon as night falls. Along with Anchorage's beer culture (stay tuned), one of the best Alaskan experiences worth paying for is to take a Northern Lights tour.
These aurora tours take a few hours to a few days, depending on how badly you want to remove this item from your bucket list. All excursions start after dark. Rejoice, night owls. There is a tour just for you.
There are plenty of viewing points around Anchorage; Glen Alps and Eagle River Nature Center are both excellent. You can even schedule a wake-up call to see the aurora from your hotel room.
However, you need to plan carefully if you want to see the aurora borealis. Although the Northern Lights are visible year-round, you can only see them at night.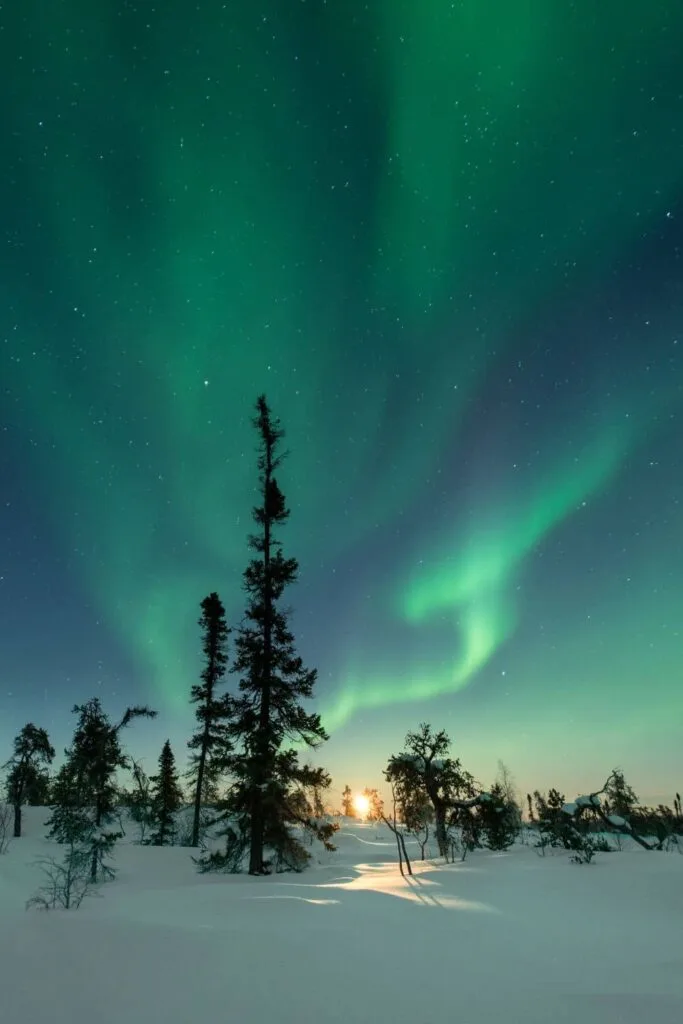 The best times to see the Northern Lights in summer are late April and late August-September. Being away from light pollution increases your viewing chances.
4. Take In A Festival
Did you know that Anchorage, Alaska has 22 hours of daylight in summer? The city gets more sunlight than anywhere else in the United States.
You could even pick an Anchorage tour that lasts into the night. If you come at the right time of year, you can catch the summer Solstice festival in Anchorage.
Solstice varies slightly by year, so you should check a calendar before making travel plans. Then, you can celebrate the longest day in Anchorage, AK.
If you're into fishing, you have to come in June. A competition to catch the biggest fish, the annual "Slam'n Salm'n Derby," takes place then. Of course, you can have your fish professionally prepared afterward!
But even if there is no major festival when you arrive, there are still things to do. Other summer activities include Live After Five concerts, movies in the park, and more. Enjoy live music and plenty of liquor as the midnight sun shines on.
You will miss Fur Rendezvous (also known as Fur Rondy), a pure Alaskan frontier festival if you come in summer.
We could go on about festivals, but we encourage you to check out the town of Anchorage's official website for more festive happenings in downtown Anchorage. There's always something going on!
5. Take A Scenic Cruise
If you like getting many things in one package, your best bet might be a day cruise. If you want glaciers, you may also see some wildlife and vice versa. Kenai Fjords National Park is one of the best places for both.
Look at each tour package to make the most of your cruise time. For example, Alaska Saltwater Tours hits glaciers, whales, and other wildlife simultaneously!
When picking a cruise, try to see as many things as possible. Please remember that these cruises may eat up an entire day.
You should plan your cruise well in advance, primarily if it specializes in wildlife photography. Call ahead for reservations, but also have plans B and C in case of bad weather.
6. Go Hiking
There are many parks, outdoor activities, and hiking trails in Alaska, and Anchorage has a few. The city boasts 135 miles of trails within the numerous parks.
Earthquake Park is named as a result of a 1964 earthquake that impacted this area of downtown Anchorage.
The best place to see Anchorage's beauty is along the many local trails. Hiking is an ideal way to stay fit and enjoy the scenery during the summer months. Here are just a few:
Anchorage has many nature trails of varying difficulties, so it is easy to find your perfect hike. Flattop Mountain is Anchorage's most climbed summit, offering routes for all abilities, including a wheelchair accessible one.
Hike up a mountain. Mount Alyeska offers trails for all levels of hikers. You may choose to stay at the luxurious Alyeska Resort while enjoying the skiing.
7. Enjoy A National Park
One of the best things about going to Alaska is that cities are right near nature preserves. Anchorage is near five National Parks: Denali National Park, Kenai Fjords National Park, Lake Clark National Park, Katmai National Park, and Wrangell-Saint Elias National Park.
With so many options to choose from, there is a perfect outdoor activity for you! Denali National Park is among the most popular. It's included as part of a 'Cruise-Land' tour on Alaska cruises which start in Vancouver.
Being the tallest mountain in North America, you may not see Denali's peak as clouds and fog may shield it. Since weather can impact the view of the summit, it's best to stay more than a day.
Kenai Fjords National Park is approximately 125 miles to the south of Anchorage. While it's another incredible national reserve, include it on your itinerary if you have several days in Anchorage.
Chugach State Park is another way to enjoy the majestic outdoors. Located east of Anchorage, take the AK-1 highway from downtown to the park headquarters. Chugach Mountain is situated within the park.
No matter what kind of adventure you want, Anchorage has an option for you. "Touch grass" never sounded so appealing!
Lake Hood is located southwest of Anchorage and is home to many local seaplanes. By booking a tour, these charters provide spectacular views of the surrounding areas.
8. View (and Buy) Native Art
You probably noticed several examples of art done by the Native Alaskan people when entering Anchorage Airport. If you want to see more, several places in Anchorage, Alaska, have Indigenous art on display.
The Anchorage Museum is a massive, four-level experience. This Alaska museum is quite impressive and a must-see for all museum lovers.
It starts with a massive exhibit labeled "Living Our Cultures, Sharing Our Heritage." This exhibit contains many artifacts from the Inuit, Aleut, Yupik, and Tlingit tribes formerly housed in the Smithsonian.
You can also shop for smaller, more portable gifts made by Indigenous artists. The museum has a gift shop (and a good restaurant!).
If you want some souvenirs, your money will go to Indigenous artists while supporting the Alaskan museum.
The Alaska Native Heritage Center is even more targeted at people interested in Indigenous art and history. More than just a museum, it has educational programs, performances, and collections.
The Alaska Native Heritage Center is open to tourists; please check their website for additional information. But Alaska Native art is not limited to those two places.
Other shops around Anchorage may have merchandise made by Indigenous artists. Keep your eyes open, and always ask who made it. You will wind up with a bunch of fantastic Alaskan souvenirs!
9. Go Bear Or Wildlife Watching
Along with glaciers, nothing says "Alaska" quite like bears. Between polar bears and the iconic image of black bears fishing for salmon, these animals are synonymous with Alaska. Alaska is the only state with three bear species; you can see all three in Anchorage.
So where, oh where, can you see a bear in Anchorage, Alaska? One way is to go on a bear-watching tour. You can go by helicopter or bus and are guaranteed to get within a safe viewing distance.
There are also a few spots on popular trails that are good for bear-watching. Cook Inlet, Redoubt Bay, and Katmai are all popular places to find bears.
And if you have ever seen a photo of a bear snatching a fish, it was probably taken at Brooks Falls.
But these methods will only get you close to the black and brown bears. If you want the full Arctic experience, you want to see a polar bear, right?
The only way to guarantee that you will see a polar bear is to visit the Alaska Zoo, which specializes in northern wildlife.
Bears hibernate from November to April. If you come up in summer, you are right on time to see these majestic creatures in the wild. Come in July if you want to take your own photo of bears catching salmon!
Chugach National Forest is located east of Chugach State Park. It offers pristine trees, with the opportunity to see wildlife.
The Potter Marsh Bird Sanctuary is another wildlife haven to see. It is located about 11 miles south of Anchorage off AK-1 Highway.
10. Eat Alaskan Food
Anchorage has an astonishing variety of food. Alaska is known for its seafood, including five different types of salmon and king crab legs. Come at the right time in summer, and you can catch some yourself!
Seafood is just the tip of the iceberg (terrible pun) regarding food in Anchorage, AK. Besides (expected but excellent) seafood, Anchorage's local restaurant have Japanese cuisine, steak, and Mexican fare.
If you're looking for some great Anchorage eats, you can enjoy quite the spread. Some Anchorage favorites include:
Seafood, including salmon and king crab.
Alaskan carrots.
Reindeer sausage.
Malasadas (Hawaiian doughnuts).
Despite Alaska being a conservative state with tight liquor regulations, Anchorage has a robust brewing culture. Beer and wine are readily available at many places, regardless of what season you come.
Many brewhouses are wise enough to offer suggested food pairings for their drinks. Most of the significant beer-centric activities in Anchorage are in January and February.
However, there are still brewery food tours if you come in the summer. If you love the nightlife, you'll find plenty to like about Anchorage. Whatever you do, be sure to try the Alaskan Amber Ale.
11. Ride The Alaska Railroad
Anchorage started as a railroad town. Like the White Pass Railway in Skagway, the Alaska railroad provides a leisurely way to enjoy the beauty of Alaska year round.
Not only are many of the attractions accessible by train, but a train ride offers unique views of Alaska landscape! Take the Glacier Discovery train to Spencer Whistle for a ride that will make you beg for window seats.
But if you want to stay in the city, you can still experience some railroad culture. Anchorage has a 1-hour trolley tour detailing the town's history, wildlife, and sights. Learn more about the trolley tour at its official site here.
The Anchorage trolley tour is a fantastic way to start your trip. It's inexpensive and will give you a taste of what you can do in Anchorage, Alaska.
Not only will it give you a feel for the city, but every ticket comes with a coupon book with USD 200 worth of savings!
12. Pet Some Puppies
"Mushing" is the state sport of Alaska, and Anchorage knows it! Unfortunately, summer is not a good time to go sledding (surprised?).
But the dogs are still training by giving tourists like you educational, entertaining tours. Instead of giving you a ride on a sled, the excursions take place in a special cart.
This wooden cart is the same kind of cart the dogs use to train in the off-season. That said, you will have to ask the tour guides if you can steer the cart yourself. Summer dog sledding is popular with families because it's much more affordable than flying to a glacier.
If you're lucky, the tour will have puppies for you to play with afterward, but no guarantees. Please ask before petting any dogs; after all, they're trained athletes!
13. Kayak At Eklutna Lake
Eklutna Lake, located a short 40-minute drive from downtown Anchorage, is an ideal spot for a day trip. With over 1,400 hectares of crystal-clear waters surrounded by snow-capped peaks that flow from the Eklutna Glacier, it's perfect for kayaking.
You can also enjoy more than 25 miles of hiking and mountain biking trails and fishing opportunities. Eklutna Lake is the largest body of water in Chugach State Park and provides stunning views of glaciers and the Chugach Mountains.
Bike and kayak rentals are available onsite at the campground during the summer. With its stunning landscape and abundant recreational activities, Eklutna Lake will surely make any Alaskan vacation truly memorable!
14. Browse The Alaska Aviation Museum
Aviation has played a vital role in Alaska's development and remote communities. Explore the state's rich aviation history by visiting the Alaska Aviation Museum at Anchorage International Airport's world-famous Lake Hood seaplane base.
During the summer, you can view over thirty aircraft, artifacts, and memorabilia, daily from 10 am to 5 pm. A big hit with visitors is the flight simulators and two theaters that show films on flight.
Among the exhibits, you can find a Northern Air Cargo DC-6, a 1944 Stinson Gullwing, and a 1931 American Pilgrim.
If you stop by the restaurant, you'll enjoy your meal below the 1965 DeHavilland Beaver that hangs from the ceiling. Take advantage of your chance to delve into Alaska's aviation past!
15. Seek Out The Belugas
Beluga whales can be seen swimming in the waters of Turnagain Arm, near Anchorage, from mid-July through August. These white, medium-sized marine mammals typically travel in groups.
Their appearance is marked by the white finless back that breaks the surface and a small spray from their blowhole. Summer visitors to Anchorage should take advantage of the scenic turnoffs along the Seward Highway for glimpses of this unique species!
In late fall, belugas may also be spotted near Nome on the Seward Peninsula as they follow tomcod migration down the coast.
Alternatively, head to Ship Creek Small Boat Launch or Point Woronzof Park for views of them as they swim near shore on incoming high tide.
16. Enjoy The Alaska Botanical Garden
The Alaska Botanical Garden is the perfect destination for nature lovers! Spanning 110 acres of spruce and birch forest, the gardens feature over 1,100 species of hardy perennials and 150 native plant species throughout its living museum.
Notable attractions within the garden include a Gold Medal Peony Collection, Anchorage Heritage Garden showcasing historical plants, a 20-year-old Herb Garden, and Subarctic Rock Garden.
There is something for everyone at the Alaska Botanical Garden, whether you prefer to explore through photography or painting.
Nature enthusiasts can also enjoy the Lowenfels-Hoersting Family Nature Trail that leads to Campbell Creek, where wild salmon swim and ptarmigan take flight.
The highlight of the garden is the old vehicles which have become planters for the beautiful blooms. Amongst the flowers, the unusual art pieces are pretty spectacular too.
17. Visit Portage Lake And Glacier
Nestled within the Chugach National Forest of Southcentral Alaska, the majestic Portage Glacier awaits exploration. Reachable by road and boat, you can view this incredible glacier up close or afar.
Start your journey at Begich Boggs Visitor Center situated on Portage Lake's terminal moraine. This visitors' center features an informative exhibit about the 1964 earthquake, a theater showing nature documentaries, and narrated boat tours that take you to the towering face of the glacier.
If you're into hiking, you should trek these two trails: Portage Pass Trail for a two-mile walk to Portage Glacier and Byron Glacier Trail for 1.4 miles leading to Byron Glacier's terminus.
18. Browse The Anchorage Market
If you're looking for one-stop Alaskan souvenir shopping, check out the Anchorage Market. Open from May to September on Saturdays and Sundays, you can find everything from Alaska-inspired clothing, carved antlers, produce, and food.
Located outside the Dimond Center Mall, admission is free, and over 100 vendors will entice you to shop till you drop. You'll find Alaskan art, handmade Ulu knives, and photography, perfect for gift-giving.
There are plenty of places to try food and drink. If you love shave ice, you'll find it here. You can graze your way through the many food trucks. Salmon tacos, reindeer hot dogs, or salmon quesadilla, anyone?
19. Support The Alaskan Wildlife Conservation Center
If you have time, consider visiting the Alaska Wildlife Conservation Center. Located on the Seward Highway, the AWCC is a non-profit reserve dedicated to protecting Alaska wildlife and providing quality care to injured animals.
This hidden gem provides a great way to photograph wildlife if you haven't spotted any elsewhere. I love this excursion with a chance to see wildlife up close.
The sanctuary has over 200 acres that house endangered species, rehabilitate the injured, and returns them to their natural environment.
The center comprises a 1.5-mile loop that can be traversed by car or on foot. If it's raining, this is the ideal rainy-day activity in Anchorage.
If you visit in the afternoon, you'll catch feeding time and a chance to see bears chowing down on fresh meat. You can also see roaming bison, muskox, wolves, caribou, and porcupines.
The center relies on donations, entrance fees, and gift shop purchases to maintain the sanctuary. By visiting the Anchorage coastal wildlife refuge, you are doing your part to support wildlife recovery.
20. Go Fishing
Anchorage offers many fishing opportunities if you're an avid angler or new to the sport. Fishing trips can last a day to several days, and you can fish for trout, halibut, salmon, or several other species.
The best fishing trips for those without a budget are the fly-in ones. You'll access a remote area by floatplane and enjoy casting a line while distracted by the scenic views.
If you want to try your luck in Anchorage, The Bait Shack (212 West Whitney Road) rents a complete fishing package (rod, reel, tackle box, waders, bait, and day license) for USD 100 a day.
Wrap It Up
Downtown Anchorage offers many pursuits if you want to chill over the summer. You will find many activities in the downtown area, from museums to tours and festivals. Outside of Anchorage, the breathtaking vistas beg for exploration.
If you come near Solstice, you can easily enjoy the midnight sun! However, note that not all of the best things to do in Anchorage are in summer.
The locals have found ways to turn 30 Days of Night into countless wintertime activities. If you missed out in the summer, come back in the off-season if you can tolerate the frigid temperatures.
When you visit Anchorage, you'll remember such highlights as Spencer Glacier and many other sights. Be sure to take lots of photos to help the memories last a lifetime.
As a Canadian who has enjoyed much of North America, Alaska remains one of my favorite destinations.