If you are visiting Juneau in southeast Alaska, one of the popular excursions is the Gold Creek Salmon Bake. Just a 10-minute drive from the cruise ship port, you can enjoy an authentic Alaskan dining experience that started over 30 years ago.
You will enjoy a delicious salmon grilled over an open alder wood fire there. In addition, you can indulge in BBQ ribs, wild rice, baked beans, and much more.
This outdoor dining experience is easy to get to with a shuttle bus from popular downtown Juneau locations.
This delicious feast provides a complete sensory journey, including the tantalizing smells of the open-air grill against the backdrop of the Alaskan wilderness.
Gold Creek Salmon Bake Tours
About The Salmon Bake
The famous Gold Creek Salmon Bake has served Alaskan visitors since 1978 and sits next to Gold Creek.
Almost 150 years ago, prospectors found gold in Juneau in the creek so aptly named. In fact, you can't miss the giant buoy located at the salmon bake entrance, painted in gold, of course.
Tourists can enjoy the salmon bake during the Alaska cruise season from late April to early October. They can find its convenient location just a short drive from Juneau for all travelers, regardless of whether you fly in or cruise.
It is a local-run business, and we found the team to be friendly and accommodating. The outdoor feast operates seven days a week.
With decades of experience, they are a destination that knows how to make tourists happy while providing excellent service. After eating there, we understood why it's one of the top Juneau excursions.
Booking Gold Creek Salmon Bake
If you are cruising to Alaska on any of the major cruise lines, such as Princess Cruises, Royal Caribbean, Holland America, etc., they all include a stop in Juneau.
Check your cruise line's website for shore excursions in Juneau, Alaska. The salmon bake will be a popular option and often bundled with other Juneau-based tours. This table shows the lengths of each combined tour.
| | |
| --- | --- |
| Gold Creek Salmon Bake Combined With: | |
| Mendenhall Glacier | 3-1/2 hours |
| Whale watching | 5 hours |
| Whale watching & Mendenhall Glacier | 6 hours |
| Mendenhall Lake kayak | 6 hours |
| Historic gold panning | 3 to 4 hours |
On our recent cruise to Alaska, our salmon bake adventure was bundled with a tour of Mendenhall Glacier. The salmon bake is also bundled with other excursions such as Mendenhall Lake kayaking, gold panning, and a whale watching tour.
If you book a combination tour, the half-day shore excursion takes 3-1/2 hours or longer, depending on your selection. So, you'll still have time to explore the downtown area and enjoy a "duck fart," a classic drink at the Red Dog Saloon.
The combo tour with whale watching takes five hours. You'll head out to Auke Bay in a large catamaran. The boat's extra-large windows provide good views no matter where you sit.
You'll see humpback whales and other marine life, such as sea lions and harbor seals. The whale-watching tour guarantees sightings, plus you'll enjoy distant views of Mendenhall Glacier from the water.
The cost to do the salmon bake on its own is USD 69 USD (ages 13+) or USD 49 USD (ages 4-12).
Children under 4 are FREE. However, if you're booking through a cruise line, they could charge a higher fee.
Getting To The Salmon Bake
The Gold Creek Salmon Bake is located at 1061 Salmon Creek Ln, Juneau, Alaska.
The shuttle service runs frequently throughout the day from downtown Juneau. Depending on the time of your tour and bundle booked, you could do the salmon bake first or last. The bus that picked us up was operated by Alaska Coach Tours.
As part of our morning Mendenhall Glacier – Salmon Bake tour, we first visited the Mendenhall Glacier Visitor Center in Mendenhall Valley.
The drive to and from Mendenhall Glacier was 30 minutes each way, and we had 75 minutes at the park to explore on our own.
Most took a quick hike to Nugget Falls, which approaches the icefield for better Mendenhall Glacier viewing. While the park has numerous hiking trails, you will need to keep track of time to avoid missing your bus.
Since we had hiked to Nugget Falls on our last trip, we chose to take a short walk along Steep Creek and see the giant icebergs floating in Mendenhall Lake. Then, we browsed the visitors' center, which was crowded during our visit due to a very wet day.
From there, we boarded the same bus, which returned later, and rode back to the salmon bake. There was no set time to leave the salmon bake, as buses arrived frequently.
Once you arrive at the salmon bake, the owner of Gold Creek will board the bus and give you some instructions about what to expect.
If you visit Juneau for a few days, you can do the Gold Creek Salmon Bake by itself.
Gold Creek Salmon Bake Venue
Once you step off the bus, you soon get the aroma of wild Alaskan salmon grilling on a fragrant alder wood fire. After a short stroll, you can see the grill as almost the centerpiece of the salmon bake.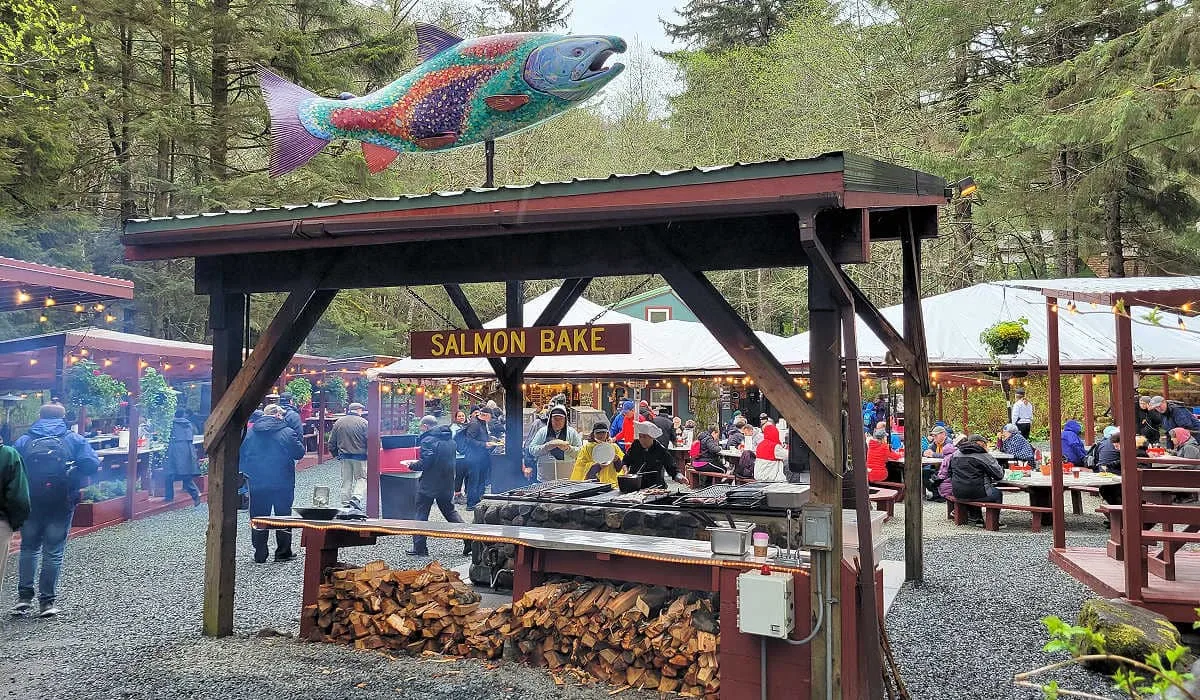 The fragrant alder wood fire raging below the grill took me back to my childhood camping. Growing up in Ontario, we sometimes cooked dinner on an open fire.
However, Forestry has banned open fires with climate change and the risk of forest fires across much of North America. The grill chef stood over her fire, keeping a diligent eye on the many salmon cooking steaks.
The salmon bake offers an all-you-can-eat. The Coho salmon fillets were delicious; you could try plain grilled or pieces with honey butter. Since Karen is lactose-intolerant, we sampled the plain grilled.
We took this 3-1/2 tour on a very wet day in Juneau. It poured with rain all day, but we dressed appropriately in waterproof Vessi runners and 3-in-1 waterproof jackets.
Since it frequently rains in Alaska, we were happy to see the BBQ area tented with many propane heaters. There was plenty of seating, and the eating area overlooks the creek.
Guests have the option to see a scenic waterfall or try gold panning for an additional fee.
The Menu
We got to indulge in a lavish dining experience featuring specialty alder wood-grilled WILD Alaskan salmon.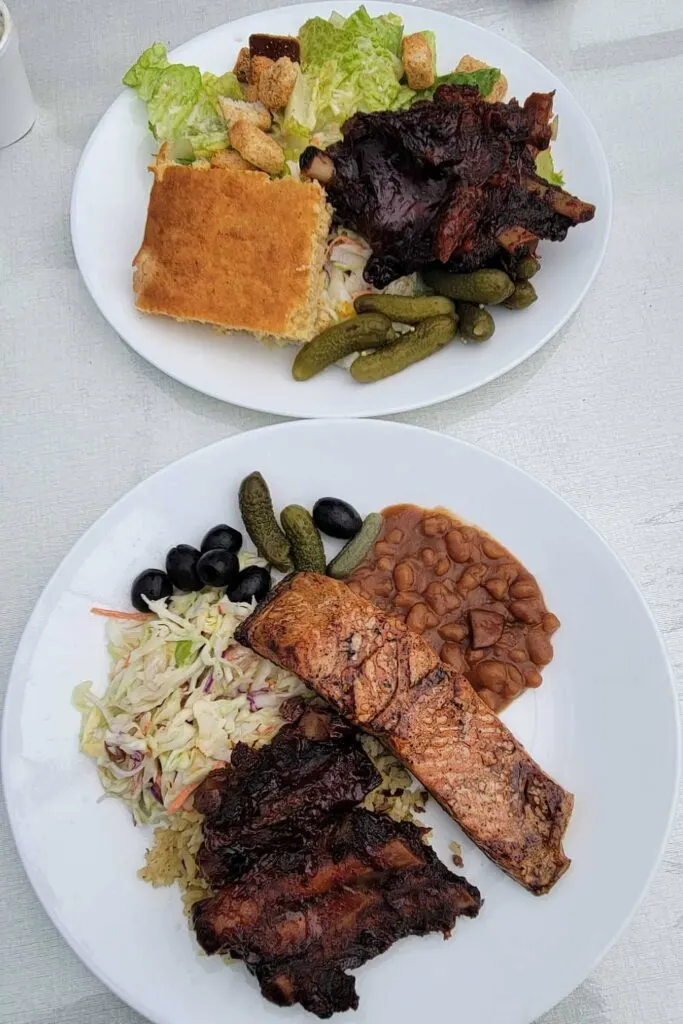 Since Karen has Celiac, we were pleasantly surprised to find almost everything was gluten-free except the dessert and cornbread.
As well as Coho salmon, the menu included:
Succulent Bonanza barbecue ribs or Cheechako Chicken.
Hearty Chilkoot baked beans.
Aromatic Tongass wild rice pilaf.
Hot clam chowder.
An assortment of side dishes and salads.
A variety of beverages, such as lemonade, hot apple cider, coffee, and more
Homemade blueberry cake for dessert
Guests can purchase Alaskan beer and wine from the Gold Strike Saloon.
I love ribs and salmon, but not a fan of chowder. However, the hot chowder was a tasty addition to the meal and welcoming on a cold day.
Other Highlights Of The Salmon Bake
The traditional salmon bake buffet is in a picturesque area with fountains, a meandering river, and other sites for the entire family to enjoy. During our stay, there was ample capacity for a couple of hundred guests, so finding a table was easy.
Colorful vinyl tablecloths covered all the tables, so everything looks clean and durable. A dozen propane heaters scattered throughout the dining area helped to lesser the Alaskan chill.
All tables are under translucent domes (large awnings), so regardless of the weather, you can eat in a dry environment. Each table has stations of paper towels, cutlery, and all the condiments needed for your dinner.
You can also roast marshmallows over a campfire, but Karen and I left to return to the ship after dining.
During nice weather, live Alaskan folk music entertains the guests. You can also take photos at an interactive gold rush mural.
Near the covered tables, a gift shop has Alaskan-made souvenirs if you want to take something back as a memento. Once we were ready to leave, a school bus shuttle took us back to the cruise port.
Final Thoughts
We did the Juneau Mendenhall Glacier Salmon Bake on a cold, wet day. Nevertheless, we dressed appropriately, and the weather didn't dampen our spirits. Having the appropriate clothing for Alaska can make all the difference.
While we did the Juneau tour in May (normally a dry month), we were fortunate to have only one wet day during our 7-day May Alaska cruise.
The Gold Creek Salmon Bake is a classic Alaskan experience in a lush rainforest environment. Be sure to pick a good tour operator, and I recommend booking through the cruise line if you arrive in Juneau via cruise ship.
Booking online directly is also a great way if you are not cruising.
When visiting Alaska, always be prepared for poor weather, even though Gold Creek does an excellent job of protecting you from inclement weather.
I know you'll find the Gold Creek Salmon Bake a great experience with great food and a memorable experience.