The Abbotsford Tulip Festival is the annual showcase 1000's of tulip blooms from mid-April to mid-May. Located in the Fraser Valley in British Columbia, Canada, it draws thousands of people from around Vancouver and beyond.
We visited the festival for the first time and were amazed at the acres of 70 varieties of tulips provided by Lakeland Flowers. Almost as far as your eyes can see, row upon row of different color blooms.
If you're visiting Vancouver for a couple of days in early spring, here are some great reasons to see the tulip's explosion of color.
1. To Celebrate Spring
As Canadians, we are obsessed with flowers and flower festivals, maybe due to our long winters. We welcome spring with cherry blossom viewing before going into tulips.
Tulips were introduced to Canada during World War II. At that time, Canada played a pivotal role in the liberation of the Netherlands. As a result, Canada received 100,000 tulip bulbs from Princess Juliana as a token of appreciation.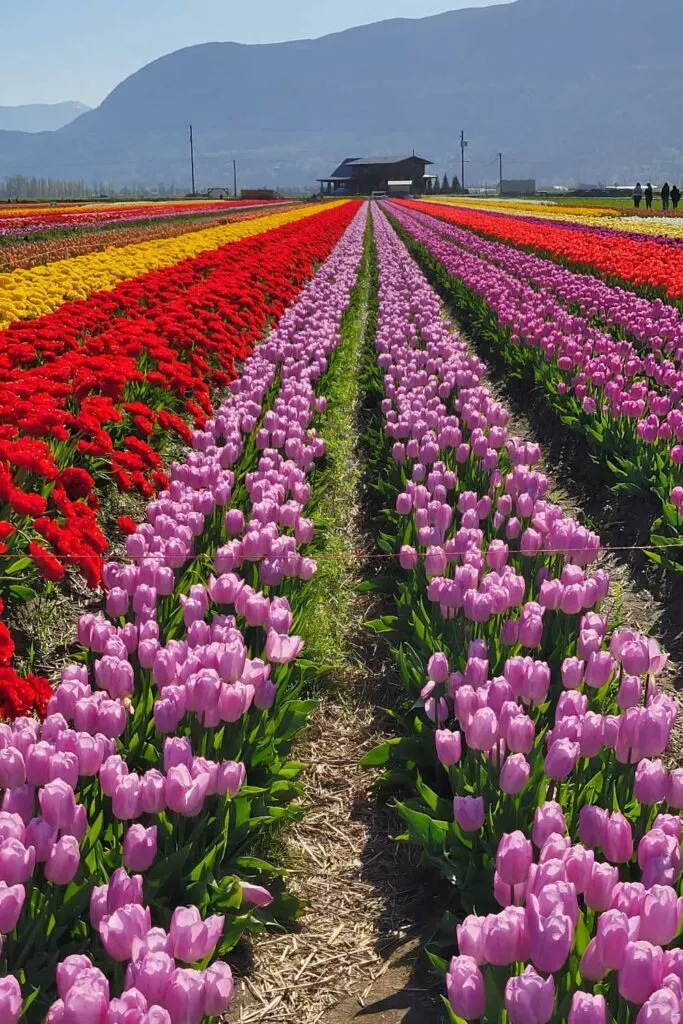 This act of kindness has since blossomed into a beautiful tradition, with the tulip becoming an emblem of the strong bond between the two countries.
Now, the Netherlands sends 20,000 tulip bulbs to Canada annually. With tulip festivals celebrated across Canada, you can find a location near you.
2. Supports Agritourism
Nick Warmerdam, a third-generation bulb grower, owns and operates Lakeland Flowers. Nick has built a successful business supplying bulbs and fresh-cut flowers to the Pacific Northwest for 30 years.
The 100-acre farm grows various popular flowers at different times throughout the Spring and Summer months. Tulips are first in April/May, followed by Peonies, Lavender, Sunflowers, and Meadows.
Through years of experience, Lakeland Flowers has adapted to the changing demands of the cut flower and bulb market. They have grown and sold millions of fresh-cut tulips, gladiola, peonies, and daffodils annually across Canada and the US.
One of the most recent catalysts of change came after the November 2021 Sumas flooding. This 'once in a generation' atmospheric river caused over a billion dollars of damage to the Sumas Prairie, just east of the City of Abbotsford in British Columbia.
The flood decommissioned much of Lakeland's commercial operation, damaging the greenhouse's automation system and operational equipment.
We live an hour West of the flooded area and saw the devastation on our local news as hundreds of neighbors lost their homes and businesses.
Today, Lakeland Flowers has scaled back operations but grows tulips and peonies commercially. This shift has allowed Nick to support agritourism with the annual floral festivals.
3. It's Inexpensive
It's best to purchase tickets online at least the day before you plan on attending. Also, buying tickets early will save money compared to the price you pay at the farm.
The Lakeland Flowers website also gives you a field update, so you know if it's muddy or when bulbs are in high bloom.
Weekend prices are higher, and the festival is busier. Here are the ticket prices in Canadian dollars at the time of this writing:
| | | | |
| --- | --- | --- | --- |
| TYPE | ADVANCE ONLINE | DAY OF ONLINE | AT THE FARM |
| Mon-Fri (8am-dusk) | $8 | $10 | S12 |
| Sat-Sun (8am-dusk) | $15 | $20 | $25 |
| Early Light (6am-8am) | $15 | N/A | N/A |
| Additional Drone Fee* | $10 | $10 | $10 |
*Note that visitors can fly drones from 6 am-10 am to minimize any disturbance to guests. As an avid drone pilot, I was thrilled that I could bring my DJI Mavic Mini 2 drone to get some aerial shots. You can capture incredible footage without bright sunshine by flying during magic hour.
If you plan to fly a drone over 250g, they recommend bringing your pilot's license as proof of your qualification with Transport Canada. However, no staff member requested to see my drone pilot's license during our visit.
4. Easy To Get To
Lakeland Flowers is located at 3663 Marion Rd, Abbotsford, British Columbia. Use the GPS navigation app on your smartphone to get turn-by-turn directions.
We drove from our home east of Vancouver early on a Saturday morning. We had paid the "CAD 10 Drone Fee" and purchased the 8 am timeslot.
It was an easy 45-minute drive that was almost all highway with little traffic. The directions from "Siri" were easy to follow and got us there at 8 am sharp!
Alternatively, here are some directions that will get you there to the Abbotsford Tulip Festival.
Traveling From Vancouver Or West Of Abbotsford
1. Take TransCanada Hwy/BC 1 Eastbound and take Exit 99 (Cole Road).
2. Slight right onto South Parallel Rd for 3km.
3. Turn right onto No. 4 Rd.
4. Turn right onto Marion Rd.
5. Look for parking signage.
Traveling From East of Abbotsford
1. Take TransCanada Hwy/BC 1 Westbound and take Exit 99 (Cole Road).
2. Make a left turn after exiting the highway, followed by a left onto South Parallel Rd for 3km.
3. Turn right onto No. 4 Rd.
4. Turn right onto Marion Rd.
5. Look for parking signage.
Once you arrive at the Lakeland Flowers parking lot, follow the signs and directions of the parking attendant. There is a large parking lot with fresh, crushed gravel and marked parking spaces.
The lot held a few hundred cars, so it was easy to find a convenient spot. Parking can be a problem at summer festivals but not here!
There were two lines for entrance into the farm – one for pre-purchased online tickets and one for visitors who needed to purchase tickets. It was early, and the lines moved quickly.
5. It's Family-Friendly
It's approximately a 500-meter (1640 ft.) walk from the parking lot until you reach the tulip field. The short walk is adorned with tulips in baskets, and tall grass on each side. The path is not paved but stroller-friendly.
With inexpensive entry fee, and a short distance from the parking area to the tulip fields, this makes a great weekend activity for families.
I would not consider the tulip field accessible, so if you have mobility challenges, be sure to plan accordingly.
If you have an electric scooter or motorized wheelchair, the dry path is passable. However, there are reminders on the website under the "Field Report" section to warn of accessibility issues.
Remember that you are visiting a working farm, and the wet weather that Greater Vancouver is known for will impact the pathway.
The pathway is clearly marked, and occasional signs provide information on the farm and the tulips. I found the signs helpful and informative.
6. You'll Enjoy An Explosion Of Color
After arriving at the tulip fields, I was amazed at the millions of tulips, row upon row. It was a feast for the eyes. A 27-acre area is devoted to tulips.
The farm meticulously arranged the tulips in massive parallel rows. Each row is over 1,000 feet long, with thousands of stunning tulips in every color.
One thing that amazed me was how many types of tulips are grown by Lakeland Flowers. Who knew there were so many? A stick at the end indicated the names. "Fun for Two," "Big Smile," and "Strong Love" are unusual varieties that stood out.
At the bloom tulip festival, you will get an education on the breadth of varieties of tulips.
The farm has imported specialty varietals from Holland, including double and fringe tulips. The double tulips are one of Karen's favorites. There are 70 tulip varieties. If you want the complete list of tulip varieties, click here to download the PDF.
We were repeatedly reminded that we were NOT to cross the ropes surrounding the rows of tulips. Apparently, if you are caught crossing the boundary ropes, you will pay an additional CAD 20.
We noticed farm staff monitoring the crowds, but I don't believe they enforced the rope-crossing rules. Some tulip festivals offer a Pick-Your-Own service, which is unavailable at the Abbotsford Tulip Festival.
The ropes were visible at about knee height as we walked along the primary pathways. They were about a meter (3 ft.) from the end of the row.
This made it convenient to stand at the end of the row and take a photo surrounded by vibrant flowers.
7. You Can Fly A Drone
To all the Drone Pilots out there, the Tulip Festival in Abbotsford is a pilot's dream! You literally cannot get a bad shot when flying your drone.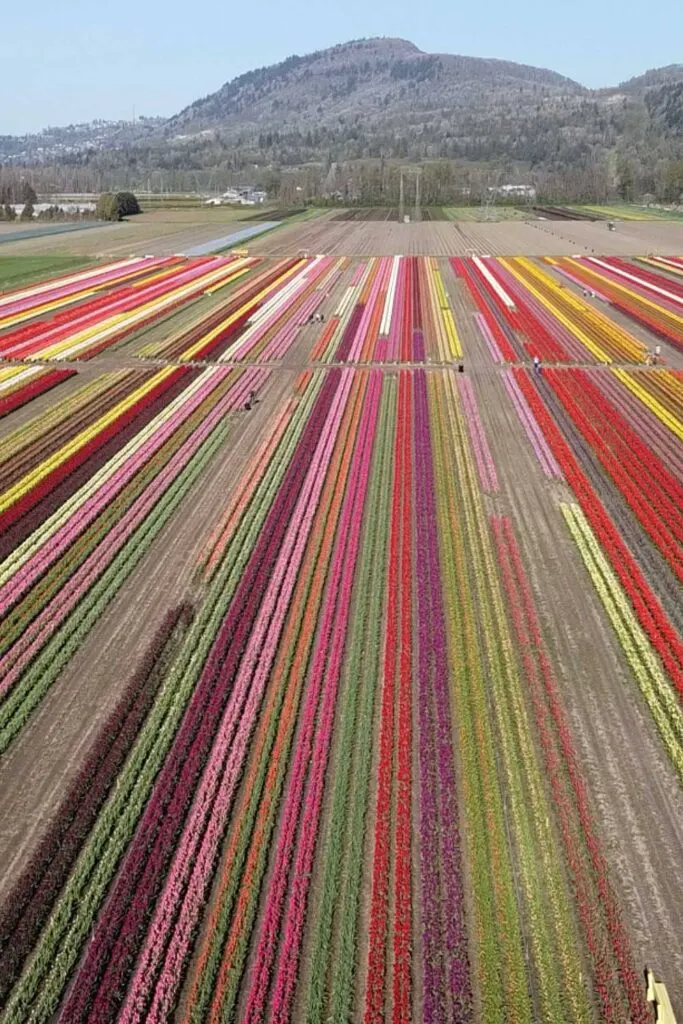 There were about ten people flying drones, and all were trying to get that perfect shot! As Karen pointed out, all the pilots were men… maybe it's a "Guy Thing!"
I appreciated that the tulip farm is far enough away from Abbotsford Airport that you don't get any safety restriction messages. Frequently I've flown my drone, and the DJI software detects restricted air space.
You will not be able to take off until you get authorization from the local authority or DJI. This was not an issue at the Festival.
8. You Receive Free Tulips
As you return to the parking lot, each person gets to pick one bunch of tulips. They are free but included in your admission ticket. You can also purchase additional tulips.
My favorite was the white tulips, and Karen picked the deep purple Ronaldo tulips. She picked Ronaldo because her dad is named Ronald – how sentimental!
Other Helpful Info For The Tulip Festival
After a few hours, we had our fill of beautiful tulips and decided to return to our car. By now, a few hundred people spread across the tulip fields, and we were glad we had come early before the crowds.
Food Trucks
Near the parking lot were a couple of food trucks in case you were hungry. There was little choice if you have food allergies, as Karen does.
However, I was impressed that Lakeland Farms even thought to offer food. It was a nice touch.
Plenty Of Restrooms
For everyone's convenience, there were plenty of portable toilets. While a small idea, they were spotless and enough to serve hundreds of visitors simultaneously.
As we all lived through the COVID-19 pandemic, I appreciated having portable hand-wash stations with water and soap rather than hand sanitizer. Another small touch showed they wanted everyone to enjoy the Abbotsford Tulip Festival.
Final Thoughts
In 2021, Karen and I traveled to the Sunflower Festival in the Fraser Valley, about 15 minutes east of the Tulip Festival. They also grow tulips and market them as the Chilliwack Tulip Festival. However, this was my first time visiting the festival in Abbotsford.
The Sunflower Festival did not allow drones, so I was thankful I could fly here and get aerial shots. As a drone enthusiast, I would gladly pay the additional CAD 10 to obtain permission to fly.
Lakeland Flowers did an exceptional job opening their farm to the public. The festival was very well organized and at a modest cost.
If you are visiting Vancouver from mid-April through mid-May, drop by the Abbotsford Tulip Festival. I'm not a gardener, but I loved the festival and will be back again.