Cruise ships sailing the Western Caribbean sometimes include the port of Belize City. With perfect year-round temperatures, the Belize Rainforest, and the second-largest reef system in the world, there are plenty of things to do.
Whether you choose a jungle ecotour, a cave exploration, or an excursion to the Mesoamerican Barrier Reef, you will surely leave Belize with beautiful memories.
Since the official language is English and locals readily accept the US dollar, there are no barriers to finding that perfect shore excursion. The official currency is the Belize dollar.
Where Is The Belize Cruise Port?
As the largest city in Belize, Belize City is a popular port on a Western Caribbean cruise. It borders Guatemala to the south and Mexico to the north, in northern Central America.
Belize City's port waters are shallow, so cruise ships anchor in the bay of Belize. Then, cruise passengers use a tender boat to reach the Fort Street Tourism Village in Belize City cruise port.
Here, visitors can sample traditional food, shop for duty-free gifts, and find inexpensive shore excursions in the small gated area. They can also find water taxis to access other areas quickly.
If you've booked a tour through your cruise line, your adventure will begin at the pier. Those looking for an impromptu excursion can negotiate deals with the locals.
What To Pack For Belize City
Regardless of when your cruise arrives in Belize City, expect average daily temperatures of 28 C to 32 C (82 F to 90 F). Dress appropriately for the weather, and bring the following on your Belize port day.
Use a heavy mosquito repellant if you're heading to the jungle or lowland urban areas. Mosquitoes in Belize can carry Malaria, so it's best to stay protected.
Needless to say, with all that heat, protect your skin with a high SPF sunscreen, hat, and wear sunglasses.
If you're participating in a water-based excursion, wear a Rashguard shirt, which has a protective fabric of UPF 50+. If you have sensitive skin and are prone to burn, the shirts help prevent sunburns on land-based tours.
Carry bottled water. I like my collapsible water container because I can refill it on the cruise ship and carry it on port days.
Take US dollars as most vendors will accept them, although they give change in Belize dollars.
Carry your cruise card and passport on your port day.
Do not carry a large amount of cash or wear expensive jewelry or watches. Belize City has a high crime rate, with lots of pickpockets.
While you'll only have a limited time in Belize City, here are the must-see places and things to do on a port day.
See The Blue Hole
A bucket list destination, the Great Blue Hole, can be seen from space. This natural wonder features a deep ocean sinkhole in tones of dark blue.
Its mesmerizing circular shape and color attract global travelers to dive and snorkel its waters. With only one day in port, cruise passengers can opt for a flight over the Blue Hole.
You can appreciate this underwater sinkhole's natural beauty from a helicopter or small plane. The perspective from above far exceeds the views from a boat.
By plane, you'll enjoy views of the Belize Barrier Reef, Lighthouse Reef Atoll, and Turneffe Atoll and fly over the Great Blue Hole several times.
You may even see sharks, stingrays, dolphins, and manatees from the air. Expect to pay USD 230+ pp for a plane tour and more for a helicopter or private plane excursion.
Spend A Day At Caye Caulker
Belize has several picturesque islands off its coastline. However, there are none quite as iconic as Caye Caulker. After a 45-minute water taxi from the Belize cruise port, visitors can enjoy a day at Caye Caulker, whose motto is "go slow."
Visitors might be surprised to learn the island is only 8 km long and 1.5 km wide. With only bicycles and golf carts for transportation, everything on this island happens at half-speed.
While Caye Caulker isn't a great place to swim due to an abundance of mangrove forests, travelers can take snorkeling excursions.
Once a long island, visitors can see "the split," the spot where the 1961 Hurricane Hattie divided the island into two. To explore the wetlands, travelers can take a fun kayaking excursion.
For a small island in the Caribbean, you'll enjoy inexpensive food, including the freshest seafood. Most places are casual, open-air eateries with views of the ocean.
With choices like Jerk chicken, shrimp curry, or fresh-caught lobster, expect to pay USD 9 to USD 15 for a satisfying meal.
Explore The Museum Of Belize
Originally built as a prison during Belize's time under British rule, the Museum of Belize in Belize City now serves as an art and history museum.
After undergoing a transformation in 2002, the museum is now divided into three sections: History, Exhibits, and Activities. Its goal is to provide inclusive learning experiences about Belize's rich history and culture.
Visitors can explore Belizean art, learn about the country's past, and even delve into the history of the prison itself. You can visit the museum if your ship docks on Tuesdays through Saturdays and is a must-visit destination for anyone interested in Belizean history and culture.
Swim With Sharks And Stingrays
The warm waters around Belize are shark-infested but not by the kind featured in the movie "Jaws." Nurse sharks are small, reaching an average size of eight feet.
They are slow, bottom-feeders who fear humans more than we are of them. The Hol Chan Marine Reserve, Shark Ray Alley, and the Coral Gardens are three areas tours go to see sharks. Not only can you snorkel with sharks, but stingrays too.
Tour guides bring food to attract stingrays and nurse sharks. These aquatic creatures have become accustomed to being fed that the stingrays come when they hear a boat motor. The stingrays, while wild, are much more friendly than the sharks.
Don't be surprised if they swim against your legs, causing some snorkelers to squeal with delight (or anguish). While you can dive and touch the stingray's backs, stay clear of their tails. I was pretty surprised that they feel like velvet.
Enjoy The Rainforest On A Zip Line
Belize may be known for its lush rainforest. So, imagine experiencing it by flying over it on a zip line. Ziplining provides hours of entertainment, suitable for the whole family.
After being equipped with a harness and given a safety briefing, you'll enjoy the fauna and flora of the Belizean rainforest on an aerial adventure.
Watch for tropical birds and howler monkeys as you glide from platform to platform. Combine your ziplining tour with a stop at a Mayan ruin or a cave tubing experience for the ultimate adventure.
Interact With Howler Monkeys
The black howler monkey (or baboon in Belize) is the noisiest animal in the jungle. These tree-dwelling primates defend their territory by howling, and locals can hear their calls up to 5 km away.
On a community Baboon Sanctuary half-day tour, you'll observe these noisy locals in their natural surroundings. Large in size and loud by nature, Howler Monkeys are not aggressive toward humans.
During the tour, learn about their predators and what is being done to protect this endangered species. You'll have the opportunity to interact with the monkeys by feeding them their diet of fruit, leaves, nuts, and tropical flowers.
Remember to wear mosquito repellant as you enjoy the Belizean Rainforest.
Sail On A Catamaran
Whether to book an Eastern Caribbean or Western Caribbean cruise, a catamaran sail is a terrific way to spend the day. I've done a few of these, and gliding across the waters on a catamaran is so much fun.
These excursions usually combine the sail with a snorkel over a reef or near a sandy beach. Some cruise port tours sail to Starfish Island, close to Belize City.
The laid-back vibe, calm waters, and sandy beach make it the perfect shore excursion for families. While these catamaran tours generally don't include food, they often provide soda, rum punch, and fresh fruit.
During your excursion, watch the waters because you may spot sea turtles and dolphins in their natural habitat.
Go Cave Tubing
Discover Belize's natural wonder, its incredible cave system, on a caving excursion. On this tour, cruise passengers take a 30-minute bus ride and a short hike through the rainforest.
Once you reach the Nohoch Che'en Archaeological Park, you'll relax on an inner tube and float through the caves. You'll admire the limestone stalactite formations and cavernous spaces with headlamps.
The total float time in the caves is approximately 75 minutes.
Be sure to bring water shoes, a change of clothes, a towel, a waterproof camera, and your sense of adventure. Some cave tubing excursions include a Belizean buffet lunch before returning to your cruise ship.
Visit The Belize Zoo
Located just 45 minutes from the cruise port, the Belize Zoo is a must-visit destination for animal lovers. Whether you take a shore excursion or hop on a taxi or bus, you'll be in for a treat.
The zoo was established in 1983 as a sanctuary for a group of wild animals featured in a tropical forest documentary. Over time, it became clear that many Belizeans were unfamiliar with the country's diverse wildlife.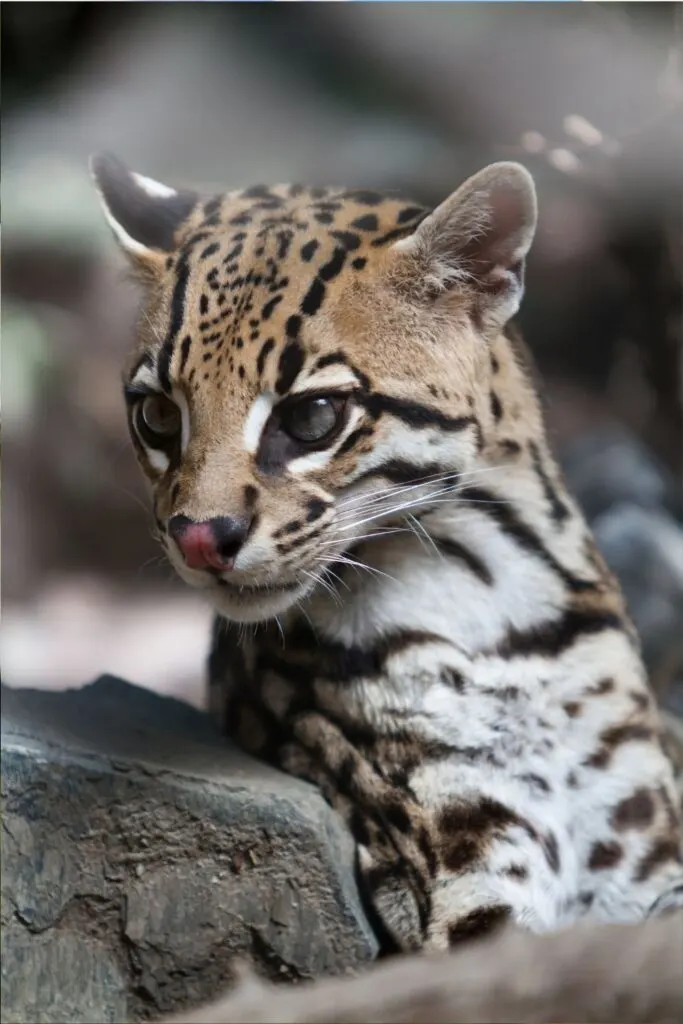 As a result, the zoo has made it its mission to educate visitors about the animals that call Belize home. The zoo has various unique creatures, such as a puma, ocelot, and Harpy Eagles.
And if you're looking to support the animals, consider participating in their adoption program, which helps provide food and care for them.
Visit A Mayan Ruin To Immerse Yourself In Culture
When considering visiting a Mayan ruin, Mexico comes to mind. However, Belize offers many restored Mayan ruins, some in their natural state.
Cruise passengers can see a Mayan ruin on a half-day tour or opt for an all-day cultural excursion.
Altun Ha Mayan Ruin is the easiest to reach from the Belize cruise port, and a port tour takes just four hours. The ruins at Altun Ha are some of the best preserved in Belize.
With a one-hour bus ride to the eight sq. km site, expect to spend two hours exploring the pyramids, structures, and stone walls.
All-day excursions to Xunantunich, Cahal Pech, and Lamanai Mayan Ruins are possible. Bear in mind Cahal Pech and Xunantunich require lengthy bus rides.
Arguably, the Lamanai Mayan Ruins might be a popular choice because it includes a scenic boat ride.
The wonderful river trip allows cruise passengers to see exotic birds and colorful orchids while listening to the sounds of howler monkeys. During this excursion, you'll feel like you're part of an Indiana Jones adventure.
Go Cave Kayaking
If you'd like to explore the Belize cave system but prefer to stay dry, you have a tour option. Embark on an unforgettable adventure with a half-day cave kayaking excursion.
Even if you've never kayaked, you can paddle along an underground river that winds through stunning rock formations. This is one of Belize's most popular outdoor activities, and all equipment is provided for your convenience.
As you explore the vast underground cave system, you'll also learn about the ancient Mayan history of the NoHoc Che'en reserve. Don't miss the chance to discover the intricate caves of Belize by kayaking through the rivers on this 3-hour tour!
Experience Chocolate Making
Chocolate has been a staple in Belize for over 2,000 years. If you love chocolate, visit a cacao farm where you can watch the process of making Belizean chocolate.
You'll see where the trees are grown, learn how the cacao beans are extracted, and learn the process of turning them into chocolate. Of course, the best part of the tour is sampling the freshly-made product.
Depending on the excursion, some tours allow the participants to roast their cacao and grind the beans using traditional tools. This beans-to-bar tour provides lots of fun, and you'll appreciate the effort that goes into making "real" chocolate.
Belize chocolate makes the perfect gift for family and friends. Stores sell various chocolate products, including chocolate bars, cookies, soaps, truffles, teas, coffees, and chocolate cooking oil.
Ride An Air Boat
If you prefer to stay dry but want some fun on the water, explore the wetlands of Belize on an airboat.
Commonly used in Florida, an airboat, swamp boat, or Bayou boat has a flat hull and uses a sizeable fan-type propeller above the waterline. It's the perfect vessel for navigating shallow waters, swamps, and marshes.
On this half-day excursion cruise, passengers may see crocodiles, manatees, and exotic birds. The flora includes lovely water lilies, which attract wading birds and turtles. After this family-friendly excursion, you'll have time to shop and enjoy the sights of Belize City.
Make A Day Trip To Ambergris Caye
You'll find many small islands off the coast of Belize, such as Goff's Caye, Rendezvous Caye, and Ambergris Caye. While Caye Caulker provides a laid-back vibe, you'll discover a more sophisticated experience at Ambergris Caye.
Ocean Ferry Belize operates a fast ferry from the cruise port to Ambergris Caye. Alternatively, you could take a water taxi. Either way, both take 75 to 90 minutes of travel time.
Should you visit San Pedro on the island, you can enjoy various activities, such as scuba diving, snorkeling, or surfing. Of course, you can opt for a lazy day at the beach.
Scuba Dive At The Mesoamerican Barrier Reef
Belize City is a prime location for scuba diving, with easy access to the stunning Belize Barrier Reef and other nearby dive sites. While the Great Blue Hole might provide a bucket list dive site, it isn't practical on a cruise port day.
Just a short boat ride away are the beautiful Ambergris Caye and Caye Caulker islands. Closer to the city, there are plenty of canyons, walls, and reefs to explore.
With numerous dive operators in the area, you can choose the one that best suits your needs. The Mesoamerican Barrier Reef, the second-largest barrier reef system in the world after Australia's Great Barrier Reef, is a must-see for any diving enthusiast.
The best time to dive is from December to April when water temperatures range from 80 to 86 Fahrenheit. During the rainy season (June to November), precipitation stirs up the water clouding visibility.
Final Thoughts
On a port day in Belize City, cruise passengers can do as little or as much as they want. Due to its high crime rate, it's best to book a shore excursion and not wander outside the Fort Street Tourism Village alone.
If you choose to hire a taxi, be sure to negotiate the rate before stepping inside. Belize taxis have no meters, so you don't want a surprise when you arrive at your destination.
If you're torn between a few excursions, some cruise lines and tour operators offer 2-in-1 packages, combining the top-rated tours for a jammed-packed day.
If you want to see a Mayan ruin, explore a cenote, or go snorkeling, Cozumel also offers these great excursions if it's part of your cruise itinerary.