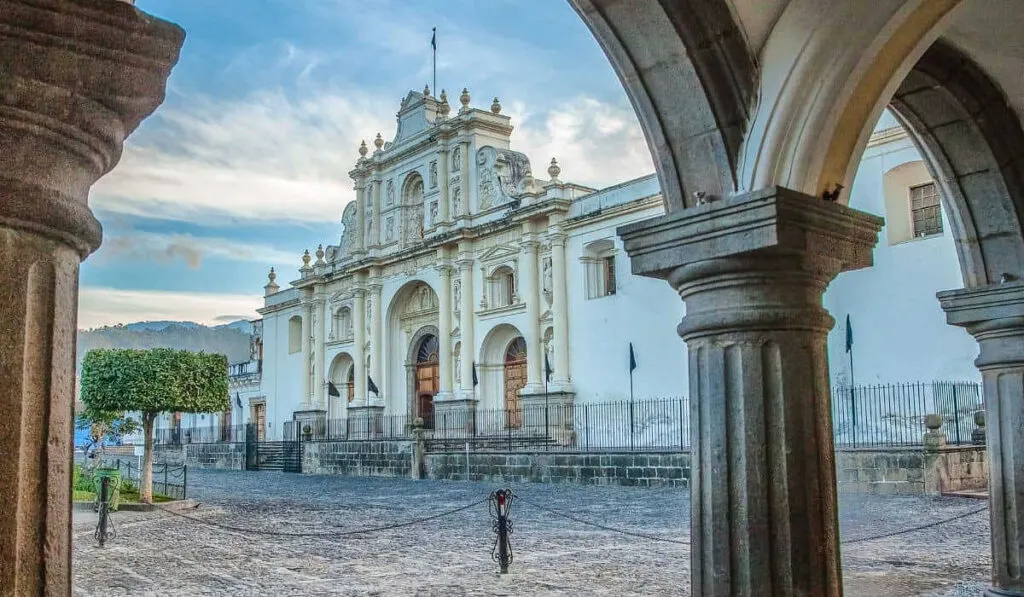 Is Guatemala one of the port stops on your Central America cruise? If so, consider yourself lucky! This lush country sits just below Mexico and is about the size of Tennessee. But it packs plenty into its small country.
Twenty-four different ethnic groups live here, the streets bustle with color and texture, and the landscape ranges from vibrant jungles to striking mountain ranges.
Guatemala has two different cruise ports, one on the Pacific and the other on the Atlantic. No matter which Guatemala cruise port you visit, you'll have plenty of things to do and wonderful shore excursion options.
Colonial towns, active volcanoes, thermal waterfalls, and old forts await.
The official language of Guatemala is Spanish, and the currency is the quetzal – which is also the name of the national bird. However, tour operators readily accept the US dollar.
Where Is The Guatemala Cruise Port?
Guatemala has two different cruise ports. You'll find Puerto Quetzal on the Pacific Coast, and Santo Tomas de Castilla is on the Atlantic.
Pacific Cruise Port – Puerto Quetzal, Guatemala
Situated on Guatemala's Pacific coast, Puerto Quetzal is a crucial port for cargo traffic and cruise liners. While this port handles mostly commercial vessels, a dock can accommodate one large cruise ship daily.
If you're doing a Pacific cruise or a repositioning itinerary through the Panama Canal with a stopover in Guatemala, Puerto Quetzal will be your entry point to the beauties of Guatemala.
From this cruise port, visitors can access the famed colonial city of La Antigua Guatemala, the active Pacaya volcano, and the fascinating Mayan ruins of Iximché.
Travelers entering Puerto Quetzal will walk down a long gangway from the ship. The welcome area has plenty of space to shop for gifts or book tours with local operators.
If you've booked an excursion through your cruise ship, you'll head straight to the buses. Should you choose to explore on your own, you can spend a full day immersed in local culture and enjoying colonial architecture.
By using chicken buses, the local means of transportation, you'll have an inexpensive way to reach small villages nearby.
Atlantic Cruise Port – Santo Tomás de Castilla
If your cruise itinerary travels along Guatemala's Atlantic Coast, you will stop in Santo Tomás de Castilla. It is located in Amatique Bay, off of the Gulf of Honduras.
Santo Tomás de Castilla is the smallest cruise port in the Western Caribbean but sees around four cruise ships each month. Most ships go to the more popular port of Mahogany Bay further east, and Belize City cruise port to the north.
Some Oceania and Regent cruises, include this port as part of a longer itinerary to South America. While the port welcomes cruise ships, it's also one of the busiest ports in Guatemala for container ships.
Cruise ship travelers to Santo Tomás de Castilla will walk down a short gangway to access the arrivals area. They'll have the opportunity to buy traditional handicrafts, watch Garifuna dancers, and go on shore excursions.
Located in Izabal, Guatemala, this port of call features a vibrant tropical region. Shore excursions here can include:
Hiking nature trails.
Visiting the Mayan ruins of Quirigua.
Visiting the Castillo de San Felipe (a fort built to repel pirate attacks).
How Many Ships Can The Guatemala Cruise Port Handle?
Guatemala received a total of 66 cruise ships in the 2022-2023 season. These include vessels belonging to Oceania, Regent, Seabourn, Norwegian, Holland America, Cunard, and Royal Caribbean.
Twenty-four stopped at Santo Tomas de Castilla, Izabal, and 42 ships stopped at Puerto Quetzal Escuintla.
Most cruise ships remain in Guatemala for 10 to 14 hours, but a few stay overnight. With long port days, you can travel further inland or enjoy more than one shore excursion.
Things To Do Near The Cruise Port
Depending on what cruise port you stop at, you'll have the chance to enjoy different activities. Let's take a look at the best shore excursions from the Pacific and the Atlantic.
Puerto Quetzal Shore Excursions
Wondering what the top things to do in Guatemala on a cruise port day from the Pacific? Check out these outstanding day trips.
Explore Antigua Guatemala
Antigua Guatemala is hands down the most popular destination in Guatemala – and for a good reason!
Nestled in the central highlands of Guatemala between green ridges and tall volcanoes, this UNESCO world heritage city oozes character.
The towering peaks of Acatenango, Agua, and Fuego Volcanoes surround the city.
It was the original capital of the Kingdom of Guatemala during colonial times.
The cobblestone streets and colored colonial buildings add to the city's charm, and ruined convents and churches stud the city blocks. Street food stands, handicraft vendors, busking musicians, and flowering jacarandas add to the beauty.
Hundreds of shops, restaurants, cafes, bars, and age-old churches line the avenues and alleyways.
Located on the northern edge of Antigua, Cerro de la Cruz is a hill adorned with a towering stone cross. You can take in breathtaking views, all while gazing upon the majestic Agua Volcano in the distance.
Don't miss Las Capuchinas, which dates back to 1736. Approved by the King Felipe V, Antigua's famous ruins feature fountains, beautiful courtyards, and underground crypts.
Whether you have a few hours or several days to seek out hidden gems, it's a place worth exploring on your own or with a local guide.
History buffs, outdoor adventurers, coffee addicts, shopaholics, kids, and the curious will all find something to love in Antigua.
Depending on traffic, Antigua is approximately 90 minutes from the Puerto Quetzal Cruise Port.
Climb Pacaya Volcano
Have you ever dreamed of roasting marshmallows over molten lava? Or climbing through a stark landscape that is both dramatic and beautiful? If so, consider adding Pacaya Volcano to your Guatemala bucket list.
This complex volcano rises 8,372 feet above sea level and offers spectacular views of many of Guatemala's other volcanoes. They parade in a line from the Mexico border all the way to El Salvador and are part of the Pacific Ring of Fire.
This volcano hike is a nature lovers' dream and a must-visit destination. It will allow you to enjoy sweeping views, exercise your muscles, and explore lava fields. If you're lucky, there will be a steam vent or two where you can roast marshmallows or sausages.
There's even a lava-roasted pizza place at the top of the trail.
Pacaya Volcano is approximately 1 hour and 20 minutes from Puerto Quetzal.
Spend A Day At El Paredón
If beaches are what you're after, you might just love a trip to El Paredón, a small fishing village that is a favorite spot for surfers.
Black sands, dramatic waves, baby turtle releases, and delicious coconuts make El Paredón a great place to visit.
It's also a perfect place to enjoy a guided tour of the mangroves at Sipacate Naranjo National Park. On your boat ride, you'll learn about the different kinds of mangrove trees and their uses.
Visit the "Poza de Nancy," where adult sea turtles feed and hang out, and see how many sea birds you can identify.
Take a surfing lesson, walk along the beach, and order a whole fried fish in one of the restaurants.
El Paredón is 1 hour from Puerto Quetzal.
Tour Guatemala City
If you're looking for something a little unusual, touring Guatemala City could be a great option. It isn't considered a top tourist destination but still has lots to offer.
My favorite spot to visit in the nation's capital is "Zona 1." This is the center of the city and is the pulsing heart of the nation's government. It also is an interesting place to learn about coup d'etats and censored artists.
Tour the national palace, enjoy the best smoothies you've ever tasted, sample some traditional dishes, and enjoy the hustle and bustle of the pedestrian "Sexta Avenida."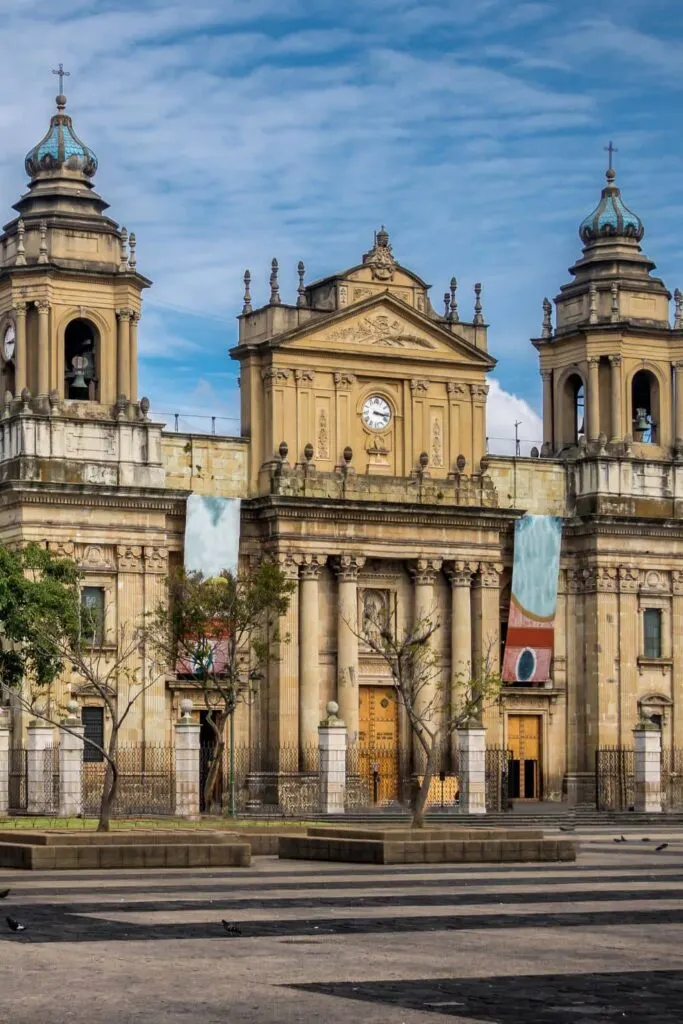 Zone 1 also features a huge artisan market, tons of food stands, restaurants, and cafés, all with a side of intriguing history.
Guatemala City is approximately two hours from Puerto Quetzal.
Explore The Mayan Ruins Of Iximche
Head to the last capital of the Mayan empire on this day trip: the ruins of Iximché.
Iximche is a small, tranquil ruin featuring palaces, two ball courts, temples, and a small altar. Some of the altars are still used by Mayan people today. You might see them carrying out their ancient customs during your visit.
Iximche was founded by the Kaqchikel people in 1470, and a visit offers a unique experience of its cultural history.
As you explore the ruins with your local guide, you'll gain insight into the lives of the ancients, their beliefs, customs, and ball games.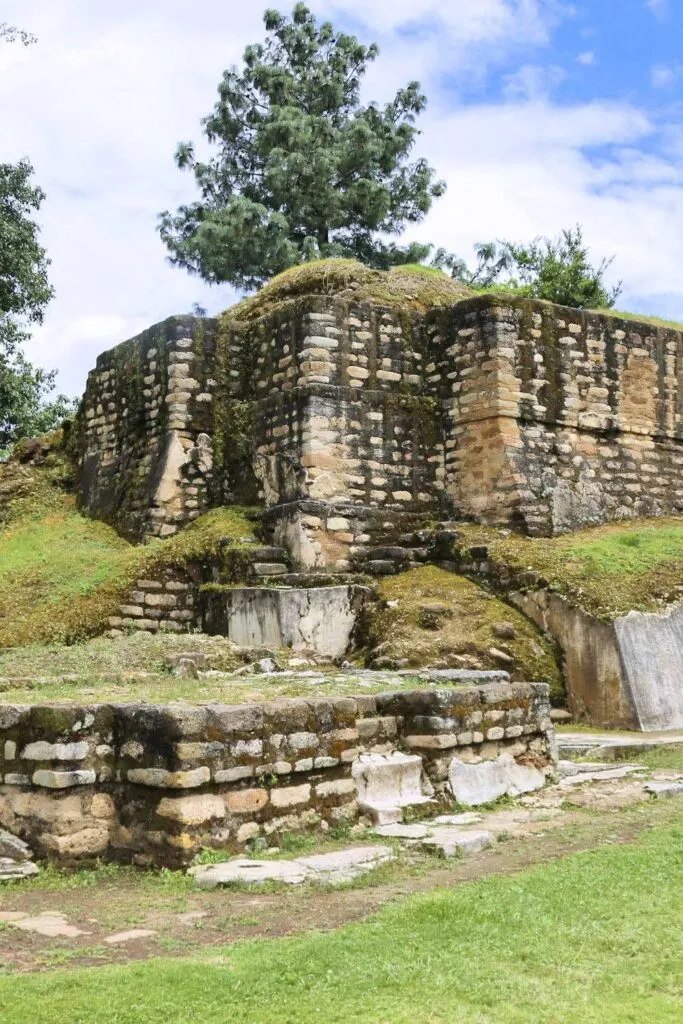 The ruins of Iximche are located in Tecpan, Guatemala, about 2 hours and 20 minutes from Puerto Quetzal.
Tour A Coffee Plantation
If you love your morning cup of joe, why not immerse yourself in the world of caffeine for a day?
Explore one of the coffee plantations on the mountainous Guatemalan highlands and discover what makes this one of the world's premier coffee-growing regions.
Not only will you get to visit a plantation where the coffee is grown, but you'll also learn about the different varieties of coffee and how the soil, moisture, and elevation all impact the flavor.
Discover how coffee is fermented, dried, roasted, and ground to create a delicious and steamy cup.
Although Guatemala has eight different coffee-growing regions, Antigua is the easiest region to reach from Puerto Quetzal. Antigua is only 90 minutes from the cruise port.
Tip: Consider combining a coffee tour and an Antigua city tour if you have the time. Antigua has plenty of things to fascinate, from old convents to cooking classes.
It's also a spectacular city for walking around, taking pictures, dropping into a cafe, or taking a chocolate workshop.
Shore Excursions from Puerto Santo Tomás de Castilla
If your cruise ship stops on the Atlantic side of Guatemala, you can enjoy plenty of cool excursions from Puerto Santo Tomás de Castilla.
Tour the Castillo de San Felipe
One of the most interesting things to see near Guatemala's Atlantic Port is the Castillo de San Felipe. The Spanish built the old fort on the Dulce River to protect the towns of Lake Izabal from pirate raids. It also served as a prison at one time.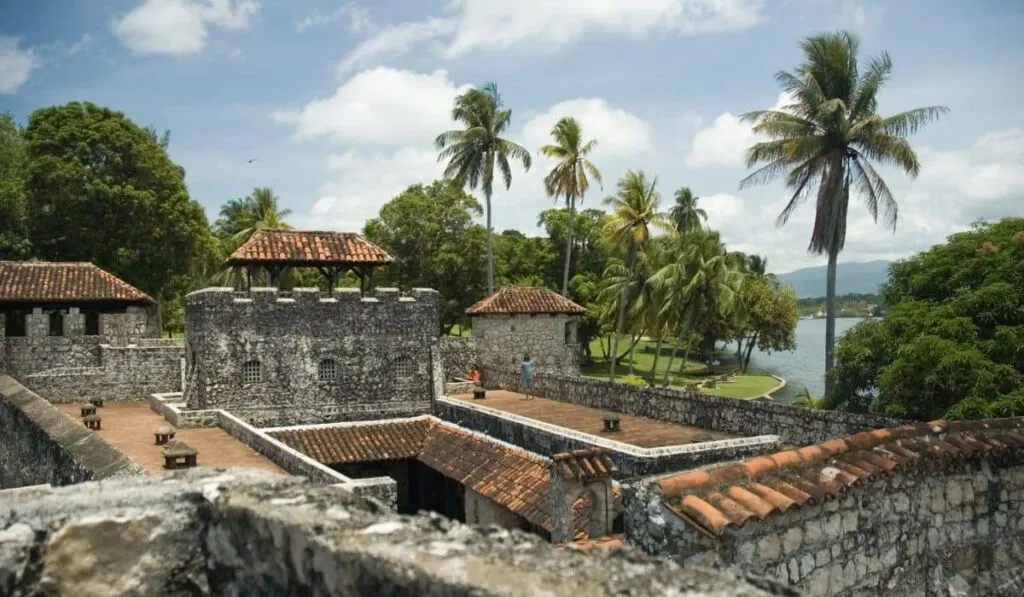 The fort features extensive grounds filled with gardens, walking paths, and playgrounds. Jet Ski rentals are available if you fancy a fun ride on the water.
You can eat inside the fort grounds or head to one of the many eateries just outside the gates.
I recommend hiring a tour guide for the best experience of the fort. That way, you'll hear all the most fascinating stories firsthand.
It takes a journey of 1 hour and 47 minutes to reach the Castillo from Santo Tomás de Castilla.
Visit Frutas del Mundo
Another cool stop that you can visit that is slightly off the beaten track is Frutas del Mundo. You'll find this exotic fruit nursery in Aldea el Amatillo, Izabal.
A Peace Corps volunteer started the nursery when they came to Guatemala in the 80s.
You can learn about all sorts of intriguing tropical plants, exotic fresh produce, and alternative versions of chocolate.
If you reserve ahead, you can even book a delicious farm-to-table meal that includes everything from fresh-caught tilapia from the farm to delicious hearts of palm salad.
Tours of the farm usually last one hour and can be modified according to your interests.
It takes 1 hour and 40 minutes to reach Frutas del Mundo from the cruise ship port.
Explore The Ruins Of Quiriguá
Visiting the ancient Mayan ruins of Quiriguá is one of the most interesting historical day trips from Guatemala's Atlantic coast.
Thanks to the incredibly carved stelae and masterful artwork that influenced other Mayan sites in Belize and Copan, these ruins are a UNESCO world heritage site.
It also has a massive grand plaza and a highly elaborate system of terraces, pyramids, and staircases.
Some of the stelae are 35 feet tall!
Quiriguá is approximately 1 hour and 47 minutes from Puerto Santo Tomás de Castilla.
Unwind In Livingston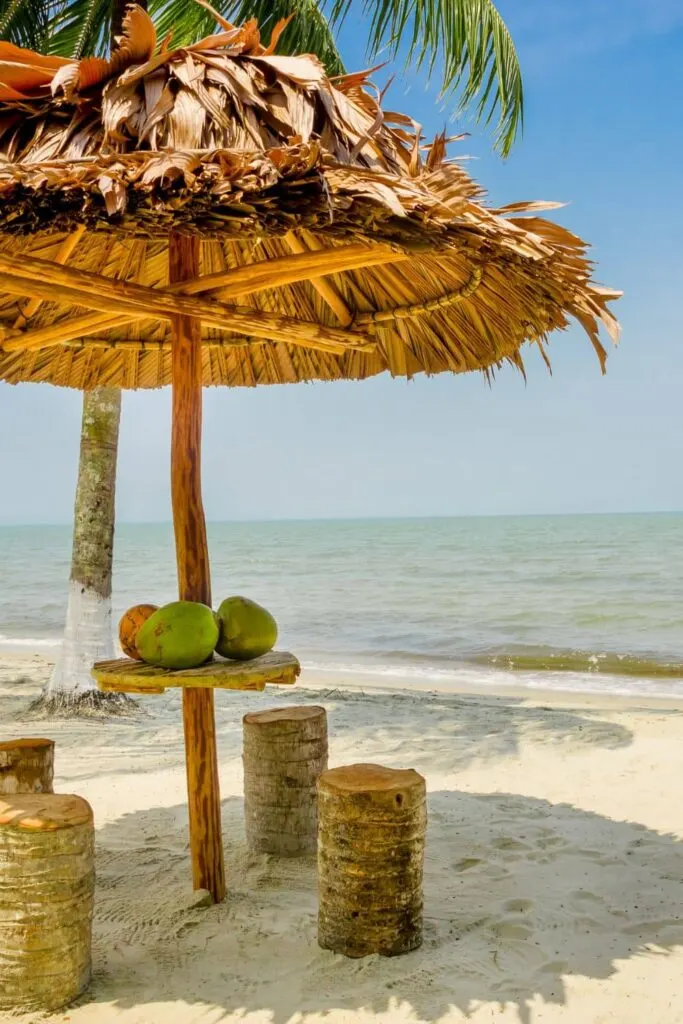 Fancy an adventure by boat? If so, there are plenty of incredible spots all along the Caribbean Coast. One of the most notable is the Garifuna town of Livingston.
It's only reachable by water and is a quiet spot to unwind, rent jet skis or kayaks, and eat tasty local cuisine. I recommend yummy coconut bread and "tapado," the traditional dish of the town.
Take a tour down the Rio Dulce, or visit some of the white sand beaches en route. Some of the nicest spots to see include Siete Altares and Playa Blanca.
Water taxis leave from the main dock in Puerto Barrios and reach Livingston in 30 minutes. The ride is on the open sea, so it can get choppy.
Hike the Las Escobas Nature Trails
Don your hiking shoes and bathing suit, and head into the lush tropical jungles of Izabal. The Las Escobas Nature Trail is one of the best hikes, with gorgeous waterfalls, turquoise water, and hundreds of birds.
You can also see orchids and local flora and fauna.
Swim in the pure chill water and forget the heat of Izabal. Be sure to check out the snakes in the herpetarium.
There are three different interpretative nature trails to hike, complete with bridges and meditation platforms.
This spot is only 25 minutes from Santo Tomás de Castilla, making it perfectly accessible during a cruise ship shore excursion.
Final Thoughts On Visiting A Guatemala Cruise Port
When arriving by cruise ship, which of these things to do in Guatemala sounds like the most fun? Will you explore a nature reserve, visit a Mayan ruin, or meander through a picturesque colonial city?
Whether you are visiting from the Atlantic or Pacific ports of Guatemala, you're sure to find plenty of exciting excursions to choose from.
A port day in Guatemala is certain to leave you with great memories, photos, and happy thoughts.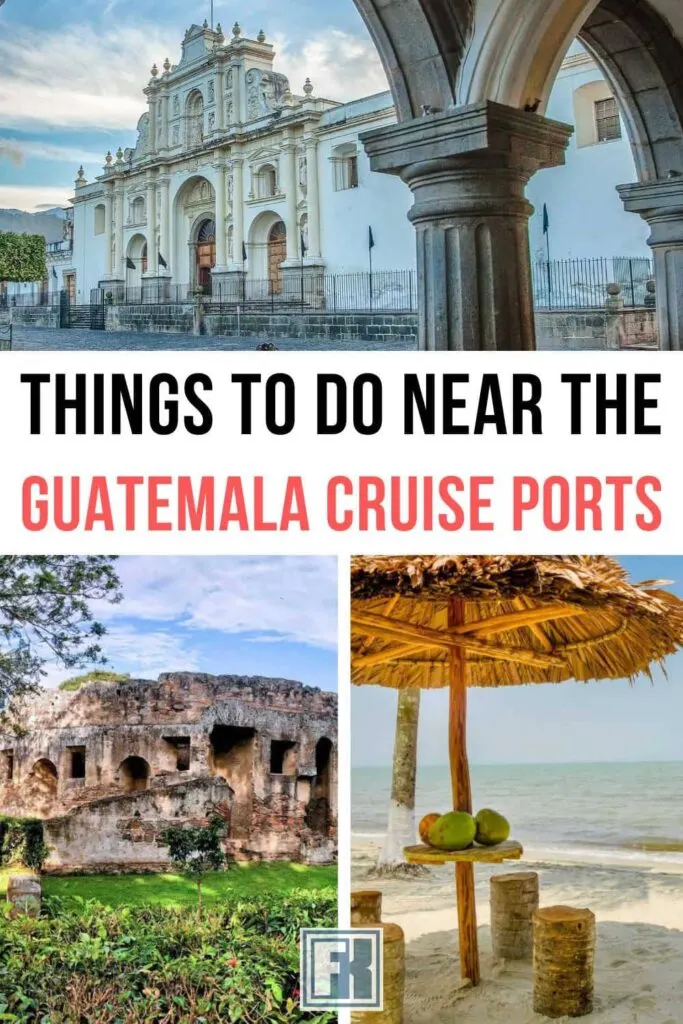 🛳️ Haven't booked your cruise yet?
Find your perfect cruise with Cruise Critic. It features more than 650,000 cruise reviews, advice and information from the team of cruise experts on everything you need to know. The site also offers itinerary and pricing information, deals and money-saving tips.
Find your cruise here
This guest post was written by Yvonne McArthur
Yvonne McArthur is a writer, word-lover, and adventurer born and raised in Guatemala. She spent her childhood swimming in caldera lakes, mountain biking through maize fields, and toasting marshmallows over molten lava. As an adult, she continues doing all those things, plus more. She loves sharing her passion for Guatemala with visitors and locals alike, whether on her site, Guate Adventure, or other awesome travel blogs (like this one).