Are you planning a trip around the United States this summer and wondering what the best US national parks are?
From towering mountains in the west to ocean coastline in the east, the United States is home to some of the most phenomenal landscapes.
And our National Park Service has protected many of these beautiful lands for us to visit and enjoy nature.
Whether you're a hiker who loves to spend nights in the backcountry or just someone who loves a simple scenic drive, all of these fantastic national parks will allow you to explore and enjoy nature all over the United States.
In this post, I'll share with you the best ones to visit of the 63 official national parks.
Olympic National Park – Washington
Located on the Olympic Peninsula in Washington, Olympic National Park is home to some of the most diverse landscapes in the Pacific Northwest. This UNESCO world heritage site has alpine meadows, glaciers, and towering peaks.
This park spans nearly one million acres and encompasses everything from rugged coastlines to snow-capped mountains and temperate rainforests.
Olympic National Park is a hiker's paradise, offering a mix of trails that cater to all skill levels. One hike will take you up into the towering peaks of the Olympic Mountains. While another will bring you through the mesmerizing Hoh Rainforest.
And, of course, you can't forget the rugged coast of the Pacific Ocean. Here you'll find several beaches riddled with driftwood, tide pools, and lots of space to explore.
Voyageurs National Park – Minnesota
Nestled far up in the untouched forests of Northern Minnesota, Voyageurs National Park offers visitors a chance to escape into what Minnesota is most well known for.
As The Land of 10,000 Lakes, it's no surprise that Voyageurs is almost 1/3 water.
From expansive lakes to flowing streams, visitors can explore the waters of Minnesota. It's a chance to see why the state is so well-loved.
Wander along the hiking trails along the lakeshore, or take a boat to get an even deeper look into this park. However, at night, you might even catch a glimpse of the northern lights, as the park is a certified Dark Sky Park.
When it's time to call it a night, stay at one of the many nearby resorts on the lake!
Ultimately, I recommend having a boat or a kayak since you'll get to explore the park better this way!
Rocky Mountain National Park – Colorado
Right in the beautiful peaks of the Colorado Rockies, Rocky Mountain National Park has become one of the most popular places for park travelers to visit.
With stunning landscapes of dense forests, alpine lakes, and snow-capped peaks, this park is a must-see for all mountain lovers.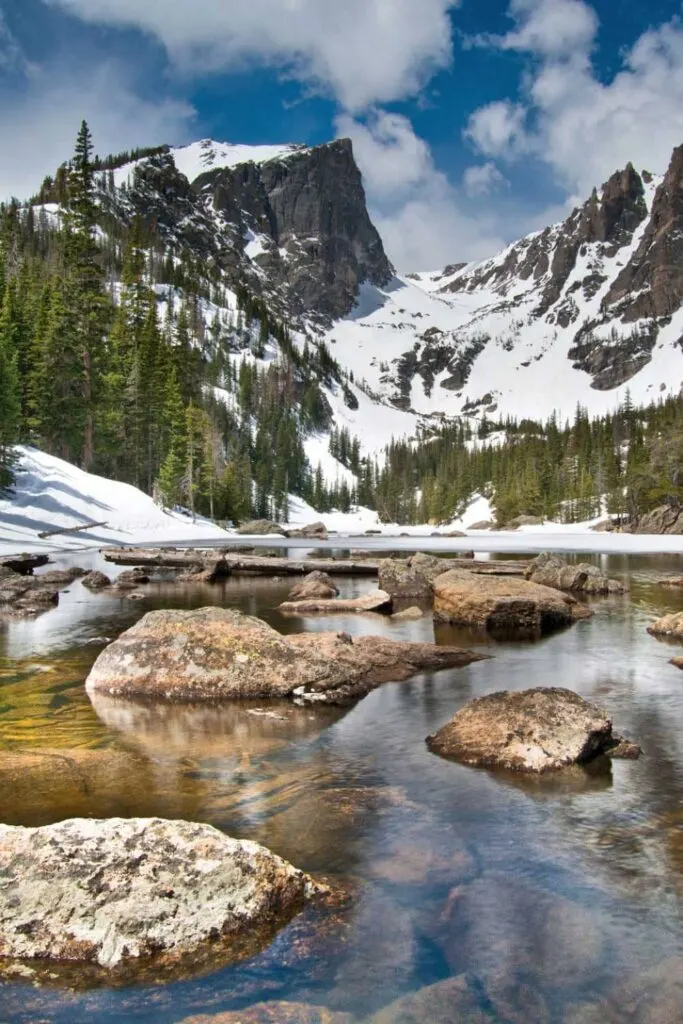 Wander along the dozens of hiking trails, and search for wildlife as you drive along the main park road.
Among the most popular trails are those leading to Alberta Falls, Nymph Lake, Emerald Lake, Dream Lake, and Sky Pond.
As you send into higher elevations, you will be greeted by awe-inspiring viewpoints that stretch far as the eye can see. You'll be blown away by how far into the Colorado wilderness you can gaze out into.
You should also stop in Estes Park and experience the mountain town. It gives off adorable small-town vibes, just like some of my favorite small towns in Minnesota!
Glacier National Park – Montana
In recent years, Glacier National Park has become one of the most popular areas in the United States to explore.
Known for its stunning and also terrifying road, the Going-to-the-Sun Road, a Glacier National Park itinerary features some of the most breathtaking views you'll ever see.
With everything you would hope for in a national park, including wildlife, incredible hikes, and beautiful vistas, this park checks all the boxes. There are also many glaciers to see, hence the park's name.
Given the nickname the Crown of the Continent, Glacier is well-loved. Although it's located in the remote Montana wilderness, you will surely see many other visitors during your time in the park.
On my recent trip to Glacier, we got into the park around 6 am, which helped avoid some of the afternoon crowds!
Yosemite National Park – California
Another of the best US national parks is Yosemite, located in Central California. Yosemite Valley is known worldwide for its awe-inspiring granite cliffs, cascading waterfalls. You can't beat the amazing hiking trails within the Sierra Nevada Mountains.
With iconic landmarks like Half Dome and El Capitan, adrenaline seekers can put their skills to the test by hiking and rock climbing on these giant rock formations.
And down below, less adventurous hikers can experience the power of Yosemite Falls, the tallest waterfall in North America.
Yosemite is also home to lots of wildlife, such as black bears and mule deer. You'll also see the largest species of tree in the world, the Giant Sequoias.
My favorite trail in Yosemite is to Vernal Falls, which is a stunning waterfall with great vista points along the way.
Great Smoky Mountains National Park – Tennessee & North Carolina
The Great Smoky Mountains National Park, spanning the borders of Tennessee and North Carolina, holds the title of the most visited national park in the United States.
Hiking provides one of the most popular ways to enjoy the park. In fact, the Appalachian Trail winds right through the park.
Other popular activities include:
Heading to Clingman's Dome.
Reaching the highest point in the park.
Searching for black bears, as there are likely around 1,500 here.
As you drive through the park, you'll also find plenty of pull-offs on the sides of the road. Make sure to stop and look into the rolling hills of the Great Smokies.
During the fall, all the hills turn bright shades of yellow, red, and orange, and it surely is a sight to see.
Acadia National Park – Maine
As the only official US national park in New England, visiting Acadia National Park in Maine is a must!
Located next to Bar Harbor, this beautiful park is home to miles of rugged coastline along the Atlantic Ocean. You can walk the Ocean Path trail for a few miles to take in all of the ocean views. Or see the Bass Harbor Head Lighthouse, which is famously photographed.
Another great thing to do is hike up the mountains, like the Beehive Trail, which has some of the best views. It is a challenging trail with metal rungs to climb, but it's worth it if you can!
I'd also recommend visiting the Jordan Pond House and ordering lunch, especially one of their popovers! They're delicious!
Yellowstone National Park – Wyoming
The first national park in the United States to open was Yellowstone National Park in the early 1870s. Today, it's still one of the most visited national parks, with over 3 million visitors annually.
With a few days in Yellowstone, you can enjoy a hugely diverse landscape with things like geysers, hot springs, open prairies, and towering mountains.
Yellowstone is home to the world's largest concentration of geysers, hot springs, steam vents, and mud pots.
There are boardwalks that wind right through these areas so that you can explore them for yourself.
The park has also been given the nickname the 'Serengeti of North America' thanks to its large concentration of wildlife, including bison, grizzly and black bears, elk, bighorn sheep, and more.
Bryce Canyon National Park – Utah
The unique Bryce Canyon National Park is well known for its distinctive red landscape of hoodoos, spires, and towers that jut out of the ground.
Fitting right in with the rest of Utah's red landscapes and rock formations, Bryce Canyon features dozens of hiking trails leading right into the red rock.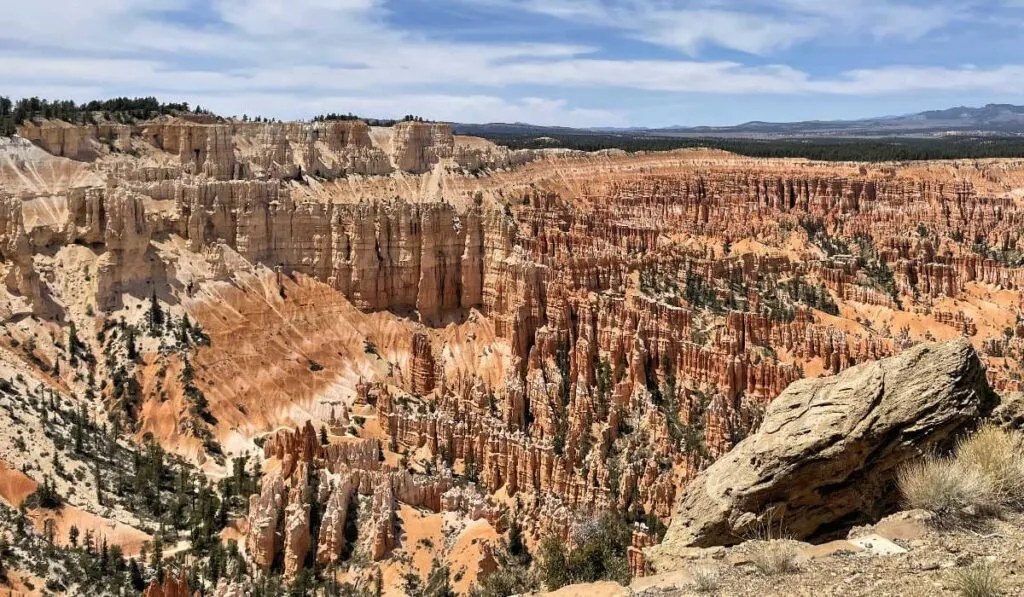 The hoodoos are all over the park, so you won't miss them. The best way to see them is to go hiking, particularly on the Navajo Loop Trail, which leads you right down into the hoodoos and canyons and gives you great views of the scenery.
When I visited Bryce Canyon, I started this hike at around 7 am because it allowed me to enjoy the trail with fewer crowds. I recommend doing this!
Haleakalā National Park – Hawaii
If you've ever wanted to explore the volcanic landscape of Hawaii, then a visit to Haleakalā National Park will allow you to do just that.
Nestled on the stunning island of Maui, the Haleakalā Crater towers above the island at over 10,000 feet above sea level. The park is open year-round, and you'll experience five climatic zones during the road trip.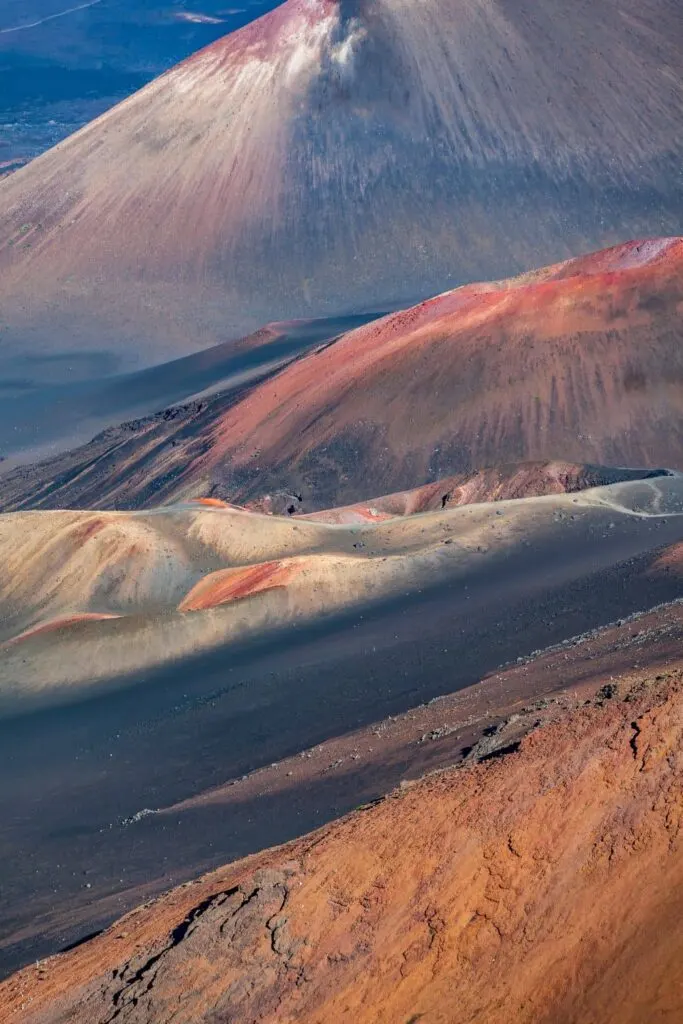 You can explore the dormant volcano by hiking around its miles of trails. Additionally, if you're up for the challenge, you can even attempt hiking in the Summit Area. This area provides challenging trekking since the air is thin at such a high elevation.
Another of the best things to do at Haleakalā National Park is watch the sunrise or sunset, which are some of the most phenomenal sites you'll ever see.
Grand Canyon National Park – Arizona
As the most famous and one of the deepest canyons in North America, Grand Canyon National Park is a must-see.
It's the national park we grow up learning about in our history books and somewhere on millions of people's bucket lists.
Grand Canyon National Park sits right along the Colorado River in Arizona and features the Grand Canyon, a 277-mile-long canyon that opens up the earth.
Trails all over allow you to either walk along the rim of the canyon or enter it and even get down to the canyon floor.
Some people take mule trips to carry their gear into the canyon, while others backpack and enter it on foot.
There are many great ways to explore this fascinating US national park, regardless of your skill level.
Grand Teton National Park – Wyoming
Another of the most popular parks in the United States is Grand Teton National Park, found just south of Yellowstone in Wyoming.
This park is home to the Teton Mountains, which are very jagged peaks that have a very distinctive outline.
People who love the mountains often love visiting Grand Teton, as they make for the perfect place to hike up into or backpack in the peaks.
Wildlife also roams everywhere throughout the park, and your chances of seeing bison, moose, and bears are high!
My favorite hike in Grand Teton is to Delta Lake, a gorgeous, blue alpine lake that sits right in front of Disappointment Peak.
Katmai National Park – Alaska
While hard to reach, Katmai National Park in Alaska is one of the most unique and rewarding national parks you'll ever visit. Although Denali National Park attracts the lion's share of visitors, Katmai offers an unforgettable experience.
To get to Katmai, you'll need to take a boat or fly to the Alaskan Peninsula, where you'll then arrive and get to explore this remote park.
Katmai is home to a huge population of grizzly bears, with more bears than people living on the Alaska Peninsula. While it takes an expensive float plane to reach, it's one of the best national parks in Alaska for bear viewing.
You can catch a special glimpse of these majestic creatures at Brooks Camp. At this particular spot during certain parts of the year, you can see dozens of grizzlies at a time catching salmon as they jump over Brooks Falls.
Mount Rainier National Park – Washington
Home to the tallest mountain in Washington State, Mount Rainier National Park makes for a special visit for all nature enthusiasts.
Enjoy the amazing views of the over 14,000-foot active volcano known as Mount Rainier.
Hundreds of miles of hiking trails encompass the park. Each of which gives you a new viewpoint of the magical mountain.
From the daunting Wonderland Trail, which circles the entire base of the mountain, to easier options like Naches Peak, every hike can offer scenic views of Mount Rainier.
Wildflowers bloom around every corner during the summer, creating a magical experience. I'd recommend visiting in late July to see the best flower blooms!
Death Valley National Park – California
With its scorching temperatures and unforgiving terrain, it's no wonder why this otherworldly national park has been given the name Death Valley.
Just across the Nevada border into California, you'll find Death Valley National Park. It's one of those places where you feel like you're on another planet.
Enjoy one of the best viewpoints in the park at Dante's View. This spot showcases incredible views out into Badwater Basin, the lowest point in the country.
Many other viewpoints and great spots show off the beauty of the rest of the park. One of the most popular is Artists Palette, which features a hillside filled with bright colors that have happened because of chemical weathering.
Zion National Park – Utah
Speaking of otherworldly places, Zion National Park in southern Utah is another of those places, featuring bright red rock formations.
Zion's hiking trails are of the most popular in the country, including Angels Landing and The Narrows.
These two iconic hikes themselves are a few things that make the park worth visiting, and you could spend all day doing just one of them!
Other than that, there are several excellent viewpoints and plenty of other fantastic hikes, like Emerald Pools, to check out and enjoy the uniqueness of Zion.
Everglades National Park – Florida
Way over on the eastern side of the United States is Everglades National Park on the very southern tip of Florida.
This expansive park is best known for being home to some of the most unique wildlife in the country, like the American crocodile and manatees.
These fascinating creatures can only be seen in certain places in the US, and Florida is one of those destinations.
While in the Everglades, check out some hiking trails and watch for the crocs, especially near Shark Valley, which is the best place for spotting them.
Or take an airboat tour to get out onto the water and have a new perspective of the landscape.
Wrap-Up: Best National Parks In The USA
If you're planning a trip around the United States this summer or trying to decide which US national parks to visit, there is no shortage of beauty to see.
From coastlines to roaming wildlife to towering mountains and otherworldly features, you can see something new in every corner of the country.
I hope these great national parks in the USA blow you away just as much as they have for me!