The ubiquity of American films means that landmarks and cities often make their way onto our 'must-see' travel list. The sheer size of the United States means that it has plenty of bucket list items on offer.
Almost too many to pick from. So, what are the best once-in-a-lifetime experiences in the land of the free? Bucket list locations may vary by individual depending on their interests. Some lean towards natural landscapes, while others prefer an iconic artificial structure.
Outdoor enthusiasts can't go wrong with choices like Grand Teton National Park and Rocky Mountain National Park. Top picks for manufactured structures include Disney World, the Empire State Building, and Biltmore House in North Carolina.
So, make sure to add the following places to your list of American must-sees.
1. Statue of Liberty, New York
There are a number of bucket list choices in New York. But, if you're there for only a short time, be sure to visit the infamous NYC icon, the Statue of Liberty. You can even view New York from its crown.
The crown is accessed by stairs and requires a reservation. It takes 162 stairs to get to the top, and the ascent is steep and narrow. When visiting the Statue of Liberty, be sure also to explore its surroundings.
You can choose from harbor cruises, tours to the statue, and express first tours of the day. To skip the long lines, get your tickets here.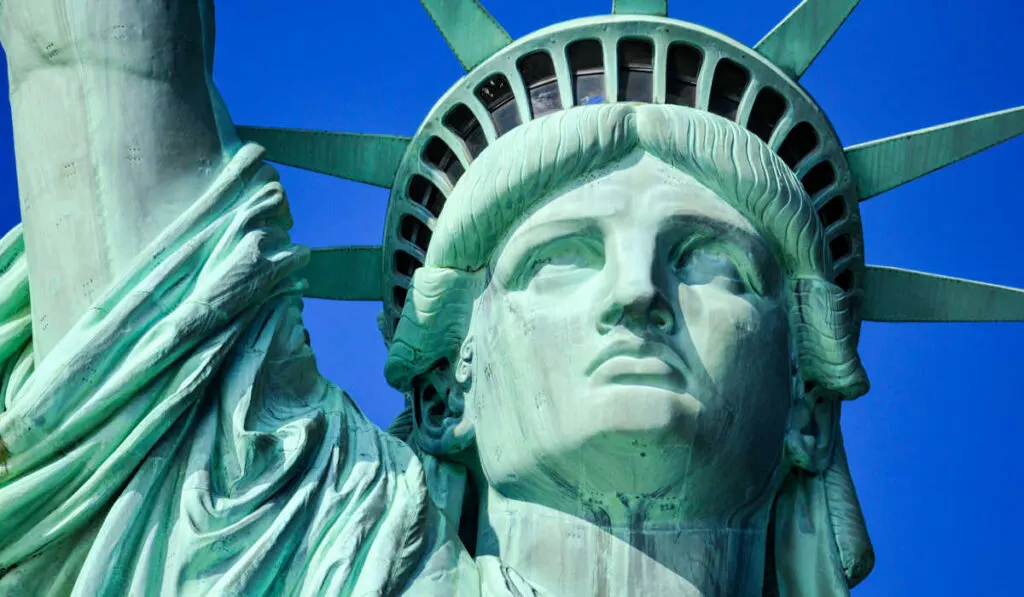 Central Park, the Liberty Island Museum, and the Ellis Island National Museum of Immigration come to mind. The latter explores how far people went to make a better life for themselves.
You will walk down quiet halls from 1892 to 1954 so that you can learn about the 12 million immigrants who were present in this building.
2. Denali National Park, Alaska
When it comes to bucket list experiences in the United States, most forget about Alaska. However, it contained the highest North American mountain, Denali, also known as Mount McKinley.
Many tourists visit Denali on cruise and land tours. Should you take an May cruise to Alaska or October, you increase your chance of seeing the northern lights in the wilderness area. Away from the city's glittering lights, the darkened landscape is one of North America's best places to witness the aurora borealis.
While Denali is often shielded by cloud cover on a clear day, its snow-capped peak provides majestic views.
Others travel to Denali to ascend its peak. Considered a challenging climb due to severe weather, mountaineers use the mountain to prepare for climbing Mount Everest.
3. Niagara Falls, New York
The Niagara River flows in both the United States and Canada and creates Niagara Falls. No doubt, Niagara Falls is on everyone's bucket list.
Open year-round, visitors to Niagara can view three waterfalls at Niagara Gorge. The largest and most impressive fall, Horseshoes Falls, is best viewed from the Canadian side.
When visiting Niagara Falls, travelers can cross the Rainbow Bridge to get a different perspective of the American Falls and Bridal Veil Falls.
If you're prepared to get wet, the Maid in the Mist allows you to feel the spray and power of the falls from the water level. Take the Prospect Point Observation Tower if you want to see all three falls from the American side.
4. Grand Canyon National Park, Arizona
Everyone knows how vast, impressive, and stunning the Grand Canyon is. But truth be told, it is something you have to see in person. The helicopter tours and walks give you a sense of how impressive it is, particularly at sunset.
Before heading there, take a long look at a map of the Grand Canyon when planning your sessions. Mark the most notable views and experiences, such as the Skywalk and hiking routes.
There are many tips to keep in mind when visiting the Grand Canyon. For instance, be aware of the altitude-related problems, the long drives, and the walks (this isn't a day trip), and stock up on gas before arrival. The last thing you want to do is run out of gas!
Exploring the Grand Canyon is a must on any travel bucket list to the US. Undoubtedly, it's one of the top US parks for scenery. Remember to stay hydrated and use sunscreen if you're visiting in the summer months.
If you are not a fan of large crowds, you should consider taking a day hike to escape the crowds. To travel sustainably, remember to preserve and protect this beautiful area, so others can enjoy it for decades to come.
5. Pearl Harbor, Hawaii
Visiting Pearl Harbor near Honolulu is a humbling experience. On December 7, 1941, the Japanese attacked Pearl Harbor, resulting in more than 2,400 deaths.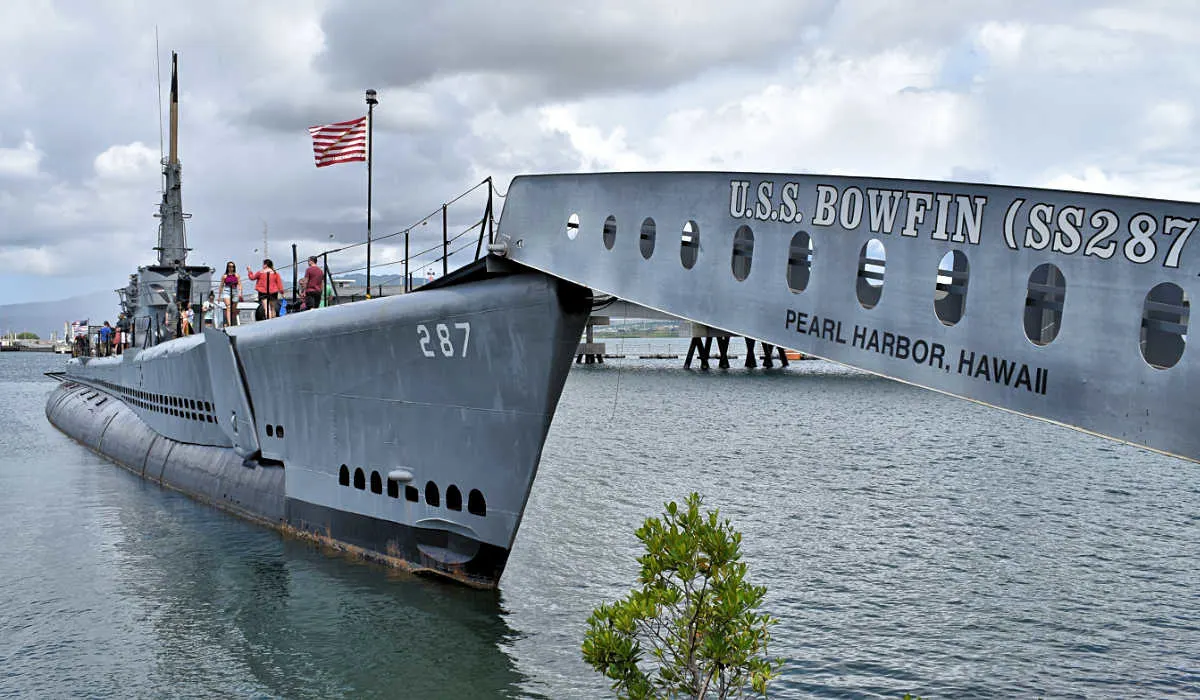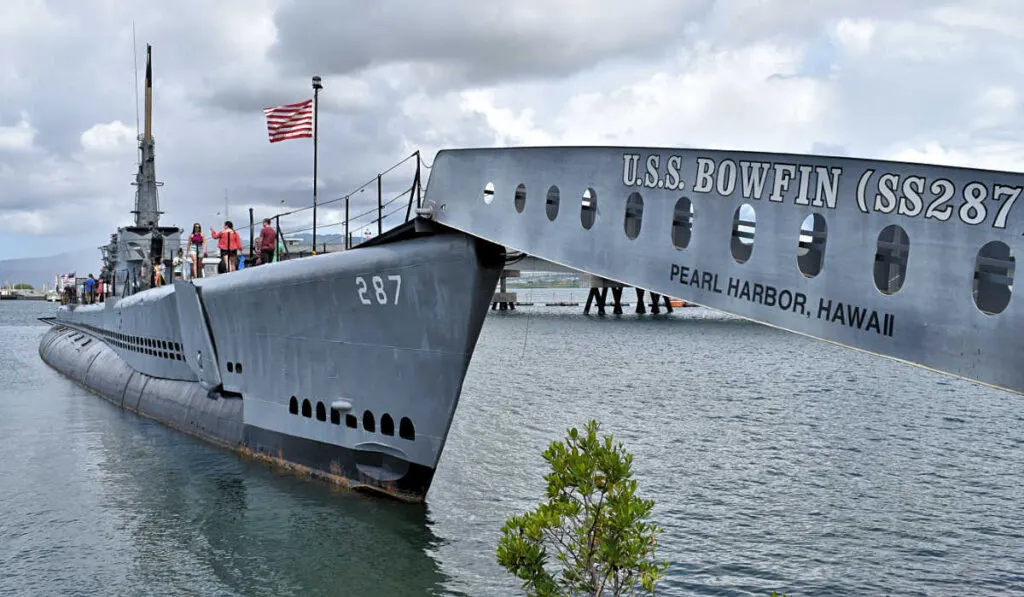 Today, Pearl Harbor stands as a memorial to those who perished. It's also a place to learn and understand the historical events. It takes a whole day to explore the different areas.
While it's free to tour the USS Arizona, there's a small fee to tour the USS Bowfin submarine, USS Missouri battleship, and the Pearl Harbor Aviation Museum.
6. The White House, Washington DC
Washington DC is worth visiting in its own right. It prides itself on its extensive culinary range, with every food under the sun available in this cosmopolitan city. It even prides itself on its beautiful spring season, when trees are in full bloom.
Many only get to view The White House on television, but seeing it in person is a real bucket list big-hitter. You can tour the White House or visit the surrounding attractions.
You can find the Washington Monument, the World War II Monument, the Martin Luther King, Jr. Memorial, and beautiful National Park services like Rock Creek Park, Kenilworth Park, and Aquatic Gardens.
The latter allows you to explore nature and is ideal for families.
7. Haleakala National Park, Hawaii
Hawaii offers some of the best places to watch the sunrise and sunset. Watching the sunrise on the top of Haleakala has become so popular in recent years that it now requires a reservation to watch the iconic event.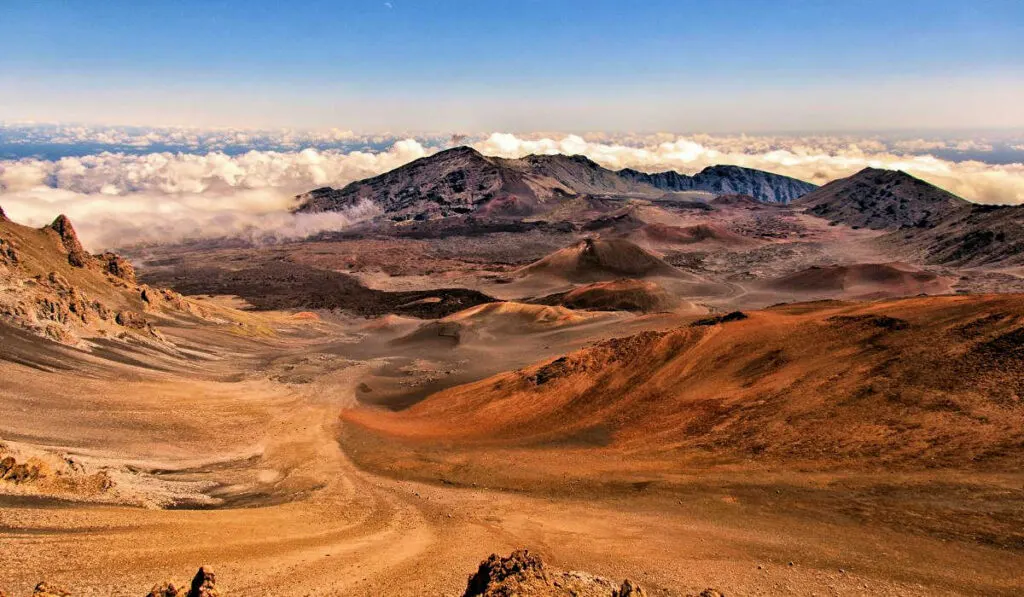 Located in Maui, expect to drive for 1-1/2 hours to reach Haleakala National Park's summit. Along the way, you'll experience many climatic zones. While it may be 90 F at sea level, it could be in the low 50s at the summit. So, dress accordingly.
At over 10,000 feet high, the dormant volcanic crater has a moon-like landscape. Interestingly, Haleakala measures over 30,000 feet from the ocean floor, making it one of the world's tallest mountains. There are numerous hiking trails to enjoy the volcanic landscape at the crater.
If you can't make the 3 am sunrise (to get the best viewing spot), the sunsets are equally as spectacular.
8. Road To Hana, Hawaii
With so much land, a United States bucket list wouldn't be complete without a road trip or two. Located on the tropical island of Maui, the Road to Hana isn't about the destination but the journey itself.
While you can take a Road to Hana tour, it's best to enjoy the trip by rental car, which are readily available at the Kahului Airport.
While the distance to Hana is just 52 miles, don't expect a short ride. The Hana Highway has 620 curves and 59 bridges, many of which can accommodate one vehicle.
Expect to spend all day on this iconic road trip with unique stops to savor the best banana bread, cascading waterfalls, turtle viewing, and a lava tube. If you're prone to motion sickness, use a patch to prevent a queasy stomach.
9. Alcatraz Island, San Francisco
San Francisco is home to the Golden Gate Bridge, a winding street, and cable cars, which transport you back in time. In San Francisco Bay, Alcatraz Island once served as a Federal Penitentiary. Closed in 1963, it now remains a popular tourist attraction.
During a three-hour Alcatraz tour, you'll learn about the events at Alcatraz after the prison's closure. After a steep walk to the jail, you can explore at your own pace. An audio guide explains each area, and you can get a feel for life behind bars.
Hearing the stories of famous inmates like Al Capone and Machine Gun Kelly adds to the immersive experience.
If you're cruising from San Francisco, consider arriving a few days early. With a 3-day San Francisco itinerary, you can cross the Golden Gate Bridge, explore Chinatown, tour Alcatraz, and see Fisherman's Wharf.
10. Las Vegas, Nevada
Las Vegas is one of those cities that has to be seen to be believed. A replica of the Eiffel Tower, the gondola rides, and the endless rows of neon and glittering lights: Las Vegas specializes in the extreme.
Even if you're not into gambling, you'll have famous stars doing residencies along the strip, brilliant restaurants, and some of the best bars and clubs in the world. The Hoover Dam and Red Rock Canyon provide great road trips if you want to escape the strip.
Attending a Vegas show, watching the Bellagio fountains, and riding the High Roller observation wheel are some bucket list experiences offered in Sin City.
11. Glacier Bay National Park, Alaska
With over three million acres of pristine wilderness, a visit to Glacier National National Park can offer whale, bear, puffin, and harbor seal sightings. There's much to discover in Glacier Bay, and each visit can yield a different outcome.
Most who visit come by watercraft. If you're cruising through Glacier Bay on a large cruise ship, a park ranger will board the vessel to give a commentary on the area.
Margerie, John Hopkins, and Lamplugh Glaciers are the most picturesque tidewater glaciers. Keep a pair of binoculars handy as you may see a bear on the coastline or harbor seals sunning themselves on icebergs at John Hopkins Glacier.
12. Joshua Tree National Park, California
A protected area of almost 800,000 acres in Southern California, Joshua Tree has a soothing landscape of colossal rock and diverse vegetation. The Joshua Trees are the star attraction for their contorted shapes and spikey green foliage.
The rock formations are almost as interesting as the trees. Skull Rock gets its name because it resembles a skull at the right angle. The giant boulders invite visitors to rock hop. While the desert landscape looks relatively barren, it's home to rabbits, squirrels, chipmunks, coyotes, and mountain lions.
If you decide to camp to enjoy the starry night skies, be aware that there are tarantulas, scorpions, and rattlesnakes.
13. Mount Rushmore, South Dakota
Four past presidents are immortalized in stone in the Black Hills of South Dakota. Standing 60 feet high and covering over 1,200 acres, the Mount Rushmore National Memorial took fourteen years to complete.
Designed by Gutzon Borglum, the colossal granite sculpture attracts over two million visitors a year – and you should be one of them. Gutzon selected Thomas Jefferson, George Washington, Abraham Lincoln, and Theodore Roosevelt for the memorial.
14. Redwood National Park, California
Coastal redwood trees reaching for the sky can live for several hundred years. Their unique red hues and massive trunks are conversation starters. As the tallest trees on the planet, they can reach heights of almost 400 feet.
While there are many redwood forests around San Francisco, northern California offers a unique bucket list idea – driving through a towering redwood! Klamath Tree, Chandelier Tree, and Shrine Tree are the only ones that provide the drive-through experience.
15. Antelope Canyon, Arizona
Antelope Canyon was formed by erosion, creating a slot canyon. Comprised of Navajo sandstone, the canyon exudes beautiful red and orange hues that even a painter couldn't replicate. The textures and colors are a photographer's paradise.
Since the canyon lies on Navajo land, travelers can only access it on a tour and tickets often sell out. During the rainy season, the canyon fills with a torrent of water, making it extremely hazardous. That water erodes the walls, creating a smoother surface.
If you want those Instagram pictures, plan to travel in the summer months and on a sunny day. Without the sun, the sandstone won't radiate its incredible warm tones.
16. Old Faithful, Yellowstone National Park, Wyoming
There are over 500 geysers in the park, but Old Faithful is the most predictable, earning its appropriate name. Although not the largest geyser in Yellowstone National Park, park rangers can predict its eruptions at intervals of 90 minutes.
Geysers are the result of geothermal activity. At each eruption, Old Faithful shoots 3,700 to 8,400 gallons of steamy water through its spout. The water reaches heights of over 100 feet, and the anticipated show can last up to five minutes.
If you prefer to forego the crowds at the boardwalk, take the one-mile hike to Observation Point. While a strenuous trek, you'll enjoy an elevated view over the entire area.
17. Zion National Park
Utah is home to five National Parks; Canyonlands, Bryce Canyon, Capital Reef, Zion, and Arches National Park. Given their proximity to each other, you can visit them all on the same day.
Zion, Utah's first National Park, makes this list for its diverse options of activities. River rafting, canyoneering, rock climbing, and hiking – it's all available for adventure seekers.
The park is bike-friendly, so whether you bring your own or rent one in Springdale, you'll enjoy the scenery with the wind in your face.
Zion is home to slot canyons, wading pools, and towering sandstone cliffs which beg to be captured on canvas. Its red, blonde, and salmon hues compliment the bright blue sky.
18. Times Square, New York
Bright lights, a steady stream of people, and a place where the city never sleeps – that's Time Square. Times Square might be best known for dropping the ball on New Year's Eve. However, it's a flurry of activity all year round.
So, grab a latte and enjoy people-watching, or head to a rooftop bar for a brew and aerial view. When you're ready to roll, the attractions are plentiful. Madame Tussauds, Ripley's Believe It or Not, Broadway shows – almost too many options.
Time Square exudes electric energy, and the locals love it. It's a hybrid of the strip in Las Vegas. It has costumed characters trying to make a buck, and wall-to-wall billboards.
Times Square may be the epitome of mayhem, but once you've visited, you can say, "been there, done that!"
19. Big Sur, California
A Big Sur road trip on the west coast of the United States provides one of the scenic drives nationwide. While you can complete the 90-mile journey in a few hours, you'll want to take your time to savor the views.
The rugged highway runs between Carmel-by-the-Sea and San Simeon. With stops like the Point Lobos State Reserve, Garrapata State Park, and Pfeiffer Beach, your two-hour trip could be an all-day adventure.
You may want to stay much longer than a day. With sandy beaches filled with sand dollars, dramatic cliffs with waterfalls, and numerous Big Sur hikes, there's plenty to keep you busy.
The coastal highway provides a great road trip by camper van if you want to explore the west coast in detail. Alternatively, there are some Big Sur accommodations around Carmel.
Two hundred miles to the northeast, Yosemite National Park also provides a great bucket list destination in the US.
20. Mardi Gras, New Orleans
Gold, green and purple: the official colors of Mardi Gras. You'll see them strewn in garlands, painted on floats. New Orleans has welcomed Mardi Gras since March 1699, where it's now a legal holiday.
While you're in New Orleans, be sure to grab yourself a slice of King Cake. Nothing pairs better with the party atmosphere and some cocktails than the taste of icing and brioche.
New Orleans' gorgeous architecture provides plenty of places to stay. Its oldest neighborhood, French Quarter, has incredible Creole/French Colonial architecture, with ornate iron balconies. Tranquil by day, festive by night, Mardi Gras adds another level of energy to the area.
21. Burning Man, Nevada
Burning Man isn't about the destination but the event. Black Rock City in the Nevada desert hosts the annual festival called the "Burning Man." The event attracts thousands who endure blazing sunshine during the week-long affair.
The occasion encourages self-expression on an artistic level, that's quite mind-blowing. There are strict rules about being environmentally responsible, gifting, and being self-sufficient. To beat the heat, wear organic cotton clothing brands which are kinder on your skin.
Eventgoers stay in tents or RVs. It's advisable to have a bike to cover the area. Art installations are enormous, unique, and wonderfully creative, almost like Cirque du Soliel props on steroids. The event concludes with the burning of a giant wooden effigy.
The Burning Man event isn't for everyone. However, it has attracted some famous celebrities, including Katy Perry, Elon Musk, and Mark Zuckerberg.
22. Key West, Florida
Key West is located on the United States southernmost point and provides a sunny playground for exploring its historical sites. With idyllic year-round temperatures, you can snorkel, scuba dive, or parasail if you're daring enough.
As a busy tourist destination, it's best to explore on foot or by bicycle. Alternatively, the Conch Train Tour provides a relaxing way to see the town. The Hop-on-Hop-off tour includes stops to visit the Key West Aquarium, Herry S. Truman Little White House, Ernest Hemingway's Home, and Key West Lighthouse.
Of course, you'll want to get a selfie at the Southernmost Point but be prepared for a long wait for your turn. To complete your day, add some retail therapy at Mallory Square, which provides the perfect place to watch the sunset.
23. Badlands National Park, South Dakota
Rugged and dramatic are two words that come to mind when describing Badlands National Park in South Dakota. The steep canyons and sprawling grasslands are best explored over two days. Avoid the crowds and hotter summer months, and visit in spring and fall instead.
The badlands attract tourists to admire thousands of buttes and pinnacles over 200,000 acres. The underrated gem is also home to the richest fossil beds in the world.
One look at its salmon-striped peaks, and you'll understand why it's included on this bucket list.
24. Monument Valley, Utah and Arizona
Stretching across Utah and Arizona, Monument Valley carries a fitting name. The flat desert landscape is riddled with massive sandstone monuments, some standing 1,000 feet high.
It's a scene out of a movie – and many have been filmed there. Staring at the landscape, you may notice spots featured in Forest Gump and 2001: A Space Odyssey.
While most travelers take the 17-mile scenic drive, consider staying overnight at The View Hotel.
The View Hotel is the only accommodation offered inside the Monument Valley Navajo Tribal Park. As the sun rises and sets, the glowing hues of Merrick Butte and Mitten Butte are breathtaking. Golding's Lodge provides another option to stay, but it's outside the park.
25. Salt Flats, Arizona
Stretching twelve by five miles, the Bonneville Salt Flats is a unique place in America and worldwide. The salt flats are famous for the automobile racers, which take place in the summer. If you visit when there's no event, you can drive on the flats if the salt is dry.
In the center, the salt crust is almost five feet thick but tapers to under an inch at the edges. The harshness of the area prevents the survival of animals and plants.
Be aware that it's scorching in the summer, and you cannot purchase food or beverages in the area. So, plan ahead by bringing plenty of drinking water.
Final Thoughts
Life and travel adventures are meant to be fluid. The places mentioned above are simply ideas of bucket list possibilities.
One of the best ways to complete a bucket list in the United States is to organize a road trip. Whether you hit Route 66 as part of your bucket list or visit a national park instead, it's about doing what interests you.
Block out a few weeks, plan your route, and get sightseeing.
Happy travels ~ Karen