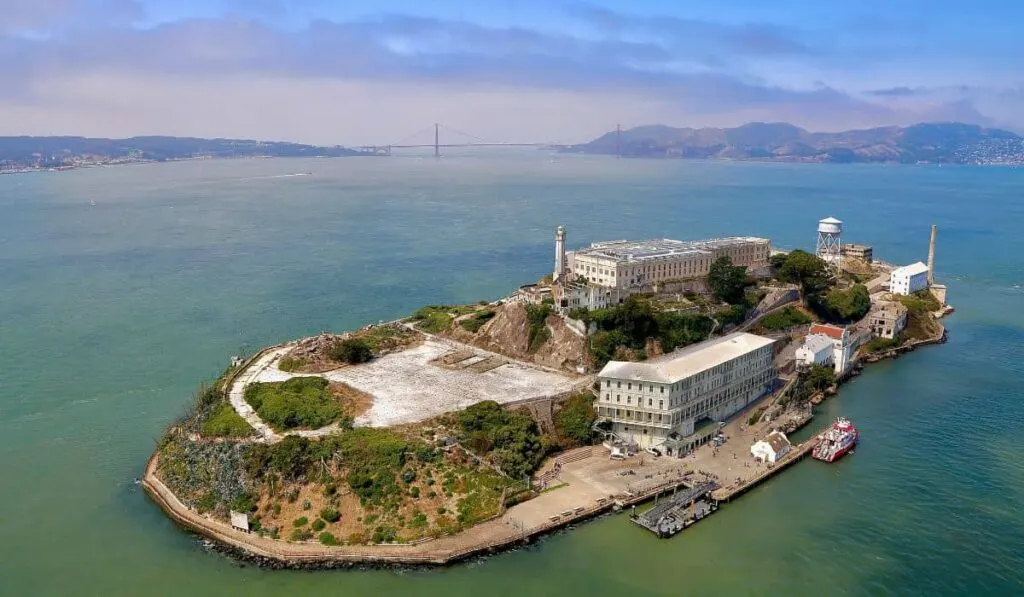 Many travelers put an Alcatraz tour in San Francisco on their bucket list. The history as one of America's toughest prisons, the escapes, and famous prisoners like Al Capone and George" Machine Gun" Kelly all add to the mystique of this historical landmark.
So, by taking an Alcatraz tour in San Francisco, you'll discover its intriguing history.
Alcatraz prison is on Alcatraz Island in San Francisco Bay, about 1.25 miles (2 km) from San Francisco, California. This small 22-and-a-half-acre island has a rich history back to 1850.
We recently took the Alcatraz Island walking tour in the late afternoon, which was the highlight of our few days in San Francisco. You can visit Alcatraz during the day, or even better, try the Alcatraz Night Tour!
If you have lots of time in San Francisco, you can purchase Alcatraz tour packages which include Muir Woods to see the giant redwood trees.
Read on to discover tips for visiting Alcatraz, how to get there, and the differences between the tours.
Top Alcatraz Island Tours
History Of Alcatraz Prison
Alcatraz Prison, also referred to as "The Rock," was a maximum-security federal prison on Alcatraz Island in San Francisco Bay, California.
It operated from 1934 to 1963 and was known for housing some of America's most notorious criminals, including Al Capone and Robert Stroud, the "Birdman of Alcatraz."
Alcatraz As A Military Prison
In the mid-19th century, the military used the island for their purposes. However, in 1933, the government decided to transform it into a federal prison to accommodate the nation's most dangerous and high-profile criminals.
Construction of the prison began that same year and was completed in 1934. The architects planned the penitentiary to be escape-proof by constructing high walls and stationing armed guards, along with the island's isolation.
Alcatraz From 1934 To 1962
During its 29 years of operation, Alcatraz housed over 1,500 prisoners, many of whom were notorious criminals. However, it was never at the maximum capacity of 336 inmates.
On average, Alcatraz held 260-275 prisoners. The prison was known for its stringent rules and harsh living conditions.
Prisoners were confined to their cells for up to 23 hours a day and allowed only one hour of exercise daily. Their "playground" was a concrete area with a tiny section of grass.
Alcatraz was also known for its numerous escape attempts. The most famous effort occurred in 1962 when three inmates attempted to escape by digging a tunnel out of the prison.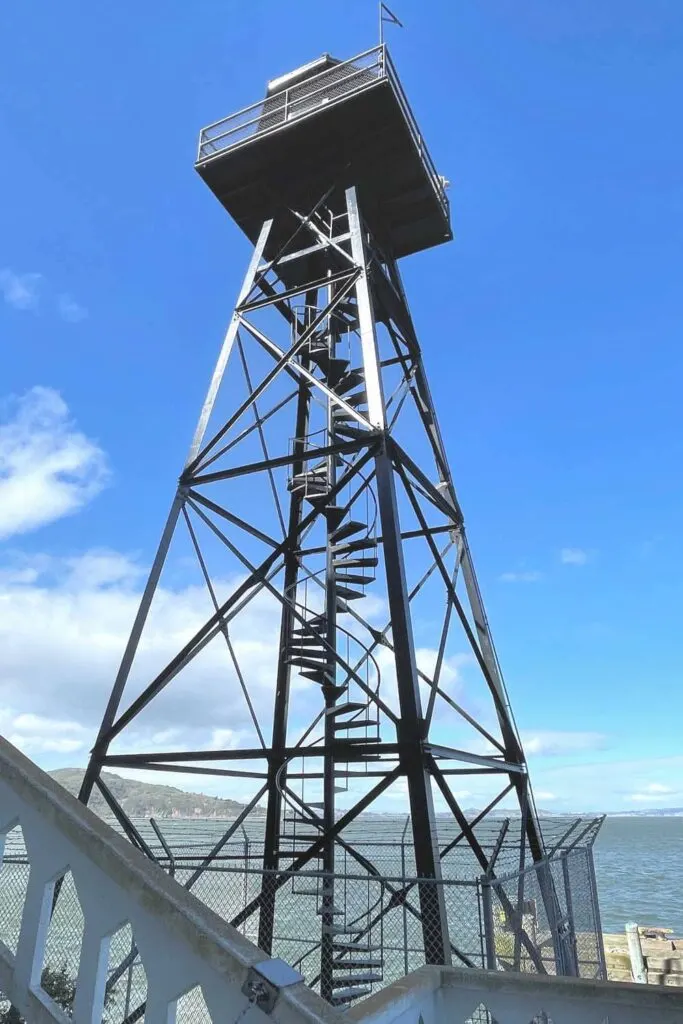 The attempt was unsuccessful, and the guards caught the men and returned them to the prison.
Alcatraz had an extensive library, which was off-limits to inmates. Instead, they received books from an orderly. With over 15,000 volumes, there was plenty to read.
Due to spending 23 hours a day in a cell, inmates immersed themselves in literature and often read up to 100 books yearly. Naturally, books with criminal, sexual, or violent references were banned.
In 1963, Robert F. Kennedy, Attorney General, ordered the closure of Alcatraz. This was due to the high prison operating cost and deteriorating conditions.
The last prisoners were transferred off the island in March of that year, and the prison was officially closed. Today, Alcatraz is a popular tourist destination operated by the National Park Service.
We took the ferry to the island and toured the former prison, learning about its history and infamous inmates.
Did Anyone Escape From Alcatraz?
There have been claims of prisoners escaping from Alcatraz, but the official records show that no one successfully escaped and survived.
Between 1934 and 1963, 36 prisoners attempted to escape from Alcatraz Federal Penitentiary, but most were either caught, killed, or drowned in the bay's cold and swift waters.
The most famous escape attempt occurred on June 11, 1962. Three prisoners, Frank Morris, John Anglin, and Clarence Anglin, made a daring escape from the prison.
They used homemade tools and a raft made from raincoats. The correctional officers never saw them again, and many believed that they drowned in the bay.
However, their bodies were never found. As part of their escape attempt, they had created lifelike fake heads made from paper mâché with their own hair.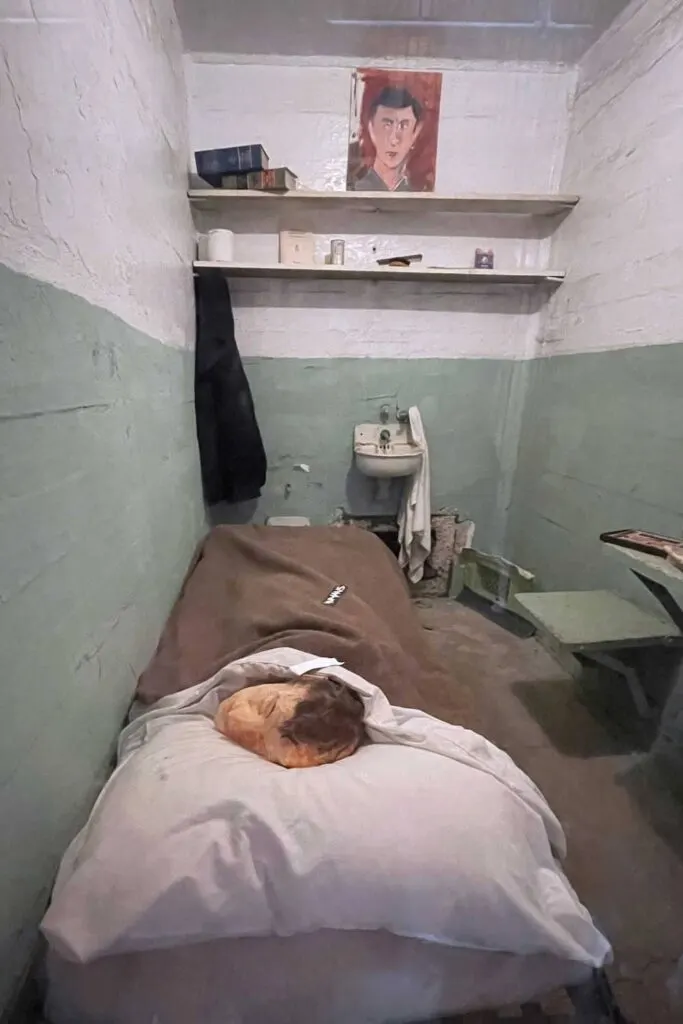 They placed their fake heads on their beds and fooled the guards when they checked on the prisoners. During the Alcatraz Tour, it was impressive to see the fabricated heads on the cot in each of the cells for Frank Morris, John Anglin, and Clarence Anglin.
How To Purchase Alcatraz Tickets
Since the National Park Service operates Alcatraz Island, they control who can provide transportation to the island. Alcatraz City Cruises provides the best Alcatraz prison tours and is the authorized concessioner providing ferry tickets.
Several tour companies provide Alcatraz tickets, but you will get the best price by booking directly with Alcatraz Cruises' official website. There are three different tours offered: Day Tour, Night Tour, and Behind the Scenes Tour.
When looking to book tickets, some companies offers a Bay Discovery Cruise. However, this sightseeing cruise sails by Alcatraz but does NOT dock at Alcatraz Island.
Be sure to book tickets long before your planned visit. If you arrive at Pier 33 without tickets, you will likely find tickets SOLD OUT!
For the Behind the Scenes Tour, tickets sell out weeks or months in advance due to the small crowd size allowed. So, plan to book tickets for this tour at least three months in advance.
Here are ticket prices for 2023 at the time of this writing:
| | |
| --- | --- |
| DAY TOUR TICKETS | |
| Adult | USD 45.25 |
| Child (5-11) | USD 27.55 |
| Junior (12-17) | USD 45.25 |
| Senior (62+) | USD 42.65 |
| Family Pack (2 adults + 2 kids (5-11) | USD 131.85 |
| | |
| --- | --- |
| NIGHT TOUR TICKETS | |
| Adult | USD 56.30 |
| Child (5-11) | USD 33.00 |
| Junior (12-17) | USD 55.10 |
| Senior (62+) | USD 42.65 |
Children under 12 are not recommended for the Behind the Scenes Tour.
| | |
| --- | --- |
| BEHIND THE SCENES TOUR | |
| Adult | USD 101.30 |
| Junior (12-17) | USD 97.10 |
| Senior (62+) | USD 94.25 |
Read on to find out Which Type of Alcatraz Tour is Best, for you.
How To Get To Alcatraz?
To get to Alcatraz Island, ticket holders must take a ferry from Pier 33 in San Francisco. Follow these steps to get there:
Purchase your tickets in advance: You can buy your tickets online from the Alcatraz City Cruises website, which is the only authorized concessionaire to provide tickets and transportation to Alcatraz Island.
San Francisco's weather can be unpredictable, so always take a jacket unless it's a summer heat wave. There is no shelter from the rain on the walk up to the cell block.
Arrive at Pier 33: On the day of your visit, ensure you arrive at Pier 33 at least half an hour before your scheduled departure time. You'll find Pier 33 on The Embarcadero near the intersection of Bay Street.
Outside the waiting area, vendors sell hot dogs and fresh fruit. Refrain from being tempted to buy, as you'll be forced to dispose of your uneaten food when you show your tickets.
Board the ferry: When it's time to depart, board the ferry and enjoy the scenic ride across San Francisco Bay to Alcatraz Island. The ferry ride takes approximately 15-20 minutes. Onboard, you can buy food, drinks, and snacks.
Explore Alcatraz Island: Once you arrive at Alcatraz Island, you can explore the island at your own pace. An audio tour (included in your fare) provides a detailed history of the prison and the island.
Return to Pier 33: After you finish exploring the island, line up to take the next available ferry back to Pier 33.
Note that tickets to Alcatraz Island can sell out quickly, especially during peak tourist season, so booking your tickets in advance is recommended.
Since the National Park Service operates the historical site, only one ferry service runs daily to the island.
Where To Park For An Alcatraz Tour?
Finding parking at Pier 33 can be challenging, particularly during the busy summer tourist season. Also, most street parking spaces have a time limit that won't suffice for a visit to Alcatraz.
For individuals with special needs arriving by car, there is an "Accessibility Drop Off Zone" at the entrance to Alcatraz City Cruises – Pier 33. There are fifteen commercial parking lots with over 3,000 spaces within a five-block radius of Pier 33.
Alcatraz parking prices in the area can vary significantly. Since the minimum Alcatraz Island tour is 2-3 hours, be sure to compare prices for parking. The nearest lots charge USD 20 to 35 for a 4-hour stay.
Taking public transportation is the best option.
Public Transportation
If you plan to visit Alcatraz Island, public transportation is the optimal method. The Muni F Line is a prime example, as it travels along Market Street (east) before turning north on The Embarcadero.
The route takes you directly past the ferry terminal (located on your right) and through Fisherman's Wharf.
For comprehensive information regarding mass transit options in San Francisco, check out the San Francisco Municipal Railway website.
Which Type Of Alcatraz Tour Is Best?
Three different tours are available at Alcatraz – Day, Night, and Behind the Scenes. The Day Tour is the cheapest and least expensive.
Karen and I loved the self-guided Day Tour and would do the Behind the Scenes Tour when we visit San Francisco next time. Alcatraz has so much to see and learn that you can visit more than once!
The Behind the Scenes Tour is the longest and most expensive but the most intimate since it has a max of 20 people. People who have done it rate it highly as the BEST Tour!
Over one million people visit Alcatraz each year. This makes it one of the most popular tourist attractions in San Francisco.
Once you've decided which tour best suits your needs and budget, purchasing tickets online is best. You must arrive at Pier 33 in San Francisco for all tours to board the Alcatraz ferry.
The tour operators advise guests to show up at least 30 minutes prior to their scheduled Alcatraz cruise ferry departure time.
Alcatraz Day Tour
On Day Tour, you can tour the island and learn about its history. The site is well-marked, with informative signs near the exhibits.
A Discovery Guide Island map is available. I found it helpful that Rangers were stationed around the island to answer questions and assist visitors if needed.
This tour is approximately 2.5 hours and includes the following:
Roundtrip ferry ride to Alcatraz landing.
Access to the cell block.
Cellhouse Audio Tour.
Orientation video.
Ranger and guide tours.
The Day Tour is the most popular excursion and runs every day. See the times below for the summer season from March 13 to November 4.
Each day, the ferry departs Pier 33 at 8:40 am and about every 20-30 minutes after that. The last ferry leaves at 3:50 pm.
The ferry schedule is most frequent for Day Tour passengers. Those finished on Alcatraz Island can get a return ferry starting at 9 am, with the last boat leaving at 6:30 pm.
The day tour suits guests on a Pacific Coastal cruise with a day in San Francisco. Since ships leave late afternoon, they can't make the evening tours.
Alcatraz Night Tour
This 2.5-hour excursion allows you to tour Alcatraz at night. It includes all of the above and the following:
Ferry Onboard narration.
Guided tour.
Other special activities.
Night Tour ferry departs Pier 33 Tuesday through Saturday at 5:55 pm and 6:30 pm. The return ferry departs from Alcatraz Island at 8:40 pm and 9:25 pm.
Alcatraz Behind The Scenes Tour
The Behind The Scenes Tour is the longest and lasts 4-5 hours. It includes everything on the night tour, but you'll enjoy a small group tour with a maximum of 20 or fewer people.
Due to the size of the group, this tour can be sold out months in advance. So, if you're planning a trip to the United States, particularly to San Francisco, reserve your tickets as quickly as possible.
Since this option lasts twice as long as a standard day tour, you'll feel more immersed in prison life. Your tour guide will go into more detail about the inmates and everyday life on the cell block.
You must check in at Pier 33 Tuesday through Saturday at 4:20 pm. The return ferry departs from Alcatraz Island at 5:15 pm, 5:55 pm, 6:30 pm, 8:40 pm, and 9:25 pm.
Welcome To Alcatraz!
From Alcatraz Landing, it's an uphill walk to the cell block. If you can't make the steep grade, a trolley is available. On the way, you'll see the guard towers, a Flank Defense Howitzer (cannon), Alcatraz gardens, and family housing.
Arriving at the island, you may observe an abundance of colonial nesting seabirds.' Offshore rocks are typically the nesting sites for most seabirds, making them inaccessible to people.
Alcatraz had been a sanctuary for thousands of nesting birds long before human presence on the island. On our visit, a board keeps a count of the nesting birds.
Peregrine Falcon had four eggs.
1200 pairs of Brandt's Cormorant.
Great Blue Heron – four active nests.
Two pairs of Black Oystercatchers.
Eight pairs of Canada Geese.
As well as Snowy Egrets, Black-crowned Night Heron, Western Gulls, and Pigeon Guillemots.
Once you arrive at the Cell House, you quickly get a sense of what life was like for new prisoners. After picking up your headset for the audio tour, you are in the large area where the prison received new inmates.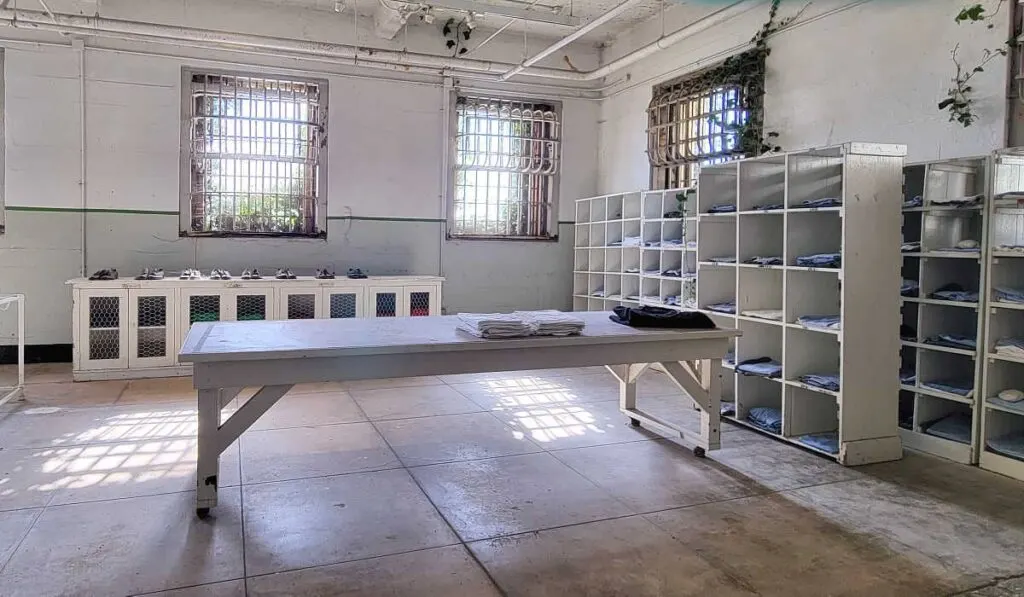 Most notable is the large shower allowing up to 30 new arrivals to get clean simultaneously. Forget about privacy; you're an inmate now at Alcatraz!
The shower was also used by existing inmates for their use once a week during their incarceration.
In addition to the shower, new arrivals would be issued a uniform, shoes, bed sheets, a straw pillow, and not much else.
I found it interesting that decades ago, each prisoner would receive a pack of cigarettes every Monday, Wednesday, and Friday. Those who didn't smoke traded their cigarettes for something they wanted.
The Warden during that time believed that cigarettes were a necessary "privilege" to help inmates with their health and stress.
Cellhouse Audio Tour – "Doing Time"
I am not usually a fan of audio tours where you walk around with earbuds and carry an audio box. This is because most of the audio tours I have done in the past were of poor quality.
However, the Cellhouse Audio Tour at Alcatraz Prison is a MUST-DO and the best audio guide I have ever tried! The award-winning audio presentation is called "Doing Time: The Alcatraz Cellhouse Tour."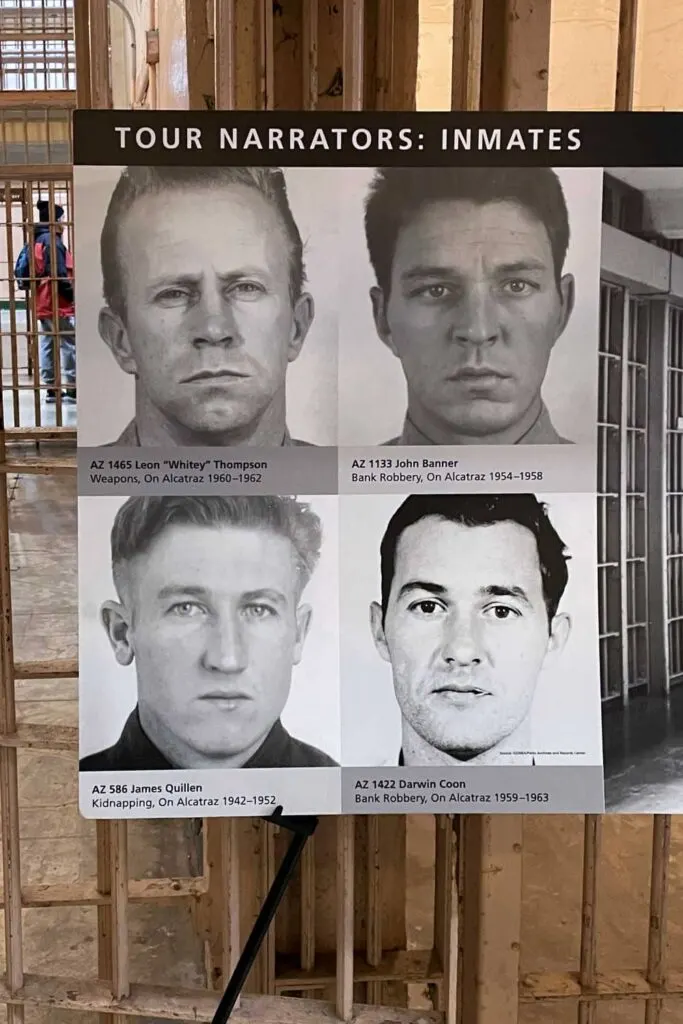 Real prisoners and guards who worked at Alcatraz narrate much of the tour. Their voices and stories added to the realism and quality of the recording.
The audio tour tells the story of what life at Alcatraz was like. It's shocking to see the boxy 9′ x 5′ tiny cells. There are original audio clips from former inmates, and the digital audio quality is exceptional.
I found the audio tour so authentic that I could see in my mind's eye what life at Alcatraz was like. The audio was perfectly synced to your location, which added to the realism of this dark piece of history.
I could envision what my life would be like if I was there as a prisoner. More than once, I thought, "thank goodness I'm just a visitor!"
The stories on the audio tour include "The Battle of '46'", "Food Riots," and "Surviving Solitary Confinement." As you walk down the various corridors and hallways named after famous landmarks, you will imagine what life at "The Rock" was like.
The Cellhouse audio tour is available in eleven languages to be as inclusive as possible.
| | |
| --- | --- |
| Dutch | Korean |
| English | Mandarin |
| French | Portuguese |
| German | Russian |
| Italian | Spanish |
| Japanese | |
The "Slammer"
At one part of the tour, a Park Ranger begins describing how the "Slammer" works. Alcatraz was innovative by using a "pin and lever" technology that replaced the old lock and keys used previously.
After a prisoner was placed in his cell, the guard would stand outside the doorway and call to another guard. The other guard would be stationed at the corner of the row of cells.
The prisoner guard would announce, "Request to close #7," and the corner guard would make it happen. By pushing a pin on the corner of the row of cells and turning a giant lever, the door to cell #7 would close.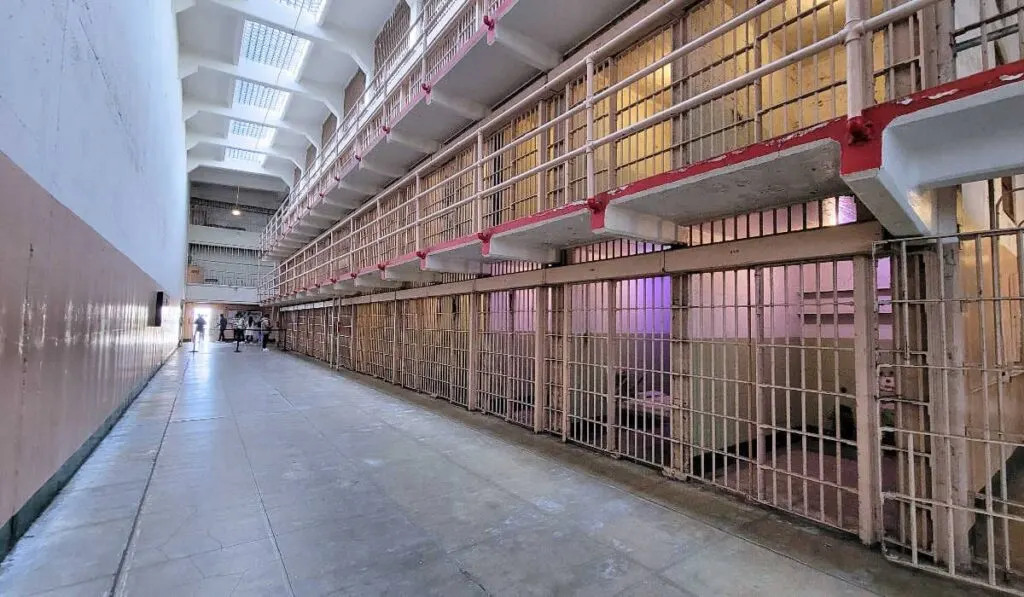 The most common use of the "Slammer" would be three times a day when all prisoners returned to their cells. The corner guard would turn the large lever to cause ALL cell doors to close simultaneously.
The deafening sound of steel banging upon steel as each door closed was the result. Hollywood has used this famous sound in many blockbuster movies such as Terminator 2, Star Wars, etc.
Solitary Confinement – "Sunset Strip"
This is one of the most sobering areas of the Cell Blocks and is located on Sunset Strip. It contained the best and worst cells. The Sunset Strip or D Block contained the worst inmates.
Their accommodations were roomier than the standard 9′ x 5′ cells. Across from their cells, large windows allowed them to enjoy sunsets, if they behaved.
However, at the end of the block, a series of "Dark Cells" were used for prisoners that had all privileges taken away.
In solitary confinement, prisoners could only come out of their cells for one hour per week! Also, they would spend time in complete darkness as an additional punishment for their offense.
Some prisoners did weeks and even months in D Block, driving them mad! Thankfully, Karen posed for the picture as a "visitor" to Alcatraz!
Cell Blocks
I found it fascinating that the hallways between cell blocks gained their names from famous streets. You'll find Broadway between B Block and C Block.
Michigan Avenue ran between A Block and B Block. Appropriately, Time Square took center stage at the end of the blocks!
This added to the incredible history and irony of Alcatraz. Prisoners assigned to Alcatraz were the worst of the worst and would never revisit these famous landmarks!
Meals At Alcatraz
Inmates considered their three meals a day the best in the Federal prison system. In case of trouble, the large dining area had tear gas canisters mounted in the ceiling.
While the inmates enjoyed their food, for the guards, it was the most challenging time. With hundreds to feed, utensils would often go missing.
You'll see a board with slots cut for sharp knives in the kitchen. With this system, spotting a missing knife or potential weapon was easy.
Other San Francisco Alcatraz Tour Highlights
After we toured Alcatraz Island, there are some things that I recall and consider highlights of this incredible tour. If you take one of the Alcatraz tours, check out these highlights and let me know if you agree.
The Water Tower
Alcatraz had to be self-sufficient in its operation. As a result, due to the lack of a water supply, water had to be brought in from the mainland by tug and barge.
Underground and water tanks on the citadel's roof were installed to provide fresh water for the island during its military years. In 1940-41, the prison added a water tower to upgrade the island's water supply.
The water tower is the tallest structure on the island, standing at 94 feet (29 m) tall, and holds 250,000 US gallons (950 kL) of fresh water. It was primarily used to store drinking, firefighting, and water for the island's service laundry facility.
View From Alcatraz Island
Located centrally in San Francisco Bay area, Alcatraz provides perfect views of nearby landmarks. You can see the Golden Gate Bridge, Downtown San Francisco, the Bay Bridge, and more.
However, fog often blocks the magnificent views, but that's part of the "charm" of San Francisco. Fortunately, the non-stop breezes and frequent gusts keep the fog at bay, so it clears up later in the day.
Alcatraz Island Model
While waiting for the next Alcatraz ferry to arrive at Pier 33, you can view the large-scale model of the island. This is a detailed replica of what you will see once you dock at Alcatraz.
The detail is incredible, and you get a sense of why this historical landmark was nicknamed "The Rock."
Ranger Orientation Upon Arrival
As we walked off the ferry, one of the Rangers from the National Park Service greeted us and described the history of Alcatraz. They also inform everyone about the tram bus, which you can ride if you are mobility-challenged.
A couple of hundred people stood and listened, so it was difficult to hear everything the Ranger said.
However, I appreciated the orientation as Karen and I looked around to get our bearings.
The Morgue
Before you reach the Cell House, you will pass by a small building labeled Morgue. Adding to the island's history as a maximum-security prison, this is where deceased prisoners would be processed.
However, according to historical records, the Morgue was only used once when a deceased prisoner was stored overnight. The examination table was never used to conduct an autopsy.
Regardless, the presence of the Morgue adds to the melancholy of this island and its dark history.
Authenticity Of The Island
From when we departed the ferry after it arrived at Alcatraz until we caught the return ferry back to Pier 33, I was impressed with how authentic everything was.
Although Alcatraz has not operated as a federal prison for 60 years, it has stood the test of time as an incredible piece of American history. The buildings are decaying, but you feel the island's history as you walk the site and tour the facilities.
The Alcatraz Audio Tour, with the sounds of the slammer and voices from past inmates and guards, was the perfect complement to the visual reward to your eyes.
Alcatraz Gift Shop
Like most tours, you can visit the gift shop near the end. You will find lots of souvenirs and Alcatraz memorabilia.
I couldn't resist picking up a black Alcatraz T-shirt as a memento of the trip. I have worn it many times and thought about the incredible tour on trip to San Francisco.
Alcatraz Tour San Francisco: Is It Worth It?
Even though I am a Canadian, I have always been fascinated with Alcatraz and its history. Growing up, I watched Clint Eastwood in his classic film "Escape from Alcatraz."
I also watched several documentaries that chronicled Alcatraz's history and living conditions as a maximum-security federal penitentiary. The Alcatraz Tour brought all my knowledge to life and was the highlight of our visit to San Francisco.
By visiting San Francisco, we removed Alcatraz Island and the Golden Gate Bridge from our United States bucket list.
The must-do Day Tour is family-friendly and the perfect combination of education and excitement if you visit California.
The modest cost for each tour, and the high-quality service provided by the National Park Service, make this an excursion you can do more than once. We can't wait and do the Behind the Scenes Tour on our next visit.