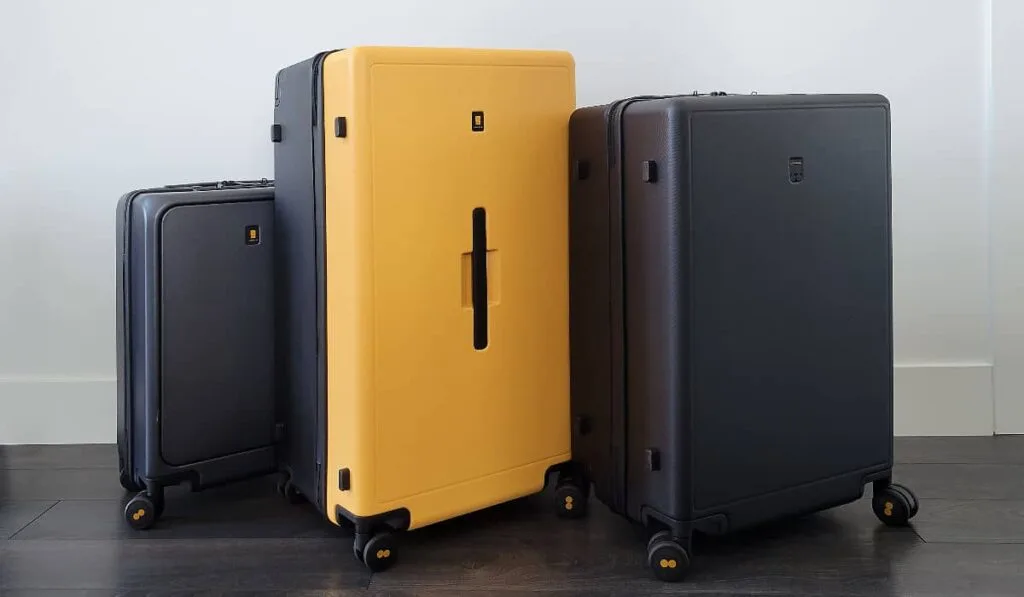 Are you looking for a reliable travel companion? Our Level8 luggage review reveals why this brand stands out. Based in New York, Level8 offers a variety of luggage sets designed to meet diverse travel needs.
Their collection combines durability and style, from sleek carry-ons with unique features to spacious checked bags. The company focuses on innovative design, adding features that simplify packing and improve mobility.
When we were asked to try their luggage and give an honest review, I selected a few different styles to see the differences. For this Level8 luggage review, we tested the:
20″ Road Runner Pro Carry-On with Laptop Pocket
24″ Luminous Textured Luggage
28″ Voyager Collection
In this detailed review, you'll discover the features we liked, and there are many areas where we felt the luggage missed the mark.
About Level8 Luggage
The first things you notice about Level8 luggage are its clean lines, sleekness, and modern design. If you're looking for a hard-shell suitcase, you should give Level8 a try. Once you try its spinner wheels, you might be sold on those alone.
Some of its luggage comes in fun colors, so you can find it on the airport conveyor belt – more on that later.
The company has added features to its luggage that elevate your travel experience. So, whether you want a pink set for that girl's getaway or a carry-on to hold your laptop, there's a piece of luggage for every kind of traveler.
You can purchase a two- or three-piece luggage sets or individual pieces. There are sets with a carry-on and travel backpack too. In a world where airlines charge fees for checked luggage, more travelers are taking a carry-on and backpack instead.
All luggage is lightweight but sturdy. Since airlines constantly lower their weight limit, starting with lightweight luggage allows you to pack more.
While we tested three different pieces, we don't recommend you purchase from contrasting collections. Since the luggage sets vary in size, you might find the pieces won't nest. An important factor if you live in a condo or place with little storage.
If you reside in the United States or Canada, shipping is FREE! It's a nice bonus since luggage isn't exactly compact. Each piece of luggage arrives in a white dust bag – a nice feature to keep it clean when it's not in use.
All luggage comes with a lifetime warranty against manufacturing defects in materials and workmanship. This includes functional damage to the wheels, shell, zippers, and handles. It does not cover damage caused by airlines or misuse.
20″ Road Runner Pro Carry-On
We selected the 20″ Road Runner Pro Carry-On luggage with a Laptop Pocket because, as bloggers, we often work as we travel. While we have a separate computer bag, the handy laptop pocket eliminated the need to carry it.
The pocket can hold up to a 15.6″ laptop or tablet and has extra sections for papers. It opens from the outside, giving you quick access to remove at airport security. If you're traveling without a laptop, it becomes a multipurpose pouch for documents or magazines.
Like all their luggage, this one has a built-in TSA-approved lock, a hard shell, and is super lightweight. You can select from black, grey, and navy.
The luggage measures 14.4"L x 9.2"Wx 21.5"H and weighs 9.3 lbs when empty.
The carry-on case also features an internal compartment to carry a power bank. You can plug your smartphone into the outside USB for quick charging. How ingenious!
Since we often fly with WestJet, we found this carry-on slightly exceeded the maximum limits on this airline. But fortunately, we weren't asked to check our carry-on on the several flights we've taken.
So, if you consistently fly with one airline to collect air mileage, you should check out their size limit. You can find a handy chart on Briggs & Riley.
It has a capacity of 35L, perfect for one person on a short trip or an overnighter for two. If you travel on business trips or quick getaways where you often take a laptop, this hand luggage is a great choice.
By carrying a laptop in this carry-on suitcase, it takes away space from the interior bag. We also found we could not pack the bag too full as items would bulge into the laptop compartment. Level8 could improve the design by adding a rigid wall between the compartments.
However, overall, we loved this piece of luggage and felt it was very stylish. The Road Runner Carry-on with a Laptop Pocket is an alternative to this bag. Slightly wider, this carry-on holds 38L and comes in the same color choices.
If you're interested in this piece, you can find it on Amazon.
Alternatively, you can receive a 10% discount by using the code foreverkaren10 on their website.
Our Pros:
The laptop compartment on the outside meant we had access without opening the suitcase.
Internal power bank compartment and easy USB smartphone charging.
Impressive 360-degree spinner wheels.
Modern and sleek design.
TSA built-in locking system.
Our Cons:
Slightly larger than our regular airline allows. However, most airlines allow up to a 22″ length so it fits within the size requirements.
You must be cautious about filling the case as the interior can bulge into the laptop pocket, causing the latch to open.
If you don't need a laptop side pocket, you can select the Textured 20″ carry-on, available in five different colors.
24" Luminous Textured Luggage
Like the carry-on, this one came in a dust-proof bag and had a textured hard shell, TSA lock, and four swivel wheels. We chose the grey color and could nest with the 20″ Pro Carry-On.
One of the things I immediately noticed was its weight – at 9.8 lbs, it weighs less than a bag of potatoes. I wondered how something so flimsy would hold up after several trips.
However, the luggage looks as good as new after two international trips. The 24″ piece measures 17.5"Lx10.4"Wx26"H and has a capacity of 65L.
Here's a size and capacity chart for the pieces in this collection.
| | | | |
| --- | --- | --- | --- |
| 20″ | 40L | 7.7lbs | 14.5"Lx9.2"Wx21.5"H |
| 24″ | 65L | 9.8lbs | 17.5"Lx10.4"Wx26"H |
| 28″ | 99L | 11.44lbs | 19.9"Lx11.8"Wx29.9"H |
This luggage comes in black, grey, and navy, but I wished it came in brighter colors. The 4″ size difference means you can nest three pieces together, taking up less space.
With 40L, 65L, and 99L luggage, finding the perfect suitcase combination for any trip is effortless. Since we frequently cruise to Alaska from Vancouver, we use the two larger cases to fit our bulkier clothing.
We like the versatility of having three pieces of luggage, although, rarely do we ever travel with three suitcases. In warm destinations like cruising to Mexico, we travel with a 20″, 24″ and bring a camera backpack for all our electronics.
We liked the outside of this luggage. Its hard shell is made of a patented Germany Makrolon® Polycarbonate that's durable and resists scratching.
The nicest feature of Level8 luggage is the wheels. They are like the Cadillac of luggage! They glide like butter; no pulling heavy suitcases – they glide across the floor. We even found it easy to maneuver over uneven sidewalks and cobblestone streets.
For those concerned about theft, the built-in TSA-approved combination lock means you have added security without needing a key. Airport security can still open your luggage if they need to look inside.
While we aren't super fussy about locking our luggage because we carry anything of value in our carry-on, it's a feature many travelers value.
The luggage opens to two interior compartments, which are just as impressive as the exterior. Both sides have a mesh divider to keep your clothes contained. One side features an X-strap to compress your clothes, while the other has extra zipper pockets for small items.
We liked the extra pockets which our previous luggage was lacking. It's a great place to keep pamphlets, receipts, or small items. Level8 also has travel accessories and packing cubes made to fit their luggage.
The waterproof feature of the shell and water-resistant zipper is a nice bonus. Having boarded a cruise ship at the LA cruise terminal in the pouring rain and receiving my suitcase with wet clothes, I appreciate the waterproofing properties.
The only negative the housing for the telescopic handle takes up a lot of interior space on one side of this suitcase. I would have preferred more color options also.
However, these were minor things that we could live with, and overall, we loved the luggage.
The Luminous Textured Luggage is an excellent choice for singles, couples, and small families. Again, you can save 10% off your purchase by using the code foreverkaren10 on their website. You can also get the luggage through Amazon where you can read the raving reviews.
Our Pros:
The textured, waterproof, anti-scratch exterior.
The large compartments with zippered interiors and extra pockets.
Amazing, quiet wheels.
Lightweight but durable.
TSA-approved built-in lock.
Our Cons:
The retractable handle takes up too much space inside the luggage.
We wished there were more color choices. The olive or brighter choices would be preferred so they don't blend in at the airport.
28" Voyager Collection
We chose the Voyager 28″ luggage for its bright yellow color. If you're tired of trying to find your suitcase amongst the sea of black and grey luggage on the airport turnstile, this is the luggage for you.
Disclosure: This is a sponsored post containing affiliate links. So, if you make a purchase from Level8, we may receive a small commission at no additional cost to you. We received compensation in exchange for our honest review. All opinions expressed here are our own.
While you can still get black and navy, step out of your comfort zone and pick the yellow/black or celadon color instead. The Voyager and Textured collections are very boxy, in a good way. With no rounded corners, you benefit from better capacity space.
Like the Textured Luggage, this one is manufactured from the same Germany Makrolon® polycarbonate material. However, it has a smooth diamond finish.
The yellow luggage has a bright color on one side and black on the other. Alternatively, the celadon has two shades of green.
My favorite feature of this collection is the handles. Level8 made the adjustable handle the width of the luggage, maximizing the interior space. Since the handles retract down the edge of the bags, it doesn't give you that speed bump surface inside the packing area.
The handle seems more durable and makes it easier to maneuver. An ingenious design that I hope migrates to all their designs.
This set was designed with different dimensions, meaning they won't nest with the Textured collection.
I also found it odd that they made a 26″ and 28″, which also could not nest. As storage space is becoming a home rarity these days, this was a significant disadvantage to this collection.
This luggage set is best suited for those with ample storage space and travelers needing larger luggage.
| | | | |
| --- | --- | --- | --- |
| 20″ | 43L | 8.1lbs | 15.1"Lx9.8"Wx21.3"H |
| 26″ | 93L | 11.8lbs | 16.6"Lx13.3"Wx27.3"H |
| 28″ | 99L | 12.4lbs | 16.6"Lx13.3"Wx29.1"H |
This larger suitcase doesn't have the opening zipper in the middle of the bag, but rather to one side. So, when you open it up, both sides don't have equal capacity and the case doesn't lay flat when packing.
Since we pack with my clothes on one side and my husbands on the other, one person would get a smaller packing area. Alternatively, we'd need to fill the luggage differently.
I'm sure the main reason for the lopsided luggage was to place the carry handle in the middle, forcing the zipper to one side. Since travelers only use the handle to temporarily lift the bag, unbalancing the interior compartments is a miss.
On our 28″ luggage, Level8 added an extra handle to one side of the luggage – we're not sure why. However, this handle protrudes into the luggage space, another miss for us. Ironically, it's on the yellow side, making this space even smaller.
Alternatively, you can go with the 28″ Luminous Trunk Luggage, which has the exact dimensions and capacity but without the extra handle. However, it only comes in navy and black.
Having a different color suitcase was an appealing idea, making finding it from the airport conveyor belt effortless. However, the unbalanced main compartment made the Textured collection more appealing for us.
Since this set has two larger pieces, it's best suited for larger families or those who like to travel with more personal items.
Our Pros:
The color choices. Yellow made it easy to spot on the airport conveyor belt.
The full-width handle maximized the interior space.
Amazing, quiet wheels.
Lightweight but durable.
Our Cons:
The unbalanced interior compartment.
The extra handle, which compromises interior space.
Pieces don't nest, taking up more space when stored.
If you like the Voyager collection, you can purchase it on their website. and get 10% off using the code foreverkaren10.
The Grace Luggage Set
While we didn't do a suitcase review of the Grace collection, it's a good value set for those on a budget. The set includes 20″, 24″, and 28″ pieces made with the same high-quality materials, spinner wheels, and a pocketed compartment.
The luggage is less boxy, with rounded, reinforced corners, and is available in navy, black, and champagne. The champagne looks rather nice!
Here are the specs on this set.
| | | | |
| --- | --- | --- | --- |
| 20″ | 36-42L | 8.9lbs | 21.8"Lx9.4"Wx14.5"H |
| 24″ | 68L | 9.5lbs | 26.8"Lx10.6"Wx18.5"H |
| 28″ | 104L | 11lbs | 30.7"Lx11.8"Wx20.5"H |
The 20″ carry-on has a laptop compartment on the outside, much like our 20″ Pro Carry-On. However, it has a zipper, as opposed to the catch closure. This versatile piece has an expander, allowing you to add more items when needed. That's why it has a capacity of 36 to 42L.
Travelers with less storage space might prefer this luggage for its nesting ability and the expandable feature of the carry-on. Note the 24″ and 28″ do not have the expandable sections.
Women's Luggage
I liked that Level8 has a section for women's luggage. After all, we women don't always want black and grey.
Their 20″ Glitter Carry-On comes in white and pink. They have the same great features, including the fantastic spinner wheels, but this beautiful suitcase has a glittering elegance.
The Glitter Carry-On includes a complimentary luggage tag, a USD 29.99 value.
Alternatively, you can purchase a 20″ Luminous Textured Carry-On in olive or pink, as well as the standard choices of grey, black, and navy.
Level8 Luggage Review Conclusion
For some people, luggage is an item that transports their items from point A to B. However, if you travel a lot as we do, having an exceptional design that functions well makes the journey more enjoyable.
Deciding on new luggage can be overwhelming, and finding the right price point may factor into your choice. However, Level8 has luggage pieces with different pricing levels to meet every buyer's budget.
Let's not forget those smooth gliding wheels that skate across every airport terminal with ease.
So, whether you want a larger capacity set for a growing family or a girly carry-on for a weekend getaway, you'll find it at Level8.