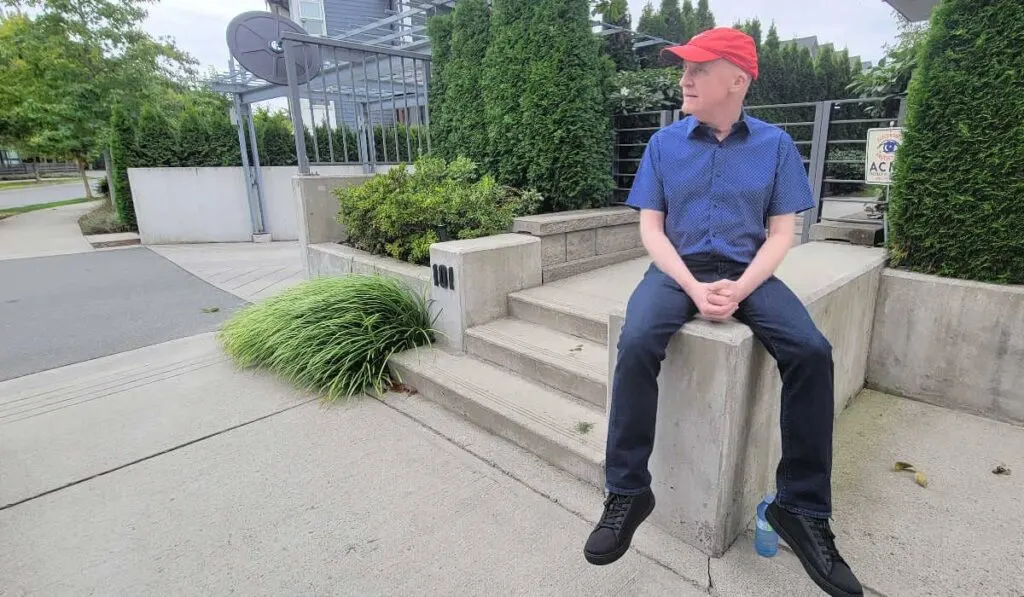 If you've read my previous post on Vessi waterproof footwear, you'll know I'm a big fan of their products. I've got great news if you live in a wet climate or require the perfect four-season urban shoes. The company launched a NEW shoe called the Vessi Soho Sneaker (#VessiSoho).
In this article, you'll discover our thoughts on this new design, fit, and how they differ from their previous styles.
The company has modeled its products around waterproofing. So, along with shoes, you can purchase a belt bag, jacket, and all-weather beanie.
Are these the best waterproof urban shoes you can buy? You decide!
Looking to purchase Vessi Soho?
Find your perfect waterproof shoes here. Check out the newest colors, styles and trends to become a puddle jumper.
Find your Vessis HERE
About Vessi
If you're not familiar with Vessi, they are a footwear company based in my home of Vancouver, Canada. It was founded in 2018 by Tony Yu, Mikaella Go, and Andy Wang. The entrepreneurial trio aimed to create stylish, sustainable shoes that are also 100% waterproof.
They launched their first shoe design through Kickstarter, and their brand has rocketed into a global trade name that their customers rave about.
They use a patented material called Dyma-tex, which allows the shoe to be breathable yet fully waterproof. Their waterproof sneaker designs are popular among travelers, outdoor enthusiasts, and urban dwellers.
They offer a range of styles, from sneakers to more casual options. You can even purchase shoes for kids. The shoes are lightweight, making them ideal for people on the go.
Vessi's unique selling point is its ability to keep feet dry in wet conditions. Whether you're facing rain or puddles, Vessi shoes offer reliable protection. We've tested their footwear in rain, sleet, sand, and snow and they live up to their promise.
They have a strong customer foundation, and based on their 300,000+ Instagram followers, there are a lot of happy puddle jumpers out there.
Every member of my family owns Vessi shoes, and some have multiple pairs. We love the brand and its waterproofing properties – the reason I became a #VessiEmbassador.
Here are six reasons why you should own a pair of Vessi Sohos.
1. Sustainability
Vessi prides itself on manufacturing its products from sustainable materials and using practices that lessen the impact on the environment.
They use water-based glues and materials that are vegan. Their items are eco-friendly, and no animal products are used in the manufacturing process.
The most noticeable difference in the Soho Sneaker is its construction materials and styling. Their other styles are made of a patented Dyma-tex mesh material that's 100% waterproof, giving them a more casual style.
However, the Soho Sneaker combines a mix of mesh and vegan leather, a first for Vessi. So, if you prefer a more rigid runner with a sleek look, this is it!
Changing the world takes baby steps, and Vessi believes in "Walking the Talk" without leaving a footprint.
2. Sleek And Stylish
Vessi Soho Sneakers' mix of materials gives it an elegant look and a style you can dress up. With the all-black option, you can go from the office to walking the dog at home. You could say they designed the perfect urban shoe.
You'll still enjoy the mesh styling in the front of the shoe, but the sides are constructed of vegan leather. It gives the footwear a more traditional running shoe look popular in other brands.
Since they are made of vegan leather, new footwear will often feel rigid and snug, but will ease with wear.
I found the Soho narrower than the Everyday Move and significantly narrower than the Weekenders. However, they are very comfortable and can be worn sockless or with socks. Either way, you'll enjoy sock-like comfort all day long.
Their lightweight feel makes them easy to wear for any occasion while adding waterproof protection.
3. Added Traction
Another added feature (Vessi must be listening to their customers) is the added traction. The extra grip on the sole helps to embrace soggy days or downpour weather. You'll value less chance of slipping on slick sidewalks and streets.
One of the things I loved about the new design is the ability to open up the tongue area of the shoe. It provides ease for putting your shoes on and removing them.
Previous Vessi designs have a tight pull-on design to provide waterproofing, and some, like the Everyday Move, have a small opening, especially when wearing socks.
Disclosure: This is a sponsored post containing affiliate links. So, if you make a purchase from Vessi, we may receive a small commission at no additional cost to you. We received compensation in exchange for our honest review. All opinions expressed here are our own.
While the Soho style is still pull-on, the tongue has some added room and the ability to tighten the shoes with the laces. The back of the shoes doesn't have the added loop that I enjoyed on the Everyday Move and doesn't need it.
Overall, Vessi Soho Sneakers provides a modern solution to an age-old problem: keeping your feet dry without sacrificing style or comfort.
4. Versatility
Vessi Soho Sneakers are available in full sizes (not half sizes). Choose from W5 to W12 for women, and M6 to M13 for men. I ordered the W5.
Initially, these shoes felt snugger than their other designs, so I'd say they fit to size or slightly smaller.
The shoes are available in white, asphalt black, dune beige, and asphalt black on black. I wished there were a few more color choices, like grey, but they'll probably come later.
Since we cruise a lot and travel to wetter climates like Alaska, the black-on-black option was an excellent choice for my husband, Brian.
With cruise lines going more casual, he can wear black shoes while walking through puddles during the day, and not need to change his footwear for dinner. One less pair of shoes makes it easier to pack for an Alaska cruise or anywhere else.
Brian sometimes has casual Fridays at work. So, the black-on-black Soho footwear provides all-day comfort than the less comfortable dress shoes he wears on other days.
So, if you're seeking a stylish design that can go from casual, to the office and out to dinner, and still keep your feet dry, Vessi Soho's versatility fits the bill!
5. Easy To Clean
I chose ivory white, a color I usually avoid because of its ability to stay clean. However, these shoes are easy to wipe down and resist staining because they're made of vegan leather.
The white option provides an urban elegance, perfect for wearing with a dress, pants, or fashionable skirt. Since white goes with everything, you can't go wrong with this color choice for four-season wearability.
Whatever your color choice, you'll enjoy the ease of cleaning your footwear.
6. Vessi Soho Waterproofing
Like our previous Vessi footwear, we tested the waterproof properties of the Soho Sneakers by walking through puddles and pouring water over them. They kept our feet dry as always, and we especially liked the added sole traction.
While waterproof, Vessi footwear also has the added features of breathability and temperature control. No sweaty feet on hot days or freezing toes in frigid temperatures.
Living in Vancouver, where it rains for more than six months of the year, waterproof shoes are a must.
So, if you're planning a bucket list trip to London, exploring Vancouver on a rainy day, or want the ideal urban shoe, be sure to add Vessi Soho to your footwear collection.
No matter what urban city you reside in, I guarantee they'll be your go-to shoes!