Are you thinking about planning a trip to Kauai but aren't sure if it's the best Hawaiian island for you? I've visited Kauai more than 25 times, and this Kauai visitor guide breaks down the top things visitors should know before planning their Kauai vacation.
Best Areas To Stay On Kauai
If it's your first time to the Hawaiian Islands, most people don't realize that you can't drive around the entire island of Kauai. The Na Pali Coast is located along the West Shore and is only accessible by hiking or boat.
Most visitors stay on Kauai in three main areas: North Shore, East Shore, and South Shore.
North Shore – One of the island's lushest and most beautiful areas is North Shore Kauai. One of the island's lushest and most beautiful areas is North Shore Kauai. Princeville and its adjacent Hanalei town are the main communities.
You'll find high-end resorts, condos, and vacation rental homes here. However, North Kauai is the rainier side of the island, especially in the winter and spring months.
East Shore – East Kauai is the most affordable part of the "Garden Isle." The main towns are Lihue (where the airport is) and Kapaa.
You'll find a lot of condos, hotels, and a few resorts. This is a central location, making driving north or south easy. However, there is also a lot of traffic on the East Shore.
South Shore – Kauai's south shore provides the most popular place to stay. The main resort area is Poipu, which is part of Koloa. There are many luxury resorts, condos, and vacation rental homes here. This is considered the sunny side of the island, but it can also be quite windy.
Monk seals and sea turtles can be spotted on Poipu Beach, while Shipwreck Beach provides an ideal location to watch the sunrise.
How To Get Around Kauai
Most visitors arrive on Kauai from an airplane or cruise ship. Hawaiian Airlines, Southwest Airlines, Makani Kai Air, and Mokulele Airlines offer flights between the islands if you intend to island hop.
There are a few ways to get around once you arrive.
Rent a car – Renting a Kauai car is the easiest way to get around the island. This allows you to explore the island at your own pace. There are several places to rent a car at the Lihue Airport, and it's close to the commercial port if you arrive by cruise ship.
Kauai Bus – The public transportation on Kauai isn't the most efficient way to get around, but it's a decent option if you are staying near a bus stop. Check Kauai bus schedules/routes.
Rideshare – There are some Uber/Lyft drivers on Kauai and for Holoholo (a Hawaii-based rideshare program). However, it can be difficult to find drivers, and it can be unreliable.
Things To See On Kauai
Kauai is one of the most beautiful Hawaiian Islands, and it's also the oldest. There are a ton of natural attractions worth adding to your Kauai itinerary.
Waimea Canyon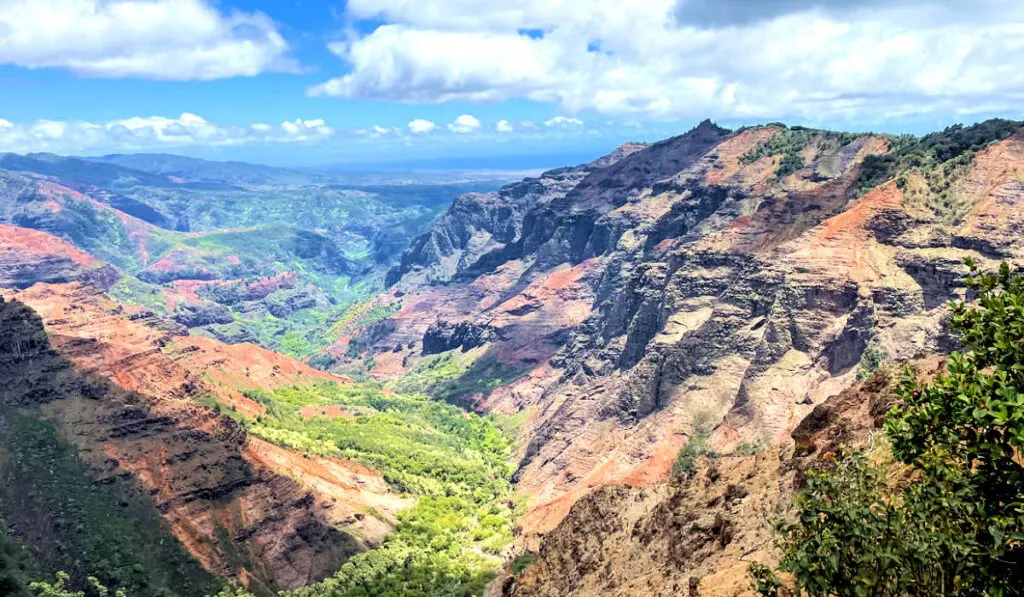 Nicknamed the "Grand Canyon of the Pacific," Waimea Canyon is worth the drive. There are several lookouts where you can take photos and marvel at the sights. It's also an excellent place for hiking on Kauai.
You will need to pay to park/enter Waimea Canyon State Park. You can also continue up the mountain to Kokee State Park, which has hiking trails and a great restaurant.
Kauai Waterfalls
Home to the wettest place on Earth (Mt. Waialeale) has advantages. It provides Kauai with enough rain to produce some of the prettiest cascades and rivals the waterfalls on the Big Island.
Wailua Falls and Opaekaa Falls are easy to see from viewing platforms and require no hiking. Or, you can hike to see hidden waterfalls on Kauai.
Hanalei
One of North Shore Kauai's prettiest areas is Hanalei. You'll drive across one-lane bridges with taro fields and ocean backdrops. The town is adorable, and you'll find surf shops, food trucks, and boutiques. It's also home to the iconic green church, the Waioli Mission House.
Top Kauai Adventures
Kauai is perfect for travelers who like outdoor adventures. There are plenty of tours and experiences for all abilities and skill levels.
Mountain Tubing
One of the most unique things to do on Kauai is mountain tubing down an old irrigation ditch at Mt. Waialeale. This is a low-key adventure (there are no rapids) that lasts three hours, and kids as young as five years old can participate.
The tour operator provides headlamps, and you'll float through several tunnels along remote areas of Kauai.
ATV Rides
There are several ATV tours on Kauai. These go to filming sites on Kauai (Jurassic Park), secret waterfalls, reservoirs, and places you can't see unless you take a tour. Be prepared to get covered in Kauai's famous red dirt!
Hiking
Kauai is known to be one of the best islands for hikers. People love hiking in Waimea Canyon as well as hiking up Sleeping Giant. However, the most famous hike on Kauai is to the Kalalau Valley on the Na Pali Coast.
This is an overnight hiking experience, so many people choose to only hike to Hanakapiai Beach or Hanakapia Falls, which are easy half-day hikes.
Helicopter Ride
Most might recognize Kauai's Na Pali Coast from the Jurassic Park movies. Stretching from Polihale Beach to Kee Beach, the dramatic coastline isn't accessible by a beachside road.
However, taking a helicopter excursion allows you to see the incredible landscape and cascading waterfalls that give the island the "garden isle" name. There are several tours to choose from, some flying over Waimea Canyon.
For the ultimate thrilling adventure, consider the "doors off" tour, which provides unobstructed views of Kauai (if you keep your eyes open!)
Kauai For Foodies
Kauai is one of the best Hawaiian Islands for foodies, especially if you love farm-to-table dining. There are lots of farms on Kauai that grow produce as well as raise grass-fed Kauai beef.
Kauai Food Tours
If you love trying new food but don't have enough days to eat everywhere on your list, a Kauai food tour is the way to go.
Tasting Kauai has food tours in all the main areas of the garden island. They offer massive sample portions and stop at locally owned/operated Kauai restaurants.
Chocolate Farm Tour
Did you know that Hawaii is the only state that grows cacao commercially? Lydgate Farms on Kauai has won several international awards for its incredible chocolate.
They offer chocolate tours with a guide where you can explore their tropical farm and visitors can taste lots of delicious Kauai chocolate. Now, who doesn't love free chocolate?
Kauai Coffee Tour
The Kauai Coffee Company runs the largest coffee plantation in Hawaii. They offer free coffee tasting as well as a free walking tour of their property. However, sign up for their farm tour if you want to learn about how coffee is grown on Kauai.
They will take you all over their massive plantation, and you'll see places the average tourist can't go on their own. At the end of your tour, you can purchase their coffee which makes for the best Hawaiian gift for family and friends.
Visiting Kauai On A Budget
While Hawaii is an expensive travel destination, there are a few ways to save a little money.
Budget-Friendly Places To Stay
Kauai hotel rates are at an all-time high. Usually, the Hilton Garden Inn, Kauai Shores, and ISO are budget-friendly options. There are also condo options through Airbnb and vrbo.
Check Costco Travel for Hawaii vacation packages, including hotel, car rental, and airfare. That can be a great way to save money in Hawaii. You can also rent timeshares through Redweek.
Kauai Cheap Eats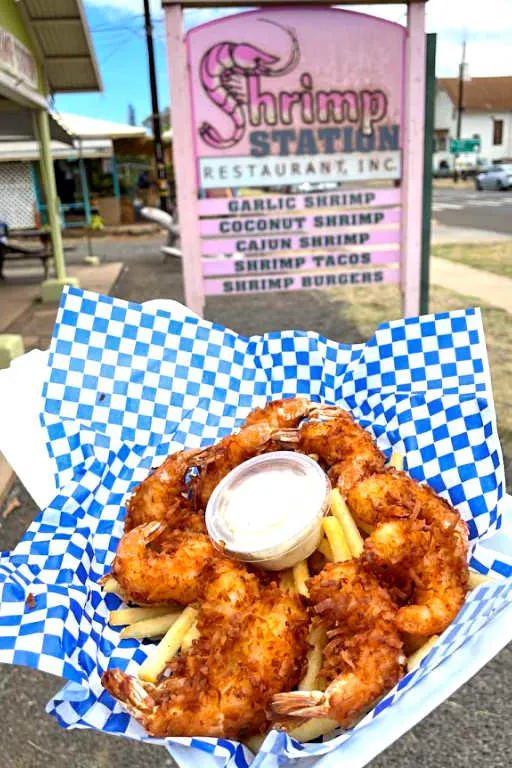 There are lots of yummy places to eat on Kauai on a budget. Duane's Ono-Char Burger has the tastiest burgers for less than you'd pay at a sit-down restaurant. Puka Dog has the best grab-and-go hot dogs with local mustards and sauces. The Shrimp Station is the ultimate place to get coconut shrimp on Kauai.
Cheap And Free Things To Do On Kauai
You don't have to spend an arm and a leg on Kauai activities. Many restaurants have live Hawaiian music and hula dancing during happy hour or dinner.
There are free hula shows throughout the island. Most of the beaches are free to enter. And there are plenty of amazing hikes on Kauai.
Visiting Kauai With Kids
Kauai is a very popular family destination. If you are considering visiting Kauai with kids, scroll down for some top recommendations.
Kid-Friendly Kauai Resorts
There are many family resorts on Kauai that have amazing pool areas. The Koloa Landing Resort and Grand Hyatt Kauai are the best places to stay in Poipu with kids.
The Royal Sonesta Kauai has the largest pool in Hawaii. The Sheraton Kauai Coconut Coast is another kid-friendly option at an affordable price.
Kid-Friendly Kauai Restaurants
There are plenty of places to eat with kids in Kauai. Kauai Kookie in Kalaheo has a lot of diner-style food that kids love.
Lava Lava Beach Club has tasty food and outdoor games they can play while they wait. And the Anahola Cafe is a hidden gem!
Things To Do On Kauai With Kids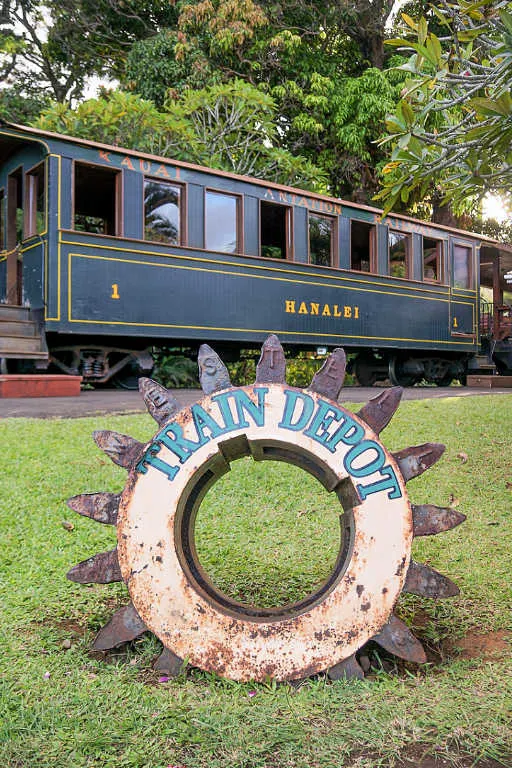 You'll find plenty of kid-friendly activities on Kauai. There's a train ride around Kilohana Plantation, the Anaina Hou Community Playground, and a mini-golf. Plus, there are Kauai luaus and Hawaiian fire shows.
Kauai Vacation FAQs
How many days should I spend on Kauai?
If Kauai is your only destination, 7-10 days is the typical length of a trip to Kauai. That gives you enough time to do a few activities, check out some beaches, and go sightseeing.
If you can't decide between Maui vs. Kaui, try island hopping and plan to spend at least 3-5 days to make it worth it.
Is Kauai kid-friendly?
Yes! More and more families visit Kauai with kids, and there are plenty of kid-friendly Kauai attractions, activities, and restaurants. It's the perfect island for families who like low-key adventures on a laid-back island.
Can I see whales on Kauai?
The whale watching season on Kauai happens in the winter months (typically November-May). The best way to see whales on Kauai is by booking a whale-watching boat ride. However, you can often see them from the beach (especially if you have binoculars).
Conclusion
By now, you should have all the information you need to decide if Kauai is the best Hawaiian island for your next vacation. You know where to go, the best things to do, where to stay, and even where to eat. Bon voyage!
This guest post was written by Marcie Cheung
Marcie Cheung is a Hawaii travel expert who runs Hawaii Travel with Kids and Hawaii Travel Spot. She's visited Hawaii more than 40 times and studied hula for 20 years. She's also written digital travel guides for Oahu, Maui, Kauai, and the Big Island.