Visiting Vancouver for Christmas offers a magical experience. The Vancouver Christmas lights illuminate the city, creating a festive atmosphere.
So, if you're looking for the best places to catch the festive displays, there's no shortage of places to go. If you're seeking a free event for the whole family, or the tallest Christmas trees, I've got the scoop right here.
Whether you're young, older, or mobility challenged, there is something for everyone to enjoy. Here's my top selection for Vancouver Christmas light displays in the Metro Vancouver area.
Stanley Park's Bright Nights Christmas Train
Location:

690 Pipeline Rd in Stanley Park
No Vancouver Christmas would be complete without a ride on a Christmas train. While the Stanley Park train welcomes 200,000 people a year, in the winter, the train's journey is adorned with millions of twinkling lights.
For some locals, it's a family tradition to ride the 20-gauge, Christmas train. Will the Stanley Park train become your Vancouver tradition?
The Christmas train runs from the end of November to January 1st. There is a matinee train from 11 am to 1:30 pm. The evening train runs from 3 pm until 10 pm each night.
The evening train includes a 15-minute ride filled with magical displays, holiday lights, a light tunnel, and live performances. Bright Nights Stanley Park is located on Pipeline Road. After 3 pm, free parking is available in the surrounding parking lots except the Vancouver Aquarium lots.
While all the Bight Nights tickets sold out in a record 90 minutes, you can purchase a 50/50 ticket to support the Fire Fighter's burn fund.
Glow Christmas
Location:

6690 216 St, Langley City
In 2017, Glow Christmas was launched in Langley, just outside of Vancouver. Its original home was at Milner Village Garden Centre and was the world's largest Christmas light experience.
It immediately became a massive hit because it was created inside a vast greenhouse. So regardless of the weather outside, you can stay warm and cozy as your savor the dazzling displays and illuminated structures at Glow.
I have visited Glow each Christmas, and what I love is they change the light display each year to keep you coming back.
As well as their light display, the indoor event includes live entertainment, a visit with Santa, food trucks, and an excellent selection of vendors offering local goods. This event is great for families and wheelchair friendly.
Canyon Lights At The Capilano Suspension Bridge
Location: 3735 Capilano Rd, North Vancouver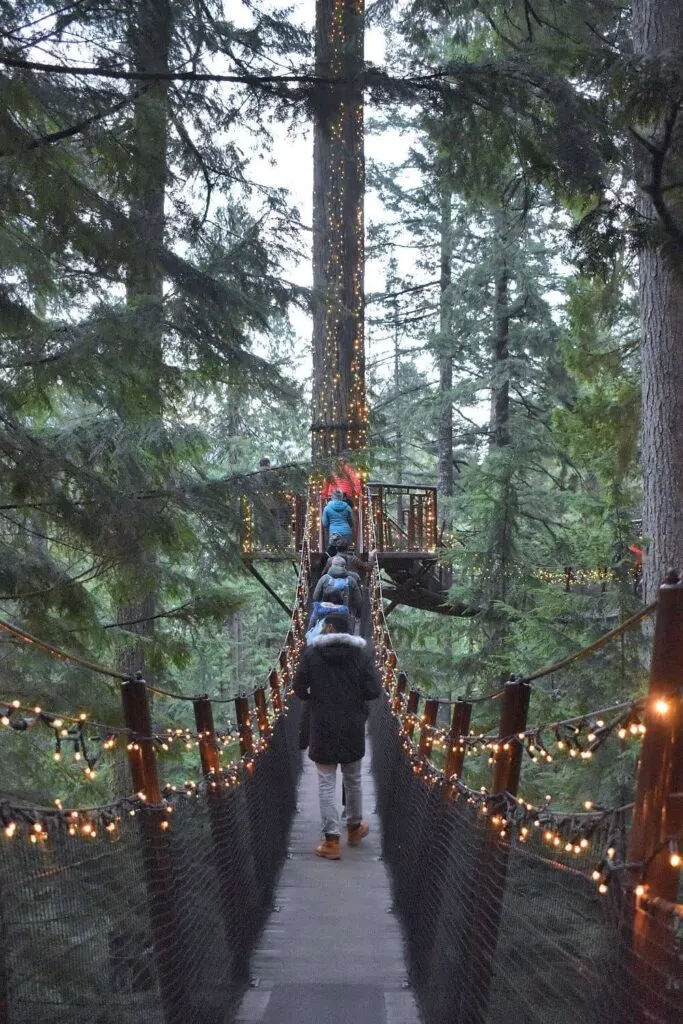 During the summer months, the Capilano Suspension Bridge Park is a busy tourist hotspot. However, during the winter, it becomes even more active amongst locals as it hosts Canyon Lights.
Located at 3735 Capilano Road in North Vancouver, it's easy to find just below Grouse Mountain. Canyon lights offer one of the best holiday displays in Vancouver.
Not only is the suspension bridge twinkling with lights, but the Treetops Adventure, Cliffwalk, canyon, and rainforest are illuminated. You'll find lights along the Capilano River and forest floor too.
Be warned; the park becomes exceptionally crowded on dry nights. Arrive early as parking is limited in the pay parking lot across the street. To avoid the crowds, visit on weekdays and before mid-December or after January 5th.
If you're a local, tickets become annual passes, good for unlimited visits for an entire year. If you're a visitor to Vancouver, Canyon Lights offer one of the best light displays in the lower mainland. The park also provides a free shuttle bus from Canada Place.
Insider tip: The busiest night of the year is New Year's Eve. I last visited on December 30th, and that night was no better. On entering the park, the line-up for the world-famous bridge was an hour long.
So, I opted to do the Cliffwalk first in hopes that the queue would be shorter when I came back. Unfortunately, when I returned to the bridge, I waited 1 hour 45-minutes to cross in bitterly cold weather.
The Peak Of Christmas at Grouse Mountain
Location:

3735 Capilano Rd, North Vancouver
Grouse Mountain is known for its challenging Grouse Grind hike and offering exceptional views of Vancouver from the north shore. However, in the winter, you can relive the spirit of Christmas high above Vancouver on this local mountain.
The Peak Of Christmas event invites visitors to witness all the hard work the elves have done to turn the mountain into a winter wonderland.
At the top of Grouse Mountain, stroll through the gingerbread village, meet Santa and his reindeer, and skate on a frozen pond. For the adventurous ones, take a slide down the mountain on a magical snow carpet, the perfect activity to relive your childhood.
The little ones will enjoy making their own Christmas crafts in the craft station or writing a letter to Santa. Weather permitting, sleigh rides through the snow-topped trees are also available at this Vancouver Christmas event.
Festival Of Lights At VanDusen Gardens
Location:

5251 Oak St, Vancouver
VanDusen Botanical Garden is a fantastic place to visit in summer but adds a more spectacular visitor element with its excellent Christmas light display.
Located at 5151 Oak Street in Vancouver, the 15 acres of illuminated gardens are open from Dec 1st to the first week of January. However, they are closed on Christmas Day. While tickets are purchasable at the gate, discount tickets are available online.
The VanDusen Festival of Lights is a must to see its fantastic Christmas decorations, but ride a carousel too.
That's right; your entry ticket includes a ride on an old-fashioned carousel. I felt like a kid again riding a carousel horse on a brisk, chilly night surrounded by twinkling lights.
Walking around the park, I came across some picture frames, which invite the visitors to hold them up and do some selfies. I thought these were fun and added an exciting element to the evening.
On a dry night, VanDusen Gardens is crazy busy. Try to arrive long before the sun goes down because parking becomes a significant challenge on the neighboring streets. Plan to spend at least one hour in the park if you want to see it all.
St. Paul's Hospital Lights Of Hope
Location: 1081 Burrard Street, Vancouver
Still in the Vancouver area is the St. Paul's Hospital Lights Of Hope. Each year, the downtown hospital is adorned with brightly colored stars and twinkling lights.
Since its conception in 1998, the Lights Of Hope raises money to buy much-needed equipment for the hospital. Corporations or donors purchase the stars on the building. The bigger the donation, the larger the star.
This free event not only offers visitors some fantastic Vancouver Christmas lights for viewing but raises awareness of the hospitals' needs. Find the Lights Of Hope at 1081 Burrard Street in Vancouver.
Alternatively, you can take a Karaoke Christmas Lights Trolley Tour in Vancouver. Hop aboard the trolley bus and sing your heart out as you visit a selection of holiday lights.
Stops include the Bright Nights at Stanley Park, Festival of Lights at VanDusen Gardens, and the St. Paul's Hospital Lights of Hope.
Carol Ships Parade
Location:

1698 Duranleau St. on Granville Island
Growing up, I loved the sound of Christmas music, and although it's now played way too early in the season, I still enjoy listening to Christmas carols. So, why not ring in the holiday season by singing some Christmas songs on one of Vancouver's Carol ships?
Starting at Granville Island, the Carol ships travel the False Creek area. The ships are decorated with fairy lights and a Christmas tree. Included in your tour of False Creek, is a sit-down dinner. The meal includes a traditional turkey dinner, complete with trimmings, and dessert.
I have done the carol ships a few times and enjoyed the ambiance of the festivities. Not only can you sing along to Christmas carols, but you may experience a visit from the jolly man himself.
Remember to bundle up warmly because if you want to enjoy the views of Vancouver's Christmas lights, you need to be outside on the deck.
Lights At Lafarge
Location:

Town Centre Park, 1299 Pinetree Way, Coquitlam
Located in Coquitlam's Town Centre Park, the Lights at Lafarge is a spectacular outdoor light display surrounding Lafarge Lake. While the park has plenty of free parking, on dry nights, the spots fill up quickly.
So, plan to arrive before dusk for the best views of the lights. The light display is put on by the City of Coquitlam, and it expands each year. Get into the holiday spirit by enjoying a brisk 1.2 km loop walk around the lake.
There are many highlights in the Lafarge event, including a glowing blue waterfall, a 90-foot caterpillar, and my favorite, an outdoor dining table complete with a chandelier.
Lights at Lafarge is a fun family event, and it's not unusual to see lots of families with little ones in strollers as well as their four-legged friends.
Unlike most Christmas light displays that feature stars, angels, Christmas trees, and reindeer, Lights at Lafarge feature bumble bees, tropical flowers, and tulips. Many of the unique light displays are created from recycled materials, so take some time to look at the lights carefully.
If you get a little chilled during your stroll, there are some heaters to warm your hands partway around the lake. Also, there are food trucks on site that sell hot chocolate and other food items.
Miracle On Rae Street
Location:

3313 Rae St, Port Coquitlam
Just a hop, skip and a jump from Lights at Lafarge is one extraordinary house on Rae Street in Port Coquitlam. Located at 3313 Rae Street, 'Miracle on Rae Street' as locals know it, is a spectacular Christmas light display in a residential neighborhood.
The first time I visited this house, it bought back visions of Chevy Chase's Christmas Vacation. Simply put, this residential home is way over the top with its Christmas cheer.
In the front yard, a massive evergreen tree is decorated with HUGE ornaments while a giant nutcracker stands on guard at the front door.
While the house doesn't have a big front yard, it still has a small path that invites visitors to stroll around and enjoy the illuminated display. Please be respectful to the neighbors by not blocking driveways or using their driveways to turn around.
'Miracle on Rae Street' gratefully accepts cash and food donations for the local food bank.
If you want to add a little Christmas to your home, Potters in Surrey turns their nursery into a Christmas wonderland, filled with everything you could imagine. The Surrey Christmas store sells trees, ornaments, home decor, and gifts.
Other options for viewing Christmas lights in Vancouver include Heritage Christmas at Burnaby Village Museum, the Aurora Winter Festival, and the Vancouver Christmas tree lighting at Robson Square.
So, whether you're a local, or visiting Vancouver for a few days, be sure to add seeing some illuminations to your itinerary.