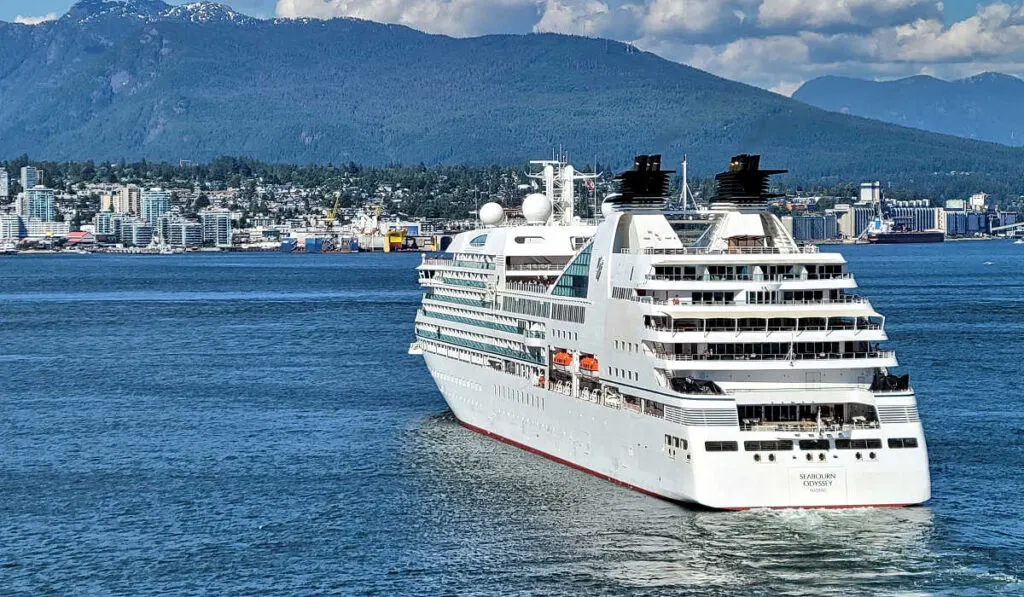 Cruise vacations are much different from land-based holidays. Should you forget something on land, you can drive to a local store and purchase your much-needed items.
Not so on a cruise ship. While cruise ships have stores that carry some necessities, certain things are not always available to purchase.
Spending a week on a floating hotel also requires a different set of items. This list contains some cruise ship essentials that are not only useful on your ship but are helpful for all vacations.
The cruise items suggested below may be more than you can pack in your luggage. However, regardless of which cruise line you're on, you'll be glad you brought many of these items.
Cruise Line And Cruise Itinerary
Some cruise lines cater to different passengers and different cruise experiences. Lines such as Cunard pride themselves on a formal night with a stricter dress code.
On our last Cunard Queen Elizabeth cruise to Alaska, they had a formal night and theme nights. It was a lot of fun, but it meant we had to be creative during our cruise packing.
However, the atmosphere is more casual and family-friendly on a Royal Caribbean or Carnival cruise. Keep this in mind when deciding on the cruise essential things you want to pack in your luggage.
You should consider your itinerary when it comes to packing. If your cruise vacation includes Alaska or other cooler itineraries, you may have less exposure to the hot sun.
However, a Caribbean cruise any time of year means you'll need items for the beach or shore excursion.
If you are lucky enough to be planning a world cruise, you need to cover all seasons and likely a wide range of climates.
1. Portable Scale
Have you ever arrived at the airport at the end of your vacation for your flight home only to find your suitcase is overweight? I have and know the frustration of having to open up my cases to lighten the load.
First, you attempt to unpack and re-distribute the weight amongst the suitcases and head back to the scale to weigh in again. If you're lucky, you'll get through. If not, you attempt to unpack and repack again.
One time, I was charged a colossal USD 100 for one suitcase being over its limit. Let me tell you, that didn't happen again.
Now I travel with a portable suitcase scale that easily hooks onto the suitcase. It gives me an accurate weight, all during the packing process. This way, you can distribute the weight amongst your luggage and prevent overweight fees.
The scale is small, inexpensive, and will pay for itself after just ONE saved overweight charge. How many cruise ship essentials do you pack that can actually save you big money?
This portable scale should be the number one item on your cruise ship essentials list. If you have family or friends who love to travel, consider giving one as a cruising gift.
2. Travel Safe
It's excellent that cruise ship cabins come with small safes. But what do you do when on a shore excursion or spending time by the pool?
If you plan to spend any time at the beach, taking turns in the water while someone guards the valuables is no fun. Instead, invest in a small, portable travel safe that securely attaches to your deck chair.
This water-resistant travel safe carries a few small items like a cell phone, money, a wallet, and a small camera. It's made of lightweight plastic and has a heavy-duty flexible steel cable to securely lock around almost any fixed object.
Disney Cruise ships often stop at Castaway Cay, their private island in the Bahamas. Other cruise lines, such as Holland America, have their own island as part of their cruise itinerary.
On these islands, a portable travel safe is essential in letting you enjoy your beach time.
3. Non-Surge Power Strip
Cruise ship cabins are small and generally come equipped with only two electrical outlets. It's not enough to charge our electronic items from cameras, laptops, tablets, and cell phones.
It's essential to pack a power strip that is non-surge protected. Cruise lines approve of this one.
It's compact, lightweight, and has three 3-prong outlets and two USB outlets, enough for all your vacation electronics. It's essential to note cruise lines require power strips NOT to HAVE surge protection.
Also, most cruise lines don't allow extension cords, so this one is ideal.
4. Ziploc Bags
One of the handiest cruise ship essentials is Ziploc bags. They take up no room in your suitcase but have many wonderful uses.
Make sure you pack a variety of sizes and plenty of them. Use the larger bags to carry sunscreen or after-sun lotion on port days to prevent spillage. Extra-large bags are handy for wet bathing suits after excursions.
Nothing is worse than coming back to your ship and finding everything in your bag soaking wet, including the things that need to stay dry.
Smaller bags are great for carrying snacks like crackers and cheese for those hungry moments during port excursions.
Are you planning a beach day? Pop your smartphone or camera into a bag to keep it dry and prevent the sand from messing with your electronics.
5. Rashguard UV Clothing
Are you planning to cruise somewhere hot, like the Caribbean or Hawaii, and intend to add some water activities? I recommend a Rashguard swimwear top to prevent sunburn.
I've snorkeled at Molokini Crater in Hawaii and wore my Rashguard to protect me from burns. It's lightweight and dries quickly.
Wear it over your bathing suit if you spend a lot of time in the water to prevent sunburn. The Rashguard top has exclusive UV Block fabric with UPF 50+ protective fabric and more body coverage for greater sun protection.
6. Over The Door Organizer
Over-the-door organizers are fabulous for holding all your essentials on a cruise. Those slots are great for keeping suntan lotions, hairbrushes, lotions, flip-flops, and toiletries in one place.
While some cruise lines have banned these, specific organizers come with a hanger to use in the closet.
When traveling, these organizers lay flat in the luggage and take up very little space. Once opened and hung, it's the go-to place to find all your essentials.
7. Motion Sickness Patches
Whether you plan to cruise for the first time or are a seasonal cruiser, your cruise packing list should include something for motion sickness. While we all hope we never experience motion sickness, it occasionally happens.
One of the best remedies for motion sickness is a motion sickness patch. Unlike Gravol, it doesn't tire you and is made from natural ingredients.
I generally don't suffer from seasickness on a cruise ship. However, I needed the patches on an Alaska cruise when the vessel hit rough waters.
Simply, stick the adhesive patch behind your ear or below your navel ten minutes before travel, and the effect lasts one to three days.
8. Medical Bag
I always travel with a small supply of medicines and other medical supplies. Your cruise ship essentials medical bag should contain the basics, but I also add plenty of Band-Aids and medications for colds, headaches, and upset stomach remedies.
I find the air on a cruise ship very drying due to the air conditioning, so I always pack a big bag of throat lozenges. Since cruise ship shops don't sell throat drops, bringing your own is essential.
9. Travel Towel
During your cruise, your cruise line will supply you with towels to use throughout your vacation. They will also allow you to carry these ashore on a port day (if you bring them back).
However, I have taken two towels ashore during beach days or snorkel excursions and found them cumbersome. They can be bulky and a nuisance to carry around once wet for the rest of the day.
While it might be better to bring the towels back to the ship after an excursion, sometimes, I was too far away to make a trip back and head out again. Also, some stops required tendering, so the towels remained with me for the entire day.
Instead of using the giant cruise ship towels, pack some travel microfiber towels instead. They are incredibly compact, lightweight, fast-drying, and highly absorbent.
Not only are they fantastic for port days, but they are ideal for camping, backpacking, and taking to the gym.
10. Insulated Mug
My husband Brian and I are tea drinkers and love hot tea in the evening when we cruise. We always bring our home travel mugs and have added them to our cruise packing list.
Be sure to bring your thermal mug, which will be handy for hot or cold drinks. Having a favorite beverage while you watch the evening movie outside is so much fun!
11. Collapsible Water Bottle
It's no secret that bottled water is expensive on a cruise ship. Most cruise lines have banned one-time-use plastic bottles. Instead, purchase and pack collapsible water bottles you can fill daily.
The water onboard your cruise ship is clean, filtered, and free. This handy collapsible bottle takes very little room in your suitcase and comes in handy on port days.
I like that I can roll it up when empty, and it comes with a ring to attach to backpacks. We carried ours during our visit to Hawaii Volcanoes National Park.
It also came in handy cruising to Mexico.
12. Night Light For Your Cruise Cabin
You may think a night light is only for kids. However, depending on your cruise cabin layout, you will be glad you have a dim light while you sleep.
While cabins are generally small with a similar layout, there is nothing worse than stubbing your toe when you use the bathroom at night. You may have tried to leave the bathroom light on with the door closed.
Better than that is just one or two night lights placed throughout your cabin. Inside cabins can significantly benefit from having an additional light source.
Inside cabins are usually in total darkness because they have no outside windows. The exception is Royal Caribbean, which has a large vertical monitor that simulates a balcony stateroom view.
13. Waterproof Shoes
These are different from water shoes but have quickly become one of our must-have cruise ship essentials. During our last Alaska cruise in May, we stopped in Sitka, and it drizzled rain all day.
Nothing worse than being out on a 4-hour tour and shore excursion, and your feet are wet in the first half-hour. There are several waterproof shoes, but our favorite is Vessi footwear!
They are a newer Canadian company and have an excellent product that is truly waterproof. We've tested them in Alaska snow, near raging waterfalls, and many other places.
14. Cruise Packing List
We like to be organized when we cruise. One way to reduce travel stress is to have a comprehensive packing list. We tweek our list after each cruise based on what we used more often and what wasn't used at all.
Packing lists will vary depending on where you are cruising to. Packing for an Alaska cruise can be pretty different than packing for a Caribbean cruise.
15. Water Shoes
Aqua shoes are excellent if you are near beaches or want to protect your feet in the water. We pack inexpensive water shoes on all our warm destination cruises.
On a cruise to Hawaii, we got to try stand-up paddle boarding at Kualoa Ranch Secret Island Beach. I was so glad I brought my water shoes because they helped my grip while standing on the board.
Whenever I fell off the board with my water shoes on, I didn't worry about cutting my feet on a jagged rock. By wearing water shoes, I avoided scrapes on my feet that could have bled in the water.
The only time I don't wear water shoes is if I'm snorkeling and am wearing swim fins instead. Water shoes are also ideal on slippery surfaces.
16. Reef-Friendly Sunscreen
As the effects of pollution, climate change, and global warming increase, more destinations require reef-friendly sunscreen. This is a good thing to protect reefs for generations to come.
Ingredients such as oxybenzone, octinoxate, octocrylene, and others have been proven to damage reefs in the long run. The easy solution is only to use sunscreens labeled as 'Reef-friendly.'
Reef-friendly sunscreens may be slightly more expensive than regular brands. However, they still come with high SPF ratings of 30, 50, or more.
17. Covid Test Kits
The COVID-19 pandemic halted all travel globally starting in March 2020. However, as we have exited the pandemic, cruise lines no longer require negative COVID tests.
While cruising in 2022, my husband Brian and I both contracted COVID while cruising to Alaska. It was an ordeal and an experience I will never forget!
Today, cruise lines have eliminated their policies regarding COVID. If you become unwell during your cruise, you quarantine in your cabin.
However, after our ''Getting Covid on a Cruise' experience, we always travel with some COVID test kits. If we feel unwell, we can do a self-test.
We carry kits even though we have been double-vaccinated against COVID and had two booster shots. In Canada, they distributed free COVID self-test kits, so throwing a box in our luggage is easy.
I recommend you pack a few COVID test kits in your luggage on your next cruise. This way, you will be more in control of your situation and can self-isolate if you're COVID-positive.
18. Hand Sanitizer
During the COVID pandemic, all cruise lines had hand sanitizers spread conveniently throughout the ship. Post-pandemic, most cruise ships still have hand sanitizers and encourage hand washing pre-dining.
However, hand sanitizers can be hard to find once you leave the ship, depending on your port destination. Carrying a small bottle of hand sanitizer reduces your risk during excursions.
Some of you don't feel the need to sanitize your hands frequently. I recommend this only if you want to be cautious and reduce your risk of infection.
19. Face Masks
In most countries now, face masks to reduce the risk of COVID are considered a "Personal choice." In Canada, we are generally required to wear a face mask in most medical offices (doctors, dentists, and hospitals).
As virtually all cruise lines have dropped Covid restrictions, masks are optional. Us, we occasionally wear masks if in very crowded areas.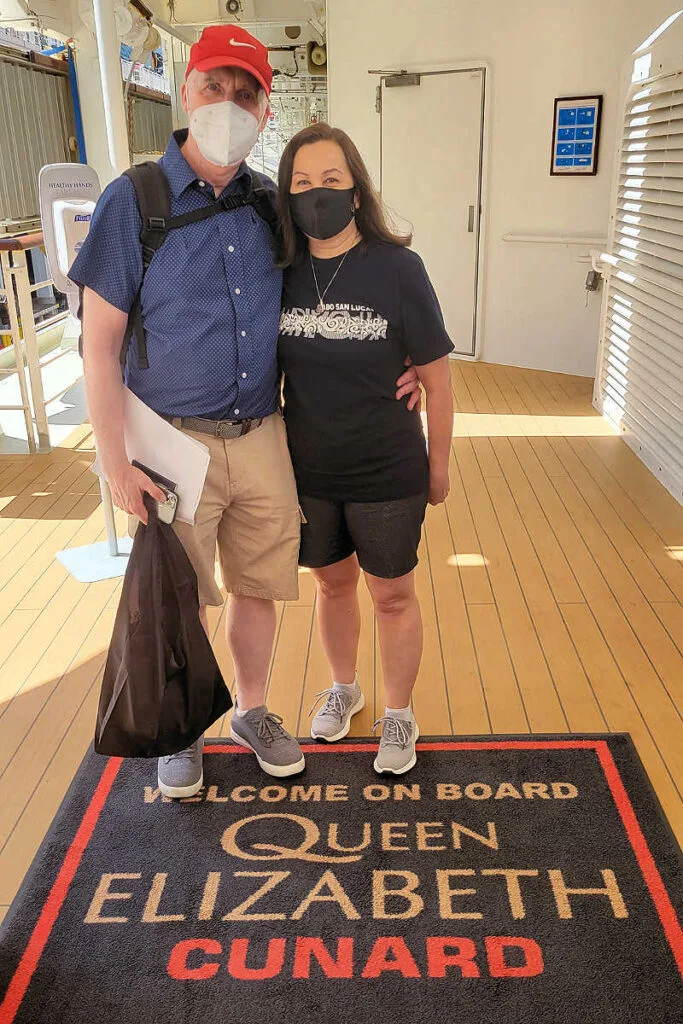 Some port towns tend to have a higher frequency of COVID. Masks can be convenient when visiting these towns to reduce your risk.
We know that COVID is here to stay, and the general risk is low due to vaccines. However, after our COVID cruise experience, I want to avoid getting it again while cruising! I lost four days of my 7-day cruise, and my husband Brian lost three.
20. Foldable Bag
While the excursion backpack mentioned earlier is a great accessory, sometimes you need a foldable bag. A small bag is handy for snorkel gear, wet bathing suits, or anything else.
Being foldable also takes up almost no space in your luggage or purse. We always use a foldable bag on debarkation day.
On the last night of our cruise, we pack all our clothes and things we no longer need. But we use foldable bags for our toiletries, medications, iPad, etc. we don't want to pack.
As we leave our cabin for the last time, the foldable bag is a safe and convenient way to carry off those personal items.
21. Excursion Backpack
Once we leave the ship, we bring everything we need for our port day. If it's a short local boat ride for whale watching, that's much easier than a full day of hiking or e-biking.
Since my husband and I like to take lots of photos, we travel with a lot of camera gear and accessories. This includes GoPro's, extra lenses, spare batteries, memory cards, etc.
We have a lined zippered backpack with many compartments to keep all this safe. The inside has many movable sections, so we can customize the pack for whatever we are carrying.
If we are hiking, the backpack doubles as a lunch container holding extra water, energy bars, chocolate (I love chocolate!), etc.
It's crucial to find a pack with multiple zippers providing accessible storage for many items. Our back also has several external fasteners to carry travel mugs, small tripods, additional water, etc.
I like to carry fluids outside the bag in case they leak. Nothing worse than having a bottle of water leak inside the bag and over your electronics!
22. Poo-Pourri
Poo-Pourri is a unique product that I would put under "Bathroom Etiquette." You spray it on the surface of the toilet water before you go.
Besides air conditioning, cruise ships' air circulation can be 'hit and miss'. Most cruise cabin bathrooms do NOT have an exhaust fan.
If you travel with Poo-Pourri, your bathroom etiquette will be a success. Your fellow traveler will appreciate it.
I had never heard of this product until I began cruising. I know many cruisers think it's a must-have when they travel.
23. Compact Binoculars
If you are cruising on any of the luxury cruise lines, courtesy binoculars may be provided. For cruisers with a modest budget, I recommend bringing your own.
For Alaska cruisers, at least one of your days will likely be 'cruising' in places like Glacier Bay. Another popular cruise day is Hubbard Glacier.
You often see seals on floating icebergs as you cruise closer to the glaciers. If the seals are far from the ship, it will be almost impossible to see them.
During our last Alaska cruise, I was so glad we had our own binoculars to get a close-up view of the glaciers. Another great use of binoculars is seeing wildlife like black bears on shore.
We recommend compact binoculars because they fit easily in your luggage. I also keep them in my traveling backpack and have them every time we are off the ship.
However, binoculars can be a personal choice regarding power and style. Many cruisers prefer the larger, more powerful models that let you zoom in. If you want a model with a higher zoom, here's a model we recommend.
Whatever model you choose, once you use them, you will be glad you brought them!
24. Magnetic Hooks
Many first-time cruisers are not aware that your cabin walls are metal. You can use magnetic hooks to add hanging space with a metal surface.
Remember that your small cabin is your "home away from home" when cruising. It's essential to maximize the space, which can be challenging.
Many cruisers swear by magnetic hooks for their compact size, usefulness, and keeping stuff organized. The hooks can attach to cabin walls and even the ceiling.
They come in different sizes, and a variety pack may be the best choice. Regardless, pick a small assortment pack to get started.
25. Cruise Card Lanyard
Some cruise lines provide lanyards to make carrying your cruise card more convenient. For convenience, consider bringing a lanyard from home, so you always have one.
If you are on an older or traditional cruise ship, you will need your card to open your cabin door every time.
I walked to my cabin with my arms full, carrying something, and then fumbled in my pocket, looking for my card. Once I discover lanyards, I found it so much easier to have my card always available.
The exception to this is if you are on cruise ships with higher technology, such as Princess' Medallion-Class ships. They use an RFID technology that is proximity based.
As you walk towards your door, with your medallion in your pocket, the door senses you are near. Like magic, your door automatically unlocks!
26. Pop-up Laundry Basket
Keep your soiled clothes organized onboard with a pop-up laundry basket. The ingenious design is constructed of mesh and wire and folds down flat.
Put it in your closet during your cruise to keep your stateroom tidy and the laundry in one place.
27. Waterproof Smartphone Case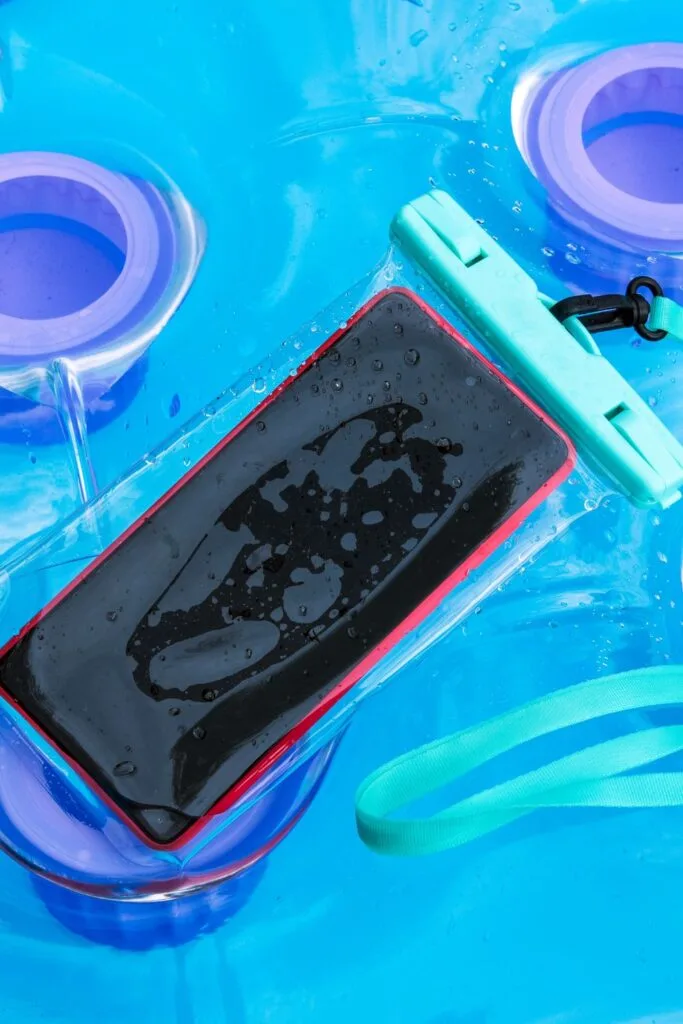 Smartphones are expensive. Since cell phones and water or sand don't mix, protect your investment with a waterproof case.
The cases are inexpensive and come in lots of funky colors. So, if you don't have a GoPro or underwater camera, you can still get those underwater shots with your smartphone and waterproof case.
Wrap It Up
Hopefully, this list of must-have cruise ship essentials will help you pack your next cruise. Whether it's your first or 20th cruise, these items will come in handy.
During my early days of cruising, I needed to figure out what to pack. Now that I've cruised many times, I pack these things using my convenient cruise packing list as a guide.
Happy travels ~ Karen