If you have friends or family who love to cruise, these unique gifts are perfect items for Christmas, birthdays, retirement, or special occasions. Gifts for cruisers don't need to be expensive. The most practical presents are inexpensive, and the ones they'll use most, onboard and at home.
Nothing beats a personalized cruise item, like a t-shirt or journal. Receiving a pre-cruise surprise adds an element of excitement to your anticipated cruise. While cruisers prefer to be at sea, these mementos will remind them of their vacation until they can sail again.
Cruising Gift Guide
With this gift guide for cruise lovers, you'll find inexpensive items that they'll use over and over again. There are items for men, women, and children going on a cruise.
For a pre-cruise surprise, select an item that adds to the excitement of the upcoming event. For those who love to be at sea, cruise-related home décor can remind them of their cruises.
Amazon and Etsy are great places to shop for cruising gifts online. If you're an Amazon Prime customer, your purchases may even arrive the following day.
Most Used Cruise Essentials
Whether it's a first-time cruise or an encore adventure, these cruise items are a must.
Personalized Cruising T-shirts – I've been on many cruises where groups and families wear coordinating t-shirts to celebrate their event. So, why not kick off your cruise vacation with a family cruise shirt.
One of the most memorable ones I've seen said, "families that cruise together, stay together," and had their name and date underneath.
Waterproof Cell Phone Case – Today's cell phones are expensive, and most travelers use them to take photos instead of a camera. So, Protect your investment with an inexpensive waterproof case. Pop your cell phone in a case and take it to the pool or beach, or use it during a water-focused shore excursion.
Power Strip – With all those electronics, cruisers need an all-in-one charger. Cruise lines require a charger with no surge protector and without an extension cord. This power strip is so handy; we use it at home and while cruising. It's a gift that every cruiser needs.
Lanyard – A cruising lanyard allows passengers to hold their cruise card (essentially their credit card) without carrying a wallet or purse. While most are worn around the neck, some have belt clips, and others are on bracelets.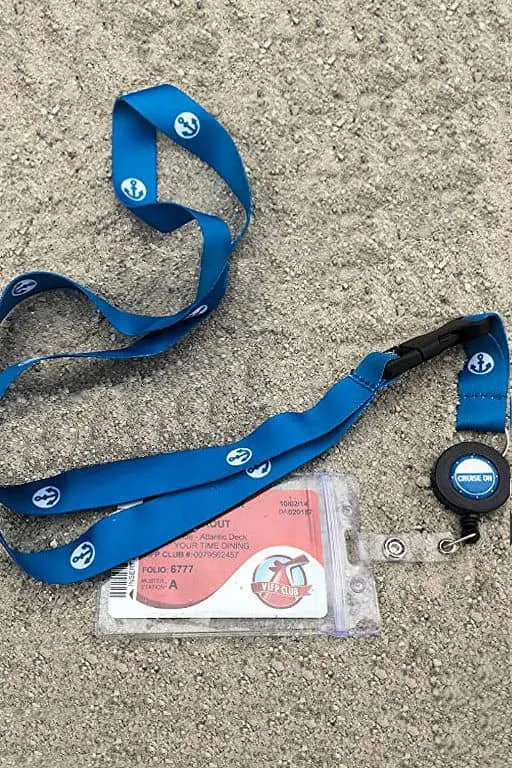 Magnet Hooks – Since cruise staterooms have magnetic walls, turn that unusable space into storage with strong magnetic hooks.
Use the magnets to hang bathing suits, hats, towels, jackets, and more. Your cabin will remain tidy, and the hooks will help to create more space, especially in those small interior cabins.
Towel Bands – Beach towels are forever blowing off the loungers whenever there's a breeze. While some travelers carry towel clips, these towel bands are easy to use, are non-breakable, and take almost no space in your luggage.
Travel Scale – It's no fun arriving at the airport, and your luggage is overweight. Prevent overweight charges with the ideal travel gift, a travel scale. The scale takes up little space in your luggage, so you can weigh your suitcases on your return journey after the souvenirs are packed.
Cruise Gifts For Her
For the women who have all the cruising essentials, select an item from the following.
Cruise Scrapbooking Supplies – Travel scrapbooking is a fantastic way to document your vacations. So, surprise your crafty friend or family member with some cruise-related scrapbooking supplies. Not only can you create scrapbooking pages but make cards too.
Sleeping Mask – Sleeping masks are not just an essential item for cruising but also come in handy on long airplane flights. They block out artificial light, which results in the ability to fall asleep faster.
Cruise shoes – Nothing says you love cruising than these super funky license plate cruise sneakers. The canvas shoes feature vivid colors, perfect for the Caribbean or that Mediterranean cruise. Custom-made to order, these shoes are guaranteed to please the woman who receives this gift.
Anchors Away Bracelet – Make a splash on the ocean with a fun, ocean-inspired bracelet that features a ship's anchor. For the ultimate gift, pair it up with some matching anchor earrings.
Personalized Slippers – Feel like you're staying in a luxury hotel with these super fun customized slippers. Wear your comfy slippers with the cruise line's complimentary robe for a day at the ship's spa.
Are you going on a group vacation with your girlfriends? Order a pair for each person. It makes for the perfect girl's getaway memento.
Pandora Ship Charm – This Pandora ship charm adds a cruising element to a Pandora bracelet. With an upcoming cruise, this charm reminds the wearer of their impending cruise vacation. It's the perfect travel gift for women.
Cruise Ship Earrings – Women can show their love of cruising with a pair of cruise ships, anchors, or ship's wheel earrings.
Cruise Gifts For Him
Don't forget about the men who love cruising too.
Cruise socks – These "what happens on the ship, stays on the ship" socks are super comfy. They come in a two-pack, perfect for the male cruiser.
Portable Charger – With long days in port, don't chance running out of battery power on your cell phone. A portable charger provides extra battery life. It's the ideal gift for those at sea and on land.
If you travel with a laptop, the Level8 luggage (carry-on) has a laptop pouch and allows you to charge your smartphone by using the portable charger in your luggage.
Rashguard T-shirt –Rashguard clothing helps prevent sunburn with a UPF 50 rating. Wear it during a water-based excursion or hiking in places with no shade. Rashguard items are lightweight and dry quickly.
Dry Bag – When spending time at the beach or taking a water-based shore excursion, protect your electronics in a dry bag. A dry bag also comes in handy in Alaska and destinations that experience a lot of rain.
Compact Binoculars – Binoculars are a fantastic gift for those cruising to Alaska. With a pair of compact binoculars, cruise passengers can spot humpback whales along the Inside Passage.
If sailing to Glacier Bay National Park, binoculars cruise passengers can spot bears on the shoreline. It's an essential packing item for an Alaska cruise.
Travel-Related Gifts For Children
Disposable Underwater Camera – While adults snap underwater shots with a GoPro, let the children capture pictures too. A disposable underwater camera is inexpensive, and the adults won't need to worry about them losing or damaging it.
Water Shoes – Protect kids' feet with non-slip water shoes. Aqua shoes are great for water-based tours and help prevent slippage around the cruise ship pool. They come in lots of fun colors and feel more like a sock than a shoe. They make a great cruising gift that the kids, and adults too.
Disney Cruise Luggage Tags – Disney-themed luggage tags will add to the excitement of an upcoming adventure for children booked on a Disney cruise. With colorful character tags, they'll easily spot their luggage at the airport and when debarking from the cruise ship.
Cruise Themed Lanyards – Lanyards don't need to be boring. Surprise the children with Disney or fun-themed lanyards that are sure to make them smile.
Disney Character Magnets – Since those cruise ship staterooms are magnetic, allowing the little ones to decorate the walls with fun magnets. For the girls, dress-up dolls with magnet clothes will entertain them in the cabins.
Kids Snorkel Set – Surprise the children with a kid-sized snorkel set. With many cruises focused around warm destinations, the children will be ready to learn to snorkel in every cruise port.
Gifts For The Vacation
Cruising Mask – Since cruise lines change their rules constantly, one thing's for sure, you're going to need a face mask for a while. What better way to enjoy wearing a mask than with a cruise-themed one?
Since many indoor places require a mask, both onboard and onshore, cruisers can use this mask cruising and at home.
Cruise Line Gift Cards – One of the best gifts to receive is a gift card to your favorite cruise line. The gift cards translate into free credit to use onboard. Passengers may use the gift card to help fund the cruise, buy meals in specialty restaurants, shore excursions, spa treatments, and more.
Travel Towels – Travel towels are very absorbent but roll up very small. So, pass on the bulky cruise line towel and carry a microfiber towel instead. With the added space in your bag, you'll have room for cruising souvenirs.
Cruising Tote – Since most cruises sail to warm destinations, surprise your family or best friend with a cruising tote. A cruise bag makes for the best beach accessory to carry around your sunscreen, towel, and camera.
Door Magnet – Since all cruise stateroom doors look alike, why not attach a magnet to your cabin door. That way, it's easy to find every day. Amazon sells door magnets and lots of travel gifts for every kind of budget.
Ship's Log Journal – Those who like to document their cruise experience might enjoy a ship's log journal. Before you embark on your vacation, a journal works well for making notes on what to do in port.
Reusable Straws – With the ban of disposable straws, give your cruiser friend a gift of travel straws. These silicone straws are reusable and come in a handy travel case with cleaning brushes. It's the perfect sustainable travel gift.
Funny Cruise Gifts
Hangover kit – For the party-goers, a cruise hangover gift makes the perfect party favor. Choose your choice of bag color and a tag saying.
Cruise Fund Piggy Bank – If you don't know what to buy for an avid cruiser, this cruise fund jar encourages them to save for the next cruise vacation.
I Survived The Great Cruise Shutdown – Celebrate the return to cruising with an "I survived the great cruise shutdown" magnet or ornament.
Ship Faced Travel Mug – Travel mugs are a must for every day. Instead of blending in with the crowd, enjoy a latte or rich brew in a fun cruised-themed mug instead. These mugs are inexpensive and make a great co-worker or secret Santa gift.
Funny T-Shirt – If you know a cruiser turning 40, 50, or 60, celebrate with a birthday cruise shirt. There are lots of choices in colors, styles, and sayings. Even after the birthday, they'll remember the event every time they wear the shirt.
Cruising Gifts For The Home
Cruise Ship Ornament – It's a tradition for some cruisers to purchase ornaments every time they cruise. So, why not add to their collection by buying a cruise-related decoration?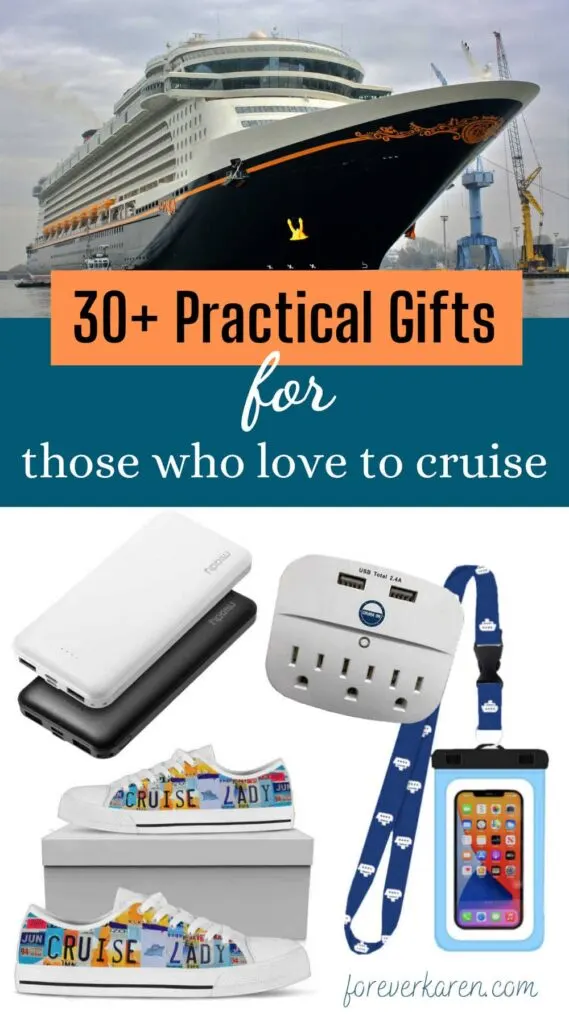 Cruise Throw Pillows – Cruising accent cushions are a way to decorate your home and show your love of cruising too. Choose from a favorite cruise line, a generic cruise ship, a nautical theme, or a colorful design that represents a tropical location.
Scratch-Off Map – For the traveler or cruiser who has everything, consider the gift of a scratch-off map. The map allows the recipient to scratch off places they've visited. Not only is it a great way to document their travels, but plan future cruise destinations too.
Whether you're buying for a birthday, Christmas, or just a surprise, these cruise-related items are sure to please any cruise travelers.
Happy travels ~ Karen