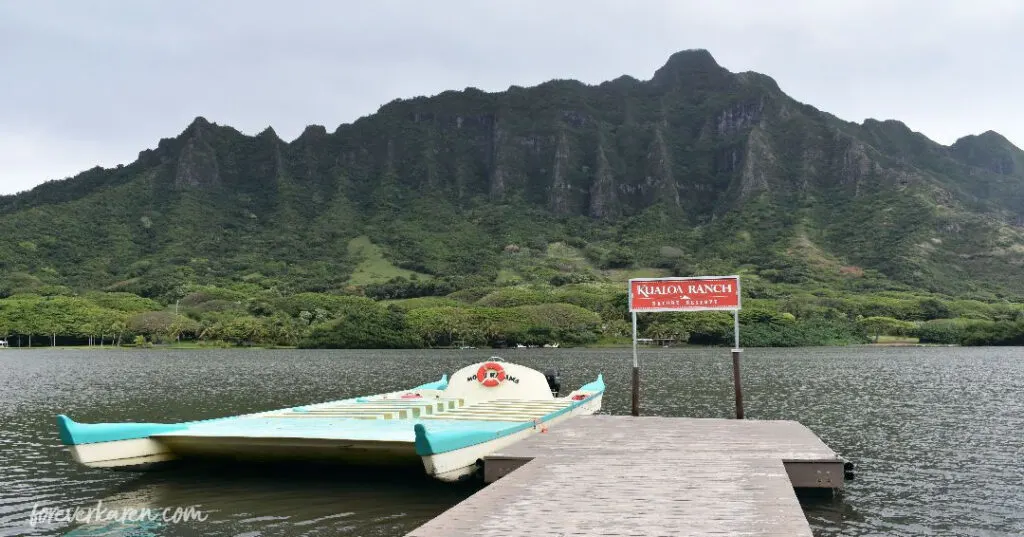 Kualoa Ranch is a 4000-acre private nature reserve and working cattle ranch on the windward side of Oahu. While it's free to visit the ranch, you won't experience much unless you take one of its many tours.
Ranch tours start at USD 51.95, and there's one for every budget. For a relaxing and budget-friendly experience, check out Kualoa Ranch Secret Island Beach.
The Secret Island Beach package transports attendees to a private secluded spot in Kaneohe Bay. You can choose between half-day or all-day excursions, which include a variety of water sports.
Karen and I visited Hawaii for our honeymoon. The Hawaiian Islands are a popular honeymoon destination in the USA. We extended our stay on land after taking our repositioning cruise from Vancouver on the Celebrity Eclipse. I had never been to Hawaii, so my wife was my "tour guide." Lucky me!
We stayed in Waikiki and hit many well-known attractions, including doing the Diamond Head hike, traveling to the Northshore, Iolani Palace, and exploring Pearl Harbor.
After a few hectic days, Secret Island Beach at Kualoa Ranch was the perfect place to kick back and relax. During our afternoon excursion, we enjoyed some fun in the sand and some exciting water sports.
Kualoa Ranch Filming
If you have never heard of Kualoa Ranch, you have probably seen it at the movies or on TV. The ranch has been featured in many films and shows such as:
| | | |
| --- | --- | --- |
| Jurassic Park | Hawaii Five-O | Kong: Skull Island |
| Jurassic World | Mighty Joe Young | Jumanji |
| 50 First Dates | Pearl Harbor | Magnum P.I. |
| You, Me and Dupree | Godzilla | Lost |
How to Get to Kualoa Ranch
Kualoa Ranch is located at 49-560 Kamehameha Hwy, Kaneohe, HI 96744, on the island of Oahu. We had a rental car during our stay on Oahu, so the drive took approximately 40 minutes from Waikiki.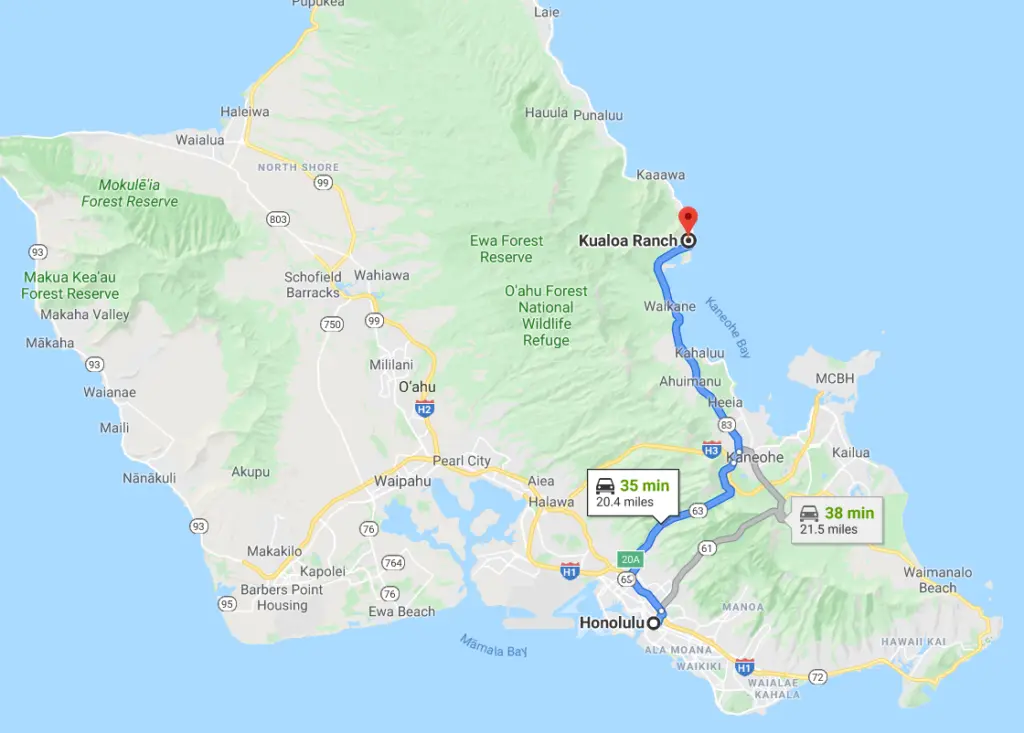 When you book the tours or adventures, you have the option of requesting 'Transportation.' Transportation consists of a shuttle service from various Honolulu or Waikiki hotels and costs just $15 (+tax) round trip.
We stopped in at Kualoa Ranch on our way to the Polynesian Cultural Center. We walked around the grounds and browsed the gift shop. The facility has a nice restaurant, and the gift shop has some unique items.
For example, we purchase koa wood keychain souvenirs with our Hawaiian names, which are a daily reminder of our amazing Hawaiian honeymoon.
After looking at the different tours, we booked the Secret Island Beach at Kualoa Ranch for the following day because it looked relaxing and allowed us to try stand-up paddleboarding, which was on Karen's bucket list.
We were able to select from several time slots to take this excursion, and we chose late morning/early afternoon. We had purchased a 4-day Go Oahu Card for our trip to Hawaii, which included a pass to Kualoa Ranch Secret Island Beach.
Walking around the ranch, Karen was immediately drawn to the horses in the paddock. She had learned to ride as a teenager, and horses are her favorite animal.
While she was petting a horse with a runny nose, it abruptly sneezed all over her. It was a "Kodak moment," although I don't think Karen was too impressed, haha.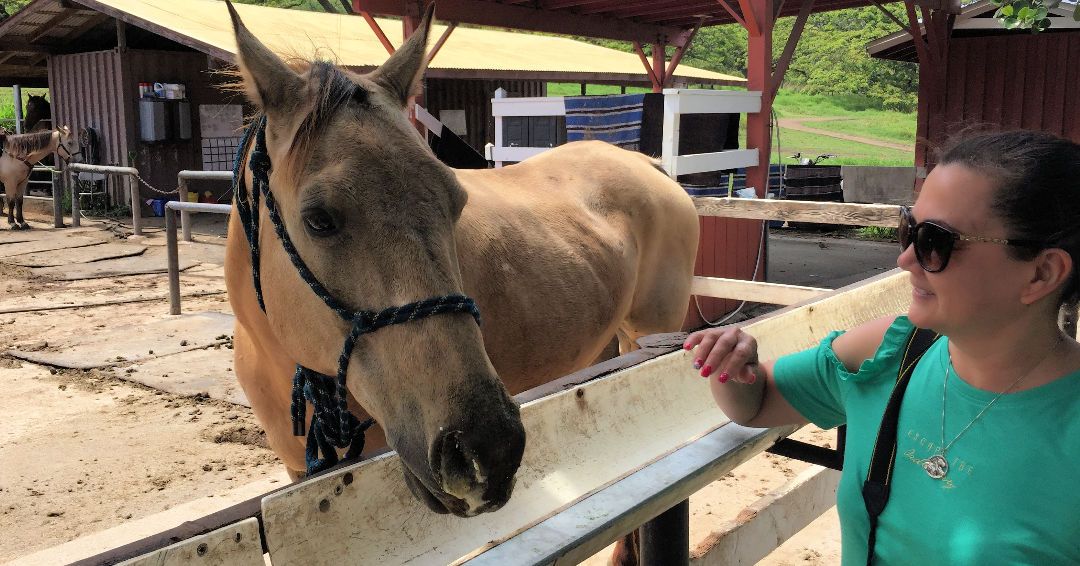 Kualoa Ranch Tours And Adventures
Kualoa offers a wide variety of activities as either tours or adventures. The tough decision is deciding on which one to choose. If you have plenty of time in Oahu, I suggest you take several of these tours, as each one is unique.
During our vacation, we visited just Kualoa Ranch Secret Island Beach, but there are many other things to take advantage of depending on your interests and your sense of adventure.
If we had more time on Oahu, we would love to have done more of their tours. However, not seeing everything gives us an excellent reason to revisit Hawaii in the near future.
Depending on the season and time of year, I'd recommend you book tours in advance. The tours have a ratio of one guide to every six to sixteen guests, which creates a better overall experience.
However, the tours can fill up quickly – especially if family groups are booked.
Kualoa Ranch Secret Island Beach
We wanted to visit Secret Island Beach because we were running around like crazy visiting many of Oahu's best attractions. The idea of spending a half-day relaxing on a secluded beach just seemed like exactly what we needed, especially since we were on our honeymoon.
It was a blistering hot day when we arrived at Kualoa Ranch for our tour. However, there was plenty of covered area to hang out while our group gathered. We checked into the tour desk and were given wristbands corresponding to our excursion.
Once it was time to start our tour, we boarded an old school bus that took us a short distance to a pier. Here, we boarded a boat to cross a fishpond to reach the secluded beach.
There were plenty of hammocks, lounge chairs, volleyball courts, ping pong tables, and water toys at the beach. Oh, and let's not forget the chickens. After all, Hawaii isn't Hawaii without wild chickens to keep you company on a beach, lol.
From the secluded beach, we enjoyed Kaneohe Bay's incredible views and Mokoli'i Island (Chinaman's Hat).
Stand-up Paddleboarding
The secret beach was the perfect location to relax and have some downtime. However, both Karen and I are adventurous, so we had lots of fun trying out the water toys and did very little relaxing.
We even got to try stand-up paddleboarding, which was on our bucket list. No surprise that Karen was a natural at paddleboarding, and I was not! I blame the rough waters. That's my story, and I'm sticking to it!
We saw many people participating in stand-up paddleboarding during our travels, and they made it look easy. Karen was eager to try and was the first person out on the choppy waters on our tour.
We were thankful we packed our water shoes which gave us a better grip on the board and cushioned our feet from the shells and pebbles on the beach.
Stand-up paddleboarding requires a good balance. So, it's best to spend some time on your knees before trying to stand on the board for the first time. Or be like Karen, who instantly mastered the board, even in rough waters!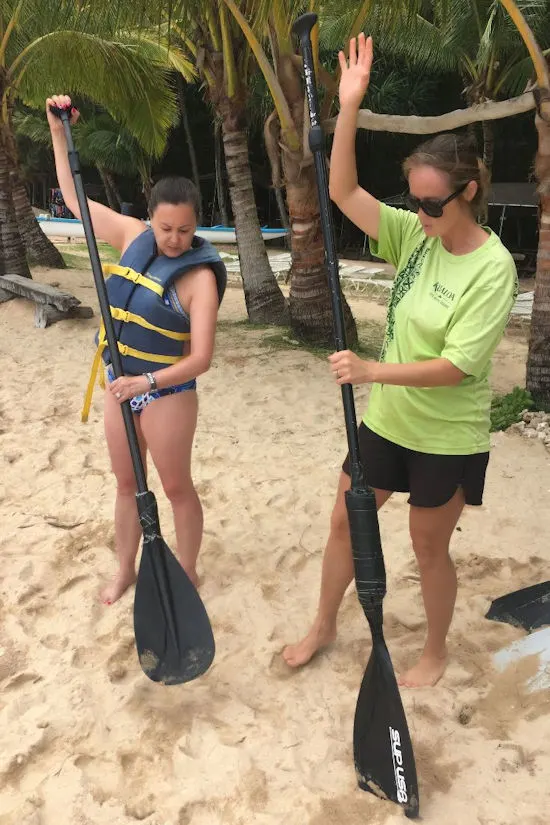 Why You Should Visit Kualoa Ranch Secret Island Beach
One of the things I liked best about the beach was the privacy. I am not a person who goes to the beach very often because most beaches are too crowded. It was undoubtedly a breath of fresh air from the overcrowded Waikiki Beach.
For our excursion, there were about 20 people who had the whole beach to themselves. Amazing! Since the only way to get to the beach is by boat, I am sure it is never crowded.
Another great feature of Kualoa Ranch Secret Island Beach is the safety factor. While Karen and I were just by ourselves on our honeymoon, several families were on our tour.
The beach is safe for families because it is uncrowded, the staff is attentive, and you can easily see your children wherever they are. The employees also give you a quick safety briefing on equipment before using it. Life jackets are also mandatory for all watercraft.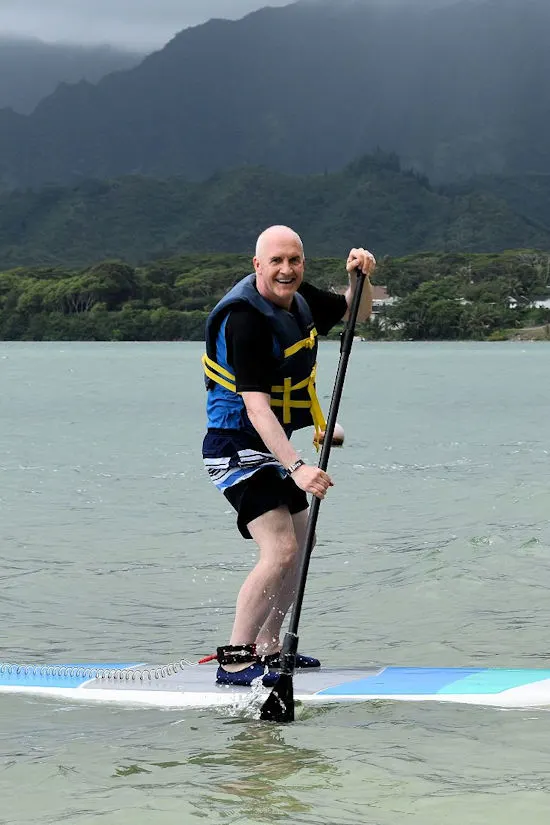 One of the things we appreciated on our tour was the helpful staff. About six staff accompanied our tour to the beach and helped us all settle in by showing us where everything was, which areas were out-of-bounds, and more helpful tips.
Also, they even gave Karen and me tips on how to "master" paddleboarding safely.
How Much Does Secret Island Beach Cost?
Kualoa Ranch Secret Island is available for a half-day from 8:30 am to 11:30 am, or 11:45 am to 2:45 pm.
Also, you can stay for the full day from 8:30 am to 2:45 pm (including bento lunch).
Cost (for 2022):
HALF-DAY – USD 51.95 for adults, USD 36.95 for children.
FULL-DAY – USD 114.95 for adults, USD 69.95 for children.
Tips To Make The Most of Kualoa Ranch Secret Island Beach
Here are some tips to make your time at Kualoa Ranch Secret Island Beach the most enjoyable.
● Arrive early because if you miss the bus, you have no other way of getting there.
● Take lunch or food because there are no food services there if staying just the half-day.
● Pack for a day at the beach – reef-safe sunscreen, bottled drinks, Rashguard clothing, and towels.
● Bring your camera or GroPro.
● Try most (or all) of the amenities.
● Stay within the marker buoys.
Other Tours At Kualoa Ranch
In addition to the individual tours, you can also book adventures or combinations. This includes multiple excursions and provides even more fun at a better-reduced price. The combined packages include an all-you-can-eat buffet lunch and range in price.
The Best of Kualoa Experience (all-day package) costs USD 149.95 for adults and USD 99.95 for children. This package combines three 90-minute individual tours; Aloha Aina Tour, Jurassic Jungle Expedition, and the Hollywood Movie Sites Tour (as seen below).
Alternatively, visitors can take a half-day tour. This package includes the Ocean Voyage Tour and the Hollywood Movie Sites Tour. This half-day adventure costs USD 120.37 for adults and USD 83.72 for kids.
I recommend booking early, as many tours fill up weeks in advance. All of the tour and adventure prices are current as of spring 2022.
Jurassic Adventure Tour
If you're a fan of Jurassic Park movies, consider taking the Jurassic Adventure Tour. After a bumpy ride through the jungle, you'll visit iconic sites where Jurassic Park, Jurassic World, and Jurassic World: Fallen Kingdom were filmed.
On this tour, you'll relive the movie's scary moments by seeing the T-Rex paddock and dinosaur cages.
This tour requires a minimum age of 3 yrs and is not suitable for those with back problems or pregnant women. The 2-1/2-hour tour is USD 139.95 for adults and USD 69.95 for children (10-12 years old).
Aloha Aina Tour
This tour is perfect for school trips or anyone interested in Hawaiian agriculture and aquaculture. Part of the excursion involves visiting a 153-acre fishpond that is still farmed and helps you understand ancient Hawaiian aquaculture practices.
The tour uses a trolley car and explores the tropical fruit and flower gardens located at the ranch. Of course, one of the highlights is getting to sample the fruits, and the choice varies depending on what time of year.
The Aloha Aina Tour is 90 minutes and costs USD 51.95 for adults, and USD 36.95 for children (3-12).
Horseback Walking Tours
The horseback riding tour is right up Karen's alley, but unfortunately, we could not fit this one into our schedule.
One of the best parts of having a horseback tour is the leisurely pace that lets you enjoy the scenery and views. No horse-riding experience is necessary, but there's a minimum age of 10 years to participate in this excursion.
The 2-hour horseback tour costs USD 144.95 for adults and USD 89.95 for children 10-12 years.
ATV Raptor Adventure
All-Terrain (ATV) is a great way to tour the massive 4000-acre Kualoa Ranch. The vehicles can hold from 2 to 6 people, so you can enjoy the adventure with your family and friends!
You can also take turns driving so that you get both the thrill of the drive and the perfect images that you snapped along the way. The 2-hour tour cost USD 144.95 for adults and USD 69.95 for children 5 to 12 years.
The tours go out rain or shine, so be sure to dress appropriately.
You will also ride across seasonal streams, so be prepared to get wet! In other words, don't wear your best apparel.
Always wear comfortable clothing and appropriate footwear – no flip-flops.
If you have ever been on an ATV, you will remember getting dirty. Only the front driver does not get mud and dust from the other drivers' tires. For me, this is part of the fun!
Bring your camera, or if you are driving, try a head-mounted Go-Pro for some great action shots.
Bring your sense of adventure and prepare to have a blast.
You must be 21 years old and have a valid driver's license to drive.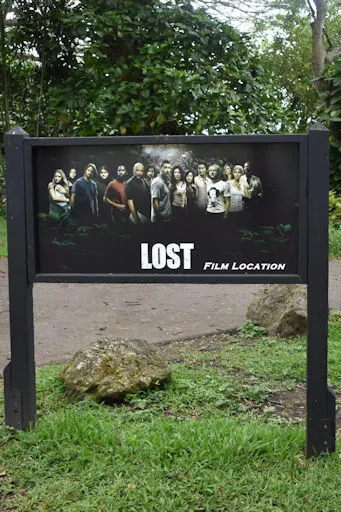 Hollywood Movie Site Tours
If you are a movie buff or always wanted to see real movie locations, this is the ideal tour for you.
The site is the Ka'a'awa Valley, and your tour is by a vintage school bus. You will see the location for scenes from Jurassic Park, Hawaii Five-O, Lost, and many more. It is even possible to see filming in progress. How cool is that!
You will also stop at a WWII bunker, which is located on the side of a mountain. The shelter has props from movies, posters, and other artifacts from various films.
The basic tour is 90 minutes and costs USD 51.95 for adults and USD 36.95 for children (3-12).
Ocean Voyage Tour
I have always enjoyed a catamaran ride, and Kualoa Ranch on Oahu's windward side is the ideal location. The tour departs from the Moli'i fishpond dock over to Secret Island to board a grand 49-person catamaran.
You'll spend 20 minutes touring the koi pond and 45 minutes enjoying a catamaran sail. The catamaran sails past Chinaman's Hat and other beautiful scenery. You may be lucky enough to see turtles or dolphins in the water during your tour. Be sure to bring your camera, sunscreen, and bottled water.
The scenic tour is 90 minutes and costs USD 51.95 for adults, and USD 36.95 for children (3-12).
E-Mountain Bike Tours
If you have never tried an E-Bike (Electric-assisted bike), Kualoa Ranch is an excellent location to go for your first ride. The bikes let anyone climb hills or ride for a long time, regardless of their level of fitness.
The tours are two hours and divided into two groups; one for novice and the other for intermediate. The tours range in distance from 6 miles to 9.5 miles, with stops in between.
The 2-hour tour is USD 119.95 for adults and USD 89.95 for children (10-12).
Jurassic Valley Zipline
Kualoa Ranch provides the ideal location for ziplining. The lush forests in Jurassic Valley give a sense of thrill and excitement as you sail over the treetops.
The ziplines range from 200 feet all the way up to a quarter of a mile. There is no experience required, but you must have a sense of adventure. Guests must be 18 years of age and wear closed-toe shoes.
Adults are USD 174.95 for 3 hours, which includes a safety briefing and training.
Jungle Jeep Expedition
Explore the Hakipu'u rainforest in a specially built-jungle vehicle. This 90-minute tour takes visitors to the areas where Jumanji, Jurassic World, and Kong Skull Island were filmed. The family-friendly tour is suitable for those 3 years of age and above.
The 90-minute tour is USD 51.95 for adults and USD 36.95 for children (3-12).
Kualoa Ranch Conclusion
Karen and I thoroughly enjoyed our tour with Kualoa Ranch, and we plan to visit again next time we're in Oahu. I know Karen would love to take a horseback tour, and I'd like to get dirty on an ATV excursion.
We can highly recommend the Secret Island Beach excursion, as it's an inexpensive activity to do on Oahu and tons of fun.
Happy travels ~ Karen