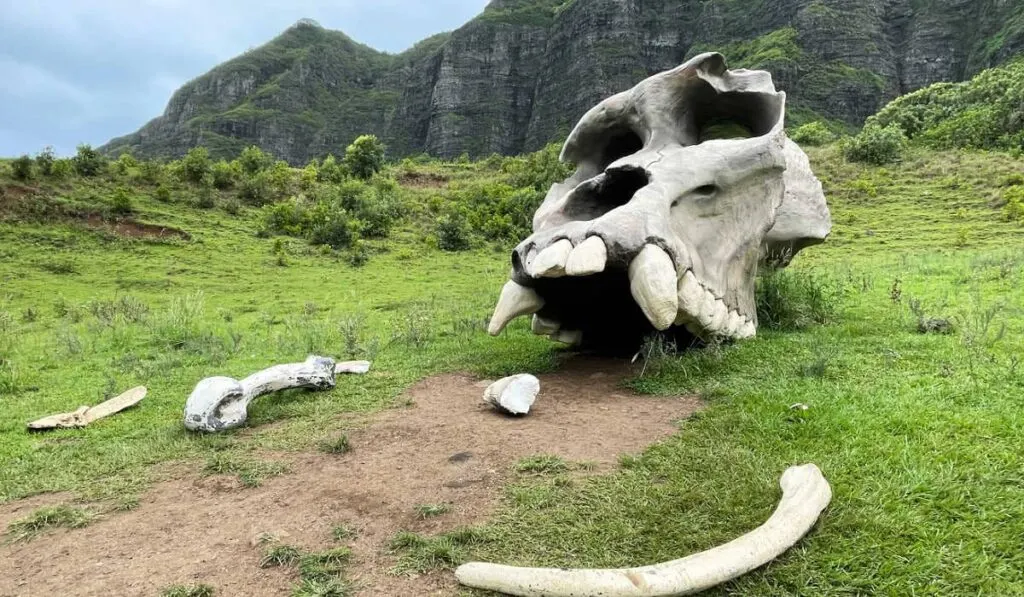 Located on the windward side of Oahu, Kualoa Ranch offers horseback riding, zip lining, and adventurous tours on its 4,000-acre cattle ranch. Its best of Kualoa Experience features three popular tours with a buffet lunch.
Kualoa Ranch is an incredible place often used for movies, weddings, and events. We first visited Kualoa Ranch in 2019 during our honeymoon Hawaiian cruise.
We enjoyed the Secret Island Beach Adventure on that trip, where we learned stand-up paddleboarding. Fast forward three years, and we couldn't wait to return to try the Best of Kualoa Experience.
We cruised from Vancouver to Hawaii on Royal Caribbean's Ovation of the Seas vessel on our recent travels. A repositioning itinerary is one of our favorite ways to cruise because of its great value.
Typical cruises leave Vancouver at the end of Alaska cruise season and return in the spring for the start of the next.
On this trip, we were guests of Kualoa Ranch, but as always, our opinion of the excursions was our own.
What Is The Best Of Kualoa Experience Package?
The Best of Kualoa Experience Package is an all-day adventure that includes a lunch buffet. It features three of their most popular packages – the Jurassic Jungle Expedition Tour, the Hollywood Movie Sites Tour, and the Aloha Aina Tour.
We started our all-day adventure with the 9:10 am Jurassic Jungle Expedition Tour and moved on to the Movie Sites Tour.
The tour broke for lunch at around 12:30 pm and finished with the Aloha Aina Tour. However, your package may do the excursions in a different order.
We were required to arrive for check-in at 8:30 am, and the total package ended just after 3 pm, which was perfect. We had a rental car and then made the 45-minute drive back to our hotel in Waikiki.
Kualoa Ranch Excursion Pricing
The Best of Kualoa Ranch Package in 2023 was available for about USD 150 per person. The Half-Day package is an excellent alternative if you are available for a partial day. It also includes the lunch buffet.
On completion of our tours, we felt it was good value for money. Their tours are unique, their guides are fun, and we walked away wanting to return.
There are also many other tours, which start at USD 52, for families traveling on a budget. Should you purchase a Go City Card, many excursions are included with the pass.
Kualoa Ranch Reservations
Plan to reserve ahead because many Kualoa Ranch tours and timeslots sell out quickly. It's best to reserve by booking online via their website.
Alternatively, you can phone them at (808) 237-7321 or (800) 231-7321 (toll-free).
When visiting Kualoa Ranch in 2019, we dropped by the day before and made the booking in person. We were surprised to see how many excursions were SOLD OUT for the day during our tour.
Kualoa Ranch is popular with tourists and is one of the Top-Rated Hawaiian attractions. Another popular Oahu destination is the Polynesian Cultural Center near the north shore.
How To Get To Kualoa Ranch From Waikiki
Kualoa Ranch is located at 49-560 Kamehameha Hwy, Kaneohe, HI 96744, on the island of Oahu. Google Maps says it takes 35 minutes from Waikiki but allow extra time in case of traffic.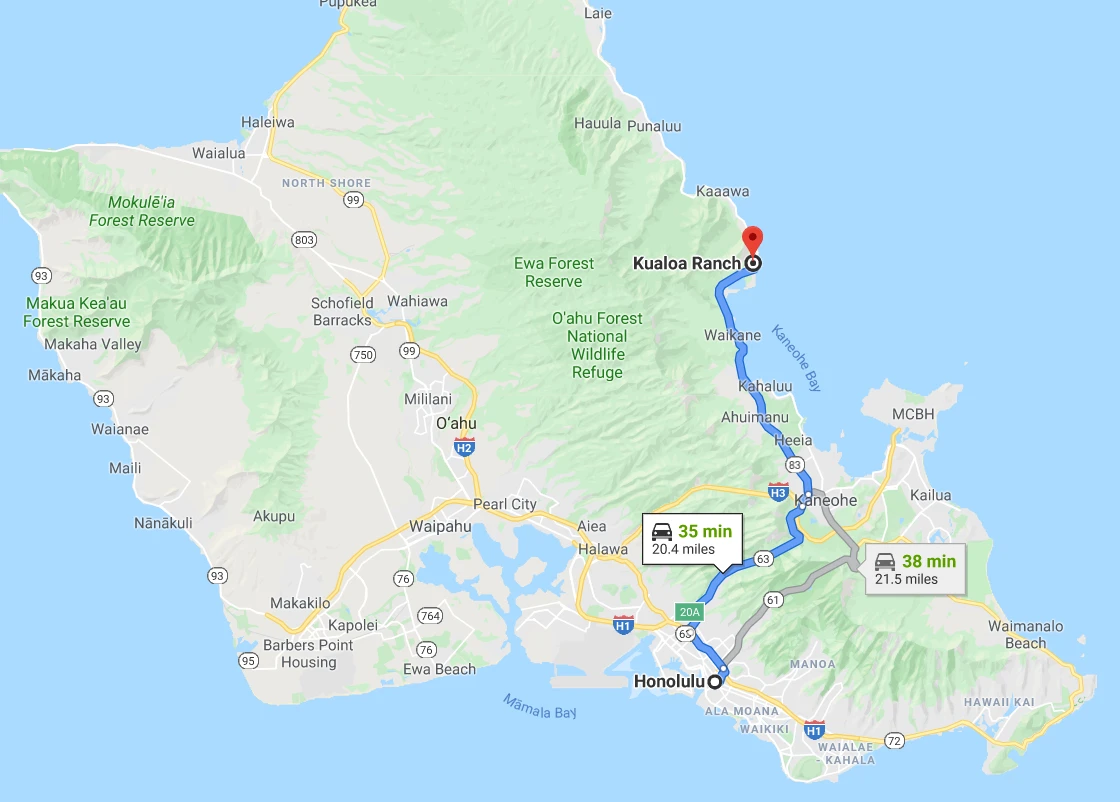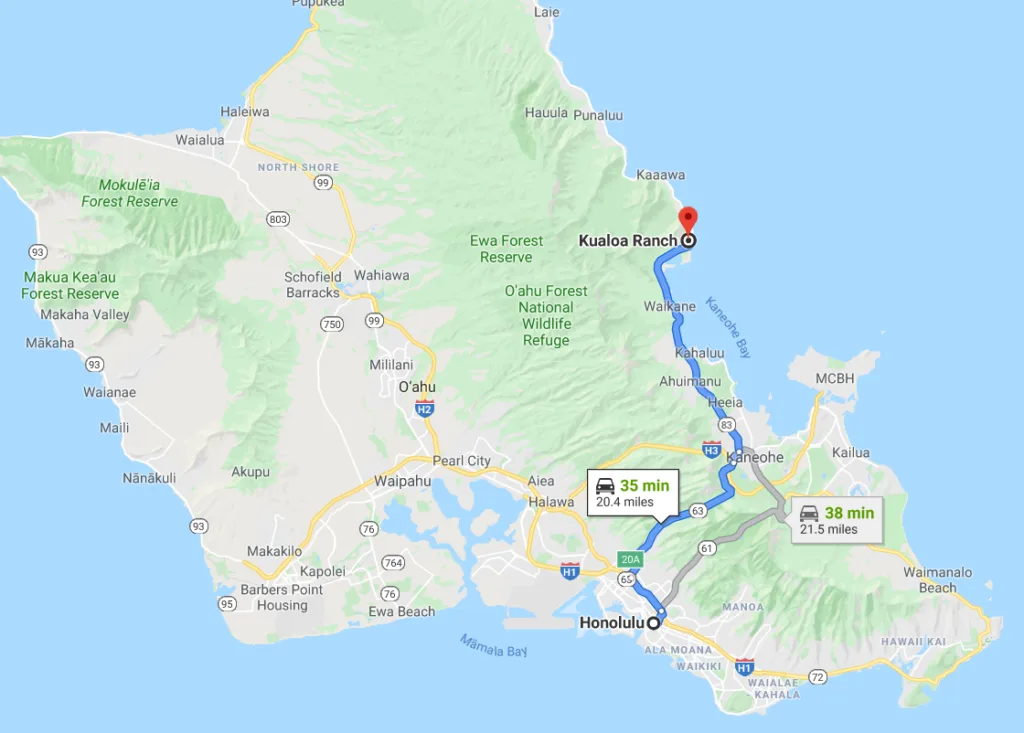 You can request 'transportation' when you book the tours or adventures. The shuttle service leaves from various Honolulu or Waikiki hotels and costs just USD 30 (+tax) round trip.
Be aware that tours take place rain or shine. Since Oahu is a tropical island, showers and storms are expected. The day after our Kualoa Ranch day trip, a massive storm hit Oahu and lasted the better part of the day.
So, before driving to the ranch, check the weather forecast and dress appropriately.
About Kualoa Ranch
Kualoa Ranch is a 4,000-acre nature reserve on Hawaii's northeastern or windward side of Oahu. The ranch began in 1850 with the purchase of a parcel of 1,100 acres. Today, it's a commercial cattle ranch; you will likely see cattle when you visit.
The Morgan family (descendants of Dr. Gerritt P. Judd) has privately owned the ranch for six generations or over 300 years. The family takes pride in the farm, and it shows. There have been major corporations, such as Disney, who attempted to purchase the ranch.
The family wanted to preserve the ranch's heritage and declined various offers to purchase. This is a testament to the values of the family.
While Disney is an excellent corporation, its purchase would completely change the ranch. It would likely turn the farm into a Hawaiian theme park.
The Kualoa Ranch is in harmony with Hawaiian culture and beliefs. I always appreciate a family-run business, and Kualoa Ranch exudes the values that are rare in a commercial operation.
Covid Impact
Like many Hawaiian attractions, the COVID pandemic forced Kualoa Ranch to shrink its team of up to 500 staff to less than 50. However, their team is now back to 350 staff and growing
Fortunately, the company survived the pandemic and continues to return to pre-COVID operations. Hawaii was especially hard-hit by COVID-19 as much of its employment is based upon tourism.
Surviving the pandemic is a testament to the owners and their stewardship after six generations. Fortunately for all of us, Kualoa Ranch will continue to be that unique and spectacular Hawaiian destination.
Jurassic Jungle Expedition Tour
The Jurassic Jungle Expedition was our first tour of our Best of Kualoa Experience. Our all-terrain vehicle was at full capacity with 16 people.
Our driver, Carlos, cautioned us about the ride ahead and asked if we had any back problems or prior injuries. He said the road was rough in several areas.
However, once we were driving, I knew why he had cautioned us and why the website did the same! Kids must be a minimum age of 3 years old to take this tour.
After arriving early for our tour, I noticed that Kualoa had a large fleet of various vehicles. The vehicles all seem to be built for purpose according to the type of tour they give. Our truck was no different and seemed very rugged.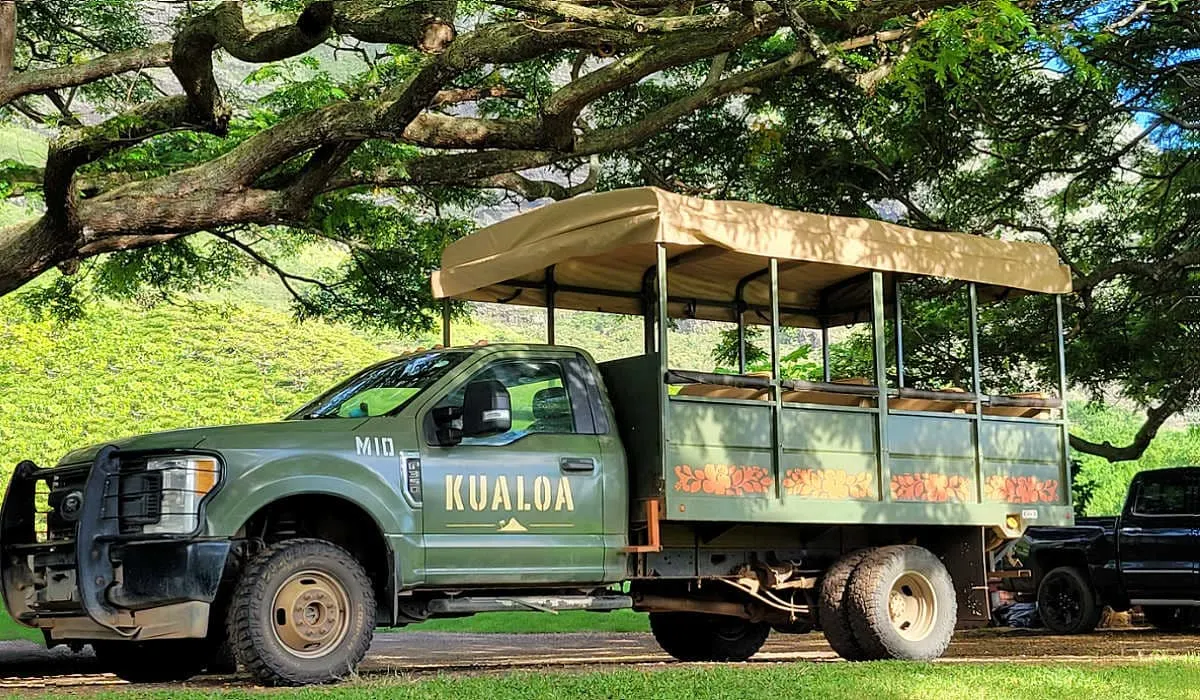 Karen is susceptible to motion sickness when riding in the middle or rear of a bus. As a result, we asked if we could ride in the front row and boarded early. We were all warned that there were NO restrooms along the way but lots of bushes!
We were off and heading up the road into the jungle within a few minutes. Occasionally, the driver would stop or slow down and make announcements along the way. Sometimes, he would point out a historical feature.
Other times, he would stop if we saw a wild animal. Wild pigs are in the area, and we spotted six near the end of the tour.
The tour is a slow, steady climb up into the rugged mountains. The farther we went, the better the views got. At times, we could see Mokoli'i, also known as Chinaman's hat, in Kaneohe Bay.
Sometimes, the road up was a single lane, and we would stop while he radioed ahead for clearance. The road was very steep at times, with large potholes because of the rain and rough terrain.
As we forged ahead, the sixteen passengers rocked from side to side. The four rear tires would slip on the loose gravel several times, and we would see the valley far below. It was thrilling and a bit nerve-racking at the same time!
When we finally were near the summit, we stopped and had the option of a short hike. Our vehicle included people of all sizes and ages. The trek was short but steep and a challenge for some.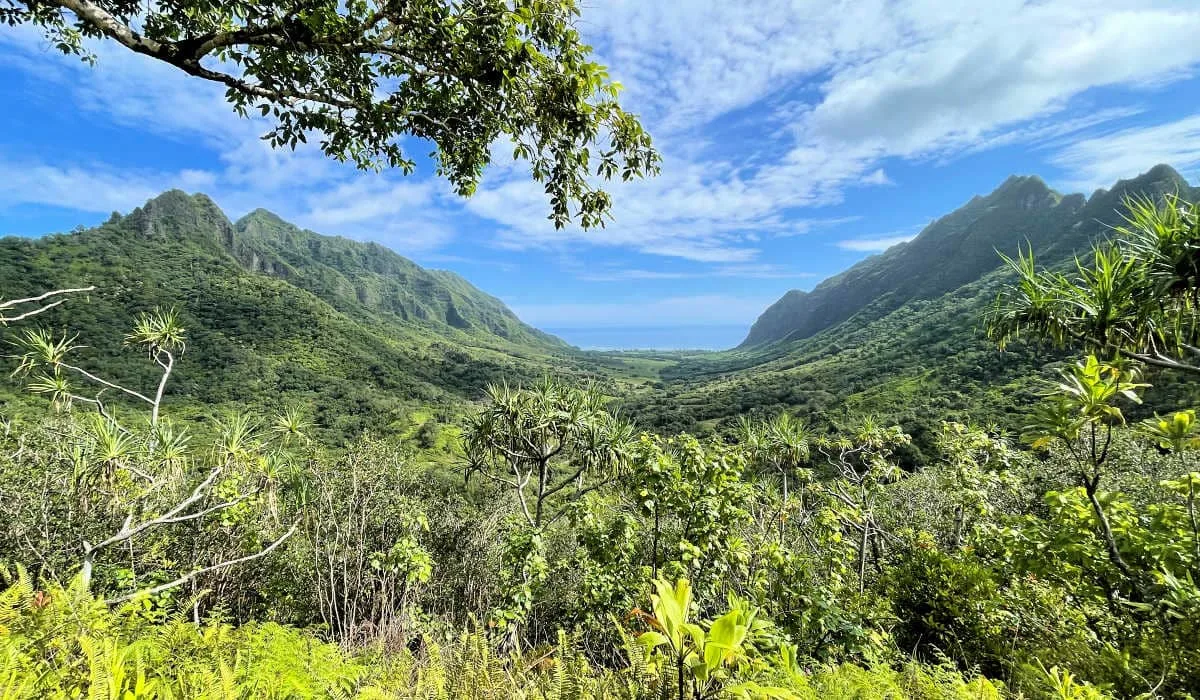 After the hike, the reward was an incredible view of the lush valleys below, reaching out to the Pacific Ocean. Karen took her photos, and we grabbed a quick selfie.
The driver was funny, friendly, and genuinely concerned about us safely enjoying the tour. After our photos, we began the journey back to the ranch. Along the way, we saw a helicopter crash from Kong Skull Island.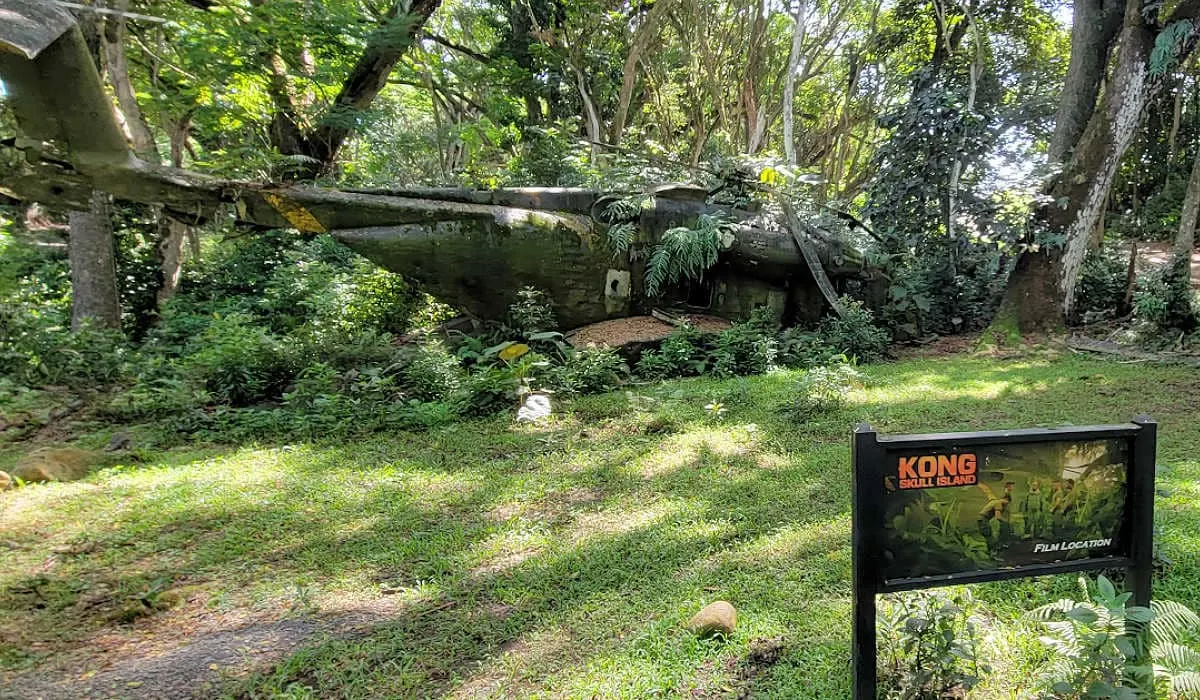 Other tours were operating on the mountain. Since we had to bypass one stop because another group occupied it, our driver took us to a Jurassic location instead.
We all exited the truck and quickly took some photos where part of the Jurassic movies had been shot.
As we neared the end of our 90-minute tour, we made the leisurely drive back. The drive was on level ground and much more straightforward.
The Jurassic Jungle adventure was a fun tour and a great way to start the morning. While the roads were rough, they added to the authenticity of the jungle environment. No paved roads as we headed up the mountain!
Hollywood Movie Sites Tour
For this tour, we took a scenic ride through a valley on an old school bus. The first bus we boarded to reach the site had almost no legroom. Although Karen and I are not big, we had difficulty getting in the seats.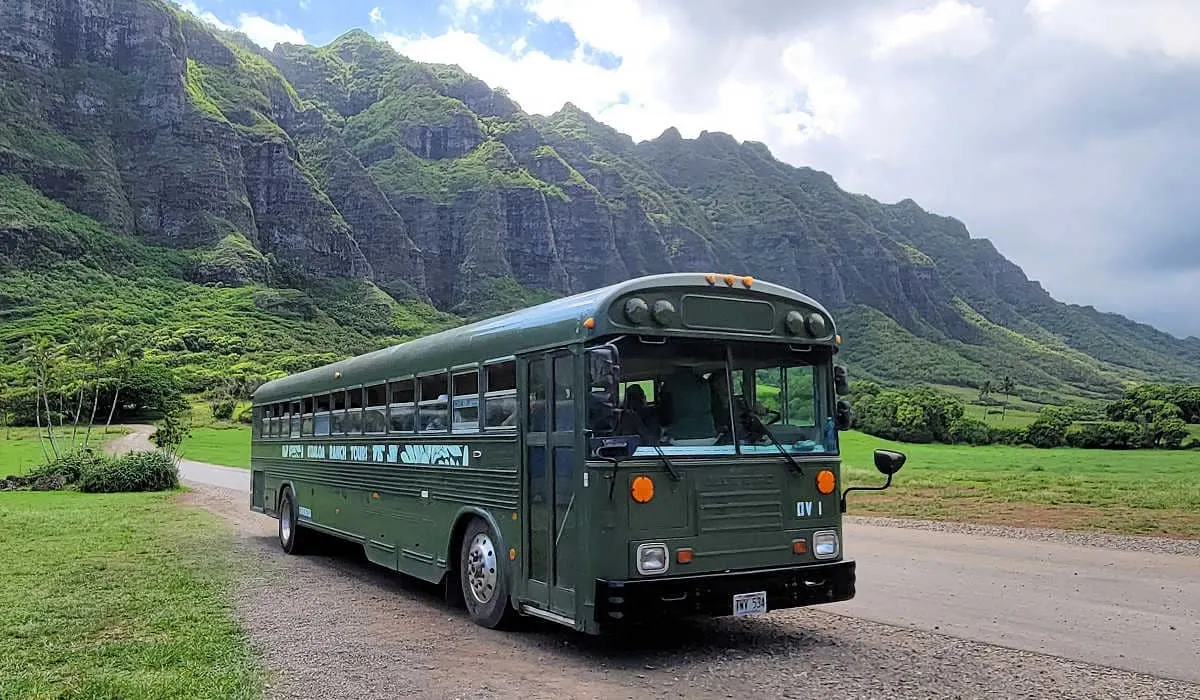 The following bus was much better and had no windows, so we could benefit from the Hawaiian eco trade wind air conditioning. The Kualoa Ranch movie tour is a very popular excursion and the one we enjoyed the most.
Kualoa Ranch private nature preserve has been the site of many Hollywood movies and TV shows. Its unique geography and stunning landscapes make it an excellent location for filming.
If you're a fan of Jurassic Park, consider booking the Jurassic Adventure Tour or the 2-hour UTV Raptor Tour. However, this one did stop at a few filming locations, and Karen tried to capture a great picture of a dinosaur.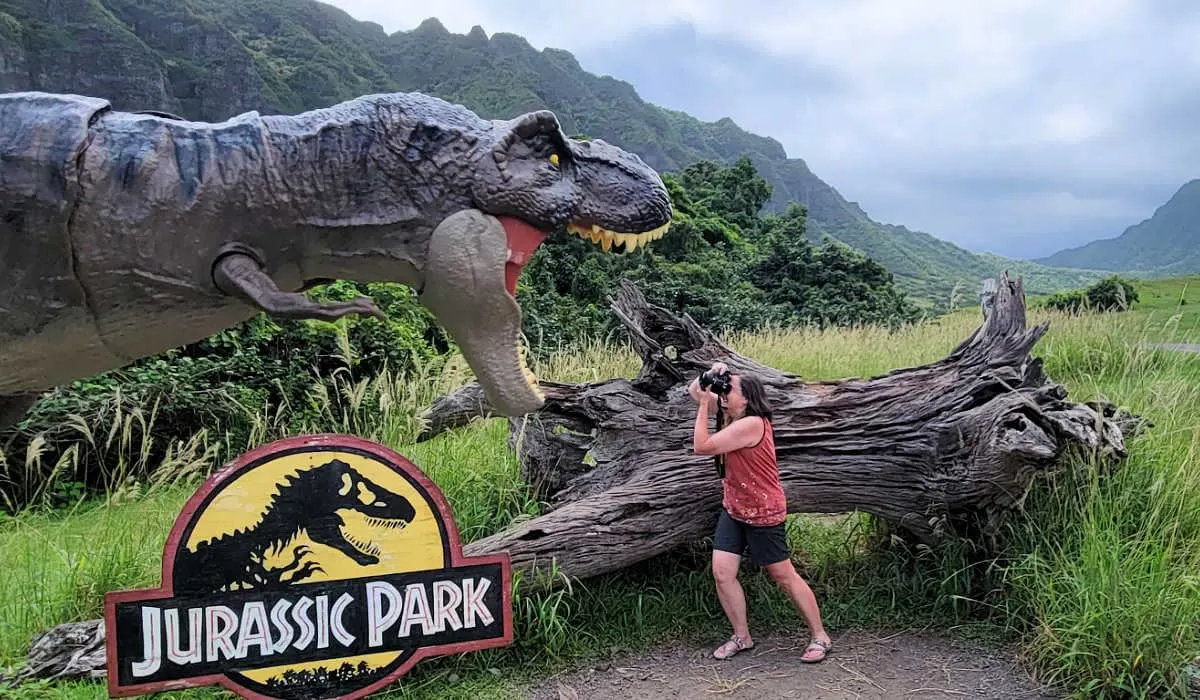 Here are some of the Hollywood productions that have used Kualoa Ranch as one of their filming locations:
Jurassic Park
Jurassic World
50 First Dates
You, Me, and Dupree
Hawaii Five-O
Mighty Joe Young
Pearl Harbor
Godzilla
Kong: Skull Island
Jumanji
Magnum P.I.
Lost
Triple Frontier
Journey 2 Mysterious Island
Windtalkers
Mike and Dave
I was impressed with the wide range of productions shot at Kualoa Ranch. Some of the locations were used frequently by different production companies.
The bus stopped on several occasions, and we could get off to shoot photos and take selfies. It was fun to imagine myself as part of a scene from a Hollywood movie.
The most popular stopping point was Kong Skull Island. We could stand amongst the giant Styrofoam bones and feel relatively small here.
When production companies' film on the ranch, the tours are adapted to another area. Guests won't receive a lessened experience with thousands of acres of land.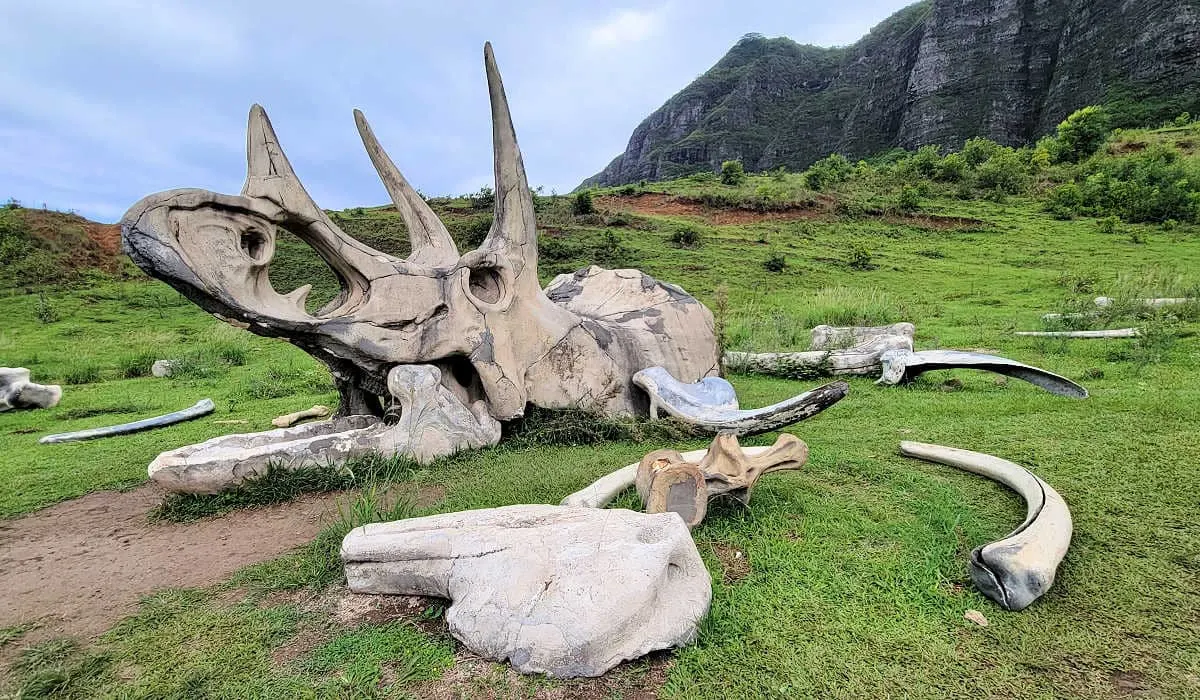 All in all, I very much enjoyed the Hollywood Movie Site Tour. Note that Kualoa Ranch continues to be a popular location for Hollywood movies and blockbusters.
Even after the tour, it would be fun to return and see which new movies chose Kualoa as a filming location.
Kualoa Lunch Buffet
Upon completing our second tour, we returned to the ranch for lunch. Visitors booked on the full-day or half-day bundles enjoy a delicious lunch buffet as part of their package.
The buffet included fresh salads, teriyaki chicken, rice, BBQ ribs, dessert, and more. The food was hot and self-served in a buffet style.
Since Karen has several food allergies, we are always cautious about dining out. After a quick check with one of the staff, we confirmed the food would be safe. I was impressed that all the prepared food was gluten-free except for the chili and desserts.
Evidently, they had prepared food to accommodate customers' food allergies. It's not surprising nowadays, as many people suffer from food allergies. However, it is always a pleasant surprise when businesses get it right!
It's also a great reason why I recommend Kualoa Ranch to others who may want to try their tour packages, including the buffet.
Aloha Aina Tour
The Aloha Aina Tour was our final excursion for the day, and we started after our one-hour lunch break. It was a leisurely way to end the day riding on an open-air trolley.
The 90-minute tour includes riding to the various farms and ancient fishponds within the property. In addition to being an operating cattle ranch, Kualoa produces pork, fruits and vegetables, shrimp, and more.
Hawaiian fishponds are also known as Moli'i. The old ancient Hawaiian fishpond we traveled to was 153 acres near the Secret Beach.
Interestingly, the fishpond has been carbon-dated to include fish for the last 800 years.
During the Kualoa farm tour, we learned algae had become a big problem in the pond. So, by adding oysters, the shellfish clean the pond water naturally.
The pond has about 150,000 adult oysters, which can filter 1.2 to 2 million gallons of water. So, the oysters provide a sustainable way to keep the fishpond healthy.
KualoaGrown
The agriculture arm of the Kualoa Ranch is KualoaGrown. Forty-five staff maintain the farms and ponds throughout the year. KualoaGrown is responsible for producing beef, pork, produce, shrimp, chocolate, oysters, and more.
The KualoaGrown Market, located at the ranch, sells the ranch's products. The market is open Thursday-Sundays from 10 am – 5 pm. If you are a gardener or grow vegetables at home, you will enjoy learning about everything produced at Kualoa Ranch.
During the tour, our tour guide allowed us to sample some of the products raised on the farm. The samples vary according to what is in season and available.
Our tastings included pineapple, smoked fish, and Hawaiian poi. I tried only the pineapple because I'm not fond of smoked fish or poi.
One of the last stops on the Aloha Aina tour is to another film location where a few Hollywood productions occurred. After this stop, we made the drive back to the main building.
Before returning to Waikiki, we purchased some long-sleeved Rashguard shirts from their gift shop. We bought Koa wood keychains with our Hawaiian names on our previous visit. These are our favorite souvenirs from Hawaii, which we use every day.
What We Liked Best
Kualoa Ranch is always one of our must-see destinations when we visit Oahu. While it's always hot in Hawaii, the tours travel through shaded areas, so the heat doesn't overwhelm you. Here are just some of the things we liked:
So Many Things to Do
They offer so many packages and with such variety. We have been twice now and tried four of their unique packages. However, we have yet to try half of the tours they offer.
The Amazing Landscape
For us, Kualoa Ranch is one of the best places to visit in Oahu. It is a lush jungle with breathtaking views at higher levels, where it is almost impossible to take a bad photo!
The vistas from the valleys are unique and jaw-dropping. As you look up at the lush cliffs rising above, you feel you are in another time and place. It's no wonder the ranch hosts hundreds of weddings each year.
The ranch has some of the most beautiful views in all of the United States. The land remains pristine since the farm doesn't allow hiking or people to walk the acreage (outside of a tour).
A Great Team
I appreciate excellent customer service, and the Kualoa Ranch team delivers. Their staff are all friendly, helpful, and committed to helping you have a great experience.
We had three different tour guides that were all Hawaiian locals. They each brought their own personalities and sense of humor. However, they all convinced me they wanted me to have the best experience while spending time with them.
Many companies pride themselves on their customer service. However, they often do not 'walk the talk' of customers first.
As a private, family-owned business that has survived six generations, Kualoa Ranch delivers.
Fun For The Whole Family
Even though Karen and my children are all grown adults, I know Kualoa Ranch is great for families of all ages. We've seen lots of kids joining in the fun whenever we've visited.
Granted, some tours or adventures have size and weight restrictions; however, there is still lots for kids to do.
The Hollywood Connection
While I have never tried to get a famous person's signature, the Hollywood connection is COOL! Riding through the ranch and seeing locations where movie studios shot some well-known films or shows was fun.
After our recent tour, I told Karen we needed to watch some of the movies shot at Kualoa Ranch. Like a "Fan," I wanted to see the scenes and know I was there!
As a guy who loves technology, I wanted to see how different the shots look from the actual location. I couldn't believe that production sets used Styrofoam to make many props. Hollywood can make anything look magic!
Best Of Kualoa Experience Conclusion
Having visited the ranch twice and taken four Kualoa Ranch tours, I am more impressed with what they offer than ever. Granted, the cost can quickly increase if you are a family of four or more.
Karen and I had a full day of excitement and adventure, which cost USD 150 pp. That's pretty good value and comparable to any other high-end attraction.
If you fly or cruise to Hawaii and Oahu is your destination, Kualoa Ranch is a premium must-see attraction. The team there can take you to another "world" you may have seen on the big screen but never experienced.
Note that the tours are generally not wheelchair accessible, which may be a barrier for some families or couples. However, you could stay on the buses and have lots of fun.
Karen has always loved Hawaii, and I am now loving it too. On our next cruise to Hawaii, my 'bucket list includes Kualoa Ranch. I can't wait to try ziplining, ATVing, e-biking, and more.
I hope this review was helpful for you and lets you make the same decision we did with Kualoa Ranch.
Mahalo.