I traveled to the Oahu Polynesian Cultural Center at the end of our Hawaiian Cruise from BC onboard the Celebrity Eclipse ship. My wife Karen had already been there and was eager to go back again to see it. I had also heard about the Hawaii Polynesian Cultural Center from some friends back in Vancouver.
They had said the Polynesian Cultural Center on Oahu is a 'MUST SEE.' While I had read the odd Polynesian Cultural Center review, I wanted to experience the attraction myself.
The 42-acre site is beautifully laid out and packed with entertainment, dining, and experiences that allowed me to learn about Polynesian Cultural traditions and life.
Through its amazing music, skillful performances, and intriguing stories, I felt like I was in "Polynesia." After leaving the Center, I fell in love with the people and landscape of this incredible region of the South Pacific.
Karen and I have now added a South Pacific cruise to our bucket list. This is my Polynesian Cultural Center review.
What Is Polynesia?
Polynesia is a "triangle" collection of warm, tropical islands in the South Pacific Ocean. At the northernmost tip of the triangle is Hawaii.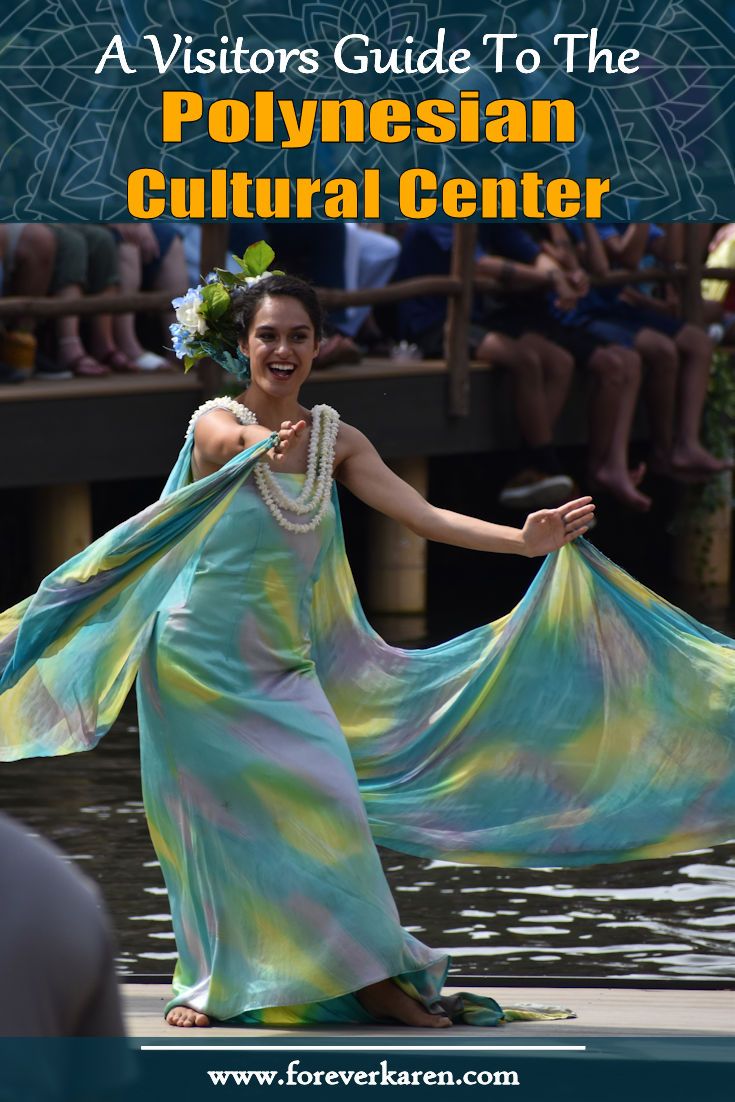 Each country or region has its distinct customs and cultures with different traditions practiced throughout time. There are actually three "Nesias," including Polynesia, Micronesia, and Melanesia.
At the Hawaii Polynesian Cultural Center, they showcase Polynesia with the state of Hawaii and the countries of New Zealand, Samoa, Tonga, Tahiti, and Fiji. However, as shown in the map above, Fiji is technically part of Melanesia.
Where is the Polynesian Cultural Center?
The Hawaii Polynesian Cultural Center is located on the north shore, about 35 miles from Waikiki, and is typically a 75-minute drive.
The address of the Center is:
55-370 Kamehameha Hwy, Laie.
Polynesian Cultural Center Review: Transporation
Due to its popularity, several bus tour operators provide shuttle service to the Polynesian Cultural Center. Simply Google bus service to the Polynesian cultural center. Most tours offer several pick-up locations by significant hotels in Waikiki.
Also, if ordering your tickets online at Polynesia.com, you can add 'Transportation' to your tickets when checking out. This will purchase the PCC shuttle service for you. If you would rather do this by phone, contact the Reservation Center at 800-367-7070.
Polynesian Cultural Center Parking
We had a rental car, so we drove to the Polynesia Cultural Center on our second day in Oahu. Parking is FREE and is large enough to accommodate a large number of vehicles.
There are accessible parking spots located near the main entrance. If you are driving an electric car, charging stations are also available. However, the charging stations are on a first-come basis, so consider getting there early!
Promo Code Polynesian Cultural Center
There are various promotional codes offered at different times. However, many promo codes have expiration dates. To find out what is available when you plan on visiting, simply Google the Polynesian Cultural Center promo code.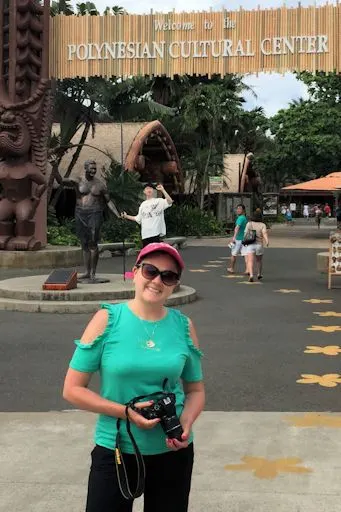 As an alternative to a promo code, we chose to get a Pass from Go City for our 5-day trip to Oahu. This card paid for itself and then some by providing Karen and me complete all-day access to the Polynesian Cultural Center.
Also, the Go Oahu Card got us free admission to other incredible points of interest, including Pearl Harbor and the Iolani Palace.
On the day we visited the PCC, we stopped at the half replica Buddhist Temple along the way, which I highly recommend. Interestingly enough, when arriving at the PCC, we found out our tickets allowed us access for the next three days if we did not see everything.
Entry would be free again with our Go Oahu Cards but would not include the Luau. Unfortunately, Karen and I had so little time with a packed itinerary, so we could not fit in another visit to the PCC.
Hawaii Polynesian Cultural Center Hours
The Center is open Monday to Saturday from 11:45 am – 9:00 pm, and closed Sundays, Thanksgiving Day, and Christmas Day. The Hukilau Marketplace is open Monday-Saturday from 11:00 am – 9:30 pm and closed Sundays, Thanksgiving, and Christmas Day.
To thoroughly enjoy the Polynesia Cultural Center, expect to spend an entire day there. Although there are plenty of trees, it's stifling hot, so remember to bring sunscreen and a sun hat.
My Polynesian Cultural Center Review
On arriving at the main entrance to the Polynesian Cultural Center, you arrive at the Hukilau Marketplace. Relatively new to the Polynesia Cultural Center, it has various stores containing Hawaiian gifts, clothing, food, and other keepsakes of Polynesia.
This marketplace is free to the public and a welcoming venue for those visiting the Center.
For easier navigation inside the Hawaii Polynesian Cultural Center, I suggest you download their app. The app includes a map, GPS navigation, daily schedules, activities, points of interest, and more.
After the marketplace, I entered the PCC and was immediately captivated by the surrounding area's lushness.
Stone pathways meandered through the palm trees and tropical flowers, while a central lagoon acted as a natural barrier between some of the different regions. In the afternoon, I gathered along the water's edge to watch a magnificent Polynesia show.
Huki: A Canoe Celebration features the customs and myths of the Polynesian people through song and dance. It's an explosive performance and a treat to see the incredible colorful costumes while listening to the islands' melodious songs.
The Center contains six different regions of Polynesia that I explored at my leisure. These are Aotearoa, Fiji, Hawaii, Samoa, Tahiti, and Tonga. I explored the PCC on foot, but river canoes are also available to travel from one end of the park to the other.
Throughout the day, each island has a cultural show that runs for about 20 minutes. Regardless of the time of day, you can find a show running in one of the villages. Some of these shows were demonstrations, while others were hands-on crafts.
Polynesian Island Nations
As shown in the map above, the Center contains six different regions of Polynesia. Here's what you can expect to see when touring the Center's Polynesian areas.
Fiji
Fijian warriors are impressive, and the women will entertain you with their graceful dance. One of the activities you can do is pounding a derua (bamboo stick). Other activities for visitors are making coconut oil or getting a temporary Fijian tattoo. One of the must-see buildings is the Chief's home.
Aotearoa (New Zealand)
The islands of Aotearoa (also known as New Zealand) are the home of the Maori people. Known as the "Land of the Long White Cloud," it is the only island to experience four seasons. As a result, I noticed they constructed their homes differently.
Local activities include watching artisans carve weapons and learning how to cook in Maori tradition. It was sweltering on the day I visited the PCC.
So I enjoyed a delicious pineapple smoothie served in its own pineapple under a tent in the Aotearoa region. The tent housed a carving workshop where visitors can make their own fish hook necklace.
Hawaii
Hawaii fills your senses with authentic sites, sounds, smells, and touch. Hawaiian dance and song, complete with hula lessons, will entertain you. Demonstrations include poi tasting and lauhala weaving. As with other Polynesian settlements, one of the highlights is the people.
Samoa
Known for their happiness and laughter, you can't help but love the Samoan people. You will learn how to crack open a coconut using a small rock. One of the fantastic feats is when the young Samoan men climb a 40-foot coconut tree in their bare feet!
A fascinating demonstration teaches visitors how to start a fire with just two sticks. One thing that stood out for me in the Samoa region was the domed structure. This architecture is fascinating, and I noted that it is made without nails.
Tahiti
Dance, including swinging hips and knees, is a trademark of the Tahitian people. You'll get to dance along with them while enjoying a Tahitian wedding ceremony.
Coconut bread is a signature food for Tahiti, and I arrived in time to sample some freshly made bread. Have you ever wondered how pearls are farmed? Find out in Tahiti.
Tonga
Tonga is a land of fun as I learned to dance sitting down. Music is plentiful with the immensely entertaining native drummers. One activity is paddling a Tonga outrigger canoe the same way it has been done for centuries.
Games included playing Lafo, which is like shuffleboard. Spear throwing was my favorite activity when we visited. The architecture consists of the Queens Summer House with its tapa mats and geometric lashing of support beams.
There are many activities available throughout the Center to add to your Polynesian experience. For kids, there are many cultural experiences, including native crafts and building things.
Should you like canoes, try the canoe tour, where you get to go along for the ride. If you want to participate more, canoe paddling is a lot of fun. If you're a wannabe musician, try the free ukulele lessons.
Ali'i Luau
My Polynesian Cultural Center review would not be complete without mentioning the luau, one of my highlights during my visit to the Center. The luau is a classic Hawaiian feast and held twice each day. As I entered the sizeable tiered dining area, I received a fresh lei and a Hawaiian welcome greeting.
All the dining seats face the stage, so there are no bad seats in the house. Karen and I sat on a lower level close to the stage, which provided a fantastic vantage point for the upcoming performances.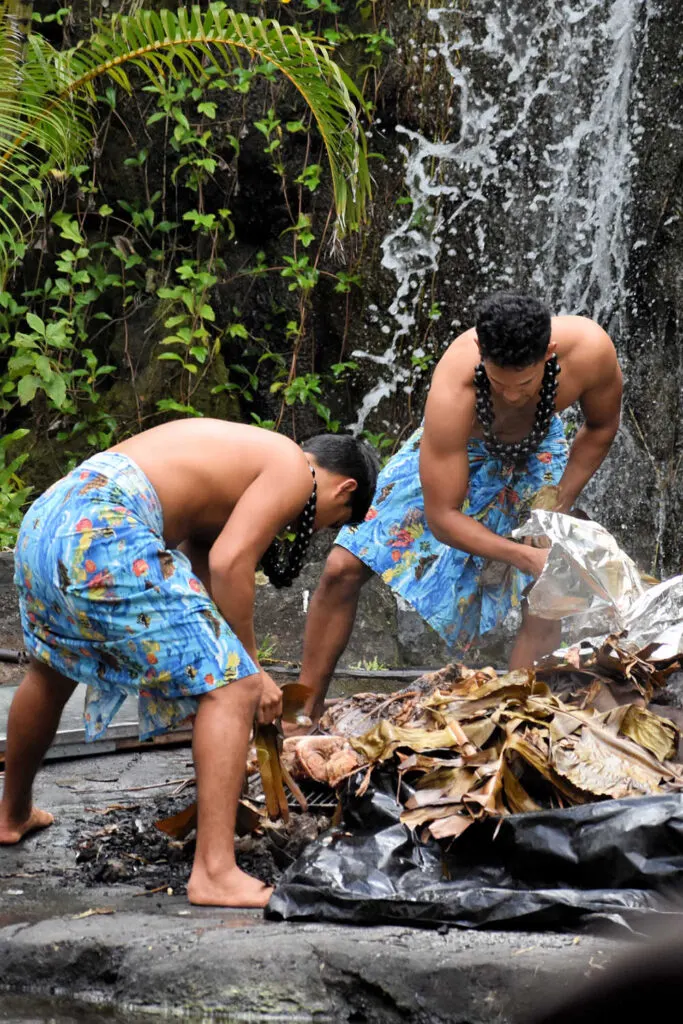 The menu includes traditional luau foods such as lomilomi salmon, chicken long rice, kalua pork, and all the poi you can eat.
In preparation for the dinner, a whole pig roasts all day in an imu ("earth oven"). As part of the dining show, I watched fascinated as the roasted pig traveled from the pit and into the dining hall.
Karen has Celiac disease and is unable to eat gluten, milk products, or nuts. We were thrilled that a head chef helped Karen select foods that she could eat. The roasted pig was delicious and extremely tender. However, while I tried the poi, it wasn't to my liking. A full dessert selection accompanied dinner.
The entertainment throughout the luau includes dancers and performers of all ages. They also try to include the audience wherever possible. It was fun to be on stage with a bunch of people from the audience.
Since it was my birthday month, I accepted an invitation to go up on stage. I danced away, trying to learn from one of the professional dancers. It just added to the fun of the luau experience.
Prime Dining
I would recommend you visit the Prime Dining hall even if you do not actually eat there. For us, we had just finished the luau but happened to make our way to Prime Dining.
The building is a massive buffet with ceiling-high paintings that tell the story of Polynesian life. Giant posts each adorned with huge conch shells as lights support the roof. The enormous murals are stunning and impressive.
Prime dining offers a slightly different menu including prime rib, scampi, snow crab legs, and delicious island dishes.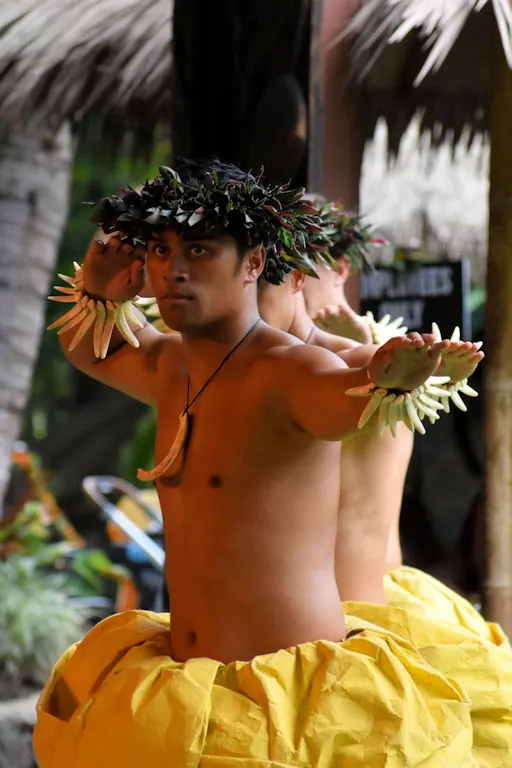 After the luau, we had 45 minutes to kill before the evening show. While a free shuttle offered visitors a quick tour of the adjoining Brigham Young University (BYU) campus, Karen and I chose to stroll along the Center's river.
Ha: Breath of Life Show
My Polynesian Cultural Center review would not be complete without the much anticipated evening show. Ha: Breath of Life show takes place in the Pacific Theatre just off to the main entrance.
It's an open-air theatre with plenty of seating, which is assigned when purchasing a ticket. While I sat reasonably far back from the stage, the views of the performance were still excellent. Since the seats are tiered, there are no bad spots in the amphitheater.
Snagging a position close to the stage requires a purchase of the Ambassador Package. It was my first time experiencing such a fantastic blend of dancing, death-defying acts of fire, and music, all done within the Polynesian culture.
The Story Of Mana
The show is about the "symbolic story of Mana and his beloved Lani." It features Polynesian dance, music, and unbelievable "fire knives." Over 100 Polynesian natives make up the show. It is a "Pacific isle saga of birth and death, love and family, tragedy and triumph."
Many of the performers from the show attend the adjoining Brigham Young University (BYU). Tuition is free should they volunteer some time at the Cultural Center.
Understandably, the center forbids the use of photography during the show due to copyright. So, I was unable to capture any recordings.
However, I noticed a man near me try to take photos during the show. Suddenly, ushers approached him, and he was promptly asked to stop recording and put his camera away.
The recurring theme throughout the show is fire. Imagine seeing a dozen Polynesian dancers spinning long sticks lit on both ends with fire. In the darkness, large fire circles glow created by the spinning sticks.
One of the highlights is when one artist throws a spinning "fire knife" from the lower center of the stage up to another performer who is 20 feet higher at the far end of the stage.
In essence, the performance was flawless and breathtaking. At one point, I can remember thinking, "How can they do this show every night without having any accidents or risk of fire?"
The show is the finale to an incredible day at the Center and left me wanting more. I can understand why Karen wished to visit again and show me this astonishing place.
Ukulele Shop
On my way out of the Cultural Center, we browsed the gift shops. In the back of one shop is a ukulele workshop. Here, I saw a variety of ukuleles under construction as well as others owned by famous people. The workshop was a fascinating area.
Browsing the shop, the different woods used to make a ukulele intrigued me. The ukulele is a classic part of Hawaiian culture, and many handmade instruments were for sale at that shop.
As I conclude my Polynesian Cultural Center review, I can safely say my visit exceeded my expectations. I can definitely recommend this day trip to anyone visiting Oahu.
~ Mahalo.