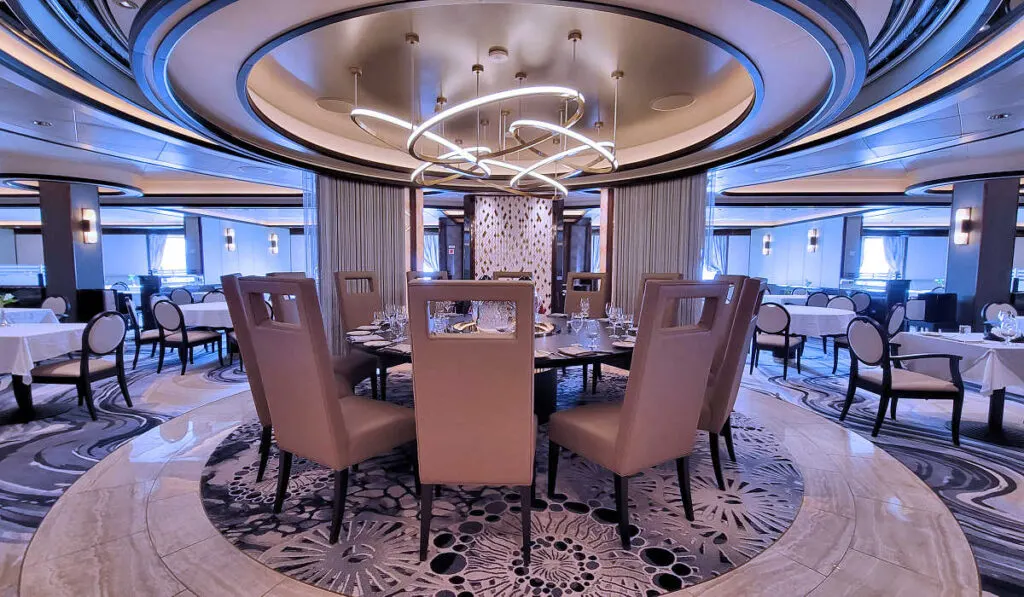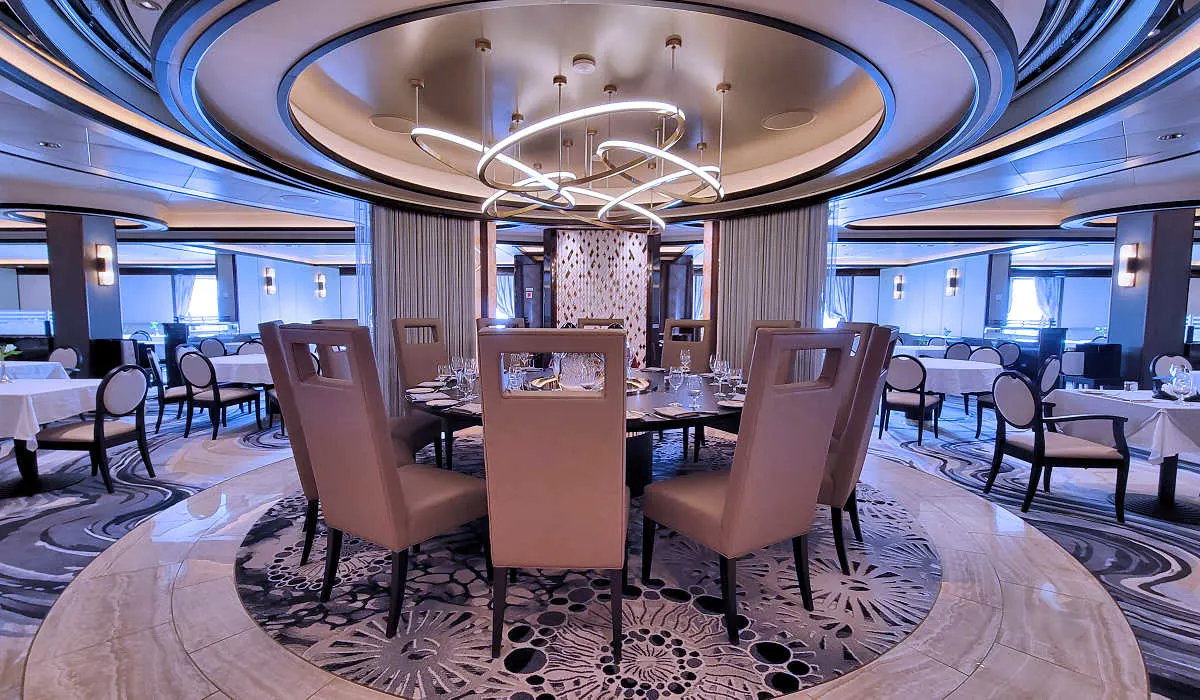 It's no surprise that food is a big part of cruising. Having sailed the Majestic Princess ten months earlier, we were eager to see how her sister ship, the Discovery Princess, compared when it came to dining.
On board the Discovery Princess, you'll have access to a range of complimentary dining options, including three main dining rooms. These are named after popular Alaska ports of call; Ketchikan, Juneau, and Skagway.
For casual dining, the World Fresh Marketplace buffet, along with several eateries, offers complimentary choices. For something extra special, try one of the three specialty restaurants onboard.
Discovery Princess Dine My Way
Like Norwegian Cruise Lines, the Discovery has moved away from set dining to "dine my way." Guests are encouraged to make reservations through the Medallion app. Without a reservation, you can show up and join the "no reservation" queue.
The Juneau (deck 5) and Skagway (deck 6) are located midship, and the Ketchikan (deck 6) can be found at the aft. The Ketchikan looked more upscale with elegant table settings and monogrammed napkins.
Of the three main dining rooms, only the Skagway on deck 6 opened for breakfast between 7 and 9 am and lunch from 12 to 1:30 pm.
Other Dining Venues
Other complimentary options include Gigi's Pizzeria, Slice, International Café, and The Salty Dog Grill.
For ice cream lovers, you can get your fill of frozen delights from Swirls, a complimentary option on deck 16, and Gelato (deck 5), providing heavenly sweet options for an additional fee. There were ten flavors of Gelato.
| | |
| --- | --- |
| Fior di latte – vanilla | Cioccolato – chocolate |
| Nocciola – hazelnut | Pistacchio – pistachio |
| Stracciatella – chocolate chip | Amaretto – almond flavor |
| Caramello Salato – salted caramel | Tiramisu – cocoa coffee flavor |
| Nutella – hazelnut chocolate | Flavor of the week |
The Gelato is reasonably priced, and they carry sugar-free and dairy-free selections. Complete your sweet treat with a choice of six sauces and eleven toppings.
I found it odd that the ship had two pizza venues. However, Gigi's Pizzeria offers a sit-down restaurant experience, and each guest receives an entire freshly made pizza. Gigi's can also cater to those who are gluten-free, and the dough is made fresh.
On the Lido deck, the Slice allows those lounging by the pool to grab just a slice of ready-made pizza. Guests can choose from three thin-crust choices, which change each day.
The day I stopped by, they offered a Margherita (vegetarian), Pepperoni, and a special of the day, Mexican Chorizo. Very appropriate since I was cruising the Mexican Riviera.
The International Café, open 24 hours, offers specialty coffees, teas, and snacks. Expect a line-up in the mornings.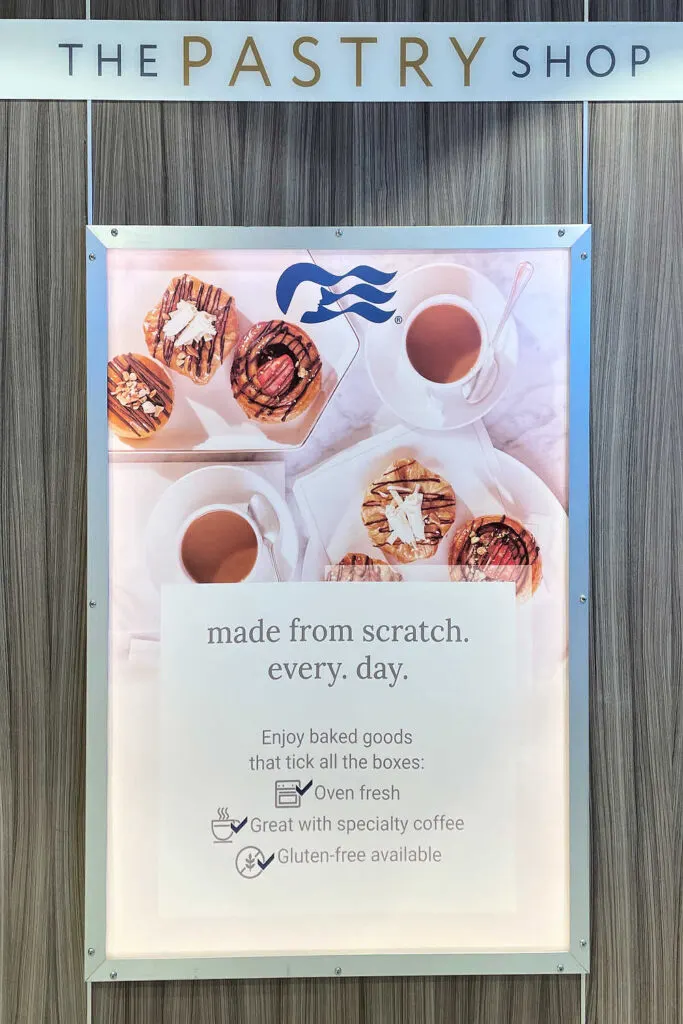 The Salty Dog Gastropub has a variety of pub-inspired dishes to complement their beer or cocktail. Guests incur a cover charge of USD 18 and receive their choice of two pub plates.
Choices include:
Spicy stout beef short ribs.
Wild caught calamari frites.
Lobster mac and cheese.
The signature SDG Burger.
Located on deck 6, the Ocean Terrace Seafood Bar overlooks the Piazza, so its food often comes with lively music. Here, you can grab some sashimi or other small bites, which incur an a la carte fee.
Discovery Princess Dining Rooms
Before embarkation day, I tried to make dinner reservations through the app. However, some nights weren't available, and certain evenings only offered a dining time at 8:40 pm. So, we waited to get on board to sort out the time.
Since I cruise with food allergies, I alerted Princess Cruises through my travel agent and got in touch with a restaurant manager the first night.
We ate all our dinners in the Juneau Restaurant except for a few nights when we tried specialty dining. However, I have included the menus for our seven-night cruise.
We tried the Skagway Restaurant for breakfast and lunch one day and found the service incredibly slow. The breakfast choices were limited as if Princess encouraged guests to go to the buffet instead. And so we did!
Day One
While the menus still included the classic favorites, we noticed that Princess had removed the steak. Since first nights can be hit or miss, the initial menu didn't wow us.
Brian and I chose all our items from the classics. We started with the Princess shrimp cocktail, and Brian also tried one of his favorites, the French onion soup.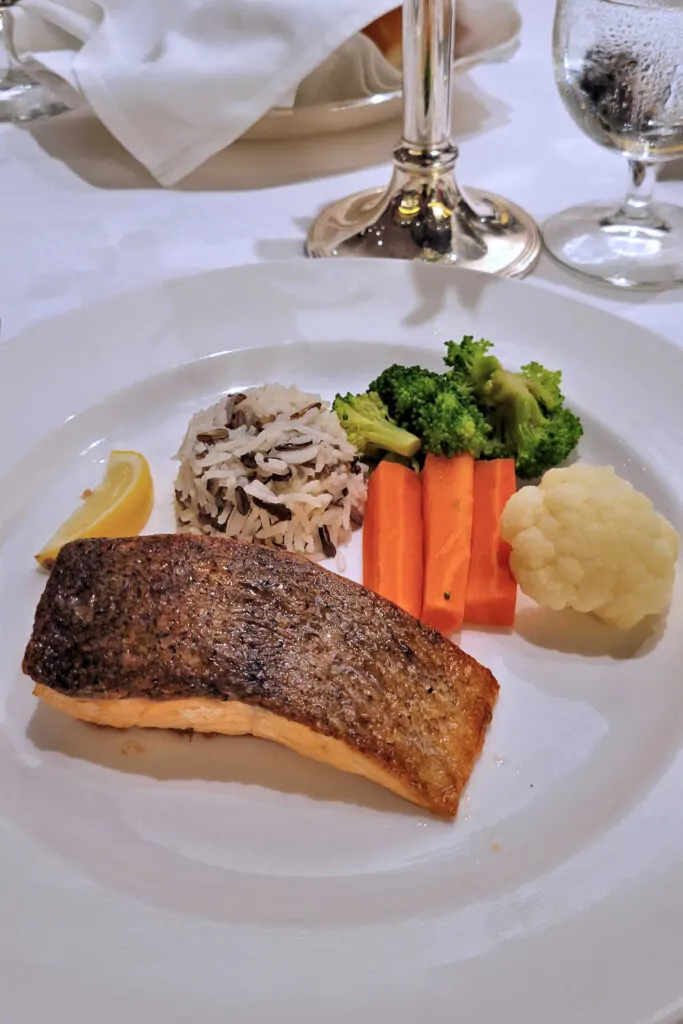 We had the seared salmon with wild rice, which was good. The star of the night was Brian's Princess Love Boat Dream which tasted as good as it looked. It had a lightweight mousse filling that wasn't too sweet.
The pastry chef made me Bananas Foster Flambe to adhere to my food allergies. While it tasted good, it didn't have the presentation impact of the "Dream" dessert.
Day Two
Day two, a sea day, was the first of two formal nights. Of my three courses, the big hit was the White Rum Tapioca Fruit Salad. It was refreshing and not overly sweet. I could have eaten it every night of my cruise. I later had dining on the Crown Princess, but it lacked the presentation.
My entrée consisted of my favorite leg of lamb. Unfortunately, it was so tough that I barely touched it. The pastry chef made me a pear and chocolate mousse. This was also a miss since it was very grainy.
Brian's fared much better with a Medallion of Beef Tenderloin, which he remarked was very good. His dessert of Wild Berry Cobbler was equally as delicious.
Day Three
It took until day three to be assigned a table with a consistent waiter and manager to arrange my meals. This night, we enjoyed one of the best meals in the Juneau dining room.
Brian selected the Tropical Fruit Cup with Macadamia Nuts, followed by the Prime Rib with Rosemary Jus. Both were very good, and the beef was tender.
I chose the Mexican Salad and Grilled Seafood Bowl. Both of my choices were yummy. My entrée had lots of red snapper, salmon, shrimp, and scallops with lovely mango salsa over jasmine rice.
Day Four
We chose to eat at Sabatini's this evening, and glad we did. The three main restaurants featured an Italian night.
Day Five
The big hits in the Juneau dining room were my appetizer of Seafood Medley and Brian's repeated dessert of the Princess Love Boat Dream.
The Seafood Medley contained scallops and shrimp in a lovely vinaigrette. Brian stuck with a favorite, the Princess Shrimp Cocktail.
For entrees, Brian selected the Surf and Turf. Wanting to try something different, I picked Bacon-Wrapped Meatloaf. Brian's shrimp were good, but his beef was very tough. The meatloaf lacked flavor and needed some gravy.
There was an option to order Ice Cream Baked Alaska this night.
Day Six
Being another sea day, this was our second formal night, and lobster was on the menu. We enjoyed the Ponzu-Marinated Tofu and Lime and Salt-Cured Salmon starters, both of which were delicious.
Brian ordered the Broiled Lobster Tail. Since the manager knew he liked lobster, he brought a second one for Brian.
Since many cruise lines are starting to charge a fee for second or third lobsters, we were happy the additional one was complimentary.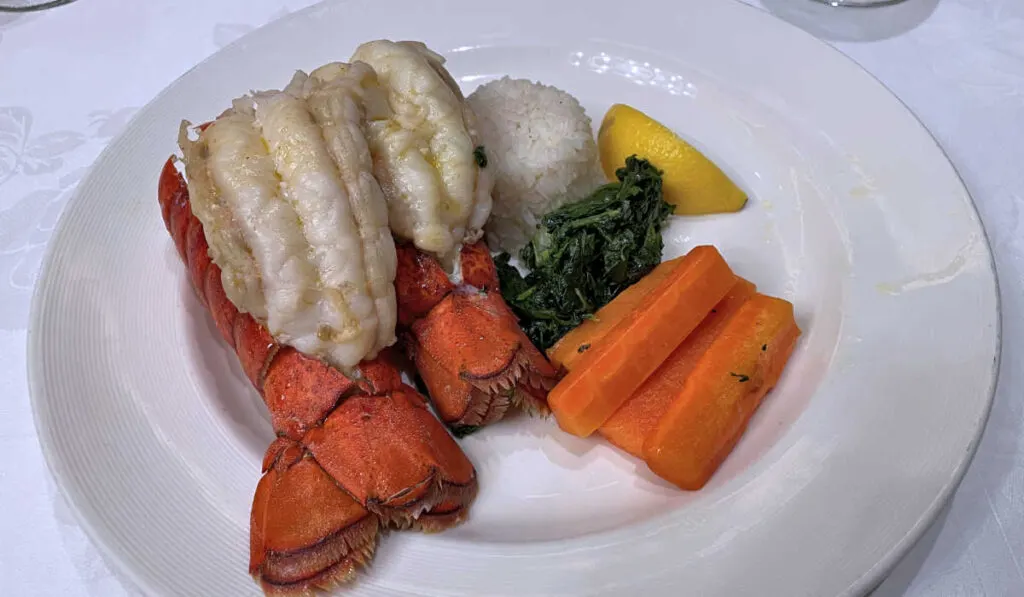 I couldn't decide between the Pork Loin or the Beef Wellington. I ultimately chose the beef, but the manager brought both. It's good that he did because the beef was tough, but the pork was excellent.
The pinnacle of the meal was the dessert, the Chocolate Pistachio Dome. A work of art in looks, and Brian said it tasted even better!
Day Seven
We wanted to try another specialty restaurant. Since we had eaten in the Crown Grill on the Majestic, we decided to eat in the Bistro Sur La Mer this time.
We booked the earliest time at 5:30 pm, so we could get a table by the window to watch the sunset. Unfortunately, the golden hour didn't happen due to cloudy skies. You can read our full review of the French Bistro experience below.
The menu in the main dining room was uninspiring, with a leek tart, two fish dishes, fried chicken, pork tenderloin, and chili.
Fried chicken and fries and beef chili seemed a step down from the gourmet meals I had experienced on previous Princess Cruises.
For the last five nights on the cruise, I was disappointed that the pastry chef gave me the same dessert every night. The gluten-free cake was dry, but they tried to spruce it up with different frostings.
Discovery Princess Specialty Restaurants
We wanted to eat at some of the specialty restaurants and chose Sabatini's and Bistro Sur La Mer.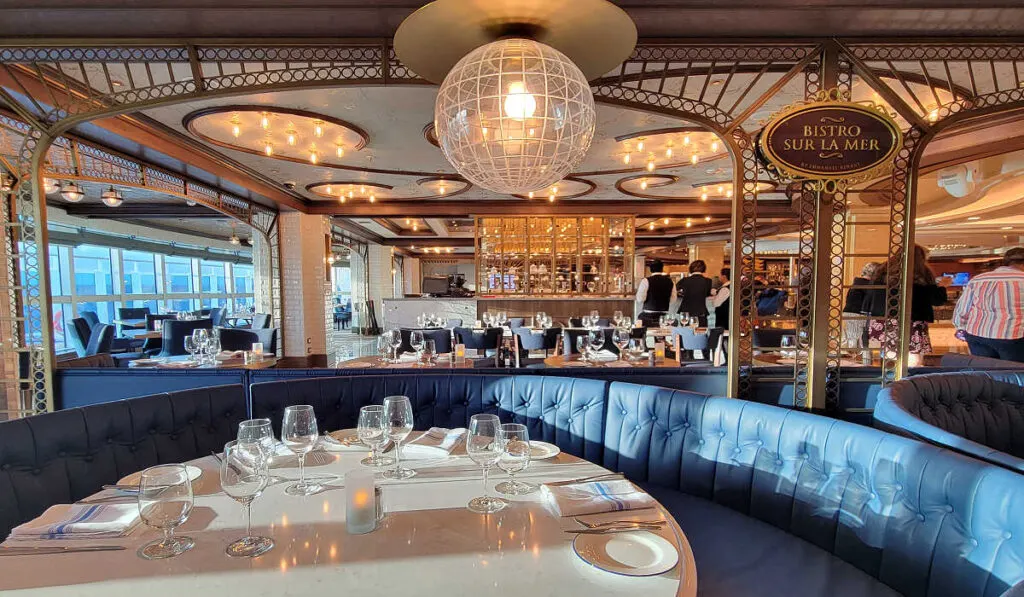 We had previously tried the Crown Grill steakhouse on the Majestic. Speaking to guests onboard the Discovery, they stated the food was excellent in the steakhouse.
Princess Cruises' specialty restaurants are very reasonably priced compared to the competition. The Crown Grill Premium Seafood and Steakhouse and Bistro Sur La Mer have a cover charge of USD 29.
Sabatini's Italian Trattoria charges each guest USD 25. Sabatini's provides an intimate setting on deck 5 across from guest services.
The French Restaurant is located on deck 7, next to the Piazza. It wasn't enclosed, so the loud music from the atrium echoed across the tables, and passengers walked through as guests tried to dine.
The Crown Grill
While we didn't dine at the Crown Grill this time, I have included the menu. Being a steakhouse, it offers an excellent selection of cuts, as well as beef, veal, and lamb chops. The salt menu is terrific and a great addition to the meal.
Sabatini's Italian Trattoria
Being celiac and lactose-intolerant, I stepped out of my comfort zone by dining in a restaurant with pasta and cream sauces. However, the manager assured me that my allergens were not a problem.
In the end, dining at Sabatini's was the highlight of our food journey on the Discovery Princess. I was dining with my husband, Brian, and we ordered different food to compare the selections.
The menu contains five courses, and each additional entrée costs USD 10. You can choose one item from the Antipasti, Salads and Soups, Pasta, Second Piatta, and Desserts sections.
I started the Apple and Pear Salad, which had a fantastic vinaigrette dressing. For my entrée, I chose the manager's choice of Lemon and Rosemary Chicken Scaloppine. The thinly sliced cutlet was complimented with a nice wine sauce.
The manager suggested they add a pasta dish on the side for me to try. Her choice was the Porcini Mushroom Risotto. Wow, while I'm not a huge pasta fan, the Mushroom Risotto had the perfect blend of flavors and seasoning.
Brian started with the Veal Appetizer, which was nicely presented and tasted great. He tried the Lobster Tortelloni (made with spiral pasta) and Lasagna Bolognese al Forno for entrees. He remarked that both had amazing flavors.
Even though we had no room for dessert, the waitress recommended we try the Specialita dello Chef, a mini collection of four desserts. They consisted of Chocolate Journeys Rocher, Vanilla Panna Cotta, Tiramisu, and Zabaglione Marsala.
Each mini portion came in small pots, and each one was delicious. However, Brian and the guests at the neighboring tables all agreed the Panna Cotta was the best.
Sabatini's Italian Trattoria menu
Bistro Sur La Mer
I don't know what the designer thought when they put this specialty restaurant next to the Piazza without any walls. During our meal, the serene music was often drowned out by the loud music echoing through the Piazza.
Furthermore, those closest to the Piazza had a steady stream of foot traffic going by their tables. By having an early reservation, we were thankful to get a table by the window.
We had the earliest reservation at 5:30 pm when the specialty restaurant opened so we could make the show at 7:30 pm.
We tried the Cromesquis d'escargot, Filet de Saumon, and Tartare de thon ahi for starters. The hand-cut tuna was good and had a nice kick to it. While all the starters were good, the wait for our entrees took forever.
Ninety minutes after being seated, we waved over our waitress and requested they speed up the service. Eventually, dinner arrived, and some portions were just a little bigger than the appetizers.
We tried the St. Jacques roties (jumbo scallops), Le fish and chips de la Mer, and Filet de boeuf poelé. The scallops were good, but the portion was tiny, and the fish and chips were disappointing. The Filet of Beef was also small and came with 3 to 4 wedge fries.
Not wanting to wait another hour for the next serving, Brian ordered his dessert when our entrees arrived. With the waitress's recommendation, he tried the Ile flottante aux agrumes, Crème anglaise, which he remarked was nice.
At the end of our meal, we were disappointed with Bistro Sur La Mer for its noisy atmosphere and snail's pace service.
The World Fresh Marketplace
The onboard buffet was extensive, and it needed to be due to the crowds of people it attracted. At breakfast, it had all the usuals, including an omelet station.
We ate almost all breakfasts and lunches in the buffet, and I found the selection quite good. Although getting a place to sit was often difficult.
In the evenings, the World Fresh Marketplace has themed dinners. While I wished we could have tried one or two, it was safer for me to have custom-made meals due to food allergies.
| | |
| --- | --- |
| Day One – Los Angeles | Bavarian dinner |
| Day Two – at sea | Brazilian dinner |
| Day Three – Cabo San Lucas | Mexican dinner |
| Day Four – Mazatlan | Italian dinner |
| Day Five – Puerto Vallarta | Mongolian Stir Fry Noodles |
| Day Six – at sea | Indian dinner |
| Day Seven – at sea | All American Corner |
Room Service
Since we were arriving in Puerto Vallarta at 7 am, we chose to order room service for breakfast. Our arrival was delayed to 8:45 am during the cruise since three ships were in port, and we needed to dock last as the largest vessel.
We had booked an excursion to Marietta's Island with a meeting time of 8:15 am and stayed with the plan of ordering breakfast.
Princess Cruises offers a continental breakfast in your stateroom at no extra charge. The breakfast includes cereal, croissants, pastries, fruit, yogurt, and a breakfast sandwich.
While Brian prefers something more substantial before a long day in port, I was happy with fruit, orange juice, and a cup of tea.
We selected a delivery time of 7 to 7:30 am, and our food arrived a little after 7 am.
Complimentary Afternoon Tea
Guests could enjoy complimentary afternoon tea in the Skagway Dining Room between 3 and 4 pm. Since I was traveling with my mum, who lives in England, we decided to try the impromptu tea one day.
Like the Majestic, the Discovery offered no tea selection, just one brewed tea. The service could have been faster, and the staff serviced some guests at our table but skipped others.
I was happy to get two egg and tuna sandwiches that were both gluten and lactose-free.
The sandwiches and treats looked nice. No one at the table commented on them, so the taste must have been satisfactory.
Ordering Food With The Medallion
While you can order food and drink with the Medallion, we didn't utilize that service on this cruise. With meals flowing from one to another, we were never hungry.
After we tried ordering through the Medallion on the Majestic, it took almost an hour for food to arrive, so we were happy to walk to get what we needed and work off the extra calories.
Final Thoughts
While it had been ten months since we sailed a sister ship, the cutbacks in food were quite noticeable. There were few beef choices and virtually no lamb.
Instead, entrees consisted of a lot more pasta, cheaper cuts of meat, and dishes with fillers. Since Princess prides itself on the Chocolate Journeys, it was no surprise that some of the desserts looked and tasted fantastic.
We noticed the cutbacks in staffing too. Usually, a server and assistant waiter would serve us. However, we had no assistant waitperson for our 7-day cruise.
After the pandemic, we understand that cruise lines need to cut back in some areas to recover losses. It didn't affect our overall experience onboard, and we enjoyed our time on the Discovery Princess.