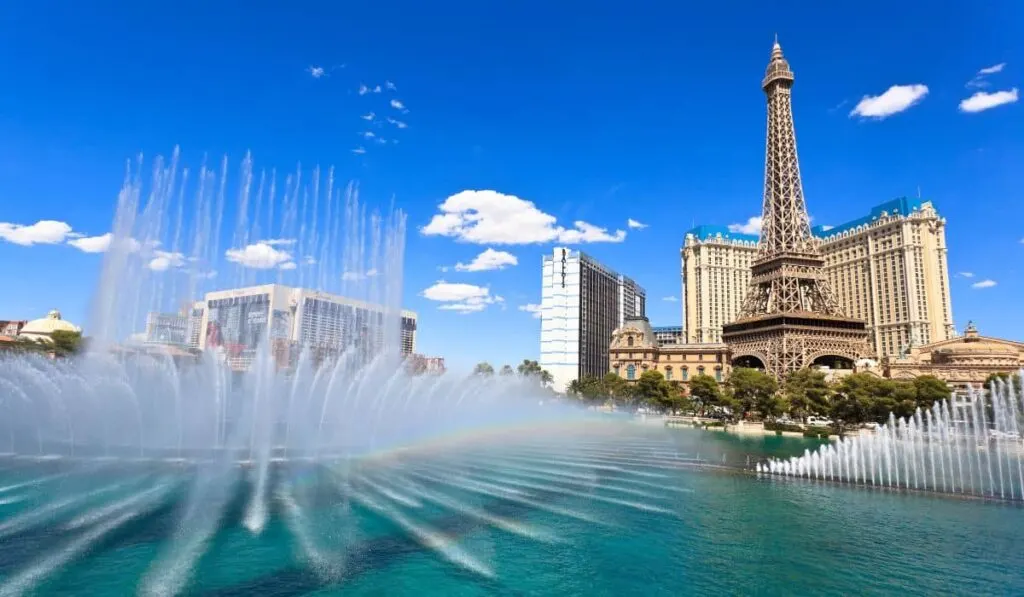 Are you planning a couples Las Vegas trip and looking for the best things to do with your loved one? Don't worry; this article will teach you about fun activities and romantic ways to enjoy Las Vegas.
While most know Las Vegas for gambling and nightlife, not everyone who goes there participates in "Sin City's" activities. Some go for the experience, tour the lavish hotels, see shows, or attend a convention.
If you're traveling to Las Vegas as a couple, you can try the adventure into a romantic getaway with these things to do or pursuits that allow bonding.
Couples' activities in downtown Las Vegas don't necessarily need to be private. There are plenty of fun activities to enjoy with your partner in the city that never sleeps.
Quick tips on traveling to Las Vegas
Top picks for hotel stays:
The Venetian Resort Las Vegas – Has old world charm and exudes romance with its gondola rides.
Paris Las Vegas – Elegant rooms with a Parisian flair. Some rooms overlooking the Bellagio fountains.
The Bellagio – With dancing fountains and the best restaurants, it provides a romantic getaway.
Caesars Palace – Has plush beds, gorgeous bathrooms and wonderful couples' treatments at its spa.
Top tours and excursions:
Grand Canyon helicopter tour – Includes the Grand Canyon, Lake Mead, and the Hoover Dam.
Hot Air Balloon ride – See Las Vegas in a hot air balloon. The tour includes complimentary champagne.
Downtown Segway tour – Experience Fremont Street, Container Park, and downtown on a Segway.
Need a rental car?
Get your inexpensive rental here.
1. FlyOver Las Vegas
If a helicopter ride or hot air ballooning isn't for you, FlyOver Las Vegas allows you to see the sites of "the Real Wild West" while keeping your feet on the ground (sort of).
The simulation ride buckles riders into seats while a film projects onto a circular screen. You'll have the feeling of flight while enjoying views of the Grand Canyon, Golden Gate Bridge, and the Las Vegas Strip.
I've done both FlyOver Iceland and FlyOver Canada, a must-see in Vancouver. While the immersive ride lasts just 9 minutes, the mist, wind, and scents will make you feel like you're traveling around the wild west and back.
For those who don't want to break the bank by flying over the Grand Canyon or taking a hot air balloon ride, FlyOver Las Vegas is for you.
2. Have Breakfast Under The Eiffel Tower
There's nothing more romantic than breakfast under the Eiffel Tower. Mon Ami Gabi makes that possible with its quaint Parisian-style restaurant in the Paris Hotel.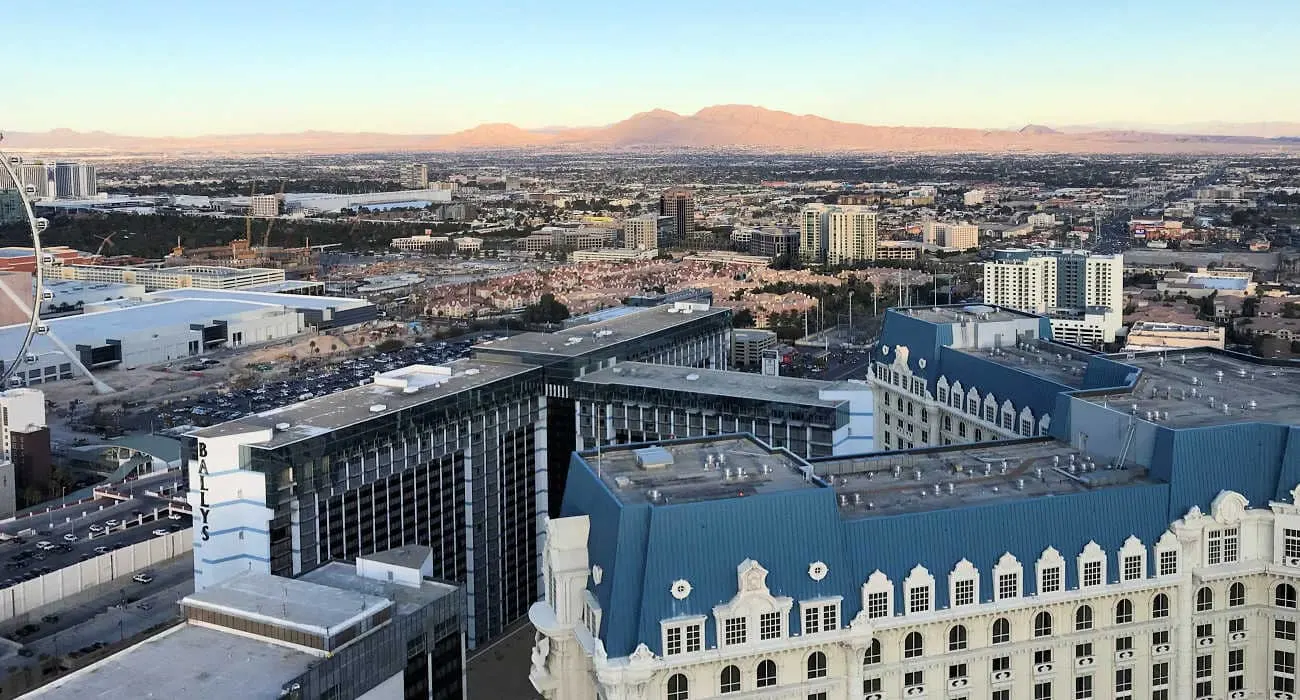 The Paris restaurant has an outdoor patio, so diners can enjoy the Bellagio fountains while enjoying a mixed berry waffle or spinach and goat cheese omelet. The best part of fine dining at Mon Ami Gabi is that it's a great Vegas gluten-free restaurant (a must for celiacs).
The Parisian restaurant offers a fantastic brunch consisting of a smoked salmon platter, corned beef hash, and more on weekends. Complete your meal with a breakfast cocktail for a kickstart to your day.
Alternatively, you can enjoy a romantic dinner at the Eiffel Tower Restaurant. Located on the 11th floor, it offers delicious French cuisine with stunning views of the fountains.
If you want to take your tasty experience home with you, consider picking up The Eiffel Tower Restaurant Cookbook.
3. Enjoy A Red Rock Canyon Hike
If you have a vehicle, enjoy some couples' time away from the Vegas Strip by driving to Red Rock Canyon in the Nevada desert. It takes 30 minutes to reach the conservation area and a USD 15 fee to enter.
While the Red Rock Canyon features a desert landscape viewable on a scenic 30-minute drive, stop by the visitors' center first. The informational complex features an indoor and outdoor exhibit with desert vegetation, a tortoise habitat, and boards on local wildlife.
The outdoor viewing platform gives an excellent vantage for desert photography. To enjoy the canyon, take the scenic drive and enjoy one of its many desert hikes.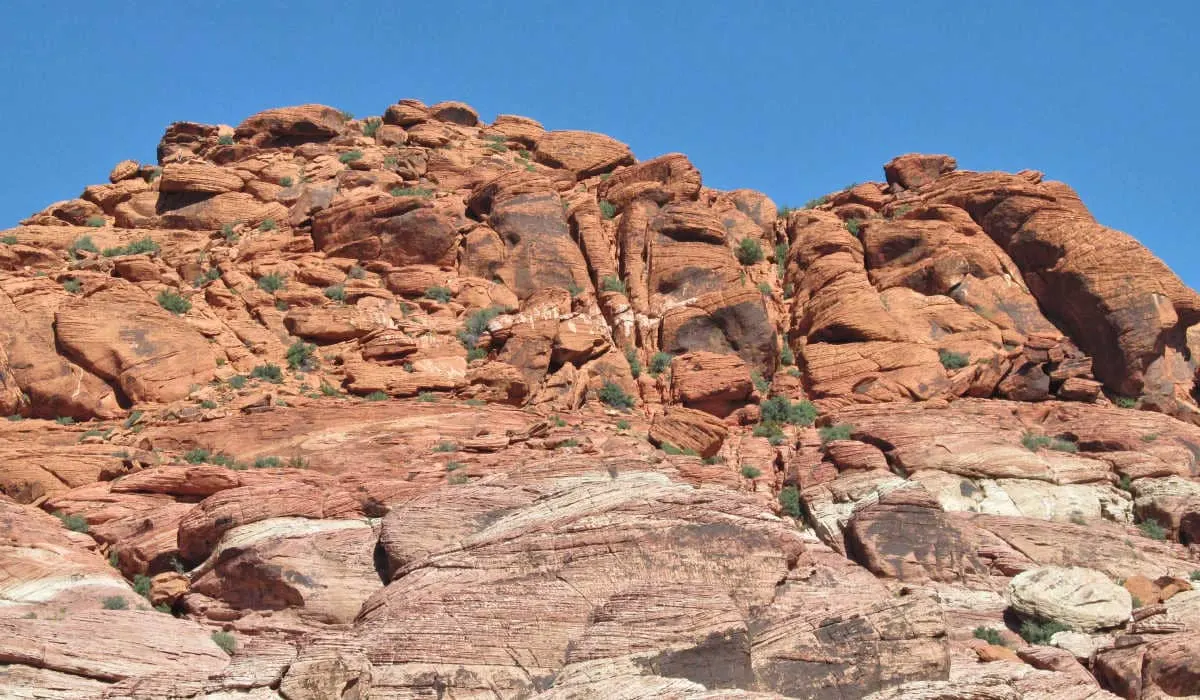 But before you go, be aware that desert conditions are harsh. It's not unusual for temperatures in Nevada to reach above 95 F. The best time to go is early in the day. Also, be sure to carry plenty of water and wear sunscreen.
Of course, the reason to visit Red Rock Canyon is to see its stunning scenery. The picturesque red tones and colored rock formations never disappoint, and the USD 15 fee makes it a great inexpensive activity in Vegas.
But before you go, be aware that desert conditions are harsh. It's not unusual for temperatures in Nevada to reach above 95 F. The best time to go is early in the day. Also, be sure to carry plenty of water and wear sunscreen.
4. See Vegas From A Hot Air Balloon
Don't waste your money gambling. Instead, enjoy the Vegas sunrise on a hot air balloon tour. This bucket list Vegas experience is for couples and anyone with a sense of adventure.
The hot air balloon ride takes up to one hour (depending on the wind), and once you've landed, you can toast your experience with complimentary champagne. It's a great way to enjoy the Nevada landscape at a slower pace.
You can reserve a private hot air balloon trip to celebrate a special event. Since the balloons fly over the Pahrump Valley, you can combine your balloon trip with wine tasting at nearby wineries.
While getting up before the birds may not be for everyone, once you take to the skies and enjoy the spectacular Nevada views, you'll forget what time it is. With pick-up and drop-off in Las Vegas, you can sleep on the ride back to the hotel.
5. Attach A Love Lock At The Eiffel Tower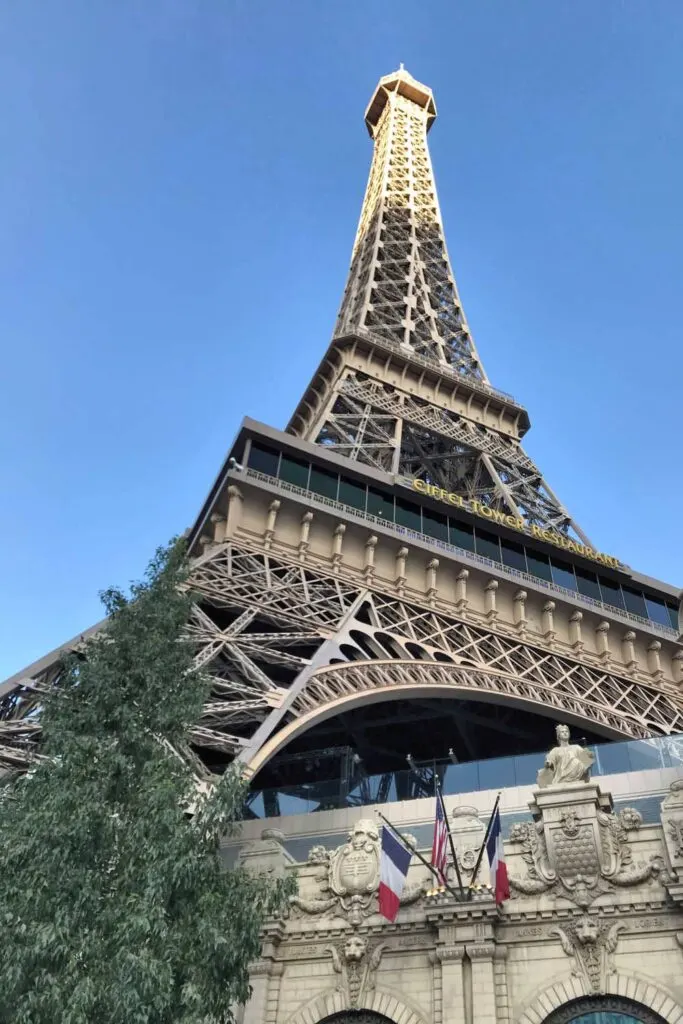 Who needs an expensive trip to Paris to declare their love? Las Vegas Paris Hotel features a miniature version of the iconic Eiffel Tower. Enjoying the views from the top transports you to Paris without the expensive airline ticket.
It's one of the most romantic activities in Vegas. But, before the exhilarating ride in a glass elevator, you can attach a love lock to their simulated bridge.
Then ascend the tower to enjoy spectacular 360 degrees views above the Las Vegas strip. Your ticket has no time limit, so enjoy the views from the 460-foot-high observation deck for as long as you want.
Visitors can enjoy Bellagio's water fountain ballet across the street from the half-scale Paris replica. The fountain show operates every 15 minutes so that you can enjoy the aerial views without the sidewalk crowds.
The Eiffel Tower offers the perfect recipe for a couples' date night or an ideal spot for a proposal.
Plan to ascend the tower before sunset. Then you'll enjoy the views during daylight and as the sun goes down. After your ride, cross the street and watch the Eiffel Tower light show.
Every 30 minutes, from sunset to midnight, the tower features an illuminated choreographed light show in red, blue, green, and white tones. While the show doesn't quite rival Bellagio's fountain, visiting Sin City's version of the Eiffel Tower still provides unforgettable memories.
6. Tour A Chocolate Factory
M&M's World, Hersey's Chocolate World, and Ghirardelli's are great places to shop for chocolate treats.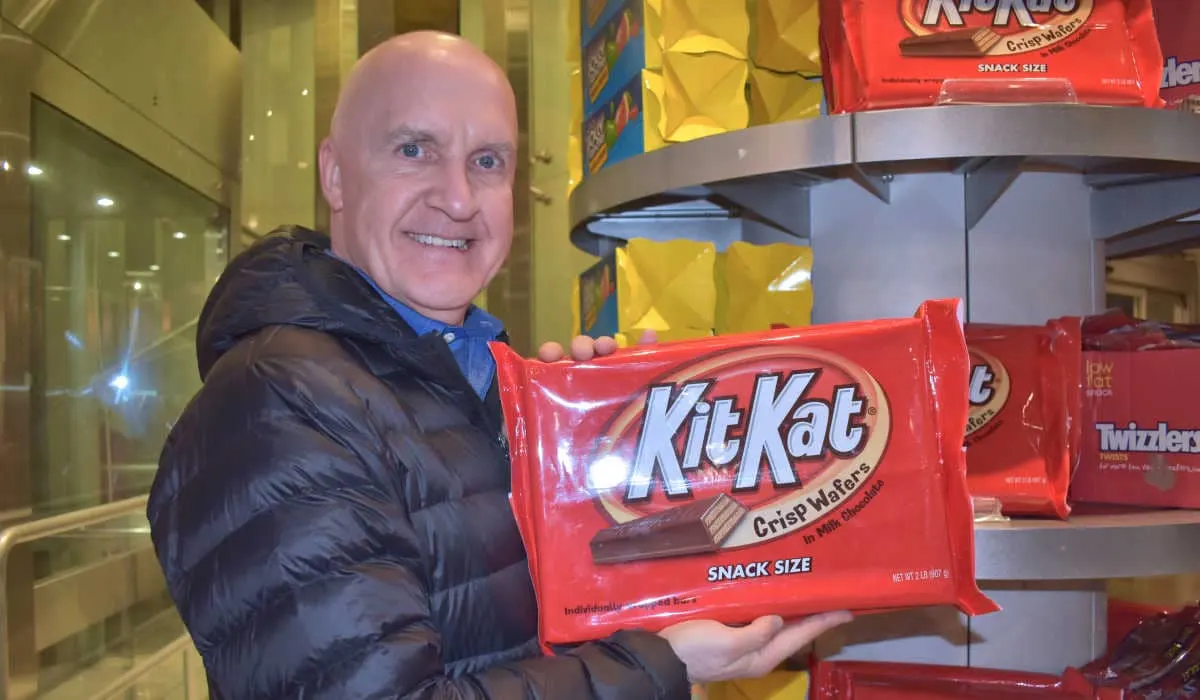 However, for an unforgettable experience, take a chocolate tour at Ethel M Chocolate Factory.
Located at 2 Cactus Garden Dr., a 15-minute drive from the strip, the Vegas factory allows visitors to take a self-guided tour or schedule a wine and chocolate tour.
Because the factory is further from the strip, it's rarely busy. After tasting chocolates (which were delicious), venture outside to stroll their cactus garden.
If visitors find the factory too far from their hotel, Ethel M Chocolate has retail stores at the airport, Town Square Mall, and California Hotel & Casino.
7. Visit The Neon Museum
Since I'm not a gambler or a drinker, I need to get off the strip and do something out of the ordinary. The Neon Museum was the perfect diversion. Located away from the strip, the secluded location is ideal for a neon boneyard.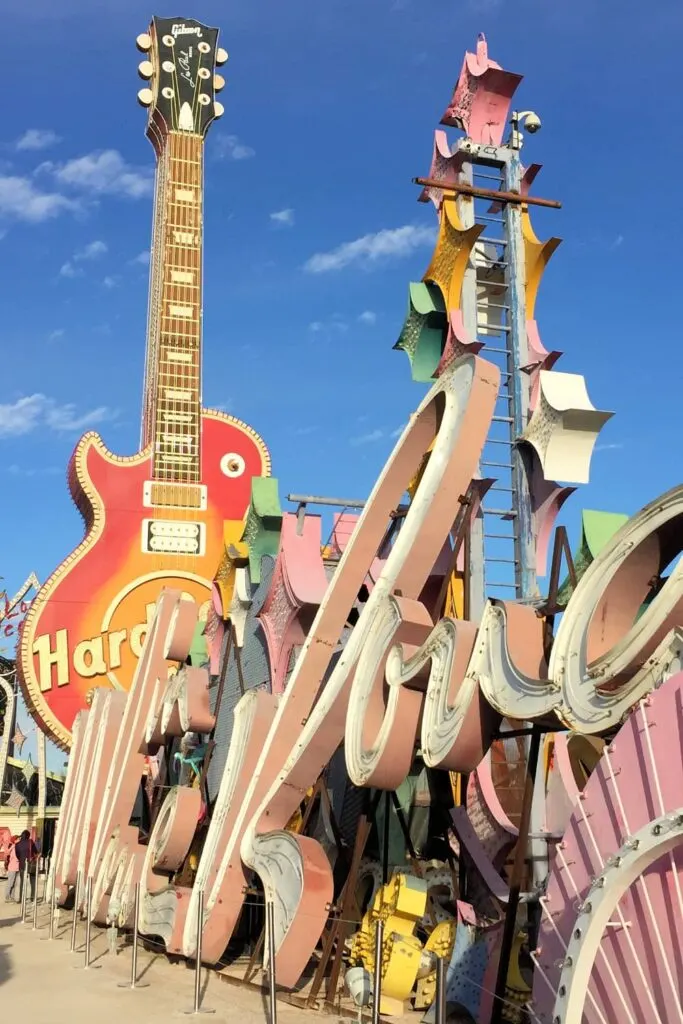 Are you intrigued by what happens to all the old neon signs? They get a second life at the Neon Museum.
Run by a non-profit organization, they aim to preserve retired neon signs' lives in an outdoor art gallery of sorts. Browsing the signs, I was amazed at the different artistic styles and how signage has evolved through the years.
With over 200 unrestored neon signs to see (some recognizable, some not), it's a photographer's dream. Be warned, though. The Neon Museum doesn't allow DSLR cameras, tripods, or backpacks.
While the outdoor museum is small and takes little time to walk through, go around several times. I was surprised at what I noticed the second time around.
My husband and I visited while the Neon Museum hosted a Tim Burton Exhibition. I'm a big fan of Tim Burton's work, and it was fun to spot his quirky pieces amongst the other neon signs.
At night, the Neon Museum comes alive as some signs light up in all their glory, giving visitors a different aspect of the neon boneyard.
8. Enjoy A Dinner Cruise At Lake Mead
Minutes from the Vegas strip, Lake Mead offers a chance to enjoy the Hoover Dam from the water. The paddle steamer cruise is narrated so visitors can enjoy the views while learning the area's history.
The daytime boat ride allows guests to purchase sandwiches, snacks, and drinks during their 90-minute tour. They also offer a Sunday brunch cruise if you're visiting on the weekend.
For a touch of romance, couples may enjoy a sunset dinner cruise. The two-hour cruise offers a choice of entrees for your three-course dinner. Choose from garlic and herb chicken, lemon pepper salmon, prime rib, or cavatappi pasta.
Whatever your selection, you'll enjoy a romantic dinner under the twinkling night sky.
9. Admire The Views From The High Roller
An alternative to the Eiffel Tower, the Linq High Roller offers spectacular views of Las Vegas at a slower pace. Before your ride, you can purchase a drink to savor during your 30-minute ride on the High Roller observation wheel.
If you're lucky and it's not busy, you'll enjoy the views in a pod to yourself. They offer daylight and nighttime rides, but couples may prefer sunset views. At dusk, you can watch the strip begin to light up on your romantic ride.
The Las Vegas observation wheel's pods have overhead monitors displaying your height throughout the ride. The introduction includes the history of the High Roller, and it was the highest Ferris wheel globally at the time of construction.
Halfway through your ride, the pods reach 550 feet (167.7 M), a massive 107 feet taller (32.6 M) than the London Eye.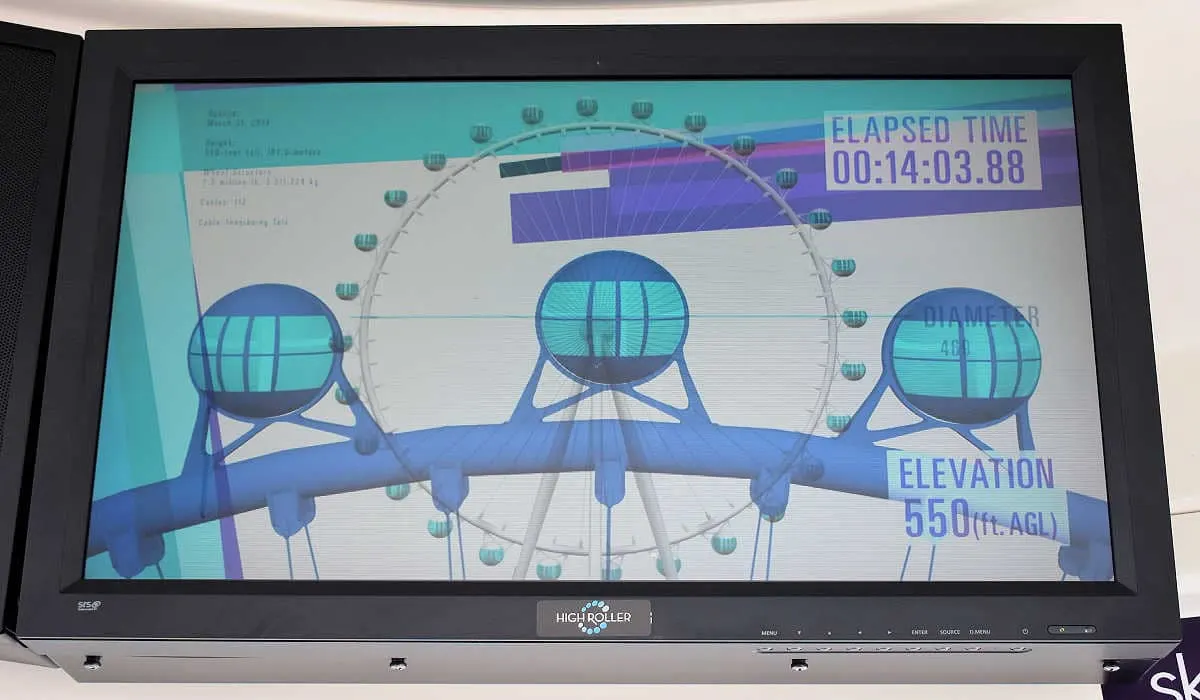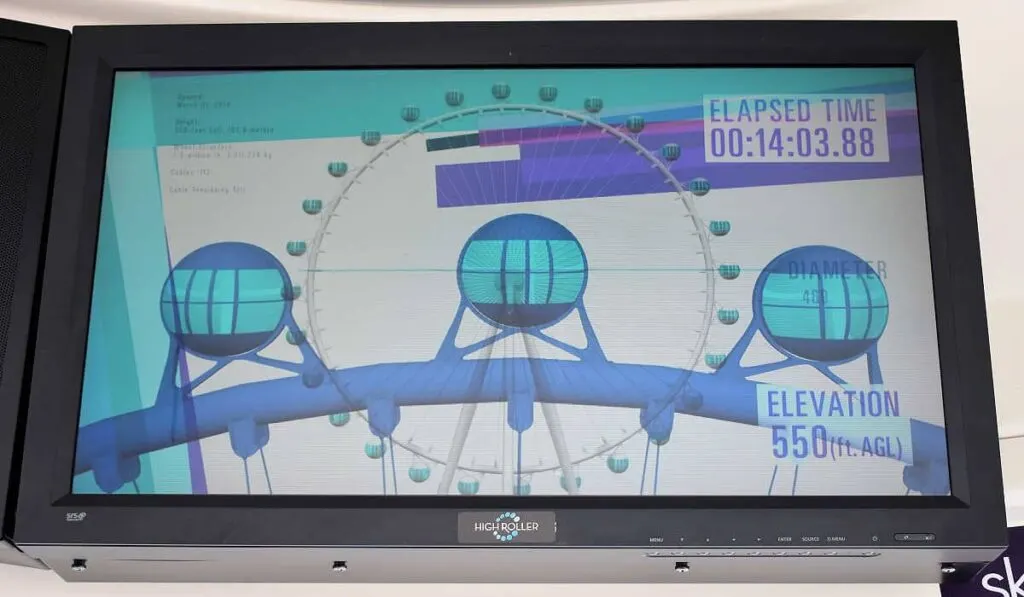 However, Dubai's observation wheel, Ain Dubai, is now the tallest at a colossal height of 250 meters.
10. Take A Segway Tour
Let's face it; it can get pretty hot in Vegas, so there's no better way to see the sites than on a Segway. Segways are easy to maneuver and cover the ground much faster, allowing you to see more of downtown Las Vegas.
Stops may include the Container Park, Pawn Stars, and the art district, all while learning the history of Vegas. Choose from one or two-hour day tours, or opt for a 90-minute night excursion.
If you've never ridden a Segway before, try it. Riding is a blast, and you'll stop for pictures along the way. Alternatively, attach a GoPro to your helmet to make a memorable video.
11. Swoon On The Venetian's Gondola Ride
If zip lining is a bit too wild for your taste, nothing says romance like a gondola ride in Venice. While Venice, Italy is almost 6,000 miles away, couples can enjoy a similar experience at the Venetian Hotel.
The Venetian resort has an outdoor canal and an indoor waterway that meanders around the Grand Canal Shoppes.
We chose the indoor ride, which went over a few bridges and past cafes, making it feel like Venice. The ride lasts 10-13 minutes and costs USD 29 per person with up to 4 people sharing or USD 116 for a private gondola for two.
Our singing gondolier was terrific, and sang several songs during the ride. My husband, Brian, who has a good voice, sang "O sole Mio" with our gondolier, making the ride that much more special.
Complete your romantic gondola ride by purchasing souvenir photos as a reminder of your "moment in Venice" without going to Italy.
12. Enjoy A Show
Travelers know Las Vegas for its gambling, nightlife, and shows. Enjoy one of the many renowned shows only seen in Sin City for a couples' night out. Who can go wrong with the Cirque du Soleil show called Beatle's Love?
Beatles Love wows its audience with popular songs like Twist & Shout, Yesterday, and Octopus's Garden with daily shows at The Mirage Hotel.
The 90-minute show features graceful aerialists, aquatic animals, and acrobatic skaters, all performing to the famous Beatles lyrics.
Las Vegas offers numerous Cirque du Soleil shows, including Michael Jackson One. So, you can pick the production that appeals to you.
13. Helicopter Over The Grand Canyon
The Grand Canyon, a highly-rated National Park, wows its six million annual visitors with its jaw-dropping landscape. But instead of driving to the Grand Canyon, enjoy a unique perspective by seeing it from the skies.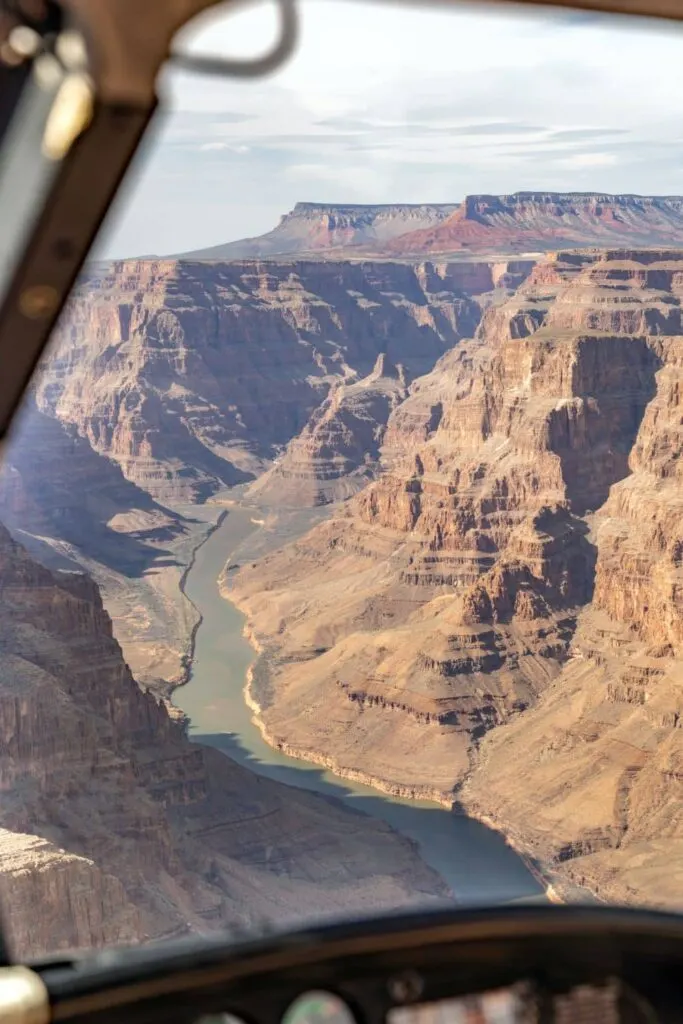 A helicopter excursion over the Grand Canyon delivers a romantic couple's escape from the Las Vegas strip. In fact, it's a popular tour for a marriage proposal.
Some helicopter tours offer landings in the Grand Canyon with a champagne toast. While this once-in-a-lifetime tour comes at a high price, you'll have special memories you'll treasure forever.
14. Zip Line Over Fremont Street
Couples with an adventurous spirit should head to Fremont Street in the old Vegas neighborhood. The Fremont Street Experience includes live music and street entertainers located between Sahara Avenue and Main Street.
However, adventurous visitors can fly overhead on the SlotZilla zip lines. Adventurers start the ride from an 11-story high slot machines, which is SO Las Vegas!
Choose from the less thrilling seated zip line at USD 39 or take to the air in a superhero position for USD 59. With multiple lines, visitors can participate in this Vegas activity by riding side by side with their partners.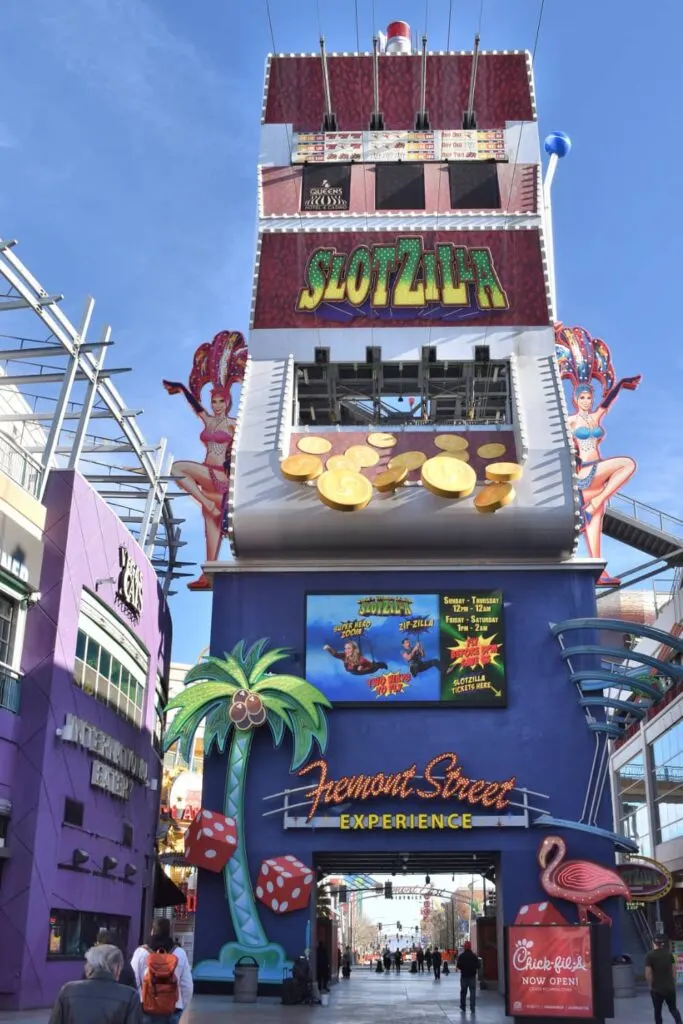 The seated ride runs 77 feet above the ground and travels 850 feet. The prone position "Zoomline" starts at 114 feet high, hits speeds of 35 miles an hour, and completes a longer run of 1750 feet.
15. Go To The Spa
While Sin City has a lot of spas, some offer couples' packages. The Costa del Sur Spa & Saloninside the South Point Hotel Casino Resort offers tandem massages and a Private Party package that combines a massage with detoxifying mud and a private steam room.
Alternatively, the "Honey Do's" allows couples to use a honey scrub, a private hot tub, and a couples massage.
The ultimate luxury couples experience is the Chardonnay Infused Treatment. Almost two hours long, the treatment starts with a pomegranate bath.
After a side-by-side massage with Chardonnay butter and oils, your bodies are wrapped to infuse the oils while you both enjoy a scalp massage.
A Touch of Las Vegas Spa also offers four different couples' massages that last 2- 2-1/2 hours.
The Spa at the Linq upgraded couples' massage includes a bottle of bubbly and souvenir champagne flutes. You can also enjoy couples' treatments at Mandalay Bay.
16. Watch The Light Show At Fremont Street
A trip to Fremont Street allows you to see the old part of Las Vegas. The Fremont Street Experience is a lively pedestrian mall that offers a variety of entertainment options.
One of its main attractions is the Viva Vision, a massive curved screen that stretches 1375 feet long and displays stunning visuals. You can enjoy the screen's impressive display at any time, but from 6 pm onwards, the screen features 6-7 minute shows every hour until 2 am.
If you love technology and graphic visuals, this is the place to enjoy yourself with your partner. So, grab a drink and be mesmerized by the images above.
These shows feature famous artists such as Shakira, Imagine Dragons, and MIXology, making the Fremont Street Experience a must-visit destination for anyone looking for a fun night out in Vegas.
17. Take A Helicopter Ride Over The Strip
Helicopter are all the rage. They offer a different perspective or a destination and fun way to see the sights. While you can take a day trip over the Strip, a night tour allows you to see the city come to life.
Strip tours are popular and fairly inexpensive compared to Grand Canyon excursions. For under USD 150, you can enjoy unparalleled views from high in the sky.
While the flight only lasts twelve to fifteen minutes, you'll savor the neon illuminations of the Bellagio, Wynn Las Vegas, High Roller, and historic downtown.
18. Go Wine Tasting
Escape the hustle and bustle of the strip by going wine tasting. In Vegas, you can head to the wine-tasting room at the Rio. Rio's Wine Cellar allows you to taste wine and food at the same time.
Alternatively, you can spend a day touring wineries. Located in the heart of Nevada's Pahrump Valley, the Pahrump Valley Winery offers visitors a unique experience to taste and learn about locally grown grape cultivars.
The winery's Symphony Restaurant provides a picturesque setting to indulge in delicious food and wine pairings while enjoying breathtaking views.
Take advantage of the annual grape stomp in October, a fun and festive event for all ages.
Also in Pahrump, Sanders Winery boasts breathtaking views of the surrounding mountains. The winery's architecture is reminiscent of a Tuscan Villa from the Renaissance period, with the majestic Mount Charleston towering in the background.
The winery's expert cellaring techniques produce wines that are exceptionally smooth and easy to drink. While reservations are recommended, you can enjoy a complimentary tasting of nine samples without the hard sell to purchase any.
19. Check Out The Gardens At The Bellagio
While the Bellagio is known for its famous choreographed fountains, the interior houses another attraction. The Conservatory Botanical Gardens features a display that changes with the seasons or events.
The displays are larger than life and feature thousands of flowers. I've seen a few collections, like the beautiful autumn arrangement with colored pumpkins and an animated tree.
During my last visit in January, the hotel crew was changing the display from Christmas to Chinese New Year. The giant props filled a parking lot, and it took huge cranes to erect the displays in the interior gardens.
So, even if your visit to Las Vegas doesn't coincide with an event or holiday, stop by the Bellagio to check out their floral display inside the hotel.
20. Enjoy Horseback Riding Together
Experience the Wild West in a unique way with a horseback ride through the stunning Nevada desert. Whether you prefer a morning ride with a delicious egg and pancake breakfast or a romantic sunset barbeque adventure, you'll be in good hands with expert wranglers.
Tours include pick up and drop off at select hotels. The five-to-six-hour excursions include 90 minutes of riding time.
They will guide you through winding mountain trails and past breathtaking rock formations on your tour. As the evening sets in, gather around the fire to make smores and gaze up at the starry night sky.
No previous riding experience is necessary, making this the perfect activity for couples looking for a memorable adventure in Las Vegas.
Final Thoughts
No matter how many days you have in Vegas, there's always something new to discover and enjoy. While some are into gambling and some not so much, couples can find common ground in out-of-the-casino activities.
Las Vegas is a place of extremes; crazy over-the-top hotels, anything goes, and a destination to get married with Elvis! Or renew your vows instead.
Whether you prefer a little adrenaline excursion or something more serene, you'll get to enjoy your chosen activity together.