Since being diagnosed with Celiac disease, my challenge has not only been eating gluten-free but staying healthy when traveling. Anyone who is Celiac will relate to my situation.
Visiting anywhere new means living without my "safe" eat standbys and needing to risk unknown eateries. I always cringe when adventuring out to a new place for fear I may get sick.
Recently, I accompanied my husband on a work trip to Sin City and had to seek out some restaurants that were gluten-free in Las Vegas.
It wasn't my first time in Las Vegas. I had once combined a cruise of the Pacific Northwest with four days in Las Vegas.
So, if you suffer from Celiac or opt to follow a gluten-free diet, this article helps to narrow down your restaurant choices.
Gluten-Free In Las Vegas: Accommodation
Good gluten-free restaurants are hard to find, so sometimes I find it better to avoid eating out for some meals. So, instead of a hotel, we rented a one-bedroom Airbnb that slept six people.
The location was perfect, next to the Bellagio on the Las Vegas strip, and a great option for those on a budget.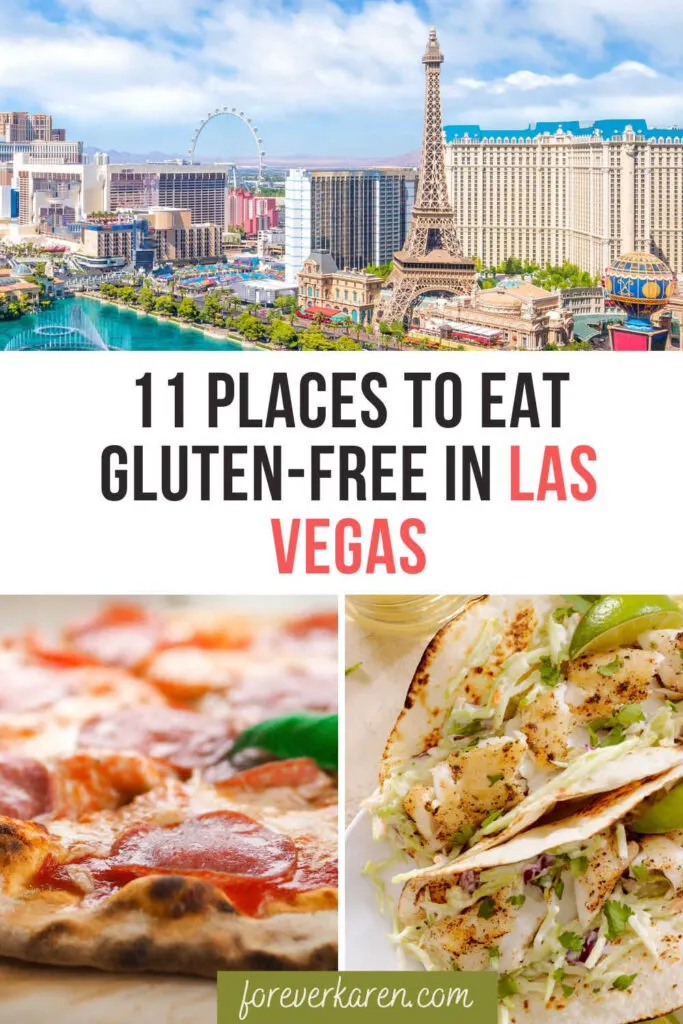 Having a full kitchen meant I could bring some of my own ingredients, make gluten-free food, and be 100% gluten-free. Instead of eating breakfast in a restaurant, I packed gluten-free cereal and rice milk (yes, I'm lactose intolerant too).
I bought fruit from Walgreens on the strip to have with breakfast. I also packed my favorite gluten-free snacks and Tim Horton's tea since I couldn't buy that in the US (and can't live without my Tim Horton's tea!)
Having a place to stay with a fridge allowed me to eat some meals at my home away from home. As a result, I was able to have healthy food and remain gluten-free in Sin City.
Gluten-Friendly Vs. Gluten-Free In Las Vegas
Being Celiac, I must eat at gluten-free, not gluten-friendly restaurants. What is the difference? Gluten-friendly means the food is prepared in the same area as gluten ingredients. This results in cross-contamination.
Some people are gluten intolerant and can consume small amounts of gluten. Some of us are not so fortunate. When ordering anything deep-fried, a dedicated fryer is required to ensure the food is 100% gluten-free.
When visiting a new city, I tend to avoid restaurants that have no gluten-free menu and call themselves gluten-friendly.
During my stay in Las Vegas, I found some excellent places to eat that took my food sensitivities seriously. Here is my list of Las Vegas restaurants offering meals without wheat.
Wicked Spoon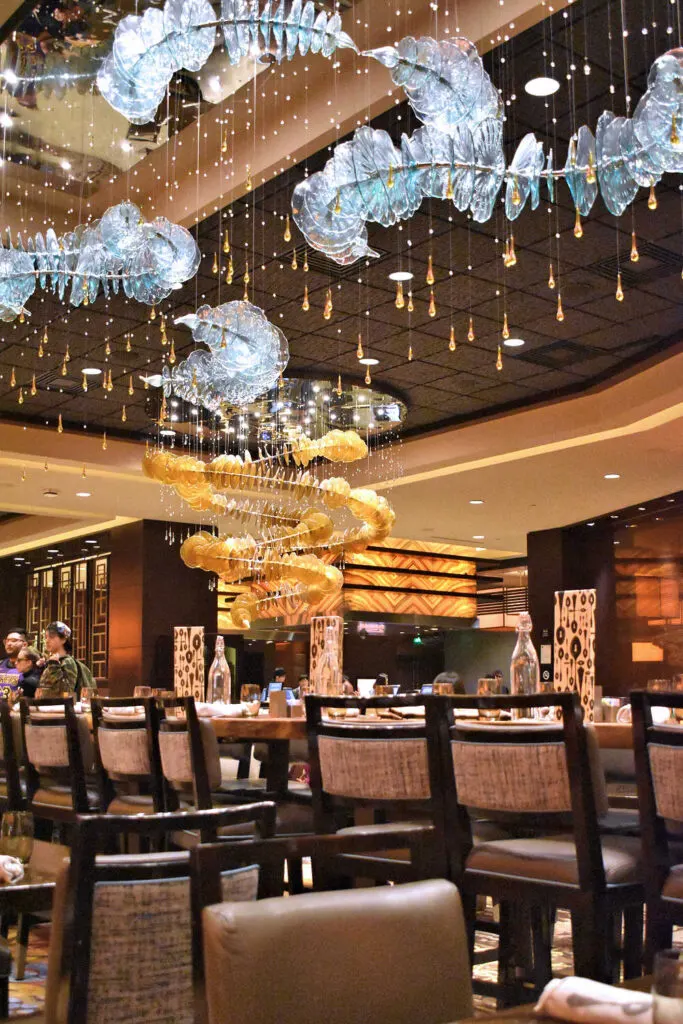 Being Celiac and also lactose-intolerant, I generally avoid buffets. However, located inside the ultra-modern Cosmopolitan Hotel, I was pleasantly surprised at the Wicked Spoon.
This gem of a restaurant offers brunch sitting and dinner sitting.
The day I arrived, I asked if I could see the buffet offering since I had multiple food allergies and wasn't sure I could eat there. To my surprise, someone asked a head chef to walk me through the entire buffet.
Chef Alex was amazing and took the time to walk me through ALL the food selections and told me what I could eat and what was "unsafe."
There were plenty of gluten-free options and an entire area of gluten-free desserts. I was impressed by the great service and selection of delicious food.
Made To Order
He also told me anything could be made fresh for me without cheese or other ingredients I couldn't eat. In fact, he suggested I request freshly prepared food to avoid cross-contamination.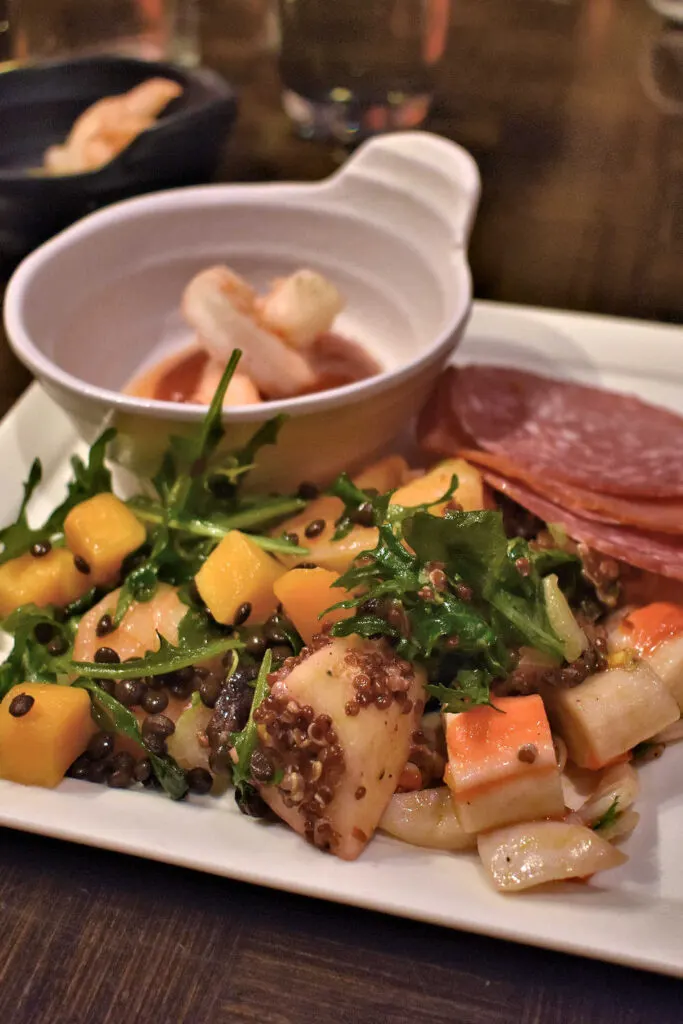 He recommended the gluten-free pizza made with a cauliflower crust with vegan cheese.
After an enjoyable tour of the buffet, I decided to give the Wicked Spoon a try. I had an early dinner at 4:30 pm, which cost USD 29, saving me the cost of dinner, which rises to USD 42 after 5 pm. Even at USD 42, it's an affordable price for Las Vegas food.
Everything I ate was flavorful and well-presented. I took Chef Alex's suggestion and ordered the gluten-free pizza. It took 20 minutes to make, but sadly, I was disappointed because the crust was too hard, and the vegan cheese was terrible.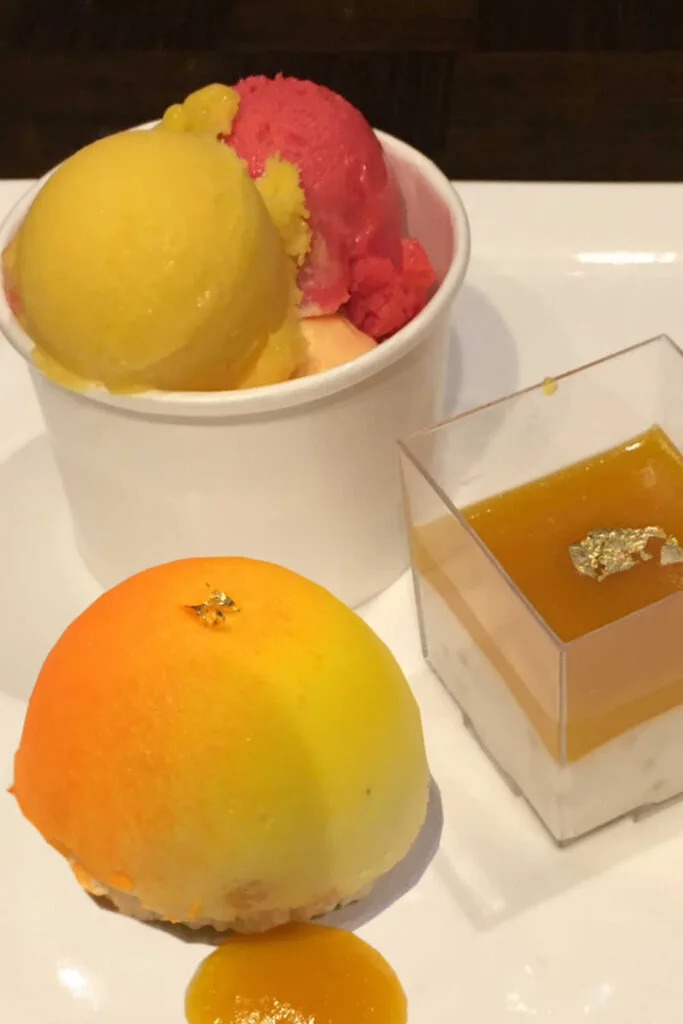 If you decide to eat at the Wicked Spoon, be sure to try the tapioca pudding, which is to die for. I would have been happy to eat just that for dinner since it was so delicious. The sorbet is freshly made and was heavenly too.
Wicked Spoon also offers a create-your-own carryout for a mere USD 20.
P.F. Chang's
I found P.F. Chang's across Las Vegas Blvd from where I was staying. I was intrigued by their extensive menu of gluten-free foods at affordable prices.
After eating at P.F. Chang's, the food was so delicious that I decided to eat there a second night. The first night I had Hokkien street noodles made with rice noodles, chicken, and shrimp in a tasty curry sauce.
The portion was a healthy size and cooked to perfection. In fact, I couldn't eat it all, so I took the leftovers back to my Airbnb for lunch the next day.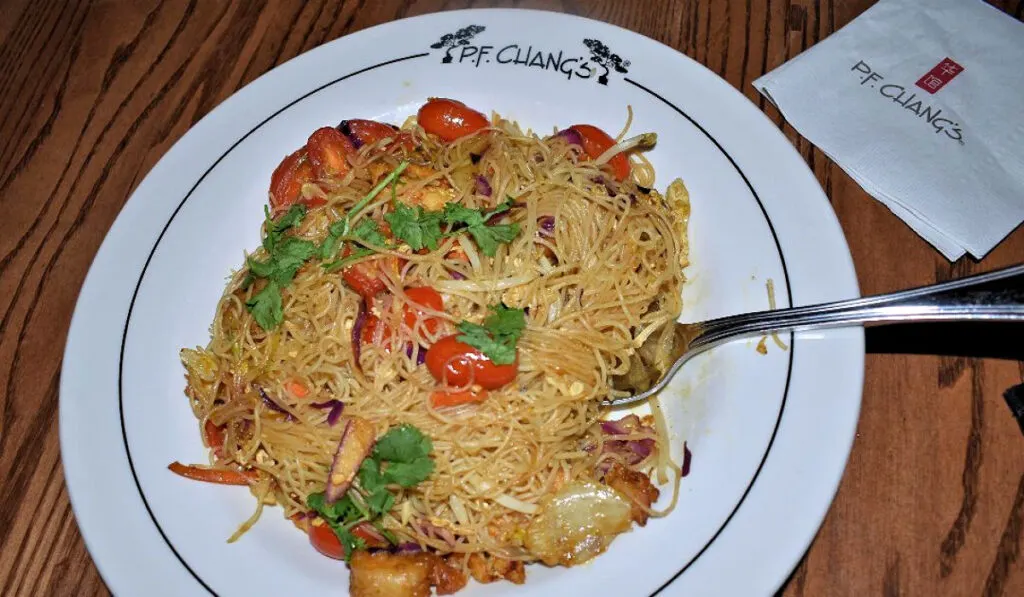 The following night, I had Beef with broccoli, which was also good but slightly too salty.
While waiting for my food, someone on the next table ordered Chang's lettuce wraps which looked absolutely amazing.
Other gluten-free options included Chang's spicy chicken, Chicken pad Thai, Ginger chicken with broccoli, and Mongolian beef.
P.F. Changs offers lots of gluten-free dishes, and most items on the menu are priced from USD 16 to USD 22, which is fantastic, considering the restaurant is on the strip.
We were seated immediately on both nights, which was great because I hate waiting a long time to sit when I'm hungry.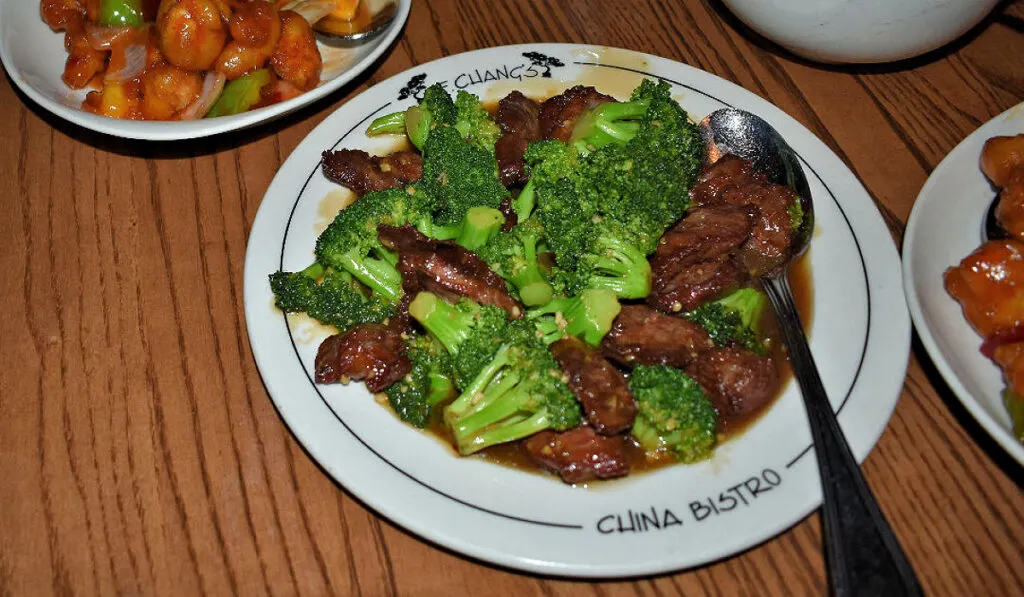 The service at P.F. Chang's was excellent, and we never had to wait long for the food after we ordered. The restaurant also offers take-out service.
I have since tried P.F. Changs in Honolulu, but its service and meals weren't quite as good. Next time I'm in Las Vegas, P.F. Chang's will be top of the list for dinner.
Mon Ami Gabi
Mon Ami Gabi offers the perfect romantic setting under the Eiffel Tower and across from the Bellagio fountains. If you can't make it to Paris, France, this might be the next best option.
While you can't make a reservation for the patio outside, it's worth a wait to get an outside table on a warm day. It's makes for a romantic outing in Vegas for couples.
Their gluten-free breakfast menu is the best in Vegas. I'll highly recommend the Blueberry French toast, which is terrific.
You can't beat the atmosphere on the patio, and it's the perfect spot to people-watch and enjoy the Bellagio fountain show while you enjoy breakfast, lunch, or dinner.
Their gluten-free entrees include signature dishes like Filet Mignon with Bordeaux butter, red wine reduction, and shallow-fry frites. All meals are served with complimentary gluten-free bread that is delicious.
Their prices are reasonable compared to other Las Vegas restaurants on the strip.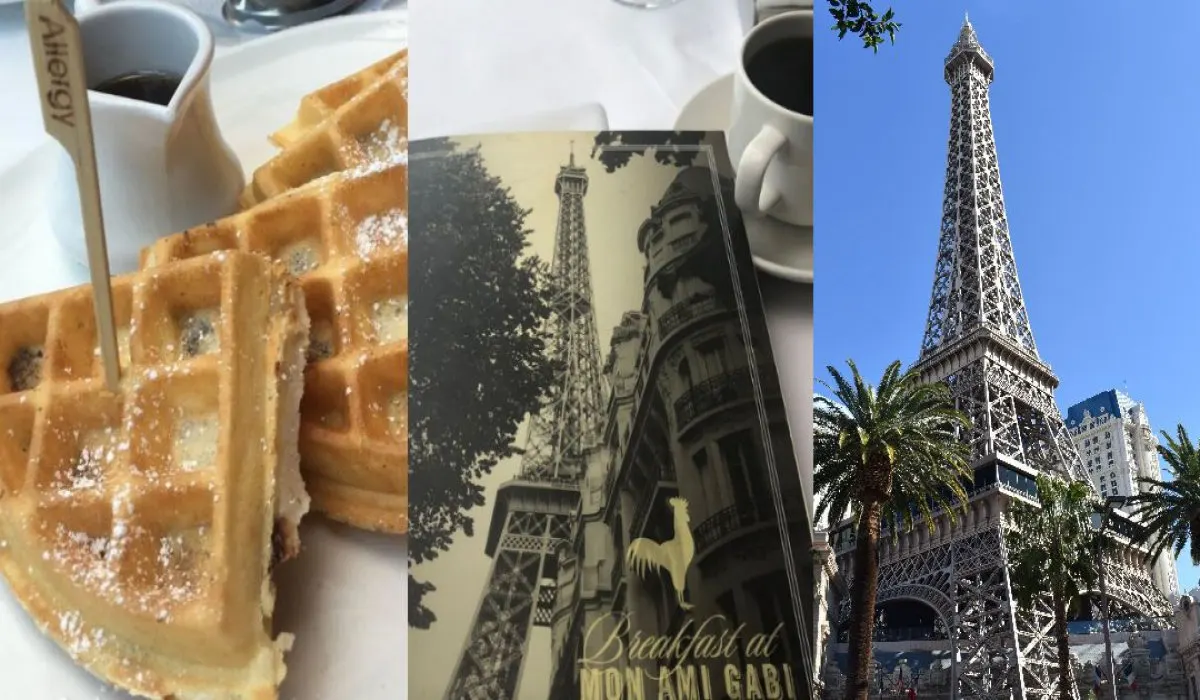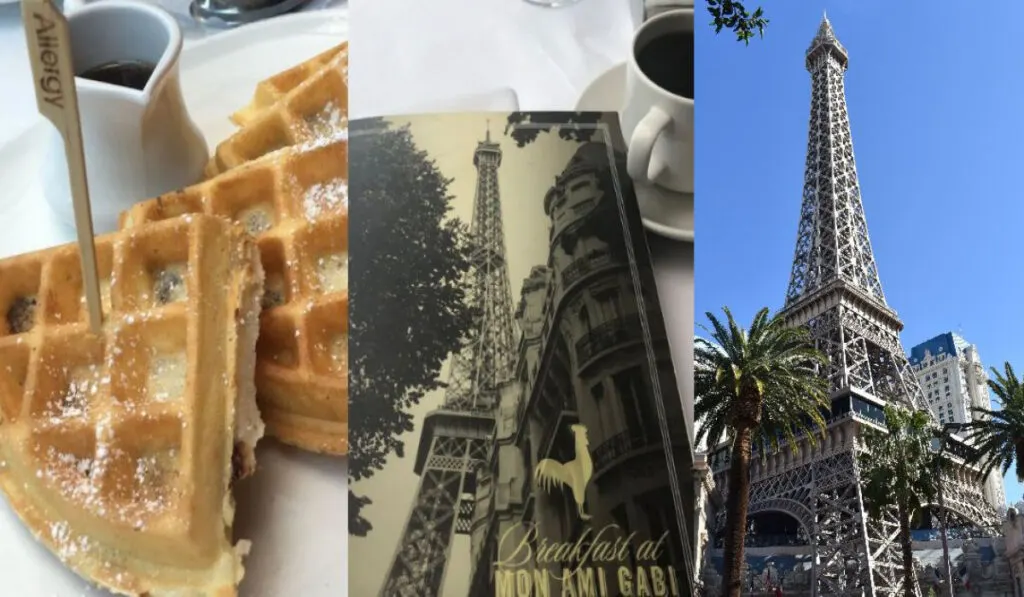 In-And-Out Burger
Located in several areas along the strip, the popular burger chain only sells three types of burgers and fries. The burgers are freshly made with pure meat and no wheat fillers that are in other fast-food chain burgers.
At the In-and-Out Burger, I can order a "Protein burger," which comes lettuce-wrapped, making it gluten-free. The food is prepared in a separate area in the kitchen to prevent cross-contamination.
While most other places dust their fries with wheat to make them brown faster, In-and-Out Burgers are entirely gluten-free.
Even better is I can eat a burger and fries for under US 5.00, which is a bargain on the Las Vegas strip.
Living in Canada, I never understood the hype around the In-and-Out Burger chain until I ate there. While I'm not a fan of fast food, their burgers are fresh, full of flavor, and the burger sauce is to die for.
A word of warning, lettuce-wrapped burgers with lots of sauce tend to be very messy to eat but satisfy the taste buds.
Flights
Located in the Miracle Mile Shops, I love the décor and the aviation theme behind this restaurant. And let's not forget there's an airplane in the center of the room.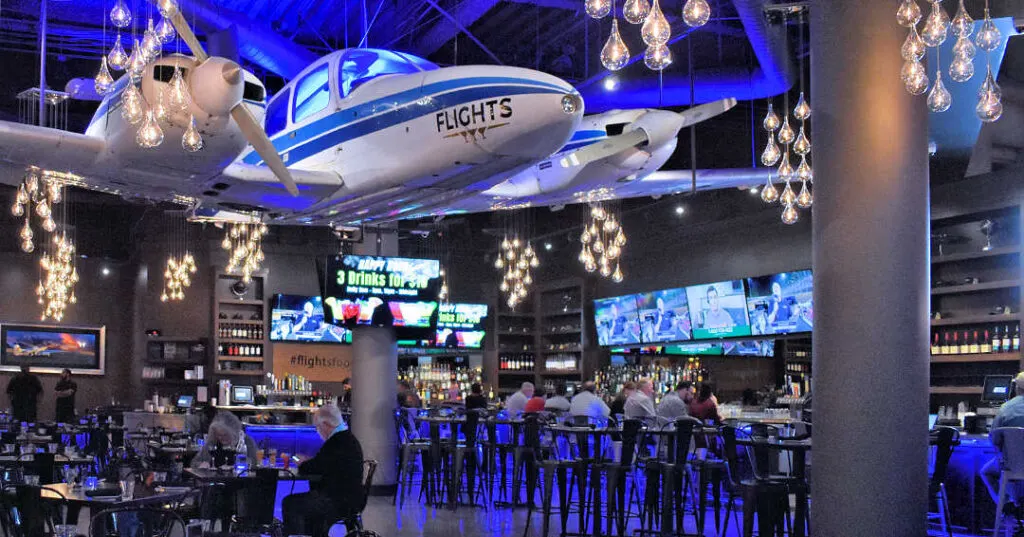 At the door, you are greeted by a flight attendant who is your server while dining.
Flights focus on tapas-style food, which are smaller portions that are meant to be shared. The flights come in threes (three flavors of the same thing). Why have one-flavored food when you can sample three, right?
Unlike most restaurants that have a few gluten-free items, Flights have plenty to choose from. Gluten-free selections are clearly marked on the menus with a (GF).
Who can resist the tacos served on corn tortillas with steak, chicken, and ground beef? Drop the cheese for a lactose-free option. If you dine during happy hour, you'll enjoy cheap drinks too.
Other delicious selections include Thai shrimp, grilled chicken breast, grilled salmon, ceviche, beef sliders, chicken wings, and much more.
Catch
Stumbling across this beautiful restaurant in the Aria Resorts Hotel, I couldn't help but be drawn in by the luscious floral archway.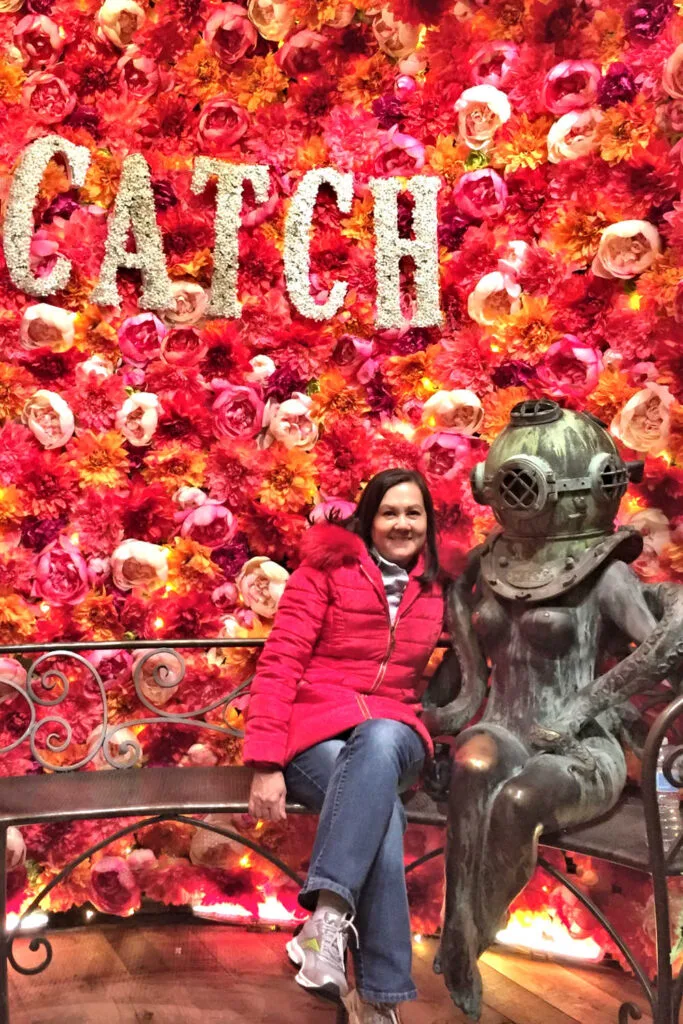 Inside, the decadent restaurant offers patrons mouth-watering gluten-free selections like Crispy cauliflower with spicy vegan mayo and sweet potato gnocchi with crispy kale and coconut mushroom jus.
While Catch doesn't have a separate gluten-free menu, many of the items are available in a gluten-free option.
On their menu, all "Simply Cooked" selections are gluten-free. These include seared tuna, salmon a la plancha, grilled mahi-mahi, grilled shrimp, and grilled swordfish.
If you love seafood, this restaurant serves lots of seafood choices, as well as steak and lamb. Their kitchen also used a dedicated frier.
So, if you're craving chicken tenders, fried onion rings, or fish and chips, head on over to Catch.
I love lamb, and it's my "go-to-dish" when dining out, so their Whole roasted New Zealand rack of lamb with kale pesto was a given for me.
Bacchanal Buffet In Caesars Palace
The renovated Bacchanal Buffet has a good assortment of gluten-free options, and they are open for brunch and dinner.
All the food items are clearly marked, so it's easy to find GF, LF, vegetarian, and vegan options. They carry a good selection of seafood, Mediterranean, sushi, American, and comfort food.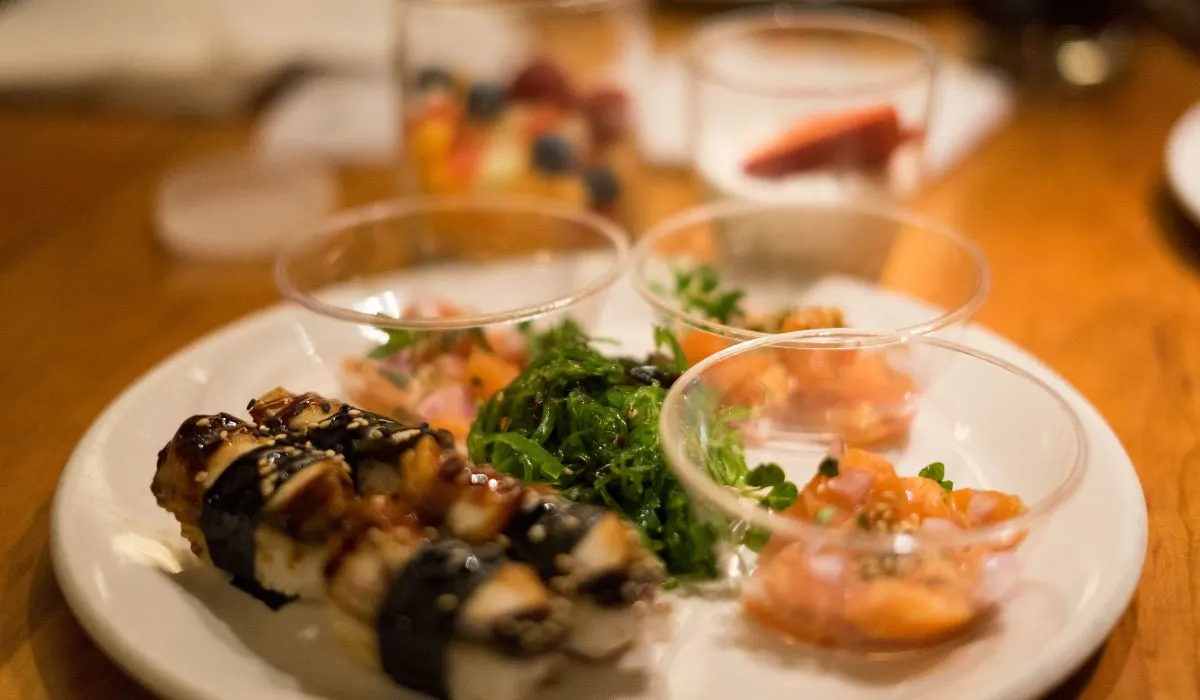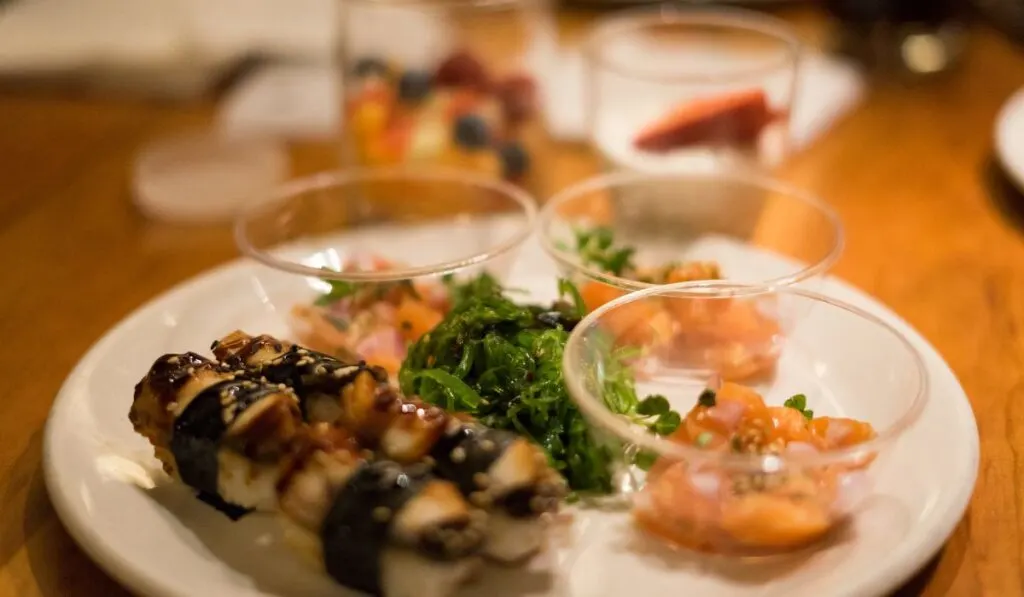 Since it's a buffet, there is a risk of cross-contamination, so this option may be best for those who have slight gluten intolerance.
Slice Of Las Vegas
Located inside the Mandalay Bay Hotel, the Slice of Las Vegas offers a pizza void of wheat. There is only one size, a 12″, probably because the crust is prepurchased.
The pizza is advertised as a build-your-own, so you can customize it with your choice of toppings, such as veggies, meat, and premium items.
At under USD 20, it's reasonably priced but can get expensive depending on the number of toppings you add. By adding Prosciutto, Pepperoni, Ham, and mushrooms, the basic USD 17.95 cheese pizza would cost US 25.95.
A Slice of Las Vegas has gluten-free pastas, buns, and beer. They can also make their burgers without wheat.
El Segundo Sol
If you're hungry for some tacos, fajitas, or enchiladas, there's no better place than El Segundo Sol, a Mexican restaurant on S Las Vegas Blvd. The venue has a full gluten-free menu, and you can opt to go lactose-free by omitting the cheese.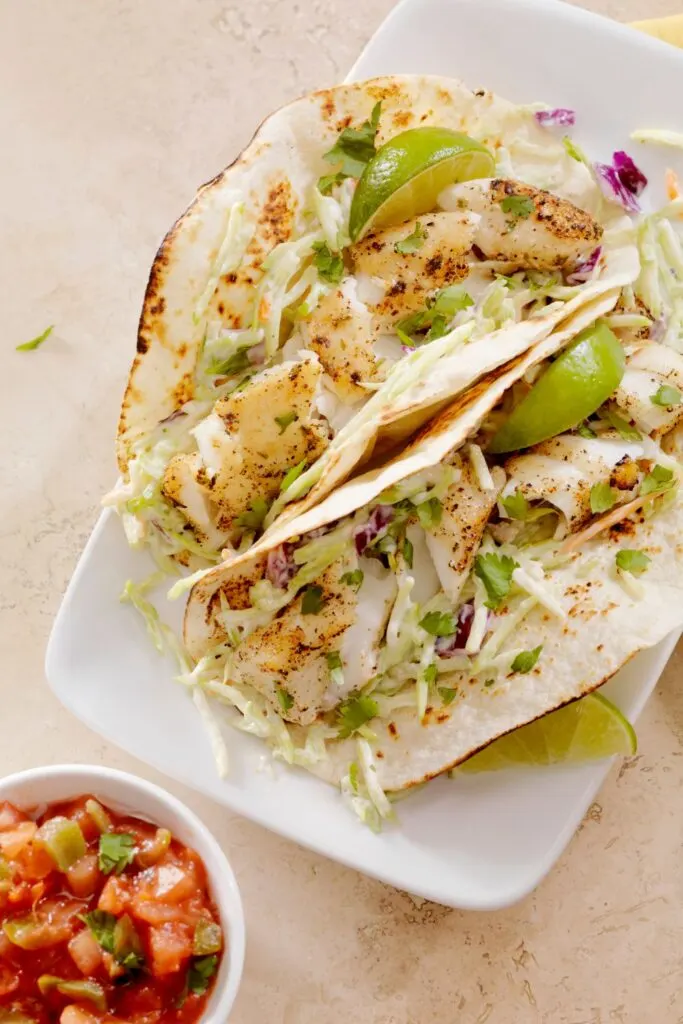 Next to the Fashion Mall, this makes the perfect stop for a margarita and a little comfort food. The portions are generous, and the meals are nicely presented.
The restaurant has a nice ambiance, and there's an outdoor patio if you prefer to be outside.
The grilled Mahi Mahi tacos are amazing with a bit of spice. I liked that you can customize your salsa and fajitas to add as much spice and fire as you desire.
If you drop in at Loco Hour between 4 and 7 pm, you can enjoy Mahi, steak, pork, and chicken tacos for just USD 3. Also, their beers and sangrias are USD 4.
Flower Child
Located at 1007 S Rampart Blvd away from the strip, Flower Child offers many healthy food choices, which are vegetarian, vegan, or gluten-free food.
Their menu includes salads and bowls, with the option to add chicken, beef, shrimp, tofu, and salmon, which are all gluten-free.
Alternatively, you can select a protein and choice of sides and finish with a gluten-free dessert.
GlutenZero Bakery
When you're craving a dessert or need a sugar high, there's no better place than GlutenZero Bakery.
As the name suggests, their delicious baked goods are void of gluten and made by a family who knows first-hand about Celiac disease.
Their gluten-free bakery items include pepperoni pizza, GlutenZero cinnamon rolls, GlutenZero pecan pie, carrot cake, brownies, and cupcakes.
If you are Celiac and have eaten gluten-free in Sin City, feel free to share your favorite restaurants in our comments below.
Happy travels ~ Karen