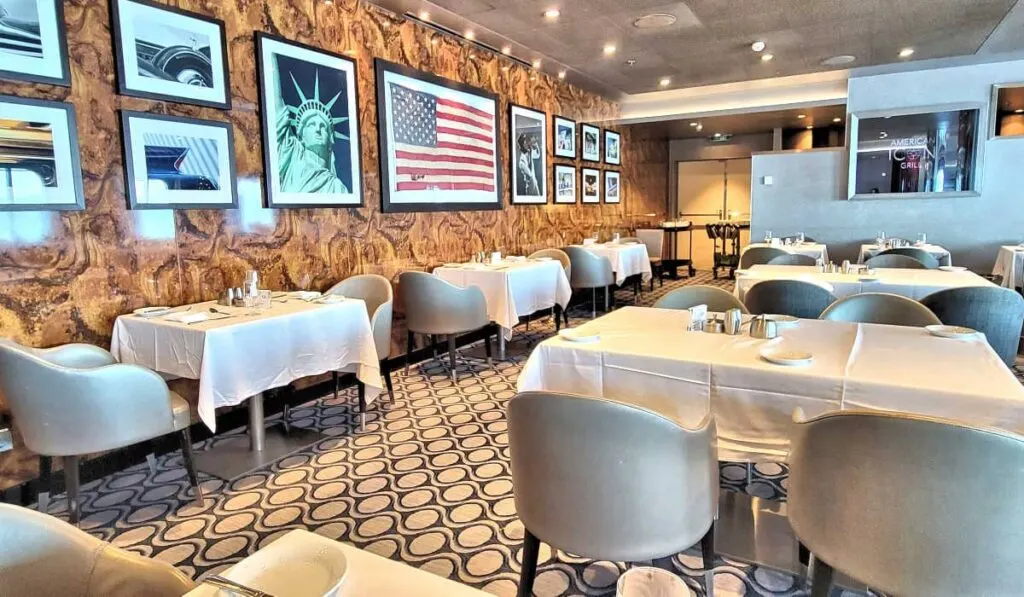 Royal Caribbean's Quantum of the Seas offers an impressive array of dining options to satisfy any appetite. With 20 dining choices spread across the ship's deck plans, guests can indulge in various international cuisines.
From casual fares like pizza and hot dogs to healthy salads and fine dining, there's something for everyone. Whether you're looking for a late-night bite, a quick snack, or three square meals daily, this article covers all your dining options.
In this detailed breakdown, you see what we ate, where we ate, and our review of the food, complete with menus. You can also read our Quantum full ship review.
Quantum Of The Seas Main Dining Rooms
The Quantum of the Seas has four main restaurants, which makes it easier to feed the 4,000+ passengers. Guests can choose between a set dining time of 5 pm or 7:30 pm or a flexible schedule with "my time dining."
We had sailed on the Ovation just eight months prior and noticed the dining times were earlier on the Quantum.
The Grande and Chic, located on deck three, offer early and late set dining times. On the next level, the Silk and American Icon Grill provide early seating and "my time dining" from 6:15 pm to 9 pm. Coastal Kitchen was a private venue for guest guests.
Royal Caribbean will assign you a dining room if you choose a set dining time. In our case, we were given The Grande, which features traditional decor. Although the dining spaces have different decorations, they offer the same menus.
Only the American Icon Grill and Silk on deck four were open for breakfast and lunch. On port and sea days, the dining rooms opened at 7:30 am.
We ate at the American Icon Grill for breakfast one morning. While the restaurant was not busy, we found the service extremely slow.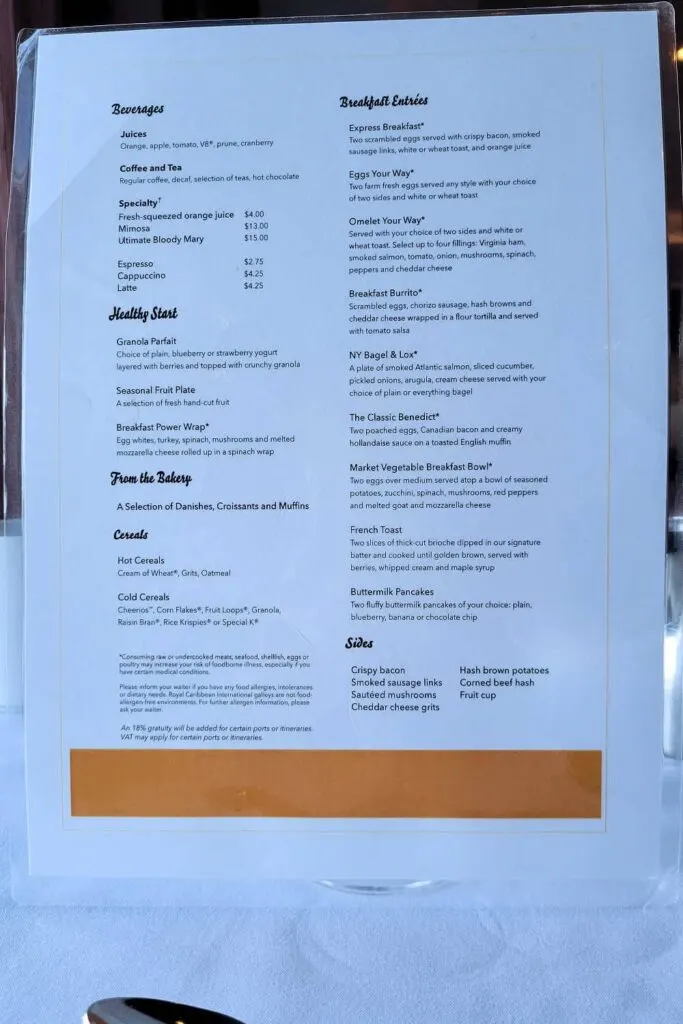 We ate almost all our dinners in The Grande main dining room, and I have included menus where possible. We shared a table with five others, all Canadian, and we thoroughly enjoyed their company.
Day One
The main courses didn't thrill us on night one. So, we stuck with items from the classic menu, hoping they'd be the best choice.
I started with the chilled shrimp cocktail and had the slow-roasted prime rib entrée. While I received a generous portion of prime rib, it was too tough to eat.
Brian didn't fare much better. He had a Caesar salad, shrimp cocktail, and New York strip steak from the classic menu. His steak was as tough as my prime rib. Throughout our 7-day cruise, other table guests tried the steak, which was never tender.
The highlight of the meal might be the Key lime pie if you love the lime. It had lots of lime flavoring.
Day Two
The second night was the first of two sea days and the first formal night. Each dinner menu had a theme, and the second day was "A Taste of France." The buffet also featured themes each evening.
Brian chose a few of his favorites; escargots a la bourguignon, roasted beef tenderloin, and finished his meal with toasted almond cream puffs.
Like the previous day, his entrée was disappointing. He received a tiny portion, and the meal was barely warm. However, the escargots and cream puffs were a hit.
I fared better with an iceberg wedge salad, curried lamb Rogan Josh, and a warm apple cobbler. All three servings were well presented, and I especially enjoyed the Indian curry.
Day Three
A Taste of the Caribbean was the third night's theme. We both chose the garlic-herb buttered tiger shrimp with jasmine rice. While we enjoyed the entrée, I felt it needed a bit more flavoring.
For starters, Brian had the French onion soup and a chilled shrimp cocktail. I opted to try something different and selected the maple-soy tofu and avocado salad. It came with no dressing and needed one.
I finished my meal with the Royal chocolate cake, which was good, and Brian had a bowl of vanilla ice cream.
Day Four
Day four celebrated the flavors of Italy. We had spent our day in Juneau on a Mendenhall Glacier and Salmon Bake. Since our salmon bake ended two hours before dinner, we came to the dining room without an appetite.
I tried to eat and started with the Italian minestrone soup, which was great. However, my chicken parmesan was overcooked and tough. I enjoyed a dessert of crumbly oat and berry bar.
Brian opted to eat two small salads for dinner after his fill at the salmon bake.
Day Five
Unfortunately, we missed a Taste of the UK since we had a pre-arranged dinner at Jamie's Italian. While we missed the traditional roast beef and Yorkshire pudding, our table guests said it tasted great.
See below for our review of eating at the specialty restaurant Jamie's Italian.
Day Six
Being the last formal night, the menu contained the expected; Maine lobster tail and baked Alaska, guests' favorites. Royal Caribbean now implements a surcharge of USD 16.99 for a second lobster tail.
Since only four people on our table wanted lobster, the other three ordered the lobster, along with another entrée, and passed our lobsters to those who wanted it, saving them the extra fee.
Brian enjoyed his two lobster tails, while I had the chicken marsala, which was equally good. I completed my meal with strawberry shortcake, and Brian chose baked Alaska.
Day Seven
The last day was the Bon Voyage dinner which consisted of my favorite, braised lamb, which I was looking forward to.
Unfortunately, we skipped dinner the last night because I had felt unwell. I cruise with intolerance to multiple foods, which sometimes can be challenging.
I meet with the restaurant manager each evening to select my meals for the following day.
The kitchen prepares my meals separately to prevent cross-contamination. Generally, I've had excellent service across all cruise lines but not so on this vessel.
I ate five times in the dining room and was served food containing my allergens three times. I caught it the first two times because I could see the wrong ingredients, but I didn't on night six, making me sick.
Each time, the manager said, "Oh, I had you confused with someone else," or "Sorry, I grabbed the wrong plate." By the last night, I was sick and too afraid to eat in case he served the wrong food again.
If the wrong item included peanuts or almonds, I would have become a medical emergency.
The Windjammer Marketplace
The Windjammer Marketplace on deck 14 had theme nights like the main dining rooms. During our cruise, they were as follows:
| | |
| --- | --- |
| Night one | American classics |
| Night two | Savor La France |
| Night three | Flavors across the Caribbean |
| Night four | Mangia! Mangia! Italia |
| Night five | Faves from across the Pond |
| Night six | Flavors of India |
| Night seven | Viva Mexico |
It was odd that since we were cruising to Alaska, they didn't feature flavors of Alaska one evening, with seafood and fish.
The buffet had a good food selection, but I wished they had followed Celebrity's lead and labeled their items with allergy labels.
Breakfast included an omelet station; you could get freshly cooked sunny side up, over-easy, and over-medium eggs if you were willing to wait. I was surprised to find a gluten-free breakfast sausage along with all the regular items.
The buffet included a gluten-free area with three items. This was usually boiled eggs, baked beans, and bacon at breakfast. They also had a small section for vegan items.
At lunch and dinner, the items could be rice, baked potato, potato wedges, or grilled chicken, all things which would be naturally gluten-free anyway.
Our sailing was full with 4250 guests, and it was evident at some venues. Luckily, crew members played announcements asking guests to vacate their tables once they finished their meal. This meant we always got a seat not long after we filled our plates.
Specialty Restaurants
Expect to pay a high fee to dive at any of the specialty restaurants onboard. Alternatively, you can purchase a dining package to eat in specialty restaurants of your choice for two, three, or the unlimited dining package.
If you only want to try one specialty restaurant, try to book the first night because Royal Caribbean International often offers a sizable discount.
We had three specialty restaurant meals, which incurred a fee. However, almost all the spots were gone when we tried booking a day and time before embarkation day.
Onboard, the situation was worse. The dining packages were oversold, and many guests couldn't get a dining time at specific specialty venues.
We tried Chops Grille, Izumi, Jamie's Italian, and Wonderland specialty restaurants on the Ovation. Since we were sailing a shorter itinerary of 7 days, we chose to eat at Jamie's Italian, Izumi, and have the "Taste of Royal" lunch in Wonderland.
You also have the option to dine at Chops Grille and Wonderland, or savor a premium meal at the chef's table.
Jamie's Italian
While I've never been a fan of Italian food (due to eating gluten and lactose-free), I make an exception for Jamie's Italian. Jamie's Italian restaurant has a more casual décor, but the dining experience is about the food.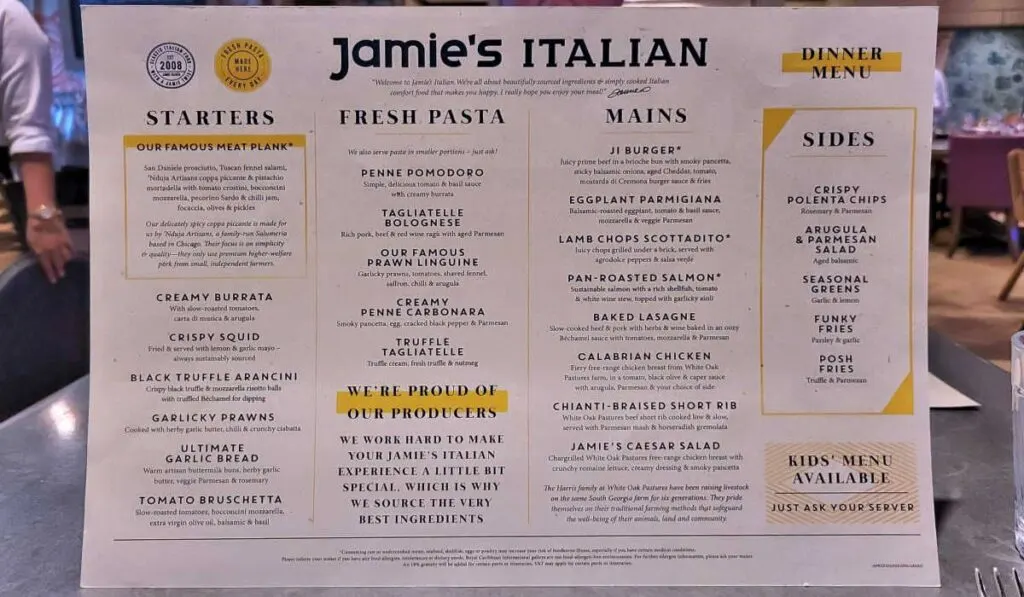 Serving courses based on the recipes of Jamie Oliver, the casual restaurant serves outstanding Italian cuisine using fresh ingredients.
Their famous meat plank is always a guest favorite. However, Brian stuck to his desire for the best garlic bread ever, and I started with the garlicky prawns.
The chef cooked my prawns with chilis, which set my mouth on fire on the first taste. After drinking a full glass of water, I couldn't take away the burning sensation. The waiter immediately removed and replaced it with another.
I chose the lamb chops Scottadito with funky fries and a side of penne pomodoro. While the lamb was fantastic, the penne was beyond amazing.
Brian had the Chianti-braised short rib and seasoned greens (broccoli). His entrée was as impressive as mine.
I completed my meal with mango sorbet and fresh fruit, and Brian chose the Amalfi Lemon Meringue cheesecake, which looked sinfully delicious. Even though he was full, he surprised me by eating it all since it was so good.
Our table companions ate at Jamie's too. Apparently, the classic Tiramisu was delicious too.
Izumi Sushi
We chose to have lunch at Izumi on a sea day. With only 40 tables, they were crazy busy, and we were fortunate to eat there despite not having a reservation.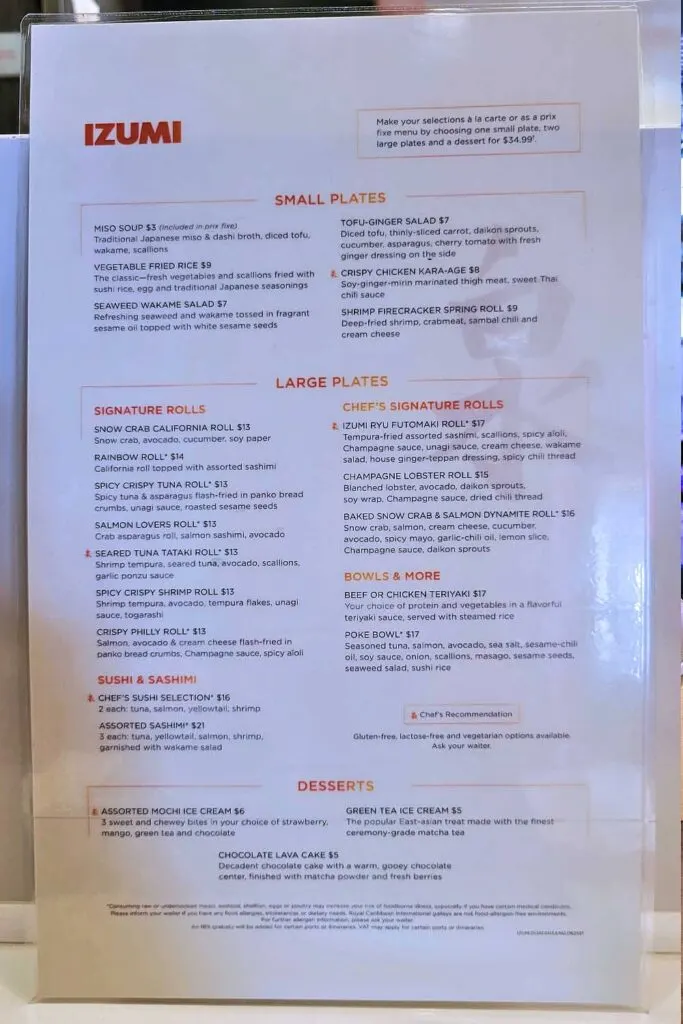 Izumi has an a la carte menu, or you can choose a USD 34.99 package which includes one small plate, two large plates, and a dessert.
Guests could order one package and share the food. Gluten-free, lactose-free, and vegetarian options were available upon request.
We chose the snow crab California rolls and chicken teriyaki with steamed rice. For USD 5 extra dollars, we could have gone with the package and got a small plate and dessert.
However, since I needed gluten-free food, preparing the crispy chicken Kara-age would have taken too long. We felt the two dishes were enough for us, and we're glad we didn't have more dishes to eat.
The service in Izumi was superb, and our waitress was attentive and quite comical.
A Taste Of Royal
Royal Caribbean's "A Taste of Royal" combines cuisine from several of its restaurants, some of which aren't on the Quantum. Royal Caribbean offered the set lunch on one sea day towards the end of our cruise.
We booked the lunch before embarkation, and at under USD 28, it was a bargain and the best meal we enjoyed onboard. This one was oversold, like the specialty restaurant packages, so Royal Caribbean requested to move our reservation to the day we visited Victoria.
The dining time was early, at 11:30 am. However, when we arrived, all guests were treated to a short galley tour and met the head chef.
Once seated, we enjoyed four courses from Wonderland, Giovanni's Table, Chops Grille, and 150 Central Park. A Saint Peter's Spritzer (from Hooked) accompanied the lunch, and guests could enjoy a curated wine flight for an additional USD 20.99.
Citrus seas tuna tartare was the first course and came from Wonderland. The added wasabi gave it a nice kick, and the presentation was something I expected from Izumi, not Wonderland.
The second course consisted of Mascarpone cheese risotto with crab meat. Brian said his tasted great, but mine lacked flavor because it was made without cheese.
Our entrees of filet mignon and spicy jumbo shrimp were dinner-sized. The beef was done to perfection and melted in our mouths.
The fried cheesecake, which finished the lunch, was beautifully presented. The addition of a few popcorn pieces added to the texture and overall display of the dessert.
The Taste of Royal was an exceptional meal and one we would do again next time we're on a Quantum-class vessel.
Café @ Two70
The Café Two70 was our favorite dining spot on the Ovation of the Seas for casual food. So, it made sense to head there on the Quantum. Since most guests never found this eating venue, getting a small lunch here was easier than at the buffet.
You can get freshly made salads, sandwiches, wraps, homemade soups, fruits, and pastries, as well as beverages. Sandwiches and wraps are made to order.
Salad options were as follows:
| | |
| --- | --- |
| Chopped salad | Romain, salami, Provolone cheese, tomato, cucumber, garbanzo beans |
| Thai noodle salad | Grilled chicken, greens, peppers, noodles, mandarin oranges, almonds, and sesame-peanut dressing |
| BLTA | Lettuce, bacon, tomato, avocado, and ranch dressing |
| Chicken Caesar | Grilled chicken, parmesan, croutons, and Caesar dressing |

While the salads were pre-mixed, you could request a different dressing and extra toppings.

Also, there's a Starbucks inside Café Two70. Like on land, drinks and snacks incur a fee, and you cannot use your beverage package at Starbucks. Since the café was next to the Two70, we could enjoy our meal with spectacular views of the ship's wake.
Casual Food Choices
The Solarium Bistro provides another good option for a casual breakfast or lunch. Located in the adult-only Solarium next to the indoor pool, the buffet offered more selection than the Two70 café.
Also on deck 14, you can find the Noodles Dim Sum next to the H2O Kids Zone. On the Ovation, this venue served fish and chips. The Noodles Dim Sum opened at noon most days and closed at 5 pm.
Complimentary items included chicken fingers, mini hot dogs, and chocolate chip cookies. Beef and chicken satay were USD 2 each. All other items had a surcharge of USD 6.
This included seafood dry hot pot, Taiwanese spicy beef noodle soup, fried rice Yangzhou style, Kung Pao chicken with rice, seafood fried noodles, and Cantonese shrimp wonton noodles.
The Royal Esplanade on deck 4 offered the most complimentary dining options outside the buffet and dining rooms. You can get beverages and quick bites at the Café Promenade, which is open 24 hours.
Adjacent to it, Sorrento's offers pizza by the slice, and it was always hopping with guests. On the other side of Sorrento's, the Harp & Horn Pub served traditional pub-style food along with live music.
Across the Royal Promenade, La Patisserie sold assorted macarons and French pastries. Alternatively, you can grab a hot dog from the SeaPlex Dog House.
The hot dogs are complimentary; you can choose from a classic dog, smoked Bavarian Bratwurst, Sicilian pork sausage, or chicken and apple sausage.
Since the chicken and apple sausage were gluten-free, I gave it a try on a gluten-free bun. With sauerkraut and mustard, it was pretty good. You can also get onions, coleslaw, and potato salad.
Room Service
Continental breakfast is complimentary in your stateroom. Cruise guests can complete the breakfast form and hang it on their door by 3 am. Alternatively, you can request an American breakfast, which incurs a delivery charge of USD 7.95 + 18% gratuity.
We tried the American breakfast one morning. The food arrived on time at our balcony stateroom and was hot. Note that the cabins have no tables, so we used our desk chair as a makeshift table.
However, there was some confusion about our order, and while we ordered for two people, we received food for three.
As you can see, there is no shortage of dining options on the Quantum of the Seas. While the ship holds over 4,000 guests, having 20 venues with food spends the crowds out quite nicely.