When it comes to the best hikes in Vancouver, there's no shortage of options. The coastal city of Vancouver, BC, is the ideal place for people who love getting outside on hikes.
With the beautiful North Shore mountains just 30 minutes from central Vancouver and the Coastal Mountain range just a bit further up the Sea to Sky Highway or the Fraser Valley to the east, the hardest part is knowing which Vancouver trail is worth your time.
Though there are many incredible hikes near Vancouver in Squamish and Whistler, this roundup of the best Vancouver hikes focuses on those in the Metro Vancouver area, predominantly on the North Shore.
From easy routes that'll take just a few hours to harder all-day treks, this guide to the best hikes in Vancouver includes classics such as the Grouse Grind and Tunnel Bluffs as well as more challenging but super scenic treks like Mt Seymour's three Peaks.
1. Quarry Rock, Deep Cove
Difficulty: Easy-Moderate
Distance: 3.9 km return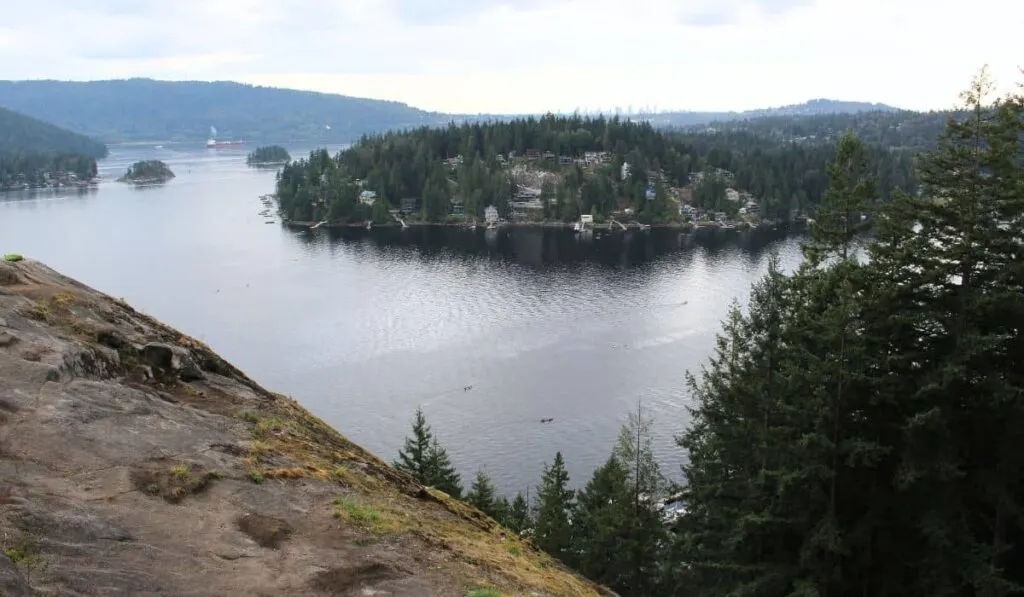 The ever-popular Quarry Rock hike in Deep Cove may be busy, but it's for a good reason.
As one of the best things to do in Deep Cove, the easy Quarry Rock trail takes 1-2 hours to complete and has minimal elevation compared to many North Shore hikes.
At the end of the trail, you'll come out to a large winter area with incredible views of the Indian Arm and Deep Cove.
If you plan to embark on the Quarry Rock trail, I recommend going early and opting for a mid-week adventure to escape the crowd.
Although the trail doesn't entail significant elevation gain and is relatively short, it's still on the harder end of easy. Proper hiking shoes are necessary since the trail is uneven with tree roots and rocks. You can expect this trail to be muddy and slippery in the shoulder seasons.
2. Dog Mountain, North Vancouver
Difficulty: Easy-Moderate
Distance: 4.8 km return
Dog Mountain on Mount Seymour is another easy hike in Vancouver that has great bang for your buck when it comes to views to effort ratio.
You can hike the Dog Mountain trail all year round, though be sure to pack micro spikes in the winter or snowshoes if you're hiking the trail just after a big snowfall.
Another thing to note is don't follow Google Maps to Dog Mountain. Instead, head to the Mt Seymour parking lot and start from there.
Starting from the Mt Seymour parking lot, head towards the ski slopes, and you'll see signs pointing you into the forest towards Dog Mountain lookout.
The trail is fairly flat, with a few ascents and descents, and the terrain is mostly roots and rocky. It can get very muddy in spring with all the snowmelt and rain.
Once you come to the viewpoint at Dog Mountain, you'll get great views of Vancouver and the neighboring cities. These include Burnaby and the mountain ranges on the border of Canada and the US on a clear day!
If you choose to hike Dog Mountain while the Mt Seymour ski area is still open, you'll need to get a free day-use pass online through BC Parks before you head to the trailhead.
3. Tunnel Bluffs, Lions Bay
Difficulty: Moderate
Distance: 11 km return
Tunnel Bluffs is another popular hike in Vancouver which absolutely stunning views.
The trail starts in Lions Bay and follows the same old road you'd take to hike to the Lions and Mt Brunswick, which are strenuous all-day hikes.
After the initial uphill climb, you'll take a turn off and head more into the woods as the trail flattens out, and you'll head over some small streams until you arrive at the viewpoint.
On a clear day, you'll get great views of the Howe Sound and out towards the Sunshine Coast; it's also beautiful at sunset.
Parking in Lions Bay can be very difficult, particularly during the spring and summer seasons. Make sure you pay close attention to parking signs and regulations.
If you're fortunate enough to find a spot in the small parking lot near the Tunnel Bluffs trailhead, be prepared to pay for parking. You can find some additional parking along certain sections of the road, as well as at the school further downhill.
Always remember to carry out any trash you may have and leave no trace behind, as there's recently been a lot of rubbish left up here.
4. Norvan Falls, North Vancouver
Difficulty: Moderate
Distance: 14 km return
For a longer hiking trail in North Vancouver, take a look at Norvan Falls. This 14 km return trail through the woods may be long, but it doesn't have too much elevation along the way.
Not only is the forest beautiful all year round, but there's a great waterfall at the end, which is particularly impressive in spring with the snowmelt and extra rainfall.
If you're lucky, you can sometimes see the waterfall when it's frozen after a period of cold weather. It's rare, but it's super cool to see!
5. The Grouse Grind, North Vancouver
Difficulty: Strenuous
Distance: 3 km one way
The Grouse Grind hike may be short, but it's definitely challenging.
This is a classic Vancouver hike that doesn't have many views along the way, but it's one of those must-dos in Vancouver if you're an active traveler.
The Grind, as it's known locally, is something of a workout as you'll climb almost 800m uphill in just under 3km!
Many locals, myself included, take on the Grind as a challenge, trying to beat their previous time. Chances are you'll see plenty of people doing the same thing, so remember to stay to one side so they can get past you.
You're not allowed to descend via the Grouse Grind since it's such a narrow, steep, and popular trail. Instead, you can get a download-only ticket for the Grouse Mountain gondola at the Visitor Center at the top.
Or, you can hike down the BCMC, but this is also incredibly steep and takes you on difficult terrain.
Also, note that the Grouse Grind is closed in winter and closes for a week or so every spring for trail maintenance.
6. Eagleridge Bluffs, West Vancouver
Difficulty: Moderate
Distance: 8 km return
In the Cypress Mountain ski area, Eagleridge Bluffs and the Black Mountain trail give you some great views over downtown Vancouver and Stanley Park.
The trail starts near the winter chairlift to the Cypress Mountain coaster, and continues with a very steep series of switchbacks.
But once you've done that, you've done the hardest part, and you'll then take some flatter terrain past Cabin Lake, one of the best lakes in Vancouver, and out towards Eagle Bluffs.
On a clear day, you can see all the way out to Vancouver Island from Eagle Bluffs, which is super cool!
Alternatively, you can hike Eagle Bluffs from Horseshoe Bay as part of the Baden Powell Trail. This option is much harder and more remote, with steep elevation and a tricky rock slide to navigate over.
7. St Mark's Summit, West Vancouver
Difficulty: Moderate
Distance: 10 km return
Another of the best hikes in Vancouver, starting from the Cypress Mountain ski area, is St Mark's Summit.
This popular hike follows a well-defined gravel path with a gentle start to warm you up.
Not far into the hike, you'll see a sign to head to Bowen Lookout, which I highly recommend. It's a short detour and is one of my favorite views in Vancouver. You'll see the Howe Sound, Bowen Island, and the Sunshine Coast from here.
Back on the main trail, you'll continue on a well-defined path until you get to a more challenging section with tree roots and rocks to make your way over.
Upon reaching St Mark's Summit, there are several small viewpoints where the Howe Sound stretches out before you.
8. Mt Seymour, North Vancouver
Difficulty: Strenuous
Distance: 8 km return
When it comes to local trails, Mt Seymour is one of the best. To do all three peaks requires a full-day hike due to the technical terrain, but you'll be rewarded with 360 degrees of unobstructed views and mountains everywhere you look.
For a shorter option, you can decide to hike just the first peak, known as First Pump.
The trail to this point still has plenty of elevation, but it's much easier than attempting all three, and you still get great views.
Things get harder from the first peak to the second and third, and some narrow trails can be nerve-wracking, especially if the conditions are icy.
You're also allowed to wild camp in this area as long as you're north of the ski area, which means Mt Seymour is one of the best places for free camping near Vancouver.
9. Buntzen Lake Trail, Anmore
Difficulty: Moderate
Distance: 10.5 km loop
Located near Port Moody, the Buntzen Lake Trail is a 10.5-km loop that offers a moderate hike with stunning views. The trail takes an average of 3 to 3-1/2 hours to complete and is open year-round.
As a popular spot for hiking, you can expect to encounter other outdoor enthusiasts along the way. You may even meet hikers with dogs.
The trail circles the lake and includes rocky sections and dense forest on the west side. Be aware that you can find black bears on this trail.
You'll cross a small suspension bridge at the northernmost point before returning on a lakeside trail. This section features numerous small bridges and glimpses across the lake.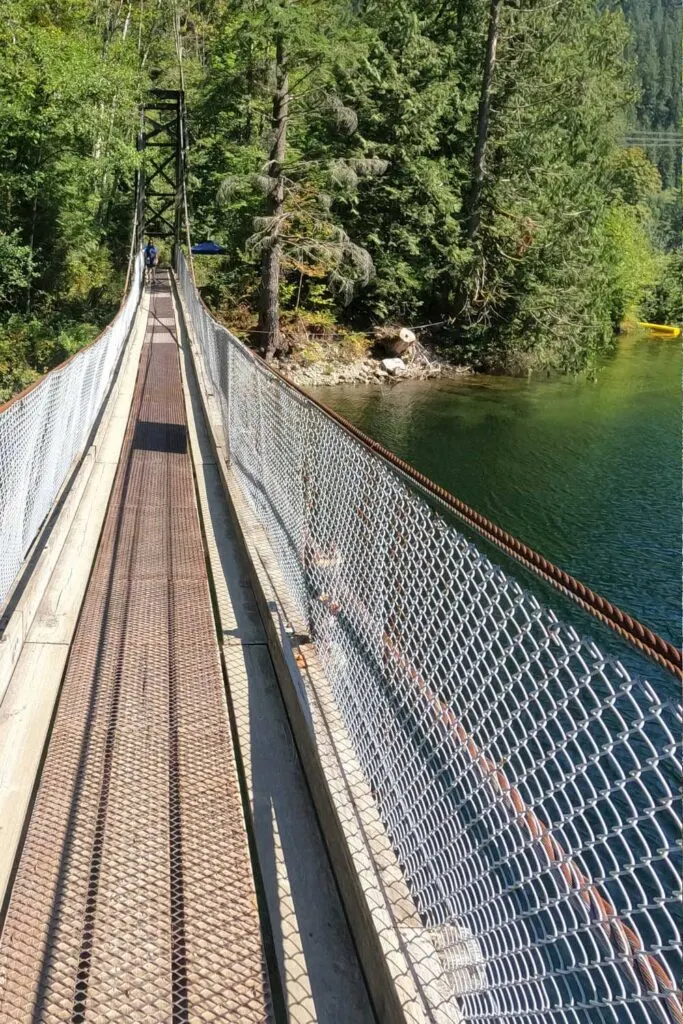 Keep in mind that parking can be difficult during the summer months when locals flock to the lake for beachside fun.
Since BC Hydro maintains the recreational area, the hiking trails here are well maintained and heavily utilized.
If you prefer an easier option, you can hike the lake's western side and return on the same route once you reach the suspension bridge. This shortened route is great for those who prefer little elevation gain.
10. Coquitlam Crunch, Coquitlam
Difficulty: Moderate
Distance: 6.1 km return
The Coquitlam Crunch, located a 30-minute drive from Vancouver, provides an easier version of the Grouse Grind. However, this trail runs under the BC Hydro power lines, making it an urban hike.
Many sections of the trail have series of stairs, with the longest having 474 steps. You'll feel the calve burn here.
The stairs alternate with flat gravel sections, so you'll have a chance to catch your breath. As you climb higher, you'll enjoy views of Mount Baker in Washington State.
If you do the Coquitlam Crunch hike on a sunny day, you'll have no protection from the sun. So use sunscreen and carry lots of water.
The Crunch is a family-friendly hike, and it's not unusual to see families with children and those walking dogs. However, like the Grouse Grind, it attracts gym rats running multiple times up and down the stair sections.
The beauty of this urban hike is its multiple parking locations, giving hikers the option to start wherever they want. So, start from the bottom and enjoy the descent at the end or begin near the top and endure the uphill section later.
11. Mt Gardner, Bowen Island
Difficulty: Strenuous
Distance: 10 km one way
If you're seeking an incredible hiking experience near Vancouver, look no further than Mount Gardner on Bowen Island! As the tallest peak and one of the best things to do on Bowen Island, it's definitely worth the effort.
Making your way to the summit of Mount Gardner takes you through a beautiful old forest which is even more magical when the sunbeams shine through the canopy.
As you ascend higher, the forest gradually parts to reveal the summit. It's only when you reach the very top that you're greeted with a view.
On one side, you can see the Coastal Mountain range on the mainland and, on the other, the mountains of the Sunshine Coast.
Although the main viewpoint is technically not the true summit (that's hidden away in the trees), the vantage point is the end goal for most hikers on Mt Gardner.
If you're looking for shoulder season hikes, Mt Gardner is great since it rarely gets snow, unlike many of the hikes on this list.
That means it's great if you're looking for a snow-free winter hike. Just catch the ferry from Horseshoe Bay to Snug Cove, and you're good to go!
12. Lynn Canyon Loop, North Vancouver
Difficulty: Easy-Moderate
Distance: 2.4 m loop
You'll find numerous hiking trails for varying hiking abilities amongst the 617 acres of coastal temperature rainforest in Lynn Canyon Park. The Twin Falls Loop is considered easy and the shortest option at 1.3 km.
While the Lynn Canyon Loop isn't the easiest or longest rail, it is accessible year-round. It provides a great Stairmaster climb with river views and popular attractions. Expect to cross a few bridges, walk boardwalks and climb MANY stairs.
During the hike, you'll encounter Twin Falls, the 30-foot pool, a popular swimming hole in summer, and the bottleneck, the Lynn Canyon Suspension Bridge.
As one of Vancouver's best suspension bridges, it provides a complimentary option to the Capilano Suspension Bridge further west.
Since Lynn Canyon attracts crowds in summer, you should plan to arrive early in the day to snag a coveted parking spot. Alternatively, spring and fall bring fewer crowds and an opportunity to hike with less trail traffic.
In hot weather, bring a bathing suit for a refreshing dip in the 30-foot pool to reward your hike. While the water is cold, it's a great way to cool down after a sweaty hike.
13. Lions Binkert Trail, Lions Bay
Difficulty: Strenuous
Distance: 16 km return
The Lions Peaks, a pair of majestic summits, are a well-known landmark visible from the city of Vancouver. Its landmark has inspired the naming of other attractions, such as the Lionsgate Bridge.
So, it's not surprising it attracts experienced hikers to reach their peaks in summer.
With an elevation gain of 1280 meters, expect to spend up to eight hours on this out-and-back trail. This trail is only recommended for experienced hikers and will test their ability with steep switchbacks and gravel sections.
While the trail has some flat sections, you'll endure the steepest portion near the summit. Expect to hike through forests of Red Cedar and Douglas Fir and see a few waterfalls.
You'll emerge from the trees near the top and see what you came for, the West Lion. This hike takes you to the base of the peak. While you can scale the mountain, you should only attempt it if you're an experienced mountaineer with the right safety equipment.
Adventurers conquer the climb despite its difficulty to savor the breathtaking views of Howe Sound, Bowen Island, and the Capilano Watershed.
14. Stawamus Chief, Squamish
Difficulty: Moderate to Strenuous
Distance: 7 km loop
Still difficult, the Stawamus Chief trail, known locally as the "Chief," has half the elevation gain as the Lions Binkert Trail at 654 meters. However, it's a must-do for any hiker visiting the Sea to Sky Corridor.
This impressive granite monolith is one of the largest in North America and offers stunning views from its three summits. While the hike itself is not too difficult, it still presents a challenge for hikers.
The main Chief hiking trail provides access to all three summits, so you can visit one or all three. The first peak attracts the lion's share of hikers, and the 4 km roundtrip hike can be done in two to three hours.
If you do the three, you'll be hiking down, then heading up to access the next. Most hikers find trekking anti-clockwise, three to one provides the easier route, and you'll encounter many ladders along the way.
The third peak is the highest and has the largest platform. From the third to the second peak, you'll cross North Gully, which boasts steep cliff walls and a 60-meter opening. Allow up to seven hours to conquer all three summits.
However, whether you choose to go to one or more than one, you'll enjoy a great workout guaranteed to get your heart pumping.
15. Capilano Canyon Trail
Difficulty: Easy
Distance: 6 km loop
The Capilano Canyon loop is an undemanding six-kilometer trail through a lush rainforest. Start your adventure at the Capilano River Regional Park near the Cleveland Dam.
This easy trail guides you across breathtaking landscapes, such as the Cleveland Dam, Granite Falls, and the Capilano Salmon Hatchery. If the salmon are running, you can stop and enjoy the annual event and learn about the life cycle of different salmon species.
The hike typically takes about two hours to complete, depending on the pace and stops. While you won't have the panoramic views like the more difficult trails above, you'll enjoy a more leisurely pace with fewer people.
Depending on when you hike, the landscape can look very different. During the spring melt, the water level in the Capilano River may be high, providing more picturesque views. The dam releases little water in summer, so the river may appear dried up.
When Is The Best Time To Hike In Vancouver, BC?
Vancouver has a relatively mild coastal climate, and since it has a large variety of trails, there are places to hike all year round.
However, there are some things you should bear in mind depending on the season.
Spring (March to May): Springtime in Vancouver can often be very rainy at lower elevations, with snowfall still possible at higher ones.
For hikes at higher elevations, expect slushy snow in the afternoons and icy snow in the morning. You'll want micro spikes at the very least and pack bug spray, as this is when the mosquitoes start to come out.
Summer (June to August): Summer is a popular time for hiking in Vancouver, thanks to pleasant temperatures and longer daylight hours. The trails are generally dry and accessible, offering a wide range of options for hikers of all skill levels.
However, be prepared for increased trail traffic, especially on weekends, and consider starting early to beat the midday heat.
Fall (September to November): Fall in Vancouver is a beautiful time to hike with cooler temperatures and fewer people. However, you'll also likely encounter rain or the first snowfall at higher elevations. Always be prepared with appropriate gear and check trail conditions.
Winter (December to February): Winter hiking in Vancouver can be a magical experience, especially in the snow-covered mountains, if you're prepared.
Trails at lower elevations are typically accessible, but higher-elevation hikes may require additional equipment, avalanche training, and experience. Be prepared for colder temperatures, shorter daylight hours, and potentially icy or slippery trail conditions.
Remember to always check weather forecasts, trail conditions, and any required permits before heading out on a hike. Additionally, ensure you have proper gear, including good footwear, adequate layers, and sufficient water and food supplies.
Be sure to leave a trip plan with someone to let them know where you're going and when you're expected back, and always respect nature and practice Leave No Trace principles to ensure a safe and enjoyable hiking experience in Vancouver.
Final Thoughts On The Best Hikes In Vancouver
Vancouver has plenty of choices when it comes to hiking, with something for all abilities of hikers.
Beyond the difficult elevation gains of the north shore, there are easy hikes near Vancouver. Golden Ears Park in Maple Ridge and the river trail of Pitt Meadows offer more leisurely treks.
So, whether you want to explore the summits found at the Cypress Mountain ski area, Grouse Mountain, or Mount Seymour or explore lower elevation trails like Norvan Falls, you're sure to get a good workout and even better views.