The Coquitlam Crunch trail is a moderate uphill urban hike near Vancouver, British Columbia, on Canada's West Coast. Built and maintained by the City of Coquitlam, the Crunch is an invigorating workout that is open year-round and 24 hours a day.
However, common sense tells me it's best not to do the hike outside of daylight hours. Since the trail includes many stairs, it is NOT wheelchair friendly nor suitable for strollers.
The Coquitlam trail is free to all climbers and a great way to get some healthy exercise. You'll experience a combination of broad wooden stairs, paved areas, and crushed gravel sections on the trail.
If you are ever traveling to Vancouver, I encourage you to check out the "Crunch" (as locals like to call it). You'll get a great workout while climbing hundreds of stairs on this Coquitlam hike.
When you get near the top, the reward is the beautiful vistas, including Mount Baker's view in northern Washington state. As a resident of Greater Vancouver, I discovered the "Crunch" recently and have been back several times in the past few months.
While most are familiar with Vancouver's Grouse Grind, in comparison, the Coquitlam Crunch is significantly less challenging, and climbers can hike shorter segments. However, hiking in Coquitlam means locals don't need to drive to Vancouver to enjoy a Stairmaster trail.
We first tried the Crunch during the COVID-19 pandemic, and there were lots of additional signage reminding everyone to maintain social distancing, etc.
The Crunch has always been popular, but during the pandemic, daily usage increased as residents looked for a convenient and safe way to get outdoors during all the travel restrictions.
Where Is The Coquitlam Crunch?
Location: 1248 Lansdowne Drive, Coquitlam | Open: 24 hours
The trail is about a 30-minute drive from downtown Vancouver. Since the Coquitlam hike is built under the right-of-way for high voltage power lines, it is a large patch of greenery among the busy and fully developed Coquitlam urban City.
Unfortunately, there's no sign indicating you can park here at the start of the Crunch.
From Vancouver, take the Skytrain to either Inlet Centre Station in Port Moody or Coquitlam Centre Station in Coquitlam. It is about a 40+ minute walk from either station or about a 10+ minute drive by Uber or taxi.
There is also a section south of the Crunch that you can park at 2630 Runnel Drive, Coquitlam. Here, you will see a sign indicating "Coquitlam Crunch Parking." Unfortunately, this is the only sign anywhere that tells you where to park if doing the crunch.
The lack of signage made it a bit confusing. If you start here, you will have an extra 10-minute walk north via a paved walkway to get to the start of the Crunch at 1248 Lansdowne Drive.
The parking lot is next to a community garden, so you know you're in the right spot if you see a garden. Alternatively, you can park on Lansdowne Drive, should there be no vacant spots.
How Long Is The Coquitlam Crunch?
From the bottom to the top, the Coquitlam Trail measures 2.2 km, with an elevation gain of 800 feet. However, if you don't have a ride upon completion, you'll need to walk back and complete a circuit of 4.4 km.
The great advantage to the Coquitlam Crunch Trail over the Grouse Grind is that hikers can do it in sections. If you're a beginner, you might decide on an upper section or an easier portion of the trail.
From the start of the Crunch, it's a leisurely walk on gravel up to Lansdowne Drive. After crossing the road, this first section is an uphill trail. It soon becomes a loop with hikers walking anti-clockwise.
This is the steepest part of the course and where I felt the burn climbing 474 stairs. At the stair section, a gravel path runs next to the steps. Quite honestly, the stairs were easier to use because the gravel gave no traction.
The Crunch crosses Lansdowne again and continues at a gentler pace on a gravel path. This second portion continues until you meet David Ave. This next part runs from David Ave to Panorama; an off-leash area should you walk a furry friend.
The final section of the trail crosses the road at Panorama Drive before ending at Eagle Mountain Drive. While you're climbing high on the mountain, it's disappointing the views are obscured by the power lines.
Although, on a clear day, there are distance sightings of Mount Baker to the east.
Preparing For The Coquitlam Crunch Trail
While on the Crunch, I couldn't help but notice people of all ages with various fitness levels. Many people come out with friends, couples who want to exercise together, singles with dogs, and the "Fitness Fiends."
While some are walking, others run and use the trail to train for marathons, half-marathons, or Tough Mudder events.
In my view, virtually any person can do the Crunch because if you get into trouble, you can quickly turn around and head back down the trail to where you started. The course requires an "Intermediate" level of fitness if you are completing the entire Crunch.
On my first attempt, I noticed how my calf muscles were burning after just 15 minutes and felt like they were about to seize. However, there were lots of signage on the stairs to keep me motivated.
I have done distance running in the past (about ten years ago) and even completed several marathons and half-marathons, so I don't consider myself entirely out of shape but climbing several hundred steps in the first section was a humbling experience!
Climbing the stairs, I noted the metal grating on the steps gave a good grip. This makes the trail idea in the colder months when there's frost on the ground.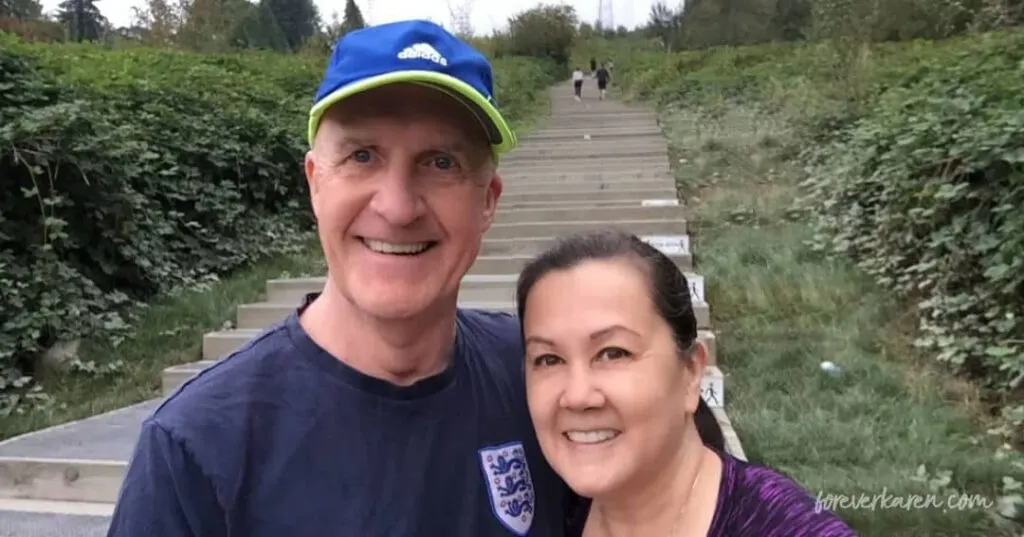 During my climb, I observed numerous health nuts making multiple loops on this challenging section. It's the ultimate cardio workout to run up and down the stairs repeatedly.
Tips To Have A Good Crunch
Follow these recommended tips to ensure a good hike:
● Wear suitable walking footwear – no flip-flops, flimsy runners, or heels. I've tried it with casual runners but found that a proper, tight-fitting workout runner is better and reduces the fatigue on your feet due to the hard surfaces. Although the older I get, the more I need proper footwear, so maybe it's just me!
● Wear a FitBit if you want to track your steps and calories burned. While sections of the stairs have number counts, you'll feel like you've done twice as many steps.
● Wear suitable sun protection. The entire course is under high-voltage power lines, and there is no protection from the sun. In the summer, temperatures can easily reach 30+ degrees C. (86 degrees F). Wearing sunblock and a hat protects from the sun and prevents heat stroke.
● Take a minimum 500ml bottle of water. The first time I completed the Crunch was in the summer heat, and I didn't have any water. I soon regretted it.
● Bring a snack (e.g., nuts, dried fruit, power bar). This is optional since you are in the city and not far from convenience stores, but I always like to "re-fuel" during any exercise. Do whatever works for you.
● It's best to carry a cell phone just for personal safety. It's also good to capture your completed Crunch with the all-important "Victory Selfie!"
● If you are hiking near closing time for the trail, consider bringing a small flashlight just in case. Of course, most cell phones have a flashlight app, which will work just fine if you have lots of battery left.
● Stay clear of the high voltage power lines for obvious reasons.
● Pay attention to the trail. Avid Crunchers often pass at a higher speed, so be aware of your surroundings.
● Be on the lookout for wildlife to avoid a close encounter.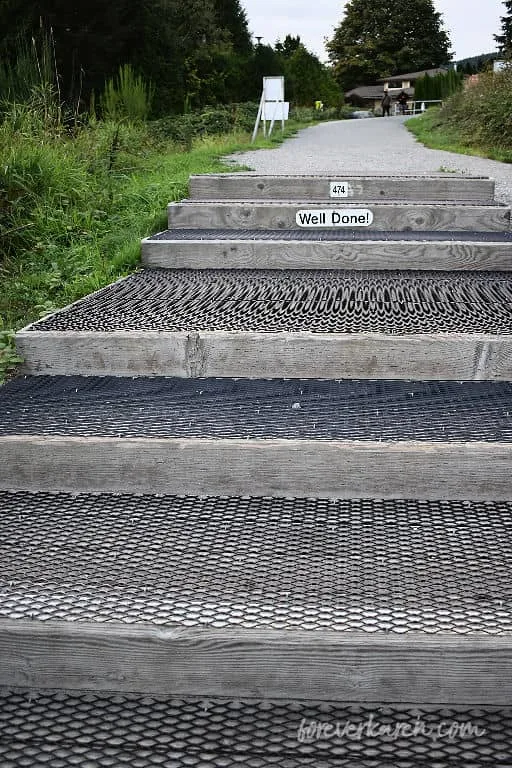 Bears On The Crunch
Like much of Vancouver and surrounding areas, Coquitlam is located in the Canadian Rockies' foothills and is home to many black bears and other wildlife.
Occasional bear sightings are not unusual, and residents know to respect and avoid bears at all times. Bears tend just to be looking for food in preparation for their winter hibernation.
During the summer of 2020, an incident with a bear touching a local hiker made national news. It was a stark reminder that we always need to be vigilant while on the trail.
On our hike, we noticed a sign that warned of cougar sightings too. Luckily, we saw no bears or cougars during our climb, although there were deer on the trail during my first hike.
For safety reasons, I'd recommend doing the crunch with a hiking buddy, especially at dawn and dusk.
Coquitlam Crunch Challenge
If the Coquitlam Crunch trail is right up your alley, consider attending the annual event. The challenge is well attended by many locals who test their fitness in a friendly way and supports the Coquitlam Crunch Diversity Fund. Usually held in early September, the event includes three different sub-events:
Stair Master – to see who is the fastest running up the 437 stairs on the Crunch.
Make It Or Break It – this 4-hour event is to see how many times you can go up and down the full Crunch within 4 hours. The previous winner did 18 laps of the Crunch. Amazing!
Recreational – this event is open to all to encourage participants to exercise and support the community.
Coquitlam Crunch Facts
Elevation Gain – 244 m (800 ft.)
Number of Stairs – 894 (in two sections, East is up and West is down.)
Length of Trail – 4.5 km round trip.
Time Required – 1-1/2 hrs roundtrip – depending on the level of fitness.
Open – Year-round, 24 hours a day.
Dog-Friendly – Yes, but on a leash.
There's lots of signage on the trail to let you know where you are and how much farther to go. The signage also points out wildflowers and gives information on wildlife in the area.
The trail has undergone a major uplift in the last few years, and there are plans for further improvements. With the city's approval, the Crunch will see the additions of viewing platforms, exercise stations, a paved parking lot, and an intertwining trail between the stair sections.
When comparing the Coquitlam Crunch Vs Grouse Grind, I like that the former is free and I'm not committed to doing the entire trail. The fact that the trail is much wider makes it safer too.
During the spring and summer, the busiest hours on the Crunch are mornings, early evenings, and weekends.
Some runners use the stair section to burn calories and train for events. So, be courteous and allow others to pass.
Coquitlam Trail Conclusion
Thankfully, for Karen and I, the Coquitlam trail is close to home and a great alternative to the grueling Grouse Grind. Hopefully, I've given you some great reasons to try out the Coquitlam Crunch whether it be for a casual exercise or training for an event.
Alternatively, the Vancouver area has plenty of outdoor activities to keep you busy and fit. If you have a special hike you love to do, we'd love to hear from you.
Cheers ~ Brian