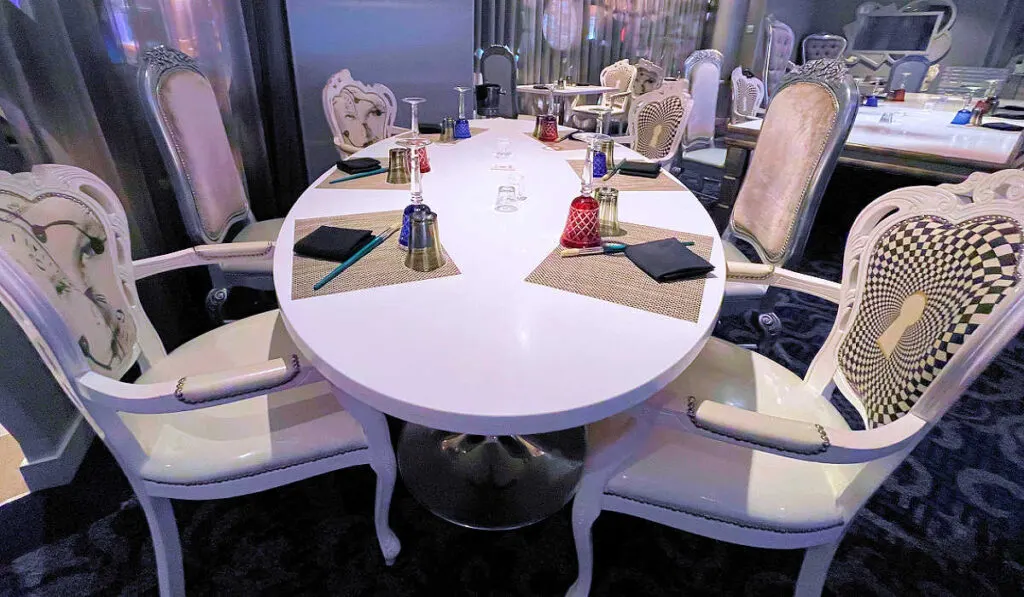 When you cruise on Royal Caribbean Ovation of the Seas, there's no excuse for hunger with twenty dining choices across its deck plans. With a passenger capacity of 4905, the Ovation Quantum Class cruise ship dishes out over 154,000 meals on a 7-day cruise.
The food choices are endless, from pizza and hot dogs to healthy salads and fine dining. So, whether you want a snack, a late-night binge, or just three meals a day, this article breaks down where you can eat (including menus).
24 Hour Food
Café Promenade, located midship on deck 4, offers complimentary coffees, teas, and juices. It also carried quick breakfast options, sandwiches, pastries, and a small selection of snacks. If you're a guest with food allergies, you can pre-order food to suit your needs.
Passengers can order room service 24/7. Royal Caribbean provides complimentary continental breakfast from 6 am to 11 am. It consists of cereal, pastries, fruit, yogurts, and drinks. Some Ovation of the Seas cabins allow you to entertain family or friends in your suite.
Hot breakfast and all other room service deliveries incur a USD 7.95 fee plus 18% gratuities. The rate is charged per delivery and not per meal.
We ordered breakfast in our cabin once on an early port day. It arrived promptly and was as expected. Since Ovation of the Seas staterooms don't have a table (unless you book a suite), it wasn't the ideal place to have a meal.
Ovation Of The Seas Dining Rooms
Unlike smaller vessels which have one main dining venue, the Ovation of the Seas has four. Guests can opt for a set dining time of 5:30 pm or 8:00 pm or choose a flexible schedule with "my time dining."
Located on deck three, The Grande and Chic offer a first dinner seating at 5:30 pm and a second seating at 8 pm. One level up, the Silk and American Icon Grill have early seating at 5:30 pm and "my time dining" from 6:45 pm onwards.
Royal Caribbean will assign you a dining room if you choose a set dining time. We were given Silk, which has an Asian theme. While the dining spaces have different décor, they offer the same menus.
Only the American Icon Grill and Silk on deck four were open for breakfast and lunch. On port days, the dining rooms opened at 7 am; however, they changed to 8:30 am on sea days for brunch.
We tried the dining room for breakfast, brunch, and dinner. Except for the odd item, the service was excellent, delicious, and well-presented. The brunch menu was small. It contained six smaller plates, six breakfast choices, five lunch entrees, and four desserts.
Royal Caribbean International suite guests have an exclusive dining area called the "Coastal Kitchen."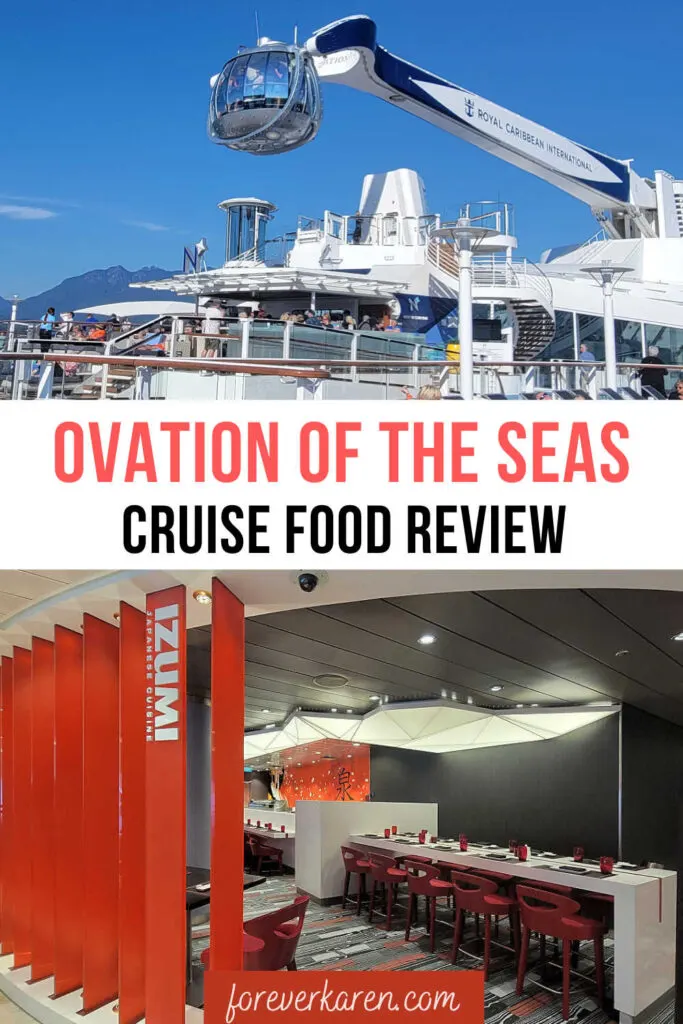 I've included the dinner menus for the nine days of our cruise to show the variety of food choices. We had two formal nights in nine days but found most guests didn't dress for the occasion.
Obviously, the Ovation of the Seas would adapt its dining menus for a 7-day cruise or repeat menus for longer voyages.
Day One
Since we purchased a three-day specialty dining package, we ate at Chops Grille the first night. I've included the review of our steakhouse meal below. However, here is the menu for the main dining room.
Day Two
We ate at Silk, our assigned restaurant, on the second evening. Brian chose the French Onion Soup, Caesar Salad, and Garlic Tiger Shrimp with Jasmine Rice.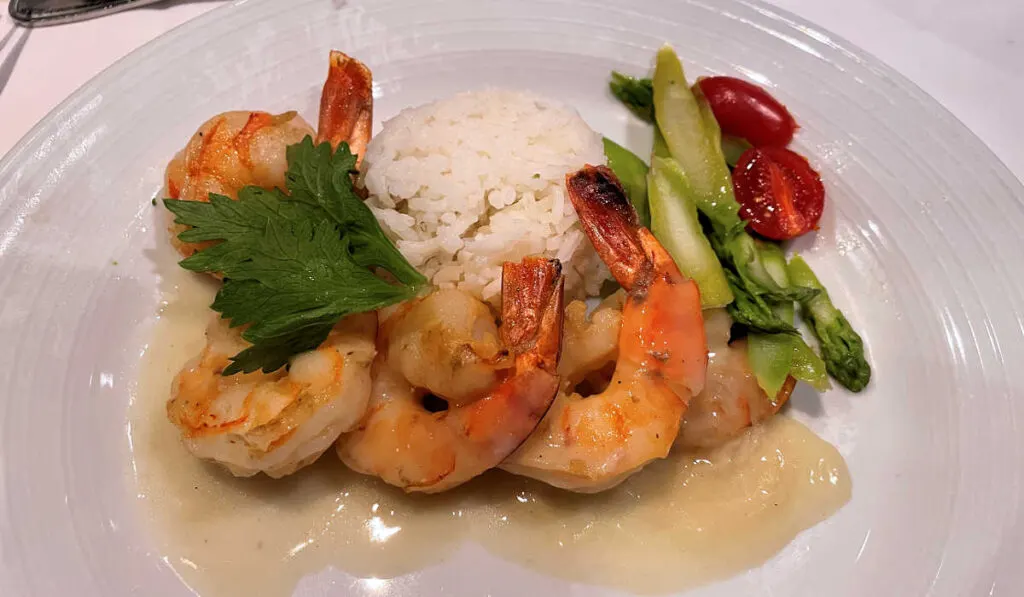 The Tiger Shrimp looked terrific, and he commented that it was tasty.
My choices included the Greek salad and Grilled Lamb Chops. While I love lamb chops, mine were tough and barely edible.
We both chose the Cherries Jubilee. While Brian's items were good, we raved at the Cherries Jubilee, which had incredible flavor.
Day Three
Day three was the first of our formal nights and our first of five days crossing the Pacific Ocean. Again, we ate at Silk on deck four.
None of the items on the night three menu thrilled Brian, so he selected from the classics (available every night). His choices included Caesar Salad, Shrimp Cocktail, New York Strip Steak, and Apple Blossom a la Mode.
Even though the steak wasn't a rib eye, he said it was tender and had good flavor. The Apple Blossom was a hit, as always.
I had the Shrimp Cocktail and went out of my comfort zone by selecting the Seafood Linguine. Since I need to eat gluten and lactose-free, pasta and cream sauces are generally a miss. However, this one was fantastic.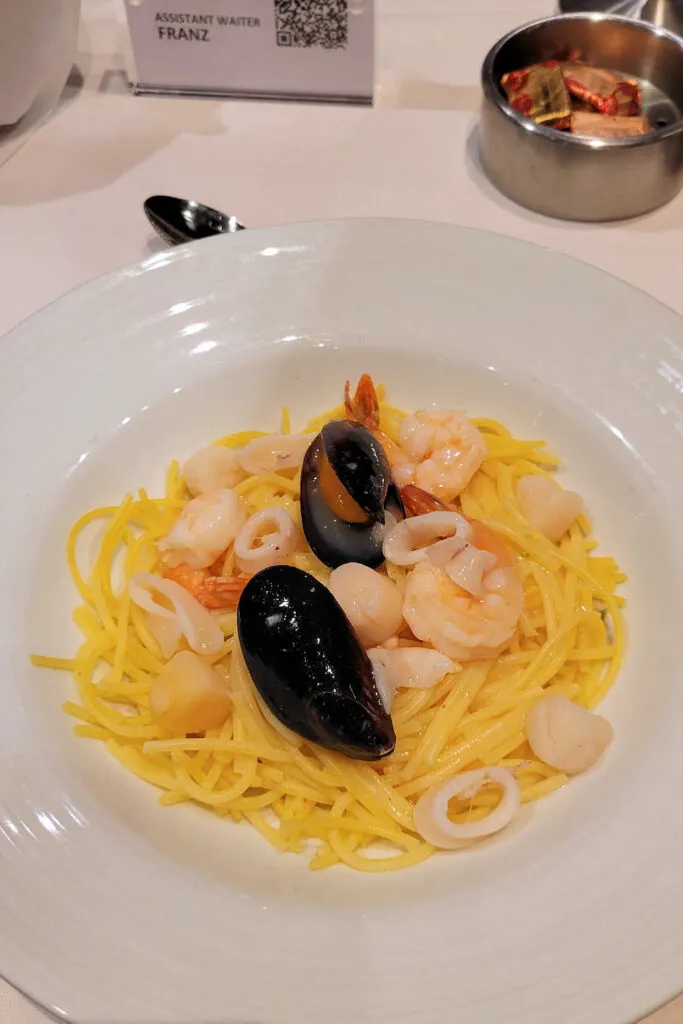 My head waiter surprised me with chocolate mousse, which was doubly amazing. It was so good I requested it later in the cruise.
Day Four
We ate at the specialty restaurant, Wonderland this night. The meal was beyond amazing, and you can see our selections and photos further down.
However, I have included the menu for what was offered in the four complimentary dining rooms.
Day Five
Jamie's Italian was our restaurant choice for the fifth night. After enjoying Wonderland the previous night, we wondered if Jamie's could top our novelty dinner. Please scroll down for our food selection and review.
Again, here is the menu offered to those in the regular dining rooms.
Day Six
We were back in Silk for the remainder of the cruise, and it was our second formal night on night six. Since Brian loves shrimp, he stuck to the Shrimp Cocktail and tried the Escargots for appetizers. However, the Escargot was overly salty.
He selected the Broiled Lobster tail as an entrée and finished with Baked Alaska. To his surprise, our waiter brought him two lobsters because they were pretty small, which made Brian quite happy. His entire meal, except for the Escargot, was delicious.
Since I'm not too fond of lobster without butter, I opted for something else. My appetizer of Shrimp and Potato Salad was terrific. It was followed by an equally fantastic entrée of Lemon and Harissa Roasted Chicken which was spicy but yummy.
As requested, I finished my meal with the same gluten-free and lactose-free chocolate mousse which I enjoyed on night three.
Day Seven
We chose the same entrée this evening; Prime Rib of Beef which was excellent. However, Brian selected French Onion Soup as an appetizer, and I had the Crispy Coconut Shrimp. While the shrimp was crispy, the sauce was a bit bland.
Although our entrees were good, our standout for the evening was our desserts. Brian had the Profiteroles, and I had a Strawberry Mousse.
Day Eight
By day eight, we wanted to go a little lighter with our food choices, especially as we had enjoyed a large lunch in Lahaina, Maui.
Brian started with a garden salad, had the BBQ Back Ribs, and passed on the dessert. The salad was fresh, as always, and the ribs were delicious.
I chose the Tomato, Watermelon and Feta Salad which was the highlight of my meal. The combination of watermelon and feta was refreshing and flavorful.
My entrée of Cilantro-crusted Cod Loin was a miss because it lacked seasoning and flavor. But the Crème Brulee was good, but not outstanding.
Day Nine
Our last meal disappointed us. Both Brian's Chicken Marsala and my Beef Bourguignon were so tough we couldn't eat them. The beef in my entrée had been seared on a grill but not slow-cooked. Not only could I not cut it, but it was leathery to chew.
However, his garden salad was extraordinarily fresh, and he enjoyed simple vanilla ice cream for dessert.
The highlight of my meal was my appetizer. The Salmon and Shrimp Fritters were done to perfection, and I completed my meal with Eton Mess, a traditional British treat.
Ovation Of The Seas Specialty Dining
These are the signature restaurants that are found only on Royal Caribbean ships. Guests can choose to dine in one or more.
If you plan to eat in more than one, it's advisable to pre-purchase a specialty dining package before your cruise. Single pricing for each specialty restaurant varies from USD 50 – 65 per person (without drinks).
In my view, the pricing for each specialty restaurant is expensive compared to other cruise lines such as Carnival, Celebrity, Princess, or Cunard.
We purchased the 3-pack giving us our choice of 3 specialty restaurants for USD 101 per person. By purchasing this package, Royal Caribbean required us to eat in one of our chosen restaurants on the first or second night.
Since the Chops Grille charged USD 64.99, Wonderland USD 59.99, and Jamie's Italian USD 49.99, we felt USD 101 was quite a bargain for all three.
Since Brian didn't want to miss out on Lobster Tail and Baked Alaska on a formal night, we made sure not to go to a specialty restaurant that evening.
For an elevated dining experience, guests can purchase the Chef's table, which costs USD 99. This formal meal offers intimate dining of five courses paired with wine.
We later cruised on the Quantum and tried Izumi and "Taste of Royal" lunch which was fabulous. You can compare the Quantum food choices here.
Chops Grille
Chops Grille is the Royal Caribbean's signature steakhouse. We tried this on our first night and found the food typical of a steakhouse. Unfortunately, my salad included some brown, wilted lettuce which was disappointing.
Brian ordered the colossal shrimp cocktail, Caesar salad, filet mignon with baked potato, and finished with the New York cheesecake.
Our waiter recommended the cheesecake and said it was better than what was served in the main restaurants. For Brian, it was a miss since the cheesecake was dry and tasted stale.
I ordered the charred beef carpaccio, crispy goat cheese salad, grilled Branzino, and Pavlova. The Pavlova was the hit of my meal.
My fish was flavorless, my salad wilted, and the carpaccio was ok but not what I expected for a USD 65 meal. So, maybe eating in a specialty restaurant on the first night wasn't a good idea.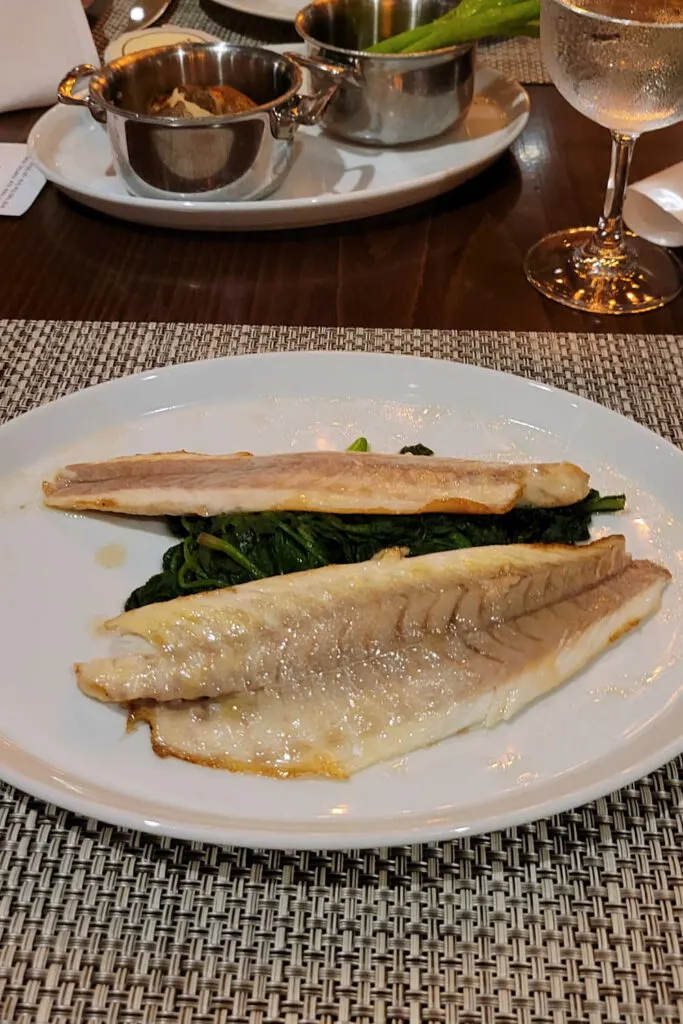 Later we learned the ship wouldn't receive fresh food supply until the next day in Seattle. Since the vessel used ingredients from the previous cruise loaded eight days earlier, it explained the wilted lettuce and not-so-fresh ingredients.
While I was disappointed with this meal at the steakhouse, we had previously eaten at Chops Grille on the Serenade of the Seas four months earlier, and the food was excellent.
If the USD 65 fee is too high for your liking, the restaurant offers a smaller lunch menu for USD 29.99.
Izumi Sushi
If you love Japanese food, this is a must-dine restaurant. The food is classically prepared and delicious. Located on the upper floor of the Royal Esplanade, the restaurant offers a la carte choices for lunch and dinner.
Izumi offers a selection of small and large plate options. Small plates include traditional Miso soup, gyoza dumplings, crispy rice spicy tuna, and my favorite, crispy chicken kara-age.
Larger plates consisted of sushi rolls (8 pieces), Sashimi, Udon, Ramen, Teriyaki, and a Poke bowl. The Poke bowl had lots of meat and was quite tasty.
The roll selection included all the favorites; salmon, tuna, lobster, crispy shrimp, snow crab, and crispy Philly roll.
Lactose-free, gluten-free, and vegetarian options were available. Izumi offers four desserts; green tea ice cream, chocolate lava cake, crispy sesame balls, and mocha ice cream.
Jamie's Italian
This restaurant is under the franchise of world-famous chef Jamie Oliver. The menu is classic Italian, including your choice of pasta. The restaurant makes fresh pasta daily, and its menu features comfort food.
I couldn't wait to eat at Jamie's Italian, and although I needed to eat gluten and lactose-free, this Royal Caribbean restaurant offered many options.
Brian was in heaven when he tasted the garlic bread and remarked it was the best he had ever eaten! Jamie, your restaurant lives up to your reputation.
He added the Calabrian Chicken, Posh Fries, Funky Fries, and seasoned vegetables. After all that food, I was amazed he had room for Tiramisu.
I chose the Garlicky Prawns, Lamb Chops Scottadito (my favorite), Funky Fries, and Flourless Chocolate Cake. Honesty, I can't say what was the best part of the meal because it all looked and tasted amazing.
While I generally don't eat fries, the Funky Fries were fantastic. Crispy on the outside and soft on the inside. Yum yum!
For taste, I'd say Jamie's Italian had the best food of all the specialty restaurants, yet it was the cheapest. Its restaurant décor was a little more casual. However, I enjoyed the peacefulness of the location next to the Via.
Wonderland
If you are a fan of Alice in Wonderland, you MUST dine at this whimsical venue. The décor is fun and unique. The food shows incredible imagination, and everything presented to you is edible – except the plates!
Like the Petit Chef on Celebrity Cruise Line, dining at Wonderland provides an immersive food adventure. I loved the quirkiness of the décor, with different chairs, keys hanging from the chandeliers, and a paintbrush at each setting.
The dinner starts with diners needing to paint a blank picture with water. Once painted, the menu appears and features items based on earth, sea, sun, fire, and ice. Some of the food is sharable while others are for one person.
While we are not drinkers, we chose to order alcohol that night. I had the Down the Rabbit Hole (with a choice of red or blue pill), and Brian decided on the Cheshire Cat Cosmos, which came with, of all things, cotton candy.
However, since I have food allergies, I met with the head chef the day before and discussed my options. In the end, I left it to the Sous Chef, Sebastian, to surprise me.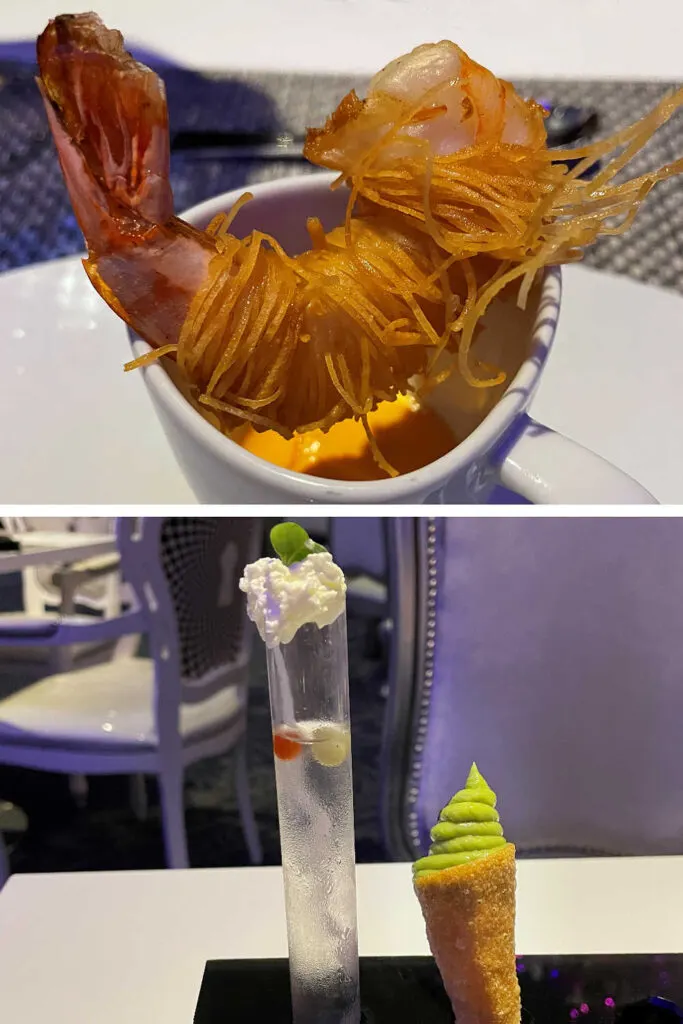 For starters, we had Tomato Water, Crispy Crab Cone, Bird's Nest, and Mad Hatter's Purple Potted Shrimp. The Crab and Bird's Nest were the highlights for presentation and taste.
Brian also had the Liquid Lobster and Citrus Seas Shhhh, while I had the Baby Vegetables in the Garden, which was stunningly presented.
We chose the Rib "I" Luscious Short Rib and Chicken and the Egg for entrees. There was so much food that we couldn't clean our plates.
Then our waiter surprised us with three desserts. I had an adapted chocolate mousse which was heavenly. Brian received "The World," a sinful ball of chocolate, peanut butter ganache, and caramel sauce, plus the Mystical Mushroom Garden.
I was blown away by the presentation of the mushroom dessert. This dinner was the highlight of our Ovation of the Seas cruise for combined presentation and food tasting.
The Windjammer Buffet
Located on deck 14, the Windjammer Marketplace had all the usual food choices for breakfast, lunch, and dinner. The buffet had a decent variety of food, including North American, Indian, European, and Asian items.
When we ate there, we never queued for the buffet, and there was generally no shortage of tables. However, our cruise sailed with 3,000 guests, and it could be a different story if the vessel had its maximum capacity of almost 5,000.
I thought it was odd that the buffet closed early at 8:30 pm. After that, the doors were closed, and guests needed to go to deck 4 to get a drink.
For those with allergies, nothing is marked on the food signs, which proved to be problematic. I felt the staff in the Windjammer were not well informed when it came to allergies.
One morning, I tried the omelet station. I informed the staff of my allergies and requested fresh eggs instead of carton eggs. I waited ten minutes for the omelet, which arrived with ingredients I was allergic to.
Casual Food Choices
There are many venues for breakfast, lunch, and casual food instead of the buffet and dining rooms. On deck 4, the Amber and Oak Pub opened from noon to midnight and offered pub food.
For USD 4, you can choose from Nachos, Lobster Mac & Cheese Wedges, Deep Fried Pickles, German Pretzel Sticks, Poutine, and much more. A pub burger was USD 8 with the option to buy toppings.
Adjacent to the pub, Sorrento's Pizzeria (11:30 am to 3 am) serves complimentary pizza. Brian tried a slice and remarked it was good but not great.
Also, on deck 4, guests can purchase a selection of macarons for USD 1.75 each from La Patisserie. They also sold fruit tartlets, chocolate eclairs, strawberry cheesecake, and other sweet treats for USD 2.95 a piece.
On deck 14 near Splashaway Bay, guests can find complimentary Fish & Chips with the option to buy select items. Brian tried the complimentary lunch and said it was crispy and great tasting.
The Doghouse served traditional hot dogs from 11:30 am to 5 pm in the Sea Plex.
We tried the Solarium Bistro for breakfast one morning. Breakfast included eggs, bacon, grilled tomatoes, French toast, cereal, fruit, and pastries.
While the selection was pretty good, the Solarium Bistro lacked enough seating to accommodate guests. The staff also struggled to keep up with cleaning tables for the revolving guests.
Cafe @ Two70
My favorite place for casual and healthy eating was Café @ Two70. It opened from 6:30 am to 10:30 am for breakfast and 11:30 am to 5 pm for lunch and snacks. It also featured a Starbucks (for an extra fee) if you needed a caffeine kick.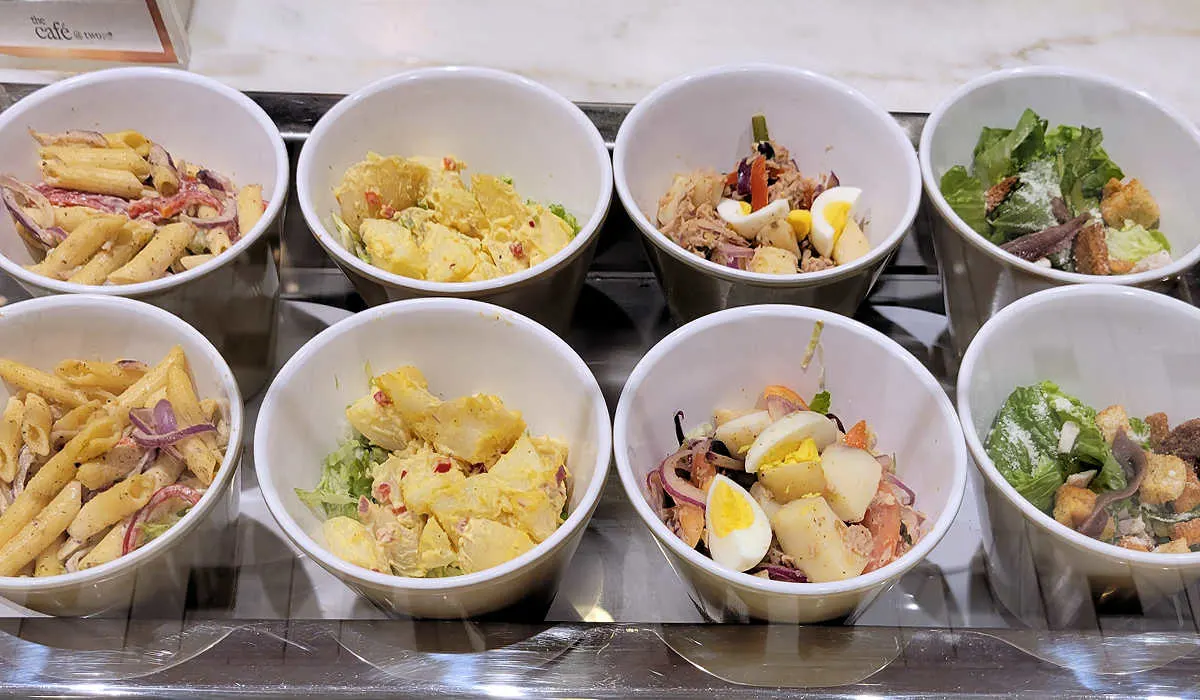 The Two70 Café had freshly made sandwiches, wraps, soups, a variety of salads (or create your own), fresh fruit, rotisserie meat, and a small selection of desserts. It was our dining option of choice on seas days. With so many healthy options, we avoided the temptation of richer food offered in the Windjammer.
The salads were always fresh and had the option to add toppings like chicken, ham, egg, bacon, olives, etc. Salad choices included Classic Nicoise, Chicken Caesar, BLTA (with avocado), potato, pasta, chopped, and Thai Noodle.
Most of the time, the Two70 didn't host a ton of events, so we found it a great place to enjoy lunch or a snack. Since most guests went to the buffet, the Two70 café was void of crowds, so we didn't have to wait for food or a seat.
Overall, we were thrilled with the number of food choices on the Ovation of the Seas, especially the specialty dining options. Now, we look forward to sailing on her again in the future.