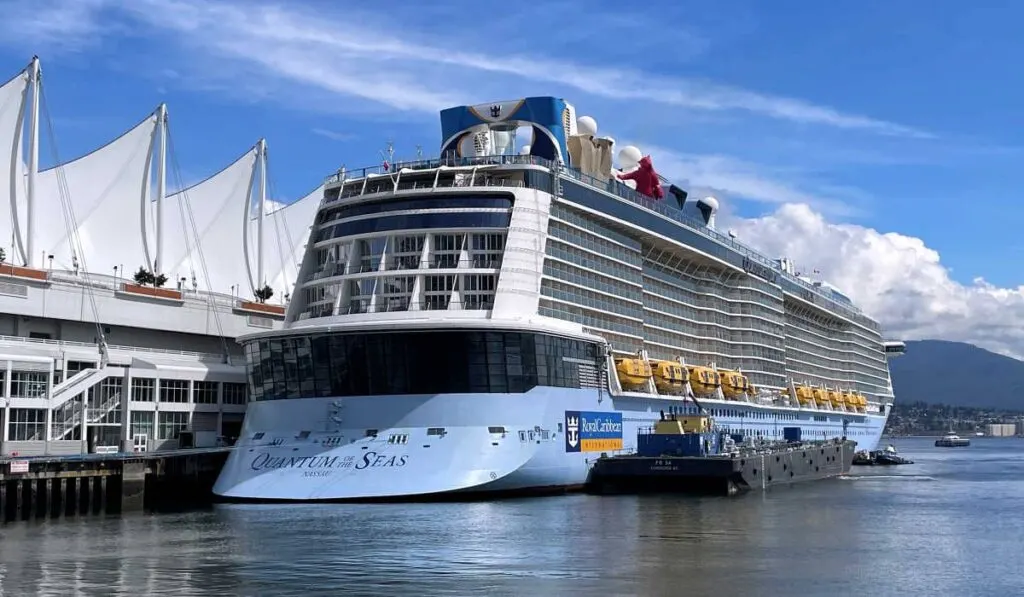 Are you booked on the Quantum of the Seas and seeking a ship review; I've got you covered. Royal Caribbean's Quantum of the Seas set the bar for innovation, luxury, and entertainment at sea. It is the flagship of Royal Caribbean's ground-breaking Quantum class and was launched in 2014.
With its state-of-the-art technology, diverse dining options, and thrilling activities, there's never a dull moment on this floating oasis. In this blog post, we'll share our onboard experiences on this incredible ship during our cruise to Alaska.
Whether you're a seasoned cruiser or a first-time voyager, you will be amazed by the dazzling amenities and dining options.
My wife Karen and I sailed recently from Vancouver to Alaska on the Quantum of the Seas. It was an unforgettable journey enhanced by all the ship had to offer.
This was our 2nd cruise on a Quantum-class ship, as we previously completed a repositioning cruise to Hawaii from Vancouver, BC.
Even though we had a different itinerary and were cruising to the warmer waters of Hawaii, I was so impressed with the Ovation cruise ship that I wanted to try its sister ship, the Quantum of the Seas.
Quantum Of The Seas Overview
The Quantum of the Seas accommodates 4,180 passengers (double occupancy), with a maximum capacity of 4,900. There are 1,500 crew to operate the ship and serve the passengers.
The ship was full during our cruise and had virtually no vacant cabins with over 4,300 passengers onboard. There were over 300 children, which is below average for a Quantum of the Seas sailing.
If you are considering a bucket list cruise to Alaska on the Quantum of the Seas, here are some of the best things to enjoy on board:
RipCord by iFLY: Experience the thrill of skydiving without jumping out of a plane with this indoor skydiving simulator.
FlowRider: Test your surfing skills on this 40-foot-long surf simulator.
Two70: A multifunctional entertainment venue featuring panoramic windows, transforming into an immersive multimedia experience. The shows are unique and sensational, with six robotic video screens and aerial performances at night.
SeaPlex: The SeaPlex is the largest indoor active space at sea. It offered roller skating, bumper cars, a basketball court, dodgeball, and more.
North Star: This observation capsule takes you 300 feet above sea level, providing breathtaking 360-degree views of the ocean and the ship.
Bionic Bar: Be served by robotic bartenders who mix and serve cocktails based on your custom order.
Solarium: An adults-only retreat with cascading lagoon pools, hot tubs, and a bar, perfect for relaxing and soaking up the sun.
Royal Esplanade: A lively shopping and entertainment district featuring boutiques, bars, and cafes.
Adventure Ocean: If you are traveling with kids, Adventure Ocean provides age-appropriate activities, games, and workshops to keep them entertained throughout the cruise.
What We Liked And Didn't Like
As with any cruise ship, there are things you like and some you don't like. It was no different on the Quantum of the Seas during our sail to Alaska.
Remember, this was our experience, and you may encounter a very different scenario. Here are our thoughts, and while some are minor, this will help if you choose Quantum on a future cruise.
Pros
Staterooms have a tea station. Karen and I love our tea, and a kettle is a big convenience for us.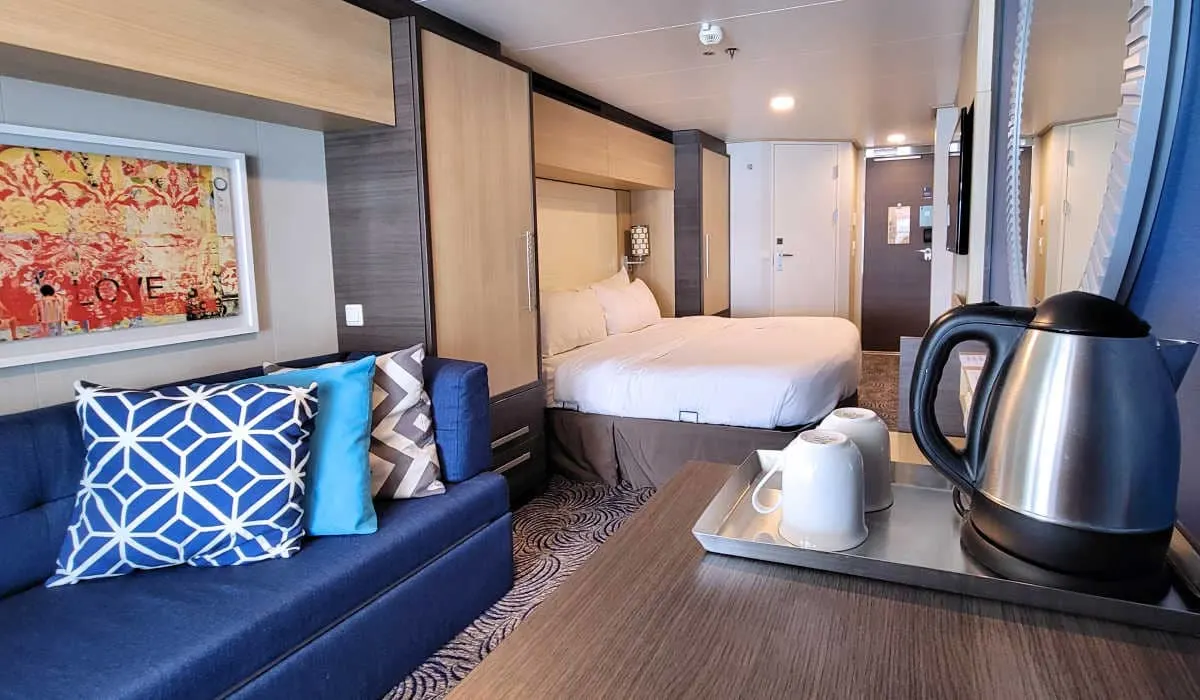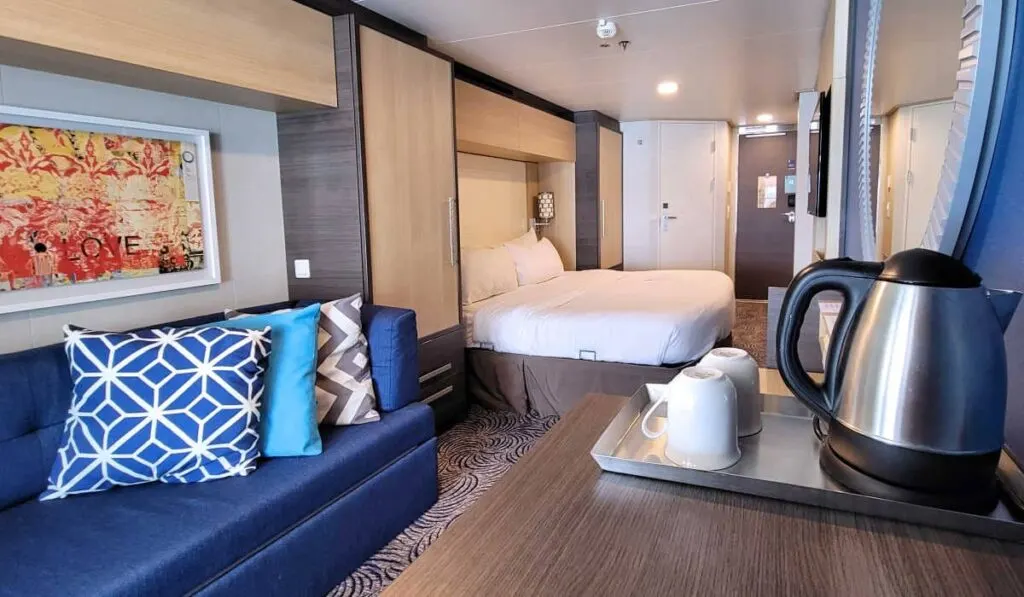 The cabins are spacious. Our balcony cabin had a trundle bed to easily accommodate four.
The Quantum offers 20 venues to get food or beverages. With so many choices, the eating spots never seemed crowded at meal times.
Having two indoor pools for a cold destination like Alaska is ideal.
There's so much to do on the Quantum because of amenities like FlowRider, iFly, Northstar, bumper cars, roller skating, and more. So, there's no room for boredom on a sea day.
They put signs on the poolside loungers reminding us not to save space on loungers. This is a problem on many cruise lines, with passengers getting up early to throw towels on loungers for the entire day.
Having the Day-of-the-Week signs in each elevator. When traveling, have you ever forgotten what day of the week it was during your vacation? I know some travelers like it that way!
We liked the larger balconies. Our balcony had chairs with footstools to lounge and listen to the waves.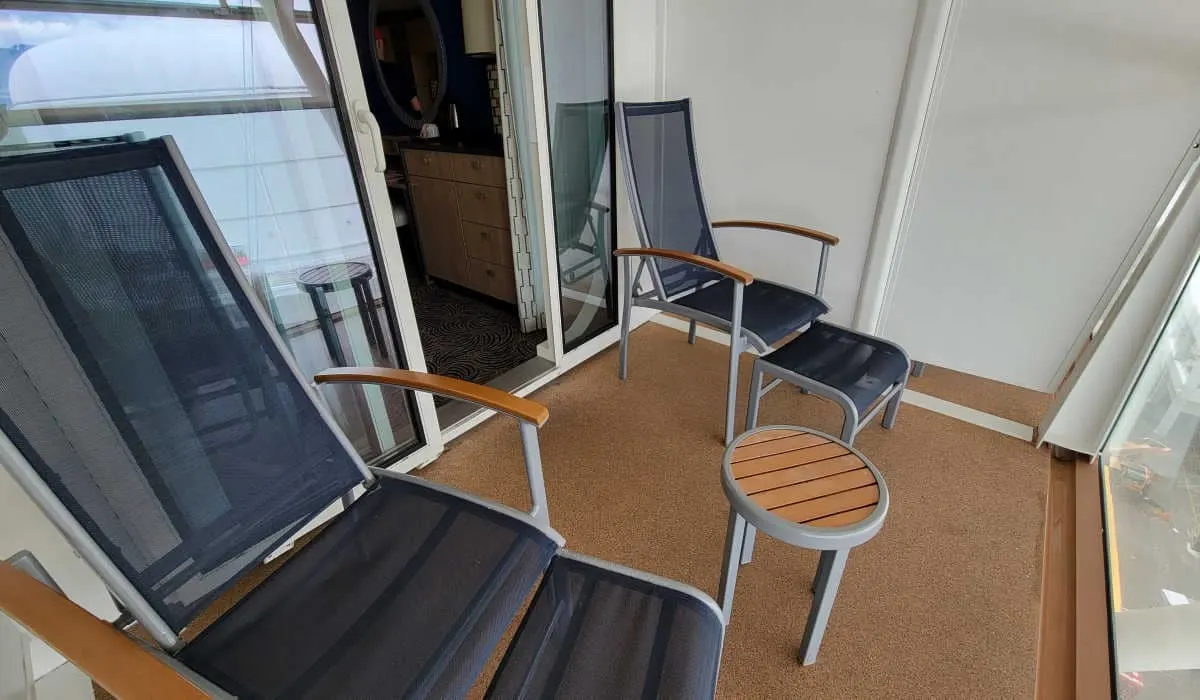 Cons
At our first port in Ketchikan, Royal Caribbean had all guests meet in the Royal Theater before disembarking the ship. Thousands of people tried to reach one venue in a line that ran along half the ship, resulting in late excursions.
Karen has several food allergies, and the restaurant manager repeatedly served her the wrong food. She informed the dining room staff of her allergies before and on the first day of our cruise.
The toilet in our cabin had a problem known as "Delayed Flush." Occasionally it would not flush after use or would flush 5 minutes later after pushing the button multiple times. We called Maintenance, and they did something while we were outside of our cabin. However, the problem persisted.
As the ship was full, many events we wanted to book showed as 'Sold Out' frequently. It was difficult to get bookings, and some reservations we had disappeared due to problems with the Royal Caribbean app. Plus there was long waits for the bumper cars.
Karen took the Premium North Star Experience at USD 69 per person while sailing into Endicott Arm. It was raining outside, so visibility was poor, but it was made worse by the steamed glass inside the pod.
Service on the Quantum was not as good as we experienced on the Ovation of the Seas a year earlier.
Two mornings, there was no hot water to take a shower. Cold showers just aren't our thing, especially in a cold destination.
Karen's app stopped working on day five.
Dining On the Quantum Of The Seas
When reviewing a cruise ship, dining is a huge part of the cruise experience, especially if you're a foodie. As a mega-ship, many dining options exist on the Quantum of the Seas.
Guests can enjoy many in their cruise fare, but the food and experience are much better if your budget can include one of the specialty restaurants.
The Quantum has four main complimentary restaurants: The Grande and Chic on Deck 3 and Silk and American Icon Grill on Deck 4. The menus are the same each evening across all four rooms.
Many cruise lines have reduced their dining options after the COVID pandemic. The Quantum still had one "classic" – New York Strip Steak – that repeated each night.
The Premium Selections were an additional charge for Maine Lobster Tail (USD 16.99), Filet Mignon (USD 19.99), and Surf & Turf (USD 34.99). This was my first time seeing this format on any main dining option.
The advantage is that you can have a 'Specialty Restaurant' quality without booking at another restaurant. Specialty dining restaurants fill up fast, with many passengers making reservations before they board the ship.
Windjammer Marketplace is Quantum's casual buffet on Deck 14 and a great place to eat any time of the day. However, we were surprised when it closed early some evenings at 9 pm.
We used it primarily for breakfast or lunches and loved the self-serve, where we could get exactly what we wanted.
Here are some of the other popular dining venues available on the Quantum that are at no additional cost:
The Café @ Two70: This café next to the Two70 serves gourmet salads, sandwiches, soups, and more.
Solarium Bistro: A casual spot offering a healthy breakfast and lunch dining venue.
Room Service: We tried room service for breakfast near the end of our cruise. The delivery was on time, and the food arrived hot. However, there's a delivery charge of USD 7.95.
Coastal Kitchen: Exclusive to Suite guests and Pinnacle Club members. They offer Mediterranean influences and California cuisine.
Sorrento's Pizza: Hand-tossed, New York-style pizzas with both classic and innovative combinations.
Café Promenade: This is the only 24/7 venue and offers coffee, pastries, sandwiches, and more.
SeaPlex Dog House: Located in the SeaPlex on Deck 16, this fun eatery looks like a food truck at sea. I was impressed they served gluten-free, and the food was very good.
Specialty (additional cost) Dining Venues: Four specialty restaurants are available on the Quantum of the Seas. You can save money by booking ahead before embarkation day.
These restaurants fill up quickly, so make your reservations as soon as possible to get the date and time you want. Here's a full review of dining on the Quantum, including specialty restaurants and menus.
Tip for dining time: Try to get the dining time you want when booking your cruise. Since our cruise sailed at maximum capacity, guests found it impossible to change their dining venue and time.
Quantum Of The Seas Cabin Review
We originally booked an interior stateroom to experience a virtual balcony on our cruise. However, Royal Caribbean invited us to bid for an upgrade through their RoyalUp bid for an upgrade program.
Karen is a "master" at finding cruises at the right price. We won our bid, and received a balcony stateroom on deck 13. While it was under the buffet, we never heard any noise.
Our balcony cabin was contemporary, spacious, and with lots of storage. We were short some hangers, but guest services solved that problem by providing extra.
One of the amenities I like best is the kettle in the cabin. It's great to be able to make tea without leaving the stateroom.
However, I was surprised that the kettle didn't come with an assortment of teas, coffee, sugar, or cream. We frequently grabbed extra tea bags and sugar packs from the Windjammer to keep our supplies in the cabin.
Our private balcony was larger than those on competitor lines. In fact, we received two footstools with our lounge chairs so we could recline and listen to the ocean waves.
You can read a full review of our Quantum balcony cabin.
RipCord By iFly
RipCord is a fun adventure and allows you to simulate skydiving at sea. The activity takes about one hour, but you get just one minute of solo flying in the wind tunnel.
With the help of a giant fan blowing wind from underneath at 150 miles per hour (240 kph), you'll feel light as a feather in the tunnel. I've seen kids as young as 3-and-a-half participate, but families of all ages are welcome.
A professional flyer is in the chamber with you all the time. You must watch a safety video first and answer questions about if you have had previous health issues that would prevent you from flying.
Karen tried iFly on our Quantum cruise and had as much fun as the first time on the Ovation of the Seas cruise. Royal Caribbean offered complimentary sessions on port days, and guests had to pay USD 29 on a sea day.
With the ship at maximum capacity, finding an available time slot was hard, so we had to keep trying each day as slots opened up. You need to book using the app, and you can do ONE complimentary and ONE paid session.
Alternatively, you could book a lesson, but these were very expensive.
Tip for doing iFly: If you want to do iFly and want photos or video, you cannot take a smartphone or camera with you. So, have family members book DIFFERENT time slots so you video each other.
FlowRider
The FlowRider surf simulator lets you practice your surfing or boogie-board skills while cruising at 22 knots at sea! Thirty thousand gallons of water per minute move at 30 miles per hour (48 kph) under you.
I have never surfed, so I took the easy lessons laying flat on a boogie board. After a couple of tries, I was on my knees.
The FlowRider is a popular area on sea days, and we would watch the surfers try their skills. Many are beginners and fall after a minute.
Watching the pros who can slalom back and forth on the waves and never fall down is impressive. You must meet minimum height requirements of 42 or 48 inches, depending on your chosen activity.
Be sure to sign up on the Royal Caribbean app. There are different times available depending on what level of surfing skill you have. And don't worry if you're cruising to Alaska; the water is heated.
Tip doing the FlowRider: Bring a Rashguard top or extra layer for cold weather destinations like Alaska.
Climbing Wall
Adjacent to the iFly, you'll find an enormous rock climbing wall, offering climbing for all levels of experience. A staff member will help you attach the safety harness; then, you're free to pick your path.
You don't need to sign up using the app. Just show up when the ship opens the climbing wall. However, the wall can be closed during strong winds for safety reasons.
Nearby, remember to get your selfie with the giant magenta polar bear.
North Star
The North Star is unique to Royal Caribbean and a must-do ride on the Quantum of the Seas. It is bookable through the RC app, but be sure to know if there is a fee for each ride.
The pod takes up to twelve guests and is wheelchair accessible. There are up to 3 contrasting experiences on the North Star:
Complimentary Basic Experience – free in port – 12 mins.
Extended Experience (at sea) – USD 19 – 15 mins.
Premium Experience – USD 69 – 20 mins.
The complimentary ride is usually available in port, and the other paid-for experiences are available at sea. The Premium Experience is available in unique locations near glaciers.
They fill up fast since there were limited spaces for the Premium Experience. Karen paid for the Premium Experience as we cruised into Endicott Arm. She got the last timeslot at 6:20 am.
Tip for doing North Star: Book a time slot for the basic experience on embarkation day. Most guests don't know you need to book by the app, so you'll have a good chance of finding an opening.
View From North Star In Endicott Arm
Weather plays a big factor in your experience on the North Star. We went on the North Star while docked in Vancouver and visibility was great.
However, due to pouring rain and cold, the conditions in the pod were not ideal in Endicott Arm. The rain pelted the exterior glass making visibility poor, resulting in a bad experience.
Also, the cold outside air caused the glass inside the pod to fog up, making visibility worse. Even after frequently wiping off the condensation, the glass would fog up again.
Ultimately, Karen complained to Guest Services, requesting a refund due to the poor Experience. After much persistence, hassle, and negotiating with the Royal Caribbean agent, they reduced the total fare by 30%.
Be wary of booking the North Star – Premium Experience in Alaska unless you are sure the weather will be clear. Sunny days in Alaska are often rare!
Two70
Two70 on Quantum of the Seas is an innovative venue that combines cutting-edge technology, immersive performances, and stunning ocean views.
The name refers to the 270-degree panoramic views offered by the floor-to-ceiling windows that span three decks at the ship's aft.
According to Quantum staff, Royal Caribbean built the Two70 venue at the cost of USD 39,000,000, more than the original Royal Caribbean vessels! The six robotic monitors are 8k resolution, and the video system was USD 6 million.
Two70 is one of our favorite areas on Quantum-class ships because of its location, design, and nearby café. I love watching the wake of this massive ship as it cruised to Alaska.
During the day, Two70 serves as a comfortable, modern lounge with ample seating. You can relax, read a book, work, or enjoy the breathtaking ocean views.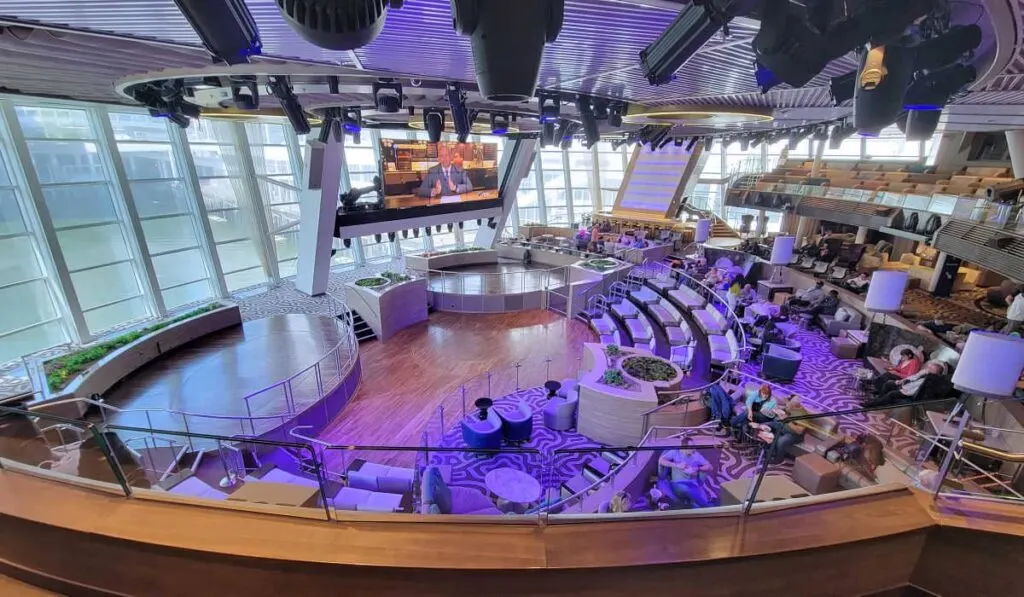 The space transforms into an entertainment venue at night with state-of-the-art lighting, sound, and special effects. However, if you book one of the evening shows through the RCI app, be sure to arrive early.
One of the signature shows during our cruise was "Starwater." We booked through the app, but our booking disappeared without explanation! When we tried to book again, the show was sold out.
Tip for attending a sold out show in the Two70: Arrive 20 minutes early and join the 'Stand-by line.' Many people with bookings don't show, and the staff let stand-by passengers enter the show 10 minutes before it starts.
Vistarama: includes 18 projectors that create a seamless 100-foot-wide and 20-foot-tall digital canvas on the aft windows. The result is stunning visuals and 3D animations that make a panoramic video format.
Six agile robotic screens move in sync, displaying dynamic visuals and interacting with live performers during shows.
Aerial performers and acrobatics: Talented performers showcase their acrobatic skills, often suspended from the ceiling or performing alongside the Roboscreens. This results in a unique fusion of technology and live entertainment.
Two70 Café: This casual café located within Two70 offers a selection of sandwiches, salads, soups, and desserts, as well as specialty coffee and tea. You can enjoy a light meal or snack while enjoying the ocean views or watching the ongoing performances.
Karen often picks up a healthy snack at the Two70 Café. As she suffers from multiple food allergies, she trusts the serving staff there to know what ingredients are in each item they serve.
SeaPlex
The SeaPlex is a multi-purpose venue on Deck 15 at the ship's forward section. Being totally enclosed, guests can use it during all weather and climates – including Alaska!
Most cruise ships have a basketball court, which is usually outside with no covering. The SeaPlex is much better because it is climate-controlled.
During our cruise, Royal Caribbean used the SeaPlex for popular activities such as bumper cars, basketball, pickleball, dodgeball, and roller skating.
These are authentic bumper cars where you drive to collide with your neighbors. It's great fun for couples and families of all ages.
Karen and I drove the cars twice during our Alaskan cruise. However, they are very popular, and you typically need to join a long line.
There are 15 cars per 3-minute session, but be prepared to wait for your 3 minute ride. We joined the end of the line, and it was 45 minutes before our turn. Even though cars can seat two, most couple rode separate cars.
RCI only offered the bumper cars three times during our seven-day Alaska cruise.
On the second level of the SeaPlex, you can find Play Station, foosball, air hockey, and ping pong tables.
Tip for riding the bumper cars: go on embarkation day when guests are still getting their bearings on the ship. You'll enjoy the venue with fewer people and you may even get to ride twice.
Bionic Bar
This state-of-the-art device is a robotic bartender that can mix your favorite drink. The Bionic Bar was the first of its kind at sea when the Quantum-class ships launched.
During evenings, it's a popular hangout with two robotic arms mixing passenger drinks. Karen and I did not try it on our Quantum cruise because I had ordered a "Bahama Mama" drink on our earlier Ovation cruise.
Drinks are the regular drink price of USD 13. If you purchase the Drinks Package, you can use it at the Bionic Bar. However, if you're a Diamond loyalty member with four drink coupons daily, you cannot use these to get a free drink at this bar.
Even if you don't drink, watching the mechanical arm in action is amusing.
Solarium And Other Pools
There are four pools on the Quantum, with a nice mix of both indoor and outdoor pools.
The indoor pools are great when cruising to Alaska, where temperatures can be very cool during May and September.
The indoor pools were well utilized since we cruised to Alaska in mid-May. Adults can enjoy an outdoor pool in warm weather destinations, and there's a shallow one for kids too.
One of my favorite pool areas is the Solarium, with tiers of pools and hot tubs with a massive glass ceiling above. However, it is also a popular area, so come early if you want a lounger.
Many passengers prefer the adults-only Solarium. While not family-friendly, it is a great relaxing area, regardless of the weather outside.
We noticed something new on the Quantum of the Seas cruise: bright pink signs on many lounge chairs reminding passengers NOT to save chairs. Passengers saving chairs early in the day is a nuisance on most cruise ships.
I have seen passengers arrive very early in the morning and put a baseball cap and towel on two chairs. The irony is they did not return to the chairs until a few hours later.
For young kids, there is a separate area with its own lifeguard. Known as H20 Zone, it's a safe pool area with sprays and other amusements to entertain your young ones.
Shopping On The Royal Esplanade
The Royal Esplanade is on Deck 4, the main shopping area aboard the Quantum of the Seas. During sea days, there are sales with many passengers shopping for bargains.
Like on the Ovation of the Seas, I felt like I was shopping at a mall on land and not at sea! Being tourists, we found a great deal of USD 15 each for Royal Caribbean T-Shirts as souvenirs of our cruise.
The Royal Theater
Royal Caribbean is renowned for its high-quality production shows at sea. We enjoyed excellent performances each evening cruising on the Quantum of the Seas.
Entertainment ranges from singers, comedians, Broadway-style shows, and more. The Royal Theater spans Decks 3-5 and holds approximately 1,000 people.
It was nearly full most evenings, with an early and later show. For us, the shows add to the overall value of a vacation at sea because they are included in your base fare.
The Oasis-class ships include a large pool so that shows can also consist of aquatic features. We love the shows on Quantum-class ships but look forward to the entertainment on Oasis-class ships on a future cruise.
Bars And Night Clubs
The Music Hall is a large, multi-deck venue for various performances, information sessions, and queueing up for excursions. It seats up to 200 people and is busy throughout the day.
It comes alive in the evening with bands and other acts performing. There's a 'country-western' style, so you will feel like you're in Nashville, Tennessee.
A dozen other bars and clubs are scattered throughout the ship for your drinking and listening pleasure.
The Harp & Horn Pub often featured live music in the evenings, and the Schooner Bar often had a piano player.
On warm days, the North Star Bar allows you to enjoy a drink at the foot of the North Star pod while enjoying pool views.
Health And Fitness On The Quantum Of The Seas
The Vitality At Sea Spa and Fitness Center is well equipped and what I expected. It has the usual services, including thermal loungers, massages, saunas, acupuncture, and much more.
However, it does not offer a jetted tub or pool, which I have enjoyed on other cruise lines. Limited spa services are free, so be prepared to add to your cruise charges.
Some cruise lines offer saunas or steam rooms on specific days as promotions. Fitness and exercise equipment are free unless you want a personal trainer or group fitness classes.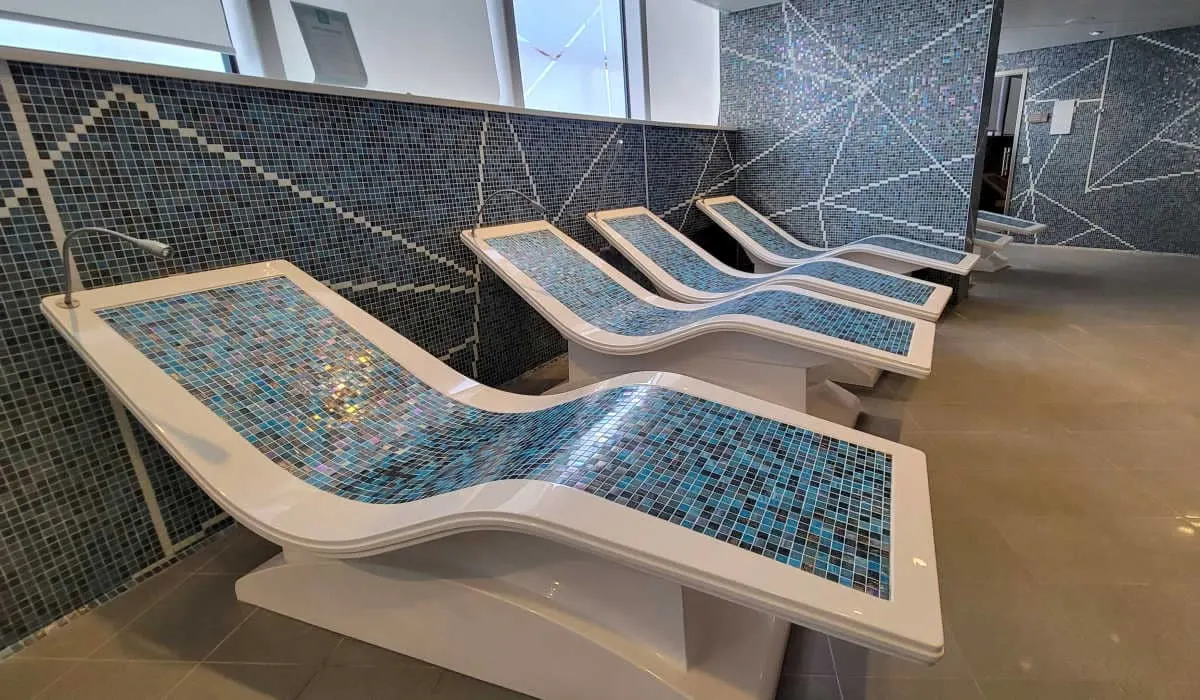 Here's the cost (at the time of this writing) for various spa treatments:
Acupuncture (50 min) – USD 199
Fire & Ice Nail Manicure – USD 79
Couple Teeth Whitening – USD 358
Full leg waxing – USD 85
Couples Seaweed Massage – USD 599
Pro-Collagen Facial – USD 179
A large running track on Deck 15 is a popular venue in the early morning. If you are on a running program during your cruise, you can continue using the following table:
| | |
| --- | --- |
| DISTANCE | NUMBER OF LAPS |
| 553 meters | 1 lap |
| 1/4 mile | 0.73 lap |
| 1 km | 1.82 laps |
| 1 mile | 2.91 laps |
| 5 km | 9.12 laps |
| 10 km | 18.24 laps |
I used the exercise equipment room several times during our cruise to try to reduce the 5-lb weight gain that happens on cruises. It was an excellent facility with lots of equipment of all types.
I did a combination of cardio and weights, and there was more variety of equipment than at my local fitness center back home.
However, with a full ship, getting a treadmill in early morning was sometimes difficult. Regardless, there was so much equipment that the wait was never more than a couple of minutes.
Royal Caribbean's Loyalty Program
My wife Karen has good status in RCI's loyalty program because of the number of times she has sailed on one of their cruise lines. Karen has higher status on Celebrity Cruises, which transfers to Royal Caribbean as both are owned by Royal Caribbean International (RCI).
As a result, Royal Caribbean invited us to attend a private event to recognize all passengers with Platinum status or above. There were over 200 people at the event, primarily a 'Meet and Greet' with introductions by several officers.
We were all greeted by the ship's officers and given a glass of champagne or Mimosa. One of the fascinating segments of the event was recognizing the Top 3 Pinnacle-status passengers.
Pinnacle passengers have accumulated over 700 points, each being a day cruised. The top cruiser was a gentleman out of Florida who had 5,250 points! He had the equivalent of cruising for 14 YEARS with Royal Caribbean! How is that even possible?
Granted, during the COVID-19 pandemic, it was possible to get double points, and as a solo traveler, he also earned double points. It was staggering to think he's done at least seven sailings on most vessels but a colossal 39 cruises on the Allure of the Seas.
All cruise lines have loyalty programs, and RCI is one of the better programs due to its perks and bonuses. Karen and I try to cruise ALL cruise lines, but if you prefer staying with one you know and like, check out the RCI loyalty program.
Other Services and Amenities
The Quantum of the Seas has the typical services you expect on all cruise ships for your convenience and safety. Here are a few for your information.
Wi-Fi
Internet access at sea is no longer a 'nice-to-have' for many cruisers and families. Royal Caribbean began upgrading its ships in 2022 with Starlink technology developed by SpaceX.
Since our cruise was to U.S. and Canadian ports, we chose a less-expensive option of upgrading our local cell phone plan to include roaming. For about USD 50 USD, Karen and I had internet access during about 75% of our cruise.
However, if you want to be connected 100% of the time during your cruise, Quantum offers two packages – Basic and Surf + Stream.
You purchase per device, and the Basic package is suitable for email, text updates, or staying connected. Most passengers opt for the high-speed Surf + Stream package for video chat, media uploading, etc.
You must get the high-speed package if you are considering working during your cruise with the occasional Zoom meeting. Fellow cruisers told us the Wi-Fi speed was good, and they were happy with the performance.
Pricing is subject to change, but this will give you an idea of what to expect for the Surf + Stream package:
Price per device per day -USD 26.99.
More than one device – USD 19.99 per device per day.
You will save on the overall cost if you are a Loyalty member with higher status.
Tip for saving money on Wi-Fi: You can purchase Wi-Fi for one device and share it. Each person must log out to allow the other to use it.
Medical Services
You'll find medical services on Deck 2 but their hours change throughout the cruise. However, in an emergency, you can get help anytime through one of the house phones.
Note that essential services such as motion sickness medication are no-charge. Although, you can quickly run up a bill if you get injured and require medical attention.
Other than frequent reminders for "Washy-washy" (of your hands) at the Windjammer buffet and hand sanitizer stations scattered everywhere, there were no visible COVID protocols.
If you get COVID during your cruise, you must notify Medical Services, who will advise you on their protocols. Post-pandemic, most cruise lines ask passengers to quarantine in their existing cabins once they test positive for COVID.
Smoking Areas
There are a couple of smoking areas aboard the Quantum of the Seas. There are covered and open areas but no interior spaces.
You are NOT allowed to smoke on your balcony or in your cabin.
Photos
In the past, professional photo-taking appeared to be an essential source of business for cruise ships. However, on the Quantum, there was less pressure to have our picture taken.
I appreciated this because of the constant 'up-sell' for services during the cruise. However, there are still frequent opportunities throughout your cruise to have your picture taken.
The Photo Center is on the forward section of Deck 5. On our cruise, the only photo purchased was Karen's skydiving adventure in iFly at the cost of USD 25.
Final Thoughts
My cruise on the Quantum of the Sea was my 3rd cruise aboard a Royal Caribbean ship. This mega-vessel provided an impressive cruise experience. The more I cruise on RC ships, the more I like the brand.
In 2014, Quantum of the Seas set a new standard for cruising with its innovative features, such as North Star, Two70, iFly, Seaplex, and more.
However, our Alaskan cruise on the Quantum of the Seas was not as good as our experience seven months earlier on the Ovation repositioning to Hawaii. To be fair to RCI, the Ovation had only 3,000 passengers compared to our 4,300 on the Quantum.
There were fewer choices in food, and the meals were of lower quality. Also, the overall service was lacking.
There were three instances where the Restaurant Manager served Karen food she was allergic to. While she caught the first two instances, she became sick after eating something she was allergic to the third time.
When cruising at capacity, getting complimentary iFly, North Star, and a booking for the Two70 presentation wasn't easy. Time slots opened up each evening at 8 pm, so check daily. While there were some issues during our cruise, the pros outweighed the cons.
In closing, we love the Royal Caribbean line and look forward to sailing on the Oasis class soon. The cruise line will launch the larger Icon class in 2024 and set the standard again for cruising.
I hope this review helps you in your research on the Quantum of the Seas. I know you will enjoy it as much as we did!